Mary has requested that the daily message be given each day to the world. It is read nightly at the prayer service from her Image Building in Clearwater, Florida, U.S.A. This is according to her request. All attempts will be made to publish this daily message to the world at 11 p.m. Eastern time, U.S.A.

---

We acknowledge that the final authority regarding these messages rests with the Holy See of Rome.

---
June 24, 2001 - Solemnity of the birth of St. John the Baptist
---

A Prayer for Intimacy with the Lamb, the Bridegroom of the Soul

Oh Lamb of God, Who take away the sins of the world, come and act on my soul most intimately. I surrender myself, as I ask for the grace to let go, to just be as I exist in You and You act most intimately on my soul. You are the Initiator. I am the soul waiting Your favors as You act in me. I love You. I adore You. I worship You. Come and possess my soul with Your Divine Grace, as I experience You most intimately.
---
Messenger: Include Our Lady of the Holy Spirit Center in 6:20 prayers.
---
Messenger: Please pray for an important intention.
WE DESPERATELY NEED FUNDS!
Please pray for 5 urgent intentions!
Pray for a special priest and Father Mike,
Spread the Blood of Jesus on all involved, cast the devil far
away, ask for the special coming of the Holy Spirit in a special way
and consecrate all hearts to the Sacred Heart and Immaculate Heart.
---
| | |
| --- | --- |
| June 25th Holy Spirit Novena Scripture selection is Day 6 Period 1. | The Novena Rosary Mystery for June 25th is Glorious. |
---
Messenger: We do not have funds for rosary beads for rosary makers.
Please help us.
---
June 24, 2001
The Solemnity of the birth of St. John the Baptist
---
Revelation 11: 3-6
But I shall send my two witnesses to prophesy for twelve hundred and sixty days, wearing sackcloth. These are the two olive trees and the two lamps in attendance on the Lord of the world. Fire comes from their mouths and consumes their enemies if anyone tries to harm them; and anyone who tries to harm them will certainly be killed in this way. They have the power to lock up the sky so that it does not rain as long as they are prophesying; they have the power to turn water into blood and strike the whole world with any plague as often as they like.
---
Hebrews chapter 1
The greatness of the incarnate Son of God
At many moments in the past and by many means, God spoke to our ancestors through the prophets; but in our time, the final days, he has spoken to us in the person of his Son, whom he appointed heir of all things and through whom he made the ages. He is the reflection of God's glory and bears the impress of God's own being, sustaining all things by his powerful command; and now that he has purged sins away, he has taken his seat at the right hand of the divine Majesty on high. So he is now as far above the angels as the title which he has inherited is higher than their own name.

I: THE SON IS GREATER THAN THE ANGELS
Proof from the scriptures

To which of the angels, then, has God ever said:

You are my Son, today I have fathered you,

or:

I shall be a father to him and he a son to me?

Again, when he brings the First–born into the world, he says:

Let all the angels of God pay him homage.

To the angels, he says:

appointing the winds his messengers
and flames of fire his servants,

but to the Son he says:

Your throne, God, is for ever and ever;
and:
the sceptre of his kingdom
is a sceptre of justice;
you love uprightness and detest evil.
This is why God,
your God, has anointed you
with the oil of gladness,
as none of your rivals.

And again:

Long ago, Lord,
you laid earth's foundations,
the heavens are the work of your hands.
They pass away but you remain,
they all wear out like a garment.
Like a cloak you will roll them up,
like a garment,
and they will be changed.
But you never alter
and your years are unending.

To which of the angels has God ever said:

Take your seat at my right hand
till I have made your enemies your footstool?

Are they not all ministering spirits, sent to serve
for the sake of those who are to inherit salvation?
---
June 24, 2001 message continues
Messenger: Here are the dates I wish to record here.
- First - reflections of light on the mirror tile in the 80's
Jesus said, "I am the Light of the world."
- September 1991 - feed the hungry
- October 1991 - at the end of the month - messages began
- December 17, 1991 - I saw the Heart of Jesus
- Beginning of 1992 - voice problem starts
- let go of teaching jobs 1993 after school year
totally let go of jobs end of 1993
- my voice is okay to do Jesus' work
- April 14-15, 1993 - see what I believe to be
John the Baptist at the
apparition house in Conyers
- May 13, 1993 - I receive the first message for
Blue Book I
- December 17, 1993 - first message I received was published
- January 9, 1994 - heard the Father speak and
this is what He said,
"My gift to you is My Son. This is
My beloved Son in whom I am well pleased."
- February 17, 1994 - first 17th meeting
- February 23, 1994 - City of Light message
- March 1994 - Father Carter begins discerning the
Blue Book
- March 22, 1994 - corner falls off the old seminary
(Lucia's birthday)
- April 17, 1994 - pulsating sun video over Our Lady
of the Holy Spirit Center
- May 4, 1994 - first message of Jesus from me
blocked at Falmouth
- end of May, 1994 - first Blue Book is published
- Father Carter's Spirituality of Fatima
and Medjugorje book was published
at the same time
- end of May, 1994 - Father gets message to begin the
newsletter
- June 3, 1994 - messages were majorly blocked
- early June 1994 - Father Carter becomes my spiritual
director
- July 5, 1994 - Mary appeared at Our Lady of the
Holy Spirit Center and continued
appearing until July 5, 1995
- July 1994 - Rosaries from the Hearts of Jesus and
Mary begin
- July 31, 1994 - Father Carter received message
on feast of St. Ignatius of Loyola
from Jesus to start the
Shepherds of Christ
- July/August, 1994 - Father Carter receives Shepherds
of Christ prayers
- Masses with Father Carter begin
- last Tuesday in August, 1994 - first Shepherds of
Christ meeting started on Tuesday
at Our Lady of the Holy Spirit
Center
Other dates will follow at another time.
---
Messenger: I write now as He summons me to. I had suffered a very hard time in my life, especially in the late 1980's, and before I began hearing the words September, 1991, "Feed the hungry". For a period of so many weeks, I heard this constantly day and night, until late October, 1991, when Jesus began giving me messages. I did not know what was happening. I was not in any of the Marian movements. I knew nothing of private revelation. He began giving me passages that were like the writings in the Bible, calling Himself Jesus, the Son of God. I hid the notebooks under my bed, but I lived by the messages and my life began to change quickly. I was as a bird coming out of a cage, for I knew Him so personally.

One night in the 1980's, I was in my living room. I always had the Sacred Heart picture on a table with a vigil light in front. I was going through so much suffering in my life, I carried the Sacred Heart picture with me in my pocket, under my clothes next to my heart. I knew Him then and knew He would help me. I had a picture inside the kitchen cupboard and I would open it and look at Him. I would be up many nights with my Jesus and when I looked at His picture, the Sacred Heart picture (the picture in the front of the Blue Books), He would glow and look so real. Looking at this image of Jesus and carrying Him with me was my comfort in all my trials.

On this night--and this never happened to me before--I was praying to Him and begging for help. I had a whole wall filled with mirror tiles. I saw a door frame over a door. I do not even know how it happened. The door was dark and then it began, a golden light slowly filled the door, not all at once. It started at one part of the door and then the entire door was filled with light. Soon the wall was covered with light, a shoe was before a staircase. I heard the following and I quote it below. I had written it in the margins of a pocket-size book near me and I saved it. I do not remember writing anything much after that until after September, 1991, when I heard Jesus tell me to feed the hungry.

"I am the light of the world and the light shineth in the darkness. The darkness is filled with the light. If you look for the light you will see the light. Walk in the way of the light. If you go away from the light, it gets darker. The closer you are to the light the brighter it gets. Fear not, do not be afraid, for I am the Light of the world."

The intense agony continued in my life, but I became more and more dependent on Jesus. I began sitting before the tabernacle and I quote from the beginning of Blue Book I, TO THE READER.

---

Excerpt from TO THE READER in God's Blue Book I

Messenger: Jesus wants to share His love with you. He comes in these letters to tell you how you can be in intimate union with Him.

All of us possess everything we need to have an intimate union with Him. He has written to me since October of 1991. For at least a year I sat in front of the tabernacle and begged him to talk to me. I wanted words. I prayed to the Holy Spirit and begged and begged Him to baptize me. After a long and seemingly endless search, trying to hear God, He told me to "feed the hungry." For six weeks this was all I heard. I thought maybe I wasn't feeding my children well or eating well enough myself. What a long wait for three words! At long last one day, as I was writing to Jesus, I received a letter back. He told me, "I am Jesus, Son of the Living God." I did not want to write this but it kept coming-and so many other messages. I knew nothing of anyone getting messages. I wrote them, reluctantly, and hid my notebooks. The letters kept coming-a lot in the night-and I would be awakened by long letters which I felt compelled to get up and write down. I read these letters privately and my life began to change. I felt a new life within me.

---

Messenger: In the times before the tabernacle I would have visions of doors, one was partially open. I thought it meant my troubles would become less and less, I would have worldly satisfaction and peace. In the early days of the revelations, I saw some doors.

The last vision I had of a door was between Ascension Thursday and Pentecost, 1998. It was then I saw the golden door filled with the most glorious reflective light against a very dark wall. Then I saw a little sheep that hobbled over the threshold and went in.

The Sacred Heart of Jesus is temple of God and gate of heaven. I thought open doors meant greater satisfaction and peace here. I soon learned that it meant deeper and deeper union with our beloved Sacred Heart.

Today that door I believe I saw in the 1980's was the golden door that has led so many from a less personal relationship with Him to a deep personal union with His Sacred Heart.

The treasures we seek are found within the Heart of Jesus. They are not cars and houses and material things that we need to live and survive. The treasure is life in Him, knowing the love of our beloved Savior, the Sacred Heart of Jesus.

In the Litany of the Blessed Virgin, we say "Gate of heaven".

In the Litany of the Sacred Heart, we say, "Heart of Jesus, house of God and gate of heaven."
end of excerpt from February 7, 1999 message
---
June 24, 2001 message continues
Messenger: As noted in May 17, 1994 meeting, published that day
little booklets were passed to the group of
people there with these messages.
---
December 17, 1991, His Burning Heart
Messenger: I was alone in All Saints Church after Mass and Communion in front of the tabernacle when I saw the Sacred Heart. It was red around the outside, then a layer of yellow and then the brightest light in the center. I felt heat and it looked like an open furnace.

I thought about it all day and it instantly gave me peace and warmth in my heart. This is the purpose of these letters, to draw hearts to the ardent on-fire love of Jesus. I received the following message that day: Open your heart to the fire of God's love. He is ablaze in your heart. He wants to dwell in you and love you and others through you. Love God, yourself, and one another and experience the fire set aglow in your heart and experience the warmth of His love.
end of December 17, 1991 message
---
June 24, 2001 message continues
Messenger: Also an excerpt was given in that same
17th meeting - November 17, 1991.
---
November 17, 1991, Special Day of Your Life
Jesus speaks: You are precious in My sight. I carved you in the palm of My hand. By name, I have called you.

Messenger: Unto You, I lift up my voice, Lord. Lord, hear my prayer and be attentive to my voice. In my pleading I embark upon this special day of my life. Console me and teach me Your ways that I might dwell in Your house forever. Be with me, God, my God.
end of November 17, 1991 message
---
August 26, 2000 - Anniversary of first Mass in China, Indiana
Messenger: At the end of January, 1992, I was given a message from Jesus that I would suffer.

Next, I lost my voice and I had trouble breathing. It was the key that helped me let go of my teaching jobs in colleges, my position in a special choir, and my job as organist and choir director at a small church.

Here is a letter I began to write to Jesus and the message God gave back to me.

My first letters with Jesus were a lot of dialogue. I would write and He would speak to me as I opened up my heart to Him.

Many times He woke me in the night with a lengthy message.

This is a letter I wrote to Him March 17, 1992, when I was having a lot of trouble breathing and talking.

He was working in my suffering to help me let go of all I was doing so I could be His messenger. It was a great time of trial when I couldn't breathe very well or couldn't use my voice very well. All my jobs depended on it. It was from this cross that I was given my voice to do what I am doing today. I had to surrender to His plan-I couldn't use my voice as I had done in the past.

When I finally quit most everything about 1 1/2 years later, I had my voice to do His work, to do this job.

In this suffering, He led me to do His will.

St. John the Baptist's father lost his voice.

St. John the Baptist's mother was barren.

St. John the Baptist was the 'VOICE OF ONE CRYING IN THE DESERT'.

I prayed to do His will and He helped me find His will. Through great suffering and surrender I was given greater life in Him.

The story of my struggle in doing His will and losing my voice is accounted in an entry in Blue Book III which appears at the end of this message.

Jesus wanted the message of March 17, 1992, presented today, that we can carry it with us and live by it. We must surrender and let Him run our lives and do His will. Some of the greatest trials are the way He leads us on the right path for us.

---

March 17, 1992

Note: I couldn't breathe again. From my notebook I wrote:

Dear Jesus,

I am not feeling calm, I am so grateful for being able to breathe. I know an inner voice during the movie said, I will be okay. Please help me Jesus, I need you.

God: I am your God and I love you, you are precious to Me. Remember how I loved you to My death. This is the season of Lent, a time to look and listen and learn all you can about Christ and His passion. I am telling you of My great love for you and all My children. Hold close to Me and do not be tempted to go astray, keep your eyes fixed on the eternal end, the bright and beautiful light, your glory, for your reward will be great in heaven. Keep the glory of the Lord in heaven in front of your eyes.

Don't look for worldly pleasures and satisfaction here on earth. Love and give to others and forgive and know your reward will be great in heaven.

I will show you the path to follow. Listen attentively and be calm. In conflict don't react, practice removing yourself from that. It isn't necessary to criticize, to shame, to hurt, to bargain for who is right and who is wrong. Hold on to peace and love and joy and happiness. Hold My hand and see My light. See the big, big picture. The answers are in you, I love you and I will teach you what you need to know. Be still and listen, I want to instruct you, I am talking to you now in your heart. I love you always, stay close to Me and know I am your God.

Messenger: You are my God and You love me, I am Your temple. I know You go with me with Your rod and Your staff protecting me and giving me comfort and hope and love and joy and peace. The moments I spend now will be gone in 5 minutes.

I want to spend this time with You, I don't want to be anywhere else, I want to know Your presence , Your warmth, Your love.

God: You are powered by Me. You are My child, you are precious and you know it. You are special to Me, hold tight to Me. I love you, My chosen daughter.

Messenger: Create in me, Oh Lord, a CLEAN heart, Oh Lord--create in me a clean heart.

I offer up my suffering to You.

God, help me live my precious moments.

God, help me.

Thank you, I love you.
end of August 26, 2000 message
---
June 24, 2001 message continues
Messenger: I lost my voice and accounted this in
the May 9, 1994 message in Blue Book III.
---
June 23, 2000 - Second Message
Messenger: The Visitation, the perfect combination, Mary the Immaculate Mother, Jesus the Sacred Heart, Son of God, visit Elizabeth.
---
Luke 1: 39-45
The visitation
Mary set out at that time and went as quickly as she could into the hill country to a town in Judah. She went into Zechariah's house and greeted Elizabeth. Now it happened that as soon as Elizabeth heard Mary's greeting, the child leapt in her womb and Elizabeth was filled with the Holy Spirit. She gave a loud cry and said, 'Of all women you are the most blessed, and blessed is the fruit of your womb. Why should I be honoured with a visit from the mother of my Lord? Look, the moment your greeting reached my ears, the child in my womb leapt for joy. Yes, blessed is she who believed that the promise made her by the Lord would be fulfilled.'
---
Luke 1: 36
And I tell you this too: your cousin Elizabeth also, in her old age, has conceived a son, and she whom people called barren is now in her sixth month,
---
June 23, 2000 message continues
THE BARREN ELIZABETH - GAVE BIRTH TO JOHN

THE LAND IS BARREN, IT WILL GIVE WAY TO FRUITFULNESS.
---
Genesis 11: 30

Sarai was barren, having no child.
---
Genesis 21: 1-3
The birth of Isaac
Yahweh treated Sarah as he had said, and did what he had promised her. Sarah conceived and bore Abraham a son in his old age, at the time God had promised. Abraham named the son born to him Isaac, the son to whom Sarah had given birth.
---
1 Samuel 1: 5

to Hannah, however, he would give only one portion: for, although he loved Hannah more, Yahweh had made her barren.
---
1 Samuel 1: 19-20

Birth and consecration of Samuel

They got up early in the morning and, after worshipping Yahweh, set out and went home to Ramah. Elkanah lay with his wife Hannah, and Yahweh remembered her. Hannah conceived and, in due course, gave birth to a son, whom she named Samuel, 'since', she said, 'I asked Yahweh for him.'
---
Psalm 113: 9
He lets the barren woman be seated at home,
the happy mother of sons.
---
Isaiah 54: 1
Jerusalem restored to Yahweh's favour

Shout for joy, barren one
who has borne no children!
Break into cries and shouts of joy,
you who were never in labour!
For the children of the forsaken one
are more in number
than the children of the wedded wife,
says Yahweh.
---
Luke 23: 29

For look, the days are surely coming when people will say, "Blessed are those who are barren, the wombs that have never borne children, the breasts that have never suckled!"
---
2 Peter 2: 4-10

Lessons of the past

When angels sinned, God did not spare them: he sent them down into the underworld and consigned them to the dark abyss to be held there until the Judgement. He did not spare the world in ancient times: he saved only Noah, the preacher of uprightness, along with seven others, when he sent the Flood over a world of sinners. He condemned the cities of Sodom and Gomorrah by reducing them to ashes as a warning to future sinners; but rescued Lot, an upright man who had been sickened by the debauched way in which these vile people behaved— for that upright man, living among them, was outraged in his upright soul by the crimes that he saw and heard every day. All this shows that the Lord is well able to rescue the good from their trials, and hold the wicked for their punishment until the Day of Judgement, especially those who follow the desires of their corrupt human nature and have no respect for the Lord's authority.
---
Psalm 107: 33-37

He has turned rivers into desert,
bubbling springs into arid ground,
fertile country into salt–flats,
because the people living there were evil.

But he has turned desert into stretches of water,
arid ground into bubbling springs,
and has given the hungry a home,
where they have built themselves a city.

There they sow fields and plant vines,
and reap a harvest of their produce.
---
June 23, 2000 message continues
Messenger: I saw what I believed to be a vision of John the Baptist April 15, 1993.

Accounted here is what I wrote December 3, 1998.
---
Excerpt from December 3, 1998 daily message

On April 14-15, 1993, I am not sure, my family and I were alone in the apparition house at Conyers. It was my first visit there. Two women came and left while we were in there, but we were alone most of the time, except for a man dressed in a burlap sack-type material, with sandals and with eyes that looked upward and a heavenly face. I looked into his face, but he was as if in another world, having an angelic color (not human) but he had a regular body, but very slight. He stood there and then he disappeared, or so we thought. His garb was the same color as the floor. The children and I were taking pictures and then we almost tripped over him. He appeared on the carpet in some circular position, covered by his garb as in a ball. I thought it was John the Baptist. My life was touched by that visit to Conyers, our first visit. The next month we would have a profound experience. This is accounted in an earlier message. On May 13, 1993, I dictated the first Blue Book message to my child as we drove away with the sun spinning.

(End of Excerpt from December 3, 1998 daily message)
---
June 23, 2000 message continues
Messenger: John the Baptist leapt in the womb of his mother.

Of John the Baptist it is said:
---
Luke 3: 4-9
as it is written in the book of the sayings of Isaiah the prophet

A voice of one that cries in the desert:
Prepare a way for the Lord,
make his paths straight!
Let every valley be filled in,
every mountain and hill be levelled,
winding ways be straightened
and rough roads made smooth,
and all humanity
will see the salvation of God.

He said, therefore, to the crowds who came to be baptised by him, 'Brood of vipers, who warned you to flee from the coming retribution? Produce fruit in keeping with repentance, and do not start telling yourselves, "We have Abraham as our father," because, I tell you, God can raise children for Abraham from these stones. Yes, even now the axe is being laid to the root of the trees, so that any tree failing to produce good fruit will be cut down and thrown on the fire.'
---
June 23, 2000 message continues
Messenger: When Jesus was baptised by John, it says in Luke 3: 22:
---
Luke 3: 22
and the Holy Spirit descended on him in a physical form, like a dove. And a voice came from heaven, 'You are my Son; today have I fathered you.'
---
June 23, 2000 message continues
Messenger: We too become adopted sons and daughters of God in Baptism.

The last book of the Old Testament is Malachi, the last chapter says:
---
Malachi 3: 1
'Look, I shall send my messenger to clear a way before me. And suddenly the Lord whom you seek will come to his Temple; yes, the angel of the covenant, for whom you long, is on his way, says Yahweh Sabaoth.
---
June 23, 2000 message continues
Messenger: It is good to read the whole account of Malachi Chapter 3.

Malachi ends with the quote:
---
Malachi 3: 23-24
'Look, I shall send you the prophet Elijah before the great and awesome Day of Yahweh comes. He will reconcile parents to their children and children to their parents, to forestall my putting the country under the curse of destruction.'
---
June 23, 2000 message continues
Messenger: Chapter 11 Revelation says:
---
Revelation 11: 3-4
But I shall send my two witnesses to prophesy for twelve hundred and sixty days, wearing sackcloth. These are the two olive trees and the two lamps in attendance on the Lord of the world.
---
June 23, 2000 message continues
Messenger: Revelation 22 ends:
---
Revelation 22: 20
The one who attests these things says: I am indeed coming soon.
Amen; come, Lord Jesus.
---
June 23, 2000 message continues
Messenger: I ask you to include the Song from Jesus.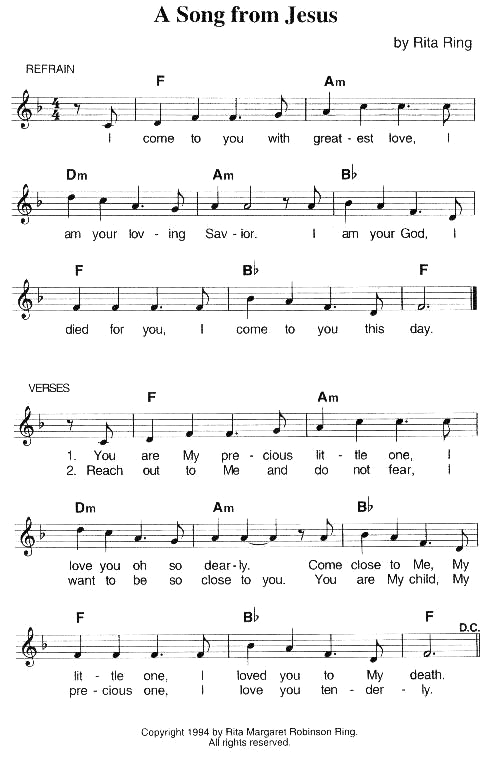 June 23, 2000 message continues
Messenger: John the Baptist was sent as a messenger for God. He leapt in the womb of the once barren Elizabeth.

On April 15, 1993, I saw what I believe was a vision of John the Baptist in the apparition house at Conyers.

On May 13, 1993, I received the first message for Blue Book I as I left Conyers.

Today I have been given so many messages for the earth.
---
Mary's Message from the Rosary of August 27, 1996
Mary speaks:

I stood beneath the cross of my Son, and my Heart was in such pain for I saw Him before my eyes. I saw Him covered with blood. I saw Him die. My Heart, my children, my Heart to watch my Son, but my Heart, my Heart, how I suffered for my little children of the world that give in to this world and give up the love of my Son. O my little children of light, I give you this message. Carry this light into the darkness for your Mother Mary, for I stood beneath the cross and I cried. I cried for the little ones. I cried for the young ones, the ones that do not care and will lose their souls. How do I make you see for you will not listen to me? What can I do? I come. I appear. I beg. I plead. I give you these gifts from my Son, and you reject me. I do not deliver messages very often anymore for I have been ignored. The message is the same. You do not read the messages I have given to you. Please help me. Help the little children. I appear. I appear. I appear, and I am ignored. I stood beneath the cross, and I cried. I cried, and my Heart was in such anguish for my little children, for I am searching for them this day as I searched for the Child Jesus. Please, please help me. I cannot hold back the hand of my Son any longer. I am Mary, your Mother. I ask you to help my children. You are my children of light.

end of Mary's Message
---
Messenger: Jesus asks us to pray for special things.
Spread the Blood of Jesus, Consecrate their hearts,
Cast the Devil far away, ask for the coming of the Holy
Spirit.
1) Pray for urgent intention, a special priest
and all involved.
2) Pray for Father Mike and Father Laurentin.
3) Pray for special Bishops and Archbishops
4) Pray for a special man and son,
and family and all involved.
5) Pray for all priests, Bishops and Cardinals
receiving the Newsletter.
Pray for grace for them to respond especially
by beginning prayer chapters.
6) Pray for the telephone operators.
7) Pray for communication and business in
general.
8) Pray for people to respond to fund letters.
9) Pray for money to circulate pictures.
| | |
| --- | --- |
| | |
| March 5, 2001 | March 5, 2001 |
---
10) Pray for funds and grace.
11) Pray for all Shepherds of Christ apostles,
handmaids, servants.
12) Pray for availability Prayer manuals.
13) Pray for second priestly Newsletter Book.
14) Pray for documentary and all involved.
15) Pray for special intentions of our donors.
---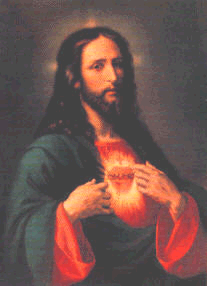 A PLEDGE FROM AN APOSTLE OF THE SACRED HEART

Messenger:

I am but a little speck on this earth,
but with His might He can use me
to spread the devotion to His
Most Sacred Heart.

Oh dear and precious Heart of Jesus
I give myself as completely as
possible to Thee so you will use
me to spread the devotion to the
ends of the earth for Your most
precious Heart.

I am Rita your precious soul.

Use me to help to spread this burning
devotion to the souls of this earth.

I am yours, take me, use me as you
will.

I surrender myself to you.

It is your might behind me, your power
that sends me. I am an Apostle of
the Sacred Heart of Jesus. I give
myself as completely as possible to
Thee.

Sacred Heart of Jesus I place my
trust in Thee.

Father hear us please. We beg through
the intercession of Father Carter
and Our Lady of Clearwater that
prayer chapters are started all over
the world and the Priestly Newsletter
gets there immediately with the
Prayer Manual.
---
A Note from the President of Shepherds of Christ:
If you are devoted to Our Lady's rosary, we need your help! A member of our ministry is very devoted to Our Blessed Mother and he is helping to teach us how to grow our volunteer rosary makers. He estimates that we will need approximately $37,000 this year for beads alone! This translates into 22,339,500 rosary beads (yes, 22 million beads) assembled by volunteers into 378 thousand rosaries. The biggest users of our rosaries are the Catholic schools, who requested more than 100,000 rosaries last year.
Can you help us? I appeal to you for funds, whether large or small. We give because we love God, we love our Blessed Mother, and we love souls. We will accept gifts in many forms, besides cash or check donations, we can receive gifts directly in the form of stocks or property. These gifts can offer large tax advantages to the donor and increase the monetary value of the gift to us. Also if you can help assemble rosaries we need your help! If you can help us in anyway, please call or write us. God Bless!
I love you,
John Weickert
---

A rosary can be used to pray for healing. It is powerful to unite our prayers to the Holy Sacrifice of the Mass and pray through the powerful intercession of Our Lady of Clearwater.
In times of trouble, for special prayer, we can use our rosary and pray as follows.
A Rosary for Healing or for Someone with Cancer.
On one Hail Mary bead or as many as you desire, say:

May God heal through the intercession of Our Lady of Clearwater in union with the Mass and all the Masses being celebrated around the world.

Pray the Hail Mary or Hail Mary's then pray this after the Hail Mary.

May the cancer be uprooted and thrown into the sea.

We believe with all our hearts.

After the Glory Be — pray the following petition.

May be healed through the intercession of Our Lady of Clearwater if it be the holy will of God.
| | | |
| --- | --- | --- |
| | Note: You can look at Mary on the image rosary while you pray this rosary. | |
Note: The above section can be printed out from a PDF file, and you can pray the rosary looking at the pictures.
---
December 17, 2000, Mary speaks:

Help me to circulate my red and blue
Rosary Books and the
prayers my Son gives to you.

This is a gift we give you.
All the revelations are gifts given to you.
My Son is the Light of the World.
He is Jesus born in a stable.
Will you help me?
He is the Light of the World. Help me, help me
reach my children of the world.
To order your Rosary Book fill out this form and send your donation to Shepherds of Christ Ministries, PO Box 193, Morrow, Ohio 45152-0193, Telephone: (toll free) 1-888-211-3041 or (513) 932-4451.
Name: _________________ Street: _____________________________
City: _________________ State: _________________ Zip: ________
Donation price: $7 A $15 A $25 A $50 A $100 A Other $_____ A
---
Messenger: CAN YOU HELP US BY GIVING US ROSARIES FOR THE SCHOOLS REQUESTING THEM?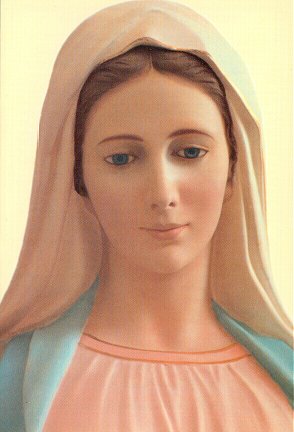 Mary speaks: PLEASE MAKE WALTER'S ROSARIES. THE SCHOOLS WANT ROSARIES AND THERE ARE NOT ANY ROSARIES LEFT.
---
Messenger: Pray for Ron, Fernando and Perry.
---
Prayer List for apostles for interior use in the Movement. Pray hourly.
Spread the Blood of Jesus on everyone involved with Shepherds of Christ in any way, consecrate their hearts, cast the devil out, pray for coming of the Holy Spirit in a special way for all people involved on this list.

Please pray for one new very important intention.
Pray for the 5 urgent intentions.
Pray for the Pope and everyone we need to help us.
* Pray for the priestly newsletter, for funds for it and for all involved.
Pray for the taping of the priestly newsletter.
Pray for the reproduction of disks.
Pray for the Newsletter that went from China and Eden Prairie.
Pray for priests receiving the Newsletter for grace.
Pray for fund letters, all donors, and getting the right names.
Pray for setting up telephone communications at the Morrow Center for priests receiving the newsletter and wanting the Prayer Manuals.
Pray for open communications within the Shepherds of Christ Ministries.
Consecrate Hearts of all Priests in the world saying Mass today.
Pray to see the vision of the Reign of the Sacred Heart and the Era of Peace.
Pray for the prison ministry.
Pray for Michael B.
Pray for the Documentary.
Pray for all mankind, Church and the world.
Pray to make amends to God for the sins of the men of this earth.
Pray to make reparation to the Hearts of Jesus and Mary.
Pray for Don, Don, Mike, Bob, Bob, Dave, Reggie, Bush, all donors and those who Jesus wants to help us financially.
Pray for Father Carter and the Jesuits, the people at Colombiere.
* Pray for 2 special priests.
* Pray for funds and grace.
Pray for designated priests, Fr. Mike, Fr. Laurentin, Fr. Joe, Fr. Lou B., Fr. Jim, Fr. Willig, Fr. Smith, Fr. Ken, Fr. Sevilla and all priests involved in the Imprimaturs translations including all bishops and all bishops over us. Pray for Bishop Ed, Fr. Don, Father at Tuesday Masses, Fr. Tom, Fr. Bill, all priests involved with Walter, Fr. Hagee and special priests, priests who help us in China, and priests who help us in Florida.
Pray for Father's sister Merle, for all of us servants, handmaids, apostles and vocations to all 7 categories.
Pray for the Internet team and the daily messages.
Pray for people reading the Internet.
Pray for prayer book, Mass Book II, and Daily Message Books.
Pray for all covers, pray for Cathy.
Pray for the elected officials.
Pray for an audience with the Pope.
Pray for all Jesuits involved, all those over us.
Pray for Mike and Dan.
Pray for the rights to the books, pray for Jesuits in Father's house.
Pray for the process of getting Father's books on the Internet.
Pray for money to reprint the books.
Pray for the Imprimatur on the Priestly Newsletter Book II.
Pray we can send it to all bishops and Jesuits.
Pray for Fernando, Ron, Joseph, Peter, Ed, Jane, Sonia, Don, Sue & Ken.
Pray for Perry and family and discernment.
Pray for all sub-centers and all out-of-state rosaries; Denver, Iowa, Pennsylvania, Toledo, St. Louis, Memphis and California.
Pray for the sisters' mailing, nursing home mailing, bus mailing.
Pray for Genevieve's daughter and Sheila's mom and the repose of the soul of Jerry's dad.
Pray for Paul and Joan discernment.
Pray for B & M and Tina and Terry, all printing jobs, companies involved.
Pray for 5th, the 13th, the 17th.
Pray hourly for the Rosary on the 5th & all attending and those traveling to Florida.
Pray for building up of Morrow, Ohio, Dale, Indiana, Toledo, Ohio, Sidney, Ohio, Iowa, and other sub-centers.
Pray for the Holy Spirit Center and all involved.
Pray for all our families, children in school, college mailing.
Pray for lots and lots of people to help us get prayer manuals and pictures.
Pray for Rosary Factory and rosary beads.
Pray for lots of rosary makers and rosaries for the schools.
Pray for Paul C., Margaret Mary, Steve and Sheila, Monica, Angie, Marian, Cathy, Joe, Nick, Mary, Emily, Joe, Doris, Glaci, Dunkers, Joan R., Morgan, Mark, Walter, Janice, Mike A., Margaret, Ron, Harold, Scott, Nathan, Don, Rosalie, and Dennis.
Pray for everyone who has asked us to pray for them.
Pray for Steve and Sheila and repairs.
Pray for Fred doing the paper and all involved in priestly "start-up".
Please pray for all Shepherds of Christ children.
Pray for Victor's son, Michael. (Victor and Frances)
Pray for Delores and organization of writings and other material.

Last revised March 7, 2001
---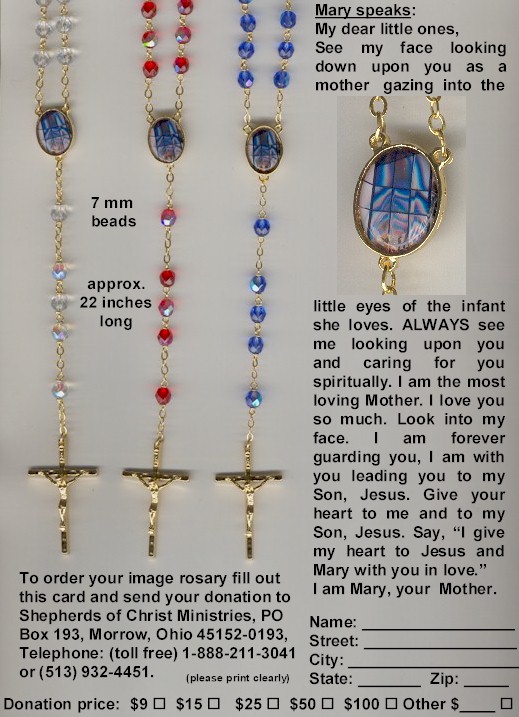 (Please copy and pass out to family and friends.)
---
MY VALENTINE FOR JESUS AND MARY
AND THE WORLD

I _________________ give my heart to
You Jesus and Mary on this day
_________________
I promise to help spread the devotion to
the Hearts of Jesus and Mary.
---
Question for married couples and others in intimate relationships:
Q: When we suffer trials, how can we share these trials with each other in the greatest love?
---
Previous Daily Message
---
---
Copyright © 2001 Shepherds of Christ.
Rights for non-commercial reproduction granted:
May be copied in its entirety, but neither re-typed nor edited.
Translations are welcome but they must be reviewed for moral and
theological accuracy by a source approved by Shepherds of Christ Ministries
before any distribution takes place. Please contact us for more information.
All scripture quotes are from the New Jerusalem Bible, July 1990, published by Doubleday.
Revised: June 24, 2001
URL: http://www.SofC.org
Contact Information for Shepherds of Christ
Email: info@SofC.org
---
Shepherds of Christ Ministries
PO Box 193
Morrow, Ohio 45152-0193

Telephone: (toll free) 1-888-211-3041 or (513) 932-4451
FAX: (513) 932-6791