Shepherds of Christ
Daily Writing
June 25, 2007
June 26th Holy Spirit Novena
Scripture selection is Day 1 Period I.

The Novena Rosary Mysteries
for June 26th are Sorrowful.
We need $17,500 for Priestly Mailing.

The Newsletter is all of ours to help get out.

Jesus is asking all of us to help get this out.

Day of Prayer including meals for $100

Call to reserve a spot 727-725-9312

Thursday, July 5, 2007 is the 13th Anniversary

of when Mary first appeared.

Excerpt from Rosaries from the Hearts of Jesus and Mary

July 5, 1994 6:30 p.m.

Messenger: I was told to go to Our Lady of the Holy Spirit Center to pray the rosary with my children. There were people in the front of the church, so we decided to pray the rosary in the back before the Sorrowful Mother statue. I had the following vision at the end of the rosary.

The statue of the Sorrowful Mother was lit up as if she had fire around her. The light was very bright. Her whole gown was all-white, but the statue's gown is blue and pink. She was all aglow. It looked like the glow that comes off of a fire. Her face kept changing but remained totally sorrowful-the sorrow of an older woman. She was in such pain and sorrow! (It was hard to explain how she looked-extremely pained!) Her face looked as though she was in such pain that she could hardly bear it.

The vision remained like this for about ten minutes, having begun during the last Hail Mary of the Sorrowful Mysteries of the rosary. She was holding something-it was all bright white-the brightest light ever!

A day of retreat from the Florida Building

Dinner and break

6:20 prayers and the normal 5th service

You will have the chance to do the commitment prayer.

Fatima/Clearwater Glass statues

will be available.

Also Felix's crucifixes

Pictures of Our Lady of Clearwater will be available.

Sidney Rosary

from China, Indiana

will be Tuesday

June 26, 2007 at 6:20pm

Please tune in!

We need postage for the

hierarchy and for the many bishops that

distribute the newsletter

to their many priests around the world.

In this mailing we have the summit

the newsletter and prayer manual together.

This can help to change the face of the

earth. The prayer manual is vital.

Please help us with this postage today.

It is costly but it is for such a good cause for bishops to distribute this material centered in consecration to the Two Hearts to their priests.

Please help us now.

Prayer chapters please help us.



Help us in the month of the
Sacred Heart with postage.
June 25, 2007
Jesus: Lay your life down for Me — oh child
for the forces of evil want you to dwindle
in your spiritual life, but the life in
the Spirit is in God who fills your
precious soul and basks in your heart.
So the day came for the entry into
eternity and the heart was summoned
to give an account of your ways. Many
hearts that came to this place were
hard and not loving after a life time
to deal with your wounds.
For a person may be wounded, but
you have a life time to heal your wounded
hearts. Some are like loaded guns
consumed with hidden anger —
they can act out their anger in passive-
aggressive ways — provoking others —
continually until another expresses
the rage that they have inside which
is the reason they provoke others.
A rageful man may not be one who
explodes with outbursts only — a man
with suppressed hidden anger - may
have locked away feelings long ago and
bound up their emotions. They are a
stone and when they walk they set
a fire little bushes in their path —
A smoldering wick - they are —
A person like this is not to be head of a house
of harmony for their very heart is not
the heart of harmonious love.
An angry heart is a loaded gun. A man's
heart is like a bag on the back of a traveler
Why would you carry a loaded gun in your
backpack for your journey, would not you
carry your bag with light items.
The music of the saints, souls was
one of love, harmony and peace. Their
hearts were full of love not bitterness.
Bitterness can come out in raging anger
or in passive-aggressive ways.
The person wounded as a child
is a victim — wounded in love
relationships — divorces, but when they
wound others for the rest of their lives
they become the abuser, the one with the
loaded gun on their back on their journey.
The heart was made for love — see the
Heart I show you.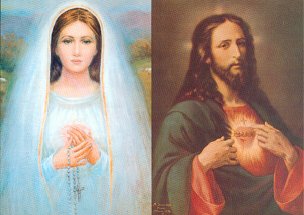 I give you a heart to love — a heart to
be pure like the heart of Mary — to not
be vengeful and angry, but soft and supple
living to serve God not do things for your
honor and glory.
The heart pumps life to the body — the
heart must be pumping to keep the body
alive.
A person who is wounded with a brick,
a smoldering fire in their heart is blocking
the love that can be sent into the world —
love I shower upon you and you send as
a connector out to the hearts of others.
Are you tense because you hold in
hidden anger that needs healing — where is
your bounce? Do you want the Spirit of
God to fill you and to shout Alleluia, Praise
the Lord, or are you full to the brim — tense
holding back your wounds like one holding
their bruised leg close to their body lest
someone may bump it.
Why keep a wound gaping and bleeding. Do
you see Me beaten for your sins. My body
an open wound and you are so precious to
Me I mounted the cross, pierced hands
and feet, bleeding head and I died for your
sins.
Pray the rosary.
Admit your sins so you can be healed.
A wounded man can wound and wound others,
where there could have been healing and love
spread on the vine — he cried out and
took the other grapes out or at least tried
to.
Grapes can be succulent and very filled
with fluid — so beautiful their looks and
taste
Or grapes can be dried up — no fluid —
selfish — oh so very ugly a dried up grape.
I am the vine — you are the branches — My
life can flow in you abundantly producing
succulent grapes —
A heart filled with My life is a heart
of love.
From My Heart — the wound flowed
blood and water — the sacramental life of
the Church — from My Heart from the
wound in My Heart — the Church was
born, that fountain of My life offering
healing to the wounded souls.
healing to the broken hearted
My grace healing for your wounds
My Body and Blood given to nurture you
and heal your wounds
When one loves deeply — they are wounded
by others who are wounded. A man can
be so wounded and so bound they have
locked themselves and their wounds in a
tin box — then they refuse to look at the
big brick they carry in their heart instead
of love —
They can be like hungry dogs in a basement
charging and the more they rob themselves of
relating and loving in the world they become
more wounded, more mean and more hungry.
Another can lock their wounded heart because
the pain is so great to feel — so they guard their
heart and lack spontaneity — they can use
passive-aggressive ways to provoke anger
of others and to do it so impurely provoking and
provoking until they try to work up another
to express their hidden rageful anger
then they walk away like a stone they
have become saying
"Oh I am composed - I show no anger —
I am in control"
In control they are for they are so
tense holding in the bag full of anger and
projecting it on an innocent other.
---
R. Christ was the lamb led to the slaughter.
Christ was the victim sacrificed — the
sins heaped on His back. Christ the
perfect victim — Christ paid the price
for our sins.
Many saints have been forced to suffer at
the hands of jealous, envious, wounded
others —
Who is the sinner —
If one is a victim is he the sinner,
The ones putting Christ to death were
the sinners and He suffered for our
sins.
Harmony and love is the way of Jesus.
Argumentation, fighting — comes from
a wounded person many times — just wanting
to win for they seek dominance, want
control are self-focused and they have
a need from past wounds to fill their
powerless situation by seeking power
over some innocent other —
Power over — the old story — a person
has lost power here and there and he comes
home and dominates their spouse in
controlling, manipulative ways because
their god has become their power —
since they were publicly disempowered —
as long as they are in control here — then
they are not affected by the public
disempowerment. A home is not any
man's castle — our homes, our hearts,
everything we own, our bodies belong
to God for His honor and glory —
To manipulate and try to control
another through passive-aggressive
measures so they act out our suppressed
anger is wrong.
Whole countries can have suppressed
anger and it comes out in war and not love.
Our homes, our families, our relationships
are not to be business as usual — stiff
and cold — Love is the motive force in
family, Church, school, individual
why we exist.
The Church is to grow in greater
oneness. Love is to be the dominating
link — founded on the principles of
Jesus — rooted in the Word — fed with
His Body and Blood — living by the
Commandments of God.
This world was created by God for
His purpose. Oneness occurs in hearts
of love. Woundedness is healed in
Him —
Mary is the one sinless creature. She
is to be honored and loved.
If Mary entered a home, a community,
a Church and some person would
try to dominate Mary and she would
walk out like she stood under the
cross suffering — then we need to learn
about how Jesus was wounded all over
and despite He was God — He endured the
wounds for our sins and obeyed the Father's
will.
We have a world of divorced people
and wounded children whose hearts
have been torn on Christmas, Easter,
vacations.
Homes torn in half. People betrayed
by priests, whole parishes that
suffered —
All of it is doing things in relationships
that wounded others.
God's grace heals the wounds. The
Mass, the sacrifice of Calvary sacramentally
made present - helps unite and heal the
division caused by satan —
Division occurred in the garden —
Adam and Eve did their own will over
God's will —
Healing was needed
Cain divided, kills his brother
Blue Book IV is about the tender love
in relationship of the Hearts of
Jesus and Mary
All the revelation God has given me for
the Shepherds of Christ is about oneness
The Trinity being the most perfect community
3 persons, one God.
See satan reaching like fingers in
the world — tearing up families, pressing
on men and women through their wounded
human nature and they give in to satan —
like Adam and Eve and Cain in the garden —
Pride is a big thing
Wanting to argue — prove you are "right"
somebody else over you is
"wrong"
Satan tempts others through lust,
appetites —
he lies — he says — "its okay,
it is love".
Love does not disobey God's commandments
Love does not lie about truth
Love is what God is
Love is truth
Love is not self-focused
Love is one with God and others —
even when we need a day by ourselves —
We are loving God and others, but
taking care of ourselves
Love dominates a pure heart
Love gets frustrated, but not defeated —
Love seeks God's will when it is
hard or easy
Love does not separate —
Jesus died for all the souls —
We long for all souls to go to heaven —
Mary said souls are dropping into
hell like rain
I love souls
Jesus died for them
I try to be more holy and beg God to
help the souls - to have
mercy — to outpour grace to
the souls to change from evil —
I try to purify myself —
My whole life is to do God's will —
I am laboring here for souls
I am laboring here for the Church
I am loving our priests
And thanking God
My gift is confession
My gift is the Eucharist
My gift is to receive the Body and Blood
of Jesus.
My gift is to go before the tabernacle
and be with Jesus.
Is it hard in the wounded world
YES — but we must love
the priests, the Church and the souls —
Love our priests chosen by God by
praying for them —
understanding they are wounded
human creatures —
We are all wounded human creatures —
Satan presses on somebody really
hard and tells them lies —
they give in —
they are gripped —
we need to pray for God's grace
to get them out
Opening a Blue Book helps
Some people are so blinded in
habitual sin — they have rationalized
the sin is okay —
Fr. Pasquini says they have an
ill-conscience
We must guard our hearts against
evil — not look up hidden anger —
its like a jumping worm —
People who are wounded and lie to
themselves and are consumed with anger
either explode on others or some use
passive-aggressive ways to provoke to try to
make others angry and act out their awful anger.
Provoking others to make them angry
and relieve ourselves is wrong
After years of this husbands or wives
may have to leave the other because they
are being co-dependent — the other becomes
more like a stone and the spouse is
controlled, manipulated to work out
the rageful anger of the other and they
then can become wounded and angry.
Anger is like a spray can, but
in relationships after years of manipulation
the story going on can be very masked.
The person using passive-aggressive measures
can sit like the stone-man in
complete control and the other becoming
more and more sucked in this sick
relationship because of children
or monetary needs gets sicker and
rageful themselves.
Christ withstood the wounds, the
beatings, the bleeding so we
sinner could be saved.
Can you not see how giving our
tainted hearts to the Pure and Holy Hearts
of Jesus and Mary could help hearts to
be pure. Displaying pictures of the
Hearts of Pure love — Jesus and Mary —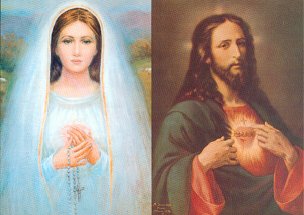 Whatever the reason — impure hearts is
a cause of divorce, hidden wounds
and then more wounds are made —
more and more — passing little babies
around on Christmas and Easter and
birthdays —
Days of celebrations, vacations
become days of pain and division —
bitter/sweet.
Our world is full of this division —
Smoldering anger in countries —
religions that are really angry at
others —
We must get to the core
We must get to the truth
Jesus said "I am the way, the truth
and the life.
God's grace heals the wounded human
nature —
We as sons and daughters of Adam and Eve
have concupiscence —
except Mary who is sinless,
full of grace.
Why did Mary give us the rosary —
We say 53 times
Hail Mary full of grace ...
Holy Mary Mother of God pray for us sinners.
We need this month to focus on the Sacred
Heart — the Heart consumed
with the deepest love.
Look at this cover of Blue Book II
open anywhere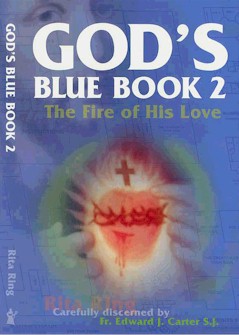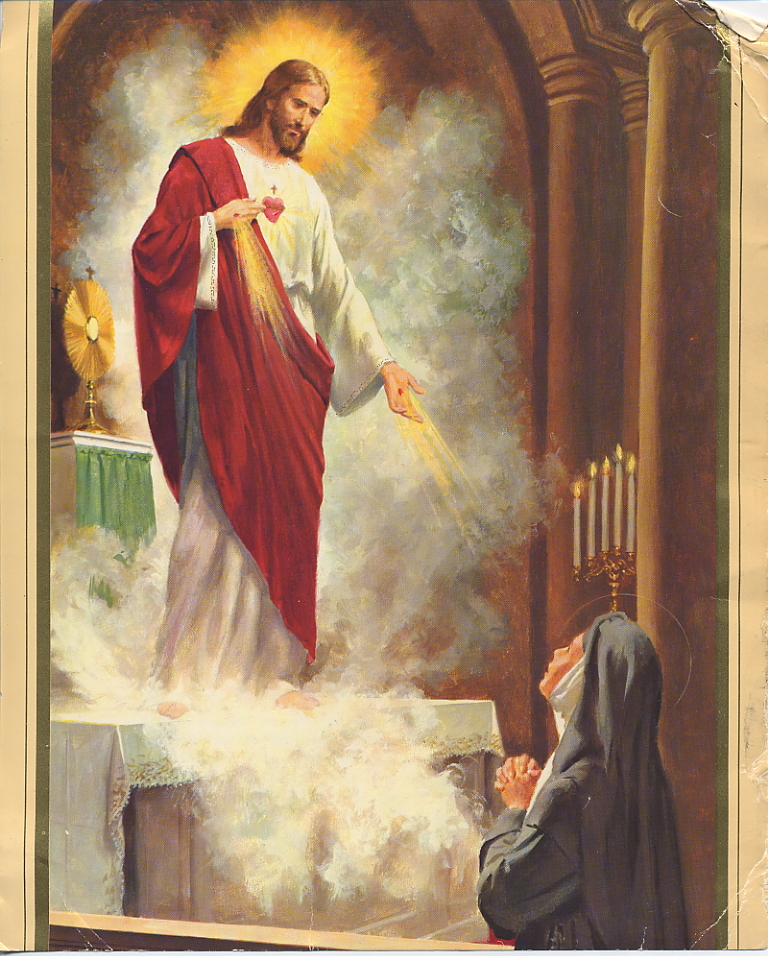 December 17, 1991 His Burning Heart

R. I was alone in All Saints Church after Mass and Communion, in front of the tabernacle, when I saw the Sacred Heart. It was red around the outside, then a layer of yellow and then the brightest light in the center. I felt heat and it looked like an open furnace.

I thought about it all day and it instantly gave me peace and warmth in my heart. This is the purpose of these letters—to draw hearts to the ardent on-fire love of Jesus. I received the following message that day:

"Open your heart to the fire of God's love. He is ablaze in your heart. He wants to dwell in you and love you and others through you. Love God, yourself and one another and experience the fire set aglow in your heart and experience the warmth of His love."

end of December 17, 1991

Excerpt from May 19, 2005

the vision of December 17, 1991 —
the Heart of Jesus and the message — I didn't
know what these revelations would do to
draw men to His Heart
On December 17, 1996 — 5 years later Mary
appeared in Clearwater
and my book left the printer

shipped from the printers
December 17, 1996

Mary appeared
December 17, 1996
Well Fr. Carter is gone but he gave
me these messages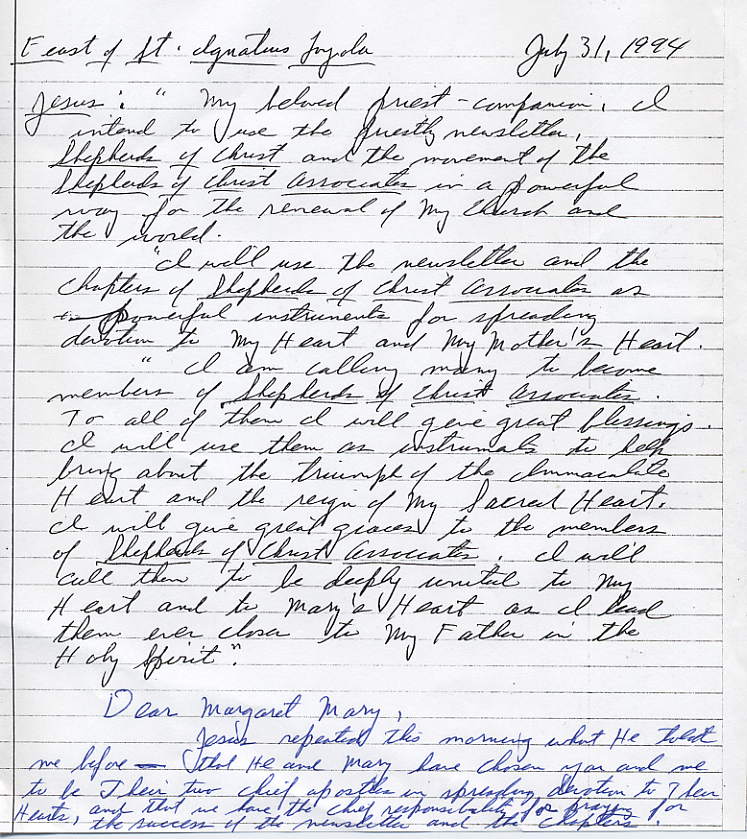 I am still here to do this message
Fr. Carter was given by Jesus —
that I was to spread this devotion
to Jesus' Sacred Heart
Prophesy is being told before something
happens
December 17, 1991 vision Jesus' Heart
June 26, 2007 still spreading this devotion
On June 26, 1995 — 12 years ago
Jesus sent me to Naples, Florida
when I arrived I got this message.
June 26, 1995

The Pain - Naples, Florida

Messenger: He spread His arms, He gave His all, Jesus, the Son of God, the greatest sacrifice, He gave Himself entirely for the good of all men. He opened His arms, He died on the cross.

His arms were covered with blood, His arms so weak and filled with pain, wounded. His arms, the pain shot up His arms and the final blow to each arm a nail through each precious hand.

All the agony He experienced, all the pain, and the crown, to each arm, a nail hammered into the hand.

All the nerves cut and severed by the nail, the pain shooting up His precious arms, the final blow given to His most precious members.

The legs that carried Him, that carried the heavy cross, the legs that were forced and cajoled, that continues to Calvary - the legs weakened, skinned, bleeding, beaten, burned, the legs that knew patience and perseverance, the legs connected to a sore foot that was rubbed and gashed and bleeding, the members of Jesus, filled with such pain and exhaustion, now is crowned with the final glory. The nail that was driven into the foot, the pain shot up this already weakened leg, covered with blood and wounds and pain, the final blow, the nerves severed by the hammered nail.

A blow to each hand, a blow to each foot, a blow to the head, a stamping that pressed down and continued in excruciating pain.

Jesus: They numbered all My bones. They gave Me vinegar and gall to drink. They gave Me a cloth to wipe My blood-covered flesh.

What did they give to Me? Love is giving, My dear ones. How many of you are wounded when you are not given things by your brothers you love?

My members were in such pain, the pain shot up My arms. My legs were so weak I could scarce move them. I was filled with pain within them.

To all who watched, they saw a man, weakened and covered with blood and wounds. They did not see the pain inside that shot up My legs and arms, the nerves inside My body that sent signals of deep pain to My central nervous system. They did not see the nerves inside sending pain signals everywhere.

The final blow being to each hand and foot, the severing of My nerves by the blunt and rusted nails.

An arm extended. A final blow. I beheld a nail pounded into My hand and the pain shot up My arms, unbearable to a human mind.

Do you know of the pain within My body? Signals sending messages of deep pain everywhere. I knew all of these sufferings in the garden. So great were the sufferings to My mind, I sweat blood.

My flesh was covered with wounds. My arms were stretched from their sockets. My body was beaten and bleeding, every inch of My body covered with deep wounds. But, My loved ones, you miss the depth of My love. My wounds were so deep, but the final wound, the pounding of the nails in My hands and feet, a severing of the nerves, an ending of the deepest pain, to experience even deeper pain, beyond your human comprehension, it was done to the Almighty God, a Divine Person, I suffered the final blow to each member.

The pounding in the hands and feet, the crown to each member, and they numbered all My bones. My nerves a network of pain running throughout My entire body.

The pain within the body, the pain recorded in My loving head, the pain sent by a network of nerves in My body, now records the final blows, the nails in the hands and feet, the pain being recorded from every thorn that pierced My skull, every gash to My body, the pain, the pain, the pain - a network of signals and pain, running through My body and the final hour, the pains recorded on the cross, arms outstretched - a surrendering to all pain. I surrendered to a body laden with pain.

You focus on your little problems, your little aches and pains. You discuss them and show the world your pin pricks and sufferings.

Do you want to know holiness and love? They gave Me vinegar mixed with gall. This was their offering. They gave Me a cross. They crowned My head with a crown of thorns.

This, My dear ones, is suffering, My beloved souls, I gave My life for and this is their return.

A severing of My nerves, the final blows to all the aches and pains recorded in My nervous system. This was one of the final blows - the rusted nails pounded into My hands.

You will feel little aches and pains in your hands and feet to remind you of this message. Your understanding of the immense pain within will deepen. What was visible to the eye on My battered body was nothing compared to the pains within. I gave My all. I gave My insides, My mind, My Heart, wounded for the love of men.

All functions in the body were stopped.

The final curtain, blood and water pouring out from My Heart, show that all functions of the body had ended.

R: All signals that carried messages of immense pain had ended, the final act of surrender for God to die to this human body and surrender His flesh.

Jesus: And end, a beginning, the water and blood flowed from My Heart, the beginning of My life in the Church, life flowing into your spirit.

R: Come give me life, abundant life. I thirst to be with Thee.

Jesus: My blood was spent. My human flesh and blood offered as the sacrifice, the sacrifice of Calvary is now made present at every Mass.

An end, a beginning, and the grace and life flow through the sacraments in the Church. My life flows to you in the Mass. Mary, the Mediatrix of all grace, stands by the side of the altar and the grace flows from the Father, through My body offered up as a sacrifice in the Holy Spirit, given through the Mothership of Mary to you in the Church.

You stand under the cross with My Mother and you receive the gift given, My Body, My Blood.

R: Man is reconciled with the Father through the Divine Person, Jesus Christ, and you receive His life poured out to you as Calvary is made present in the unbloody sacrifice of Jesus Christ.

Do you feel the graces poured out to you at this sacrifice of the Son of God at every Mass? Do you feel the presence of the Father, Son and Holy Spirit and Mary, all the angels and saints, and the souls in purgatory? Do you feel united as one at the sacrifice of Calvary sacramentally made present upon the altar through the priest? The priest who now puts on Christ and through Him the dispenser of this life given to man.

Jesus: Oh, My beloved ones, love so dearly your priest. Give him such reverence. He is the chosen instrument of God and you treat him with such ordinariness. You are so blind and so dumb in your ways.

And they numbered all My bones. Each nerve carrying a message of My love of mankind, each member in My Church carrying a special message, all united as one working in harmony according to the Father's will, each carrying a message of love to one another.

The body is many members, you are the messengers of My love. Christ is the head. The message does not flow as it should when some are cut off from the Head.

They nailed My hands and feet and My nerves were severed by the nails, such pain, undescribable in words, the severing of My nerves from the body, the severing of many members from the body of Christ.

My Body given for all on the cross, the network of nerves within carrying the messages of My love to all mankind. My body covered on the outside with blood and wounded, the pain recorded within.

Your Church, covered with blood on the outside, the slaughter of innocent babies, the homosexuality, the sins of the flesh, the members that have severed themselves from the source by their sins, but the pain is carried in the nerves inside. The blood of the Lamb shed for each and every soul, the real pain carried within. The life is weakened in your Church because the love of God is so weak in many members. The messages of love are not being transmitted as they should be. Your body shows the wounds, but your pain within is the root of the problems. The pain is from the messages of love that are not being transmitted.

Unless you seek to fill your priests and sisters with the fire of God's love, fill their hearts with burning love for God, your Church will continue to show the marks of the blood shed without. I give to you these letters as a mighty medicine for this world, directed to make men's hearts burn with love of God and love of one another. The rosaries are meditations and messages given from the Hearts of Jesus and Mary.

These messages will make men's hearts burn with fire for love of God.

You have ignored the importance of these letters.

I send to you the mighty medicine to heal a hurting world.

My priests and religious need these messages. The love of God will be transmitted to the Church from these messages when you circulate these letters.

The devil has blocked the minds of men involved in these messages because of their importance to the world and the Church.

I am speaking to you Fr. Carter to help to get these messages published and circulated as soon as possible. I give to you a mighty medicine for a sick world.

Read St. Thomas Aquinas about the medicine for the sick Church.

You know what these messages have done for you. I am Jesus. I give to you the mighty medicine for a sick world, for a sick Church, rosaries and letters from the Hearts of Jesus and Mary.

Your Church shows the wounds of bloodshed, abortion, homosexuality, sins of the flesh, murder of little children's minds with sex education in Catholic schools and you hold back the gifts of God's love I am giving to the Church and this world.

My arms were weak and wounded but the final blow as the nail put in My hand. It severed the nerves.

The final blow is the bloodshed in the Church, the slaughtering of children's minds in Catholic schools. My children are pure and innocent. They are not being taught messages of God's love, they are being taught messages of sick sex and coldness.

Men's hearts have turned cold. They have been severed from the life of the body. The body is decaying from within. Only with the love of God enkindled in men's hearts will this bloodshed stop.

I beg you to publish and circulate these messages in the Church. I am Jesus. I am giving you the mighty medicine for the world. Your body wears the marks of the bloodshed, only with messages of My on-fire love will it stop.

Mary leads you to Jesus. Never is she the end. The Father has a plan. Mary's messages have led men and will lead men to Jesus. Satan has tried to stop all efforts to publish and circulate these messages. I am the Almighty God. The funds will come when you circulate and publish these messages and rosaries under the Shepherds of Christ Publishing. I am working with Fr. Carter and Rita as messenger to renew the Church and the world. Each messenger has a very vital role in the Father's plan. The significance of these messages are being overlooked. You are not studying the messages as a whole and their content. There are five unpublished Blue Books and more than four Rosary Books which I and My Mother have given to this world in the last 14 months. I have also given 15 songs of My love. I am begging you to see to the recording and publishing of this music. I beg you to listen. This is the mighty medicine for the Church and the world to draw men to the burning love of Jesus. Please harken to My call. I will send you the money. You must study and read these messages. This is a fulfillment of Fatima - these messages were given to bring priests to the burning love of Jesus. I am Jesus, your beloved Savior.

end of June 26, 1995 message
Brand New Internet Store
---
---
---

Copyright © 2007 Shepherds of Christ.
Rights for non—commercial reproduction granted:
May be copied in its entirety, but neither re—typed nor edited.
Translations are welcome but they must be reviewed for moral and
theological accuracy by a source approved by Shepherds of Christ Ministries
before any distribution takes place. Please contact us for more information.