Fr. Don will do Mass
on July 13th at 11:00am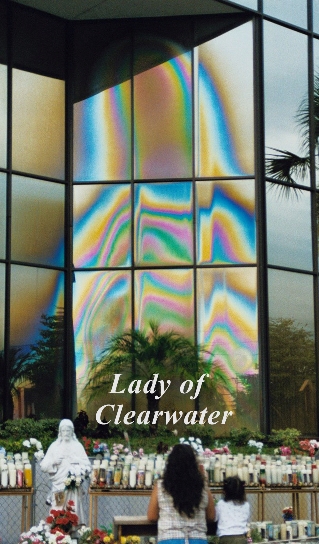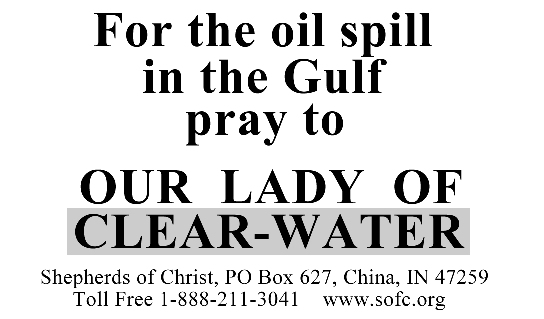 Please pray for an urgent intention
& Jerry's list.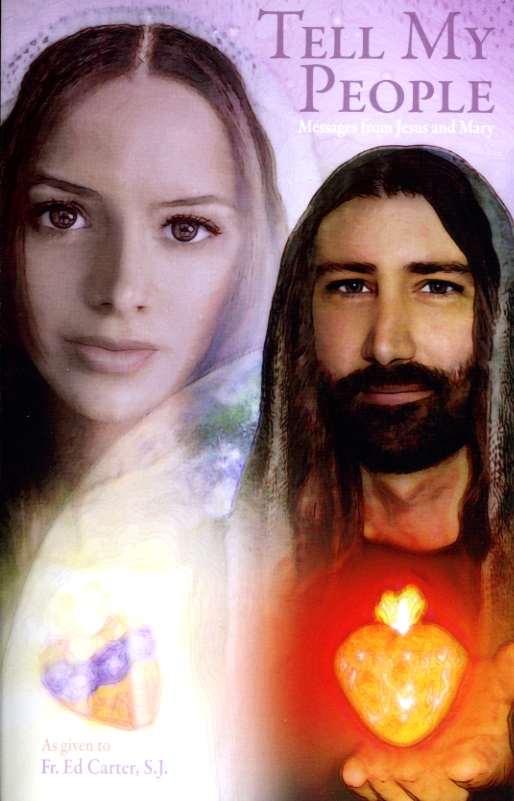 Available $10.00 plus shipping
1-888-211-3041
Call Doris
We need postage to send
Cycle C to priests in Michigan,
Wisconsin and Arizona.
They are done and ready to go.
Please help us.
Call Doris
1-888-211-3041
June 25, 2010
Today's Readings
2 Kings 25: 1-12
In the ninth year of his reign, in the tenth month, on the tenth day of the month, Nebuchadnezzar king of Babylon advanced on Jerusalem with his entire army; he pitched camp in front of the city and threw up earthworks round it. The city lay under siege till the eleventh year of King Zedekiah. In the fourth month, on the ninth day of the month, when famine was raging in the city and there was no food for the populace, a breach was made in the city wall. The king then made his escape under cover of dark, with all the fighting men, by way of the gate between the two walls, which is near the king's garden — the Chaldaeans had surrounded the city — and made his way towards the Arabah. The Chaldaean troops pursued the king and caught up with him in the Plains of Jericho, where all his troops deserted. The Chaldaeans captured the king and took him to the king of Babylon at Riblah, who passed sentence on him. He had Zedekiah's sons slaughtered before his eyes, then put out Zedekiah's eyes and, loading him with chains, carried him off to Babylon.

In the fifth month, on the seventh day of the month — it was in the nineteenth year of Nebuchadnezzar king of Babylon — Nebuzaradan commander of the guard, a member of the king of Babylon's staff, entered Jerusalem. He burned down the Temple of Yahweh, the royal palace and all the houses in Jerusalem. The Chaldaean troops who accompanied the commander of the guard demolished the walls surrounding Jerusalem. Nebuzaradan commander of the guard deported the remainder of the population left in the city, the deserters who had gone over to the king of Babylon, and the rest of the common people. But the commander of the guard left some of the poor country people behind as vineyard workers and ploughmen.
Psalm 137: 1-6
By the rivers of Babylon
we sat and wept
at the memory of Zion.
On the poplars there
we had hung up our harps.
For there our gaolers had asked us
to sing them a song,
our captors to make merry,
'Sing us one of the songs of Zion.'
How could we sing a song of Yahweh
on alien soil?
If I forget you, Jerusalem,
may my right hand wither!
May my tongue remain stuck to my palate
if I do not keep you in mind,
if I do not count Jerusalem
the greatest of my joys.
Matthew 8: 1-4
After he had come down from the mountain large crowds followed him. Suddenly a man with a virulent skin-disease came up and bowed low in front of him, saying, 'Lord, if you are willing, you can cleanse me.' Jesus stretched out his hand and touched him saying, 'I am willing. Be cleansed.' And his skin-disease was cleansed at once. Then Jesus said to him, 'Mind you tell no one, but go and show yourself to the priest and make the offering prescribed by Moses, as evidence to them.'
Jesus: Once rules that are wrong are established
it is very difficult to change them —
A rule such as abortion was put in
place, it is against the commandments
to kill a baby for your own freedom —
killing — taking life
I sweat blood for the men that would
be lost today — I have given you the opportunity
to help Me reach the souls — If one abuses
others and has forced rules so they can
control and abuse — they can be like
an alcoholic that is addicted to punishing
a scapegoat —
An angry man has to want to change
his heart — He can be so angered because he
was so wounded by another or others and looks
to punish those innocent others in their
present life —
I have come to the Shepherds of Christ to help
bring the era of peace My Mother began at
Fatima —
This comes from dying to ways not likened
to Me — from recognizing only by My Might can
you do things —
A controlling person — controls so nothing
can be unpredictable to them — If their
habits are constant argumentation and seeking
dominance for themselves — this is how they
see — they force everything around them based
on their jealousies, fear of abandonment,
anger, wounds they have and act out on innocent
others —
I am meek and tender of heart — a person
who lies about their sin is filled with
guilt —
Blood on the hands can be washed off,
but the memory of the murder, the one who
dropped the guillotine lingers in their heart —
I died for you — I am God — all pure —
without sin — I died, I was whipped for
your sins and the sins of the people I want
to reach today —
Big nails were put in My hands — hammered
through My precious body and you block
My reaching men today when you control the
work I am trying to do in My Church and My
world —
I loved the souls so much —
I died for you, I died for them
Sing: A Song from Jesus —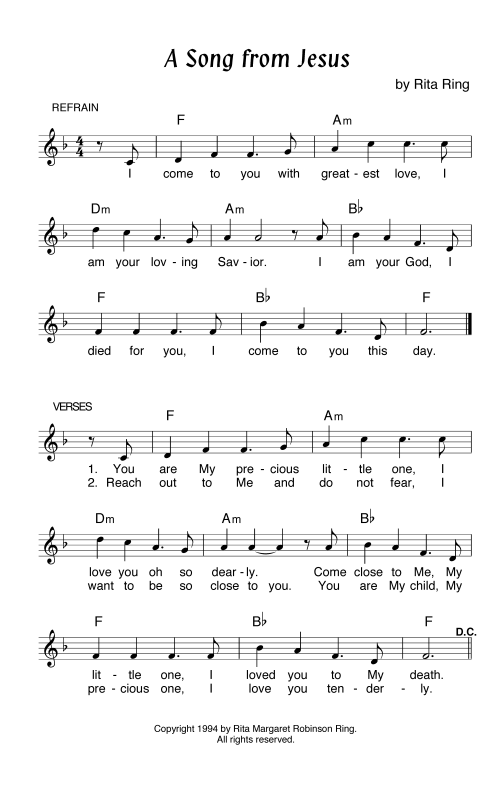 You have established rules based on your
past so you could act out your anger
and show a certain other your purity - you think —
Your mask —
When you wear a mask you hurt yourself
and others —
When you lie about sins you committed
you hurt yourself and others —
When you block My work for your anger
and control — you hurt souls —
the souls I died for —
I call religious to live by a rule — The
rule is a choice if one intends to
stay and work to help so many souls in the
religious life —
A priest is under their Bishop
A priest is not independent on their own —
A person wanting independence from
any rules is opposing the very
rule of the religious order —
I give you religious communities —
In problems people work in love together
to do God's will —
A person angry inside looks down, very
often on others, they can want others to
not be successful — so they can rescue
them —
All are called to make Jesus the King and Center
of their hearts and lives —
I am the King of Kings —
Who is on your throne — you cannot serve
Give a gift that lasts.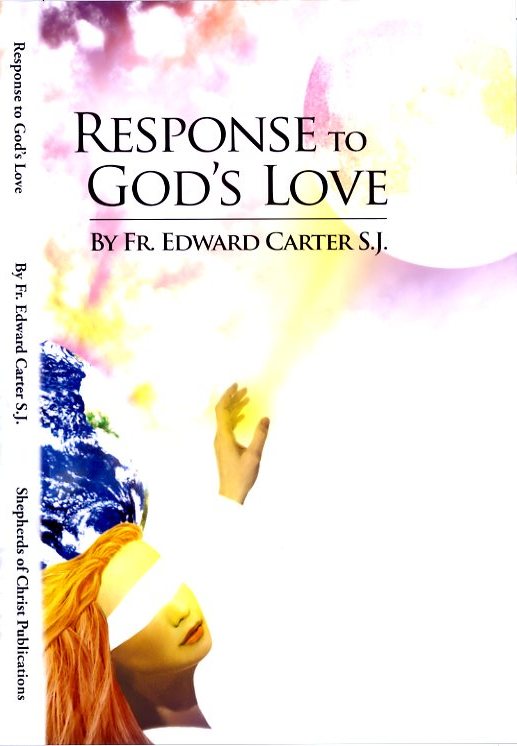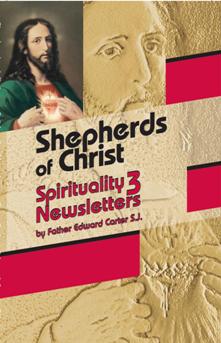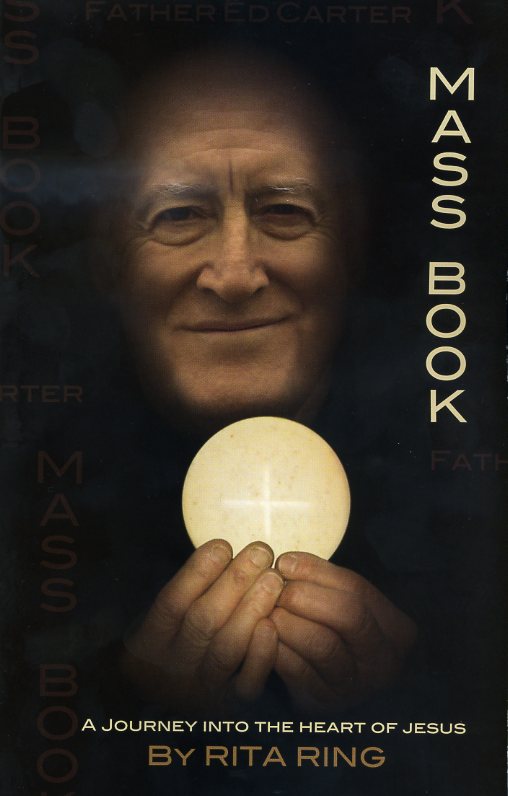 $10.00 each plus shipping
Call 1-888-211-3041
Shepherds of Christ
We can send Fr. Joe's
homily book to a priest for 75¢.
Can you please help us get
these homilies to the priests?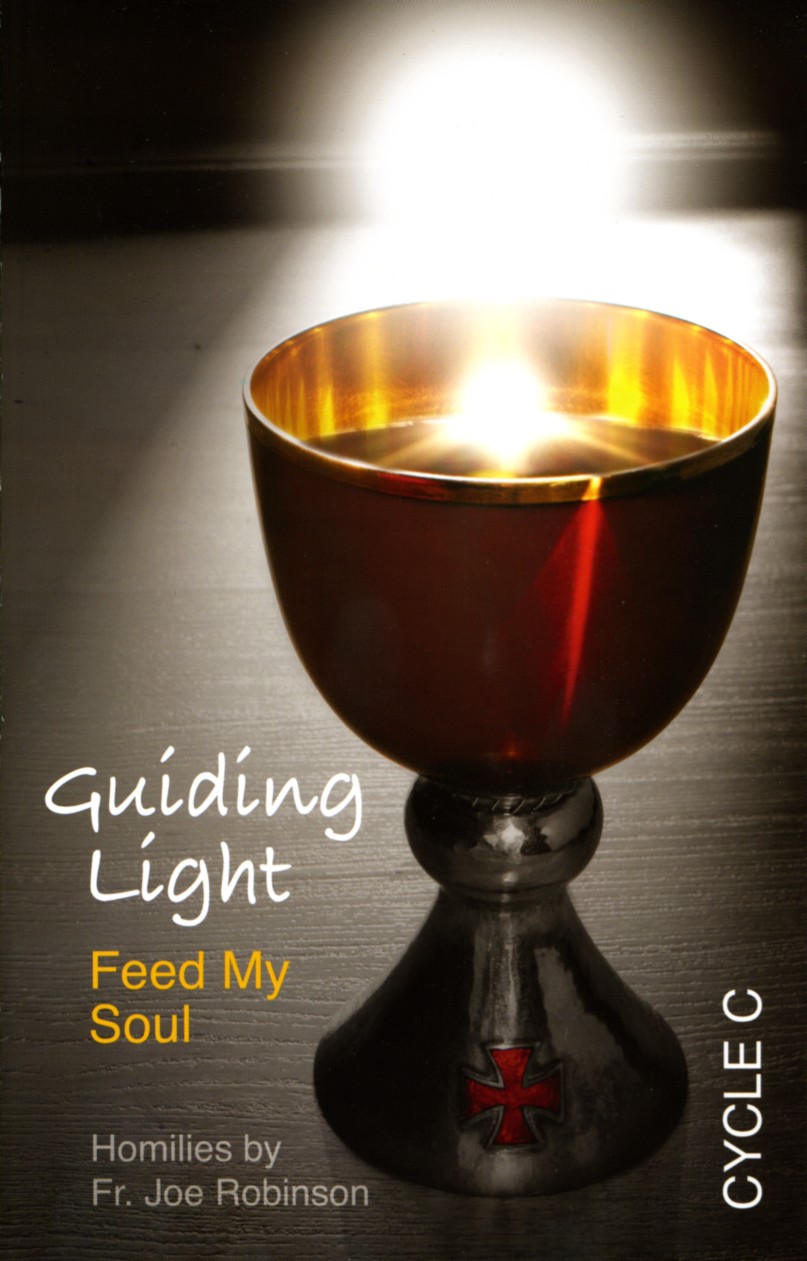 Please help us with your donation.
Call Shepherds of Christ
1-888-211-3041
Prayer Cards available

Holy Spirit Prayer
Act of Consecration to
Immaculate Heart of Mary
Act of Consecration to
Sacred Heart of Jesus
Prayer for Priests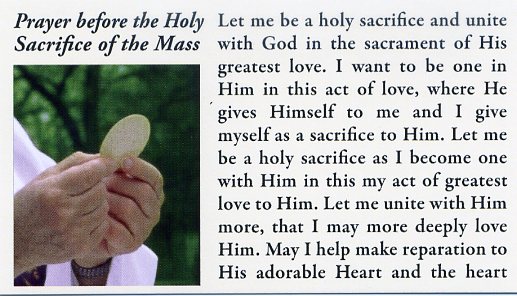 Prayer before the Holy Sacrifice of the Mass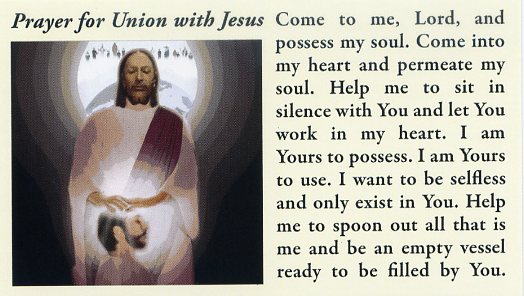 Prayer for Union with Jesus
Available for .25¢ each plus postage
Call Shepherds of Christ
1-888-211-3041
Prayer Card 4" x 6"

.50¢ each plus postage

size 5 1/2" x 8 1/2"
$1.00 plus postage
Statues
| | | |
| --- | --- | --- |
| | | |
| Sacred Heart of Jesus w/glass - 18 | Our Lady-Guadalupe w/glass - 12 | Limpias - 8 |
| | | |
| Immaculate Heart w/glass - 18 | I Heart - Ivory w/glass - 18 | Our Lady of Grace w/glass - 18 |
| | | |
| Our Lady-Mt. Carmel w/glass - 18 | Our Lady of Lourdes w/glass - 18 | Infant of Prague w/glass - 24 |
| | | |
| Sacred Heart of Jesus w/glass - 24 | Sacred Heart -Blessing w/glass - 24 | Sorrowful Mother w/glass - 24 |
| | | |
| I Heart - Ivory w/glass - 24 | I Heart of Mary w/glass - 24 | Our Lady of Lourdes w/glass - 24 |
| | | |
| Our Lady-Guadalupe w/glass - 28 | Our Lady of Grace w/glass - 24 | Our Lady-Mt. Carmel w/glass - 24 |
| | | |
| Fatima w/glass - 11 | Pilgrim Virgin w/glass - 12 | Pilgrim Virgin w/glass - 15 |
| | | |
| Fatima w/glass - 18 | Pilgrim Virgin w/glass - 18 | Pilgrim Virgin w/glass - 27 |
| | | |
| --- | --- | --- |
| St. Padre Pio | St. Joseph | St. Therese |
| | | |
| St. Francis | St. Anthony | St. Claire |
| | | |
| Limpias | St. Jude | Divine Mercy |
| | | |
| Holy Family | Angel | St. Philomena |
| | | |
| Pieta - Marble | Pieta - Color | Holy Family |
| | | |
| St. Anthony - 18 | St. Francis - 18 | St. Joseph - 18 |
| | | |
| St. Therese - 18 | St. Rita - 18 | St. Clare - 12 |
| | | |
| | | |
| | | | |
| --- | --- | --- | --- |
| St. Rita - 12 | St. Padre Pio - 12 | ivine Mercy - 12 | St. Michael - 11 |

Shepherds of Christ Ministries
P. O. Box 627
China, IN 47250

Toll free - 1-888-211-3041
Local - 1-812-273-8405
fax - 1-812-273-3182
web: www.sofc.org
e-mail: info@sofc.org

| | | | |
| --- | --- | --- | --- |
| | Size | Price | Quantity |
| Holy Family | 24" | $180 | |
| Limpias | 24" | $125 | |
| St. Anthony | 24" | $125 | |
| St. Claire | 24" | $125 | |
| St. Francis | 24" | $125 | |
| St. Joseph | 24" | $125 | |
| St. Jude | 24" | $125 | |
| St. Padre Pio | 24" | $125 | |
| St. Therese | 24" | $125 | |
| Divine Mercy | 22" | $125 | |
| Angel | 22" | $100 | |
| St. Philomena | 20" | $100 | |
| St. Philomena | 16" | $65 | |
| St. Joseph | 18" | $65 | |
| St. Francis | 18" | $65 | |
| St. Anthony | 18" | $65 | |
| St. Rita | 18" | $65 | |
| St. Therese | 18" | $65 | |
| Pieta - Color | 15" | $75 | |
| Pieta - Marble | 15" | $75 | |
| Holy Family | 12" | $60 | |
| St. Padre Pio - standing | 12" | $40 | |
| St. Padre Pio - sitting | 8" | $50 | |
| St. Michael | 11" | $40 | |
| St. Rita | 12" | $40 | |
| Divine Mercy | 12" | $40 | |
| St. Claire | 12" | $40 | |
| Limpias | 8" | $25 | |
| Our Lady of Guadalupe w/glass | 28" | $500 | |
| Our Lady of Mt. Carmel w/glass | 24" | $500 | |
| Immaculate Heart of Mary w/glass | 24" | $500 | |
| Immaculate Heart - Ivory w/glass | 24" | $500 | |
| Infant of Prague w/glass | 24" | $500 | |
| Our Lady of Grace w/glass | 24" | $500 | |
| Our Lady of Lourdes w/glass | 24" | $500 | |
| Sacred Heart of Jesus w/glass | 24" | $500 | |
| Sacred Heart -Blessing w/glass | 24" | $500 | |
| Sorrowful Mother w/glass | 24" | $500 | |
| Immaculate Heart of Mary w/glass | 18" | $300 | |
| Immaculate Heart - Ivory w/glass | 18" | $300 | |
| Sacred Heart of Jesus w/glass | 18" | $300 | |
| Our Lady of Lourdes w/glass | 18" | $300 | |
| Our Lady of Grace w/glass | 18" | $300 | |
| Our Lady of Mt. Carmel w/glass | 18" | $300 | |
| Our Lady of Guadalupe w/glass | 12" | $200 | |
| Fatima w/glass | 11" | $150 | |
| Fatima w/glass | 18" | $250 | |
| Pilgrim Virgin w/glass | 12" | $160 | |
| Pilgrim Virgin w/glass | 15" | $200 | |
| Pilgrim Virgin w/glass | 18" | $250 | |
| Pilgrim Virgin w/glass | 27" | $450 | |

Call for Shipping Price (1-888-211-3041)


Name

Sub-Total
Address

IN Tax (7%)
City

Shipping
State Zip

Donation
Telephone

Order Total
Shepherds of Christ
P. O. Box 627
China, IN 47250
1-888-211-3041
Fr. Joe's Homily Books

Guiding Light - Cycle A
The Word Alive in Our Hearts

$10.00




Guiding Light - Cycle B
Focusing on the Word

$10.00


Guiding Light - Cycle C
Feed My Soul

$10.00
Fr. Carter's Books
Priestly Newsletter Book I

12 Newsletters
July 1994 - June 1996

$12.00


Priestly Newsletter Book 2

17 Newsletters
1996 - 1999

$12.00


Priestly Newsletter Book 3

4 Newsletters & Prayers
2000

$12.00




Response to God's Love



$10.00


Messages given
by Jesus and Mary 1994

Tell My People


$10.00



The Pain and the Joy

$10.00

Synopsis of the Spiritual Life

Spirituality Handbook
$3.00


Priestly Newsletter on CD
2000 - Issue 1

$10.00


Priestly Newsletter on CD
2000 - Issue 2

$10.00
Fr. Pasquini's Books
Authenticity



Prayers and Meditations

$10.00

In Imitation of Two Hearts

For those suffering or
in Nursing Homes

$10.00

Light, Happiness and Peace

Journeying through traditional
Catholic Spirituality

$10.00

Medicine of Immortality

Prayers and Meditations - will assist the reader in growth toward a deeper understanding of the mystery of the Eucharist

$10.00


Ecce Fides - Pillar of Truth





Ideal for RCIA, Adult & Youth Bible Study, Homeschooling, Catholic
Identity Studies

$10.00

Shepherds of Christ Newsletters
9 Newsletters
2006 - 2008



$36.00
DVDs and CDs by Fr. Pasquini




Authenticity DVD
Prayers on the Ocean

$10.00


Nursing Home Mass DVD

$10.00

Consolation DVD

$10.00

Medicine of Immortality
Read by Rita Ring

2 CDs - $17.00

In Imitation of Two Hearts DVD

$10.00




Consolation CD
by Fr. John

$8.00





Nursing Home Mass CD

$8.00


Holy Spirit Novena DVD

$10.00

Divine Mercy Chaplet DVD

$10.00