Mary has requested that the daily message be given each day to the world. It is read nightly at the prayer service from her Image Building in Clearwater, Florida, U.S.A. This is according to her request. All attempts will be made to publish this daily message to the world at 11 p.m. Eastern time, U.S.A.

---

We acknowledge that the final authority regarding these messages rests with the Holy See of Rome.

---
---
A Prayer for Intimacy with the Lamb, the Bridegroom of the Soul

Oh Lamb of God, Who take away the sins of the world, come and act on my soul most intimately. I surrender myself, as I ask for the grace to let go, to just be as I exist in You and You act most intimately on my soul. You are the Initiator. I am the soul waiting Your favors as You act in me. I love You. I adore You. I worship You. Come and possess my soul with Your Divine Grace, as I experience You most intimately.
---
Messenger: Include Our Lady of the Holy Spirit Center in 6:20 prayers.
---
Feast of Sacred Heart, June 30, 2000.
Jesus speaks: Please pray the 6:20 prayers between 12:00 - 3:00 Friday (China, Indiana time), the Feast of My Sacred Heart.
Please pray as a body.
Please pray before the tabernacle if possible.
Come to China, Indiana, or pray under the image in Clearwater, Florida.
Pray in your church, go to Mass if possible, pray for My intentions for the Shepherds of Christ Movement and the Reign of My Sacred Heart.
Give yourselves to Me and My Mother.
---
June 29, 2000
Jesus speaks: I ask you to be aware of the kinds of voices in your mind when you are feeling down. The evil one speaks many times in your thoughts. He wants you bowed down.
I want you to love Me and love each other. Only you can control your thoughts. You must choose life-giving thoughts. Look in a mirror and thank God for your life. Look lovingly on yourself. You are God's creation. The devil is the one who wants you to think everyone is rejecting you. I am loving you.
To My death on the cross I loved you. I love you this way today.
Do you hear negative remarks in your thoughts? Silence them. I want you to love. I want you to use your energy to promote the good of souls, yours included. I want you to know My love.
---
(Picture of baby coming soon.)
---
Jesus speaks: As you were formed in your mothers womb, as you were born, I loved you. You are precious to Me.
---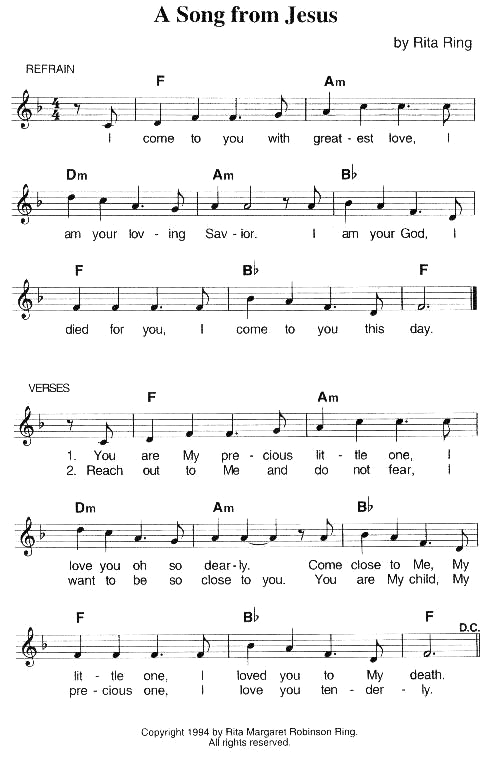 ---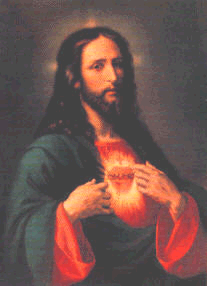 Prayer for Union with Jesus
Come to me, Lord, and possess my soul. Come into my heart and permeate my soul. Help me to sit in silence with You and let You work in my heart.
I am Yours to possess. I am Yours to use. I want to be selfless and only exist in You. Help me to spoon out all that is me and be an empty vessel ready to be filled by You. Help me to die to myself and live only for You. Use me as You will. Let me never draw my attention back to myself. I only want to operate as You do, dwelling within me.
I am Yours, Lord. I want to have my life in You. I want to do the will of the Father. Give me the strength to put aside the world and let You operate my very being. Help me to act as You desire. Strengthen me against the distractions of the devil to take me from Your work.
When I worry, I have taken my focus off of You and placed it on myself. Help me not to give in to the promptings of others to change what in my heart You are making very clear to me. I worship You, I adore You and I love You. Come and dwell in me now.
-God's Blue Book, January 17, 1994
---
Jesus speaks: Satan will send people or have people call that will help to create division, confusion, etc., in your mind. Satan wants you bowed down.
---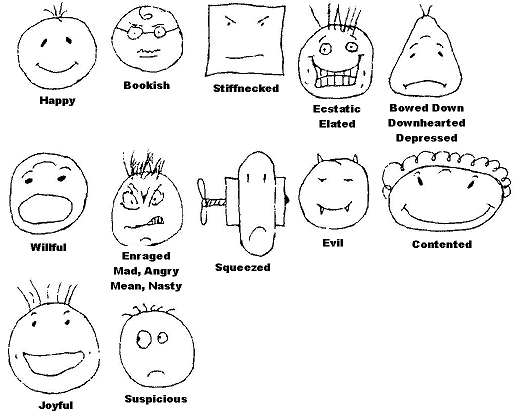 ---
Jesus speaks: Look at the faces.
Your face reflects the disposition of your heart.
---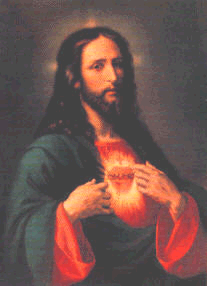 ---
Jesus speaks: I am the Almighty God, I can handle your problems, you must trust in Me and realize My might.
---
Let Go! (excerpt)

April 14, 1994

Jesus speaks: I call you to peace. Let go of your irritations. Do not get angered. Accept things as they are. Each person has a right to be. Why do you have a right to tell them how to be? Mind your own affairs. You have lots to learn to be kind and gentle and loving. You are going nowhere. You do not even know how irritable you are. Listen to yourself, demanding your way, snapping at your beloved ones. Oh, but you have to get the job done! Right. For what reason? Be at peace. I tend to the lilies of the fields and the birds of the air. I tend to the babies in the womb. Do you hear anyone yelling to get the job done?
---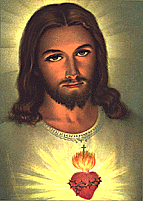 Let Your Light Shine in the Darkness (excerpt)

June 7, 1994
Jesus speaks: Call out in a loud voice. Proclaim My words to the people. Stop at nothing to spread My glorious love. The glory is won in heaven. You are My messenger. You live not for this world, only to draw your brothers to My love, poured out in such abundance in the Eucharist. Come, My beloved ones, partake in My Body, given just for you. My life I give to you. Why are you so blind? Why do you hold on to such uselessness when I am truly present here this very day to you in such significance? My presence I make known to you. I am Jesus Christ, the Son of God. My love I pour out to you with such abundance. My Heart burns for you, My precious ones. Come to Me, let Me hold you in My Most Sacred Heart.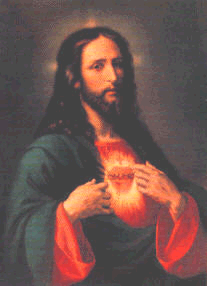 ---
Jesus speaks: When you go to bed tonight, you can never live the moments of this day again.
---
( Song, Live For Today, coming soon.}
---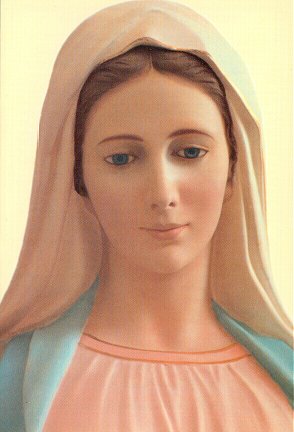 ---
Mary speaks: Today may be the funeral of young ones killed in an automobile accident.
Will you be there?
There are so many souls that are going to hell.
Help me reach the children.
---
June 29, 2000 - Second Message - Vigil of Sacred Heart-After communion about 3:00 pm
Jesus speaks: The grip of the evil one is so strong. More and more people will be tested and tried. The rosary will be a help for those under the severe attacks of the devil. I give all of you the 3rd Blue Book and I tell you to carry it with you. The little Blue Book was a good idea. You do not know how the devil grips your emotions before Mass and prayer and family gatherings to cause division. The devil is vile, you are tempted to have hatred for your brothers. The devil hates you and what you are doing. He works in others who are taunted by him to tempt you to feel hatred for your friends and loved ones. He wants division. He wants you to sin. He wants you to not love. He wants you to hate others. Communication will become more difficult. He wants you to feel rejected and unloved, when I love you so much. I am allowing the world to be tested. Do you see your children, I cry for them. Why aren't the adults listening to Me and your Mother? We are trying to get the people to pray. Your world is deteriorating from within. Its morals have become corrupt, but many adults won't lift a finger to talk about God or the commandments. Your children are a product of the society you have created with illicit sex, homosexuality, and killing little babies in the womb. See Me with that little embryo in My hand sweating Blood. Your children are victims of a society that has not upheld My Name. I want the adults to listen to My words and pray My prayers given for the renewal of the Church and the world. I give you this message for My Feast of the Sacred Heart.
Help Me spread the devotion to My Sacred Heart.
You can't say, "My children are grown", your grandchildren are the victims of a sick society.
Get out and help Me. You hear My Voice. Why do you persecute My messengers and why won't you help with funds to do as I ask?
Please, your children are dying.
---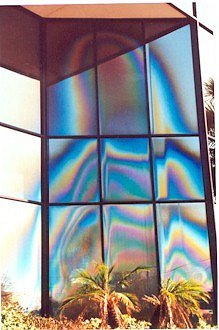 ---
Jesus speaks: Mary appears and she cries.
---
Mary's Message from the Rosary of August 27, 1996
Mary speaks: I stood beneath the cross of my Son, and my Heart was in such pain for I saw Him before my eyes. I saw Him covered with blood. I saw Him die. My Heart, my children, my Heart to watch my Son, but my Heart, my Heart, how I suffered for my little children of the world that give in to this world and give up the love of my Son. O my little children of light, I give you this message. Carry this light into the darkness for your Mother Mary, for I stood beneath the cross and I cried. I cried for the little ones. I cried for the young ones, the ones that do not care and will lose their souls. How do I make you see for you will not listen to me? What can I do? I come. I appear. I beg. I plead. I give you these gifts from my Son, and you reject me. I do not deliver messages very often anymore for I have been ignored. The message is the same. You do not read the messages I have given to you. Please help me. Help the little children. I appear. I appear. I appear, and I am ignored. I stood beneath the cross, and I cried. I cried, and my Heart was in such anguish for my little children, for I am searching for them this day as I searched for the Child Jesus. Please, please help me. I cannot hold back the hand of my Son any longer. I am Mary, your Mother. I ask you to help my children. You are my children of light.

Song: O Lady of Light, shining so bright, be with us this day, guiding our way, O Lady, O Lady of Light.

Mary speaks: I appear to you as Our Mother of Sorrows.
(End of Mary's Message)
---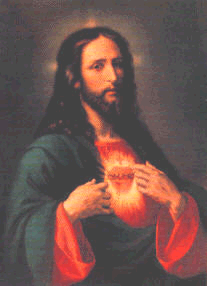 ---
Jesus speaks: PRAY MY PRAYERS

START PRAYER CHAPTERS

GO TO MASS AND TO THE TABERNACLE

PRAY AND SPREAD THE ROSARY

YOU MUST REACH THE CHILDREN WITH THE ROSARY
---
June 29, 2000 - Third Message
Jesus speaks: The devil wants you to hate, he wants to cause division. I want you to stay united and do this work. The devil can work inside of you trying to plant thoughts of hate in your heart for someone you love and depend on.
The devil attacks the thoughts, the devil wants you to hate those you need to work with.
The devil is the master of deception.
The devil wants you to hate yourselves and those closest to you, he plays up little things in your minds and you miss beautiful moments of love.
Do you know how it is when you take people for granted? Remember the man who did so much for you and you loved, and then at a certain point all you could see were faults, and you didn't appreciate him at all and all the gifts God gave you through that friendship.
What if God took that friend away?
My child, would you be so critical then?
You better praise God for the gifts you have and quit listening to the voices within that are negative, critical, and down right hateful.
Then you feel so bad, what do you do to feel better?
Do you eat sugar? Do you drink, smoke, take drugs, look for answers outside yourselves to make you feel better inside?
My child, only you can control your attitude, you are probably not the victim of others around you, you can make yourself a victim.
Who controls your thoughts?
You must think thoughts that will choose life.
When you eat, do you choose life?
Do you drink good water or fill yourselves with soda and sugar and coffee and alcohol?
What is life?
Do you need air to breathe?
Do you need good food that builds you up?
Do you need sleep?
Who controls your attitude inside?
It is too easy to feel bad inside and then look for something or someone to blame.
You must choose life, sleep right, eat right, think right, appreciate all the gifts I give you.
I send people into your life to give you love.
You want it your way.
Only My way will lead you to true happiness.
You must trust in Me.
You must pray to Me.
Trust in My Sacred Heart and give yourself to Me.
I am the source of all life.
What is life? My life I outpour to you in the Eucharist.
I give you a share in My life through grace.
A woman accounts:
Oh, I woke one morning and I didn't want to put my feet on the ground and I cried, "What is life?" I remembered Jesus' words, "I am the Bread of Life", and I remembered that the Eucharist is the richest source of His life and I ran to the tabernacle to be with Him and He filled my soul with His life.

He is life.

He is light.

The devil is dark.

He wants souls for hell.

He is working in the world.
(end of woman's account)
Jesus speaks: I am God, I am the Source of all Life.
---
John 6:51
I am the living bread
which has come down from heaven.
Anyone who eats this bread
will live for ever;

---

John 6:56

Whoever eats my flesh
and drinks my blood
lives in me
and I live in that person.
---
How Shepherds of Christ has Changed my Life - Joan R.
My testimony is about my journey, about unconditional love, and the revelations that I have been given after being a part of Shepherds of Christ Ministries for a few years.
I have always been a bit of a loner, mainly because I didn't feel that anyone could like me, much less love me, unless I proved myself to them, or unless I was perfect. I have observed conditional, controlling, dysfunctional types of love that look NOTHING like what I'm learning about by reading Jesus' love letters to us, the priestly newsletters, participating in daily Mass, and by spending time alone with Jesus in front of the tabernacle. It's NOTHING like the human love I'm experiencing with my fellow apostles in the Shepherds of Chris Movement. I avoided deep relationships due to past hurts, and I fought to stay away from authority figures probably out of fear. Fear of rejection, fear of judgment, fear of loneliness. Unfortunately, one of the authority figures I stayed away from was our Lord. This obviously includes priests, and Confession. For too long, I went my own way.
But as I promised my mother before the Lord called her home, I went to Lourdes in 1992. Jesus sent Our Lady to touch my heart, so I would fall in love with Him all over again as I had done as a small child. I had wandered far away. I did not know anything about Lourdes, though I had some Catholic education. My heart was broken, and I believe He gave me a new one during the two years following, which included getting involved in a Charismatic healing prayer group, Our Lady of the Holy Spirit Center, Falmouth, and some of the early Shepherds of Christ rosaries and activities.
In the Shepherds of Christ, my walls are slowly being destroyed. They are being knocked down with this "unconditional love" (human and heavenly) I was speaking about. It is with a love that "complete strangers" were showing me, not because of my accomplishments, or anything dynamic or special about me. It was purely that link of common devotion to the Sacred Heart and the Immaculate Heart. When I imagine the Reign of the Sacred Heart, as our Lord has promised us, I imagine that this is what it will be between everyone. I'm seeing a love that cannot be compared to anything I've seen in life so far.
My cowardice is diminishing slowly, and I look for every opportunity I can to talk about Jesus and Mary, to anyone who will listen. I am happy to say that my whole self has changed dramatically over the past ten years, and now my friends who know me well come to me first when they have needs for prayer. These are people who would never have done that when they met me. So I am not quite so afraid anymore. I have become an enthusiast for Christ. Yes I have. How can I not be, as I grow closer and closer to Him in this journey? I want people to know within the first few minutes of meeting me, that Jesus is my Lord, and He is first in my life. If they don't, I'm not showing my love for Him.
So my life has changed in many ways, but the key thing is accepting and learning about the love that "strangers" have for me. It's a love that can only be found IN the two Hearts. I'm learning to die to my old distrustful ways, and reach out and love back. I realize that we can't GIVE this kind of love unless we have our love relationship with Jesus. Mary helps us get that, if we let her. She has with me.
I have a new family - and no, I have not abandoned my blood-ties family, but I see that I have a new family also, new earthly parent figures, brothers, sisters, and friends who truly love me with a genuine love I know I can trust. Some of them are models of love, as husbands and wives, as brothers and sisters. I want to be able to imitate this love in my life, and return it. These people readily say "I love you" to me, which is an awesome, wonderful gift. In the past, it would have shocked me, but now it doesn't because I believe it to be true! If they love me this way, Jesus' love for me is unfathomable. I want His fire even more now.
The Shepherds of Christ has been a huge answer to the many questions about my whole puzzling life. It has answered big questions like:
Why did I insist on attending the University of Dayton, without applying anywhere else, seeing the campus, talking to anyone about it, or even knowing that it was a Marian college? I was SO DRAWN, there, and I had no reasons whatsoever.

Why did I spend 3 years in France, and why did I go to Paris on several occasions and was drawn to Notre Dame ("Our Lady") and Sacre Coeur (Sacred Heart) churches there every time? I loved them so and I didn't know why. I wasn't even attending Mass (or praying) regularly.

Why did I DEMAND RUTHLESSLY …that I come back to Dayton, Ohio, after living and traveling in Europe, and loving it there? Why didn't I go somewhere more cosmopolitan????

Why did I study about computers and business planning, and work for 10 years in those fields in "corporate America" when I really wanted to be a nurse?
I have no answer but that the Father, Jesus, the Holy Spirit, and Mary were always guiding me, watching me, letting me make mistakes and get lost. But They never left me. Their Shepherds of Christ Internet team (of which I am a part) was being formed, as was the publishing department (of which I am now trying to lead with His help). It all happened right in front of me, without my knowledge about where it would take me. I accept this as the big picture of my life, which I think I am beginning to understand. It helps me see that Jesus never left me, and He still loves me, despite my sinful past. I have finally been led to my home on this earth. I didn't find it; I was led here. I think I really heard the Holy Spirit without knowing it.
Our Lord allowed me to be inflicted with Multiple Sclerosis and several other crosses that only He can heal, ten years ago. Would I have listened and turned back to Him, be given very special work to help save souls, had this not happened? I doubt it. M.S. now has several other meanings to me. The Mother of my Savior came and called me back to Him. It was loud and clear. Then I had no choice but to look at My Sins, get over My Sorrow, and start the road to My Salvation. There are many other MS's, but the end is that MS = My Salvation, through my quest to help save Many Souls. It's a cross that is much lighter, and the messages in the Blue Books, the priestly newsletters (especially those about suffering) have all helped me to see this daily suffering for what it is. It's a gift. It's an additional chance to offer up each day of suffering for the salvation of souls. Would I ask to have it all taken away now? His will be done. Not mine.
My role in the Shepherds of Christ seriously began after I left "corporate America", on my daughter's first birthday. It was this date that I became officially "disabled", left the workforce without looking back, and I have never been happier. I took with me all of the knowledge and experience I learned there, and now I am using every bit of it to work for our Lord and our Lady, while I stay at home with my daughter. I'm where I'm supposed to be. Jesus cleared my daily "corporate work" schedule, and filled it with His Own agenda. I said, "YES!".
I can't end this without giving credit to my awesome aunt Emily, who gently invited me to Falmouth, Cold Springs, and the Holy Spirit Center, and into her life. She gave me my first Blue Book, introduced me to the messenger, gave me great spiritual direction, and has been a priceless inspiration and great support to me in my journey here. Thanks aunt Em, I love you!
Jesus, thank You. Holy Spirit, thank You, Father, thank You, Mary, thank you. I will continue to try to listen. Now that I have seen the world so differently by listening to Your words daily, I see the world and do not enjoy the same things that I used to (praise God!). I cannot go back to the world I knew. It's not of You. I am Yours. Praise the Living God!
---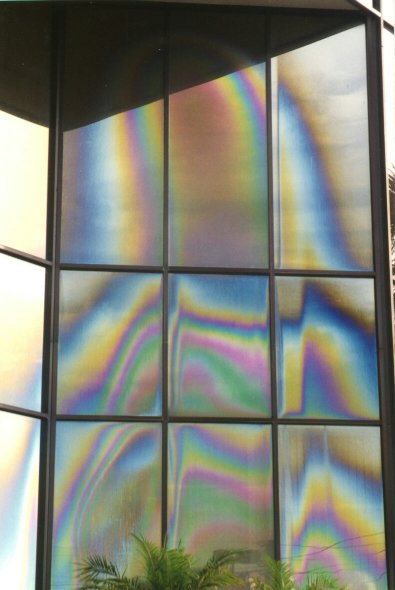 Please come to Florida.
Pray under the image.
July 5, 2000
Special rosary 6:20 p.m.
This is a special anniversary.
---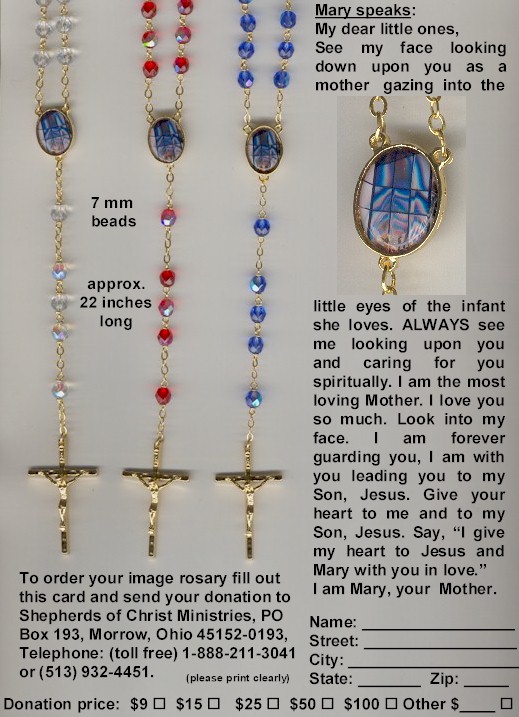 (Please copy and pass out to family and friends.)
---
MY VALENTINE FOR JESUS AND MARY
AND THE WORLD
I _________________ give my heart to
You Jesus and Mary on this day
_________________
I promise to help spread the devotion to
the Hearts of Jesus and Mary.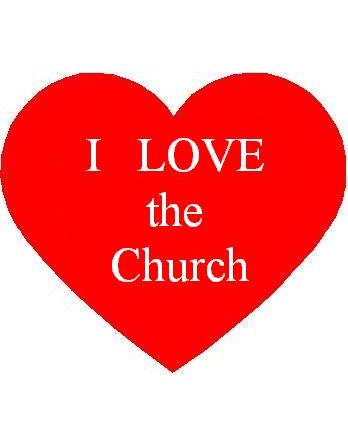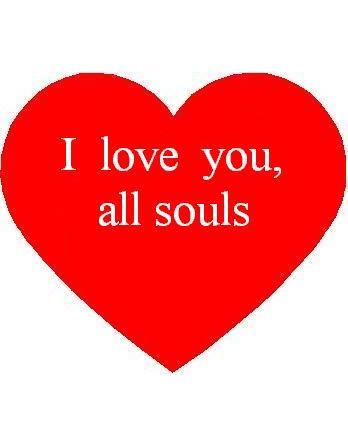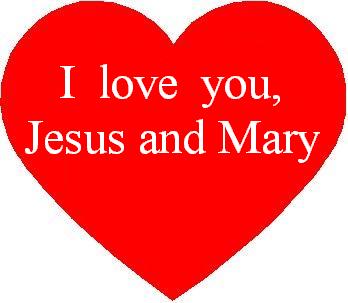 ---
Question for married couples and others in intimate relationships:
Q: How do I feel when I am troubled with a problem and instead of listening and trying to understand you give me a solution and expect me to take action on your solution?

---
---
---
Copyright © 2000 Shepherds of Christ.
Rights for non-commercial reproduction granted:
May be copied in its entirety, but neither re-typed nor edited.
Translations are welcome but they must be reviewed for moral and theological accuracy by a source approved by Shepherds of Christ Ministries before any distribution takes place. Please contact us for more information.
All scripture quotes are from the New Jerusalem Bible, July 1990, published by Doubleday.
Revised: June 30, 2000
URL: http://www.SofC.org
Contact Information for Shepherds of Christ
Email: info@SofC.org
---
Shepherds of Christ Ministries
PO Box 193
Morrow, Ohio 45152-0193

Telephone: (toll free) 1-888-211-3041 or (513) 932-4451
FAX: (513) 932-6791