Mary has requested that the daily message be given each day to the world. It is read nightly at the prayer service from her Image Building in Clearwater, Florida, U.S.A. This is according to her request. All attempts will be made to publish this daily message to the world at 11 p.m. Eastern time, U.S.A.

---

We acknowledge that the final authority regarding these messages rests with the Holy See of Rome.

---
June 30, 2005
July 1st Holy Spirit Novena
Scripture selection is Day 6 Period II.

The Novena Rosary Mysteries
for July 1st are Sorrowful.
Statues are available
in Clearwater, Florida
China, Indiana
Morrow, Ohio
Cincinnati, Ohio
1-888-211-3041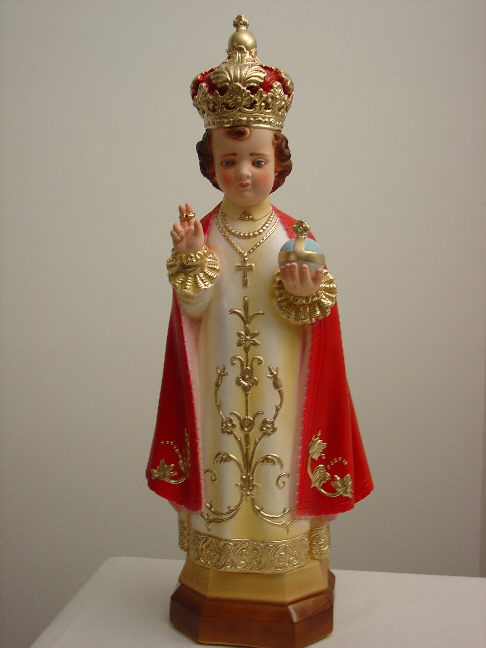 Every home needs an Infant of Prague statue -
He's so cute!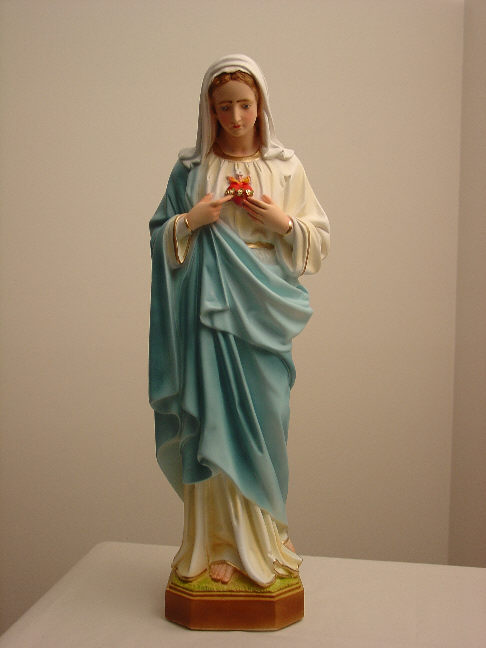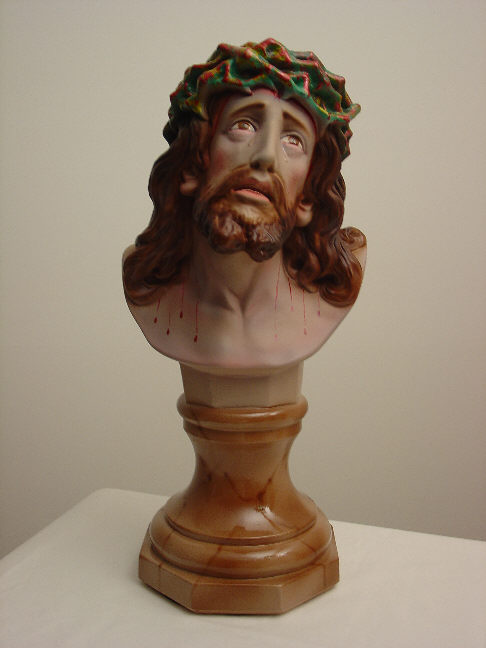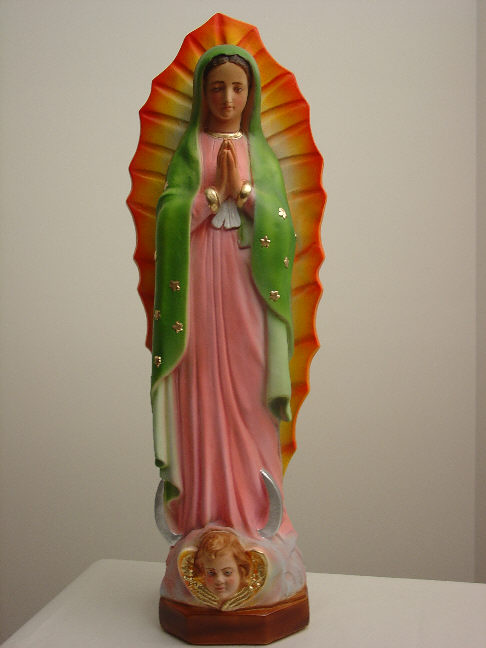 June 30, 2005
With emotion
Jesus speaks: Death - Resurrection
Peace - Joy
Calm yourself child —
I am always with you
In all your trials —
I come to tell you how temporary your
life is here below.
My Heart is ablaze in love with you —
My Heart is on fire with love for My precious
souls.
A man had a friend that burst a blood
vessel and all his friends became
afraid.
The devil wants you to see yourself as
always having trouble —
I take you to My fiery Heart.
Pray as you have never prayed before.
The rosary is so very powerful
pray My sweet heart,
the Mysteries of Light.
Messenger: Dear Holy Spirit enlighten me.
Jesus speaks: The rosary is a weapon against
satan — take your cares to Me
and pray the rosary —
Learning to love is a process —
I want you to be tender in your
heart — loving the other in
Christ — being forgiving —
working hard to promote My
Kingdom and spread the
good news —
I give you My Word in the scriptures.
I give you the Eucharist.
Mysteries of Light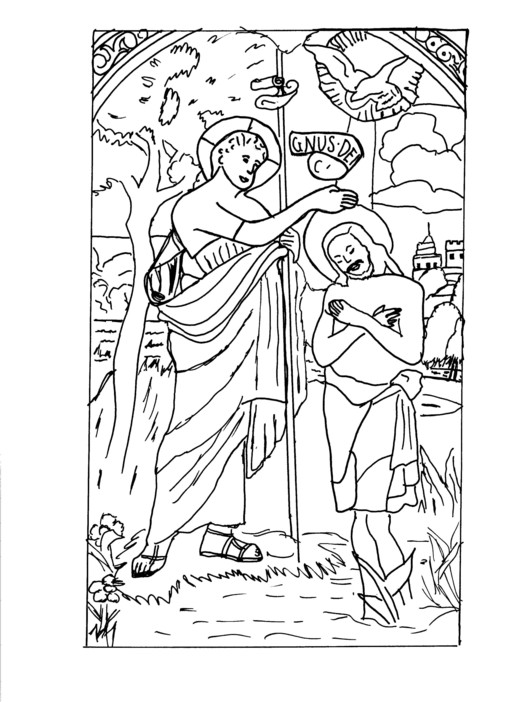 Baptism of Jesus
(1) Matthew 3: 3
This was the man spoken of by the prophet Isaiah
when he said:
A voice of one that cries in the desert,
'Prepare a way for the Lord,
make his paths straight.'
(2) Matthew 3: 4
This man John wore a garment made of camel–hair with a leather loin–cloth round his waist, and his food was locusts and wild honey.
(3) Matthew 3: 5-6
Then Jerusalem and all Judaea and the whole Jordan district made their way to him, and as they were baptised by him in the river Jordan they confessed their sins.
(4) Matthew 3: 13-14
Then Jesus appeared: he came from Galilee to the Jordan to be baptised by John. John tried to dissuade him, with the words, 'It is I who need baptism from you, and yet you come to me!'
(5) Matthew 3: 15-16
But Jesus replied, 'Leave it like this for the time being; it is fitting that we should, in this way, do all that uprightness demands.' Then John gave in to him.

And when Jesus had been baptised he at once came up from the water, and suddenly the heavens opened and he saw the Spirit of God descending like a dove and coming down on him.
(6) Matthew 3: 17
And suddenly there was a voice from heaven, 'This is my Son, the Beloved; my favour rests on him.'
(7) Jesus speaks: I give you the sacrament of baptism.
(8) Messenger: In baptism you become —
"a child of God and an heir of heaven" - From the Catechism
(9) Baptism is a great gift that helps
you to know and love
more likened to God.
(10) You are children of the light —
wear the white garments —
these are the mysteries of light.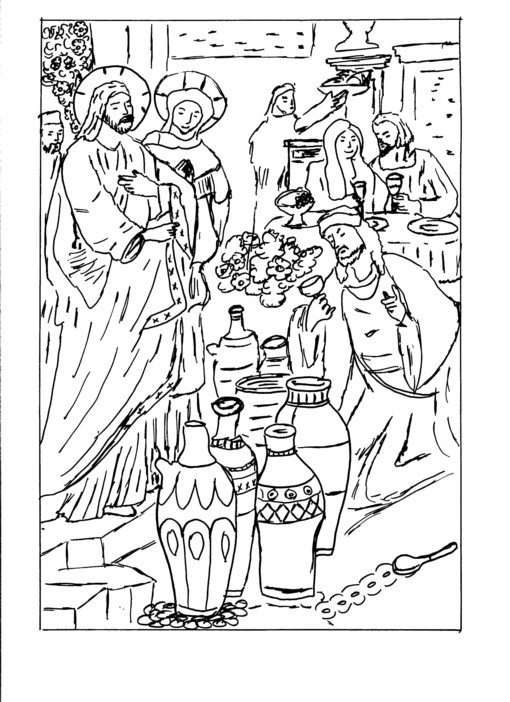 The Miracle at Cana
(1) Messenger:
Jesus performed His first public miracle
it is said at the Marriage
Feast of Cana.
(2) Jesus turned water into wine.
(3) Mary told Jesus — they have no more
wine.
(4) We can pray to Jesus through the
intercession of our heavenly
Mother —
(5) Mary appeared in dazzling light
as Our Lady of Clearwater.
This was on the last 5th when
Mary appeared.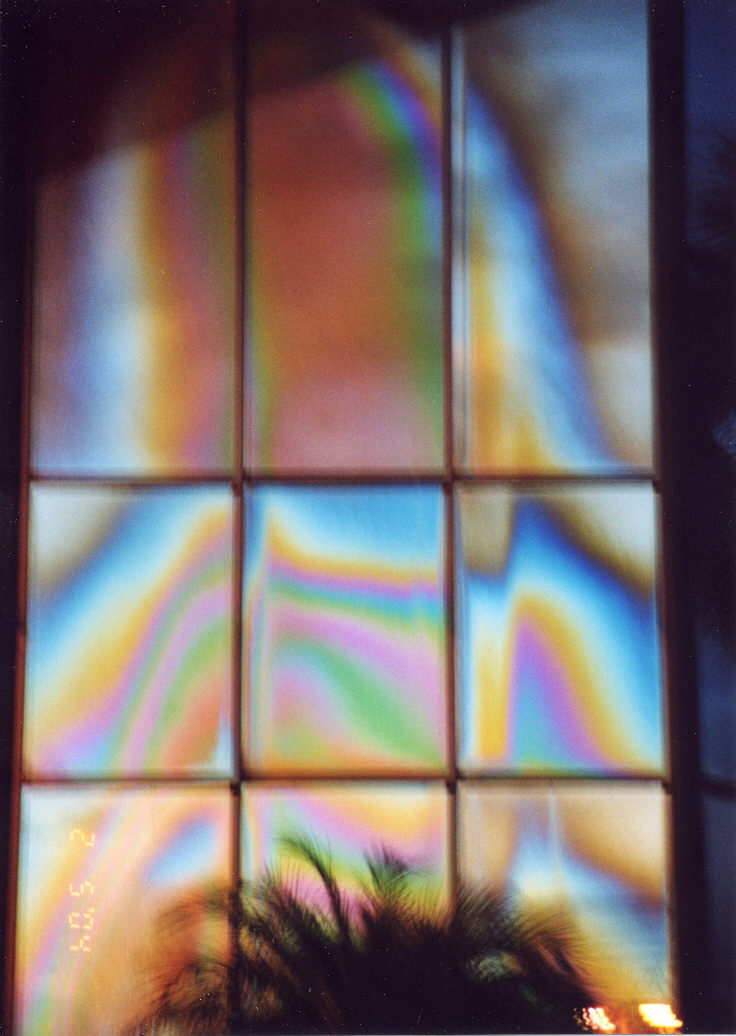 February 5, 2004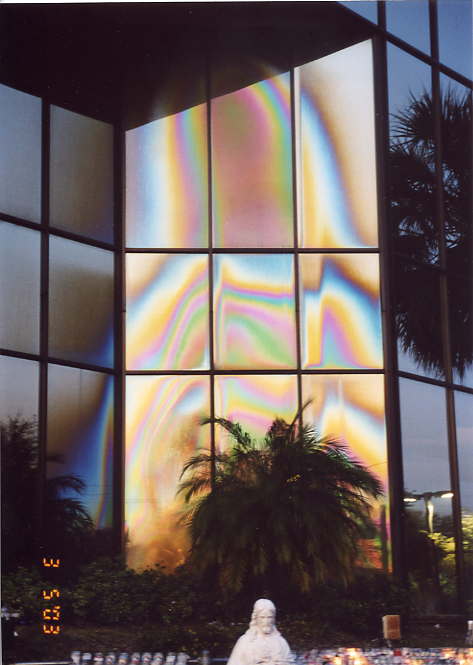 March 5, 2003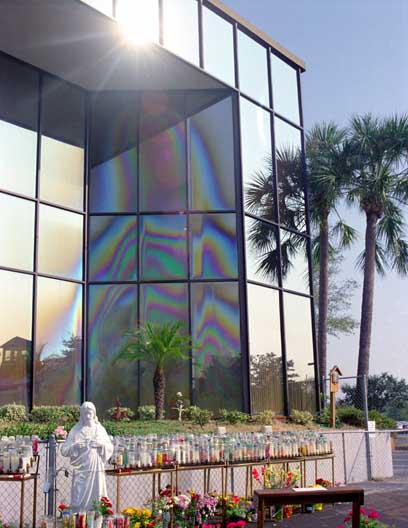 November 6, 2000
(6) Jesus performed many miracles
on earth.
(7) Jesus healed the sick, the paralytic,
He healed the blind.
(8) Jesus rose Lazarus from the dead.
(9) Jesus gives us miracles today.
(10) Jesus gives us His Body and Blood
to heal us.
Song: A Priest Is a Gift From God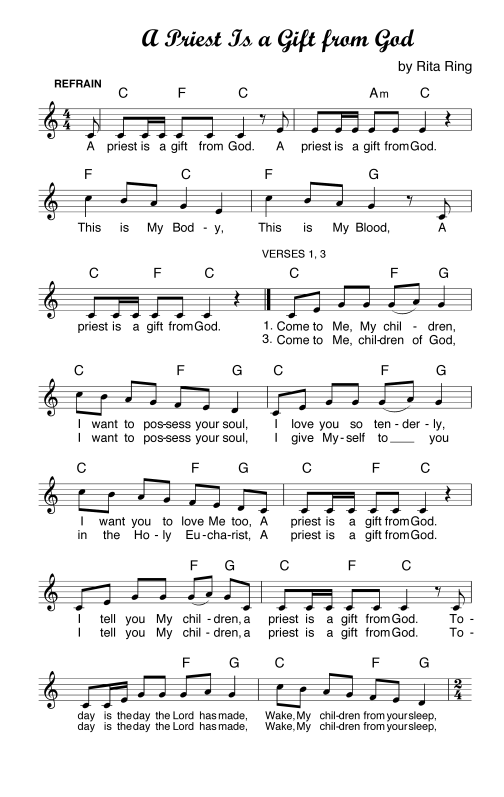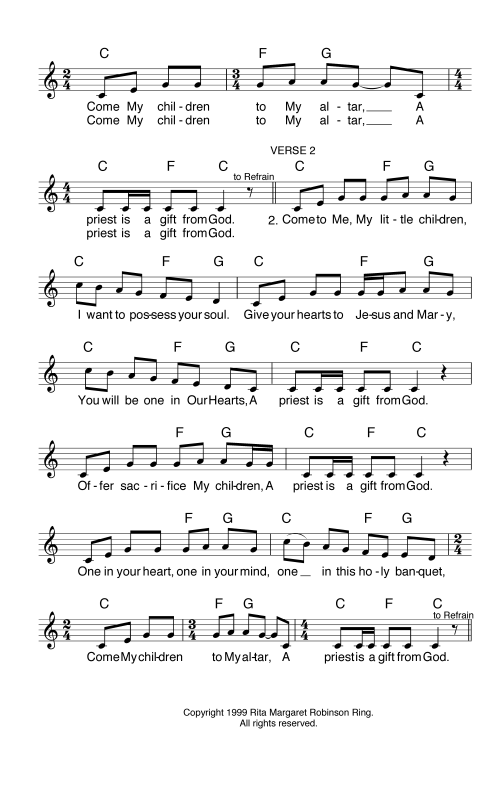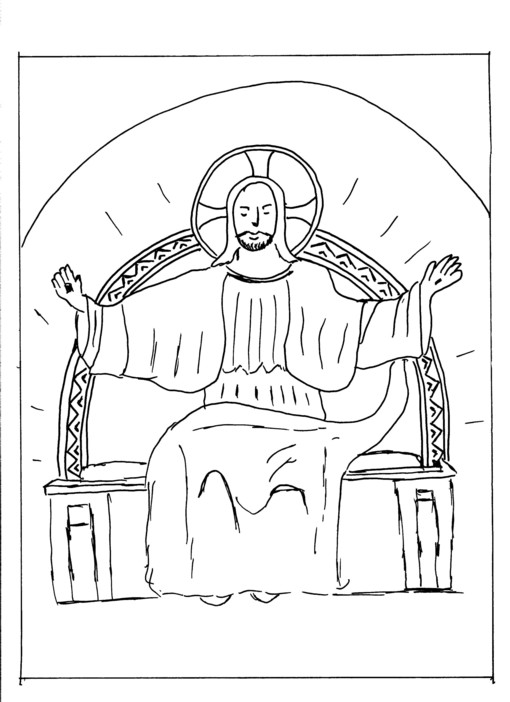 Kingdom of God
(1) Messenger:
Mary promised at Fatima there would
be an era of peace.
(2) We must recognize Jesus as our King.
(3) Many today worship false gods.
(4) Satan wants souls for hell.
(5) John 6: 11
Then Jesus took the loaves, gave thanks, and distributed them to those who were sitting there; he then did the same with the fish, distributing as much as they wanted.
(6) Matthew 18: 12
'Tell me. Suppose a man has a hundred sheep and one of them strays; will he not leave the ninety–nine on the hillside and go in search of the stray?
(7) John 6: 19
They had rowed three or four miles when they saw Jesus walking on the sea and coming towards the boat. They were afraid,
(8) Matthew 27: 11
Jesus, then, was brought before the governor, and the governor put to him this question, 'Are you the king of the Jews?' Jesus replied, 'It is you who say it.'
(9) Matthew 27: 28-29
And they stripped him and put a scarlet cloak round him, and having twisted some thorns into a crown they put this on his head and placed a reed in his right hand. To make fun of him they knelt to him saying, 'Hail, king of the Jews!'
(10) John 18: 35-37
Pilate answered, 'Am I a Jew? It is your own people and the chief priests who have handed you over to me: what have you done?' Jesus replied, 'Mine is not a kingdom of this world; if my kingdom were of this world, my men would have fought to prevent my being surrendered to the Jews. As it is, my kingdom does not belong here.' Pilate said, 'So, then you are a king?' Jesus answered, 'It is you who say that I am a king. I was born for this, I came into the world for this, to bear witness to the truth; and all who are on the side of truth listen to my voice.'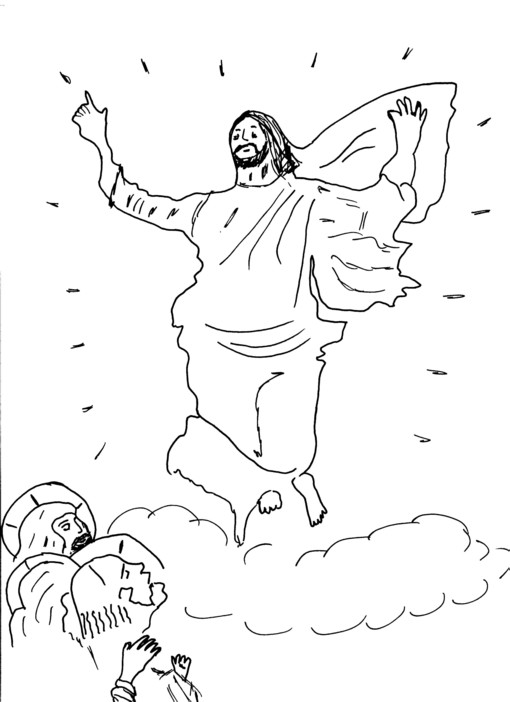 Transfiguration
(1) Messenger:
Jesus took Peter, James and John
up a high mountain.
(2) Jesus was transfigured before them.
(3) His face was like the sun.
(4) His clothes were like white light.
(5) From a cloud came a voice
"This is my beloved Son, with
whom I am well pleased,
listen to him."
(6) The disciples were afraid.
(7) God can show us His marvelous light.
I saw Jesus transfigured before me
several times — 4 times (January 96) at
Holy Cross-Immaculata and
once in Florida.
I have heard the Father say
"This is My beloved Son in
whom I am well pleased
listen to Him."
(8) In a message I received from God
the Father (January 97) after Mary appeared
on the building —
The Father said He was speaking
through Jesus and Mary in
these messages.
(9) The Father said He sent Mary
as a messenger to the earth
December 17, 1996 and allowed her
to appear for 7 1/2 years
and we must make reparation
for what we did to her image.
(10) Dear God you have shown me many
visions and marvelous light and
you have shown all of us the
visions of Our Lady of Clearwater,
please have mercy for the way
Mary's image was treated.
I saw Jesus transfigured in the
Sacred Heart statute when
the Rosary Factory opened
February 5, 2000.
Dear Sacred Heart we are sorry that
the world has ignored the
messages given from the
Father to You and Mary
especially at Clearwater, Florida.
We pray for mercy and
for help to do what You have
asked us to do —
We need your help — please
hear us faithful ones.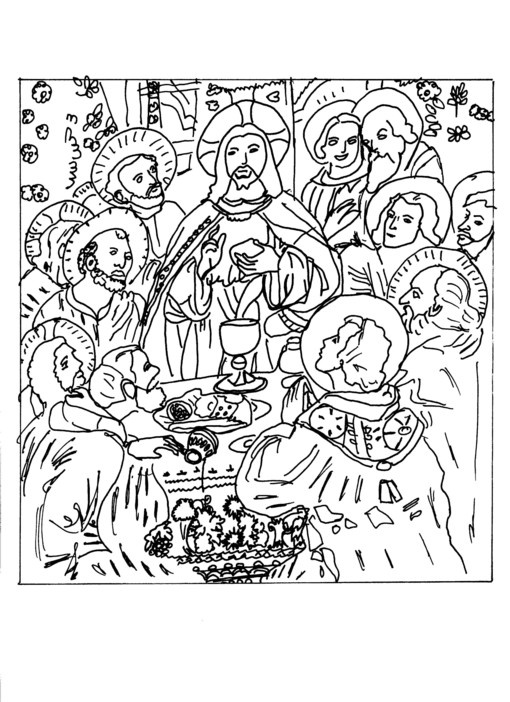 The Last Supper and the Holy Eucharist
(1) Messenger:
Jesus, many ignored You when You walked
the earth, they crucified You,
but You rose on the 3rd day —
have mercy on us and help us to make
God's will known about this
Movement, Your Movement to
help the priests, the Church and the
world —
Dear God please help the world to hear
the message You deliver through
the Lady of Clearwater and
This Movement — we beg and pray
this — for the sake of souls.
(2) Sing: Holy God We Praise Thy Name
(3) Song: A Song From Jesus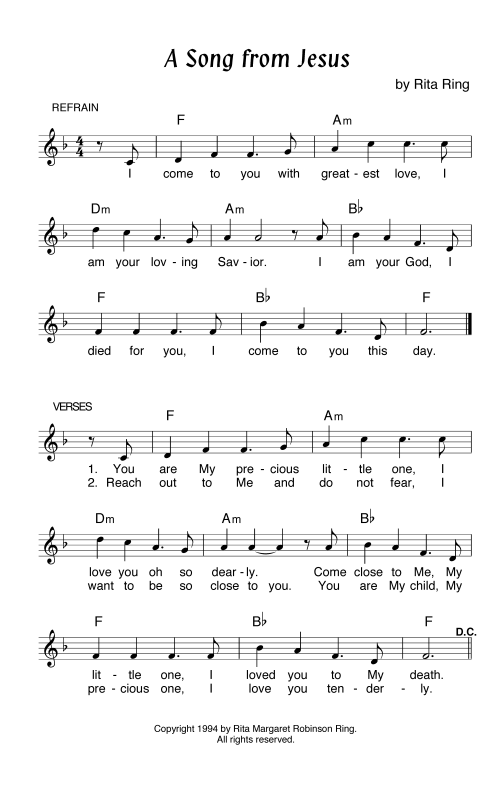 (4) Sing: Lord at Thy First Eucharist
(5) Song: I Love You Jesus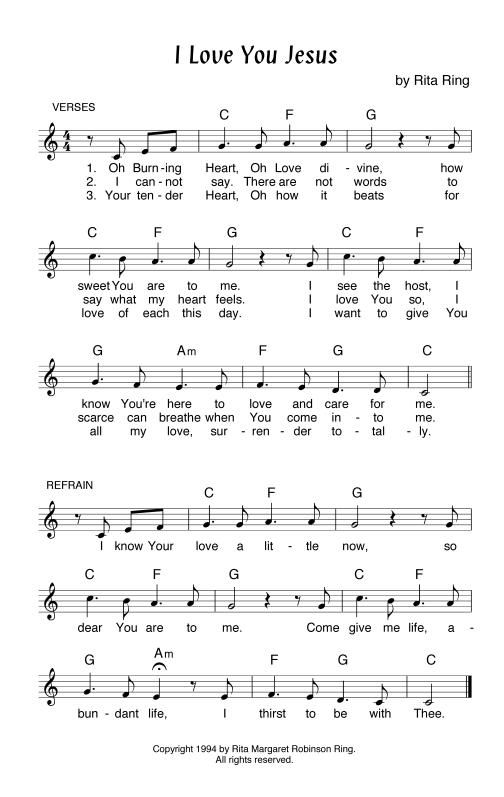 (6) Song: Your Presence Pervades My Soul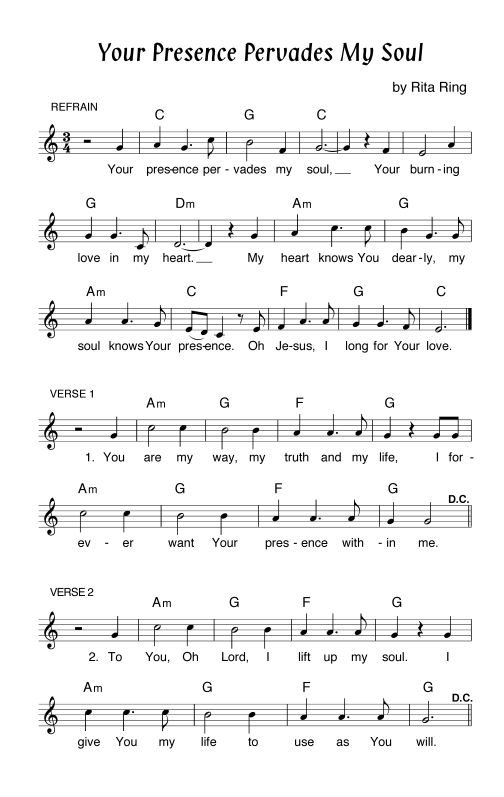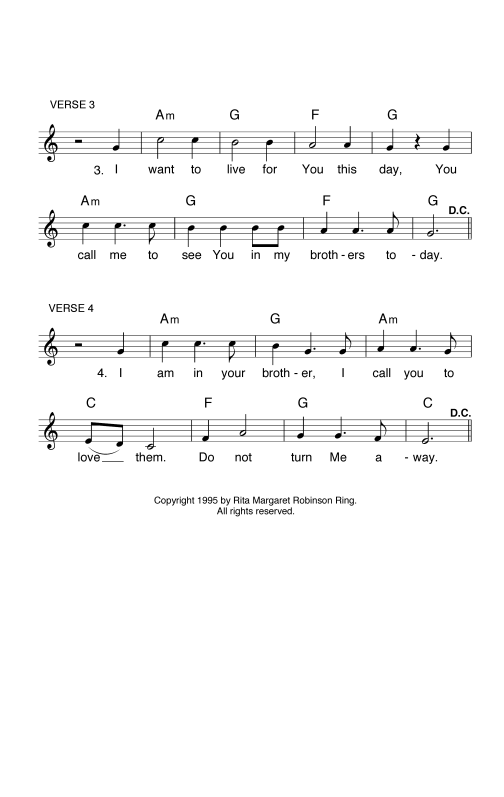 (7) Sing: Jesus My Lord My God My All
(8) Sing: To Jesus Heart All Burning
(9) John 3: 1-21
There was one of the Pharisees called Nicodemus, a leader of the Jews, who came to Jesus by night and said, 'Rabbi, we know that you have come from God as a teacher; for no one could perform the signs that you do unless God were with him.' Jesus answered:

In all truth I tell you,
no one can see the kingdom of God
without being born from above.

Nicodemus said, 'How can anyone who is already old be born? Is it possible to go back into the womb again and be born?' Jesus replied:

In all truth I tell you,
no one can enter the kingdom of God
without being born
through water and the Spirit;
what is born of human nature is human;
what is born of the Spirit is spirit.
Do not be surprised when I say:
You must be born from above.
The wind blows where it pleases;
you can hear its sound,
but you cannot tell where it comes from
or where it is going.
So it is with everyone
who is born of the Spirit.

'How is that possible?' asked Nicodemus. Jesus replied, 'You are the Teacher of Israel, and you do not know these things!

'In all truth I tell you,
we speak only about what we know
and witness only to what we have seen
and yet you people reject our evidence.
If you do not believe me
when I speak to you about earthly things,
how will you believe me
when I speak to you about heavenly things?
No one has gone up to heaven
except the one
who came down from heaven,
the Son of man;
as Moses lifted up the snake in the desert,
so must the Son of man be lifted up
so that everyone who believes
may have eternal life in him.
For this is how God loved the world:
he gave his only Son,
so that everyone who believes in him
may not perish
but may have eternal life.
For God sent his Son into the world
not to judge the world,
but so that through him
the world might be saved.
No one who believes in him
will be judged;
but whoever does not believe
is judged already,
because that person does not believe
in the Name of God's only Son.
And the judgement is this:
though the light has come into the world
people have preferred
darkness to the light
because their deeds were evil.
And indeed, everybody who does wrong
hates the light and avoids it,
to prevent his actions
from being shown up;
but whoever does the truth
comes out into the light,
so that what he is doing
may plainly appear as done in God.'
Messenger: Jesus said very important
(10)
Don't Question God
December 31, 1993 - Early Morning

Jesus speaks: I am the way, the truth and the life. He who abides in Me will have the light of life. I am Jesus, Son of God. I am the most important thing you do every day. If you are tired, then you are focusing on the wrong things. Be ready, for your Savior awaits you and you are His messenger.

I am Jesus, Savior of the World. I am ready for you. Listen and write My words. I am the light that shines in this dark world. I come to you in the night and you know it is Me. I come in such silence and no one knows that I am surrounded by angels. No one knows so many things that you do not see. Faith is the answer for My brothers. Faith is the answer for you, for when you do not see you still believe. When there is no proof, you are still absolutely sure that I am here. This faith does not go unrewarded. Where there are no proofs, you believe in Me. Blessed are they who have not seen and yet believe.

What I reveal to you here, I do in your heart. My connectedness to you is in your heart. I do not need the senses. Man wants God to be like them. Do not ask to have God explained in human terms. This, My child, is surely in the realm of the spirit. Things of God are not like the things of man. I communicate to you as I am. Others want you to explain to them just how it is.

Your human minds do not fathom the ways of God. To ask My messenger to answer your human questions is to ask her to tell you why stars shine, why a baby is conceived in the mother. In the end there is an element of mystery which is beyond words. Don't ask her to tell you why and how she writes these letters. She writes these letters by the power I have. She writes these letters for Me. She writes these letters because I am dictating them to her for you. She sits, half asleep, and writes such clear lessons in faith. And, you My brothers, ask for explanations? I am Jesus Christ, Son of the Living God. I am He Whose boot strap you are unworthy to tie, yet I make Myself so personal to you in Holy Communion. But, little ones, I am God. You cannot comprehend one little speck of My ways. Your human mind is so limited. Do not try to make sense of Me in human terms. I write these letters to bridge a gap between you and Me.

I am this personal to you, but My ways are not your ways and, though I try to make you understand some of the mystery, you cannot in your humanness explain the ways of God. Go ahead and try, child. It is a waste of your time. Do not ask My messengers for explanations that you will understand. You will not ever on this earth understand any of what is happening here. My ways are the ways of God. What is happening here is a miracle.

You ask too many questions and you, in your humanness, expect too many answers. I am the God of your Fathers. They never knew such a God. I was the same God to them and I spoke to similar people to open up Myself to them, but you have been given a great, great gift indeed in these letters. Do you question and question or do you study and become wise. Study My words and accept all I give you with faith.

Be blessed for the faith you show. Your faith will save you in this sick world. I am here, all right. I am in the Eucharist, Body and Soul. Would you like for Me to explain the real presence. How can I, in your earthly form, explain such things to you? Wake up. I give you a gift and you spend your time asking how, why, where, when. I give you this day a gift of My love for you. You will not understand the ways of God but, from these letters, I will become as real as the nose on your face. You can busy yourself asking questions and miss the miracle of My coming to you in these letters.

I come to you, you who are hungry and thirsty and you are waiting for more. To those who listened, much was imparted to them. To those who remained blind, nothing was gained. They try to explain God in human terms. I cannot be explained to your liking, My child. To do so is just silly.

I am God. I am Who Am. I am the Son of God. I am Human, but I am also Divine. You will not understand My divinity. You are a human. Be glad for what you are given. Pray for faith. So many souls will be lost for their stubbornness to have every situation explained. I will not ever be explained to you. If you do not go out on a limb, you will miss the sunset. The glories that you need to seek are to be seen at the end of the limb.

You do not know why, in your heaviness, the limb does not break. You will not understand, in your humanness, My ways. I impart to you many gifts. Do not try to explain My ways in your human ways. It is a futile task. It is impossible. It is not human. It is divine. Accept this miracle on faith and reap such a reward! God-made-man talks to you, not to the messenger. Talks to you! Do you want an explanation? You will not understand My divinity in your humanness, so quit trying and get about the job of listening to My words with your heart.

I will work in your hearts in your quiet time with Me. You do not do this work, either. The more you look for explanations with Me, the more you miss Me. My ways are a mystery. I impart such little glimpses of Myself to you. They are in your hands, to burst forth later. Now you busy yourself with the work at hand. Come in silence and make yourself selfless. I will be the giver of many gifts. If you decide what gifts I will give you, you have missed the boat entirely. I give to you as you need.

You are My babies. Babies do not tell their mothers of their needs. They wait and they are fed. They wait and they are changed. They wait and they are loved. Wait on the Lord. What you get is coming from Him Who loves you. I know all things. I know your needs. I am like the loving mother. I am God. I know your every need. Come and soak in the sunlight. Quit your questioning. Quit your asking for such things that you may never need. Turn yourself over like little babies, freshly born. They have soft little cries and are very dependent on their mothers. Come with your little cries but know that I, in the end, will give you all you need.

Don't try to control Me. I am God. Who are you to come and think you will tell God what you need. I see the whole picture and I comprehend it as God. You see as in a tunnel and think you know so much. Come and make yourself putty in My hands. Remain formless and unattached. Remain a baby. Take all I give and do not ask questions. It is in your submissiveness to Me that you grow in Me. I dwell in you and I can operate from you. In your willfulness, I cannot come in. How can God act in a soul who is in control. If you are operating, I cannot.

Oh, you have much to learn, but it is revealed in these letters how to become creatures of God. Most of your work is in submission to Me. Your biggest job is to die to yourself and live in Me. I am all powerful and I want to dwell in your breast. I want to possess your soul. I want to impart to you My love. I want to fill you to the brim with the things of God. All that is in the way of My working in you is yourself. If you hold onto self, you get yourself. To be of Me, you must let go of yourself. Come to My altar and sit silently before Me. Let Me work in your soul. Look for Me.

I give to you according to your needs. I answer you according to the things of God. I give you gifts that you never knew possible, because your mind cannot imagine the things of God. Do not limit your soul by being in charge. The soul is in the image of God and God must deal with it. To try to feed your soul humanness is useless. Only God can feed the soul. Come to Him and let Him have full reign in your hearts. Don't try to decide what you need. You don't know of the needs of a soul. God is so good and so loving and He wants to give you what you need. Surrender to Him and be open to all He wants to do in you.

Be open to the things of the spirit. Put your human ways aside when you are dealing with God. They certainly keep you away from God. Eye has not seen, nor ear heard, what glories await him who loves and serves the Lord. For the things of God, go to God. Then listen and make yourself empty so He can fill you to do His work. Stay out of it. Do not talk. Do not plead. Be quiet and let Him work in your soul and you will know such feats that only God could perform. If you look for human things, you get human things. If you are looking for God, let go of your humanness and let Him give you from the realm of the supernatural. It takes surrender and faith.

Be of a clean mind, America. Your faith will make you whole. All other roads lead to idle pursuits and you miss the golden mystery of your God!

end of December 31, 1993
John 6: 22-59
Next day, the crowd that had stayed on the other side saw that only one boat had been there, and that Jesus had not got into the boat with his disciples, but that the disciples had set off by themselves. Other boats, however, had put in from Tiberias, near the place where the bread had been eaten. When the people saw that neither Jesus nor his disciples were there, they got into those boats and crossed to Capernaum to look for Jesus. When they found him on the other side, they said to him, 'Rabbi, when did you come here?' Jesus answered:

In all truth I tell you,
you are looking for me
not because you have seen the signs
but because you had all the bread
you wanted to eat.
Do not work for food that goes bad,
but work for food
that endures for eternal life,
which the Son of man will give you,
for on him the Father, God himself,
has set his seal.

Then they said to him, 'What must we do if we are to carry out God's work?' Jesus gave them this answer, 'This is carrying out God's work: you must believe in the one he has sent.' So they said, 'What sign will you yourself do, the sight of which will make us believe in you? What work will you do? Our fathers ate manna in the desert; as scripture says: He gave them bread from heaven to eat.' Jesus answered them:

In all truth I tell you,
it was not Moses
who gave you the bread from heaven,
it is my Father
who gives you the bread from heaven,
the true bread;
for the bread of God
is the bread
which comes down from heaven
and gives life to the world.

'Sir,' they said, 'give us that bread always.'
Jesus answered them:

I am the bread of life.
No one who comes to me will ever hunger;
no one who believes in me will ever thirst.
But, as I have told you,
you can see me and still you do not believe.
Everyone whom the Father gives me
will come to me;
I will certainly not reject
anyone who comes to me,
because I have come from heaven,
not to do my own will,
but to do the will of him who sent me.
Now the will of him who sent me
is that I should lose nothing
of all that he has given to me,
but that I should raise it up
on the last day.
It is my Father's will
that whoever sees the Son
and believes in him
should have eternal life,
and that I should raise that person up
on the last day.

Meanwhile the Jews were complaining to each other about him, because he had said, 'I am the bread that has come down from heaven.' They were saying, 'Surely this is Jesus son of Joseph, whose father and mother we know. How can he now say, "I have come down from heaven?" ' Jesus said in reply to them, 'Stop complaining to each other.

'No one can come to me
unless drawn by the Father who sent me,
and I will raise that person up
on the last day.
It is written in the prophets:
They will all be taught by God;
everyone who has listened to the Father,
and learnt from him,
comes to me.
Not that anybody has seen the Father,
except him who has his being from God:
he has seen the Father.
In all truth I tell you,
everyone who believes has eternal life.
I am the bread of life.
Your fathers ate manna in the desert
and they are dead;
but this is the bread
which comes down from heaven,
so that a person may eat it and not die.
I am the living bread
which has come down from heaven.
Anyone who eats this bread
will live for ever;
and the bread that I shall give
is my flesh, for the life of the world.'

Then the Jews started arguing among themselves, 'How can this man give us his flesh to eat?' Jesus replied to them:

In all truth I tell you,
if you do not eat
the flesh of the Son of man
and drink his blood,
you have no life in you.
Anyone who does eat my flesh
and drink my blood
has eternal life,
and I shall raise that person up
on the last day.
For my flesh is real food
and my blood is real drink.
Whoever eats my flesh
and drinks my blood
lives in me
and I live in that person.
As the living Father sent me
and I draw life from the Father,
so whoever eats me
will also draw life from me.
This is the bread
which has come down from heaven;
it is not like the bread our ancestors ate:
they are dead,
but anyone who eats this bread
will live for ever.

This is what he taught at Capernaum in the synagogue.
February 23, 1997
Sacrifice

Messenger: When I go to Mass I offer a sacrifice. God wants our all. He wants to be first in our life. He asked Abraham to sacrifice his son.

Gen. 22:1-2, 9-13, 15-18:

It happened some time later that God put Abraham to the test. 'Abraham, Abraham!' he called. 'Here I am,' he replied. God said, 'Take your son, your only son, your beloved Isaac, and go to the land of Moriah, where you are to offer him as a burnt offering on one of the mountains which I shall point out to you. '

When they arrived at the place which God had indicated to him, Abraham built an altar there, and arranged the wood. Then he bound his son and put him on the altar on top of the wood. Abraham stretched out his hand and took the knife to kill his son.

But the angel of Yahweh called to him from heaven. 'Abraham, Abraham!' he said. 'Here I am,' he replied. 'Do not raise your hand against the boy,' the angel said. 'Do not harm him, for now I know you fear God. You have not refused me your own beloved son.' Then looking up, Abraham saw a ram caught by its horns in a bush. Abraham took the ram and offered it as a burnt offering in place of his son.

The angel of Yahweh called Abraham a second time from heaven. 'I swear by my own self, Yahweh declares, that because you have done this, because you have not refused me your own beloved son, I will shower blessings on you and make your descendants as numerous as the stars of heaven and the grains of sand on the seashore. Your descendants will gain possession of the gates of their enemies. All nations on earth will bless themselves by your descendants, because you have obeyed my command.'

Messenger: The Father gave His Son for us. This is how great the Father's love is for us.

When we go to the altar many times we are suffering. We want something really bad, but we know we love God the most. What the Father asks for us is to offer that which we are so attached to as a sacrifice, united to the sacrifice of His Son, Jesus. If we offer this sacrifice to Him, the Father will pour out blessings that will be divine blessings, greater than anything we could have here on earth.

The Mass is the perfect sacrifice we offer to the Father, in which God pours out His blessings and we are one with Him and with all others in a profound expression of love. God shares His divine love with us and we partake in an intense way in His divine loving capacity. In order to become one in Him and to feel His love like this, we must surrender ourselves and be open.

He told Abraham to offer his son. God gave him his son back. He wanted Abraham to love God above all things and people.

Jesus offered Himself as a sacrifice to the Father. This is the most pleasing sacrifice to the Father. If He gave His Son Who died for love of us, will He deny us when we unite our petitions with Jesus and offer these at the Holy Sacrifice of the Mass?

He took them to the highest mountain and He was transfigured before them in the greatest light.

Mark 9:2-10:

Six days later, Jesus took with him Peter and James and John and led them up a high mountain on their own by themselves. There in their presence he was transfigured: his clothes became brilliantly white, whiter than any earthly bleacher could make them. Elijah appeared to them with Moses; and they were talking to Jesus. Then Peter spoke to Jesus, 'Rabbi,' he said, 'it is wonderful for us to be here; so let us make three shelters, one for you, one for Moses and one for Elijah.' He did not know what to say; they were so frightened. And a cloud came, covering them in shadow; and from the cloud there came a voice, 'This is my Son, the Beloved. Listen to him.' Then suddenly, when they looked round, they saw no one with them any more but only Jesus.

As they were coming down from the mountain he warned them to tell no one what they had seen, until after the Son of man had risen from the dead. They observed the warning faithfully, though among themselves they discussed what 'rising from the dead' could mean.

Messenger: We go to the altar of sacrifice. The mountain to come, in which so many graces will flow, is the altar of sacrifice where the Holy Sacrifice of the Mass is offered through the hands of consecrated priests.

We hear the Father say, "This is My beloved Son in whom I am well pleased, listen to Him." He is speaking to us. He is the Word. He is speaking in these messages. He is unveiling the Scriptures and speaking to us in plain talk. This is a great gift He is giving to us.

We are transformed in the Mass. We unite with the greatest sacrifice offered in the Holy Sacrifice of the Mass. We have the most perfect sacrifice to offer to the Father when we offer this sacrifice. He gives us great blessings. We die to ourselves, we become white.

We must unite all of our sacrifices to this Holy Sacrifice of the Mass being said all over the world. This is the greatest way to magnify all of our offerings - by uniting everything we do as an offering, a sacrifice to the Father in union with His Son.

end of February 23, 1997
June 30, 2005 message continues
Jesus speaks: I call you to listen.
Messenger: Mary appeared 2 1/2 years on the
5ths
on December 5, 1996 — before she appeared
in Clearwater —
here is what happened
Excerpt from April 4, 2003

Messenger: I saw Him at the point of death on the cross December 5, 1996, after Mary appeared 500 times.

He hung, all battered, greatly weakened. His mouth moved very clearly. It seems that a man in His condition could not move His mouth to that extent.

Later in the rosary that night, He gave messages and said: "No one was listening."


Excerpt from Rosary on December 5, 1996:

Jesus speaks: I am alive, I am alive. I am alive. My beloved ones, I show you My face. Do you see the body of a man? Do you see Me alive on the cross? I am speaking to you but the world does not hear. They do not hear the message that I deliver to them. You must pray fervently. You must come to Me that I can be one in you and that I can operate through you as you go into the world this day. I love you. I love you with the most tender love. I am Jesus. I am alive. You are My main soldiers that I will send into the world to lead the strayed ones to My Heart.

The days ahead will be dark days. You must come to My Heart and take shelter in My Heart. It is there that you will be rooted on a firm rock. For My Heart is your home. You will not know the terrors of the night if you stay rooted in My Heart.

Division is blackness in the heart. You must not be divided, divided from anyone. You must remain in union with all men. You must see yourselves as part of the Father's family. Each one of you is so important to the Father's plan.

end of excerpt from rosary of December 5, 1996


We have tremendous statutes in

Clearwater, Florida

China, Indiana

and Ohio

Please call for more information.

1-888-211-3041

Shepherds of Christ

P.O. Box 193

Morrow, OH 45152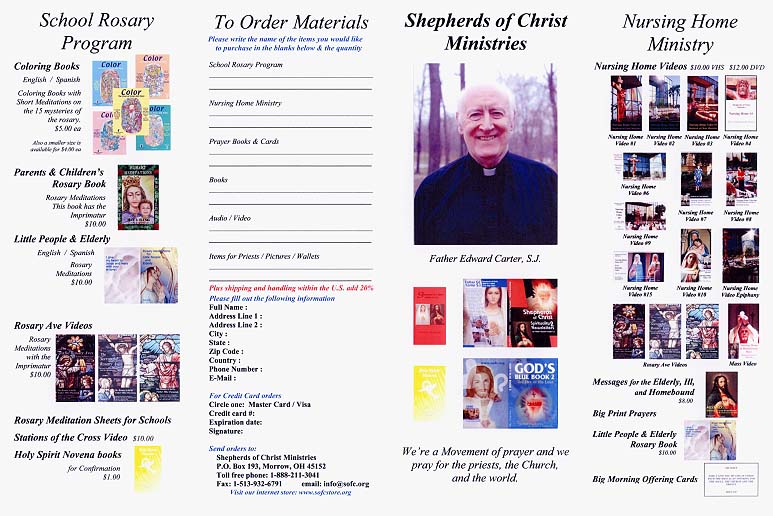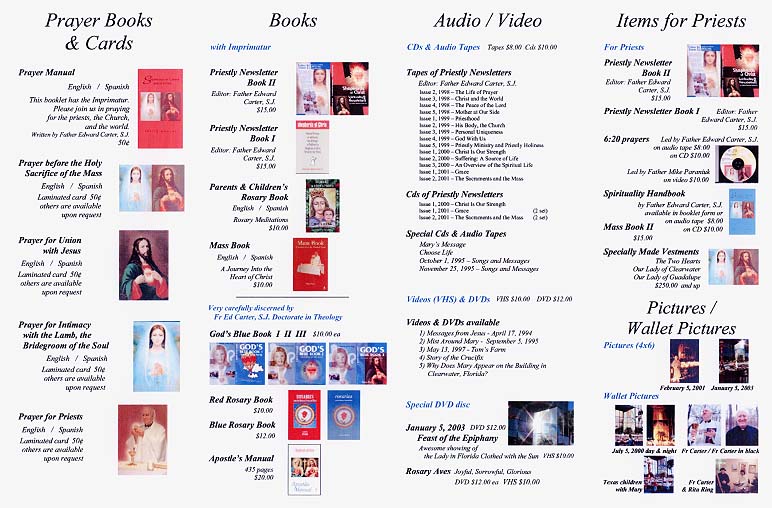 ---
Table of Contents
Previous Daily Message
---
Main Shepherds of Christ Page
---

Copyright © 2005 Shepherds of Christ.
Rights for non-commercial reproduction granted:
May be copied in its entirety, but neither re-typed nor edited.
Translations are welcome but they must be reviewed for moral and
theological accuracy by a source approved by Shepherds of Christ Ministries
before any distribution takes place. Please contact us for more information.
All