June 4, 2009
Today's Readings
Tobit 6: 10-11
They entered Media and had nearly reached Ecbatana when Raphael said to the boy, 'Brother Tobias.' 'Yes?' he replied. The angel went on, 'Tonight we are to stay with Raguel, who is a kinsman of yours. He has a daughter called Sarah,

Tobit 7: 1, 9-17
As they entered Ecbatana, Tobias said, 'Brother Azarias, take me at once to our brother Raguel's.' And he showed him the way to the house of Raguel, whom they found sitting beside his courtyard door. They greeted him first, and he replied, 'Welcome and greetings, brothers.'

Raguel killed a ram from the flock, and they gave them a warm welcome. They washed and bathed and sat down to table. Then Tobias said to Raphael, 'Brother Azarias, will you ask Raguel to give me my sister Sarah?' Raguel overheard the words, and said to the young man, 'Eat and drink, and make the most of your evening; no one else has the right to take my daughter Sarah -- no one but you, my brother. In any case even I am not at liberty to give her to anyone else, since you are her next of kin. However, my boy, I must be frank with you: I have tried to find a husband for her seven times among our kinsmen, and all of them have died the first evening, on going to her room. But for the present, my boy, eat and drink; the Lord will grant you his grace and peace.' Tobias spoke out, 'I will not hear of eating and drinking till you have come to a decision about me.' Raguel answered, 'Very well. Since, by the prescription of the Book of Moses she is given to you, Heaven itself decrees she shall be yours. I therefore entrust your sister to you. From now on you are her brother and she is your sister. She is given to you from today for ever. The Lord of heaven favour you tonight, my child, and grant you his grace and peace.' Raguel called for his daughter Sarah, took her by the hand and gave her to Tobias with these words, 'I entrust her to you; the law and the ruling recorded in the Book of Moses assign her to you as your wife. Take her; bring her home safe and sound to your father's house. The God of heaven grant you a good journey in peace. Then he turned to her mother and asked her to fetch him writing paper. He drew up the marriage contract, and so he gave his daughter as bride to Tobias according to the ordinance of the Law of Moses. After this they began to eat and drink. Raguel called his wife Edna and said, 'My sister, prepare the second room and take her there.' She went and made the bed in this room as he had ordered, and took her daughter to it. She wept over her, then wiped away her tears and said, 'Courage, daughter! May the Lord of heaven turn your grief to joy! Courage, daughter!' And she went out.
Tobit 8: 4-9
The parents meanwhile had gone out and shut the door behind them. Tobias rose from the bed, and said to Sarah, 'Get up, my sister! You and I must pray and petition our Lord to win his grace and his protection.' She stood up, and they began praying for protection, and this was how he began: You are blessed, O God of our fathers; blessed too is your name for ever and ever. Let the heavens bless you and all things you have made for evermore. You it was who created Adam, you who created Eve his wife to be his help and support; and from these two the human race was born. You it was who said, 'It is not right that the man should be alone; let us make him a helper like him.' And so I take my sister not for any lustful motive, but I do it in singleness of heart. Be kind enough to have pity on her and on me and bring us to old age together. And together they said, 'Amen, Amen,' and lay down for the night. But Raguel rose and called his servants, who came and helped him dig a grave.
Psalm 128: 1-5
How blessed are all who fear Yahweh,
who walk in his ways!
Your own labours will yield you a living,
happy and prosperous will you be.
Your wife a fruitful vine
in the inner places of your house.
Your children round your table
like shoots of an olive tree.
Such are the blessings that fall
on those who fear Yahweh.
May Yahweh bless you from Zion!
May you see Jerusalem prosper
all the days of your life,
and live to see your children's children!
Peace to Israel!
Mark 12: 28-34
One of the scribes who had listened to them debating appreciated that Jesus had given a good answer and put a further question to him, 'Which is the first of all the commandments? Jesus replied, 'This is the first: Listen, Israel, the Lord our God is the one, only Lord, and you must love the Lord your God with all your heart, with all your soul, with all your mind and with all your strength. The second is this: You must love your neighbour as yourself. There is no commandment greater than these. The scribe said to him, 'Well spoken, Master; what you have said is true, that he is one and there is no other. To love him with all your heart, with all your understanding and strength, and to love your neighbour as yourself, this is far more important than any burnt offering or sacrifice. Jesus, seeing how wisely he had spoken, said, 'You are not far from the kingdom of God.' And after that no one dared to question him any more.
Sorrowful Mysteries
Agony in the Garden
(1) Jesus felt alone — His Apostles
slept — He knew only He could go
through the bitter passion —
It was the Father's will —
Not my will, but Thine be done.
But Jesus knew His precious
loved ones who would go to hell
despite all He was about to go
through.
(2) Hell is complete rejection —
Hell is knowing hate
Hell is the absence of love
Hell is total isolation for those
who disobeyed God and did
not repent
(3) The devil tempts with seeking dominance
for dominance sake
men wanting to be over women
God the Father made Mary
Mary was conceived without sin from
the moment of conception —
The descendents of Adam and Eve were
conceived with original sin
except Mary.
Mary is the perfect handmaid of the
Lord.
God chose Mary, a woman, as the
way Jesus came into the world.
(4) The Blood Jesus sweat was because of
the anguish of those He loved who
would be lost — despite His love for
them, He died for them, He
was beaten for them and they would
not cooperate with the grace God
gave them —
they were willful like Eve
they disobeyed God for their selfish
pride
Because of coveting riches, pride,
glory, affection from those on
this earth — they said "no"
to God's will
Pride is the sin of Eve in the garden —
Jesus, the Son of God, sweat blood
from His head for the sins of
pride that men give into —
making themselves over everyone
including God —
Obedience is the lesson here —
Eve disobeyed in the garden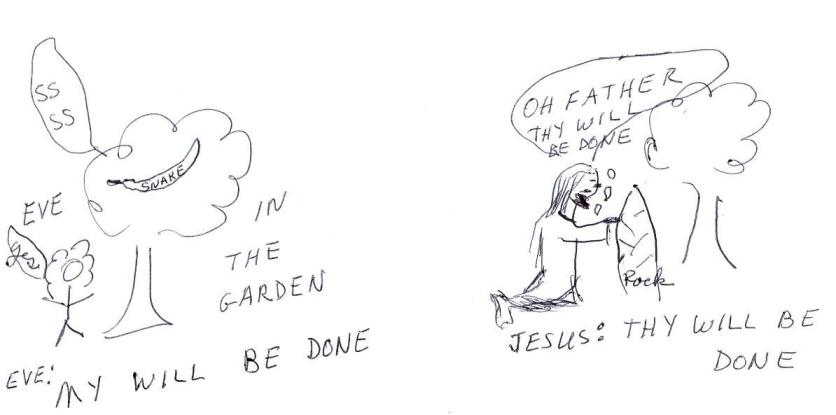 Peter sinned and God made him head of
the Church
Matthew 16: 18

So I now say to you: You are Peter and on this rock I will build my community. And the gates of the underworld can never overpower it.
Peter slept while Jesus was in the
garden —
Matthew 26: 40-41

He came back to the disciples and found them sleeping, and he said to Peter, 'So you had not the strength to stay awake with me for one hour? Stay awake, and pray not to be put to the test. The spirit is willing enough, but human nature is weak.'
Peter denied Jesus close to the crucifixion
Peter was sorry —
Peter had a humble heart
Judas betrayed Jesus —
Judas kissed Jesus to betray Him
Judas was focused on money —
Judas was sneaky — he did things
behind Jesus' back
Judas because of pride put himself
over Jesus — knowing more than
God
Judas lied to Jesus
Judas' heart was not humble —
(5) Why did Jesus show us
11 Apostles were faithful —
The Apostles were imperfect,
But Judas filled with pride — thought
he knew more than anyone —
even God
Judas was sneaky
Judas was secretive —
(6) Jesus would be stripped of His garments —
Jesus carried the cross with our
sins.
(7) What about those who seek dominance
for dominance sake, who lie
and betray others —
Jesus sweat blood for them because
He didn't want one lost
Jesus carried the sins of the sinner
because of love for them —
(8) But despite Jesus' whippings and
crowning with thorns —
the sinner may choose not to bend —
they may have a stubborn heart and will —
Even if a person sins — they can
be humble and say they are sorry and
God is merciful,
But those with a stone heart can
hold on to their icy heart and
deny Jesus for their own selfish
pride to never say they are
sorry.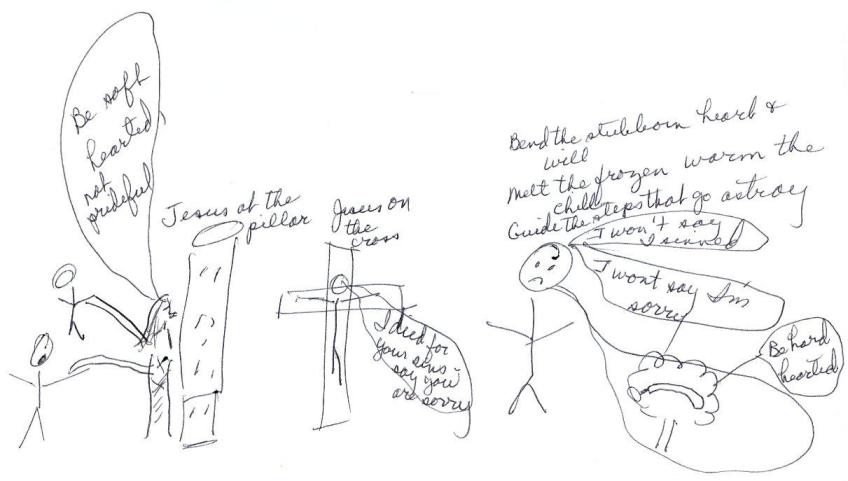 (9) Song: Teach Me to Love with Your Heart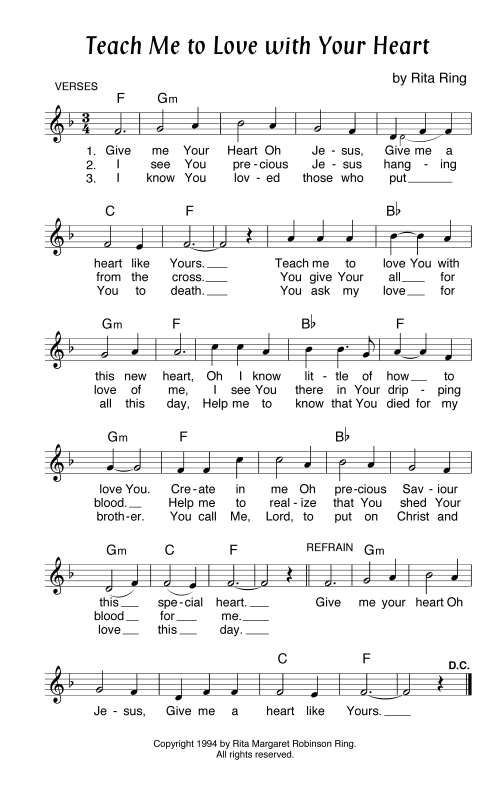 (10) Song: God's Love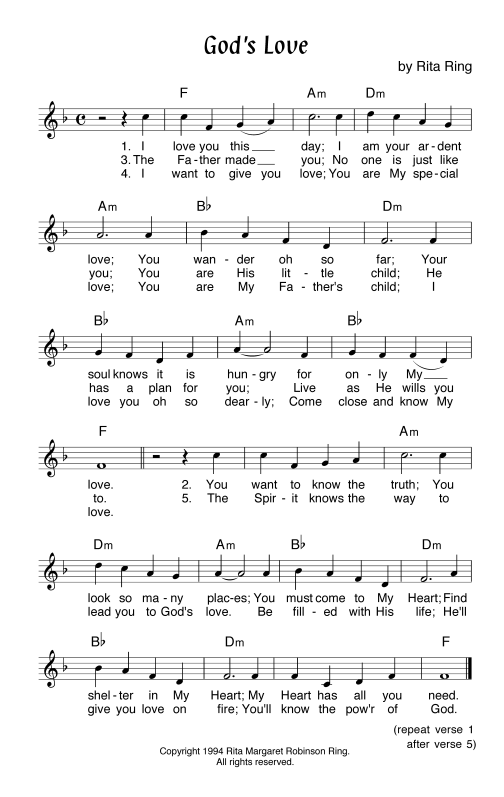 Scourging at the Pillar
(1) Song: Teach Me to Love with Your Heart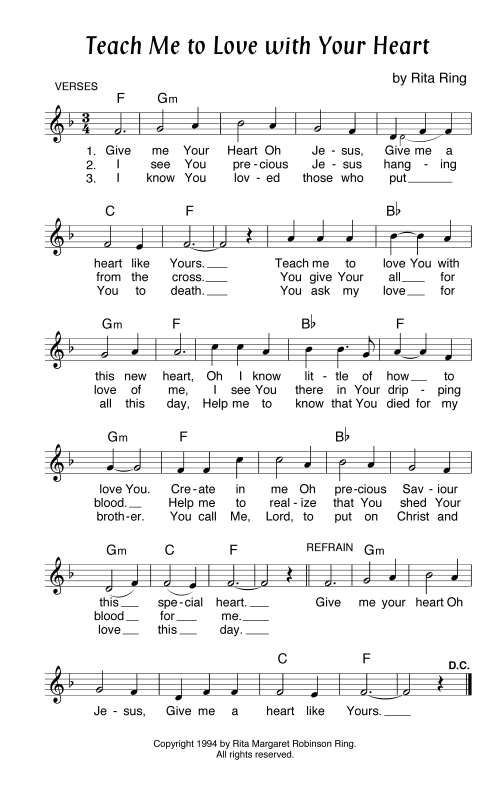 (2) Song: A Song from Jesus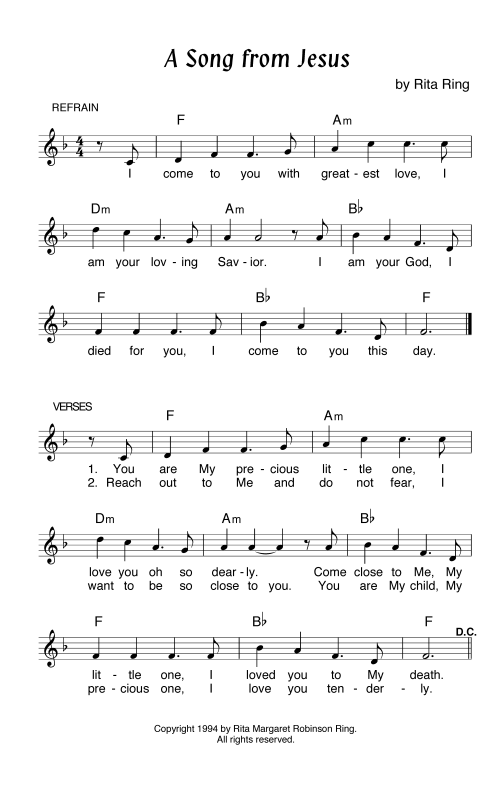 (3) Jesus: Look at Me at the pillar —
Can you not say "I am sorry"
when you sin —
Why lie to yourself?
Go to confession.
Be made clean.
(4) R. Look at the lepers in the scripture —
Jesus healed the lepers —
(5) Jesus healed the blind.
(6) Jesus healed the paralyzed.
(7) Jesus was beaten, crowned with
thorns, spit on and died on a
cross for our sins and
we won't even admit them, many
of us and tell Jesus thanks and
say we are sorry —
take responsibility for our wrong
doings.
(8) Jesus sweat blood for those in the garden
who thought more of saving face
than of telling the truth about
their sins and asking for forgiveness —
going to confession.
(9) Pray for grace to see our sins and be
sorry for them — not to be blinded
by being filled more and more with
guilt from not admitting the
truth about our wrong doing.
(10) In the movie the Passion — we see
Mary wipe up the Blood of Jesus —
In a message I received from Jesus —
He said He stood in a puddle of
His own Blood — for love of us —
for our sins He was beaten,
bloodied and He endured it —
What love is this —
God has given us this sharing in His
life in baptism —
God: Father, Son and Holy Spirit live in
a special way in our baptized
graced soul —
We should never offend God by
mortal sin and if we do tell Him
we are sorry —
not lie to be right — to save face
Our eternal salvation depends on
how we are spiritually here —
We are to go to confession if we sin
mortally, baptized Catholics —
Crowning with Thorns
(1) From Blue Book IV by Rita Ring
September 9, 1994 - Be The Light That Shines in the Darkness (excerpt) p. 136
R. ...Jesus loved us so much He gave His life. The Father loved us so much He gave His only Son. The Spirit is the love between the Father and the Son. The Son knows the Father's love. It was this that gave Him strength on Calvary. He always knew the Father's love. It is love that gives us peace. The more we realize the intense love of the Father, the greater our peace. We are so loved by Father, Son and Holy Spirit. They love us in a way we cannot imagine. God: Father, Son and Holy Spirit dwell within us in a special way when we are in the state of grace.

It is this love that fills me and gives me peace and joy. God is love. His love within us gives us our peace.

Oh, Holy Spirit, come and fill me, as You did the apostles and Mary, with the fire of God's love, so I am no longer afraid but fearlessly in love with God, that I preach His gospel in my being to all I meet. Make me holy, oh Spirit, sanctify me with Your love. I am Yours, open and surrendering. I am Your servant, You are my God!

(2) Sing: To Jesus Christ Our Sovereign King

(3) Sing: The King of Glory

(4) Sing: Crown Him With Many Crowns

(5) From Blue Book I by Rita Ring

My Passion I Endured for Love of You

October 29, 1993 - 5:30a.m.

Jesus: If you knew how really close I am to you, you would not doubt I am right by your side. I knew what I was going to go through at My passion. I was God. It was unbelievable, but I did it for love of you! All the beating and hitting on My head, whacking from behind, spitting, kicking, such horrible blows to My innocent body I saw. I knew exactly what would happen, but I did it for love of you!

R. Dear Jesus, I am so unworthy to have a friend like You. I am so unworthy of You, God, to love little me so much. Oh Jesus, how great is Thy love for us. It is unbounded. It is full to the brim. It cannot be perceived in our human minds. How You loved us to death. Beatings, mockings, scourgings, thorns pounded into Your precious head, and big gigantic nails pounded into Your feet and hands. Oh, Jesus, each wound You suffered for love of us and You knew all along how You would suffer. Yet You continued and let them do those horrible things to You out of love for us!

Now You wait, day and night, in the tabernacle, by our side, for us to come. You wait and You are ignored and not loved, but You continue for love of us. Oh, Jesus, that I might learn to love a little like You. I am so worldly. I hold on to all that is for my gratification and You wait for my call. I hold back my all from You. Teach me to do as I ought, to do Thy will and know You better, to trust, to have faith, to be as You want me to be each minute, every day, every hour. You are to be honored, oh my Jesus. All knees must bow to the one, true God. I am doing it only for You, dear Jesus.
end of October 29, 1993
(6) From Blue Book I by Rita Ring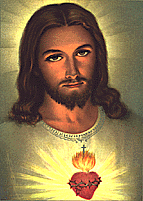 Study My Passion
November 20, 1993 10:00a.m.

Jesus: The thorns in My head cut through to My skull. How to describe such an experience? And I was God! Blood trickled down My face all day. It didn't dry up because, as My heart beat, it would open the wounds. Think how tender your head is if you pull a hair! The thorns pulled My hair, like the tightness of curlers, but they cut Me and when they put them on, they hammered them into My skull. This was for the sins committed in people's minds. The hatred, the anger, the sex signs, contemplating evil deeds, sneering and envy of your brothers-ugliness! The eyes are the windows of the soul. What you look at you reflect on your soul. If your eyes look at evil things, your soul is dirty. If you look on others with hatred and anger and getting even, on dirty pictures, sinful stories, bad TV and movies, what you, through your will, take in with the beautiful eyes created by God, sparkling and full of light, reflects in your soul.
(7) Study My Passion - November 20, 1993 10:00a.m. - continues
Jesus: Keep your eyes light and sparkling, full of love. Relax the area around your eyes so you are not looking hard and anxiously at your brothers. Let your eyes reflect My light in your soul.

My eyes were stained with the blood that poured down My head. My vision was blurred with blood and My eyes were matted with dryness. Blood came from My mouth from the blows to My head and blood came from My nose from the hitting on My head. I was beaten on My head with the crown of thorns. I was spat at in My face. Oh, such ugliness in men's hearts! It was their minds that thought such ugly thoughts and why I suffered such brutality to My head. It is paradoxical I suffered for that which they did.
(8) Study My Passion - November 20, 1993 10:00a.m. - continues
Jesus: Think of men cutting off women's and children's heads in Bosnia! Such hatred the devil engineers in their hearts! I suffered so many wounds to My precious, tender head. The blood I shed from My head is the blood that washes the men caught in sin from sins of the head.

Ugliness, hatred, sins committed with the mouth, the eyes, the ears! I suffered for these sins with My crown, a crown that would allow many to enter My Kingdom if they repented for their sins. I did this willingly for love of you. I saw beforehand every wound I would receive and I chose and accepted everything that was done to Me out of love of you. I love you this much!

They beat My body, My beautiful body, God-made-man. They tied Me to a pole and they beat Me. There were more than one beating Me. They took turns. I was the victim. They in their hate and anger lashed at Me, My beautiful body, tore My flesh over and over. They laughed and taunted Me. They were so happy to be so guileful. Oh, the laugh of the great deceiver! Like a thief in the night, he steals your hearts and you wonder why so hard. Where did their gentleness go? The great deceiver who laughs at hurting others.
(9) Study My Passion - November 20, 1993 10:00a.m. - continues
Jesus: It is the devil operating from the hearts of man! The heart is no longer kind and gentle, but merciless and debased in behavior. Oh, the great deceiver! To beat God-made-man and to laugh at his own ill deeds, to watch the blood of Jesus fly in the air and to laugh. It is by this blood that they and all others who abuse others and laugh will be made whole. I, in My love, forgave them for their deeds. They beat Me. They tore My flesh and I loved them. Can you not love your brothers when they are cruel to you? Can you forgive them and love them as the soul created by God, but dead in sin by the devil's hands? If I could love those who spit and laughed at Me and tore My flesh, who crowned Me with a piercing crown and hit Me on My head, can you not forgive him who offends you with a nasty word?

The way to Me is to study Me, to model yourself after My behavior. You must take up these crosses I give you every day. It is your love for your brothers that might save their crippled souls, dead in sin. See Me in them. Look beyond their deeds and see the God Who made them. Do not focus on their sick ways. Study My passion with Me. Study how I loved the unloving, how I loved those who persecuted Me. Study Me and My ways. Don't waste your time thinking about Satan and how he is taunting you through your brothers. He uses them to get you away from Me.
(10) Study My Passion - November 20, 1993 10:00a.m. - continues
Jesus: Come to Me. See Me in their hearts and their eyes. Your looking into their eyes will shed My glare of light into them. Look into the eyes of your brothers. I taught them through your look of love. It is My love and My light I cast into their dark souls. Your eyes touch, as your hands. People may not want your touching them, but your eyes touch very deeply the souls of mankind. Strive for perfection and holiness. Do not give in to yourself and think about how you have been hurt and violated. Never cry to any man. Come to Me and cry.

I will rid you of yourself and you will know no man has any power to harm you. The more selfless you become, the more you live entirely for Me, the more you realize that I am all that matters. The more you rid yourself of you and let Me in, the less power your brothers will have over you. You give them power. You think they are important to your being okay. You are okay. You are perfect as God created you. You are My child. You do not need your brother's approval. You are above the ground. You realize your worth and your job is defined. It is to let Me use you, body and soul, to do My work. This takes total submission.

Whom you touch is being touched by Me. This is your work, to live for Me so I can live in you and operate from you, so I can love My people through you. Open wide your gates and let Me penetrate your soul. For I was hungry and you gave Me to eat, I was naked and you clothed Me. "When, Lord, did I do these things...?" When you did them to your brothers, you did them to Me. Amen.
end of November 20, 1993
Carrying of the Cross

(1) Stations of the Cross - February 22, 1995

1. Jesus Is Condemned to Death

Jesus: My dear child, with angry hearts and hatred on their faces, they poked at Me and condemned Me to death. I stood so silent, My hands tied, in perfect peace, because I knew the Father's love. I knew the Father's Will. You too will stand your trials in perfect peace, the more you realize the immense love the Father, Son and Holy Spirit have for you. Pray to the Spirit to transform you more and more into My image and, through this transformation, you will be led ever closer to the Father. Oh, how I love you!

2. They Give Jesus the Cross

Jesus: They gave Me a heavy cross, laden with the sins of the world. They placed it on My shoulder. It was so heavy I felt as if My shoulder would break. I ask you to carry little crosses, to experience little pains. I could not remove this cross from My shoulder. The weight was unbearable. It is through My suffering and death that you receive new life. It is through your sufferings this day that you will grow in your life with Me. Oh, child, I loved you so much that I took up the cross of salvation. I love you. Please realize that I am talking to you here. To My death I loved you. Oh, how I love you!