Please pray for an urgent intention.
We need postage for
the priests in Michigan.
If you can help
please call Doris.
1-888-211-3041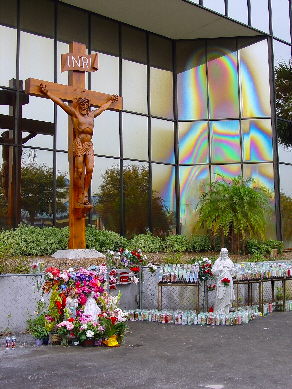 Click picture for Live Camera
June 8, 2010
Today's Scripture
1 Kings 17: 7-16
But after a while the stream dried up, for the country had had no rain. And then the word of Yahweh came to him, 'Up and go to Zarephath in Sidonia, and stay there. I have ordered a widow there to give you food.' So he went off to Sidon. And when he reached the city gate, there was a widow gathering sticks. Addressing her he said, 'Please bring a little water in a pitcher for me to drink.' She was on her way to fetch it when he called after her. 'Please', he said, 'bring me a scrap of bread in your hand.' 'As Yahweh your God lives,' she replied, 'I have no baked bread, but only a handful of meal in a jar and a little oil in a jug; I am just gathering a stick or two to go and prepare this for myself and my son to eat, and then we shall die.' But Elijah said to her, 'Do not be afraid, go and do as you have said; but first make a little scone of it for me and bring it to me, and then make some for yourself and for your son. For Yahweh, God of Israel, says this:

Jar of meal shall not be spent,
jug of oil shall not be emptied,
before the day when Yahweh sends
rain on the face of the earth.'

The woman went and did as Elijah told her and they ate the food, she, himself and her son. The jar of meal was not spent nor the jug of oil emptied, just as Yahweh had foretold through Elijah.
Matthew 5: 13-16
'You are salt for the earth. But if salt loses its taste, what can make it salty again? It is good for nothing, and can only be thrown out to be trampled under people's feet.

'You are light for the world. A city built on a hill–top cannot be hidden. No one lights a lamp to put it under a tub; they put it on the lamp–stand where it shines for everyone in the house. In the same way your light must shine in people's sight, so that, seeing your good works, they may give praise to your Father in heaven.
We are to be constant in our behavior — accountable
We are to be instruments of God's grace —
To live according to God's will for us.
To bring out goodness in others
To admit the evil in us — to be converted —
Not a stone — never looking at ourselves —
like an alcoholic, drug addict — addicted
to control and manipulating others
Being a light to the world — living more purified lives
Being one in God: Father, Son and Holy Spirit
We don't project our pain on others — punish
them until we make them suffer —
Co-dependence
We likewise don't get our joy out of living out
of another
We were created uniquely — to be strong in God —
to be one with Him —
to be as a body in the mission —
adults working for our own perfection —
taking responsibility for our sins and sins
we commit against others
When a woman has a baby — the umbilical cord
is cut —
That baby is then growing to do God's will for them —
It is not healthy when a child gets older and the
parent is attached where they live through
the child and not live their life in fulfilling
the mission God gave to them —
the umbilical cord needs to be cut and
the child needs to be in touch with God
making their own decisions —
To live through another —
Blaming others
Making Joy for ourselves according to others
can be a very serious problem of
not living within oneself —
Adult children still need parents, but they are adults —
they do not live attached to the parents —
Early in the Movement I watched problems where
a person worked on others who had problems
and they acted like they never had any problems themselves —
So they made problems in the other's life --
if the other didn't have any problems then
they couldn't fix the other
in fixing the other they didn't look at themselves —
We are to be in touch with the moment —
Living in the moment —
Doing God's will for us in the moment —
. depending on how we feel
we don't provoke innocent others --
. we do not wait for others to make us happy
. our mood is not dependent on others
. we take responsibility for ourselves
Married couples if they have a successful
marriage — are working with each other —
God created us uniquely —
We depend on each other — like the organs of
the body, but our happiness does
not depend on another — where we are
devastated by whatever they do to us —
People who need to work on this can manipulate
others to get them to play their game
of power and control so they can play
dependent games with others —
We need to do God's will
1st off
Not have this co-dependence going on —
Game playing —
A person successfully living their vocation
is an instrument of strength —
Their strength is in God —
They don't play these sick, dependence
games with others, trickery to get
others to accept their behavior —
through force using money —
a job needed to force this sick
dependent behavior —
We are to be one with each other in
strength — one in God — not sick where
we play games — jealousy games, power games,
control, forcing others to put up with our
behavior —
We don't play games —
We live according to God's will, in love —
in strength —

Freedom
March 2, 1994 - At Cathedral After Communion
Jesus: I want you to love Me as I love you. If I asked you to lay down your life for Me, you would give this freely of yourself. I need this surrender from you that you put Me above all things--not some things, all things. I am the Lord thy God, thou shalt not have any gods before Me--not your husband, your children, your life, your house. I want your total surrender! I am not asking you to give these things up. I am asking you to love Me more than any of these things, that you are willing to give them up for Me!
This is freedom. When your love is for Me and Me alone, no one has any control over you. You live for Me and I am Almighty. I love you with the most ardent love and you know all that comes from Me is from Him Who laid down His life for you.
Do you love Me? Would you lay your life down for Me? If you love, you give of yourself. Do you love each other? Do you give of yourself to one another or do you have relationships that give to you? This is not love. Love gives from the heart. Love is for the good of the other. I gave My life for you that you might live. Follow the Master. I did not die for any of My own gratifications, I died to show you how I loved you! I gave My only life for you. I love you this much!
I call you to love. Love is action from your heart. Do you love Me this way or do you just do busy work and call it love?
To learn about love you must come and be with Me. Sit and let Me teach you My ways. I sit with My red garb, covering My white tunic, you at My feet and I teach you ever so sweetly each day. You are My beloved ones. I died for you. I give you this same love today. Love gives to the other. Do you give this kind of love to Me and your brother or do you ask what others and I will give to you?
You do not know love if you do not come and you are not taught by Me. I am the author of love. I teach the mighty lessons of love. I died out of love for you.
You cannot love intimately if you hold back. To love Me, you must totally surrender, surrender all you hold on to. People do not love Me because they want to hold back. If you want intimacy with Me, you must be willing to surrender your all to Me.
Are you willing to do this? This is where the power is. When you give your all, I possess your soul and I am all powerful. I want your all, not little pieces you stingily let go of. I want your all. Then you will have an intimate union with God. Then you will live in His love and be powered by His might. Then you will be free. I will operate you and you will be united to Me as one. What power, God dwelling within your breast and acting from your soul! Become selfless and unattached to anything. I am God and you shall not have any gods before Me!
end of excerpt
I remember a woman would make food and
give gifts to a person — then she would
call up mad because she wanted to
possess that person — she wanted them
to give to her what she could only give
to herself — peace in doing God's will —
Another person obsessed another person —
so they wouldn't ever admit how
sick they were in their manipulation
and games —
Forcing abusive behavior on others — provoking —
passive-aggressive —
making others beg for needed work —
Holding on to things needed by another to
manipulate another to deal with
our sick behavior is wrong —
People meddling in adult children's lives
when they need to let them alone —
I remember a woman telling me early on
in the Movement — her son was on drugs —
he called her and expected money — her
to bail him out —
She gave - every time he called in trouble —
She enabled him not to look at himself —
so he stayed on drugs and
her situation became worse and worse —
Eventually she had to quit enabling him
so he could get better —
Alcoholics can do this — force others to put
up with their alcoholism — while an
enabler controls everybody else —
walking on eggs —
so the alcoholic won't explode —
They can get real sick —
the whole family or anybody involved
An enabler has to stop enabling the
alcoholic or dysfunctional person
And quit the denial game, the elephant
in the living room — nobody
talks about —
Abuse, incest, dysfunctional additions
can be like this —
Nobody talks about the elephant in
the living room —
the enabler keeps everybody silent
about what needs to be
exposed —
Secrets are like this —
Somebody once said — "you're as sick
as your secrets"
From Response to God's Love by Fr. Edward J. Carter, S.J.
2 The Christian's Personal
Uniqueness


Obviously, we all assimilate the mystery of Christ in basically the same way. There are, however, significant differences in how each person puts on Christ that result from the uniqueness of each individual. Each person is a unique expression of God's creative love. Each person can truthfully say that there has never before been anyone like himself or herself, there is now no one like him or her, and there never will be.

The personal uniqueness of each human being increases in proportion to one's assimilation to Jesus. That is to say, the more I put on Christ, the more I lose myself in Christ, the more I become myself. This is true because grace perfects nature, and, consequently, the more I grow in grace, the more perfect all dimensions of my person become—and this includes uniqueness. We see, then, how fallacious is the reasoning of those who think that the more they give themselves to the practice of religion, the more their personalities will be subdued. Actually, the opposite is true—the more one grows in Christ, the more his or her unique personality emerges in all its attractiveness.

As I grow in the realization of my own uniqueness, I should also grow in developing a sense of self-identity and self-acceptance. If God in his tremendous love for me has created the uniqueness that I am, should I not rejoice in who I am and avoid morbidly comparing myself to others? Should I not have a healthy self-image? Of course, self-acceptance does not mean self-complacency. Honest self-reflection will always reveal to me that there are weaknesses that must be further curbed and strengths that must be further developed.

As God gives each person his or her uniqueness, he attaches to it a unique mission or role that is to be accomplished. Cardinal Newman tells us: "Everyone who breathes, high and low, educated and ignorant, young and old, man and woman, has a mission, has a work. We are not sent into this world for nothing; we are not born at random. . . . God sees every one of us; He creates every soul, He lodges it in a body, one by one, for a purpose. He needs, He deigns to need, every one of us" (Discourses Addressed to Mixed Congregations, pp. 111-112).

Because of the uniqueness of each Christian's existence, he or she presents Christ with a unique opportunity. Each Christian has the vocation to offer Christ his or her humanity so that Jesus can re-incarnate himself in a new way. Jesus wants to continue his redemptive work through the not-to-be-repeated newness that is each Christian's uniqueness. To the extent that an individual Christian offers his or her humanity to Jesus, he or she has a unique opportunity to continue the redemption—an opportunity that no one else can offer him or her. Likewise, to the extent that an individual Christian fails to offer his or her humanity to Christ, Jesus loses the opportunity that is this Christian's uniqueness.

Each of us, consequently, no matter what his or her occupation or status in life might be, has both the great privilege and the great responsibility to properly utilize his or her life according to God's Christic design. No one else can fulfill your unique mission, and, in turn, you cannot accomplish the unique mission of another. At times we can become somewhat fearful or anxious about the task that God has entrusted to us as we more deeply realize what it demands. We can feel the same reluctance that Jeremiah the prophet voiced when Yahweh called him:

The word of the LORD came to me thus:
"Before I formed you in the womb I
knew you,
before you were born I dedicated
you,
a prophet to the nations I appointed
you."
"Ah, LORD GOD!" I said,
"I know not how to speak; I am too
young."
But the LORD answered me,
"Say not, 'I am too young.'
To whomever I send you, you shall
go;
Whatever I command you, you shall
speak.
Have no fear before them,
because I am with you to deliver
you, says the LORD."
—Jer 1:4-8

Jeremiah initially shrank back from the mission that God was giving him. He complained that he was not capable of accomplishing it. God answered him, however, and told Jeremiah that he was perfectly capable of fulfilling his appointed role, for he, Yahweh, would be with Jeremiah. God would work through Jeremiah, and Jeremiah, for his part, was to be open to God, allowing Yahweh to work through him according to the divine will.

We, too, can be guilty of reacting to God's call in the same way that Jeremiah had originally reacted. This can happen as God calls one to a basic state of life. Once a person is within a fundamental vocation, one can be tempted to resist God's call to higher things, to a more complete accomplishment of his or her mission, and to a greater Christian maturity. When so tempted, a person must control his or her fears and trustingly give himself or herself to God's will. Only then will the person become convinced that God never requests anything without granting abundant grace to accomplish his design, and that, moreover, to answer God's call as consistently as possible is the only true path to peace, happiness, and fulfillment, despite the pain that is necessarily involved.

We are aided in remaining faithful to the unique role in life that God has given us if we strive to remain aware of the great value that one life has to Christ, to the Church, and to the world. History tells us of the great difference that just one life can have regarding Christ's work; there are outstanding examples from all walks of life. Surely the Church has been enriched, and countless lay people have been inspired because of the life of a man named Thomas More. He was a layman who realized the deepest meaning of life—and he did not fail to confront the true purpose of human existence, even when that confrontation meant sacrificing his life for what he believed. Surely this life—the one life of St. Thomas More—has made a difference. In our own times, we have been enriched and inspired by an outstanding lay witness—the beloved Dorothy Day. What an inspiration she has been! Surely her life, though it was only one life, made a difference—and such a great difference. There are, too, the examples of men and women who have established religious orders and congregations. Surely the life of each of them has made an overwhelming contribution toward a better Church and a better world. Consider also the life of Angelo Giuseppe Roncalli, a person from a peasant background who eventually came to be called Pope John XXIII. Surely the world is so much better for Pope John's having given it his love, kindness, joy, and constant concern. Of course one life does make a difference.

At this point, however, many will object that the above examples highlight the lives of persons who have achieved outstanding recognition in the external order of things and have commanded great public attention. People who voice this objection often say that their own lives are so mundane, so hidden, so incapable of making headlines. Surely, they continue, this rather too ordinary kind of life makes little difference to Christ, to the Church, and to the world. Surely it does not much matter whether a person living this kind of existence fulfills his or her God-given mission. At first glance, many of us would tend to agree with this reasoning, a reasoning that is really the exact opposite temptation of what we considered when we likened ourselves to Jeremiah. In that context there was a question of being tempted to do nothing because we feared the greatness to which we were called; in the present context, however, it is a question of being tempted to do nothing because we think we really have nothing to contribute. Yet, as we begin to reflect in mature faith, we soon see the fallacy of this objection. We realize that great external accomplishments or a life that attracts public attention do not, in and of themselves, make that life great and truly worthwhile. If a Christian life that is characterized by notable external achievement is truly great and meaningful for mankind, we know that it is so because the external achievement has sprung forth from an attitude of deep faith, hope, and love. This, then, is the ultimate answer to the above objection—every Christian's life, no matter how ordinary it might be in its external framework, can be tremendously important and can make an outstanding contribution toward the work of ongoing redemption as long as it is increasingly consistent with God's will.

God's ways are not always our ways, and his thoughts are not always our thoughts. God can take a life that seems so ordinary, so prosaic, so uneventful, and achieve wonders with it as long as the person is striving to fulfill his or her role in life according to God's designs. We cannot, then, use the ordinariness of our lives as an excuse for not making our existence truly great, truly significant for both Christ and humanity—a life that truly makes a difference. Karl Rahner has advice for us when the ordinariness of our lives tempts us to think that our existence is unimportant and almost useless: "Let us take a good look at Jesus who had the courage to lead an apparently useless life for thirty years. We should ask him for the grace to give us to understand what his hidden life means for our religious existence" (Spiritual Exercises, p. 160). Notice that Rahner describes the first thirty years of Jesus' life as "apparently useless." In reality, of course, Christ's very ordinary existence at Nazareth was not actually useless but was, on the contrary, tremendously important—it was part of his redemptive effort. No, it is not the ordinary setting of our lives that is an obstacle to our making a unique and important contribution to the cause of Christ. The real obstacle, if we allow it, is our failure to relate to life's ordinariness as God intends.

The realization of the greatness of our own lives, however, must be balanced with a realization of the limitations that are attached to that greatness. We are finite creatures who have various limitations that emanate from our finitude. A sense of limitations, then, should accompany the fulfillment of our mission in life.

What are some of these limitations? First, it is important to realize there are false limitations—limitations that need not be—as opposed to inevitable limitations—limitations that spring forth from the fact that we are finite creatures who are immersed in the human condition. An example of a false limitation is demonstrated by the person who succumbs to the temptation of wanting to be someone else. This person looks at the physical and intellectual gifts of one person, the pleasing personality of another, and so forth and so on, and convinces himself or herself, that, if only he or she were endowed with such qualities, well, yes, then it would be possible to really accomplish something with his or her life. In other words, the person fails to accept himself or herself as God has made him or her. This person fails to accept his or her God-given uniqueness and wastes precious time looking at what he or she does not have, rather than appreciating that with which God has actually endowed him or her. Such a person must accept himself or herself, once and for all, in his or her fundamental uniqueness. Moreover, this person must develop the gifts, strengths, and capacities of his or her uniqueness and strive to control its weaknesses as much as possible. He or she should also realize that only by accepting his or her uniqueness as coming from God's creative love and constantly striving to allow that same love to bring his or her uniqueness to fulfillment will he or she achieve ultimate peace and happiness. Then, and only then, can a person properly make his or her contribution to continued redemption.

Surrounding our uniqueness, then, are limitations that need not be; similarly, there are also limitations that are inevitable. We possess certain talents, for example, but present circumstances do not allow us to exercise these talents here and now. Even at those times when we can exercise our talents, we often feel limited because we realize that we have only a certain amount of energy; that there are only a certain number of concrete opportunities and a certain amount of time for us to use our talents. At other times we feel limited because the persons we are trying to serve are hostile to our efforts and shut themselves off from what we desire to so generously offer.

These, then, are some examples of limitations we can experience in our efforts to fulfill our mission. To balance the realization of the greatness of our call with the realization that we will be variously limited—sometimes painfully so—in our striving to implement our mission is as necessary as it is challenging.

Each Christian, therefore, because of his or her personal uniqueness, has a unique mission to fulfill in helping continue the work of Jesus. Each Christian is given the opportunity to contribute as he or she receives the call from God, and, obviously, there are varying degrees according to which a Christian may respond or not respond to God's call. There are, first, those who hardly respond at all, who seem to be barely Christian. They may have faith, but it is a dead faith, for they refuse to be guided by God even in serious matters. They want to be complete masters of their own existence; the less they have to think about God, the better. Originally, some of these people may have been given a call to magnificent Christian greatness in this or that state of life. They may have turned a deaf ear to true greatness, however, and determined to be makers of their own self-conceived greatness; their concept of greatness may never have transcended the limits of space and time—they may have thought and acted as if their temporal existence would extend forever.

Second, there are other Christians who essentially respond to God, but not as completely as possible. Their lives seem to be an average mixture of both continuing faithfulness to God and occasional disloyalty to him; periodically they accomplish much good, but they also mix in a considerable degree of mediocrity. They do, however, seem to be basically sincere Christians who do, in fact, promote the work of Christ and essentially fulfill their roles in life.

And finally, there are those Christians who initially answer God's call and continue to answer it in an eminently generous manner. They develop their uniqueness marvelously and become forceful shapers of the world's Christic destiny. Their good actions are deeply etched into the human process, although they may well be hidden from public acclaim. Because of them and their actions, the world's goodness is enhanced, and mankind has come considerably closer to fulfilling its temporal and eternal destinies.

Today's Church needs more of this type of Christian. The Church and the world in which she is situated are experiencing a time of crisis—perhaps the most critical time of all history, for at what other time in human history could life as we know it on this earth end so suddenly in a nuclear holocaust? Yet, although we live in an age of special crisis that has tremendous and numerous problems, we also live in an age of great opportunity. God, for his part, always provides for the needs of both the Church and the world in which the Church is meant to serve. Surely, in this age of great need and opportunity, God will not fail to call Christians of all vocations to completely and eminently dedicate themselves to the task at hand. We should pray that everyone will respond according to their own uniqueness and make their own special contribution to the work of Christ.
end of excerpt
From Response in Christ
The Christian Encounters Others and the World (excerpt)
If, however, we must, on the one hand, strive to maintain a sense of proper need for others, we must, on the other hand, couple this with a thrust toward independence. To have an attitude of healthy dependence on others is a main ingredient for true personality growth; to maintain a morbid need for others, however, is a serious obstacle in becoming the persons we are destined to be. We should never become slavishly dependent on the company of others, their love, the attention they give us, the approval they give to us, our ideas, or our work. It is, of course, always very pleasant to receive love, attention, and approval; all this, however, must occur within the framework of God's will for us. We must constantly strive to lovingly do his will at all times and in all circumstances. This is the all-embracing and all-necessary imperative that permeates every facet of our being. When we live according to this imperative, we gladly and gratefully receive love, attention, and affirmation from others when it is forthcoming; what is more, we realize that to be offered this is a part of God's plan for us. If, however, it is not forthcoming at any one time, we courageously continue to live as we think God intends, aware that, in his loving faithfulness, God will compensate for what currently appears to be a lack of human support.

Early in our discussion of the Christian's encounter with others, we should obviously say a few direct things concerning the core attitude of love, a trait that should permeate all other attitudes. It is well to begin by observing a phenomenon of our culture concerning love: Many persons who choose marriage say they do so out of a desire to be loved. Notice, they say that they marry out of a desire to be loved, not to love. In fairness to these persons, perhaps we should presume that they realize they in turn must also offer love. Yet, is it not revealing that they explicitly mention as the reason for marrying a desire to be loved? Could there be a close correlation between this phenomenon and the extraordinarily high divorce rate that prevails in our culture? If it is common that both partners enter marriage more from a need to receive love than from a desire to give it, do we have to look further for the reason to explain why so many marriages are plagued with various degrees of unhappiness?
end of excerpt
From a Lenten Homily, March 24, 2000
Live in the Moment
Today's Gospel in its story certainly points ahead to Jesus in His Passion and death. And as we read passages such as this during the Lenten season, we are reminded once again that the Church in her Liturgy of the Word gives us an opportunity to undergo a purification, an ever deepening cleansing of ourselves so that we may be a more fit instrument for receiving the great graces which are to be given to us at the time of the Resurrection memorial on Easter. And so all in all, Lent is a time of purification to prepare us for ever-greater gifts of the Lord. It's a time of self-discipline, a time to renew our efforts to be self-disciplined in the service of the Lord. Self-discipline is an aspect of purification. And I suggest that one of the most difficult acts of self-discipline in the spiritual journey is to concentrate on the present moment. We have a very strong tendency to disregard the importance of the present moment by focusing in a wrong way on the past or in a wrong way on the future. There are proper occasions for thinking of the past and the future. For example, we have to learn from the past and we have to prepare for the future, but our great emphasis has to be upon the present. There is a Latin axiom which says, age quod agis, age quod agis, which means: do what you are doing, concentrate on the present. And of course we are familiar with that term in the history of spirituality: the sacrament of the present moment. And so the discipline of Lent certainly encourages us to include in a deeper self-discipline a greater determination to get as much as we can out of the present moment. People with a terminal illness have an opportunity as they prepare for death for increased prayer, contrition, love of God. However, some are taken very, very quickly. But for those who have the opportunity of knowing with some certainty the time of their death, I'm sure as they look back on their lives, they are saddened by the many times they did not use time and opportunities for the service of the Lord properly, and are overjoyed at those times in which they did use the present opportunity properly. A great means we have of living in the present properly is a greater focus upon our Lord. For if I have that awareness of the fact I am united with Jesus here and now, why should I be concerned so much about the future or the past? Yes, a great help in living in the present and deriving all the good we can from it for ourselves and others is an ever greater focus upon Jesus, because the more I focus upon Jesus and the more I live with Him in the present moment, the more I am satisfied with the present moment. And so let us in our Lenten activity resolve to grow in that self-discipline - which is very difficult at times - to really live in the presence with the fullness of our being as much as is possible, with the help of God's grace. Now is the day of salvation. Now is the day of salvation.

end of Father Carter's homily
Response in Christ by Fr. Edward J. Carter, S.J.
Other Christian Virtues
If humility is truth, and therefore allows for the proper recognition of my gifts, it also necessitates my admitting to the evil within me. This is also part of the truth. This truth also must be acted upon; for Christian humility not only allows me to admit that there is evil in me, but it also tells me that as a creature of God I should conform myself to His will and strive to eradicate and control the evil as far as this is possible. In summary, humility allows the Christian to evaluate properly both the good and evil in himself.
Adult children of alcoholic and dysfunctional
homes learned rules — that they
know — co-dependent rules that can
leave their life unmanageable
They keep trying to force these dysfunctional rules
on others — or they act very independent —
not mixing —
A person mixing — constantly works with others in
peace — is committed — works on problems, is
a light to others —
The Twelve Steps of AA
Here are the steps we took, which are suggested as a program of recovery:
1. We admitted we were powerless over alcohol,
that our lives had become unmanageable.
2. Came to believe that a Power greater than
ourselves could restore us to sanity.
3. Made a decision to turn our will and our lives
over to the care of God as we understood Him.
4. Made a searching and fearless moral inventory of ourselves.
5. Admitted to God, to ourselves, and to another human
being the exact nature of our wrongs.
6. Were entirely ready to have God remove all
these defects of character.
7. Humbly asked Him to remove our shortcomings.
8. Made a list of all persons we had harmed,
and became willing to make amends to them all.
9. Made direct amends to such people wherever possible,
except when to do so would injure them or others.
10. Continued to take personal inventory and when we
were wrong promptly admitted it.
11. Sought through prayer and meditation to improve our
conscious contact with God as we understood Him,
praying only for knowledge of His will for us and
the power to carry that out.
12. Having had a spiritual awakening as the result of these steps,
we tried to carry this message to alcoholics,
and to practice these principles in all our affairs.
THE PROBLEM

CHILDREN OF ALCOHOLICS: These are the characteristics we seem to have
in common due to having been brought up in an
alcoholic household:

1. We became isolated and afraid of people and authority figures.
2. We became approval seekers and lost our identity in the process.
3. We either become alcoholics, marry them or both or find another
compulsive personality such as a workaholic to fulfill our sick
abandonment.
4. We are frightened by angry people and any personal criticism.
5. We live life from the viewpoint of helping and seeking victims,
and are attracted by that weakness in our love and friendship
relationship.
6. We have an overdeveloped sense of responsibility, and it is easier
for us to be concerned with others rather than ourselves.
This enables us not to look closely at our faults, etc.
7. We get guilt feelings when we stand up for ourselves instead we
give in to others.
8. We become addicted to excitement.
9. We confuse love with pity and tend to "love" people we can pity and rescue.
10. We have stuffed back our feelings from our traumatic childhoods and have
lost the ability to feel or express our feelings. It hurts so much (denial).
11. We judge ourselves harshly and have a very low sense of self-esteem,
sometimes compensated for by trying to appear superior.
12. We are dependent personalities who are terrified of abandonment.
We will do anything to hold onto a relationship in order not to experience
the pain of abandonment. We are conditioned to these types of relationships.
13. Alcoholism is a family disease and we became para-alcoholics.
We took on the characteristics of that disease even though
we did not pick up the drink.
14. Para-alcoholics are reactors rather than actors.

Except from Your Inner Child of the Past

by W. Hugh Missildine, M.D. published by Simon and Schuster New York 1963

p. 25

HOW THE CHILD OF THE PAST INFLUENCES ADULT LIFE

No One Outgrows His Feelings of Childhood

No one outgrows or becomes too old to have an "inner child of the past." A few years ago when President Dwight D. Eisenhower announced a new record-breaking budget, newsmen promptly interviewed his older brother, Edgar, for his views. Edgar severely criticized the budget as inflationary. Next morning the President was asked what he thought of his brother's comments. According to The New York Times, the President, smiling broadly, said, "Edgar has been criticizing me since I was five years old." His remark, frank in its human quality and its implication that he had learned in childhood not to heed Edgar, drew laughter from the correspondents. It revealed one facet of the President's "child of the past"—the attitude of Edgar toward his younger brother and the attitude which young Dwight had developed to cope with Edgar's criticism. More than half a century later these attitudes were still functioning vigorously.

pp. 87-88

Areas of Perfectionism

Many people do not realize how much their perfectionism troubles them because it is limited to certain areas or activities. Such persons are generally able to enjoy and take satisfaction in other areas of life. But in specific areas they are perfectionistic, eternally dissatisfied with themselves even though their achievements surpass others and their shortcomings are not noticed by others.

As George, one such person, put it recently: "Ordinarily I get along fine. If I make an error in grammar or English when I'm speaking to someone, if I use the wrong word, I am ready to die. I can't stand it. I turn red as a beet, my heart pounds, I get so flustered and mad at myself that I can't sleep. I wonder how I, of all people, could have made such a boner. Later I realize nobody cared, but I still can't stand it. I expect more of myself in that respect than other people do. My mother taught English and she drilled me constantly in perfect speech and grammar. The way I see it, there is no reason why I shouldn't use perfect English. God knows, I know the stuff. It's been drilled into me since I could talk. When I make an error, especially if I'm talking to a stranger, I feel I've made a hopeless, irremediable error because first impressions are everything. Consequently I am especially afraid of making an error. Therefore, I train myself, prepare myself for such a meeting if I have the chance. The result is that I generally make a good impression and whatever I say comes out perfectly.

"In fact, because of this, my boss, who often speaks poor and even ungrammatical English, sometimes takes me along to an important client to help sell a contract. I just can't sleep the night before and sometimes, if I know the people we are going to be meeting are really well educated, I am hardly able to talk when we get there. Everything I might say—and it is important in selling and negotiation to be able to talk freely—becomes dangerous. I just dry up. I have to go over everything two or three times in my mind to make sure I'm going to say it in perfect English, and that's aside from the appropriateness of the thought content of what I am saying. It's a terrible strain.

"Sometimes I have made errors. Once I grew so flustered I just barely stammered out the rest of the sentence. But neither my boss nor the other people noticed anything until I started to stammer. They thought something had stuck in my throat. We got the contract anyhow, but I couldn't sleep for nights afterward."

"These men had to build protective, combative armor in childhood to cope with a sharp-tongued, battlefield home atmosphere. They still feel too vulnerable to step out of their protective shells in the present even though the battlefields of childhood have long since disappeared. Often their wives, out of loneliness and in a frantic attempt to "reach" these husbands quarrel with them. This recreates the battlefield atmosphere of their past home life — and more family entrenches these men in their armored tanks"
God allows us to suffer to bring us closer to Him —
death/resurrection
living in the moment
growing in discipline
parenting our inner child
obedience to the commandments
respect for others' boundaries —
respect for others
love for others
accountability for our actions
Fr. Carter said from Response in Christ — Chapter 6
The Christian and Sin

"What is the nature of sin? Contemporary theology emphasizes that sin is not primarily a violation of a law, but a disruption of personal relationships. Sin is a refusal to love. Serious sin is a radical refusal to love. Venial sin is a partial refusal to love. ...

Sin, then, because it is a failure to love God, man and the world, is selfishness."
ADDICTED
SHUTTING DOWN
Co-Dependent, Slavishly dependent —
God wants strength rooted in Him
We are His instruments in the world
We are called to go out — Open up — not walk in Darkness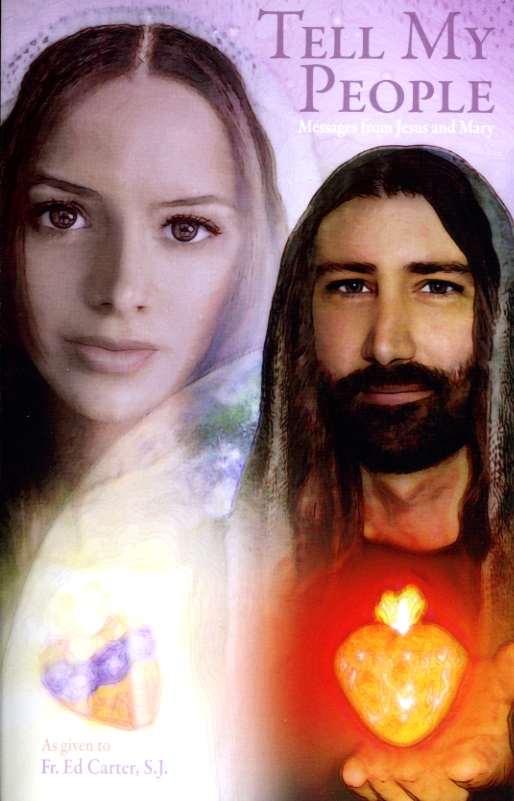 Available $10.00 plus shipping
1-888-211-3041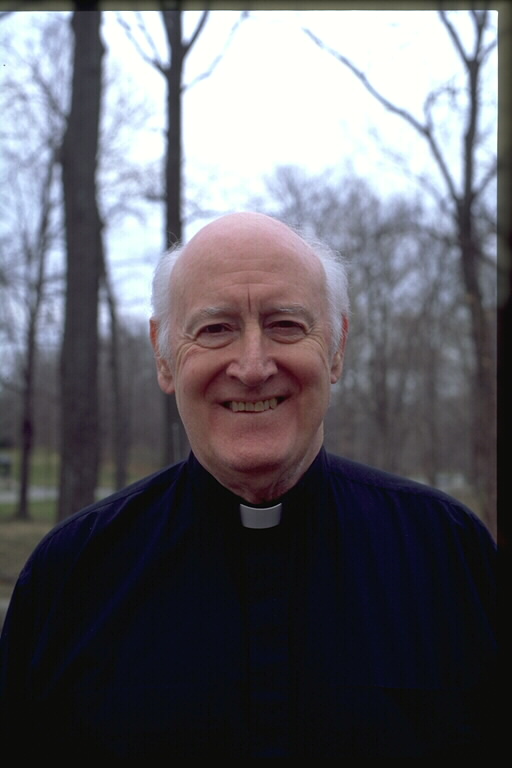 From Tell My People
"What I say to you in the dark, tell in the day-
light; what you hear in whispers, proclaim
from the housetops." (Matthew 10:27)


Jesus Has Come to Give Us Life

Jesus: "This is the day celebrating My Resurrection (Easter). The day of newness of life. I am Lord and Master. I am the Way, the Truth, and the Life. Tell My people to come to Me if they wish to experience life in abundance. I want to give all an ever greater share in the life of My Resurrection. Without Me you cannot be happy, nor have peace, nor have real joy. Tell My people to surrender to Me more and more. The more they do so, the more they will experience My love, wisdom, power, peace, joy, happiness, mercy, and goodness. Within My Heart My people will find these riches. I am Lord and Master! Please listen to My words."

Reflection: Through His life, death, and resurrection, Jesus has come to give us life, and to give us this life in abundance.

When we were baptized, we were incorporated into Christ and His Church. When we were baptized, we received the life of sanctifying grace. This life is a created sharing in the life of the Trinity. Truly, we are called to live a God-like existence according to the teaching and example of Jesus! It is our duty and our privilege to develop our life of grace—our Christ-life—through our participation in the Mass, through the reception of the sacraments, through prayer, and through all other good works. Indeed, we are called to love God and neighbor more and more.

What a glorious life has been given to us! In a spirit of thanksgiving, and together with Mary our Mother, let us always strive to know Christ more intimately, to love Him more ardently, and to follow Him more closely, so that He will always bring us to a closer union with the Father in the unity of the Holy Spirit.

Prayer: Father, we are profoundly grateful for the life You have given to us through Jesus and in the Holy Spirit. Through the constant intercession of Mary our Mother, we ask for the grace to always be Your worthy sons and daughters.
Live Your Consecration
Jesus: "My beloved friend, I have taught you what is involved in living out your consecration to My Heart and to My Mother's Heart. I have taught you to renew your consecration each day. I have led you to be aware of your consecration many times during the day. I have taught you to pray frequently during the day for the grace to grow in the life of consecration. I have impressed upon you that your consecration to Our Hearts includes your being aware of how much I and Mary love you! I have given you a great desire to respond to Our love. I have greatly increased your desire to love Me, the Father, the Holy Spirit, Mary, and all your fellow human beings! I have taught you that to grow in your consecration you must surrender more and more to My Heart and My Mother's Heart—that you must give yourself completely to Us. And I have given you a great desire to do so! I have given you a great trust in Our Hearts. This trust is so important in making the act of consecration and living it.
"My beloved companion, tell My people about these lessons I have taught you. Lead them to consecrate themselves to My Sacred Heart and to Mary's Immaculate Heart. Tell them of the great love, peace, and joy they will experience if they make this consecration and live it! I am Lord and Master. I urgently request that My people listen to My messages and live them! I love My people with a tremendous love, and, out of this love, I give My messages through you and others in these most critical times!"
Reflection: At Baptism we are consecrated to the Triune God. To consecrate means to make holy. At Baptism Father, Son, and Holy Spirit consecrate us with Their own holiness. This sharing in divine holiness is our life of grace. Through our Baptismal consecration we are called to live a God-like existence according to the teaching and example of Christ.
In our times, God has given us a most attractive way to live out our baptismal consecration--through consecration to the Hearts of Jesus and Mary. As we strive to give ourselves totally to Jesus each day with the assistance of Mary our Mother, Christ continues to lead us to the Father under the guidance of the Holy Spirit. Yes, each moment of each day we are called to live our consecration. This is our privilege. This is our responsibility.
end of excerpt
From Response in Christ by Edward J. Carter, S.J.
There is but one true Church of Christ. Yet this one Church has three different states of existence. There is the pilgrim Church, the Church of this world, composed of members who have received the grace of Christ and strive for its development. They have not yet obtained the goal of their efforts, as have the members of the heavenly Church, who enjoy God in eternal happiness. The Church suffering is an intermediate state of existence necessary for those who had not achieved the required purification as members of the pilgrim Church. Although there are these three phases of the Church's existence, there is a profound union existing between all the members. All these members possess the same basic life of grace in Christ, and this common life establishes the most intimate bonds of love. In our preceding chapter, we discussed the pilgrim Church. Let us now consider the Church suffering and the heavenly Church.

The members of the Church suffering are those who have departed from this life in an incomplete state of Christian development. Their development is incomplete in the sense that grace has not fully taken possession of them, and, as a result, they are yet closed in upon themselves to a greater or lesser degree. They as yet cannot open themselves out in complete love to the Triune God in the beatific vision. They must undergo a further purification, a purification which could have been achieved upon earth with merit. Now the purification must be achieved with no merit attached. The pain of this purification is mixed with the certain expectation of achieving the vision of God. We can hasten the advent of this vision for this people by the offering of prayers and other good works. Scripture itself refers to our action on behalf of those in purgatory in Chapter 12 of the Second Book of Maccabees beginning with verse 38.

The members of the heavenly Church are those in whom the life of grace has taken full possession and has reached its completion in the life of glory. Faith now is unnecessary, as the light of glory gives the human intellect a new strength and capacity for seeing God face-to-face. While the Christian was a wayfarer, he received the imprint of the indwelling Trinity as he shared in God's own life. Now in heaven that grace-life and possession of God reaches its completion—the absolute completion is not achieved, however, until the resurrection of the body. The divine persons give Themselves to the beatified in a profound union far surpassing that of the indwelling of the Trinity experienced here below.

This life of heaven is still the Christ-life, for just as we possess a share in Trinitarian life here below as mediated by Christ, and exercise this grace-life as structured by Him, so also in heaven is the mediation of Christ present. In the words of Rahner, "One always sees the Father through Jesus. Just as immediately as this, for the directness of the vision of God is not a denial of the mediatorship of Christ as man."14 And not only does the humanity of Christ unite the blessed to God, but also, in some way, to the whole of creation. This is merely a completion of what is begun here below, namely, the union with Christ in His humanity establishing the Christian in a special relationship with God, with other men, and with the whole of creation. We have a glimpse, therefore, of the fullness of life which members of the heavenly Church possess.

The heavenly Church, as St. Thomas says, is the true Church.15 The Church of this earth and the Church of purgatory are, each in its own way, reaching out in loving hope for the heavenly Jerusalem. Vatican II puts it very simply: "The Church, to which we are called in Christ Jesus, and in which we acquire sanctity through the grace of God, will attain her full perfection only in the glory of heaven."16

The members of the heavenly Church can help us in living our life of grace until we too share its fullness with them. Their power of intercession on our behalf is but another ramification of the communal aspect of Christianity. We are meant to help others grow in Christ. We, in turn, are intended by God to receive aid from others—yes, from members of the heavenly Church, as well as from those with whom we dwell here below.

Not only can we be aided by the saints' intercession, but the example of the canonized saints can also be of great value to us. They have concretely proved that full holiness is possible. Such an inspiration is of real worth when we are tempted to think that Christian sanctity in its higher degrees is impossible of attainment. Moreover, the canonized saints, in their diversity, teach us that there are many authentic versions of Christian holiness. They can be innovators in showing us that there are numerous possibilities in assimilating the mystery of Christ, although the basic assimilation remains the same for all Christians of all times. In the opinion of Rahner this is one of the chief roles the canonized saints exert in the life of the Church.17

---

NOTES:

14Karl Rahner, Theological Investigations, Vol. III (Baltimore: Helicon, 1967), p. 44.
15 Cf. St. Thomas Aquinas, In Ad Ephes., c. 3, Lect. 3.
16Second Vatican Council, Constitution on the Church, No. 48.
17Cf. Karl Rahner, Op. cit., pp. 100-101.
Give a gift that lasts.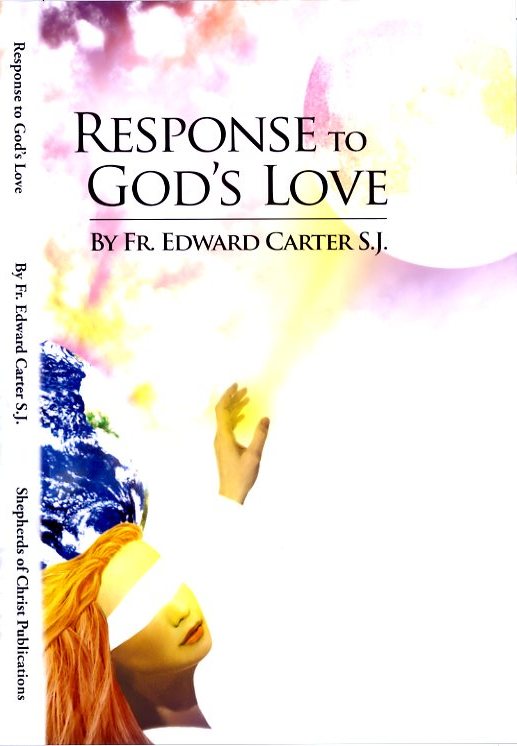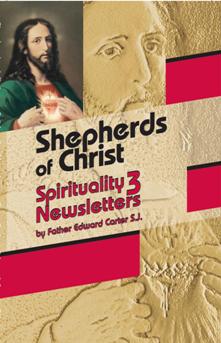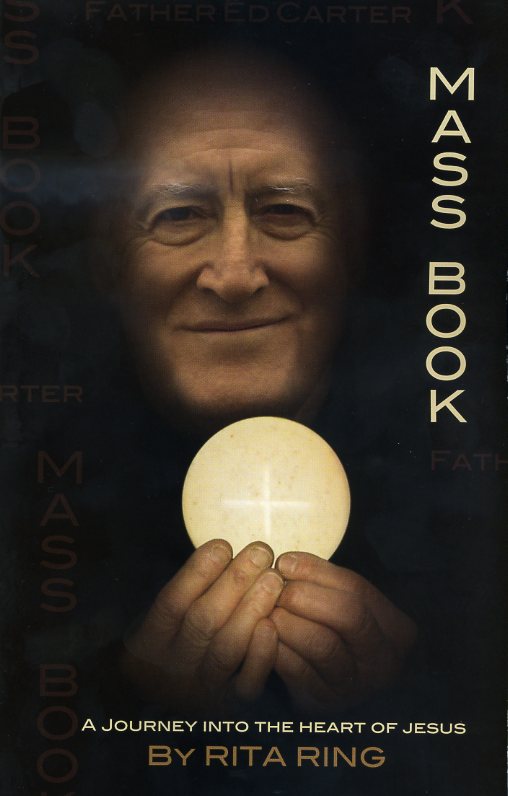 $10.00 each plus shipping
Call 1-888-211-3041
Shepherds of Christ
We can send Fr. Joe's
homily book to a priest for 75¢.
Can you please help us get
these homilies to the priests?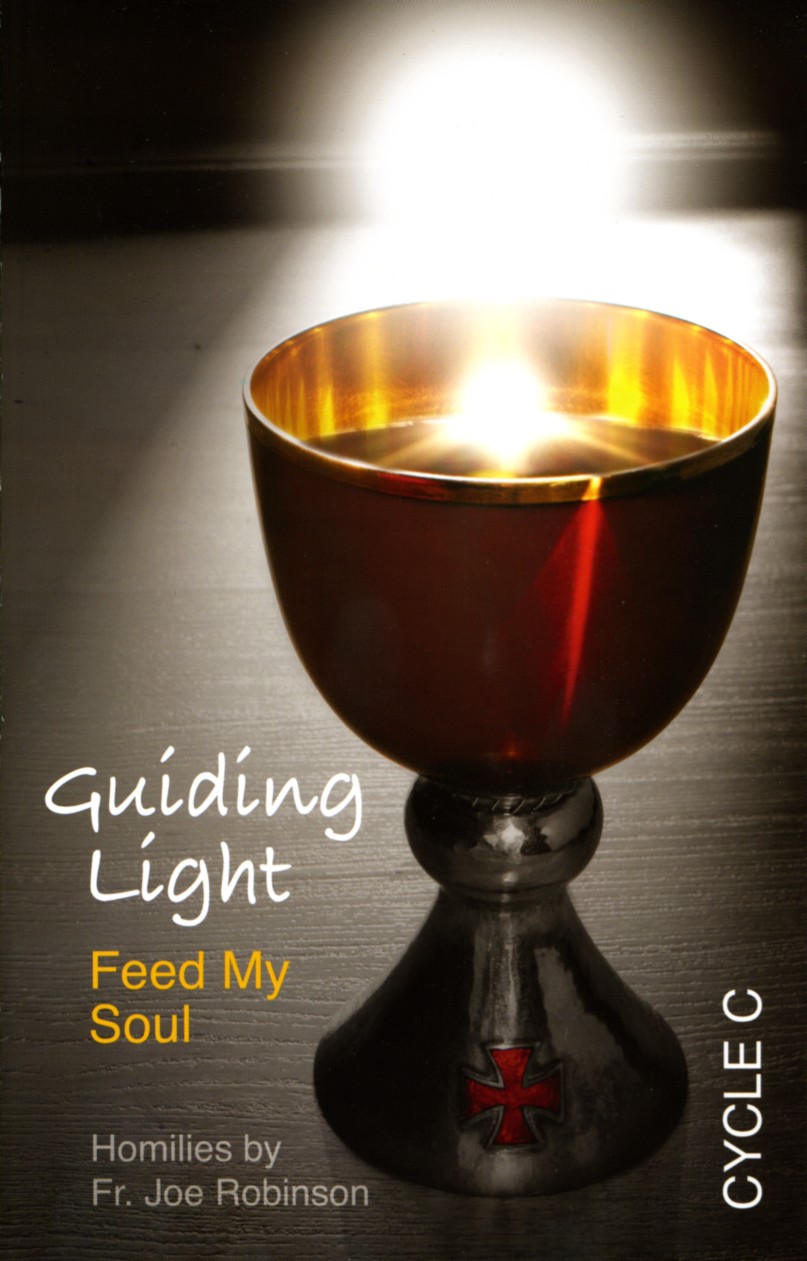 Please help us with your donation.
Call Shepherds of Christ
1-888-211-3041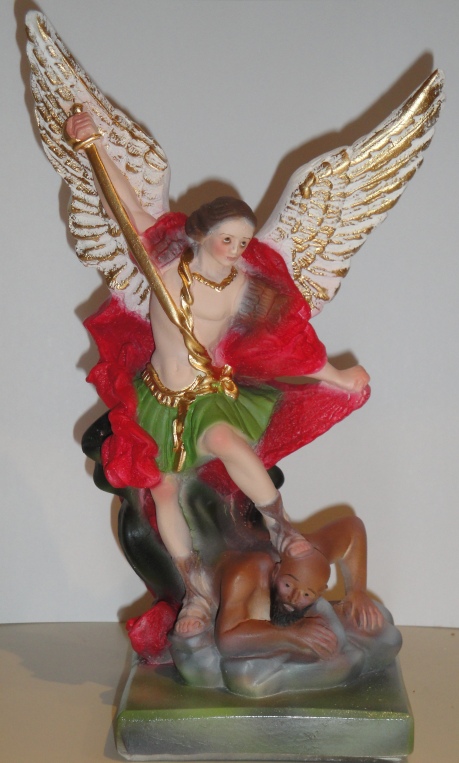 NEW! — 11" St. Michael - $40.00 plus shipping