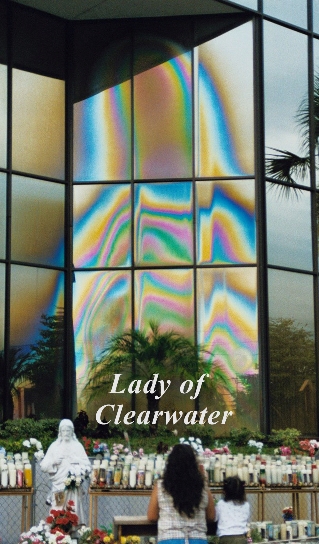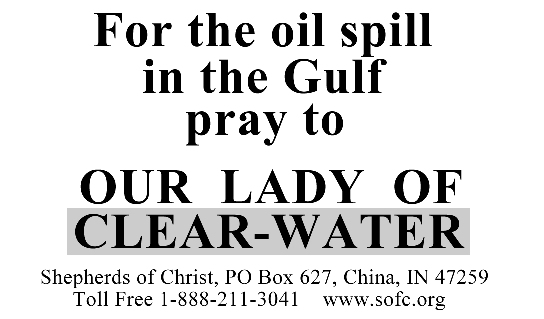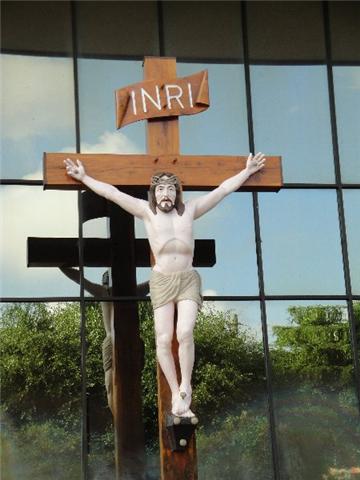 Given July 8, 2010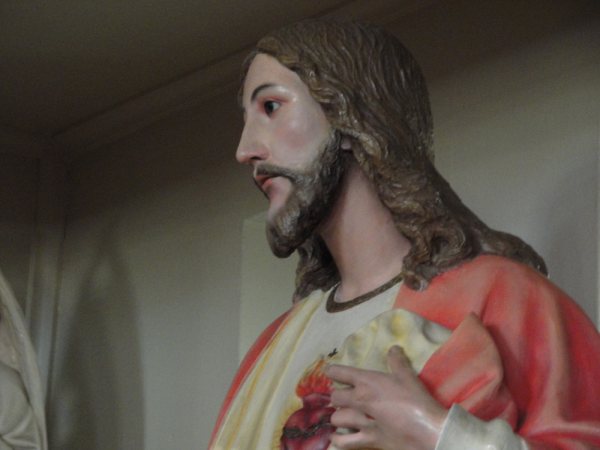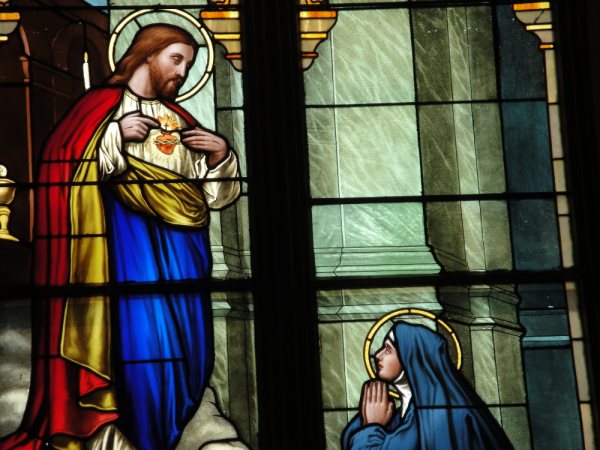 To be recited before every prayer
service morning, noon, and night.
Retreat Prayer
When I see all the blessings
God has given to me it
seems that I would not let
others who are filled with
darkness and anger affect
me, but when one wants
to hurt another and acts
for satan blocking and
blocking then it behooves
me to tell God I am sorry
for the sins I commit in
their anger acted out on me —
I can become a royal pain
in the end to God for all
the blessings and gifts He has
given and signs and love He
has outpoured continuously
to me —
It would be the worst if
I would walk in pride and
not tell God I am sorry for
my offenses against Him —
I can never take back
my actions and Our Lord
and God suffered for my
sins —
Yes, it was I who through
unkindness and selfishness
whipped Him at the pillar
and crowned Him with thorns —
It was I who put the
nails in His hands and
feet — It was I who turned
away at the crucifixion —
Why am I so weak —
Because of pride —
Because of lack of trust —
Because of fear —
Because I am not truthful
to myself about
His gifts to me —
I am ungrateful when
I am so richly blessed —
Oh God forgive my sins
of anger, jealousy,
pride, control,
lust, possessiveness,
hatred
Oh God grant Your mercy
to me and forgive me please
Thank You God for Your
goodness to me —
Let me never offend
Thee again
It is I who drag
myself down by
negative thinking and
judging others —
Help me Lord to look at my
sins — lest I be
judged as I have judged
others —
I be punished as I have
punished others —
I am made to wait without
any compassion as I
have made others wait
for me without
compassion and respect —
Oh God help me always to
judge my actions by
doing Your will in
love and not give into
temptation —
Temptation to sin by the
7 deadly sins
pride, greed, envy, wrath,
lust, gluttony, sloth


Prayer for Union with Jesus

Come to me, Lord, and possess my soul. Come into my heart and permeate my soul. Help me to sit in silence with You and let You work in my heart.

I am Yours to possess. I am Yours to use. I want to be selfless and only exist in You. Help me to spoon out all that is me and be an empty vessel ready to be filled by You. Help me to die to myself and live only for You. Use me as You will. Let me never draw my attention back to myself. I only want to operate as You do, dwelling within me.

I am Yours, Lord. I want to have my life in You. I want to do the will of the Father. Give me the strength to put aside the world and let You operate my very being. Help me to act as You desire. Strengthen me against the distractions of the devil to take me from Your work.

When I worry, I have taken my focus off of You and placed it on myself. Help me not to give in to the promptings of others to change what in my heart You are making very clear to me. I worship You, I adore You and I love You. Come and dwell in me now.

-God's Blue Book, January 17, 1994
It is spiritual
pride that I give into
when I think I have
no evil in me —
We are all sinners
and it drives me
from Jesus and loving
and growing when
I raise myself above
my fellow human
beings as one superior —
It is a mask to hide
how I have been
wronged by others
and act like it
never hurt me when I
because of spiritual
pride, do worse to others
by years of daily
hatred, anger and
combatal ways —
Do I not think I will
not be judged for my sins —
Who do I fool —
God knows everything —
Lying to God whom I
offend, Jesus who
was beaten and died
for my lies —
Who am I kidding —
Spiritual pride is
a rotten root —
where one sees themselves
as perfect and looks down
on all others —
Be real — admit your
fears and don't act out
hatred toward others
to cover them up —
Hatred acted out
because I lie to
myself that I am
perfect —
Hating shows my
impurity and robs the
world of love —
Get real don't
waste your life
trying to prove
your sins are not there —
Grow in spiritual
humility like Mary
loving —
Your misery is from
choices to isolate
and give into the
deadly sins —
The deadly sins
rob you of life
pride, greed, envy, wrath,
lust, gluttony, sloth
Saying what is wrong is
right
IS from satan
Sorrowful Mysteries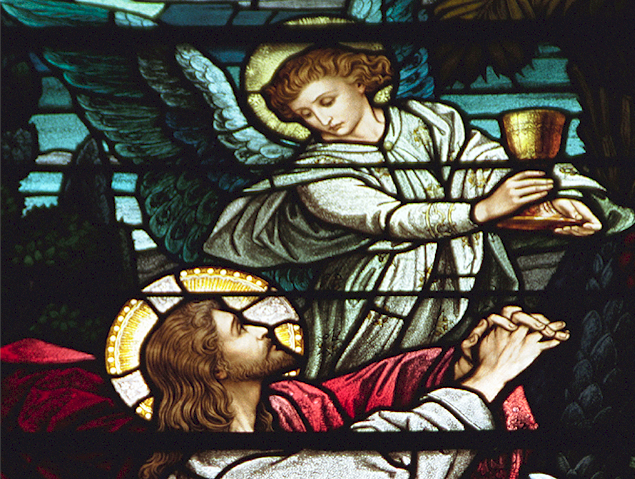 Agony in the Garden
(1) Mark 14: 32-44
They came to a plot of land called Gethsemane, and he said to his disciples, 'Stay here while I pray.' Then he took Peter and James and John with him. And he began to feel terror and anguish. And he said to them, 'My soul is sorrowful to the point of death. Wait here, and stay awake.' And going on a little further he threw himself on the ground and prayed that, if it were possible, this hour might pass him by. 'Abba, Father!' he said, 'For you everything is possible. Take this cup away from me. But let it be as you, not I, would have it.' He came back and found them sleeping, and he said to Peter, 'Simon, are you asleep? Had you not the strength to stay awake one hour? Stay awake and pray not to be put to the test. The spirit is willing enough, but human nature is weak.' Again he went away and prayed, saying the same words. And once more he came back and found them sleeping, their eyes were so heavy; and they could find no answer for him. He came back a third time and said to them, 'You can sleep on now and have your rest. It is all over. The hour has come. Now the Son of man is to be betrayed into the hands of sinners. Get up! Let us go! My betrayer is not far away.'

And at once, while he was still speaking, Judas, one of the Twelve, came up and with him a number of men armed with swords and clubs, sent by the chief priests and the scribes and the elders. Now the traitor had arranged a signal with them saying, 'The one I kiss, he is the man. Arrest him, and see he is well guarded when you lead him away.'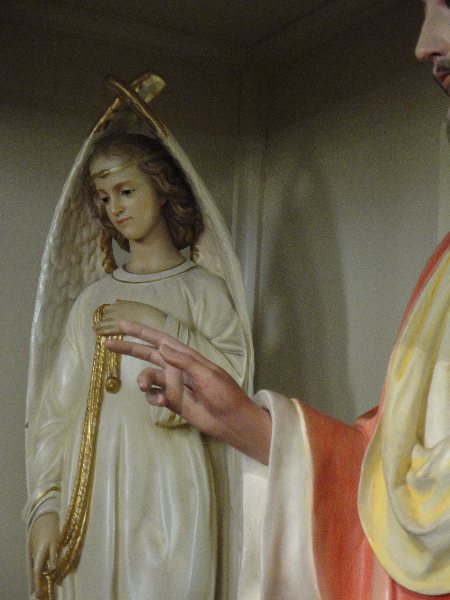 (2) Adam and Eve were in a garden
they sinned
Jesus sweat blood —
(3) Psalm 33: 11-19
but Yahweh's own plan stands firm for ever,
his heart's counsel from age to age.
How blessed the nation whose God is Yahweh,
the people he has chosen as his heritage.

From heaven Yahweh looks down,
he sees all the children of Adam,
from the place where he sits he watches
all who dwell on the earth;
he alone moulds their hearts,
he understands all they do.

A large army will not keep a king safe,
nor his strength save a warrior's life;
it is delusion to rely on a horse for safety,
for all its power it cannot save.

But see how Yahweh watches over those who fear him,
those who rely on his faithful love,
to rescue them from death
and keep them alive in famine.
(4) God created the heaven and the earth —
God separated light from
darkness —
God created the firmament —
God divided the waters
God divided the land from the sea —
God commanded the earth
bring forth grass, trees
God created the sun and moon
and stars
God created fish and birds —
God created beasts - reptiles —
God created man in His own
image and likeness
God rested on the 7th day
(5) Adam and Eve were expelled
from the garden because
of their sin —
(6) Genesis 3: 24
He banished the man, and in front of the garden of Eden he posted the great winged creatures and the fiery flashing sword, to guard the way to the tree of life.
(7) An angel appeared to Jesus
in the garden.
(8) Cain shed the blood of Abel.
Jesus shed His blood sweating
in the garden.
(9) Noah built the Ark.
Jesus was conceived in the
womb of Mary by the
power of the Holy Spirit.
(10)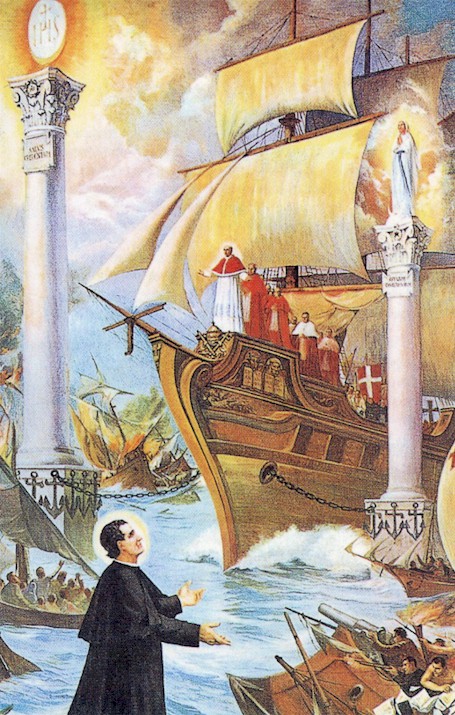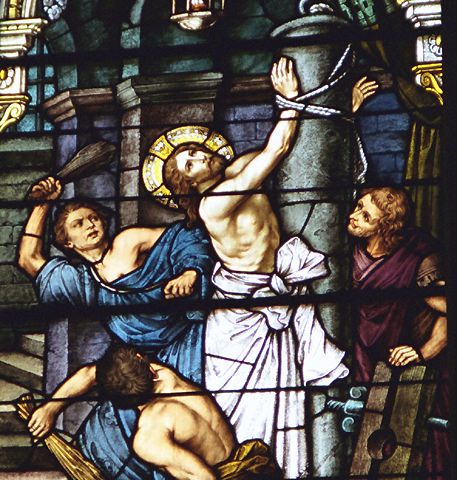 Scourging at the Pillar
(1) Genesis 22: 1-2, 9, 10-13, 15-18
It happened some time later that God put Abraham to the test. 'Abraham, Abraham!' he called. 'Here I am,' he replied. God said, 'Take your son, your only son, your beloved Isaac, and go to the land of Moriah, where you are to offer him as a burnt offering on one of the mountains which I shall point out to you.'?

When they arrived at the place which God had indicated to him, Abraham built an altar there, and arranged the wood. Then he bound his son and put him on the altar on top of the wood. Abraham stretched out his hand and took the knife to kill his son.

But the angel of Yahweh called to him from heaven. 'Abraham, Abraham!' he said. 'Here I am,' he replied. 'Do not raise your hand against the boy,' the angel said. 'Do not harm him, for now I know you fear God. You have not refused me your own beloved son.' Then looking up, Abraham saw a ram caught by its horns in a bush. Abraham took the ram and offered it as a burnt offering in place of his son.

The angel of Yahweh called Abraham a second time from heaven. 'I swear by my own self, Yahweh declares, that because you have done this, because you have not refused me your own beloved son, I will shower blessings on you and make your descendants as numerous as the stars of heaven and the grains of sand on the seashore. Your descendants will gain possession of the gates of their enemies. All nations on earth will bless themselves by your descendants, because you have obeyed my command.'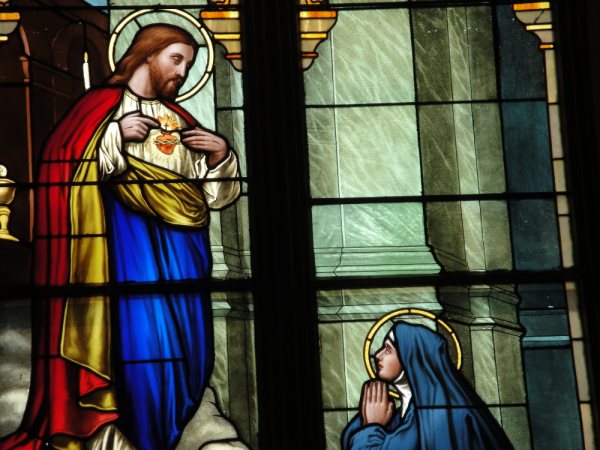 (2) Exodus 14: 15—15:1
Yahweh then said to Moses, 'Why cry out to me? Tell the Israelites to march on. Your part is to raise your staff and stretch out your hand over the sea and divide it, so that the Israelites can walk through the sea on dry ground, while I, for my part, shall make the Egyptians so stubborn that they will follow them, and I shall win glory for myself at the expense of Pharaoh and all his army, chariots and horsemen. And when I have won glory for myself at the expense of Pharaoh and his chariots and horsemen, the Egyptians will know that I am Yahweh.'

Then the angel of God, who preceded the army of Israel, changed station and followed behind them. The pillar of cloud moved from their front and took position behind them. It came between the army of the Egyptians and the army of Israel. The cloud was dark, and the night passed without the one drawing any closer to the other the whole night long. Then Moses stretched out his hand over the sea, and Yahweh drove the sea back with a strong easterly wind all night and made the sea into dry land. The waters were divided and the Israelites went on dry ground right through the sea, with walls of water to right and left of them. The Egyptians gave chase, and all Pharaoh's horses, chariots and horsemen went into the sea after them. In the morning watch, Yahweh looked down on the army of the Egyptians from the pillar of fire and cloud and threw the Egyptian army into confusion. He so clogged their chariot wheels that they drove on only with difficulty, which made the Egyptians say, 'Let us flee from Israel, for Yahweh is fighting on their side against the Egyptians!' Then Yahweh said to Moses, 'Stretch out your hand over the sea and let the waters flow back on the Egyptians and on their chariots and their horsemen.' Moses stretched out his hand over the sea and, as day broke, the sea returned to its bed. The fleeing Egyptians ran straight into it, and Yahweh overthrew the Egyptians in the middle of the sea. The returning waters washed right over the chariots and horsemen of Pharaoh's entire army, which had followed the Israelites into the sea; not a single one of them was left. The Israelites, however, had marched through the sea on dry ground, with walls of water to right and left of them. That day, Yahweh rescued Israel from the clutches of the Egyptians, and Israel saw the Egyptians lying dead on the sea–shore. When Israel saw the mighty deed that Yahweh had performed against the Egyptians, the people revered Yahweh and put their faith in Yahweh and in Moses, his servant.

Song of victory

It was then that Moses and the Israelites sang this song in Yahweh's honour:

I shall sing to Yahweh,
for he has covered himself in glory,
horse and rider
he has thrown into the sea.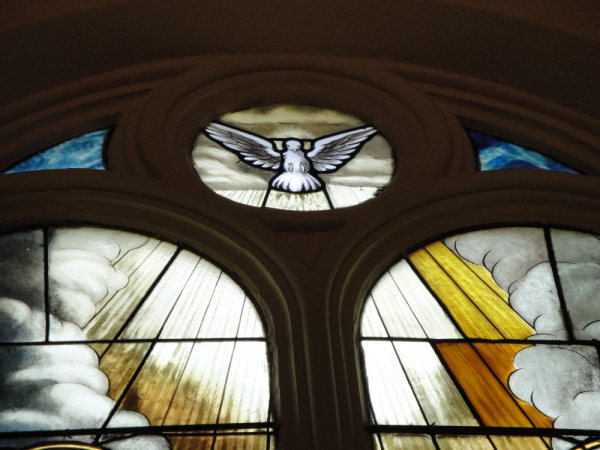 (3) Sing: Come to the Water
(4) Isaiah 54: 5-14
For your Creator is your husband,
Yahweh Sabaoth is his name,
the Holy One of Israel is your redeemer,
he is called God of the whole world.
Yes, Yahweh has called you back
like a forsaken, grief–stricken wife,
like the repudiated wife of his youth,
says your God.
I did forsake you for a brief moment,
but in great compassion
I shall take you back.
In a flood of anger, for a moment
I hid my face from you.
But in everlasting love
I have taken pity on you,
says Yahweh, your redeemer.
For me it will be as in the days of Noah
when I swore that Noah's waters
should never flood the world again.
So now I swear never to be angry with you
and never to rebuke you again.
For the mountains may go away
and the hills may totter,
but my faithful love will never leave you,
my covenant of peace will never totter,
says Yahweh who takes pity on you.

Unhappy creature, storm–tossed,
unpitied,
look, I shall lay your stones on agates
and your foundations on sapphires.
I shall make your battlements rubies,
your gateways firestone
and your entire wall precious stones.
All your children
will be taught by Yahweh
and great will be
your children's prosperity.
In saving justice you will be made firm,
free from oppression:
you will have nothing to fear;
free from terror:
it will not approach you.
(5) Baruch 3: 9-15, 32—4:4
Listen, Israel, to commands
that bring life;
hear, and learn what knowledge means.
Why, Israel, why are you in the country
of your enemies,
growing older and older in an alien land,
defiling yourselves with the dead,
reckoned with those who go to Sheol?
It is because you have forsaken
the fountain of wisdom!
Had you walked in the way of God,
you would be living in peace for ever.
Learn where knowledge is,
where strength,
where understanding, and so learn
where length of days is, where life,
where the light of the eyes
and where peace.

But who has found out where she lives,
who has entered her treasure house?

But the One who knows all discovers her,
he has grasped her with his own intellect,
he has set the earth firm for evermore
and filled it with four-footed beasts,
he sends the light — and it goes,
he recalls it — and trembling it obeys;
the stars shine joyfully at their posts;
when he calls them, they answer,
'Here we are';
they shine to delight their Creator.
It is he who is our God,
no other can compare with him.
He has uncovered the whole way
of knowledge
and shown it to his servant Jacob,
to Israel his well-beloved;
only then did she appear on earth
and live among human beings.

She is the book of God's commandments,
the Law that stands for ever;
those who keep her shall live,
those who desert her shall die.
(6) Ezekiel 36: 16-28
The word of Yahweh was addressed to me as follows, 'Son of man, the members of the House of Israel used to live in their own territory, but they defiled it by their conduct and actions; to me their conduct was as unclean as a woman's menstruation. I then vented my fury on them because of the blood they shed in the country and the foul idols with which they defiled it. I scattered them among the nations and they were dispersed throughout the countries. I sentenced them as their conduct and actions deserved. They have profaned my holy name among the nations where they have gone, so that people say of them, "These are the people of Yahweh; they have been exiled from his land." But I have been concerned about my holy name, which the House of Israel has profaned among the nations where they have gone. And so, say to the House of Israel, "The Lord Yahweh says this: I am acting not for your sake, House of Israel, but for the sake of my holy name, which you have profaned among the nations where you have gone. I am going to display the holiness of my great name, which has been profaned among the nations, which you have profaned among them. And the nations will know that I am Yahweh–declares the Lord Yahweh–when in you I display my holiness before their eyes. For I shall take you from among the nations and gather you back from all the countries, and bring you home to your own country. I shall pour clean water over you and you will be cleansed; I shall cleanse you of all your filth and of all your foul idols. I shall give you a new heart, and put a new spirit in you; I shall remove the heart of stone from your bodies and give you a heart of flesh instead. I shall put my spirit in you, and make you keep my laws, and respect and practise my judgements. You will live in the country which I gave your ancestors. You will be my people and I shall be your God.
(7) Romans 6: 3-11
You cannot have forgotten that all of us, when we were baptised into Christ Jesus, were baptised into his death. So by our baptism into his death we were buried with him, so that as Christ was raised from the dead by the Father's glorious power, we too should begin living a new life. If we have been joined to him by dying a death like his, so we shall be by a resurrection like his; realising that our former self was crucified with him, so that the self which belonged to sin should be destroyed and we should be freed from the slavery of sin. Someone who has died, of course, no longer has to answer for sin.

But we believe that, if we died with Christ, then we shall live with him too. We know that Christ has been raised from the dead and will never die again. Death has no power over him any more. For by dying, he is dead to sin once and for all, and now the life that he lives is life with God. In the same way, you must see yourselves as being dead to sin but alive for God in Christ Jesus.
(8) Philippians 3: 6-11
as for religious fervour, I was a persecutor of the Church; as for the uprightness embodied in the Law, I was faultless. But what were once my assets I now through Christ Jesus count as losses. Yes, I will go further: because of the supreme advantage of knowing Christ Jesus my Lord, I count everything else as loss. For him I have accepted the loss of all other things, and look on them all as filth if only I can gain Christ and be given a place in him, with the uprightness I have gained not from the Law, but through faith in Christ, an uprightness from God, based on faith, that I may come to know him and the power of his resurrection, and partake of his sufferings by being moulded to the pattern of his death, striving towards the goal of resurrection from the dead.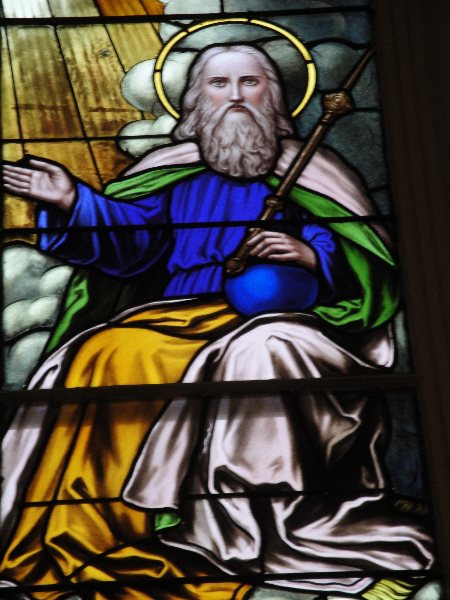 (9) Isaiah 50: 4-7
Lord Yahweh has given me
a disciple's tongue,
for me to know how to give
a word of comfort to the weary.
Morning by morning
he makes my ear alert
to listen like a disciple.
Lord Yahweh has opened my ear
and I have not resisted,
I have not turned away.
I have offered my back
to those who struck me,
my cheeks to those
who plucked my beard;
I have not turned my face away
from insult and spitting.
Lord Yahweh comes to my help,
this is why insult has not touched me,
this is why I have set my face like flint
and know that I shall not
be put to shame.
(10) Sing: My God, My God Why have You abandoned me
Psalm 22: 8-9, 17-20, 23-24
'He trusted himself to Yahweh, let Yahweh set him free!
Let him deliver him, as he took such delight in him.'

It was you who drew me from the womb
and soothed me on my mother's breast.

I can count every one of my bones,
while they look on and gloat;
they divide my garments among them
and cast lots for my clothing.

Yahweh, do not hold aloof!
My strength, come quickly to my help,
rescue my soul from the sword,
the one life I have from the grasp of the dog!

'You who fear Yahweh, praise him!
All the race of Jacob, honour him!
Revere him, all the race of Israel!'

For he has not despised
nor disregarded the poverty of the poor,
has not turned away his face,
but has listened to the cry for help.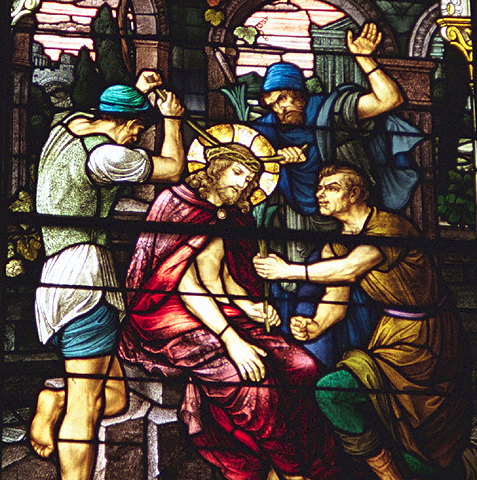 Crowing with Thorns
(1) Matthew 26: 39
And going on a little further he fell on his face and prayed. 'My Father,' he said, 'if it is possible, let this cup pass me by. Nevertheless, let it be as you, not I, would have it.'
(2) Matthew 26: 42
Again, a second time, he went away and prayed: 'My Father,' he said, 'if this cup cannot pass by, but I must drink it, your will be done!'
(3) Mark 14: 42
(4) Matthew 26: 50
Jesus said to him, 'My friend, do what you are here for.' Then they came forward, seized Jesus and arrested him.
(5) John 18: 19-21
The high priest questioned Jesus about his disciples and his teaching. Jesus answered, 'I have spoken openly for all the world to hear; I have always taught in the synagogue and in the Temple where all the Jews meet together; I have said nothing in secret. Why ask me? Ask my hearers what I taught; they know what I said.'
(6) Matthew 26: 63
But Jesus was silent. And the high priest said to him, 'I put you on oath by the living god to tell us if you are the Christ, the Son of God.'
(7) John 18: 37
Pilate said, 'So, then you are a king?' Jesus answered, 'It is you who say that I am a king. I was born for this, I came into the world for this, to bear witness to the truth; and all who are on the side of truth listen to my voice.'
(8) John 19: 1
Pilate then had Jesus taken away and scourged;
Isaiah 53: 7
Ill-treated and afflicted,
he never opened his mouth,
like a lamb led to the slaughter-house,
like a sheep dumb before its shearers
he never opened his mouth.
(9) Matthew 27: 29
and having twisted some thorns into a crown they put this on his head and placed a reed in his right hand. To make fun of him they knelt to him saying, 'Hail, king of the Jews!'
(10) Mark 15: 20
And when they had finished making fun of him, they took off the purple and dressed him in his own clothes. They led him out to crucify him.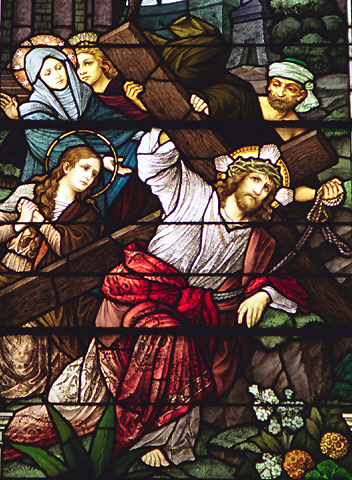 Carrying of the Cross
(1) From the Red Rosary Book -- Stations of the Cross -- February 22, 1995
1st Station -- Jesus Is Condemned to Death

Jesus: My dear child, with angry hearts and hatred on their faces, they poked at Me and condemned Me to death. I stood so silent, My hands tied, in perfect peace, because I knew the Father's love. I knew the Father's Will. You too will stand your trials in perfect peace, the more you realize the immense love the Father, Son and Holy Spirit have for you. Pray to the Spirit to transform you more and more into My image and, through this transformation, you will be led ever closer to the Father. Oh, how I love you!
(2) 2nd Station
They Give Jesus the Cross

Jesus: They gave Me a heavy cross, laden with the sins of the world. They placed it on My shoulder. It was so heavy I felt as if My shoulder would break. I ask you to carry little crosses, to experience little pains. I could not remove this cross from My shoulder. The weight was unbearable. It is through My suffering and death that you receive new life. It is through your sufferings this day that you will grow in your life with Me. Oh, child, I loved you so much that I took up the cross of salvation. I love you. Please realize that I am talking to you here. To My death I loved you. Oh, how I love you!
(3) 3rd Station
Jesus Falls the First Time

Jesus: The cross was so heavy I could hardly walk. I held on to My cross for greatest love of you and in compliance with the Will of My Father. It became so hard to walk! The cross was so heavy! I fell. I fell and the cross fell on Me. They poked at Me, they struck Me, they demanded I get up. The pain from the instruments they used to poke Me and strike Me was so great! I somehow managed to get up.

When you fall under the weight of your cross, come to My Eucharistic Heart. I am no less present in the tabernacle and in the Eucharist than on the day I carried My cross. I wait with the same love that I had for you when I carried this cross and suffered such agony. Oh, how I love you!
(4) 4th Station
Jesus and Mary Meet

Jesus: I saw the face of My beautiful Mother. She was weak, her face reddened and full of tears. I saw her tender heart, her love, her anguish, her pain. I saw My dear Mother Mary. My Heart was comforted by the sight of her, but torn by her suffering.

Mary: As I looked into the eyes of my beloved Son, I saw His love. His head, bleeding and wounded. His body weak. His clothes covered with blood. I looked into His eyes and I saw His love for you. I call out to you today. I appear today with a face full of anguish and tears. I appear to call you back to the love of my Son. See through my eyes, as I peer into His eyes, the love He has for you this day to give of Himself for you. Oh, He loves you so much, my little children. See through my eyes the love of my Son. Oh, how He loves you!
(5) 5th Station
Simon of Cyrene Is Forced to Help Jesus Carry His Cross

Jesus: The cross was so heavy I could not move. My persecutors became angry and forced a man to help Me. The cross was so heavy the two of us could barely move it. How is your cross today? Does it seem so heavy you cannot go on? I am forever watching you. When you are suffering the greatest, I am very close to you. It is in immense suffering that you realize My great love for you. Pray for grace to do always the Father's Will. Pray for grace to grow in your knowledge and love of Me.

6th Station -- Veronica Wipes the Face of Jesus

Jesus: My face was covered with blood. From the crowd Veronica came forward with a cloth to wipe My face. On the cloth I gave to you an imprint of My bloodied face. This, My children, remains with you this day as a sign of My immense love for you. But more than any cloth, look beyond the visible consecrated host. I, Jesus Christ, the Son of God, remain with you, Body, Blood, Soul and Divinity, in the Eucharist this day, waiting and longing to be with you. Oh, how I love you!
(6) 7th Station
Jesus Falls the Second Time

Jesus: Oh, dear ones, the road became harder and harder to walk. The cross was becoming heavier, My body weaker and weaker. My shoulders and arms hurt so much! My head throbbed as I walked. The blood came from My body, from My head to My feet. I was covered with open wounds. I could not go any farther. I stumbled and fell. Again they poked at Me, only harder, and with such hatred they kicked Me. Such vileness in the hearts of men! My greatest agony was not the agonies of My body, but the agonies of My heart for the love I have for all My precious souls. I loved them so dearly. I loved those who persecuted Me. Oh, how I love you!

8th Station -- Jesus Meets the Women of Jerusalem

Jesus: The women came to Me with their children, their tender hearts crying and wanting to comfort Me. I saw their love, their care. I saw the coldness of men's hearts for all time, the hatred, the anger, the sins, all the souls that, despite all of My sufferings and death, would be condemned to eternal damnation. I told the women to weep not for Me, but for themselves and their children. My greatest agonies were the agonies of My Most Sacred Heart. Oh, how I love you!
(7) 9th Station
Jesus Falls the Third Time

Jesus: I fell hard the third time. I was so weakened I could not go on. My body collapsed under the cross from such exhaustion! My child, My child, My greatest agonies were not the wounds to the body. They were the wounds I experienced to My heart. Do you know a little more now how I love you? It is in meditating on My Passion and death that you will realize My immense love for you. When you fall, when you struggle, I give you the grace to get up. I never give you more than you can handle. Your strength will come from Me. Come to My Eucharistic Heart. I am waiting for you this day. Oh, how I love you!

10th Station -- Jesus Is Stripped of His Garments

Jesus: They took Me to the hill to crucify Me. They angrily stripped Me of My garments. They took off My clothes to whip Me. They had covered My bloody wounds with a dirty purple robe. Now, total surrender-they took off My clothes. I showed you the way to surrender, always complying with the Will of the Father. It is in living in His Will that you will have peace and joy, and life eternal some day. Oh, how I love you!
(8) 11th Station
They Nail Him to the Cross

R. See Mary as she holds the little Baby Jesus. See her as she washes His tender hands and feet. See her now as she watches as they pound into those same hands and feet the gigantic nails that fix Jesus to the cross.

Mary: Oh, my dear ones, my heart was torn in my chest as they nailed His hands and feet to the cross. I ask you this day to walk the Passion with me and see through my eyes the love He has for you. He truly was nailed to the cross.

Jesus: They pounded the nails into My first hand, then they stretched My body and nailed My other hand. The blood poured from these wounds that went totally through My hands. My pain was so immense, but then they nailed My feet! You do not know what pain I suffered, My child. My children, My children, for each one of you I suffered this pain. Oh, how I loved you!
(9) 12th Station
Jesus Dies on the Cross

(Silence.)

R. He hung for three agonizing hours on the cross against the darkened sky. His greatest agonies were not the agonies of His body, but those of His Heart for the great love He has for each and every soul.

Jesus: I gave Myself to you, My dear ones. I gave My all. I hung with My arms spread in total surrender. My head was punctured; My hands and feet were nailed to the cross. I gave Myself to you. I give Myself to you this day in the Eucharist. I give Myself to you. I, God, give you Myself! What more do you want?

Song: Oh, burning Heart, oh, Love divine, etc.

R. They pierced His Heart with a lance and what flowed forth was blood and water, the sacramental life of the Church, water for Baptism and blood for the Eucharist. His life, death and resurrection live on in the Church this day.
(10) 13th Station
Jesus Is Taken Down from the Cross and Placed in the Arms of His Mother

R. His totally lifeless body was placed in the arms of His most loving Mother. As she had held the little baby body in her arms, she now received His bloodied, bruised body in her arms. This is how He obeyed the Father's Will. Jesus gave His life for us. The Father gave His only Son because He loves us so much. Mary, His Mother, our Mother and the Mother of the Church, is forever by His side. See Jesus in the arms of His loving Mother under the cross. This is love.

Mary: I held His lifeless body in my arms. See through my eyes the love He has for you this day. He gives Himself to you today in the Eucharist. He loves you so much!
14th Station -- Jesus Is Locked in the Tomb

R. His enemies rolled the stone up to the tomb and were pleased to have buried Jesus. Mary, outside the tomb, wept bitterly. The cold reality that He was dead! But death has no power over Jesus for on the third day He rose, triumphant, from the tomb! We are partakers in His divine life. Death has no power over Jesus. He is with us this day. He comes to bring us life to the full. He loves us so much!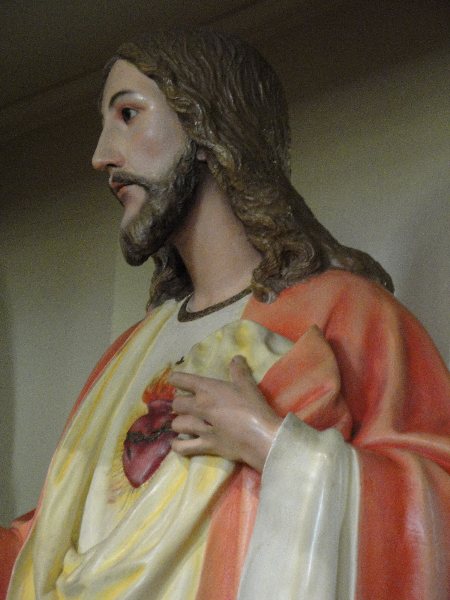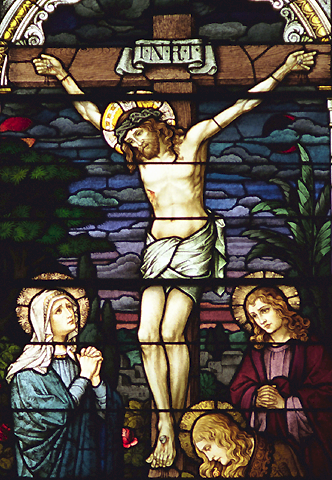 Crucifixion
(1) August 23, 1993
On His Passion

Jesus: My dear child,
I was condemned to death, death on a cross. They gave Me a big cross and made Me carry it. They stood around and glared at Me. It weighed on My shoulder and I pulled at it until it finally moved. Every step was almost impossible as I dragged it, weighing so heavily on My shoulders.

My shoulder felt as if the bones inside would crack and the cross would fall through to the ground. I couldn't drag it any more. I tried, I fell. I fell and its weight fell on Me. A guard hit Me with something sharp. It really hurt because he wanted Me to move, and fast! People were watching — on with the show! How dare I fall in the middle of the show! He hit Me again and the blow really stung Me. I got up because it hurt so badly. I tried to walk on.

My Mother was in the crowd. She looked at Me and her face looked red and hurt. Tears rolled down her cheeks like rain and as her eyes met Mine, I was hurt so by her sorrow! She was always by My side, silent and loving. She was My mother of love! She is always there next to you when you suffer.
(2) August 23, 1993 - On His Passion continues
Jesus: I fell again and he (the guard) really hit Me. It (the cross) was so heavy that he and I together could barely move it. It seemed as I walked, heavier with the sins of the world heaped on it. My hands were bleeding. Blood ran from the wounds of My thorns and My head throbbed, seeming to make the wounds in My head bleed even more. Some of the Blood was dried, some of it running all over My Body. I had so many cuts and bruises — and people watched and laughed!

I am Jesus, Son of the Living God, and they laughed and mimicked Me! Oh, such hardened hearts! How vile can men's heart become? The devil's grip is paralyzing and crippling.

The walk was so long up a hill and over rocks — the cross had to be lifted over the rocks. My Body was bleeding so badly! My heart was pounding. I knew that the salvation of all men depended on My love. Therefore, I went through such agony.
(3) August 23, 1993 - On His Passion continues
Jesus: I thought of My intense love for you — that many would go to heaven because of My suffering — and I continued to the top of the hill. At the top they laid Me on the cross and with a big hammer nailed My hands to it. It was the worst (suffering) yet. My hands were nailed with big nails and the big hammer. Oh, it was unbelievable! Then, as if that weren't enough, with a big nail they nailed through both feet.

Then they lifted the cross and banged it into (a hole in) the ground. My shoulders ached from how I hung. My head bobbed and My neck ached and they laughed and said, "Now save Yourself." I hurt so much! I suffered this way for hours — which seemed like forever — and they glared at Me and laughed! My Mother watched in such agony.

For love of you, to My death I gave you My Body. My child, I shed My Blood and gave you My life that you might be with Me forever in heaven — not for a day, a month or a year, but forever with Me in heaven.
(4) August 23, 1993 - On His Passion continues
Jesus: I am the true Bread come down from heaven. He who eats My Flesh will have life forever. For the drink I give you is My Blood and food you eat is My Body. Who would lay down his life for a friend? I did, for you. I love you this much, child. Forget about those who reject you. You have My life that I gave you and I give you life eternal.

I am the One true God. I am the Light of life. He who abides in Me will have life eternal, for the drink I give is My Blood and the food I give is My Body. Drink and eat and have everlasting life.

My child, that is all you need to know. Love one another and be good that you may enter into My kingdom.

end of August 23, 1993
(5) From the Rosary of August 27, 1996
Mary's Message




Mary: I stood beneath the cross of my Son, and my Heart was in such pain for I saw Him before my eyes. I saw Him covered with blood. I saw Him die. My Heart, my children, my Heart to watch my Son, but my Heart, my Heart, how I suffered for my little children of the world that give in to this world and give up the love of my Son. O my little children of light, I give you this message. Carry this light into the darkness for your Mother Mary, for I stood beneath the cross and I cried. I cried for the little ones. I cried for the young ones, the ones that do not care and will lose their souls. How do I make you see for you will not listen to me? What can I do? I come. I appear. I beg. I plead. I give you these gifts from my Son, and you reject me. I do not deliver messages very often anymore for I have been ignored. The message is the same. You do not read the messages I have given to you. Please help me. Help the little children. I appear. I appear. I appear, and I am ignored. I stood beneath the cross, and I cried. I cried, and my Heart was in such anguish for my little children, for I am searching for them this day as I searched for the Child Jesus. Please, please help me. I cannot hold back the hand of my Son any longer. I am Mary, your Mother. I ask you to help my children. You are my children of light.

end of Mary's Message, August 27, 1996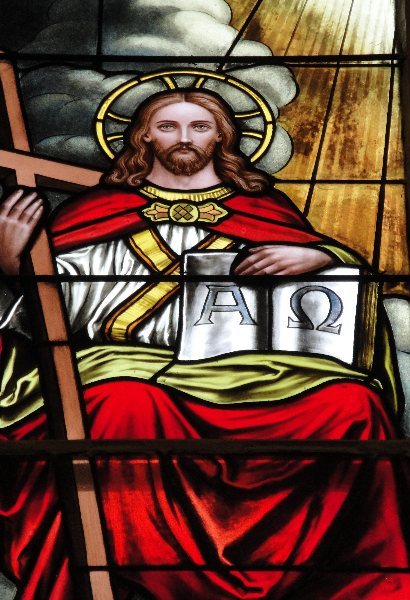 (6) From Blue Book II
I Died for You

February 23, 1994

Jesus: I want this emotion in the letter I told you to write. I, Jesus, Son of God, talk to you with such emotion! I am He Who died a brutal death for love of you. I died for you! I love you this much, to give My Life! Yet you couldn't even write when I asked you. You must do exactly as I say. I do not want you ever to say no to Me!

I have such emotion! I am telling you how I died a brutal death and you, My child, did not write for Me! What more can I do? What more do they want? You put others before Me or you would do as I command. I want you to do as I tell you every moment.

I am the Lord. I am the Son of God. Such emotion I let you feel for My death. I died. I am a person. I was human and I died for you. Think of yourself giving your life for someone and they do not care. What can I do to shake you? What more can I say? I am here and I am loving you and pleading with you to listen to Me with this emotion that God is telling you. I am Jesus. I died for you. I gave My life for you and do you even listen, My little sweet one? You didn't want to write it for My children. When I give you a command, you write. When I say do, you do. Selflessness! I am pushing you because I need your total surrender. Do not ever deny My writing to My loved ones. You have a responsibility. I don't care where you are when I talk. I am God and I talk to you. I am so present to you.

Listen. I need your selflessness. I need your surrender. I need your life, given for love of Me and Me alone. I need you to be the light that shines on the hill, that does not go in and out but is constant in My love. I need your commitment. I need your attention at every moment. I am feeding you My words every moment on paper and in your hand. You must obey Me exactly as I command. No questions, only action. I want action. Now! You write when I say write. I don't care where you are. You worry not for others. I am giving you the mighty medicine. Would you tell the doctor to wait? I am God and I do not ever want to wait while you play a safe game with Me. When I say do something, I want you to do it. You are My beloved and I am filling you with fire.

I am pushing you to do that which I need done. Do not ever stop to look around. Keep your focus on Me and My commands for you. I am using you every moment. I must be able to count on your constant consent to do My will immediately! I am calling you to this work and I want you to comply. I love you ardently. I am so full of love for you. Focus on this and this alone. I am Who am. I am God, child. Do not ever hesitate. Do not doubt or think. You must act as I act in you or My work will not be done.

Be selfless about My commands. You will do My work. You will spread My words of love and create emotion with My songs and I will use you to bring My flock to My love. I love every soul! You must spread My love.

Note: (Meditating on the Crucifixion) Going to Mass at the seminary at 8:00 a.m. was rushed. He said to me, "Where are you going, child. Do you not feel My presence with you?" A calm came over me. Then He started lamenting how He died for us, how He is a true person and He loves us so much. He said, "I died for you."

R. He gave His life for us. He is the little lamb led to the slaughter out of love for us. He said, "I need you to do this work now and I am pushing you." He was so upset! He died for us. He loves us so much as to give His life.

He begged me to spread His love, to tell others how He, bloodied, bruised and beaten, gave us His life.

Jesus: I am God. I am God. I died. Spread My love now! Now! Now! Now! Now! I am begging you not to hold back! Read these letters now, read and learn about My love. I beckon you to speak of My love. Shout it from the high roof. Proclaim it in the cities. Jesus Christ died for love of you and He is risen! I am He Who is God and I died for you!

Listen and preach My love and emotion here. Priests will create little cities, little cities in each church to spread the light of Christ to this sick world. Each priest can create his own little city, a powerhouse of God's love. God has all the power. His power is endless. It never runs out. It is might. You have no power except through Him. Churches filled with the intimate love of Jesus will be powerhouses.

I am God, My little ones. God can do all things. I can make your cities light up the darkness. I am the Way, the Truth, the Life. I am the light of life. I am God! I can do all things. I want to act in you. You need to be in constant union with Me. My priests, you need to be selfless. My soul and yours are one. I want to act in you.

Hold not back. Pray the Prayer for Union with Me.

end of February 23, 1994
(7) From the Apostles Manual p. 161
From the Rosary of February 13, 1997 - The Scourging at the Pillar
7. Jesus: And so, My soldiers of love, I call you this day to be the soldiers that will go into the dark night and will spread My love to My beloved ones. I give to you the letters of My love. I give to you this special gift, the gift of knowing Me in the most intimate way. You must come to Me everyday. You must spend an hour with Me everyday, if you can, before the tabernacle for it is there that I give you a great sharing in My life. But if you cannot, you must spend an hour alone with Me in your home everyday. In this hour I will tell you of My intimate love for you. Write to Me your letter. Read My letters to you. Spend this hour alone with Me and I will sort out in your mind all of the confusion. I will give you secrets into My Heart. I will call you to the deepest chamber of My Heart and I will give you great love. I am Jesus. You are My lovers that will carry My love to the world today. You must put aside all of the bitterness and hatred in your heart for a heart that is filled with anger cannot unite to My Heart. My way is love. You are My apostles of love. You must be loving in your heart.
(8) From the Rosary of February 13, 1997 - The Scourging at the Pillar
9. Jesus: I am giving to you great grace in the Shepherds of Christ Movement to come ever closer to My Heart. I am asking you to spread the chapters to this world. I am asking you to pray the prayers, to consecrate your hearts all through the day, to say the Holy Spirit prayer and the consecration prayers that you will be joined in one mind and one heart for you are My shepherds that will go into the darkness and will help unite all of the people with the fire of My love.
(9) From the Rosary of February 13, 1997 - Jesus Dies on the Cross pp. 166-167
7. Jesus: I have delivered to you this day this rosary, My beloved ones. I want your love. I want you to come to My Heart. I want you to give Me your heart, all through the day to tell Me, "Oh, Jesus, how I love you and I give myself to you." I will be King and Center of your heart when you come to Me and you spend time with Me after you have received Holy Communion, when you come to Me and you spend time before the tabernacle, when you spend intimate moments with Me in your room at home. I want intimacy with you. It takes time to be intimate. I am Jesus. I am the Almighty God. I have all that you need. You must come to Me and I will heal your wounds, I will love you and I will give you My divine love.
(10) From the Rosary of February 13, 1997 - Jesus Dies on the Cross
10. R. There is a man hanging on the cross. He gave Himself for love of us. He did not holler and scream. In His last dying words He gave us His Mother. We must give ourselves to our Mother Mary and give ourselves to Him.

Jesus: I am Jesus, My beloved ones. This is the message that I give to you on the 13th of February to help with the completion of the Fatima message. I am asking you to carry these rosaries and messages to the far corners of the earth for I give to you My love letters to bring about the reign of My Sacred Heart. You are the apostles that will help bring about the reign of the Sacred Heart. You are the messengers. I have called you. I have chosen you. You must do the Father's will. I am giving to you the directions in these messages that are needed to help bring about the reign of My Sacred Heart. The Shepherds of Christ Movement is major in bringing about the renewal of the church and the world. You have been called to this movement. Satan will try to lead you astray by doing other good works. He will cause division in your hearts. You must know that I, Jesus Christ, am calling you this day. You are a major part of the completion of the Fatima message. You are part of the Father's plan. You have been called to this chapel and great miracles will happen in your heart this day if you open your heart to Me. I love you. I am waiting for your most intimate love.

Give a gift that lasts.

$10.00 each plus shipping

Call 1-888-211-3041

Shepherds of Christ

We can send Fr. Joe's

homily book to a priest for 75¢.

Can you please help us get

these homilies to the priests?


Please help us with your donation.

Call Shepherds of Christ

1-888-211-3041

Prayer Cards available

Holy Spirit Prayer
Act of Consecration to
Immaculate Heart of Mary
Act of Consecration to
Sacred Heart of Jesus
Prayer for Priests

Prayer before the Holy Sacrifice of the Mass

Prayer for Union with Jesus

Available for .25¢ each plus postage

Call Shepherds of Christ

1-888-211-3041

Prayer Card 4" x 6"

.50¢ each plus postage

size 5 1/2" x 8 1/2"
$1.00 plus postage

Statues

| | | |
| --- | --- | --- |
| | | |
| Sacred Heart of Jesus w/glass - 18 | Our Lady-Guadalupe w/glass - 12 | Limpias - 8 |
| | | |
| Immaculate Heart w/glass - 18 | I Heart - Ivory w/glass - 18 | Our Lady of Grace w/glass - 18 |
| | | |
| Our Lady-Mt. Carmel w/glass - 18 | Our Lady of Lourdes w/glass - 18 | Infant of Prague w/glass - 24 |
| | | |
| Sacred Heart of Jesus w/glass - 24 | Sacred Heart -Blessing w/glass - 24 | Sorrowful Mother w/glass - 24 |
| | | |
| I Heart - Ivory w/glass - 24 | I Heart of Mary w/glass - 24 | Our Lady of Lourdes w/glass - 24 |
| | | |
| Our Lady-Guadalupe w/glass - 28 | Our Lady of Grace w/glass - 24 | Our Lady-Mt. Carmel w/glass - 24 |
| | | |
| Fatima w/glass - 11 | Pilgrim Virgin w/glass - 12 | Pilgrim Virgin w/glass - 15 |
| | | |
| Fatima w/glass - 18 | Pilgrim Virgin w/glass - 18 | Pilgrim Virgin w/glass - 27 |

| | | |
| --- | --- | --- |
| St. Padre Pio | St. Joseph | St. Therese |
| | | |
| St. Francis | St. Anthony | St. Claire |
| | | |
| Limpias | St. Jude | Divine Mercy |
| | | |
| Holy Family | Angel | St. Philomena |
| | | |
| Pieta - Marble | Pieta - Color | Holy Family |
| | | |
| St. Anthony - 18 | St. Francis - 18 | St. Joseph - 18 |
| | | |
| St. Therese - 18 | St. Rita - 18 | St. Clare - 12 |
| | | |
| | | |

| | | | |
| --- | --- | --- | --- |
| St. Rita - 12 | St. Padre Pio - 12 | ivine Mercy - 12 | St. Michael - 11 |


Shepherds of Christ Ministries
P. O. Box 627
China, IN 47250

Toll free - 1-888-211-3041
Local - 1-812-273-8405
fax - 1-812-273-3182
web: www.sofc.org
e-mail: info@sofc.org


| | | | |
| --- | --- | --- | --- |
| | Size | Price | Quantity |
| Holy Family | 24" | $180 | |
| Limpias | 24" | $125 | |
| St. Anthony | 24" | $125 | |
| St. Claire | 24" | $125 | |
| St. Francis | 24" | $125 | |
| St. Joseph | 24" | $125 | |
| St. Jude | 24" | $125 | |
| St. Padre Pio | 24" | $125 | |
| St. Therese | 24" | $125 | |
| Divine Mercy | 22" | $125 | |
| Angel | 22" | $100 | |
| St. Philomena | 20" | $100 | |
| St. Philomena | 16" | $65 | |
| St. Joseph | 18" | $65 | |
| St. Francis | 18" | $65 | |
| St. Anthony | 18" | $65 | |
| St. Rita | 18" | $65 | |
| St. Therese | 18" | $65 | |
| Pieta - Color | 15" | $75 | |
| Pieta - Marble | 15" | $75 | |
| Holy Family | 12" | $60 | |
| St. Padre Pio - standing | 12" | $40 | |
| St. Padre Pio - sitting | 8" | $50 | |
| St. Michael | 11" | $40 | |
| St. Rita | 12" | $40 | |
| Divine Mercy | 12" | $40 | |
| St. Claire | 12" | $40 | |
| Limpias | 8" | $25 | |
| Our Lady of Guadalupe w/glass | 28" | $500 | |
| Our Lady of Mt. Carmel w/glass | 24" | $500 | |
| Immaculate Heart of Mary w/glass | 24" | $500 | |
| Immaculate Heart - Ivory w/glass | 24" | $500 | |
| Infant of Prague w/glass | 24" | $500 | |
| Our Lady of Grace w/glass | 24" | $500 | |
| Our Lady of Lourdes w/glass | 24" | $500 | |
| Sacred Heart of Jesus w/glass | 24" | $500 | |
| Sacred Heart -Blessing w/glass | 24" | $500 | |
| Sorrowful Mother w/glass | 24" | $500 | |
| Immaculate Heart of Mary w/glass | 18" | $300 | |
| Immaculate Heart - Ivory w/glass | 18" | $300 | |
| Sacred Heart of Jesus w/glass | 18" | $300 | |
| Our Lady of Lourdes w/glass | 18" | $300 | |
| Our Lady of Grace w/glass | 18" | $300 | |
| Our Lady of Mt. Carmel w/glass | 18" | $300 | |
| Our Lady of Guadalupe w/glass | 12" | $200 | |
| Fatima w/glass | 11" | $150 | |
| Fatima w/glass | 18" | $250 | |
| Pilgrim Virgin w/glass | 12" | $160 | |
| Pilgrim Virgin w/glass | 15" | $200 | |
| Pilgrim Virgin w/glass | 18" | $250 | |
| Pilgrim Virgin w/glass | 27" | $450 | |


Call for Shipping Price (1-888-211-3041)


Name

Sub-Total
Address

IN Tax (7%)
City

Shipping
State Zip

Donation
Telephone

Order Total

Shepherds of Christ
P. O. Box 627
China, IN 47250

1-888-211-3041

Fr. Joe's Homily Books

Guiding Light - Cycle A
The Word Alive in Our Hearts

$10.00




Guiding Light - Cycle B
Focusing on the Word

$10.00


Guiding Light - Cycle C
Feed My Soul

$10.00
Fr. Carter's Books
Priestly Newsletter Book I

12 Newsletters
July 1994 - June 1996

$12.00


Priestly Newsletter Book 2

17 Newsletters
1996 - 1999

$12.00


Priestly Newsletter Book 3

4 Newsletters & Prayers
2000

$12.00




Response to God's Love



$10.00


Messages given
by Jesus and Mary 1994

Tell My People


$10.00



The Pain and the Joy

$10.00

Synopsis of the Spiritual Life

Spirituality Handbook
$3.00


Priestly Newsletter on CD
2000 - Issue 1

$10.00


Priestly Newsletter on CD
2000 - Issue 2

$10.00
Fr. Pasquini's Books
Authenticity



Prayers and Meditations

$10.00

In Imitation of Two Hearts

For those suffering or
in Nursing Homes

$10.00

Light, Happiness and Peace

Journeying through traditional
Catholic Spirituality

$10.00

Medicine of Immortality

Prayers and Meditations - will assist the reader in growth toward a deeper understanding of the mystery of the Eucharist

$10.00


Ecce Fides - Pillar of Truth





Ideal for RCIA, Adult & Youth Bible Study, Homeschooling, Catholic
Identity Studies

$10.00

Shepherds of Christ Newsletters
9 Newsletters
2006 - 2008



$36.00
DVDs and CDs by Fr. Pasquini




Authenticity DVD
Prayers on the Ocean

$10.00


Nursing Home Mass DVD

$10.00

Consolation DVD

$10.00

Medicine of Immortality
Read by Rita Ring

2 CDs - $17.00

In Imitation of Two Hearts DVD

$10.00




Consolation CD
by Fr. John

$8.00





Nursing Home Mass CD

$8.00


Holy Spirit Novena DVD

$10.00

Divine Mercy Chaplet DVD

$10.00