Mary has requested that the daily message be given each day to the world. It is read nightly at the prayer service from her Image Building in Clearwater, Florida, U.S.A. This is according to her request. All attempts will be made to publish this daily message to the world at 11 p.m. Eastern time, U.S.A.

---

We acknowledge that the final authority regarding these messages rests with the Holy See of Rome.

---
---
A Prayer for Intimacy with the Lamb, the Bridegroom of the Soul

Oh Lamb of God, Who take away the sins of the world, come and act on my soul most intimately. I surrender myself, as I ask for the grace to let go, to just be as I exist in You and You act most intimately on my soul. You are the Initiator. I am the soul waiting Your favors as You act in me. I love You. I adore You. I worship You. Come and possess my soul with Your Divine Grace, as I experience You most intimately.
---
From a talk given from the Virgin Mary Building, Clearwater, Florida, July 5, 1999.
Given before the rosary at the 6:20 p.m. prayer service.
Messenger: Mary is the only human person that ever lived that has a sinless Heart. And all of us have tainted hearts. Every single person has a tainted heart. And she is that Singular vessel of devotion. All those things in the litany are so beautiful. She is the vessel to take us to the Father, the Son and the Holy Spirit, because in order to unite in the purity of God, to be united to God in that purity, we have to be holy, correct?
How could you properly unite to God if you are impure? So He comes in this pure and spotless Virgin. The one He chose. And all of us have tainted hearts. We have to go through the New Eve, through her pure and Immaculate Heart, to be united in deeper intimacy with Him. You cannot fully comprehend the greatness of consecration, that is, of giving our hearts to her pure and Immaculate Heart, which allows us to unite in this depth of holiness with God.
By going through Mary's pure and Immaculate Heart we can unite more deeply to the all-holy God.
We're tainted, so think of this: the priest and all the people at Mass giving their hearts to Jesus and Mary and offering as pure a sacrifice as possible on our part.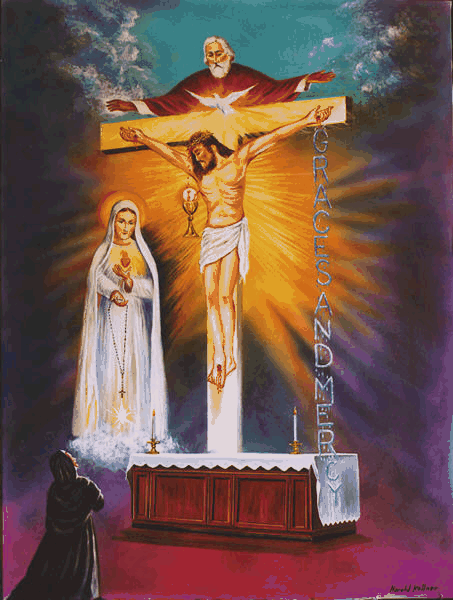 Look at this picture of the vision of Lucia's... We're like Lucia at Mass. This is what we need. We need to be saturated with His Life. He gives us a sharing in His Life through Baptism. He comes to give us the fullness of life. The more that we are filled with His Life, the more we are likened to Him and the more He can operate out of us. Every single person present has been called here to be an instrument that He can operate out of to spread His light to the world, to draw the world into oneness. Every person must see his personal uniqueness and realize the mission to which he has been called five years after Mary appeared on July 5, 1994. We are called to be lights in the darkness, to help to set the captives free. The devil has camped around so many of our children and the people of the world today.
And it is in giving our hearts to Jesus and Mary that we will be operating in God's will, that we will be a strong force in the world. And it takes grace.
I can stand up here, an imperfect human being, and try to be His instrument. But it's God's grace that's going to make the difference. I'm just a human, I'm using words. That penetration when you are existent in Him is such a wonderful place that we can't even describe it in words. To be possessed by God is all that we're living for, to be possessed by God for all eternity, and that is love. We were created to be filled in this absorption of love, to exist in the Father, the Son and the Holy Spirit for all eternity.
Now there's a choice. There is heaven in which this being possessed by God will happen. The level on which we will exist in Him for all eternity depends on how deep our mature relationship is in existing in Him here below.
We are here on a journey to mature as Christians, to be in this depth of union with God for all eternity. If we don't take this too seriously, we don't have a real deep relationship with our God here below.
He is offering you tonight a union in which you will dwell more deeply than ever in your relationship with God. Concerning the prayers that He gave that we just prayed, Jesus gave a message to Father Carter, and He said when you pray these prayers, including the consecration to the Hearts of Jesus and Mary, He will take you more and more deeply into His Heart. There is the treasure, all those truths in the Litany of the Sacred Heart. The more you pray those prayers, the more the knowledge of God will penetrate your heart and you will know more and more. We're human, but God gives us a sharing in His divine life. He elevates our human natures. We're human, and through this grace that He gives to us, this participation in His Life, we take on this elevated capacity to know and love on a heightened level.
The Almighty God is truly present in the Holy Eucharist and we get great grace when we go to the Holy Eucharist. And we don't fully appreciate it.
The churches are locked today. We wanted to get to the tabernacle this afternoon and we couldn't go to the tabernacle.
God is here, but then there's this rock star that comes and people spend all this money and go to see him. What's he going to give us?
Our souls were created for God. And we go around and stalk this barren desert looking for the fulfillment for which we were created, and we can't find it in the things of this earth.
We find pleasure and satisfaction in things when we use them according to God's will, but when we use them abusively we are not satisfied. But it's only in Him that we find what we are ultimately seeking. There is that day and Mary has talked about it. She appeared every single day and she would talk about that soul on "the edge of death". And we all think it's not going to come.
My husband had to go somewhere, and while we were gone, a young man, just graduated from high school, whom my son knew, was driving home on a Saturday night and he fell asleep at the wheel. The curtain went down. There's that soul on the edge of death. How was that soul? Where does that soul go?
Do you know what is happening to our children today? The truth which is found in the Ten Commandments and the word of God is being twisted and confused by the devil.
And they've never had that firm barrier of being taught how the truth is. They're being confused. So where do they go?
There is but one truth. It is in Him. He is the Way, the Truth and the Life. Today there's a mistaken idea that is going around. It's that everybody can make his own truth.
This mistaken idea says you can interpret the Commandments the way you want. You can do what you want with the word of God.
There will be the reign of the Sacred Heart in which He will reign and there will be this era of peace in which men are living like happy babies according to God's will. And He will reign in their hearts.
Consider the Bible. It starts out with Adam and Eve, and they sin with this act of willfulness. And then it ends with Revelation, and you have this City of God in which all these people know that He is their God.
And Jesus says, "Here is the world and I'm not like the world. Stay rooted in Me and follow My Commandments and live by My word." The truth is in Him. There is but one truth. We can't allow ourselves to get confused by so many different things that are in the world.
Our rudder of truth is found in the Ten Commandments and in His word. The teachings in the Church are solid but the Church is made up of imperfect people. We're all becoming, and we all make mistakes, and the world is becoming, and the Church is in the process of becoming more what She should be. There are mistakes made by the people in the Body of Christ because we're imperfect.
But the Church's doctrines are true. We must know where the truth is because this is what is going to be attacked.
God is, He is the "I Am", the same always. He is the Almighty God, forever true. He doesn't change. The Ten Commandments are not going to change.
God speaks in these messages. And in the beginning as we tried to publish the messages, some of the people would want to adapt them to the people. "Oh they wouldn't accept this."
The reason we're getting the messages is to help renew the Church and the world, to help bring people back to the words of Scripture and to help them live by these words. So much is given in the daily messages.
Today the message of our Lord has this for you. If you don't understand everything that is said here, take what you understand and realize that your life given in consecration will be that which leads you to a life deeper in His life, to a greater maturity of intimacy with the Almighty God. He wants that intimate relationship with us in our hearts where we become so one in Him, ..."yet it is no longer I, but Christ living in me."(Ga 2:20)
---
Question for married couples and others in intimate relationships: Q: How do you feel we can more fully focus on God and His will for us?
---
---

Copyright © 2000Shepherds of Christ.
Rights for non-commercial reproduction granted:
May be copied in its entirety, but neither re-typed nor edited.
Translations are welcome but they must be reviewed for moral and theological accuracy by a source approved by Shepherds of Christ Ministries before any distribution takes place. Please contact us for more information.
All scripture quotes are from the New Jerusalem Bible, July 1990, published by Doubleday.
Revised: July 12, 1999
URL: http://www.SofC.org
Contact Information for Shepherds of Christ
Email: info@SofC.org
---
Shepherds of Christ Ministries
PO Box 193
Morrow, Ohio 45152-0193

Telephone: (toll free) 1-888-211-3041 or (513) 932-4451
FAX: (513) 932-6791