Mary has requested that the daily message be given each day to the world. It is read nightly at the prayer service from her Image Building in Clearwater, Florida, U.S.A. This is according to her request. All attempts will be made to publish this daily message to the world at 11 p.m. Eastern time, U.S.A.


---

We acknowledge that the final authority regarding these messages rests
with the Holy See of Rome.

---
July 14, 2003
July 15th Holy Spirit Novena
Scripture selection is Day 9 Period II.
The Novena Rosary Mystery
for July 15th is Luminous.
We are going to do the Sidney Rosary
on July 22, 2003.
We need funds.

Shepherds of Christ Ministries
P.O. Box 193
Morrow, OH 45152
1-888-211-3041
Schedule for July 15, 2003
4:00 a.m. - Mass

4:37 a.m. - Handbook read by Father Carter

6:11 a.m. - Morning Offering

6:15 a.m. - Song: I Love You Jesus

6:20 a.m. - 6:20 prayers led by Father Carter
Holy Spirit Novena
Shepherds of Christ Prayer Manual
Rosary

7:24 a.m. - Mary's Message, talk by Rita Ring
and talk by Father Carter given February 13, 1997

8:20 a.m. - Blue Book Reading or Two and a Tribute
to Mary on Mother's Day - May 11, 2003

9:39 a.m. - Newsletter 1998 Issue 5 (Mother at Our Side)
11:00 a.m. - Choose Life
12:01 p.m. - Rosary of Light from November 15, 2002
12:55 p.m. - Consecration - July 31, 1999
2:27 p.m. - Live Rosary October 13, 1996
3:49 p.m. - Songs from Jesus
4:00 p.m. - Mass
4:37 p.m. - Tell My People read by Father Carter
5:31 p.m. - Morning Offering
5:34 p.m. - Nursing Home January 5, 2003 feast of the Epiphany
6:06 p.m. - Songs from Jesus
6:20 p.m. - 6:20 prayers led by Father Carter
Holy Spirit Novena
Shepherds of Christ Prayer Manual
7:24 p.m. - Live Rosary May 13, 1997
9:31 p.m. - Consecration - July 31, 1999
11:03 p.m. - April 17, 1995 Interview with Rita Ring
12:33 a.m. - About Shepherds of Christ - June 29, 2003
1:52 a.m. - Morning Offering
1:56 a.m. - Mary's Message
2:02 a.m. - Nursing Home #10
2:42 a.m. - Joyful Rosary Aves
3:11 a.m. - Nursing Home #8
3:49 a.m. - Song from Jesus
4:00 a.m. - Mass
A Prayer for Intimacy with the Lamb
the Bridegroom of the soul
Oh Lamb of God, Who take away the sins of the world, come and act on my soul most intimately. I surrender myself, as I ask for the grace to let go, to just be as I exist in You and You act most intimately on my soul. You are the Initiator. I am the soul waiting Your favors as You act in me. I love You. I adore You. I worship You. Come and possess my soul with Your Divine Grace, as I experience You most intimately.
Go Shopping on the Web and
get your Blue Books today
Please check out

our new

internet store:
July 14, 2003
Matthew 14: 22-33
Jesus walks on the water and, with him, Peter
And at once he made the disciples get into the boat and go on ahead to the other side while he sent the crowds away. After sending the crowds away he went up into the hills by himself to pray. When evening came, he was there alone, while the boat, by now some furlongs from land, was hard pressed by rough waves, for there was a head–wind. In the fourth watch of the night he came towards them, walking on the sea, and when the disciples saw him walking on the sea they were terrified. 'It is a ghost,' they said, and cried out in fear. But at once Jesus called out to them, saying, 'Courage! It's me! Don't be afraid.' It was Peter who answered. 'Lord,' he said, 'if it is you, tell me to come to you across the water.' Jesus said, 'Come.' Then Peter got out of the boat and started walking towards Jesus across the water, but then noticing the wind, he took fright and began to sink. 'Lord,' he cried, 'save me!' Jesus put out his hand at once and held him. 'You have so little faith,' he said, 'why did you doubt?' And as they got into the boat the wind dropped. The men in the boat bowed down before him and said, 'Truly, you are the Son of God.'
July 14, 2003 message continues
Messenger: Christ walks on the waters
What we must desire is to use everything
we have according to God's will.
Some people say they want to do something
God wants them to do, but
they put off doing it, holding
on to their attachments.
Surrender

March 10, 1994

Jesus: This is surrender. I want your all. I do not want you attached to any person or any thing. I want you completely dependent on Me. Do I teach you such lessons on how attached you are to others and things? I have all the answers. If I do not tell you, you do not need to know. You want your will. My will I make known to you in front of the tabernacle. I have spoken here.

Surrender is doing the will of God and it is not your deciding and doing your will. I want your all. I want you to do those things the way I tell you. It is not the way you want to do them. Sweet surrender, only to find I want more. Look at My position on the cross. Did I ask you to die for Me? I ask you to do My Will. I ask you to surrender. I ask for time in front of the tabernacle. I ask for love. Watch this world go up in your face. Then where are your possessions, the things you held on to? You only have limited vision. I know all things.

I am so tired. You do not give but bits and pieces. You hold on to what you want and give Me some. I want your all. I want total surrender. I showed you how to surrender when I died on the cross. I am not asking for this. I am asking for you to do My will. You are so attached to pleasing people that you do not see the whole picture. I make My ways clear here. You do not listen. You do what you think is a good thing and you do not even come to Me. I want your all. I want surrender.

R. Love includes giving up what you don't want to give up. Love is saying, "Yes, Lord", even when you would rather do it your way. It is in your surrender and love of God that you teach mighty lessons to those around you. You teach by your being in love with Jesus. I love you, Jesus. I give of My bounty, not little bits and pieces I stingily let go of. Jesus, my Lord, my God, my All, how can I love You as I ought? Do I give My all, or do I say, "Oh, Lord, you can't mean that you want this," and hold on to what I want.

Do I hold on to people and don't even know it, or do I put You first, Lord, above all persons, places and things? I see how really attached I am to everything, things I do not even know I am attached to. It is easy to give lip service to surrender and tell God to possess our soul and make me selfless, but do I really mean it? This is what keeps us from increased union with Him! It is in total surrender, of living for love of Him and Him alone, that we are free. And what freedom! The bittersweetness to let go, to find freedom from all we hold on to! The things we hold on to most are what keeps us from our increased union with Him.

"Oh, not that, Lord! Oh, do I look at your crucifix and see You letting go?" You held not one thing back. Your arms open wide, nailed to the cross! Total surrender!

What does He ask of me today that I want to hold on to? Holding on to things stops my freedom. To be totally free, I must let go. I cannot hold on and let go at the same time. Freedom is obtained in letting go. See yourself with your arms tight, holding on to all you possess.

Jesus: I call you to surrender. Open your arms as I did when I died on the cross. Let all your sacred worldly possessions drop around you and you will experience the joy of being free, united only to Me, of letting go and knowing that I, God, tend to your every need. To My death on the cross I loved you and I love you this way this very day. Let go and give it all to Me. I will care for you far better than you could for yourself. I am God and I love you more than you can love yourself.

Jesus is dead, hanging on the cross, arms outstretched. His feet are not even on the ground. He is hanging by nails on a piece of wood. What do we hold on to? He wants us in midair in total surrender. Oh, little ones, how you squander your possessions. How you hold on to people. How you won't let go. See Me in total surrender.

I gave My very life for you. What do you hold on to, My little ones? Little bits and pieces you give to Me and you hold tight to your lives. They will be up in smoke and all that will remain will be the things of God. Not one pair of shoes do you take with you, only your love, given to God and others.

end of March 10, 1994 message
July 14, 2003 message continues
Messenger: We are to do what God wants us to do
when He wants us to do it.
Some people lie to themselves and
tell themselves they want
to serve God, but then they don't do it.
They hold onto their attachments.
The person that really loves God and wants
to do God's will wants to always
keep their connection with God,
even if they fall, they do
what they need to do to be
forgiven, they don't want to
not be connected to God deeply.
Matthew 13: 16-17
'But blessed are your eyes because they see, your ears because they hear! In truth I tell you, many prophets and upright people longed to see what you see, and never saw it; to hear what you hear, and never heard it.
Matthew 16: 24-28
The condition of following Christ
Then Jesus said to his disciples, 'If anyone wants to be a follower of mine, let him renounce himself and take up his cross and follow me. Anyone who wants to save his life will lose it; but anyone who loses his life for my sake will find it. What, then, will anyone gain by winning the whole world and forfeiting his life? Or what can anyone offer in exchange for his life?
'For the Son of man is going to come in the glory of his Father with his angels, and then he will reward each one according to his behaviour. In truth I tell you, there are some standing here who will not taste death before they see the Son of man coming with his kingdom.'
Matthew 10: 1-16
The mission of the Twelve
He summoned his twelve disciples and gave them authority over unclean spirits with power to drive them out and to cure all kinds of disease and all kinds of illness.
These are the names of the twelve apostles: first, Simon who is known as Peter, and his brother Andrew; James the son of Zebedee, and his brother John; Philip and Bartholomew; Thomas, and Matthew the tax collector; James the son of Alphaeus, and Thaddaeus; Simon the Zealot and Judas Iscariot, who was also his betrayer. These twelve Jesus sent out, instructing them as follows:
'Do not make your way to gentile territory, and do not enter any Samaritan town; go instead to the lost sheep of the House of Israel. And as you go, proclaim that the kingdom of Heaven is close at hand. Cure the sick, raise the dead, cleanse those suffering from virulent skin–diseases, drive out devils. You received without charge, give without charge. Provide yourselves with no gold or silver, not even with coppers for your purses, with no haversack for the journey or spare tunic or footwear or a staff, for the labourer deserves his keep.
'Whatever town or village you go into, seek out someone worthy and stay with him until you leave. As you enter his house, salute it, and if the house deserves it, may your peace come upon it; if it does not, may your peace come back to you. And if anyone does not welcome you or listen to what you have to say, as you walk out of the house or town shake the dust from your feet. In truth I tell you, on the Day of Judgement it will be more bearable for Sodom and Gomorrah than for that town. Look, I am sending you out like sheep among wolves; so be cunning as snakes and yet innocent as doves.
Excerpt from Priestly Newsletter 2000 Issue 3
Humility is a very important virtue given to us for the spiritual journey.

Humility is both the realization of what we are as creatures of God and the concrete implementation of this realization in our Christian lives. Humility, therefore, is not an exercise in self-depreciation; it is not telling yourself that you are no good, that you really have nothing of any significance to contribute to the service of God. Humility is based on truth. It is compatible with the recognition that God has given a person certain gifts, even great gifts, of nature and grace. If we do not recognize our God-given gifts, we do not thank God for them as we should, nor properly develop these gifts according to His will. God wants us not only to recognize the good that is in us, but also to realize the source of this goodness. Although we have a responsibility to cooperate with His graces, God is the One Who is chiefly responsible for what we are. If one person has advanced to a level in the Christian life that is beyond the level of another, it is ultimately because God has given that person greater graces.

If humility is based on truth and, consequently, allows us to properly recognize our gifts, it also necessitates that we admit to the evil within us, which is also part of the truth and must be acted upon. Humility not only bids us to admit that there is evil in us, but also tells us that, as creatures of God, we should conform to His will and work against this evil side of our persons. In summary, humility allows us to properly evaluate both the good and evil within ourselves.

Here is a quotation from St. Paul which helps us to preserve, and grow in, humility: Who made you so important? What have you got that was not given to you? And if it was given to you, why are you boasting as though it were your own? (1 Cor 4:7).

And in the Letter of James we read: Humble yourselves before the Lord and he will lift you up. (Jm 4:10)

end of excerpt from Priestly Newsletter 2000 Issue 3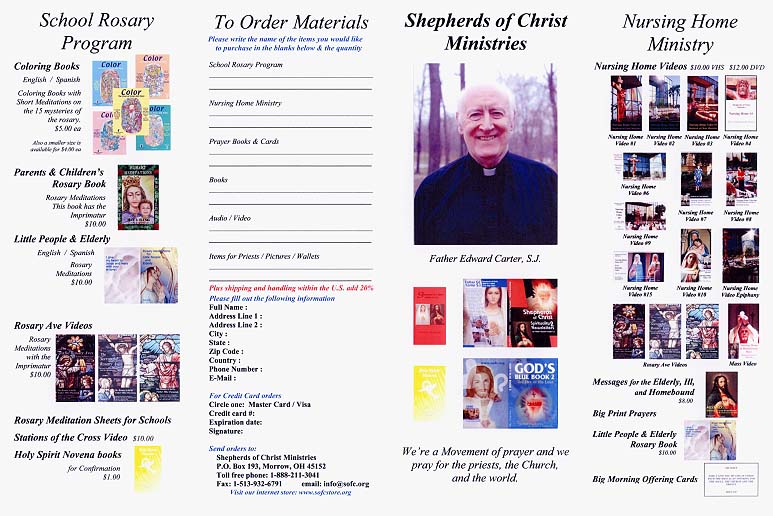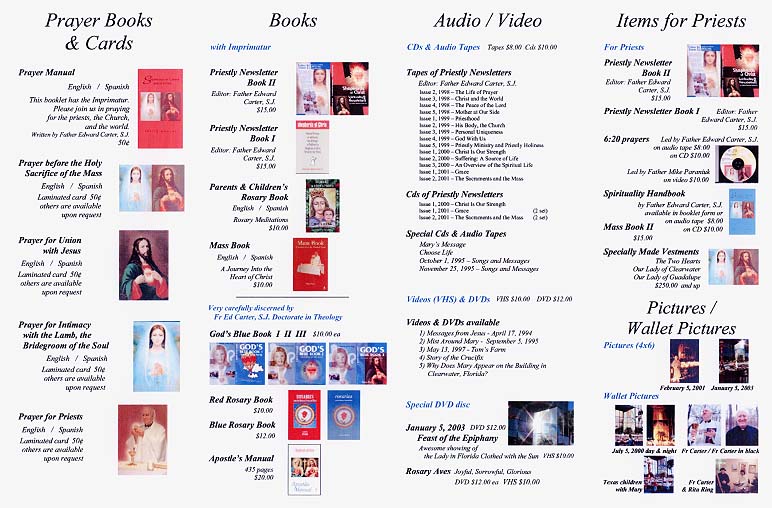 We're desperately in need of funds.

Envelopes are ready
to be mailed for priests
but we don't have
any postage money.
We need money for the
English speaking priestly mailing.
You can put it on your credit card,
call Morrow.

Shepherds of Christ Ministries
P.O. Box 193
Morrow, OH 45152

(toll free) 1-888-211-3041
1-513-932-4451
---
---
---

Copyright © 2003 Shepherds of Christ.
Rights for non-commercial reproduction granted:
May be copied in its entirety, but neither re-typed nor edited.
Translations are welcome but they must be reviewed for moral and
theological accuracy by a source approved by Shepherds of Christ Ministries
before any distribution takes place. Please contact us for more information.
All scripture quotes are from the New Jerusalem Bible, July 1990, published by Doubleday.
Revised: July 14, 2003
URL: http://www.sofc.org
Contact Information for Shepherds of Christ
Email: info@SofC.org
---
Shepherds of Christ Ministries
P.O. Box 193
Morrow, Ohio 45152-0193

Telephone: (toll free) 1-888-211-3041 or (513) 932-4451
FAX: (513) 932-6791