Mary has requested that the daily message be given each day to the world. It is read nightly at the prayer service from her Image Building in Clearwater, Florida, U.S.A. This is according to her request. All attempts will be made to publish this daily message to the world at 11 p.m. Eastern time, U.S.A.

---

We acknowledge that the final authority regarding these messages rests with the Holy See of Rome.

---
July 14, 2004
July 15th Holy Spirit Novena
Scripture selection is Day 6 Period I.

The Novena Rosary Mysteries
for July 15th are Luminous.
Apostles Meeting tonight
7:20 p.m.
tune in to the radio
Next Retreat night of August 11th,
August 12th thru August 15th (tentative)
Those attending should be there
8:00 China time on the 12th.
Please Pray for the
Newsletter & Delores.
Click into the radio,
it is really dynamic!
You can see China live.

Click on the picture below to
hear the radio and see China.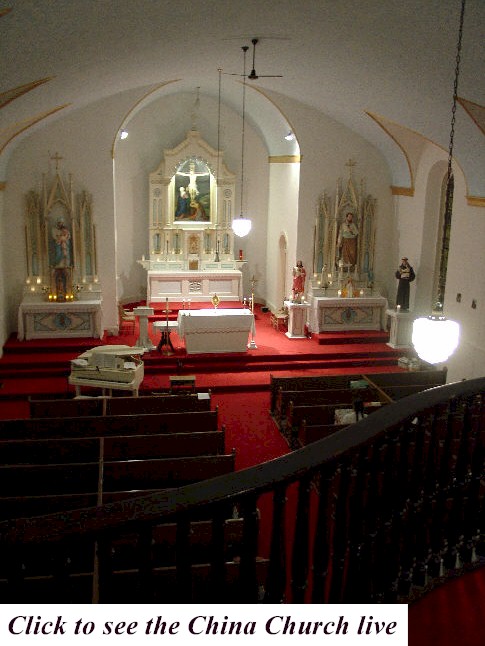 July 14, 2004
Jesus speaks: I want to tell you of Blood
red — precious Blood I shed from My
Sacred Heart. Focus on My Heart — I
came and died for you.
My love is so deep for you.
Oh I love you.
You are My bride.
Messenger: Yesterday at the retreat I felt
a special grace from Jesus to be
so much more intimately united to Him.
Oh Jesus, I long for union with
You. You are so precious to me.
Jesus speaks: My heart is on fire for love of you.
I love you so deeply. I love you,
I love you, I love you.
Messenger: Dear God I learned more of the
sufferings you endured for love of
me during retreat.
I know I got a very special gift
to be so close to Jesus.
The Mass is such a gift.
God gives us His holy priest.
God gives us the Mass.
Oh God in all the trials, I know
You most deeply and I know Your
love.
Oh God we give ourselves to You.
Jesus speaks: The devil will try to work on the
weakest link.
I love you.
I love you.
I love you.
Psalm 55: 2
give me a hearing, answer me,
my troubles give me no peace. I shudder
Psalm 23: 4
Even were I to walk in a ravine as dark as death
I should fear no danger, for you are at my side...
John 8: 12
When Jesus spoke to the people again, he said:
I am the light of the world;
anyone who follows me
will not be walking in the dark,
but will have the light of life.
Philippians 2: 8, 10-11
he was humbler yet,
even to accepting death,
death on a cross.

so that all beings
in the heavens, on earth
and in the underworld,
should bend the knee at the name of Jesus
and that every tongue should acknowledge
Jesus Christ as Lord,
to the glory of God the Father.
Psalm 69: 14c
...so I shall be saved from those who hate me,
from the watery depths.
July 14, 2004 message continues
Jesus speaks: I give to you the sweet air
to kiss your cheeks —
I give to you a blue sky and
beautiful sun-lit flowers —
Oh that you would love Me.
Oh that you would know Me.
Messenger: Most tender and loving Heart
of Jesus I place
my trust in Thee.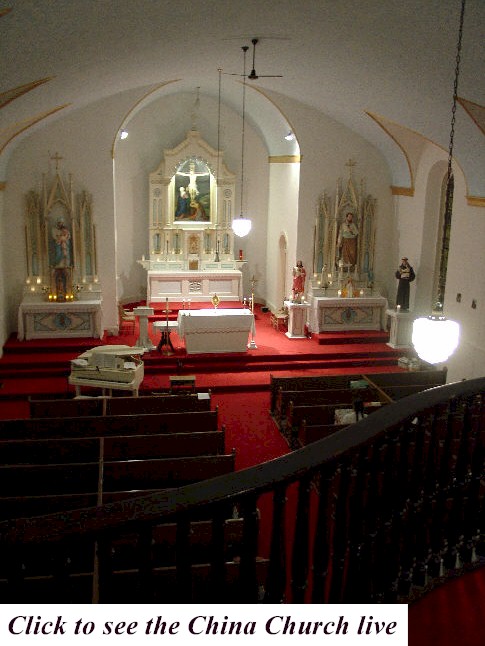 Click to see the China Church live
and all the candles burning
for your intentions.
Light a candle in China.
We will put your prayer intention
before the altar.
Call Morrow 1-888-211-3041
Suggested Donation: $5.00
Email for candles: info@sofc.org
---
---
---
Copyright © 2004 Shepherds of Christ.
Rights for non-commercial reproduction granted:
May be copied in its entirety, but neither re-typed nor edited.
Translations are welcome but they must be reviewed for moral and
theological accuracy by a source approved by Shepherds of Christ Ministries
before any distribution takes place. Please contact us for more information.
All scripture quotes are from the New Jerusalem Bible, July 1990, published by Doubleday.
Revised: July 14, 2004
URL: http://www.SofC.org
Contact Information for Shepherds of Christ
Email: info@SofC.org
---
Shepherds of Christ Ministries
PO Box 193
Morrow, Ohio 45152-0193

Telephone: (toll free) 1-888-211-3041 or (513) 932-4451
FAX: (513) 932-6791