Mary has requested that the daily message be given each day to the world. It is read nightly at the prayer service from her Image Building in Clearwater, Florida, U.S.A. This is according to her request. All attempts will be made to publish this daily message to the world at 11 p.m. Eastern time, U.S.A.

---

We acknowledge that the final authority regarding these messages rests with the Holy See of Rome.

---
July 16, 2001 - Feast of Our Lady of Mount Carmel
---
A Prayer for Intimacy with the Lamb, the Bridegroom of the Soul

Oh Lamb of God, Who take away the sins of the world, come and act on my soul most intimately. I surrender myself, as I ask for the grace to let go, to just be as I exist in You and You act most intimately on my soul. You are the Initiator. I am the soul waiting Your favors as You act in me. I love You. I adore You. I worship You. Come and possess my soul with Your Divine Grace, as I experience You most intimately.
---
Messenger: Include Our Lady of the Holy Spirit Center in 6:20 prayers.
---
Messenger: Please pray for an important intention.
Please pray for 5 urgent intentions!
Pray for a special priest and Father Mike,
Spread the Blood of Jesus on all involved, cast the devil far
away, ask for the special coming of the Holy Spirit in a special way
and consecrate all hearts to the Sacred Heart and Immaculate Heart.
---
| | |
| --- | --- |
| July 17th Holy Spirit Novena Scripture selection is Day 1 Period 2. | The Novena Rosary Mystery for July 17th is Joyful. |
---
July 16, 2001

Messenger:

Pray for the priests and the heads of
religious houses receiving the
Newsletter 2001 #2.

It will be sent out within the next week.

Here is a letter from someone in Africa
receiving the Newsletter.
---
Nigeria
Dear Mrs._____

I hope all is well with you, your family and the entire Shepherds of Christ associates as I always pray. Warmest greetings from _____, I am well and doing fine.

I sincerely apologize for having not replied your last two letters, it was due to some setbacks which I will explain.

For the past eight months now I have been on apostolic work in ____, a very remote village in my diocese, there is no main road, clean water nor access to electric light. So you can guess that a post office will be a luxury very difficult to come by, there are no provisions for sleeping mattresses or toiletries, we cook using firewood. In all this we give thank to God, as this is still part of our priestly training. It is a scheme our Bishops set in order to know their seminarians better. I will be here till January next year before I continue my Theology studies in the seminary.

I have on the course of my staying here fallen ill and sometimes felt greatly depressed but thanks to Shepherds of Christ publications, my zeal to serve God has always been enkindled whenever I go through the articles of faith you send to us. Words cannot express the joy and spiritual satisfaction we have received from the association, most especially our brothers in the seminary. Thank you for your kindness and generosity, I believe only God can pay you for this benevolence.

We are preaching to the people here even though most are illiterate and speak only the local language, however we still pray the holy rosary and pray for priest and religious by Gods grace we will continue the mission.

Please Mrs. ____, continue to pray for us and assist us in any way you can so we can in turn be of better help to the people. We have elected a brother seminarian to cater and help the chapter in St. ________ Major Seminary, he will write you soonest. Since we don't have a post box here, you can mail us using the above address that is more reliable for now.

Thank You and God bless, extend my heartfelt regards to your husband, _____ and _____.

Yours in Christ,

Bro. Leo
---
Messenger: We received the funds for the postage
to send Issue #2 2001 to the priests!
We will send the Newsletter immediately
to 75,000 US priests and the foreign priests.
THANK YOU for helping us!
---
Messenger: We received funds for rosary beads for rosary makers.
Thank you!
We need many, many more beads for
the rosaries Mary wants for
her children.
Please help us!
We desperately need funds for needs
not mentioned here.
Pray for 2 urgent intentions.

Shepherds of Christ Ministries
P.O. Box 193
Morrow, OH 45152

---
July 16, 2001 message continues
Messenger: I saw Jesus on the cross at the point
of death His mouth moving in
such anguishing pain on December 5, 1996.
Look at the crucifix Felix carved —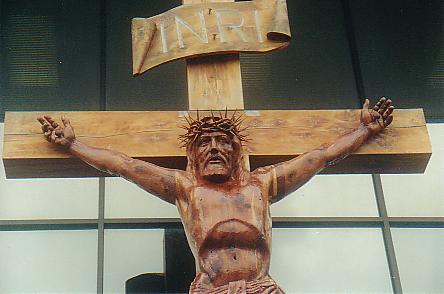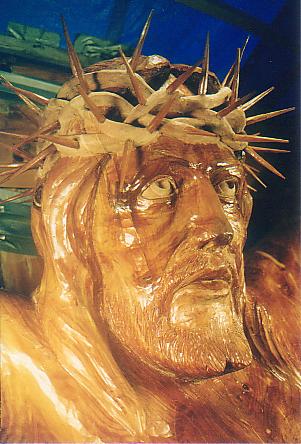 July 16, 2001 message continues
Messenger: see Jesus, look into His eyes and His
face and see all the sins we have committed.
I see Him hang there in such
anguish for all of our sins, crying
out to the world to hear Him.
I see Him, I see His love is so deep
for me and all men.
I want to look at Him and thank
Him and tell Him how sorry I am for
my sins.
I see the negative spirit that fills
my heart when I am, indeed, so richly
blessed and I see my ingratitude for
all God gives to me.
I see sunlight and beautiful
days refreshed by the soft rain and
I know His presence always with me.
As I sit here there is a quiet joy in my heart
for I know, my Beloved, my Spouse is
always with me.
The nights may seem very dark and
yet I have the gift of always knowing
I am not alone, my beloved God is with me.
I recall the vision of the rainbow March 21, 2001
when I saw before my eyes Mary's image
and my attitude was one of grumbling.
Then I realized how blessed I was and told
God how sorry I was for being so negative
when right before my eyes was Our Lady and
the building we had purchased. I felt ashamed
of myself and then the window turned
gold and more gold and more gold and
Emily and John saw it too and then the
rainbow appeared, a sign of the great
love God has for us, a remembrance to
me of the covenant God gave to Noah.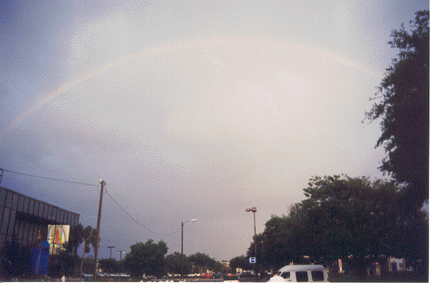 July 16, 2001 message continues
Messenger: Oh we are so blinded by our own sins.
We see the sun and grumble to God. He
gives us the rain to water the land and
we curse Him. I hear the name of
God used in vain and I want to cry.
We were placed here on earth to love Him. We
are to praise and reverence Him and
serve Him. It is in doing this that
this will help in the salvation of our soul.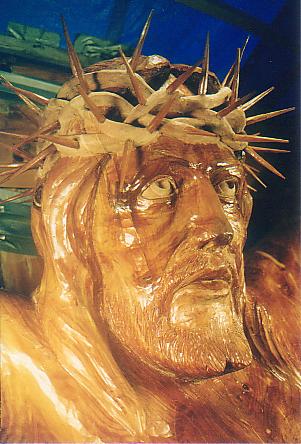 July 16, 2001 message continues

Messenger:

Can we honestly look into His face and think
of our sins, of our ingratitude, of the
unloving ways we look at our brothers
or talk about them and not be so
sorry for all He suffered for us?

He died for our sins. He suffered
so much agony because of what we
did.

He suffered for our pride and the
way we have acted out our anger trying
to get ahead of others for selfish
gain.
He suffered, He gave His life. He says,
with His arms outstretched I love
you, I love you, I love you so much.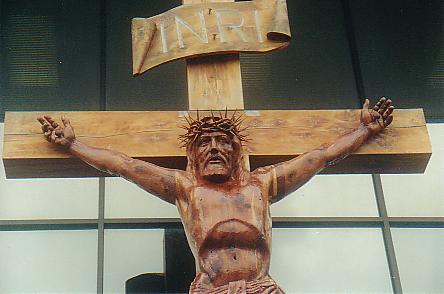 July 16, 2001 message continues

Messenger:

I saw Jesus appear last night. He appeared
as the Sacred Heart all covered in the most
brilliant light, His Heart glowing and
His whole face shown in the
greatest light. His face was beautiful,
His eyes so gentle and loving and
my heart was consumed with love
for Him and for all my brothers.

The depth of love I felt was so deep that
I cried so deeply to be so overwhelmed
with such rapture.

My Sacred Heart, my beloved Jesus, the
beauty of your face is not like the
one I see on the cross of Felix.

The beauty of Your face was adorned in
brilliant light, soft and filled
with such peace.

I saw Him and I see Him now
in my memory as I saw
Him there.

He comes without a warning and He
imparts such gifts to me.

He bids me to tell you of the glory of the
Resurrection.
He bids me to tell you that we all must
be sorry for our sins.
His death on the cross shows us how
He suffered.
We are so brazen we don't even recognize
our sins.
We are filled with pride and ingratitude,
of envy and jealousy.
We are looking for excessive pleasures.
He is what we seek and we try to fill
ourselves with momentary pleasures.

Reach for the stars.

Shout from the rooftops.

God is here today—He gives us Himself
in the Eucharist.

Jesus speaks: Mental training —
you can choose the balcony
or the dirt.

You can choose white cards
or black cards.

You can pick white berries
or black berries.

You can be glum or happy.

You can criticize others and make
yourself better or you can
live in the moment and
love them.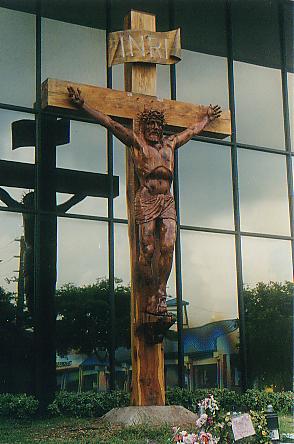 July 16, 2001 message continues

Jesus speaks:

I loved all My precious souls
to My death on the cross.

I gave My life for them.

You must see yourselves as one happy
family, all living to love and
serve and reverence your
God.
Your law to live by is the will
of God.

You cannot give into satan's tauntings
to get you focused on other's
behavior.

Every day write at least a few sentences
as a note to your Father of your
gifts that day. Read it and
celebrate life, be thankful your
Father loves you so much and
God is so good to you.

Celebrate life.

Be happy.

Only you can decide.

Religious communities will have very
much trouble if the people
there do not do an examination
of conscience daily.

The devil tries to get you to blame others
for your own unhappiness.

I have given you so many gifts.

A lot of people are unhappy because
they want their own will and they
are so set in their ways.

Remember, you live to love and
serve your God.

Everything is for His honor and glory.

Only want the will of God.

Do not try to force others to do what
you want done, they must
want to do it because
they think it is God's will
for them.

People in religious communities must
obey the superiors.

People in charge have a very important
duty to love and pray for those
under them and to pray to do
God's will.

Community life is a great help to
greater perfection in the spiritual
life.

Working with each other can help you to
love more perfectly.

You must do God's will.

Time must be spent alone, time must be
spent together, time must be
spent in working together
to accomplish God's work.

A lot of work isn't accomplished
because people won't work together
in love for My holy purpose.

People, many times, don't work together because
they never look at themselves.

A person may think, if they change the world
then they will be happy.

In many dysfunctional families people are always
blaming others and they do not look
at themselves. Many times they
create division by setting up a scapegoat
and everyone in the family blames
all their problems on the scapegoat.

I went to the hill of Calvary with your
sins piled on My back.

I forgive you for your sins when you
come and tell Me with a
contrite heart you are sorry.

Satan keeps putting more and more
burdens in the mind.
You must learn to let go and live to
do God's will.
What is God's will for you?
Your peace lies in this.
---
July 16, 2001
Jesus speaks: You must forgive. Some people go over events
over and over again in their mind.
Satan can work in this self persecution.
They create cases against the other.
If you love yourselves and want to be
happy, you must focus on My love
for you. I am vigilant. I am with you.
I give you lights that make your heart
happy, but if you give into
negative thinking behavior day
after day, you have a habit
of looking on the dark side
when I give you a sunny new
day.
I give you these people, this day today.
Thank Me for the gifts given to you
today.
Celebrate the life I give you.
Even in suffering you should be
joyful.
It is important to look at your mental
attitude every day and if
you have blamed your unhappiness
on someone else most of the days
of your life.
Then it is important to see if your focus
is to change someone else to make
yourself happy.
Then it is important to see if you think
your happiness depends on someone else.
Your happiness is found in your relationship
with God and in loving others
and receiving love from others
according to God's will.
In many dysfunctional families they get
together and talk about the scapegoat.
Think if you gave up your negative
thinking, if you quit complaining
about things would you have
more time to serve Me?
Can you talk about good events?
Do you look out the window and see
mud or stars?
The story goes, one woman looked out the window
and saw mud, another looked out
and saw stars.
You are here on this earth to grow
to be more Christ-like.
I came to show you the way.
I loved you to My death on the cross.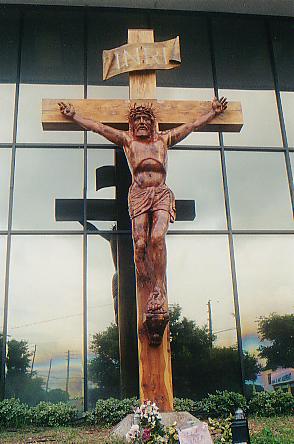 July 16, 2001 message continues
Jesus speaks: I gave My all for you.
I love you so much.
If you want to be forgiven for
your sins - you must forgive
others.
I call you to sainthood.
I call you to holiness.
Satan's grip is paralyzing and crippling.
He is setting traps.
You act dysfunctionally.
WORK ON YOURSELVES.
Some of My chosen ones never look at themselves.
You fall into trap after trap to try to fix
somebody else.
Do you want to lead the world into this
great era of peace,
then how can you do it with
your huffy - self righteous
attitude?
Say, "GOD help me to live the way
You desire. Help me to
be an instrument of peace."
How can you lead the world
into oneness if you are divided
with everybody?
Look at your past days. When dealing with
others intimately do you usually have a
problem? Are you always complaining?
Examine your consciences.
Go back and look at your sins
from your whole life.
Look for patterns in relationships,
then quit blaming people in
your present life for the
problems you have always
had in getting along
with others.
Don't be pompous because I
have called you to this
mission and given you
a special grace, be
thankful and realize
it is because of My grace
you have advanced as you
have.
Thank your heavenly Father
constantly for the gifts given to you.
Look for the gifts instead of all of the
"junk" you find to complain about.
Keep your focus on your eternal reward.
Realize, it is a gift, and you will
be held accountable for all
your actions.
Beg for grace to see your faults and
to grow in a deeper union
with God.
Pray to be more perfected and pure.
Pray for humility.
Pray for purity.
Quit judging and making yourself
perfect. Quit picking out others
imperfections. Work on your own
holiness. Examine your conscience.
Go to confession and tell the priest
about your negative attitude
if you have one.
Look at the words that come from your
mouth.
See how you affect others.
Do you complain and leave a
dark cloud when you leave?
So much time is wasted.
I called you.
You are My chosen one.
Please help to build up the body.
Look for good you find in others.
Live to love and serve Me.
I am God-
I have called you into this
marvelous light.
Pray for grace for yourself and others.
Realize you are dependent on Me.
I am God, please be positive -
Thank God for His gifts.
---
July 16, 2001 message continues
Messenger: Let us think of hell.
---
Excerpt from Father Carter's Book
The Spirituality of Fatima
July 13, 1917
During this same July apparition, Mary showed the three children a vision of Hell. She told them:

You have seen Hell, where the souls of poor sinners go. To save them, God wishes to establish, in the world, devotion to my Immaculate Heart. If people do what I tell you, many souls will be saved and there will be peace.

The war (World War I, then raging) is going to end. But if people do not stop offending God, another and worse one will begin in the reign of Pius XI. When you shall see a night illuminated by an unknown light [January 2, 1938], know that this is the great sign that God gives you that He is going to punish the world for its many crimes by means of war, hunger, and persecution of the Church and the Holy Father. (12)

To prevent this, I shall come to ask for the consecration of Russia to my Immaculate Heart and the Communion of Reparation on the five first Saturdays. If my requests are granted, Russia will be converted and there will be peace. if not, she will scatter her errors throughout the world, provoking wars and persecutions of the Church. The good will be martyred, the Holy Father will have much to suffer, and various nations will be destroyed....

But in the end, my Immaculate Heart will triumph, the Holy Father will consecrate Russia to me, Russia will be converted, and a certain period of peace will be granted to the world. (13)
---

NOTES:

12. For background material on Fatima, I am particularly indebted to
Our Lady of Fatima's Peace Plan from Heaven
(Rockford: TAN Books and Publishers, Inc., 1983).
13. Ibid., p.5.
end of excerpt from The Spirituality of Fatima
---
July 16, 2001 message continues
Messenger: Let us see the souls in hell and
envision what the children saw.
Heaven and hell are real.
The Mother of God showed the little children
hell.
When Mary appeared over and over again to me
daily July 5, 1994 - September 5, 1995 —
she cried out about her children
going to hell.
Think of what it would be like to
not know love for all eternity,
to not be united to anyone,
think of what it would be like to
know we would never see God or
taste of the eternal reward.
Think of how God gives us so much grace to
want Him and love Him.
We must thank Him for the gift of this grace
given to us.
Here are some excerpts from
the messages. A few remarks
about heaven, mostly remarks
on hell.
---
Excerpts from June 15, 1999 Daily Message
...In heaven we will have oneness in a state of existing in the Almighty, all-powerful God. We will be wrapped in that embrace of pure, perfect endless love, existing entirely in Him for all eternity. In this state we will know the love of the all-perfect God. Our own existence will be elevated to such heights that we will have completeness....

...Hell is a place of total isolation, rejection, hatred, despair, ugliness and blackness....
end of excerpts from June 15, 1999
---
Excerpt from May 22, 1999 Daily Message
...Hell is HELL, far beyond what any person can imagine and it goes on forever, for all eternity....
end of excerpt from May 22, 1999
---
Excerpt from May 19, 1999 Daily Message
...Oh, if I speak of heaven, I also speak of hell. Hell is total disharmony, no community, total isolation, hatred, no one to comfort, no one to understand, no one to share with. Everyone is at odds. All in hell are consumed with hatred and evil and for all eternity they will suffer a fate far worse than any we know, a thirst, a longing for God, for love, for unity and not even a drop of any consolation will be given....
end of excerpt from May 19, 1999
---
Excerpt from April 5, 1999 Daily Message
Jesus speaks: Hell is a place of total isolation, hatred, lack of love.

Heaven is a reward promised to those who love and serve Me.

You are wrapped in the fires of My love.

| | |
| --- | --- |
| Heaven | Hell |
| | |
| Eternal Love | Eternal Flame |
end of excerpt from April 5, 1999
---
Excerpt from November 28, 1998 Daily Message
Mary speaks: ...Hell is total isolation, being absorbed in hatred, wanting God and knowing for all eternity one will never have Him, and when the body is joined with the soul one will suffer physical torment. For all eternity the souls in hell will have the most anguishing pain. They will never have any love or union. I have allowed my messenger to hear the anguishing screams of the souls in hell, for theirs is indeed a horrible fate.

The devil is real my children. I have warned you and warned you. I cry out for my little ones going to hell. I quote from the Our Father "And lead us not into temptation, but deliver us from evil." My children, when the world parades its sexual pictures before my children, they do not tell them of the reality of hell. My children, I cry to you, help me....
end of excerpt from November 28, 1998
---
Excerpt from December 31, 1998 Daily Message
Jesus speaks: My child, you must not be sad because you have unveiled an imperfection in your heart. Be joyful, you cannot heal from that which you will not recognize. Many are filled with fear in their hearts that they will be abandoned or not have love. I will never abandon you, I loved you to My death on the cross. Hell is the absence of love, the presence of hate and the desire so intense to have love and know you will never possess it. When you feel divided and isolated from all around you, you can experience a foreshadowing of hell. Hell is total isolation and self hatred....
end of excerpt from December 31, 1998
---
Excerpts from July 11, 1999 Rosary
The Agony in the Garden

9. Hell is total isolation, no community and the souls
scream a bitter scream of blood-curdling pain.

The Scourging at the Pillar

8. And it happened. A trap is set by the devil, the ancient
serpent. The devil has no mercy. His game is to stop
the faithful servants DEAD ON THEIR PATH.

The Carrying of the Cross

1. Messenger: The Mass is to unite all the hearts in oneness.
At Mass I had this following experience due to the lack
of oneness between the peoples of the earth and with God.
It was an experience of the souls in hell that would never
know any love, only total isolation, hatred, and misery.
The reality of hell was so real. Where once I experienced
the ecstasy of oneness with God and all others in acceptance
and love, existing in Him, now I experienced separation,
hatred and the blackness of a cold night that seemed
would last forever.
end of excerpts from July 11, 1999
---
Messenger: Jesus asks us to pray for special things.
Spread the Blood of Jesus, Consecrate their hearts,
Cast the Devil far away, ask for the coming of the Holy
Spirit.
1) Pray for urgent intention, a special priest
and all involved.
2) Pray for Father Mike and Father Laurentin.
3) Pray for special Bishops and Archbishops
4) Pray for a special man and son,
and family and all involved.
5) Pray for all priests, Bishops and Cardinals
receiving the Newsletter.
Pray for grace for them to respond especially
by beginning prayer chapters.
6) Pray for the telephone operators.
7) Pray for communication and business in
general.
8) Pray for people to respond to fund letters.
9) Pray for money to circulate pictures.
| | |
| --- | --- |
| | |
| March 5, 2001 | March 5, 2001 |
---
10) Pray for funds and grace.
11) Pray for all Shepherds of Christ apostles,
handmaids, servants.
12) Pray for availability Prayer manuals.
13) Pray for second priestly Newsletter Book.
14) Pray for documentary and all involved.
15) Pray for special intentions of our donors.
---
A Note from the President of Shepherds of Christ:
If you are devoted to Our Lady's rosary, we need your help! A member of our ministry is very devoted to Our Blessed Mother and he is helping to teach us how to grow our volunteer rosary makers. He estimates that we will need approximately $37,000 this year for beads alone! This translates into 22,339,500 rosary beads (yes, 22 million beads) assembled by volunteers into 378 thousand rosaries. The biggest users of our rosaries are the Catholic schools, who requested more than 100,000 rosaries last year.
Can you help us? I appeal to you for funds, whether large or small. We give because we love God, we love our Blessed Mother, and we love souls. We will accept gifts in many forms, besides cash or check donations, we can receive gifts directly in the form of stocks or property. These gifts can offer large tax advantages to the donor and increase the monetary value of the gift to us. Also if you can help assemble rosaries we need your help! If you can help us in anyway, please call or write us. God Bless!
I love you,
John Weickert
---

A rosary can be used to pray for healing. It is powerful to unite our prayers to the Holy Sacrifice of the Mass and pray through the powerful intercession of Our Lady of Clearwater.
In times of trouble, for special prayer, we can use our rosary and pray as follows.
A Rosary for Healing or for Someone with Cancer.
On one Hail Mary bead or as many as you desire, say:

May God heal through the intercession of Our Lady of Clearwater in union with the Mass and all the Masses being celebrated around the world.

Pray the Hail Mary or Hail Mary's then pray this after the Hail Mary.

May the cancer be uprooted and thrown into the sea.

We believe with all our hearts.

After the Glory Be — pray the following petition.

May be healed through the intercession of Our Lady of Clearwater if it be the holy will of God.
| | | |
| --- | --- | --- |
| | Note: You can look at Mary on the image rosary while you pray this rosary. | |
Note: The above section can be printed out from a PDF file, and you can pray the rosary looking at the pictures.
---
December 17, 2000, Mary speaks:

Help me to circulate my red and blue
Rosary Books and the
prayers my Son gives to you.

This is a gift we give you.
All the revelations are gifts given to you.
My Son is the Light of the World.
He is Jesus born in a stable.
Will you help me?
He is the Light of the World. Help me, help me
reach my children of the world.
To order your Rosary Book fill out this form and send your donation to Shepherds of Christ Ministries, PO Box 193, Morrow, Ohio 45152-0193, Telephone: (toll free) 1-888-211-3041 or (513) 932-4451.
Name: _________________ Street: _____________________________
City: _________________ State: _________________ Zip: ________
Donation price: $7 A $15 A $25 A $50 A $100 A Other $_____ A
---
Messenger: CAN YOU HELP US BY GIVING US ROSARIES FOR THE SCHOOLS REQUESTING THEM?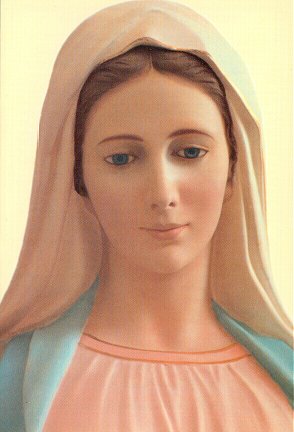 Mary speaks: PLEASE MAKE WALTER'S ROSARIES. THE SCHOOLS WANT ROSARIES AND THERE ARE NOT ANY ROSARIES LEFT.
---
Messenger: Pray for Ron, Fernando and Perry.
---
Prayer List for apostles for interior use in the Movement. Pray hourly.
Spread the Blood of Jesus on everyone involved with Shepherds of Christ in any way, consecrate their hearts, cast the devil out, pray for coming of the Holy Spirit in a special way for all people involved on this list.

Please pray for one new very important intention.
Pray for the 5 urgent intentions.
Pray for the Pope and everyone we need to help us.
* Pray for the priestly newsletter, for funds for it and for all involved.
Pray for the taping of the priestly newsletter.
Pray for the reproduction of disks.
Pray for the Newsletter that went from China and Eden Prairie.
Pray for priests receiving the Newsletter for grace.
Pray for fund letters, all donors, and getting the right names.
Pray for setting up telephone communications at the Morrow Center for priests receiving the newsletter and wanting the Prayer Manuals.
Pray for open communications within the Shepherds of Christ Ministries.
Consecrate Hearts of all Priests in the world saying Mass today.
Pray to see the vision of the Reign of the Sacred Heart and the Era of Peace.
Pray for the prison ministry.
Pray for Michael B.
Pray for the Documentary.
Pray for all mankind, Church and the world.
Pray to make amends to God for the sins of the men of this earth.
Pray to make reparation to the Hearts of Jesus and Mary.
Pray for Don, Don, Mike, Bob, Bob, Dave, Reggie, Bush, all donors and those who Jesus wants to help us financially.
Pray for Father Carter and the Jesuits, the people at Colombiere.
* Pray for 2 special priests.
* Pray for funds and grace.
Pray for designated priests, Fr. Mike, Fr. Laurentin, Fr. Joe, Fr. Lou B., Fr. Jim, Fr. Willig, Fr. Smith, Fr. Ken, Fr. Sevilla and all priests involved in the Imprimaturs translations including all bishops and all bishops over us. Pray for Bishop Ed, Fr. Don, Father at Tuesday Masses, Fr. Tom, Fr. Bill, all priests involved with Walter, Fr. Hagee and special priests, priests who help us in China, and priests who help us in Florida.
Pray for Father's sister Merle, for all of us servants, handmaids, apostles and vocations to all 7 categories.
Pray for the Internet team and the daily messages.
Pray for people reading the Internet.
Pray for prayer book, Mass Book II, and Daily Message Books.
Pray for all covers, pray for Cathy.
Pray for the elected officials.
Pray for an audience with the Pope.
Pray for all Jesuits involved, all those over us.
Pray for Mike and Dan.
Pray for the rights to the books, pray for Jesuits in Father's house.
Pray for the process of getting Father's books on the Internet.
Pray for money to reprint the books.
Pray for the Imprimatur on the Priestly Newsletter Book II.
Pray we can send it to all bishops and Jesuits.
Pray for Fernando, Ron, Joseph, Peter, Ed, Jane, Sonia, Don, Sue & Ken.
Pray for Perry and family and discernment.
Pray for all sub-centers and all out-of-state rosaries; Denver, Iowa, Pennsylvania, Toledo, St. Louis, Memphis and California.
Pray for the sisters' mailing, nursing home mailing, bus mailing.
Pray for Genevieve's daughter and Sheila's mom and the repose of the soul of Jerry's dad.
Pray for Paul and Joan discernment.
Pray for B & M and Tina and Terry, all printing jobs, companies involved.
Pray for 5th, the 13th, the 17th.
Pray hourly for the Rosary on the 5th & all attending and those traveling to Florida.
Pray for building up of Morrow, Ohio, Dale, Indiana, Toledo, Ohio, Sidney, Ohio, Iowa, and other sub-centers.
Pray for the Holy Spirit Center and all involved.
Pray for all our families, children in school, college mailing.
Pray for lots and lots of people to help us get prayer manuals and pictures.
Pray for Rosary Factory and rosary beads.
Pray for lots of rosary makers and rosaries for the schools.
Pray for Paul C., Margaret Mary, Steve and Sheila, Monica, Angie, Marian, Cathy, Joe, Nick, Mary, Emily, Joe, Doris, Glaci, Dunkers, Joan R., Morgan, Mark, Walter, Janice, Mike A., Margaret, Ron, Harold, Scott, Nathan, Don, Rosalie, and Dennis.
Pray for everyone who has asked us to pray for them.
Pray for Steve and Sheila and repairs.
Pray for Fred doing the paper and all involved in priestly "start-up".
Please pray for all Shepherds of Christ children.
Pray for Victor's son, Michael. (Victor and Frances)
Pray for Delores and organization of writings and other material.

Last revised March 7, 2001
---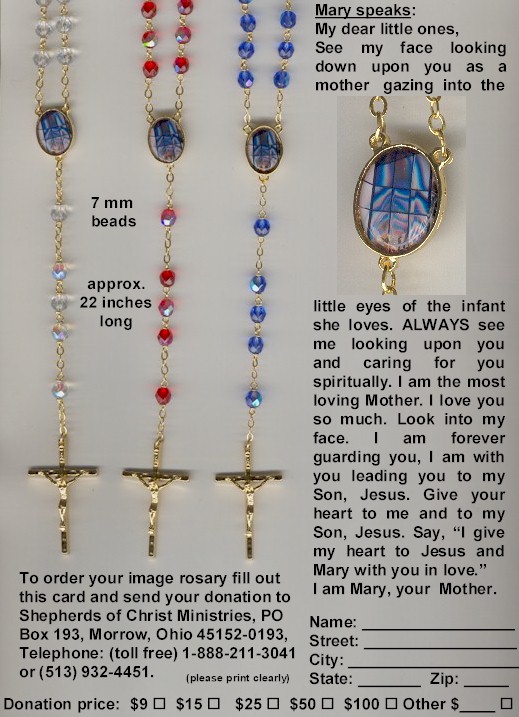 (Please copy and pass out to family and friends.)
---
MY VALENTINE FOR JESUS AND MARY
AND THE WORLD

I _________________ give my heart to
You Jesus and Mary on this day
_________________
I promise to help spread the devotion to
the Hearts of Jesus and Mary.
---
Question for married couples and others in intimate relationships:
Q: How has consecration helped us in our relationship or how do you think it will help us?
---
---
---

Copyright © 2001 Shepherds of Christ.
Rights for non-commercial reproduction granted:
May be copied in its entirety, but neither re-typed nor edited.
Translations are welcome but they must be reviewed for moral and
theological accuracy by a source approved by Shepherds of Christ Ministries
before any distribution takes place. Please contact us for more information.
All scripture quotes are from the New Jerusalem Bible, July 1990, published by Doubleday.
Revised: July 16, 2001
URL: http://www.SofC.org
Contact Information for Shepherds of Christ
Email: info@SofC.org
---
Shepherds of Christ Ministries
PO Box 193
Morrow, Ohio 45152-0193

Telephone: (toll free) 1-888-211-3041 or (513) 932-4451
FAX: (513) 932-6791