Mary has requested that the daily message be given each day to the world. It is read nightly at the prayer service from her Image Building in Clearwater, Florida, U.S.A. This is according to her request. All attempts will be made to publish this daily message to the world at 11 p.m. Eastern time, U.S.A.

---

We acknowledge that the final authority regarding these messages rests with the Holy See of Rome.

---
July 19, 2002
July 20th Holy Spirit Novena
Scripture selection is Day 9 Period II.
The Novena Rosary Mystery
for July 20th is Glorious.
A Prayer for Intimacy with the Lamb,
the Bridegroom of the Soul

Oh Lamb of God, Who take away the sins of the world, come and act on my soul most intimately. I surrender myself, as I ask for the grace to let go, to just be as I exist in You and You act most intimately on my soul. You are the Initiator. I am the soul waiting Your favors as You act in me. I love You. I adore You. I worship You. Come and possess my soul with Your Divine Grace, as I experience You most intimately.
---
Pray for 4 urgent intentions.
Pray for a particular bishop and cardinal.
Pray for the pope.
Pray for all the bishops of the world.

We desperately need funds.
Please pray for this.
---
Sidney Rosary
Tuesday, July 23, 2002
Please Come!!
---
July 19, 2002
Messenger: Dear Jesus,
Teach us to love, to not count the cost, but to
do what God wills us to do.
So many times we want to receive love, we want
affirmation, we want to be recognized.
Jesus speaks: I ask you to do these very important tasks
for Me. I ask you to share with one another. See
yourself as brothers and sisters in God's family.
So many think about themselves to the extent they
do not see the other.
Open your eyes.
Babies come into the world and many people
die everyday. This day spent on this earth is
promised to no man.
Messenger: The eyes of children can be so very beautiful.
We see their sweet little ways. We see them
acting in the moment, freely, most of the time
without worry.
Our heavenly Father watches us. Our heavenly
Mother watches over us. We are given so many gifts
in our life here below.
A woman in labor may suffer tremendously,
but oh the joy of the baby's face,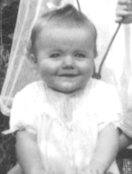 the little toes and fingers. Oh what a
gift when the baby comes.
Jesus shows us that in the struggles there
is life.
Oh God help us to enjoy the moment with joy to
relish the experience.
See the little child, they act very simply
usually.
When a young child is given great love, they
usually feel secure to express themselves.
They usually are very attentive to each moment.
---
Messenger: PLEASE PRAY AT 6:20 TODAY
(1) Holy Spirit Novena
(2) Shepherds of Christ Prayers
(3) Rosary
STAY united in prayer
(1) Please pray for funds for the Virgin Mary payment
(2) 4 very, very urgent intentions - all involved
pray for all the Bishops of the world
(3) For the Priests, the Church and the world.
(4) 5 other intentions
(5) Cathy and Blue Book II and other work
(6) Fruits from the 5th
(7) Pray for the Reign of the Sacred Heart and
triumph of Mary's heart in all hearts.
(8) Imprimatur on our materials
(9) Priests getting our material to begin prayer chapters,
that priests use our material and support us.
(10) Vocations to all 7 categories in the Shepherds of
Christ Movement.
(11) Special prayers for Marie and her family
(12) For Mark, Fred, Joe and Marian
---
---
---
Copyright © 2002 Shepherds of Christ.
Rights for non-commercial reproduction granted:
May be copied in its entirety, but neither re-typed nor edited.
Translations are welcome but they must be reviewed for moral and
theological accuracy by a source approved by Shepherds of Christ Ministries
before any distribution takes place. Please contact us for more information.
All scripture quotes are from the New Jerusalem Bible, July 1990, published by Doubleday.
Revised: July 19, 2002
URL: http://www.sofc.org
Contact Information for Shepherds of Christ
Email: info@SofC.org
---
Shepherds of Christ Ministries
PO Box 193
Morrow, Ohio 45152-0193

Telephone: (toll free) 1-888-211-3041 or (513) 932-4451
FAX: (513) 932-6791