Mary has requested that the daily message be given each day to the world. It is read nightly at the prayer service from her Image Building in Clearwater, Florida, U.S.A. This is according to her request. All attempts will be made to publish this daily message to the world at 11 p.m. Eastern time, U.S.A.

---

We acknowledge that the final authority regarding these messages rests with the Holy See of Rome.

---
July 19, 2004
July 20th Holy Spirit Novena
Scripture selection is Day 2 Period II.

The Novena Rosary Mysteries
for July 20th are Joyful.
Next Retreat night of August 11th,
August 12th thru August 15th (tentative)
Please Pray for the
Newsletter & Delores.
Click on the picture below to
hear the radio and see China.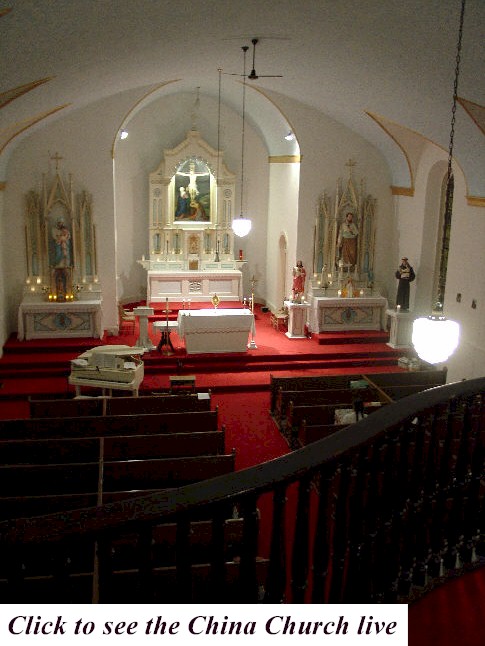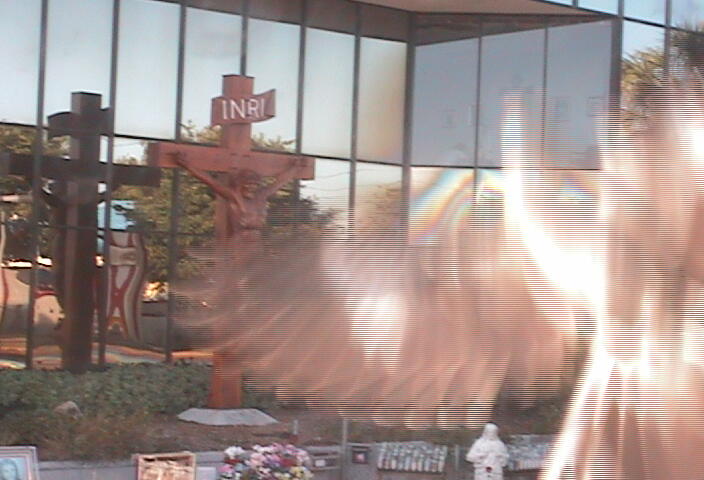 May 27, 2004
July 19, 2004
Jesus speaks: The Holy Spirit lifts you
up - makes your work a
song and joy.
The evil spirit's grip is
paralyzing and crippling.
I have called you to help
Me.
God the Father speaks:
Mary, your Mother appeared
for 7 years. Did you thank God
for choosing you for this
mission. When I asked
for something did you
respond? You need to help
make reparation, the human
race, for knocking off the head of
Mary.
One sings, another
tears down. I am God --
The people of the human
race have not honored
their mother. When Mary
appeared many ignored her.
Do you throw the
flowers at Me too - or
do you live to help promote
the Kingdom of God.
More work is accomplished
by pleasing Me than by
being angry and doing work
for Me.
Sing a song of joy
in thanksgiving for the grace
I have given you.
What good does it do you
to throw old flowers
at a person?
I am love -- live to love --
sing. Pray to the Holy Spirit,
cast the devil into hell --
His grip is paralyzing and
crippling -- it gets stronger
every day.
Jesus speaks: You asked for this --
you give me pie
with ants. I want
a fresh baked pie
with the sweet
fragrance of love
behind it.
God the Father speaks:
Do you
love Me? Live to
serve Me and do My will.
I am God the Father
Do you live to
serve Me?
Sing: Come Holy Spirit
Continue singing it
Sing: Hear I am Lord
Do the Litanies -
to Mary and the Sacred Heart
Say the Holy Spirit prayer
from the prayer manual.
Pray to St. Michael -- say
the Saint Michael prayer
Pray the consecrations
from the Prayer Manual
Say 9 Hail Marys
Mary speaks: I am the Queen of Peace!
I am love.
You are given the face
of Jesus.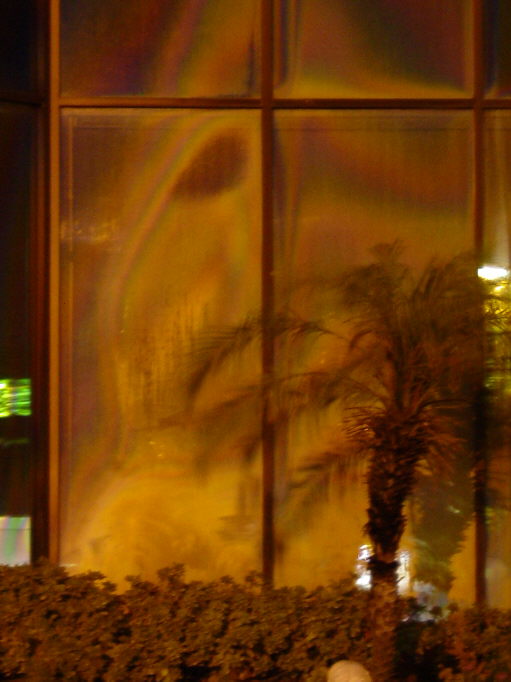 July 18, 2004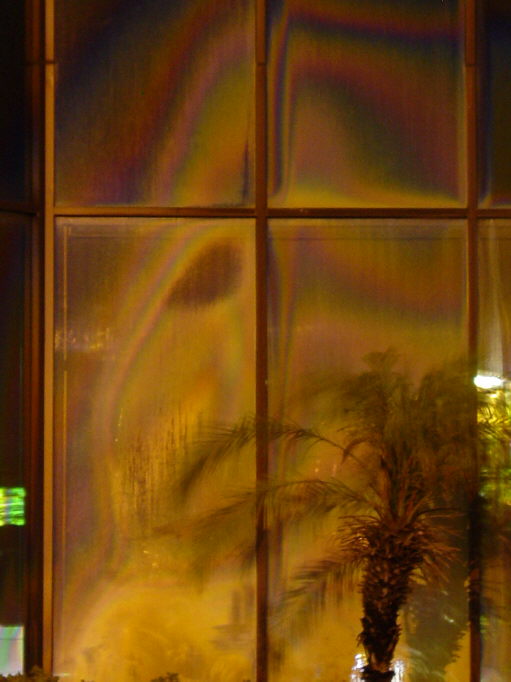 July 18, 2004
Mary speaks: Many are ungrateful.
Jesus is love.
If you are like Jesus
you are loving.
If you are like me you
realize -- I lived as a
handmaid of Jesus.
Luke 1: 46-55
And Mary said:

My soul proclaims
the greatness of the Lord
and my spirit rejoices
in God my Saviour;
because he has looked upon
the humiliation of his servant.
Yes, from now onwards
all generations will call me blessed,
for the Almighty
has done great things for me.
Holy is his name,
and his faithful love extends age after age
to those who fear him.
He has used the power of his arm,
he has routed the arrogant of heart.
He has pulled down princes
from their thrones
and raised high the lowly.
He has filled the starving with good things,
sent the rich away empty.
He has come to the help
of Israel his servant,
mindful of his faithful love
—according to the promise
he made to our ancestors—
of his mercy to Abraham
and to his descendants for ever.
July 19, 2004 message continues
Mary speaks: I am the handmaid of
the Lord.
Satan comes and you give
into him --
you do not realize
how he steals your energy.
The Spirit lifts you up. SING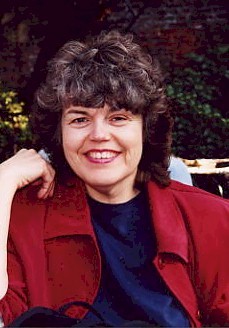 July 17, 2004

Dear Members,

I give my heart to Jesus and Mary with you in love.

The main purpose of our Movement is to circulate the priestly newsletter. The priest who has written the Priestly Newsletter and Jesus wanted it sent for the Feast of St. Ignatius, July 31, 2004, has a doctorate in theology and ability to teach in the Gregorian College and Pontifical Colleges, he can speak and translate many languages and studied in Rome. He is a Jesuit in his early 60's and friend of Fr. Carters. He worked on his dissertation on the Spiritual Exercises and the Virgin Mary for 14 years, for this dissertation which is a book. He has the blessing of his Provincial and Rector. Can you donate at least $5 - $20 a month for this purpose to send the Priestly Newsletter? This was the original plan given to Fr. Carter from Jesus, the associates would support and pray for the Priestly Newsletter.

Since Mary's head was knocked off, Jesus' face appears more prominent than ever, but the crowds are off. It took us until July 15 to make the building payment and we need donations badly.

In May we sent 50,000 Rosaries and consecration cards and rosary aves to schools. If you know any wealthy person that would help supply the beads and materials for the schools — Mary really wants as many as possible for October.

Mary said that until a sufficient number of people have consecrated their hearts to Jesus and Mary we won't have peace in the world.
We need to spread the consecration to the priests and the children in the schools. We want peace. Mary said — October 13, 1917, at Fatima, we must pray the rosary.

Just think how much God loves us and helps us, we need help to promote His Kingdom. In all the time of the earth and all places — God picked Clearwater for Mary to appear there. The Father gave us this gift — He sent Mary as a messenger for 7 years. We should be on our knees praying there in reparation for her head being shot off and not recognizing her more.

We need to get the loan to have a solid protection for Jesus' face. So far this has taken 5 months and we are no where — waiting for the loan. How do you think it would be if any more of the window was destroyed? We watch the window 24 hours a day and have cameras from all angles, but the window protection must be solid against hurricanes etc.

Please pray as you have never prayed before —

We need your prayers. God the Father gave us this gift and we must protect it.

The retreats in China are awesome — so holy — we have a priest usually every day for Mass. The retreats are live on the internet. You can tune into China and watch on the camera.

The camera is on the front of the Church. Call Doris for details.
Jesus has called you to this mission.

We are so gifted — He gives us these gifts.

Think of how much the prayers and Blue Books and writings have done for you and please tell Him.

He wants this — gratitude for this and reparation for what happened to Mary's image.

We put a beautiful store in China in the 3 car garage — hung ceiling — new front (Steve and Sheila and some servants).

Please come to the beautiful store and the beautiful retreat.

(we need a new roof for the handmaid house in China immediately a little over $4,000)

I get help from priests everyday — Everything is discerned.

Please keep this in your prayers and help us with donations.

1) Newsletter
2) Rosary Program
3) Protecting glass

Please tell God you are grateful Mary appeared 7 years in Clearwater and Jesus' face is there.

The RADIO goes 24 hours — a big comfort and your prayers are needed.

DAILY MESSAGE — INTERNET EVERY-DAY — STAY UNITED

I LOVE YOU —

WE NEED YOU

Rita
I would be willing to
support this endeavor
with a $1.00 to $5.00
or more a week.
Contribution: __________
Name: _________________________
Address: ______________________________
______________________________
______________________________
Phone: _______________________________
Email: ________________________________
Shepherds of Christ Ministries, P.O. Box 193,
Morrow, OH 45152-0193 · fax: 1-513-932-6791
(toll free) 1-888-211-3041 · email: info@sofc.org
Given to Father Carter
on the Feast of St. Ignatius
July 31, 1994
Words of Jesus to Members of
Shepherds of Christ Associates:

"My beloved priest-companion, I intend to use the priestly newsletter, Shepherds of Christ, and the movement, Shepherds of Christ Associates, in a powerful way for the renewal of My Church and the world.

"I will use the newsletter and the chapters of Shepherds of Christ Associates as a powerful instrument for spreading devotion to My Heart and My Mother's Heart.

"I am calling many to become members of Shepherds of Christ Associates. To all of them I will give great blessings. I will use them as instruments to help bring about the triumph of the Immaculate Heart and the reign of My Sacred Heart. I will give great graces to the members of Shepherds of Christ Associates. I will call them to be deeply united to My Heart and to Mary's Heart as I lead them ever closer to My Father in the Holy Spirit."

- Message from Jesus to Father Edward J. Carter, S.J., Founder, as given on July 31, 1994,
feast of Saint Ignatius Loyola, Founder of the Society of Jesus (The Jesuits)

end of July 31, 1994 message given to Fr. Carter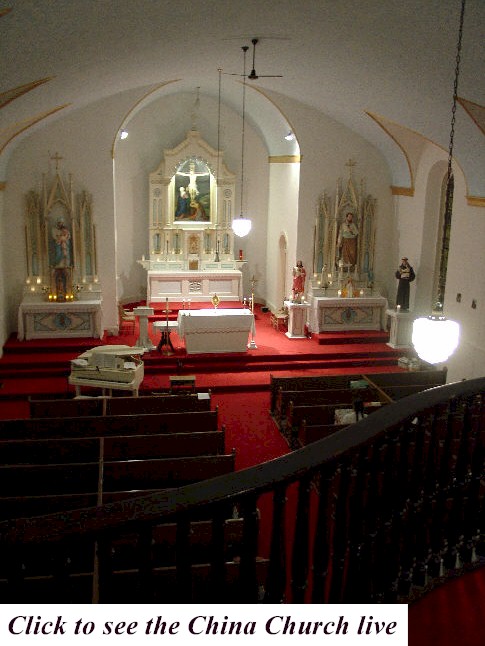 Click to see the China Church live
and all the candles burning
for your intentions.
Light a candle in China.
We will put your prayer intention
before the altar.
Call Morrow 1-888-211-3041
Suggested Donation: $5.00
Email for candles: info@sofc.org
---
---
---
Copyright © 2004 Shepherds of Christ.
Rights for non-commercial reproduction granted:
May be copied in its entirety, but neither re-typed nor edited.
Translations are welcome but they must be reviewed for moral and
theological accuracy by a source approved by Shepherds of Christ Ministries
before any distribution takes place. Please contact us for more information.
All scripture quotes are from the New Jerusalem Bible, July 1990, published by Doubleday.
Revised: July 19, 2004
URL: http://www.SofC.org
Contact Information for Shepherds of Christ
Email: info@SofC.org
---
Shepherds of Christ Ministries
PO Box 193
Morrow, Ohio 45152-0193

Telephone: (toll free) 1-888-211-3041 or (513) 932-4451
FAX: (513) 932-6791