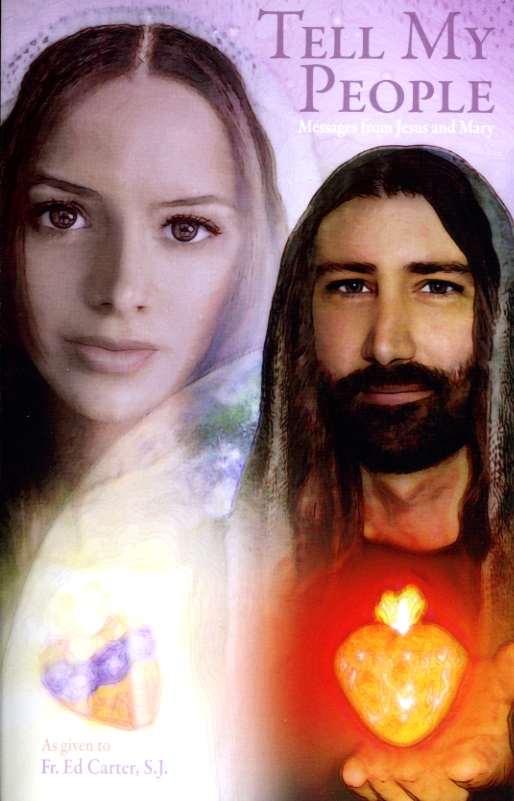 Available $10.00 plus shipping
1-888-211-3041
Call Doris
We need postage to send
Cycle C to priests in Michigan,
Wisconsin, Arizona, and Missouri.
They are done and ready to go.
Please help us.
Call Doris
1-888-211-3041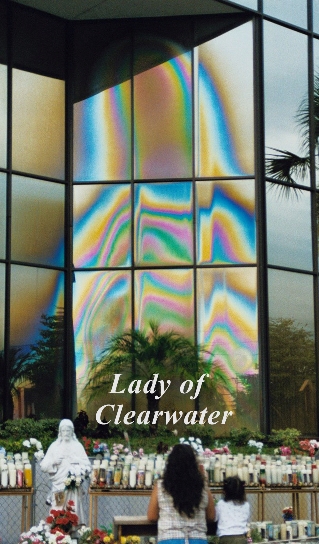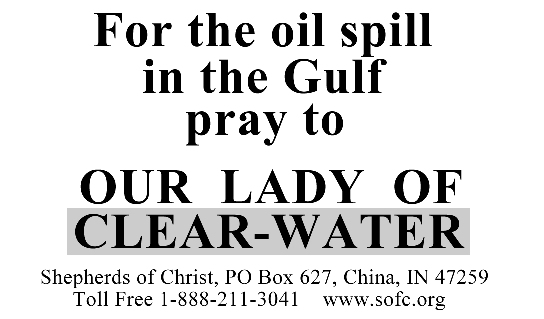 July 21, 2010
How should we pray —
The Our Father
Our Father, Who art in heaven, hallowed be Thy name. Thy Kingdom come, Thy will be done on earth as it is in heaven. Give us this day our daily bread and forgive us our trespasses as we forgive those who trespass against us. And lead us not into temptation, but deliver us from evil. Amen.
July 25, 1998
It Is Not the Will of the Father That You Sin
Mary: My little children,
...I ask you to pray the prayers my Son Jesus gives to you in the prayer manual. I ask you to pray my rosary as I teach you here. I give to you my Rosary Books to teach you from Our Hearts. I want to teach you to pray from your hearts. When you give your heart to me and my Son Jesus the Holy Spirit will enlighten you, the Father will bless you with grace and you will know God in an intimate way by dwelling in the Heart of my Son Jesus.
Oh children, please listen to me. I wish these messages to be circulated to the world by any means possible. I wish them to be placed on the Internet. I wish the world to help in spreading the priestly newsletter to bishops and priests, I wish the people of the world to pray the prayers my Son has given in the prayer manual and I wish you to circulate my Rosary Books to all that they will learn to pray from their hearts. My Son has given to you love letters from His Heart, please listen to His tender love given to you in these letters. I wish all homes, businesses, churches and schools to be consecrated to the Hearts of Jesus and Mary.
I wish all my children to give their hearts to Jesus and Mary.
A single greeting, "I give my heart to Jesus and Mary with you in love," binds the members of the Father's family in love.
The Father wishes the world to be one, holy happy family loving God and loving one another.
Will you help me? I appear to give you this message. I am Mary your Mother. I love you my children, I warn you, you must obey God and live by the Commandments and the Word of God.
Please listen to me. I love you, so much my dear little children.
Please help me.
August 11, 1998

There Will Be a Network of Prayer Power at 6:30 in the Evening

Message from Mary

Mary: My children,

Every day I will give you a message on the Internet for the world.

Also, here is a basic format. I am asking you to pray the prayers from the Shepherds of Christ Prayer Manual and recite the rosary daily if possible at 6:30 p.m.
A-M to pray at 6:30 their time.
N-Z to pray at 6:30 Florida time.

There will be a network of prayer power pleasing your Father all through the day and a concentration of prayer power at 6:30 in the evening.

Your God is angered at the earth. Great graces will be granted if you pray as I have requested.

The hand of my Son is raised, and I have asked your God to have mercy on my children.

I am asking you to pray.

I am asking you to consecrate your hearts to my Heart and the Heart of my Son Jesus.

This can be given in a single line.
"I give my heart to Jesus and Mary with you in love."

I love you,

I am your Mother Mary
July 31, 1994
Words of Jesus to Members of
Shepherds of Christ Associates:

"My beloved priest-companion, I intend to use the priestly newsletter, Shepherds of Christ, and the movement, Shepherds of Christ Associates, in a powerful way for the renewal of My Church and the world.

"I will use the newsletter and the chapters of Shepherds of Christ Associates as a powerful instrument for spreading devotion to My Heart and My Mother's Heart.

"I am calling many to become members of Shepherds of Christ Associates. To all of them I will give great blessings. I will use them as instruments to help bring about the triumph of the Immaculate Heart and the reign of My Sacred Heart. I will give great graces to the members of Shepherds of Christ Associates. I will call them to be deeply united to My Heart and to Mary's Heart as I lead them ever closer to My Father in the Holy Spirit."

- Message from Jesus to Father Edward J. Carter, S.J., Founder, as given on July 31, 1994,
feast of Saint Ignatius Loyola, Founder of the Society of Jesus (The Jesuits)
August 1, 1994
Pray For The Success Of The Priestly Newsletter - Shepherds of Christ
R. The following is the first official message I received before the statue of Mary at Our Lady of the Holy Spirit Center. It is a personal message for Father Carter.

Mary: (in front of the glowing statue of Our Lady of Sorrows) I am the Immaculate Heart. My Heart is glowing for love of all my beloved children. I am your most loving Mother. I am with you this day. Pray for the success of the priestly newsletter Shepherds of Christ. I am guarding your way. You will receive such graces to accomplish this task! Grace from God is so abundantly bestowed on you and will lead to the success of this endeavor! Pray for this cause at the Center. The priests will lead the people to the love of My beloved Son. This is no little task. It will take many prayers and graces. Pray hard, little one. Your prayers will change many hearts.

I am Mary, your Immaculate Mother. I bring this message to My beloved priest-son.

end of August 1, 1994
Sing: Abba Father
Sing: Dwelling Place
Give a gift that lasts.

$10.00 each plus shipping

Call 1-888-211-3041

Shepherds of Christ

We can send Fr. Joe's

homily book to a priest for 75¢.

Can you please help us get

these homilies to the priests?


Please help us with your donation.

Call Shepherds of Christ

1-888-211-3041

Prayer Cards available

Holy Spirit Prayer
Act of Consecration to
Immaculate Heart of Mary
Act of Consecration to
Sacred Heart of Jesus
Prayer for Priests

Prayer before the Holy Sacrifice of the Mass

Prayer for Union with Jesus

Available for .25¢ each plus postage

Call Shepherds of Christ

1-888-211-3041

Prayer Card 4" x 6"

.50¢ each plus postage

size 5 1/2" x 8 1/2"
$1.00 plus postage

Statues

| | | |
| --- | --- | --- |
| | | |
| Sacred Heart of Jesus w/glass - 18 | Our Lady-Guadalupe w/glass - 12 | Limpias - 8 |
| | | |
| Immaculate Heart w/glass - 18 | I Heart - Ivory w/glass - 18 | Our Lady of Grace w/glass - 18 |
| | | |
| Our Lady-Mt. Carmel w/glass - 18 | Our Lady of Lourdes w/glass - 18 | Infant of Prague w/glass - 24 |
| | | |
| Sacred Heart of Jesus w/glass - 24 | Sacred Heart -Blessing w/glass - 24 | Sorrowful Mother w/glass - 24 |
| | | |
| I Heart - Ivory w/glass - 24 | I Heart of Mary w/glass - 24 | Our Lady of Lourdes w/glass - 24 |
| | | |
| Our Lady-Guadalupe w/glass - 28 | Our Lady of Grace w/glass - 24 | Our Lady-Mt. Carmel w/glass - 24 |
| | | |
| Fatima w/glass - 11 | Pilgrim Virgin w/glass - 12 | Pilgrim Virgin w/glass - 15 |
| | | |
| Fatima w/glass - 18 | Pilgrim Virgin w/glass - 18 | Pilgrim Virgin w/glass - 27 |

| | | |
| --- | --- | --- |
| St. Padre Pio | St. Joseph | St. Therese |
| | | |
| St. Francis | St. Anthony | St. Claire |
| | | |
| Limpias | St. Jude | Divine Mercy |
| | | |
| Holy Family | Angel | St. Philomena |
| | | |
| Pieta - Marble | Pieta - Color | Holy Family |
| | | |
| St. Anthony - 18 | St. Francis - 18 | St. Joseph - 18 |
| | | |
| St. Therese - 18 | St. Rita - 18 | St. Clare - 12 |
| | | |
| | | |

| | | | |
| --- | --- | --- | --- |
| St. Rita - 12 | St. Padre Pio - 12 | ivine Mercy - 12 | St. Michael - 11 |


Shepherds of Christ Ministries
P. O. Box 627
China, IN 47250

Toll free - 1-888-211-3041
Local - 1-812-273-8405
fax - 1-812-273-3182
web: www.sofc.org
e-mail: info@sofc.org


| | | | |
| --- | --- | --- | --- |
| | Size | Price | Quantity |
| Holy Family | 24" | $180 | |
| Limpias | 24" | $125 | |
| St. Anthony | 24" | $125 | |
| St. Claire | 24" | $125 | |
| St. Francis | 24" | $125 | |
| St. Joseph | 24" | $125 | |
| St. Jude | 24" | $125 | |
| St. Padre Pio | 24" | $125 | |
| St. Therese | 24" | $125 | |
| Divine Mercy | 22" | $125 | |
| Angel | 22" | $100 | |
| St. Philomena | 20" | $100 | |
| St. Philomena | 16" | $65 | |
| St. Joseph | 18" | $65 | |
| St. Francis | 18" | $65 | |
| St. Anthony | 18" | $65 | |
| St. Rita | 18" | $65 | |
| St. Therese | 18" | $65 | |
| Pieta - Color | 15" | $75 | |
| Pieta - Marble | 15" | $75 | |
| Holy Family | 12" | $60 | |
| St. Padre Pio - standing | 12" | $40 | |
| St. Padre Pio - sitting | 8" | $50 | |
| St. Michael | 11" | $40 | |
| St. Rita | 12" | $40 | |
| Divine Mercy | 12" | $40 | |
| St. Claire | 12" | $40 | |
| Limpias | 8" | $25 | |
| Our Lady of Guadalupe w/glass | 28" | $500 | |
| Our Lady of Mt. Carmel w/glass | 24" | $500 | |
| Immaculate Heart of Mary w/glass | 24" | $500 | |
| Immaculate Heart - Ivory w/glass | 24" | $500 | |
| Infant of Prague w/glass | 24" | $500 | |
| Our Lady of Grace w/glass | 24" | $500 | |
| Our Lady of Lourdes w/glass | 24" | $500 | |
| Sacred Heart of Jesus w/glass | 24" | $500 | |
| Sacred Heart -Blessing w/glass | 24" | $500 | |
| Sorrowful Mother w/glass | 24" | $500 | |
| Immaculate Heart of Mary w/glass | 18" | $300 | |
| Immaculate Heart - Ivory w/glass | 18" | $300 | |
| Sacred Heart of Jesus w/glass | 18" | $300 | |
| Our Lady of Lourdes w/glass | 18" | $300 | |
| Our Lady of Grace w/glass | 18" | $300 | |
| Our Lady of Mt. Carmel w/glass | 18" | $300 | |
| Our Lady of Guadalupe w/glass | 12" | $200 | |
| Fatima w/glass | 11" | $150 | |
| Fatima w/glass | 18" | $250 | |
| Pilgrim Virgin w/glass | 12" | $160 | |
| Pilgrim Virgin w/glass | 15" | $200 | |
| Pilgrim Virgin w/glass | 18" | $250 | |
| Pilgrim Virgin w/glass | 27" | $450 | |


Call for Shipping Price (1-888-211-3041)


Name

Sub-Total
Address

IN Tax (7%)
City

Shipping
State Zip

Donation
Telephone

Order Total

Shepherds of Christ
P. O. Box 627
China, IN 47250

1-888-211-3041

Fr. Joe's Homily Books

Guiding Light - Cycle A
The Word Alive in Our Hearts

$10.00




Guiding Light - Cycle B
Focusing on the Word

$10.00


Guiding Light - Cycle C
Feed My Soul

$10.00
Fr. Carter's Books
Priestly Newsletter Book I

12 Newsletters
July 1994 - June 1996

$12.00


Priestly Newsletter Book 2

17 Newsletters
1996 - 1999

$12.00


Priestly Newsletter Book 3

4 Newsletters & Prayers
2000

$12.00




Response to God's Love



$10.00


Messages given
by Jesus and Mary 1994

Tell My People


$10.00



The Pain and the Joy

$10.00

Synopsis of the Spiritual Life

Spirituality Handbook
$3.00


Priestly Newsletter on CD
2000 - Issue 1

$10.00


Priestly Newsletter on CD
2000 - Issue 2

$10.00
Fr. Pasquini's Books
Authenticity



Prayers and Meditations

$10.00

In Imitation of Two Hearts

For those suffering or
in Nursing Homes

$10.00

Light, Happiness and Peace

Journeying through traditional
Catholic Spirituality

$10.00

Medicine of Immortality

Prayers and Meditations - will assist the reader in growth toward a deeper understanding of the mystery of the Eucharist

$10.00


Ecce Fides - Pillar of Truth





Ideal for RCIA, Adult & Youth Bible Study, Homeschooling, Catholic
Identity Studies

$10.00

Shepherds of Christ Newsletters
9 Newsletters
2006 - 2008



$36.00
DVDs and CDs by Fr. Pasquini




Authenticity DVD
Prayers on the Ocean

$10.00


Nursing Home Mass DVD

$10.00

Consolation DVD

$10.00

Medicine of Immortality
Read by Rita Ring

2 CDs - $17.00

In Imitation of Two Hearts DVD

$10.00




Consolation CD
by Fr. John

$8.00





Nursing Home Mass CD

$8.00


Holy Spirit Novena DVD

$10.00

Divine Mercy Chaplet DVD

$10.00