Mary has requested that the daily message be given each day to the world. It is read nightly at the prayer service from her Image Building in Clearwater, Florida, U.S.A. This is according to her request. All attempts will be made to publish this daily message to the world at 11 p.m. Eastern time, U.S.A.

---

We acknowledge that the final authority regarding these messages rests with the Holy See of Rome.

---
July 22, 2004
July 23rd Holy Spirit Novena
Scripture selection is Day 6 Period II.

The Novena Rosary Mysteries
for July 23rd are Glorious.
Next Retreat night of August 11th,
August 12th thru August 15th
Please Pray for the
Newsletter & Delores.
Click on the picture below to
hear the radio and see China.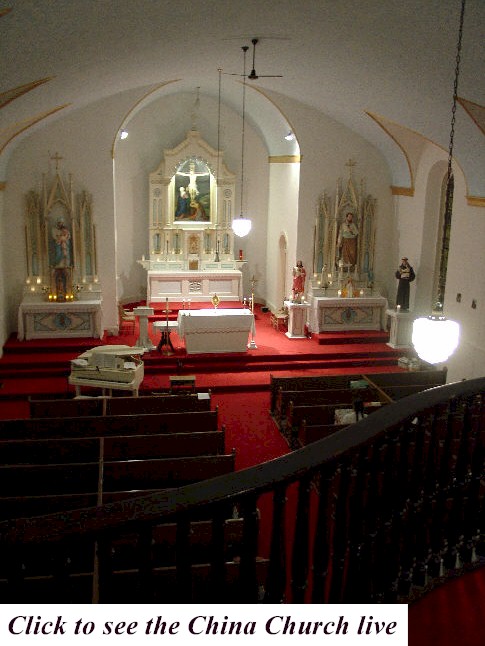 July 22, 2004

Jesus speaks: Shepherds of Christ has a real message
to deliver to the priests.
I have been giving this message since
the beginning to help lead the Church
into this great era of love and peace.

I want an intimate spousal union with My priests
and My people.

I want this deep oneness with My priests
and My people.

I want My people to go to the Eucharist
and to love Me so deeply.

I want you to help lead the Church and
the world into a deep, personal love affair
with Me. This is My desire.

This mission is not for the priests
of this day only,
but writings are to help lead
the Church of the future.

The writings are to help the priests
and the people to love Mary more deeply
and recognize Mary in the vital role
she plays in the Church and in the world.

If the people recognize Mary as they should,
Mary's Image would have never been destroyed.

What happened in Clearwater shows you
to a small degree of the lack of regard
that people have towards Mary.

Mary is your spiritual Mother.
Mary is Mother of the Church.
Many of her children and priests do not
recognize her as such.

The role of the Shepherds of Christ is
to reach the priests with these writings
which are to be passed down also to
future generations in the Church.

The Blue Book writings were given
to feed the hungry souls -
to lead the people into this deep
appreciation of the Eucharist
and to live the spousal union with Me -
they are the messages I give
and I write the letters of love
on their hearts.

You can talk about the Eucharist
as a history class or you can realize
how intimately I want to unite
with My people.

Some may focus on writings as a textbook,
focused on their heads.

The love affair I desire is love from the heart.

The souls are oh so hungry for the messages
I have given.

They need this deep appreciation
of the gift given in the Eucharist.

I want My people to have a spousal union
with Me.

It isn't a lot of head knowledge as much as
loving intimate union with God,
Father, Son, and Holy Spirit,
from the heart.

I am Lord of heaven and earth
and many do not recognize Me
as a Divine Person.

You are losing Catholics who do not have
this intimate love union with God,
Father, Son, and Holy Spirit.

Messenger: I figured God wants us to be loving
and allows us to be tested to see how well
we will grow in love and allows us to
undergo tremendous differences
so that the maturity will take place
to grow as people of love.

He is love. If we are to teach of Him,
but cease to love why should He
continue to allow us to be His
spokes persons about His love.

We are but a sounding gong,
a clanging cymbal.

From the time I spent in Florida this weekend
when I was so close to Jesus and He appeared
so beautifully on the window for all to see
and the lessons He is teaching us -
God wants honor and praise and LOVE -
He told me so strongly Ascension Thursday
May 25, 1995-I am alive! I am alive
I am alive. Jesus said many treat Him as a dead object)

My heart is consumed with emotion for the
message God has given to me over these
past 13 years and it is real -
It is not weird or against scripture -
it is solid rooted in His Word -
the words of the Mass -
the writings of the Church.

What we must look at are the ways
and practices of how we are
showing love to God and to others.

Are we loving God the way He really wants?

From knowing all the different ways
a couple can share love in marriage
from a beautiful relationship like Steve and Sheila
to mere tolerance and all the ways in-between,
we recognize there are many ways that couples
that are wed to one another share love.

How many books have been written about
intimate relationships with God.

You can see that God's love is so real.

He died for us.
He rose on the third day.
He shows us in His bitter passion
how deeply He loves us.

He could have come with cold hands
and delivered a stiff message in dry words,
but to tell us about His love -
God - the Son of God
took flesh and came as a man,
a baby in the world -
His ways are not hidden so children
can not understand -
St. Bernadette (Mary appeared to her at Lourdes)
had trouble in school.

Why did he pick children at Fatima?
These children knew the love of Jesus and Mary.

Mary appeared to children at Fatima.

Bernadette had much difficulty with school.
Matthew 11: 25
At that time Jesus exclaimed, 'I bless you, Father, Lord of heaven and earth, for hiding these things from the learned and the clever and revealing them to little children.
July 22, 2004 continues

Messenger: I did not know any theology
I got it in a slit second when He gave me
special graces -
Fr. Carter did not teach me -
he was quiet most of the time -
The Newsletter was formed more and more
and there is a direct correlation between
his writings and what he discerned at the
same time in the daily messages.

He was always working more with
my writings than his own -
but the Newsletter and my writings
emerged the way the Lord was teaching
the world and the Church about intimate love -
union with all the Persons of the Trinity -
There is a definite plan for this Mission
and it is centered in what He is saying.

The how -the ways God wants us to love Him
and to love others.

The secrets of oneness in community life
in relationships - in love of friends
are being taught to us from Jesus,
of working together to help promote
God's kingdom.

A lady cut the end of the ham off
and when asked by her husband why -
she said her mother did it.

Do you not think that God would speak
to people about intimate love union
when He is love -
people are starved for love -
ills are abundant in the world
and God is not honored and praised
as He should be by many.
I answered him, 'You can tell me, sir.' Then he said, 'These are the people who have been through the great trial; they have washed their robes white again in the blood of the Lamb. That is why they are standing in front of God's throne and serving him day and night in his sanctuary; and the One who sits on the throne will spread his tent over them. They will never hunger or thirst again; sun and scorching wind will never plague them, because the Lamb who is at the heart of the throne will be their shepherd and will guide them to springs of living water; and God will wipe away all tears from their eyes.'
July 22, 2004 continues

Messenger: Are we bowing to God truly present
in the Blessed Sacrament?

Are we teaching this reverence and importance
of the Holy Eucharist to the children
in the schools?

Are we teaching the children in the
Catholic Schools about the
Catholic faith in all the
classrooms?

The priests must teach the people
the ways Jesus wants to be loved.

Some day in the future the traditions
passed on to the people will be about
the intimate love of Jesus.

There are many "ways of loving" books
that people use to learn how to love
in relationships.

You must see that God is giving
God's Blue Book to us and He is
writing His message of love
on our hearts.

He tells us in God's Blue Book
how he wants to be loved.

The message of God's love is written
on our hearts when we read
God's Blue Book.

A priest told me - my life was so different
before I got God's Blue Book -
my relationship with Jesus was not
very intimate with Him and
then I got God's Blue Book
and my whole life changed -
I spent one hour daily before
the Eucharist and
he told my brother he wanted to meet me.

The Mass book has a message too -
I know when a priest is in the room.
I feel a special presence.
God has gifted our priests so much.

I can feel the presence of Jesus radiate
from the holy soul.

God loves our priests so very much.

I truly love the priests because I feel
this special gift God has given to us
through them.

I love it when a priest prays with us
and is in the room.


I want to deliver the very important message
God has delivered to me.
This is the message of the Shepherds of Christ.

Generations upon generations have passed down
ways of doing things.

A man can work on his golf swing for 34 years -
he may analyze every aspect of his swing,
go to instructors and play avidly.

A person can analyze every aspect of their food,
count every fat cell, carb, sugar, etc.

They may think that their life here is so important
and not even think about the life hereafter.

There are millions of people who think life
is found in things here below.

Ways are passed on about
how to be in the Church -
but few about real love relationships
with Jesus in the way He really
wants to be loved.

Lou B. who wrote about love
talked about the guy whose wife
wanted a red dress.
He never bought it for her while she was alive -
so he buried her in it.


God is love.
God wants to be loved.

God remains truly present in the Eucharist
the same as He walked the earth.

If children in grade schools knew
the gift of the Eucharist and
children in high schools knew
the gift of the Eucharist -
they would not be going to other religions -
that don't have the Eucharist -
they do not realize the power
of the Eucharist and that God is
truly present as they should.
(Are they being instructed about this,
the writings and rosary meditations
God has given to me speak constantly of this.)

The way Jesus wants to be loved
in the Eucharist is told in these writings.

Satan knows the power is in the Eucharist.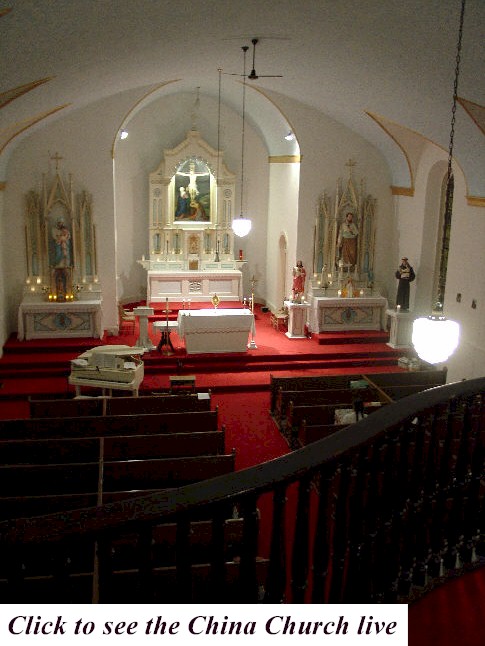 Click to see the China Church live
and all the candles burning
for your intentions.
Light a candle in China.
We will put your prayer intention
before the altar.
Call Morrow 1-888-211-3041
Suggested Donation: $5.00
Email for candles: info@sofc.org
---
---
---
Copyright © 2004 Shepherds of Christ.
Rights for non-commercial reproduction granted:
May be copied in its entirety, but neither re-typed nor edited.
Translations are welcome but they must be reviewed for moral and
theological accuracy by a source approved by Shepherds of Christ Ministries
before any distribution takes place. Please contact us for more information.
All scripture quotes are from the New Jerusalem Bible, July 1990, published by Doubleday.
Revised: July 21, 2004
URL: http://www.SofC.org
Contact Information for Shepherds of Christ
Email: info@SofC.org
---
Shepherds of Christ Ministries
PO Box 193
Morrow, Ohio 45152-0193

Telephone: (toll free) 1-888-211-3041 or (513) 932-4451
FAX: (513) 932-6791