Mary has requested that the daily message be given each day to the world. It is read nightly at the prayer service from her Image Building in Clearwater, Florida, U.S.A. This is according to her request. All attempts will be made to publish this daily message to the world at 11 p.m. Eastern time, U.S.A.

---

We acknowledge that the final authority regarding these messages rests with the Holy See of Rome.

---
---
A Prayer for Intimacy with the Lamb, the Bridegroom of the Soul

Oh Lamb of God, Who take away the sins of the world, come and act on my soul most intimately. I surrender myself, as I ask for the grace to let go, to just be as I exist in You and You act most intimately on my soul. You are the Initiator. I am the soul waiting Your favors as You act in me. I love You. I adore You. I worship You. Come and possess my soul with Your Divine Grace, as I experience You most intimately.
---
Messenger: Include Our Lady of the Holy Spirit Center in 6:20 prayers.
---
Messenger: Please pray for an important intention.
Please pray for 5 urgent intentions!
Pray for a special priest and Father Mike,
Spread the Blood of Jesus on all involved, cast the devil far
away, ask for the special coming of the Holy Spirit in a special way
and consecrate all hearts to the Sacred Heart and Immaculate Heart.
---
July 24th Holy Spirit Novena
Scripture selection is Day 8 Period 2.
The Novena Rosary Mystery
for July 24th is Sorrowful.
---
Messenger:

Let us pray fervently to St. Ignatius in the
next days until his feast July 31, 2001.

Pray for funds. Pray for Steve and Sheila.
---
Rosary July 24, 2001 Sidney, Ohio Tuesday 6:20 PM

Mass & Rosary July 27, 2001 China, Indiana Friday
Mass - 12:30 PM China time
Rosary - 6:20 PM China time
---
July 23, 2001
Zimbabwe

Re: Subscription by Diocese to Shepherds of Christ Newsletter

It came to my attention recently some issues of the above Newsletter that I consider quite helpful for our priests. Therefore, I would be very grateful if you could send us a copy for each of the priests in the Diocese, we are 25. I understand they are distributed free of charge.

In order to avoid the cost of postage you could send them by surface and in one parcel addressed to:

With many thanks and best prayerful wishes on this great apostolate you are doing.

Yours sincerely

Bishop of ______

---

India

Dear

Recently I chanced upon a copy of "Shepherds of Christ". It was issue No. 3 'Special Issue'. I am glad it is open to all and not only for priests. I benefited spiritually from the articles therein and hence this letter to you. It was mentioned in that issue, that a book has been compiled and one could avail of a free copy of the same. May I request you to send me a copy please. I would not be able to pay the postage nor pay for future copies so would it be possible for someone in the USA to sponsor this for me. If not, then only send me once more a recent copy of 'Shepherds of Christ'.

Thanking you in anticipation, With kind regards,

Yours sincerely in Jesus and Mary

Sr. Mary

---

Ghana

Request

I will be very grateful if you would kindly
send me "God's blue book"; the fire of His love, Volume
One and Three (1 and 3), by Rita Ring.

I came across the volume Two (2) of this blue book,
and read little portion of it. My life had not been the same
since then. And I confess that even though I've been
baptised and confirmed into a catholic church but I tell
you the truth, I felt a new life within me. Am a boy who
really love reading and studying the word of God.

By the help of the book I now can wait awhile
with God to listen to Him. My relationship with God
now is very very intensive. Not a little thing. But am
certain that God wanna use me should my request be
granted. I believe He will use me as His high vessel.

Greetings to you.

I am patiently looking forward to be hearing you.

Goodbye, God bless, and farewell.

Sincerely Yours

Andrew
---
Our Father

Our Father, Who art in heaven, hallowed be Thy name. Thy Kingdom come, Thy will be done on earth as it is in heaven. Give us this day our daily bread and forgive us our trespasses as we forgive those who trespass against us. And lead us not into temptation, but deliver us from evil. Amen.
---
From The Spiritual Exercises of St. Ignatius, Loyola University Press
TAKE, LORD, AND RECEIVE

Take, Lord, and receive all my liberty, my memory, my understanding, and my entire will, all that I have and possess. Thou hast given all to me. To Thee, O Lord, I return it. All is Thine, dispose of it wholly according to Thy will. Give me Thy love and Thy grace, for this is sufficient for me.

---
July 23 2001 message
Messenger: I should contemplate
on how much God has given to me.
He has given me so much knowledge. He has given me my life.
I should contemplate on how much God loves me.
Jesus gave Himself for me.
Jesus gives Himself to me today in the Holy Eucharist.
I should think of how much God the Father loves me that
He gave His only Son, Jesus Christ.
Think of the love of the Holy Spirit.
We should ask God to give us
a deep understanding of His love for us.
Ask God to fill our hearts with fire for love of Him.
---
John 3: 16


For this is how God loved the world: he gave his only Son, so that everyone who believes in him may not perish but may have eternal life.
---
July 23 2001 message continues
Messenger: Think of our sins, how we have offended God
who is so good to us and ask God to
help us be sorry for our sins. We should
be honest looking at our faults. We should
examine our consciences.
We should go to confession.
Think of what a great gift confession is.
Think of what a great gift Mass is.
Oh God enlighten me to know my sins and be
sorry for them. Help me to grow deeper
and deeper in the spiritual life.
Oh God I want to know you.
Oh God I want to be likened to you.
Oh God please give me grace to love you
more deeply, to know you more
and to please you in my actions.
Oh God I love you so much.
Please God help me and hear my prayer. Amen.
Oh God, please forgive our ingratitude,
Oh God please forgive our sins.
Oh God we are sorry for our sins and the
sins of the world, grant us mercy
and grace.
Help us to have true sorrow for our sins.
Help us and forgive us.
Oh God, I love you so much.
Mary speaks: Meditate on the Mysteries of the Rosary.
Meditate on all 15 mysteries.
Meditate on Our lives.
If you meditate on the mysteries of the rosary
it will help you to be holy.
If you meditate on the mysteries of the rosary
it will help you live more and more as
my Son Jesus desires.
I am Mary your Mother. I love you so much.
---
Genesis 1: 26-27
God said, 'Let us make man in our own image, in the likeness of ourselves, and let them be masters of the fish of the sea, the birds of heaven, the cattle, all the wild animals and all the creatures that creep along the ground.' God created man in the image of himself, in the image of God he created him, male and female he created them.
---
July 23 2001 message continues
Jesus speaks: I love you, I love you, I love you,
I am Jesus the Son of God.
---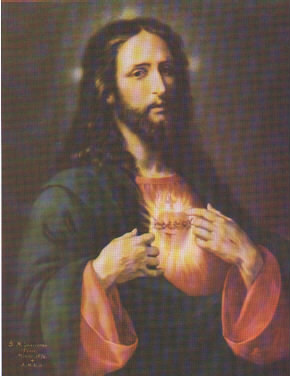 Prayer for Union with Jesus
Come to me, Lord, and possess my soul. Come into my heart and permeate my soul. Help me to sit in silence with You and let You work in my heart.
I am Yours to possess. I am Yours to use. I want to be selfless and only exist in You. Help me to spoon out all that is me and be an empty vessel ready to be filled by You. Help me to die to myself and live only for You. Use me as You will. Let me never draw my attention back to myself. I only want to operate as You do, dwelling within me.
I am Yours, Lord. I want to have my life in You. I want to do the will of the Father. Give me the strength to put aside the world and let You operate my very being. Help me to act as You desire. Strengthen me against the distractions of the devil to take me from Your work.
When I worry, I have taken my focus off of You and placed it on myself. Help me not to give in to the promptings of others to change what in my heart You are making very clear to me. I worship You, I adore You and I love You. Come and dwell in me now.
-God's Blue Book, January 17, 1994
---
Excerpt of The Spiritual Exercises of St. Ignatius, by Louis J. Puhl, S.J.

136. THE FOURTH DAY

A MEDITATION ON TWO STANDARDS

The one of Christ, our supreme leader and lord,
the other of Lucifer, the deadly enemy of our
human nature

PRAYER. The usual preparatory prayer.

window at a former Jesuit Seminary

137. FIRST PRELUDE. This is the history. Here it will be that Christ calls and wants all beneath His standard, and Lucifer, on the other hand, wants all under his.

138. SECOND PRELUDE. This is a mental representation of the place. It will be here to see a great plain, comprising the whole region about Jerusalem, where the sovereign Commander-in-Chief of all the good is Christ our Lord; and another plain about the region of Babylon, where the chief of the enemy is Lucifer.

139. THIRD PRELUDE. This is to ask for what I desire. Here it will be to ask for a knowledge of the deceits of the rebel chief and help to guard myself against them; and also to ask for a knowledge of the true life exemplified in the sovereign and true Commander, and the grace to imitate Him.


FIRST PART

THE STANDARD OF SATAN

140. FIRST POINT. Imagine you see the chief of all the enemy in the vast plain about Babylon, seated on a great throne of fire and smoke, his appearance inspiring horror and terror.

141. SECOND POINT. Consider how he summons innumerable demons, and scatters them, some to one city and some to another, throughout the whole world, so that no province, no place, no state of life, no individual is overlooked.

142. THIRD POINT. Consider the address he makes to them, how he goads them on to lay snares for men and bind them with chains. First they are to tempt them to covet riches (as Satan himself is accustomed to do in most cases) that they may the more easily attain the empty honors of this world, and then come to overweening pride.

The first step, then, will be riches, the second honor, the third pride. From these three steps the evil one leads to all other vices.


SECOND PART

THE STANDARD OF CHRIST

143. In a similar way, we are to picture to ourselves the sovereign and true Commander, Christ our Lord.

144. FIRST POINT. Consider Christ our Lord, standing in a lowly place in a great plain about the region of Jerusalem, His appearance beautiful and attractive.

145. SECOND POINT. Consider how the Lord of all the world chooses so many persons, apostles, disciples, etc., and sends them throughout the whole world to spread His sacred doctrine among all men, no matter what their state or condition.

146. THIRD POINT. . . .

end of excerpt of The Spiritual Exercises of St. Ignatius
---
Excerpt from Priestly Newsletter 1998 - ISSUE FOUR
Shortly before he was to die from cancer, Joseph Cardinal Bernardin left us these inspiring words about peace: "It is the first day of November, and fall is giving way to winter. Soon the trees will lose the vibrant colors of their leaves and snow will cover the ground. The earth will shut down, and people will race to and from their destinations bundled up for warmth. Chicago winters are harsh. It is a time of dying.

"But we know that spring will soon come with all its new life and wonder.

"It is quite clear that I will not be alive in the spring. But I will soon experience new life in a different way...

"What I would like to leave behind is a simple prayer that each of you may find what I have found—God's special gift to us all: the gift of peace. When we are at peace, we find the freedom to be most fully who we are, even in the worst of times. We let go of what is non-essential and embrace what is essential. We empty ourselves so that God may more fully work within us. And we become instruments in the hands of the Lord."
3
---
Notes:
3. Joseph Cardinal Bernardin, The Gift of Peace, Loyola University Press, pp. 151-153.


end of excerpt from Priestly Newsletter 1998 - ISSUE FOUR
---
Messenger: Jesus asks us to pray for special things.
Spread the Blood of Jesus, Consecrate their hearts,
Cast the Devil far away, ask for the coming of the Holy
Spirit.
1) Pray for urgent intention, a special priest
and all involved.
2) Pray for Father Mike and Father Laurentin.
3) Pray for special Bishops and Archbishops
4) Pray for a special man and son,
and family and all involved.
5) Pray for all priests, Bishops and Cardinals
receiving the Newsletter.
Pray for grace for them to respond especially
by beginning prayer chapters.
6) Pray for the telephone operators.
7) Pray for communication and business in
general.
8) Pray for people to respond to fund letters.
9) Pray for money to circulate pictures.
| | |
| --- | --- |
| | |
| March 5, 2001 | March 5, 2001 |
---
10) Pray for funds and grace.
11) Pray for all Shepherds of Christ apostles,
handmaids, servants.
12) Pray for availability Prayer manuals.
13) Pray for second priestly Newsletter Book.
14) Pray for documentary and all involved.
15) Pray for special intentions of our donors.
---
A Note from the President of Shepherds of Christ:
If you are devoted to Our Lady's rosary, we need your help! A member of our ministry is very devoted to Our Blessed Mother and he is helping to teach us how to grow our volunteer rosary makers. He estimates that we will need approximately $37,000 this year for beads alone! This translates into 22,339,500 rosary beads (yes, 22 million beads) assembled by volunteers into 378 thousand rosaries. The biggest users of our rosaries are the Catholic schools, who requested more than 100,000 rosaries last year.
Can you help us? I appeal to you for funds, whether large or small. We give because we love God, we love our Blessed Mother, and we love souls. We will accept gifts in many forms, besides cash or check donations, we can receive gifts directly in the form of stocks or property. These gifts can offer large tax advantages to the donor and increase the monetary value of the gift to us. Also if you can help assemble rosaries we need your help! If you can help us in anyway, please call or write us. God Bless!
I love you,
John Weickert
---

A rosary can be used to pray for healing. It is powerful to unite our prayers to the Holy Sacrifice of the Mass and pray through the powerful intercession of Our Lady of Clearwater.
In times of trouble, for special prayer, we can use our rosary and pray as follows.
A Rosary for Healing or for Someone with Cancer.
On one Hail Mary bead or as many as you desire, say:

May God heal through the intercession of Our Lady of Clearwater in union with the Mass and all the Masses being celebrated around the world.

Pray the Hail Mary or Hail Mary's then pray this after the Hail Mary.

May the cancer be uprooted and thrown into the sea.

We believe with all our hearts.

After the Glory Be — pray the following petition.

May be healed through the intercession of Our Lady of Clearwater if it be the holy will of God.
| | | |
| --- | --- | --- |
| | Note: You can look at Mary on the image rosary while you pray this rosary. | |
Note: The above section can be printed out from a PDF file, and you can pray the rosary looking at the pictures.
---
December 17, 2000, Mary speaks:

Help me to circulate my red and blue
Rosary Books and the
prayers my Son gives to you.

This is a gift we give you.
All the revelations are gifts given to you.
My Son is the Light of the World.
He is Jesus born in a stable.
Will you help me?
He is the Light of the World. Help me, help me
reach my children of the world.
To order your Rosary Book fill out this form and send your donation to Shepherds of Christ Ministries, PO Box 193, Morrow, Ohio 45152-0193, Telephone: (toll free) 1-888-211-3041 or (513) 932-4451.
Name: _________________ Street: _____________________________
City: _________________ State: _________________ Zip: ________
Donation price: $7 A $15 A $25 A $50 A $100 A Other $_____ A
---
Messenger: CAN YOU HELP US BY GIVING US ROSARIES FOR THE SCHOOLS REQUESTING THEM?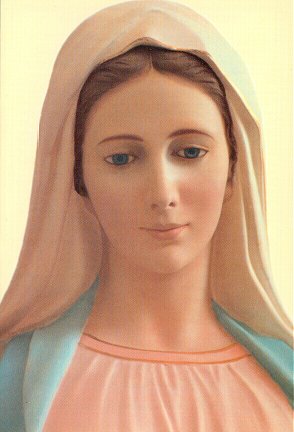 Mary speaks: PLEASE MAKE WALTER'S ROSARIES. THE SCHOOLS WANT ROSARIES AND THERE ARE NOT ANY ROSARIES LEFT.
---
Messenger: Pray for Ron, Fernando and Perry.
---
Prayer List for apostles for interior use in the Movement. Pray hourly.
Spread the Blood of Jesus on everyone involved with Shepherds of Christ in any way, consecrate their hearts, cast the devil out, pray for coming of the Holy Spirit in a special way for all people involved on this list.

Please pray for one new very important intention.
Pray for the 5 urgent intentions.
Pray for the Pope and everyone we need to help us.
* Pray for the priestly newsletter, for funds for it and for all involved.
Pray for the taping of the priestly newsletter.
Pray for the reproduction of disks.
Pray for the Newsletter that
is being sent from China and from Cincinnati.
Pray for priests receiving the Newsletter for grace.
Pray for fund letters, all donors, and getting the right names.
Pray for setting up telephone communications at the Morrow Center for priests receiving the newsletter and wanting the Prayer Manuals.
Pray for open communications within the Shepherds of Christ Ministries.
Consecrate Hearts of all Priests in the world saying Mass today.
Pray for the Reign of the Sacred Heart and the great Era of Peace.
Pray for vision.
Pray for the prison ministry.
Pray for Father M.
Pray for the Church and the world.
Pray to make amends to God for the sins of the men of this earth.
Pray to make reparation to the Hearts of Jesus and Mary.
Pray for Don, Bob, Reggie, Bush, all donors and those who Jesus wants to help us financially.
Pray for Father Carter and the Jesuits, the people at Colombiere.
* Pray for 2 special priests.
* Pray for funds and grace.
Pray for designated priests, Fr. Mike, Fr. Peter, Fr. Laurentin, Fr. Joe, Fr. Lou B., Fr. Smith, Fr. Ken, Fr. Sevilla and all priests involved in the Imprimaturs translations including all bishops and all bishops over us. Pray for Bishop Ed, Fr. Don, Fr. Tom, Fr. Hagee and special priests, priests who help us in China, and priests who help us in Florida.
Pray for Father's sister Merle, for all of us servants, handmaids, apostles and vocations to all 7 categories.
Pray for the Internet team and the daily messages.
Pray for people reading the Internet.
Pray for prayer book, Mass Book II, and Daily Message Books.
Pray for all covers, pray for Cathy.
Pray for an audience with the Pope.
Pray for all Jesuits involved, all those over us.
Pray for Mike and Dan.
Pray for the rights to the books, pray for Jesuits in Father's house.
Pray for the process of getting Father's books on the Internet.
Pray for money to reprint the books.
Pray for the printing of the Priestly Newsletter Book II and the funds to do it.
Pray we can send it to all bishops and Jesuits.
Pray for Fernando, Ron, Joseph, Peter, Ed, Jane, Sonia, Don, Sue & Ken.
Pray for Perry and family and discernment.
Pray for all sub-centers and all out-of-state rosaries; Denver, Iowa, Pennsylvania, Toledo, St. Louis, Memphis and California.
Pray for the nursing home mailing, bus mailing.
Pray for Genevieve's daughter and Sheila's mom and the repose of the soul of Jerry's dad.
Pray for Paul and Joan
Pray for B & M, pray that we can buy it and Tina and Terry, all printing jobs, companies involved.
Pray for 5th, the 13th, the 17th.
Pray hourly for the Rosary on the 5th & all attending and those traveling to Florida.
Pray for building up of Morrow, Ohio, Dale, Indiana, Toledo, Ohio, Sidney, Ohio, Iowa, and other sub-centers.
Pray for the Holy Spirit Center and all involved.
Pray for all our families, children in school, college mailing.
Pray for lots and lots of people to help us get prayer manuals and pictures.
Pray for Rosary Factory and rosary beads.
Pray for lots of rosary makers and rosaries for the schools.
Pray for Paul C., Margaret Mary, Steve and Sheila, Monica, Angie, Marian, Cathy, Joe, Nick, Mary, Emily, Joe, Doris, Glaci, Dunkers, Joan R., Morgan, Mark, Walter, Janice, Mike A., Margaret, Ron, Harold, Scott, Nathan, Don, Rosalie, and Dennis.
Pray for everyone who has asked us to pray for them.
Pray for Steve and Sheila and repairs.
Pray for Fred and all involved with him becoming a priest
Please pray for all Shepherds of Christ children.
Pray for Victor's son, Michael. (Victor and Frances)
Pray for Delores and organization of writings and other material.

Last revised July 18, 2001
---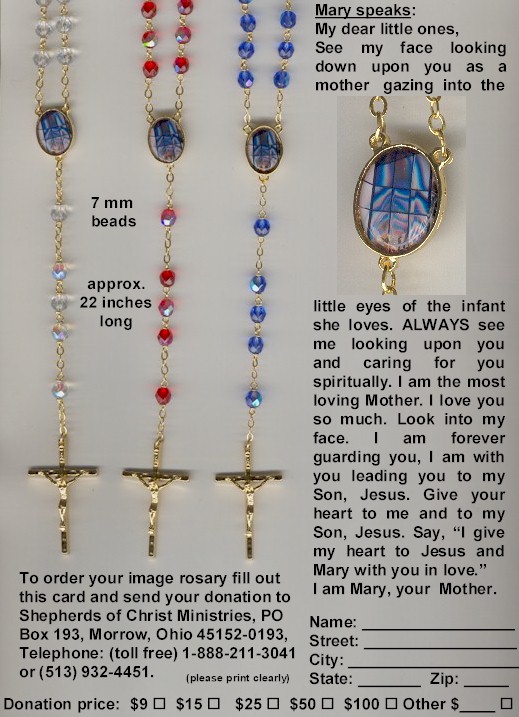 (Please copy and pass out to family and friends.)
---
MY VALENTINE FOR JESUS AND MARY
AND THE WORLD

I _________________ give my heart to
You Jesus and Mary on this day
_________________
I promise to help spread the devotion to
the Hearts of Jesus and Mary.
---
Question for married couples and others in intimate relationships:
Q:

"How can we become more one in our prayers and one in our work helping to support the Shepherds of Christ Movement as His leader Shepherd of Christ Apostles?"

If you are not Shepherd of Christ married apostles answer this question:

"How can we become more one in our prayers and one in our work helping to support Jesus' Movement, Shepherds of Christ?"
---
---
---

Copyright © 2001 Shepherds of Christ.
Rights for non-commercial reproduction granted:
May be copied in its entirety, but neither re-typed nor edited.
Translations are welcome but they must be reviewed for moral and
theological accuracy by a source approved by Shepherds of Christ Ministries
before any distribution takes place. Please contact us for more information.
All scripture quotes are from the New Jerusalem Bible, July 1990, published by Doubleday.
Revised: July 23, 2001
URL: http://www.SofC.org
Contact Information for Shepherds of Christ
Email: info@SofC.org
---
Shepherds of Christ Ministries
PO Box 193
Morrow, Ohio 45152-0193

Telephone: (toll free) 1-888-211-3041 or (513) 932-4451
FAX: (513) 932-6791