Mary has requested that the daily message be given each day to the world. It is read nightly at the prayer service from her Image Building in Clearwater, Florida, U.S.A. This is according to her request. All attempts will be made to publish this daily message to the world at 11 p.m. Eastern time, U.S.A.

---

We acknowledge that the final authority regarding these messages rests with the Holy See of Rome.

---
July 26, 2002
July 27th Holy Spirit Novena
Scripture selection is Day 7 Period I.
The Novena Rosary Mystery
for July 27th is Joyful.

A Prayer for Intimacy with the Lamb,
the Bridegroom of the Soul

Oh Lamb of God, Who take away the sins of the world, come and act on my soul most intimately. I surrender myself, as I ask for the grace to let go, to just be as I exist in You and You act most intimately on my soul. You are the Initiator. I am the soul waiting Your favors as You act in me. I love You. I adore You. I worship You. Come and possess my soul with Your Divine Grace, as I experience You most intimately.

---
Pray for 4 urgent intentions.
Pray for a particular bishop and cardinal.
Pray for the pope.
Pray for all the bishops of the world.

We desperately need funds.
Please pray for this.
---
A Prayer before
the Holy Sacrifice of the Mass
Let me be a holy sacrifice and unite with God in the sacrament of His greatest love.

I want to be one in Him in this act of love, where He gives Himself to me and I give myself as a sacrifice to Him. Let me be a holy sacrifice as I become one with Him in this my act of greatest love to Him.

Let me unite with Him more, that I may more deeply love Him. May I help make reparation to His adorable Heart and the heart of His Mother, Mary. With greatest love, I offer myself to You and pray that You will accept my sacrifice of greatest love. I give myself to You and unite in Your gift of Yourself to me. Come and possess my soul.

Cleanse me, strengthen me, heal me. Dear Holy Spirit act in the heart of Mary to make me more and more like Jesus.

Father, I offer this my sacrifice, myself united to Jesus in the Holy Spirit to You. Help me to love God more deeply in this act of my greatest love.

Give me the grace to grow in my knowledge, love and service of You and for this to be my greatest participation in the Mass. Give me the greatest graces to love You so deeply in this Mass, You who are so worthy of my love.

-God's Blue Book, December 27, 1995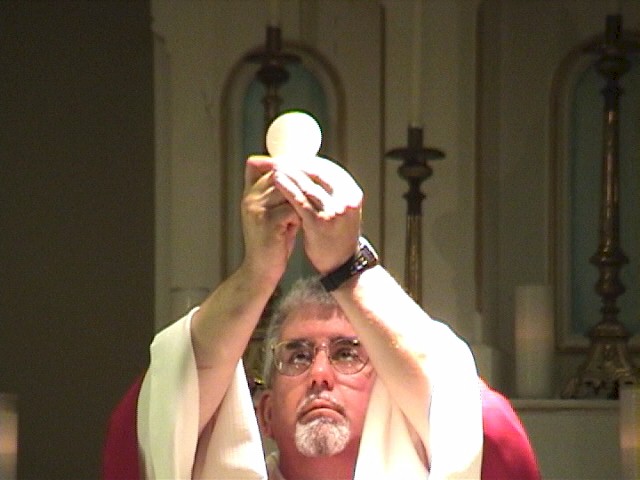 July 26, 2002
Messenger: We give our lives to God.
We offer our lives to Him, a sacrifice.
A sacrifice is an offering.
We see the Holy Sacrifice of the Mass.
We see the priest offer the sacrifice.
The Holy Sacrifice of the Mass is
the sacrifice of Calvary
sacramentally made present.
---
We quote from Father Carter's book,
Response in Christ
(for any further information click here)
5) Partaking of the Eucharistic Meal

The cycle of the eucharistic sacrifice is completed as the priest and faithful partake of Christ the paschal lamb. The People of God have given Christ to the Father. Now the Father gives Christ to the Church's members in the eucharistic meal. Although the priest alone must communicate to assure the integrity of the sacrifice, it is highly desirable, of course, that all present partake of the eucharist.

In the sacrifices of old, the victim of the sacrificial banquet was considered in some sense divine by the fact that it had been offered to the divinity. In the sacrifice of the new covenant we receive divinity itself through the sacred humanity. With such a marvelous conclusion to the eucharistic sacrifice, the fruits of Christ's sacrifice of Calvary are continually experienced.

There are other truths to be considered under the paschal meal aspect of the Mass. One of these is the concept of the eucharist as sign and cause of unity. Von Hildebrand comments on this: "All receive the one body of the Lord, all are assimilated into the one Lord. Even if we leave aside the supreme ontological supernatural unity which is realized here, the very act of undergoing this experience represents an incomparable communion-forming power."37

Through the sharing of the one paschal lamb, the Christian assembly has thus been vividly reminded of their oneness in Christ. Yet this is a oneness in plurality. For each Christian is a member of the one Body of Christ in his own unique way. He has been called upon to assimilate Christ according to his own personality, vocation and graces. Consequently, just as the members of the People of God are reminded of their unity at Mass, so are they made aware of their own uniqueness as they depart from the eucharistic assembly, each carrying Christ to his own particular environment according to his own individual personality.

end of excerpt from Response in Christ
---
July 26, 2002 message continues
Messenger: We see Jesus.
They pierced His side.
What came forth was Blood and water.
The sacramental life of the Church
flows from His pierced side.
Love is a sacrifice.
Love can demand a large amount of our time.
A loving mother sacrifices for her children.
A loving father sacrifices for his children.
In the Mass, we see the altar.
We see the priest offer sacrifice.
In the Mass I unite with all the angels
and saints in heaven and the
souls in purgatory.
We come to offer sacrifice at Mass.
The Holy Sacrifice of the Mass
goes on all over the world.
As members of the body of Christ
we are united to the Holy
Sacrifice of the Mass in
a special way.
Even when we are not attending Mass
we should feel this connection and
offer up all we do united to the
Masses being celebrated around
the world.
We do this in the Morning Offering.
Here is a very short form.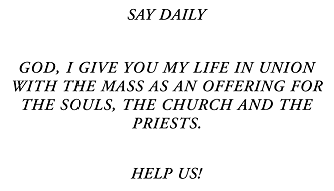 July 26, 2002 message continues
Messenger: Great grace can be released because of
our offering our lives to God
especially united to the Mass.
When we die our lives were
an offering to all we touched.
It can be that we touch them
in a good way or we
may not influence them
in a good way.
The rain falls to the ground,
it falls and waters the earth.
A baby is born and their life
affects others.
Oh God I pray that the truth
be known on this earth.
I pray that men know God as
He truly is.
I pray that men have an intimate
union with their Father and
know Him and live to do
His will.
I pray that men know Jesus, know
His burning love for them,
know about Jesus truly
present in the Holy Eucharist.
I pray men know Jesus so
intimately they live that
bridal spousal union with
Him in their soul.

I pray that Christians identify
with Christ.
I pray they make Him the King
and center of their hearts.
I pray that Christians live to
be more Christ-like everyday.
---
Genesis 1: 26-27
God said, 'Let us make man in our own image, in the likeness of ourselves, and let them be masters of the fish of the sea, the birds of heaven, the cattle, all the wild animals and all the creatures that creep along the ground.'

God created man in the image of himself,
in the image of God he created him,
male and female he created them.
---
July 26, 2002 message continues
Messenger: I pray that we too will know the
Holy Spirit most intimately,
that the power of the Holy
Spirit will fill us with the
fire of His love. I pray that we
will be filled with the Holy Spirit.
I pray that we will be filled with light.
I pray that men will know
God most intimately,
Father, Son and Holy Spirit.
When asked what I believe I say with
all my heart
---
Apostle's Creed
I believe in God, the Father Almighty, Creator of heaven and earth; and in Jesus Christ, His only Son, our Lord; who was conceived by the Holy Spirit, born of the Virgin Mary, suffered under Pontius Pilate, was crucified, died and was buried. He descended into hell; the third day he arose again from the dead; he ascended into heaven; sits at the right hand of God the Father Almighty; from thence he shall come to judge the living and the dead. I believe in the Holy Spirit, the Holy Catholic Church, the communion of Saints, the forgiveness of sins, the resurrection of the body, and life everlasting. Amen.
---
July 26, 2002 message continues
Messenger: Youth who attend Mass and pray the
rosary are given a great gift.
Look at the Mass and the Creed said
in many Masses.
Look at how the love of God, the Father,
Son and Holy Spirit are outpoured
in the Mass.
Look at the willingness of Abraham to
sacrifice his son, Isaac.
The Father gave His only Son as a sacrifice
for our sins.
Look at the tender love of Our
God shown to us in the Holy
Sacrifice of the Mass.
---
Very carefully discerned by Fr. Carter
February 23, 1997

Sacrifice

Messenger: When I go to Mass I offer a sacrifice. God wants our all. He wants to be first in our life. He asked Abraham to sacrifice his son.

Gen. 22:1-2, 9-13, 15-18:

It happened some time later that God put Abraham to the test. "Abraham, Abraham!" he called. "Here I am," he replied. God said, "Take your son, your only son, your beloved Isaac, and go to the land of Moriah, where you are to offer him as a burnt offering on one of the mountains which I shall point out to you.

When they arrived at the place which God had indicated to him, Abraham built an altar there, and arranged the wood. Then he bound his son and put him on the altar on top of the wood. Abraham stretched out his hand and took the knife to kill his son.

But the angel of Yahweh called to him from heaven. "Abraham, Abraham!" he said. "Here I am," he replied. Do not raise your hand against the boy," the angel said. "Do not harm him, for now I know you fear God. You have not refused me your own beloved son." Then looking up, Abraham saw a ram caught by its horns in a bush. Abraham took the ram and offered it as a burnt offering in place of his son.

The angel of Yahweh called Abraham a second time from heaven. "I swear by my own self, Yahweh declares, that because you have done this, because you have not refused me your own beloved son, I will shower blessings on you and make your descendants as numerous as the stars of heaven and the grains of sand on the seashore. Your descendants will gain possession of the gates of their enemies. All nations on earth will bless themselves by your descendants, because you have obeyed my command.

The Father gave His Son for us. This is how great the Father's love is for us.

When we go to the altar many times we are suffering. We want something really bad, but we know we love God the most. What the Father asks for us is to offer that which we are so attached to as a sacrifice, united to the sacrifice of His Son, Jesus. If we offer this sacrifice to Him, the Father will pour out blessings that will be divine blessings, greater than anything we could have here on earth.

The Mass is the perfect sacrifice we offer to the Father, in which God pours out His blessings and we are one with Him and with all others in a profound expression of love. God shares His divine love with us and we partake in an intense way in His divine loving capacity. In order to become one in Him and to feel His love like this, we must surrender ourselves and be open.

He told Abraham to offer his son. God gave him his son back. He wanted Abraham to love God above all things and people.

Jesus offered Himself as a sacrifice to the Father. This is the most pleasing sacrifice to the Father. If He gave His Son Who died for love of us, will He deny us when we unite our petitions with Jesus and offer these at the Holy Sacrifice of the Mass?

He took them to the highest mountain and He was transfigured before them in the greatest light.

Mark 9:2-10:

Six days later, Jesus took with him Peter and James and John and led them up a high mountain on their own by themselves. There in their presence he was transfigured: his clothes became brilliantly white, whiter than any earthly bleacher could make them. Elijah appeared to them with Moses; and they were talking to Jesus. Then Peter spoke to Jesus, "Rabbi," he said, "it is wonderful for us to be here; so let us make three shelters, one for you, one for Moses and one for Elijah." He did not know what to say; they were so frightened. And a cloud came, covering them in shadow; and from the cloud there came a voice, "This is my Son, the Beloved. Listen to him." Then suddenly, when they looked round, they saw no one with them any more but only Jesus.

As they were coming down from the mountain he warned them to tell no one what they had seen, until after the Son of man had risen from the dead. They observed the warning faithfully, though among themselves they discussed what 'rising from the dead' could mean.

We go to the altar of sacrifice. The mountain to come, in which so many graces will flow, is the altar of sacrifice where the Holy Sacrifice of the Mass is offered through the hands of consecrated priests.

We hear the Father say, "This is My beloved Son in whom I am well pleased, listen to Him." He is speaking to us. He is the Word. He is speaking in these messages. He is unveiling the Scriptures and speaking to us in plain talk. This is a great gift He is giving to us.

We are transformed in the Mass. We unite with the greatest sacrifice offered in the Holy Sacrifice of the Mass. We have the most perfect sacrifice to offer to the Father when we offer this sacrifice. He gives us great blessings. We die to ourselves, we become white.

We must unite all of our sacrifices to this Holy Sacrifice of the Mass being said all over the world. This is the greatest way to magnify all of our offerings - by uniting everything we do as an offering, a sacrifice to the Father in union with His Son.

end of February 23, 1997
---
Excerpt from Newsletter 2001 - Issue 1
Yes, the Good Shepherd laid down His life for us. And it is in this that we must lay down our lives daily in the Morning Offering, offering all we do as a sacrifice united to the Holy Sacrifice of the Mass and great grace will be released for souls. We can identify with Him in this that we offer everything we do in trying to please Him and serve Him as a sacrifice united to the Mass. The more we tell others to pray the Morning Offering, the more people will lay down their lives for souls and the more grace will be released for the troubled hearts.

Jesus' Heart is pure and holy, our hearts are tainted.

Mary's Heart is pure and sinless. The more we unite our offering with Their pure and holy Hearts, the more pure our offering and the greatest grace will be released for the troubled souls.

Souls, it is souls He came to save. Do we want to identify with our beloved Savior? Then we must not miss an opportunity to lay down our lives as a sacrifice for His precious souls.

Oh, how His Heart burned with love for the souls when He mounted the cross, covered with Blood and gave Himself as a sacrifice for souls.

Yes, the Good Shepherd laid down His life for His flock and we as His faithful shepherds must lay down our lives for His flock today.

There are millions of elderly that cry out daily, "Oh, God why am I here today?" In giving them a small card as simple as the ones that follow, they can offer their lives for souls which can help bring down great grace for the souls of this earth.

Say daily

God, I give you my life in union
with the Mass as an offering for
the souls, the Church and the
priests

Help us!



Your life is so important for souls,
you can help bring down great grace.

Morning Offering

My dear Father, I offer you this day all my prayers, works, joys, and sufferings in union with Jesus in the Holy Sacrifice of the Mass throughout the world, in the Holy Spirit.

I unite with our Mother Mary, all the angels and saints, and all the souls in purgatory to pray to the Father for myself, for each member of my family, for my friends, for all people throughout the world, for all the souls in purgatory, and for all other intentions of the sacred Heart.

I love You, Jesus, and I give You my heart. I love you, Mary, and I give you my heart. Amen.

Imprimatur: Most Reverend Daniel E. Pilarczyk, Archbishop of the Archdiocese of Cincinnati, January 22, 1997. (applies to this prayer only)

Offering Our Lives to God

Written May 29, 2000:

When we come to Mass we make an offering of ourselves, all our sorrows, wounds, joys, our complete selves. We see our lives and we put ourselves in Mary's Heart, ask to make the offering in greatest purity. In His Heart we offer the sacrifice IN HIM and WITH HIM.

We become one with Him as deeply as possible. We dwell in His most perfect Heart offering sacrifice to God for our sins and the sins of men. Our whole being is very active in the Mass as we realize more the power of this Sacrifice most worthily offered. We want to give ourselves as completely as possible, our past, all of ourselves, now become so one in the moment of sacrifice as we become one in Him pleading and begging to our God for purification, for help, for love of Him and all others. We give thanksgiving, worship and honor to Him, our whole being given as a sacrifice on the altar IN His pure and holy Heart. Being in the Immaculate Heart of our Mother, we offer sacrifice for the Church and the world.

We offer every precious moment of our lives, united to the Masses around the world, being one in Jesus. Every moment is a moment of sacrifice united to God. This is what we do in the Morning Offering.

The pages of the book of our lives are being written. These moments of our lives are so dear to God, for we offer our lives as a sacrifice for souls.

Are we spending the precious moments of our lives offering sacrifice to God for His honor and glory and giving our lives as a sacrifice for souls?

Write a short page every day or the following day, similar to an examination of conscience, seeing the good (so much good we accomplish we overlook, so many precious moments of joy we forget) and the times we were troubled.

The devil tries to keep us focused on the problems.

We are His shepherds, helping to shepherd His flock, there is so much good we can accomplish every day.

We should write a short page every day, date it, read over it when we are troubled, keep it in a book, see how many joyful moments we have every day.

Give them to God as a bouquet of flowers placed at His feet on that last day, the pages of the life of our book.

We will want all pages to be done in love, all for the honor and glory of God.


Through Him, With Him
and In Him

We should pray the prayer from Jesus before His bitter passion.

I pray not only for these but also for those who through their teaching will come to believe in me. May they all be one, just as, Father, you are in me and I am in you, so that they also may be in us, so that the world may believe it was you who sent me. I have given them the glory you gave to me, that they may be one as we are one. With me in them and you in me, may they be so perfected in unity that the world will recognise that it was you who sent me and that you have loved them as you have loved me.

Father, I want those you have given me to be with me where I am, so that they may always see my glory which you have given me because you loved me before the foundation of the world. Father, Upright One, the world has not known you, but I have known you, and these have known that you have sent me. I have made your name known to them and will continue to make it known, so that the love with which you loved me may be in them, and so that I may be in them. (Jn 17: 20-26)

Jesus' Heart is on fire for love of us.

God the Father loves us so much, give Him the moments of our lives as a sacrifice.

Peace, Love, Oneness – One Body In Him.

Our prayers are answered. We must pray from the depth of our hearts. Giving ourselves in consecration to Jesus, consecrating our hearts to the Immaculate Heart of Mary.

Offer sacrifice.

Put the flowers as gifts beneath the throne of God.

Plead and beg for souls.

Offer sacrifice. Be united as a body.

And the bell tolls.

Do you hear the bells toll?

The moments of our lives we cannot live again.

We are here to love and honor God and to serve Him, to prepare ourselves for the life hereafter and to help others get there.

He is the Son of God.

He showed us how to be children of the Father.

He laid down His life for His flock.

He is the Good Shepherd.

We lay down our lives in our Morning Offering.

We lay down our lives and unite to the perfect Sacrifice of the Savior.

The moments go by with such swiftness and now here is the day, the kids are grown, the grandchildren have come, and we still say, "TOMORROW I will be about my union with God."

There are so many precious moments that could have been united as a sacrifice for special grace for ourselves and others.

When He was here on earth, He merited grace by His life and death.

We need to tap into this grace our Divine Savior came to earth to gain for us.

We must tap into this sacrifice.

The moments of our lives tick away. There are millions of souls in nursing homes that could be offering up their lives for souls. We have to unite ourselves and reach them, all the souls that will hear us and unite to this Holy Sacrifice of the Mass. He is the Head, we are the members of His body, the Church. We must be united in the Mass, praying every moment together, being one in Him in this Holy Sacrifice so that great grace will be released.

All our most difficult trials, when we endure them with love, can help to bring down great grace.

The moment is now.

The bell is tolling.

I can only live in this moment.

I must unite it to the Holy Sacrifice of the Mass, praying for souls.

Every moment, whether of joy or suffering, can be a moment of grace being released for our needs, for the salvation of souls, to make reparation to God, to honor and love Him and obey Him.

OUR LIVES ARE INDEED PRECIOUS, every moment, a moment that our Father gave us as a child of God for His honor and glory.

Alleluia – God, help us unite as a body.

Alleluia – God, help us to see ourselves all one as the family of the Father with Mary our loving Mother.

How will the page of our book look for the Father? Whether we write or not, we lived it as He willed or we lived it against His will.

Were our moments, moments to give Him honor and glory, to help promote the kingdom, to help save souls and lead others to God? Did the moments help us have a higher place in heaven? Did we mature more in our love relationship with God?

Here are the flowers over the bed where Father Carter died. Before he died he requested these news-letters be continued with his writings. Father Carter wrote 17 books and 33 newsletters in the 33 years he wrote during his life. Father Carter very carefully helped prepare this writing in those last days so his writings will continue. THE MISSION given to him by God to reach the priests was twofold.

His mission was to reach the priests with these newsletters centered in consecration and to begin prayer chapters centered in consecration to pray for the priests and the renewal of the Church and the world.

His desire being that his writings be published in future newsletters and along with other articles, that prayer chapters be begun praying these prayers.

Tapes are available with this newsletter and Father Carter, himself, prays these short prayers he gave to us in the prayer manual for this purpose. A prayer manual is enclosed. Also on the tapes, another priest reads the powerful writing of Father Carter on Grace.

In the last three months of his life, he firmly directed how he desired the newsletter to be continued.

Our precious moments are to be petals of flowers we give to our Father for that last day.

The moments of our lives are being written. He has them all recorded in our book of life.

August 8, 1946.

Today is the day I was born into the world.

What a glorious day it was, for I came and had the opportunity to gain heaven and help others do likewise.

The bell tolls.

The long night will soon be over.

A new spring day buds forth.

In the fall, the leaves give way to winter and soon we see the days are gone and past. How did we love and serve the Lord?

end of excerpt from Newsletter 2001 #1
---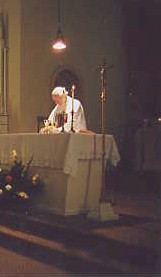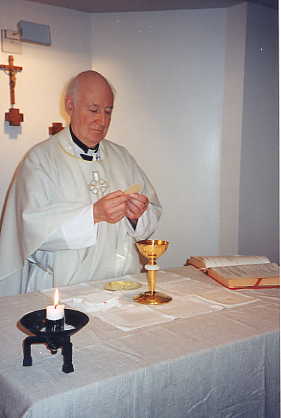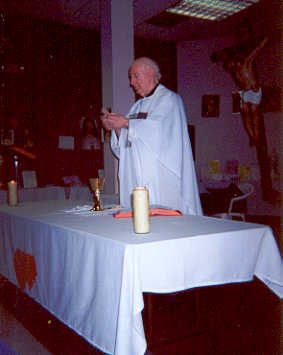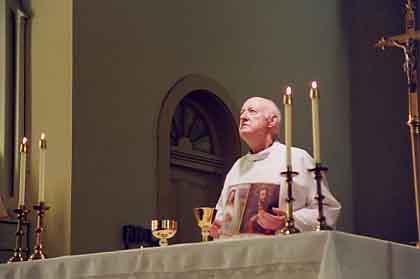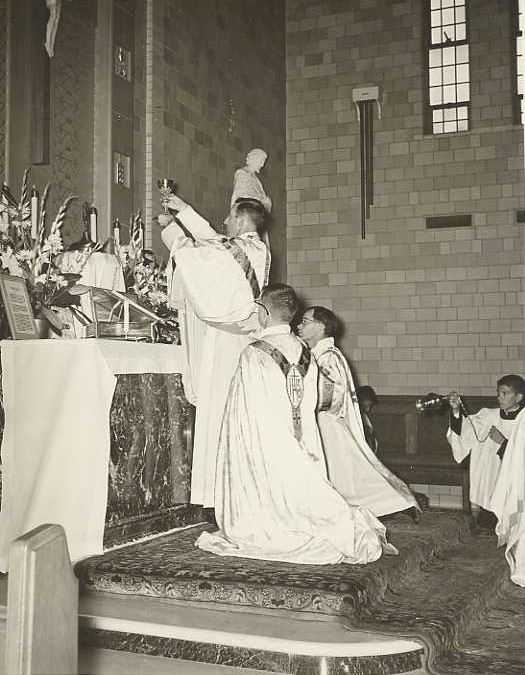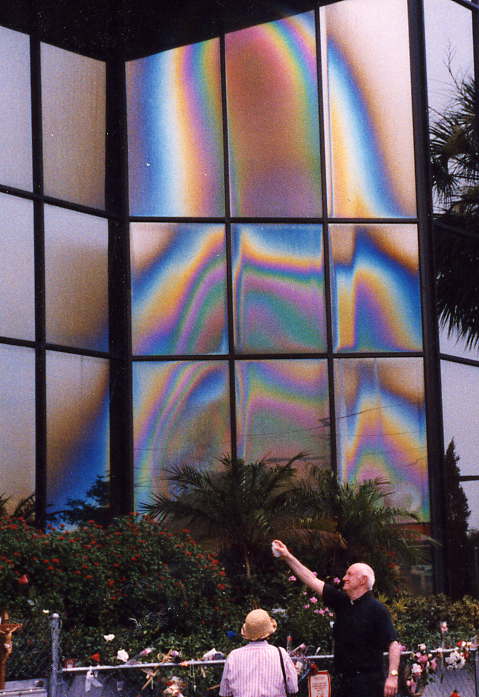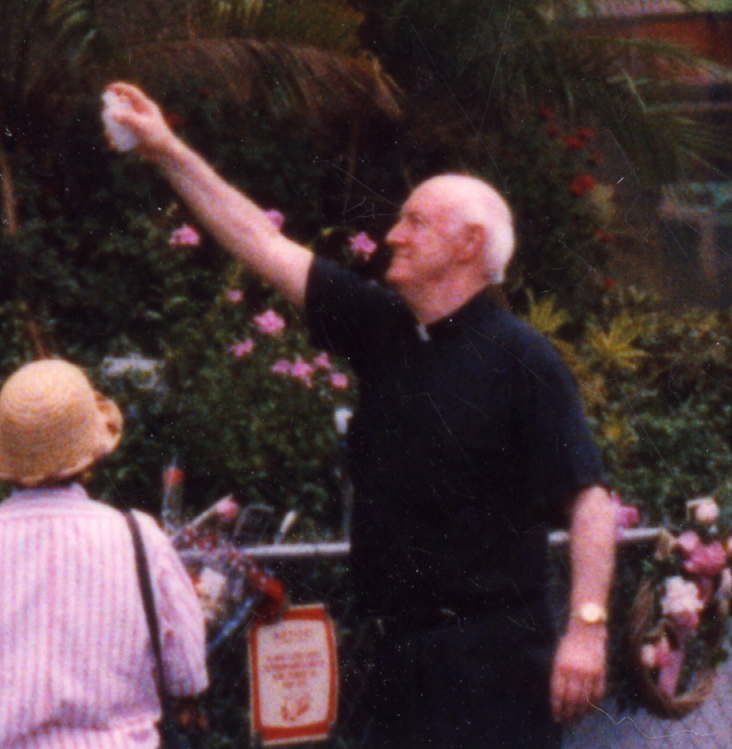 July 26, 2002 message continues
Messenger: There is a Mass Video where Fr. Mike
talks about this.
It is available, it is so powerful
only 33 minutes.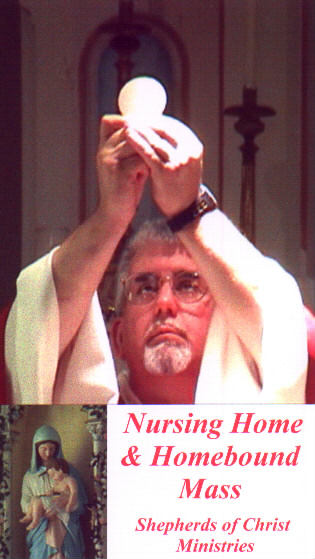 July 26, 2002 message continues
Messenger: Cards for the say Daily Card can
be downloaded and
given to youth, elderly,
to all.
---
---
---
Copyright © 2002 Shepherds of Christ.
Rights for non-commercial reproduction granted:
May be copied in its entirety, but neither re-typed nor edited.
Translations are welcome but they must be reviewed for moral and
theological accuracy by a source approved by Shepherds of Christ Ministries
before any distribution takes place. Please contact us for more information.
All scripture quotes are from the New Jerusalem Bible, July 1990, published by Doubleday.
Revised: July 26, 2002
URL: http://www.sofc.org
Contact Information for Shepherds of Christ
Email: info@SofC.org
---
Shepherds of Christ Ministries
PO Box 193
Morrow, Ohio 45152-0193

Telephone: (toll free) 1-888-211-3041 or (513) 932-4451
FAX: (513) 932-6791