Mary has requested that the daily message be given each day to the world. It is read nightly at the prayer service from her Image Building in Clearwater, Florida, U.S.A. This is according to her request. All attempts will be made to publish this daily message to the world at 11 p.m. Eastern time, U.S.A.

---

We acknowledge that the final authority regarding these messages rests with the Holy See of Rome.

---
---
A Prayer for Intimacy with the Lamb, the Bridegroom of the Soul

Oh Lamb of God, Who take away the sins of the world, come and act on my soul most intimately. I surrender myself, as I ask for the grace to let go, to just be as I exist in You and You act most intimately on my soul. You are the Initiator. I am the soul waiting Your favors as You act in me. I love You. I adore You. I worship You. Come and possess my soul with Your Divine Grace, as I experience You most intimately.
---
Messenger: Include Our Lady of the Holy Spirit Center in 6:20 prayers.
---
Messenger: Tomorrow is the Feast of St. Ignatius Loyola, July 31, 2000.
Jesus speaks: This is a message for My sub-center in Sidney, Ohio, and for all sub-centers.
A program has been designed by Me that will bring forth great fruit for the Kingdom. As you continue as a body praying as a network of prayer chapters, the light will steal across the sky and little cities of light consecrated to Our Hearts will shed great light to a darkened world.
You are Shepherds of Christ, this is My calling to you to be involved in the renewal of the Church and the world that great fruit will be brought forth for the Kingdom.
I ask you to review the stories of the past few days. The funerals of treasured grandfathers. A father or mother many times leaves behind children. As shepherds of Christ you will leave behind children that are fruit for the Kingdom. You see the man dies, and his family left behind, lives in the world with the teachings of the father, the love he passed down to them alive in their hearts. The children are taught many things at an early age. Mothers and fathers are teachers, hopefully of what is true and right.
I ask you to help to lead the human family into My Heart. There they will find truth. I am the Way, the Truth and the Life. You create little centers of prayer, My shepherds, leading people all over the world home into My Heart. There in My Heart all will be one. Oh, the devil has come and led so many of My little sheep astray.
My Movement, Shepherds of Christ, and My prayers given are an instrument I have given to lead the strayed ones home to My Heart.
And when you die and your body is laid in your coffin, you have a legacy behind you--fruit for the Kingdom, men dwelling in Our Hearts. I am the first fruits of Mary's womb. My children come forth as the fruit of heaven. Oh, My married ones, grandfathers, grandmothers, mothers, fathers, the pews at your funeral should be lined with your children and their children and your ways taught and lived, live on in your children, but what if you weren't rooted in God? Whatever you are, lives on in the hearts of those you touched.
Now My Shepherds of Christ family, it would be ideal that your families are one in this mission with you. Whether they are so or not, you must balance your lives between the call of Jesus to a mission of bringing forth children for the Kingdom from the human race and bringing forth your own children in your physical family.
Servants and handmaids devote their lives in bringing forth fruit for the Kingdom of God. (Some servants and handmaids have been married and have older children, they still maintain some connection with them, but are dedicated to their new life as special spouse of Jesus.) This is the mission I am calling you to, to help build little cities of light. In these little cities of light men are so rooted in God's will. I am directing you as My family in the Shepherds of Christ. I want My Church to be a city coming down from heaven as a Bride adorned for her husband. In this city the children bring forth fruit for the Kingdom.
As little centers connect with the church, praying the prayers there for renewal for the priests, the Church and the world, and attend Mass sometimes daily together, their hearts are united in a special way through consecration. I promise these little communities will be little cities of light.
I want to renew My churches that they are so one in Me through living their consecration more fully, living more fully their baptismal commitment, their confirmation to be apostles for Christ.
My main centers are centers of communication, distribution and contact. All are centered primarily in prayer and consecration. It is necessary in community that there is frequent prayer, especially attending the Eucharistic Sacrifice together and participating in a communal consecration program. This will bind the hearts together in Our Hearts. They will be united to Me, Jesus, the Chief Shepherd of the Flock.
The priestly newsletter is given to instruct, to lead My precious priest sons into a deep oneness with Me so that My Church will live more fully as the Bride of Christ in the Holy Spirit; that those members of My Church give their lives united to the Mass praying as a body; that members of My Body will live as the bride of the Lamb. I want My priests to live more fully their lives of consecration. I want them to be the fruit of the spiritual womb of Mary, Mother of My Church. I want them to go through her spiritual womb, her Immaculate Heart, and bring forth children, fruit for My Kingdom. My priestly newsletter will help lead souls to My Eucharistic Heart, I will feed them with My Body.
Oh, what is your legacy? Are you laboring to bring forth the children?
Why does Mary appear on the building?
---
Revelation 12: 1-2
Now a great sign appeared in heaven: a woman, robed with the sun, standing on the moon, and on her head a crown of twelve stars. She was pregnant, and in labour, crying aloud in the pangs of childbirth.
---
Jesus speaks: Yes, she labors, Our Lady of Clearwater. There is so much mud in their eyes they do not see. Did they sink in the mud, what is with you? She appears in Clearwater.
What would the blind man do if he found in an instant the blindness came from a coating of mud on his eyes?
Oh, My child, he would remove the mud from his eyes and see.
---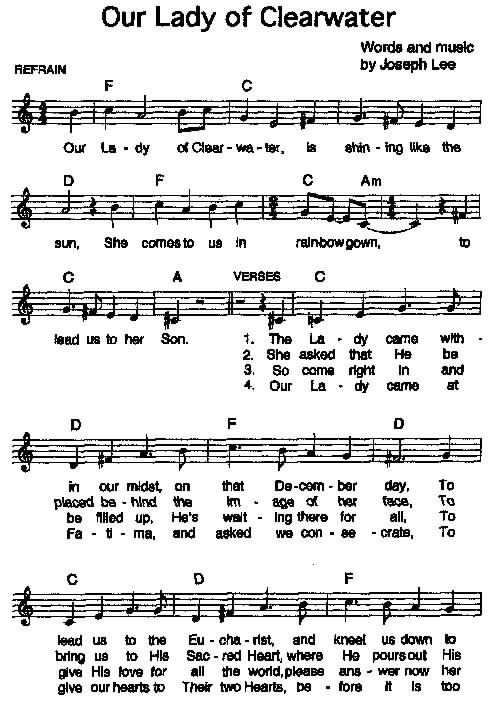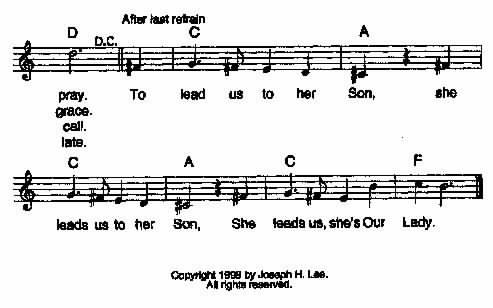 ---
Jesus speaks: Do you want to be a child of the light?
You must come forth as I did from the womb of the Lady.
She is the Lady of Light.
She is Mary, the one that is the Lady of Victory.
She is the Mother of the children of light.
She is the New Eve. She comes to lead you to My Eucharistic Heart. I feed you with Myself. My Church is the fountain of life.
Your eyes were blinded. When you come forth from the spiritual womb of the woman conceived without sin, you go to her spiritual womb and the Holy Spirit brings you forth more and more in My image. The Incarnation goes on in you and My light shines in your hearts.
Children of the light are children of Mary.
Little centers of light.
I am Savior. I am God. I am the Light, My Heart is a furnace of burning LIGHT. I am Truth. I am the Way. I am the Life.
When you were baptized you received a special calling to live as children of the light to receive My life alive in you.
I want fruit for My Kingdom.
I want children from My Church for My Kingdom.
My Centers united to Our Hearts will be centers of light to the world.
From the furnace of My Heart, I bring you forth a seed planted in the barren earth, a mighty oak you say--I say, My leaves never fade, My fruit is forever.
God the Father speaks: My children are children of the spiritual womb of a Lady conceived without sin.
My children are brought forth from the Church of My Son as brides of Christ that bring forth new children for the Kingdom.
---
Revelation 21: 2
I saw the holy city, the new Jerusalem, coming down out of heaven from God, prepared as a bride dressed for her husband.
---
---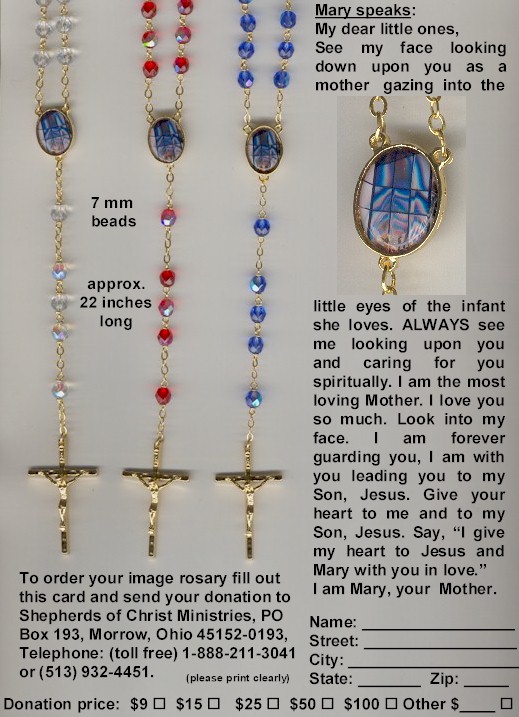 (Please copy and pass out to family and friends.)
---
Mary's Message from the Rosary of August 27, 1996
Mary speaks: I stood beneath the cross of my Son, and my Heart was in such pain for I saw Him before my eyes. I saw Him covered with blood. I saw Him die. My Heart, my children, my Heart to watch my Son, but my Heart, my Heart, how I suffered for my little children of the world that give in to this world and give up the love of my Son. O my little children of light, I give you this message. Carry this light into the darkness for your Mother Mary, for I stood beneath the cross and I cried. I cried for the little ones. I cried for the young ones, the ones that do not care and will lose their souls. How do I make you see for you will not listen to me? What can I do? I come. I appear. I beg. I plead. I give you these gifts from my Son, and you reject me. I do not deliver messages very often anymore for I have been ignored. The message is the same. You do not read the messages I have given to you. Please help me. Help the little children. I appear. I appear. I appear, and I am ignored. I stood beneath the cross, and I cried. I cried, and my Heart was in such anguish for my little children, for I am searching for them this day as I searched for the Child Jesus. Please, please help me. I cannot hold back the hand of my Son any longer. I am Mary, your Mother. I ask you to help my children. You are my children of light.

Song: O Lady of Light, shining so bright, be with us this day, guiding our way, O Lady, O Lady of Light.

Mary speaks: I appear to you as Our Mother of Sorrows.
(End of Mary's Message)
---
MY VALENTINE FOR JESUS AND MARY
AND THE WORLD

I _________________ give my heart to
You Jesus and Mary on this day
_________________
I promise to help spread the devotion to
the Hearts of Jesus and Mary.
---
Question for married couples and others in intimate relationships:
Q: How do I feel we can help be a light to the Church and the world?
---
---
---
Copyright © 2000 Shepherds of Christ.
Rights for non-commercial reproduction granted:
May be copied in its entirety, but neither re-typed nor edited.
Translations are welcome but they must be reviewed for moral and theological accuracy by a source approved by Shepherds of Christ Ministries before any distribution takes place. Please contact us for more information.
All scripture quotes are from the New Jerusalem Bible, July 1990, published by Doubleday.
Revised: July 30, 2000
URL: http://www.SofC.org
Contact Information for Shepherds of Christ
Email: info@SofC.org
---
Shepherds of Christ Ministries
PO Box 193
Morrow, Ohio 45152-0193

Telephone: (toll free) 1-888-211-3041 or (513) 932-4451
FAX: (513) 932-6791