Mary has requested that the daily message be given each day to the world. It is read nightly at the prayer service from her Image Building in Clearwater, Florida, U.S.A. This is according to her request. All attempts will be made to publish this daily message to the world at 11 p.m. Eastern time, U.S.A.

---

We acknowledge that the final authority regarding these messages rests with the Holy See of Rome.

---
July 4, 2002
July 5th Holy Spirit Novena
Scripture selection is Day 3 Period I.
The Novena Rosary Mystery
for July 5th is Glorious.
A Prayer for Intimacy with the Lamb,
the Bridegroom of the Soul

Oh Lamb of God, Who take away the sins of the world, come and act on my soul most intimately. I surrender myself, as I ask for the grace to let go, to just be as I exist in You and You act most intimately on my soul. You are the Initiator. I am the soul waiting Your favors as You act in me. I love You. I adore You. I worship You. Come and possess my soul with Your Divine Grace, as I experience You most intimately.
---
Pray for 5 urgent intentions.
Pray for a particular bishop and cardinal.
Pray for the pope.

We desperately need funds.
Please pray for this.
---
July 4, 2002
Messenger: Our Lady of Clearwater,
Our Lady of Fatima in the Americas,
Pray for Us!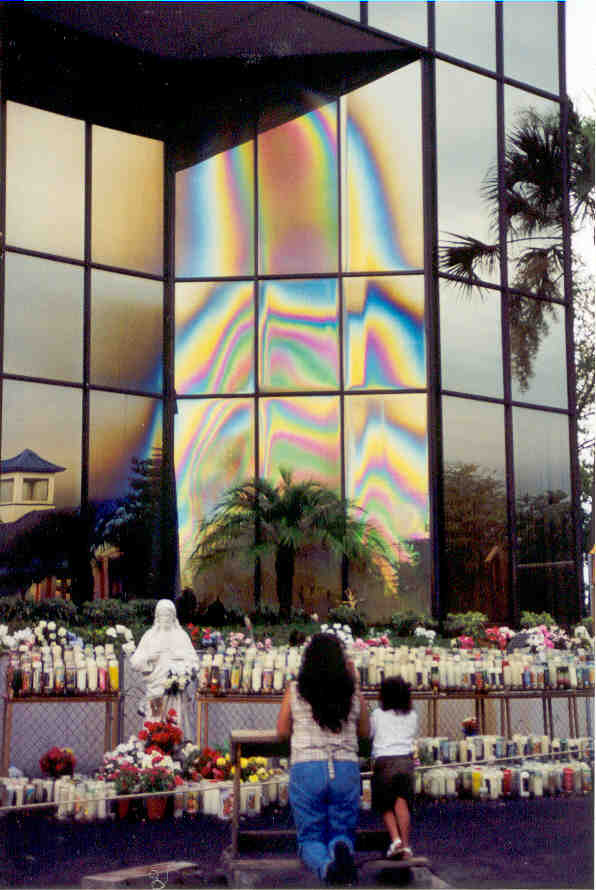 July 5, 2000


July 4, 2002 message continues
Messenger: Our Lady of Fatima said this: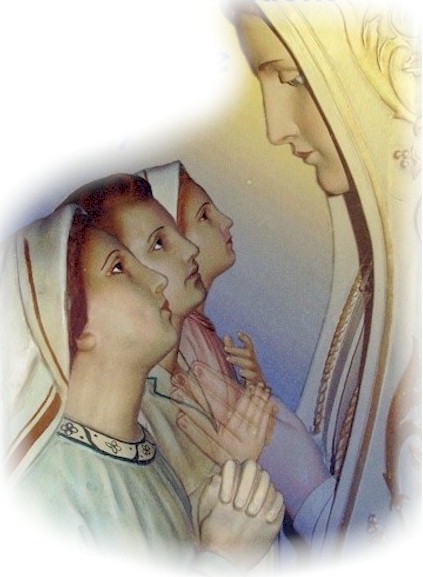 Excerpt from Father Carter's Book
The Spirituality of Fatima
July 13, 1917
During this same July apparition, Mary showed the three children a vision of Hell. She told them:

You have seen Hell, where the souls of poor sinners go. To save them, God wishes to establish, in the world, devotion to my Immaculate Heart. If people do what I tell you, many souls will be saved and there will be peace.

The war (World War I, then raging) is going to end. But if people do not stop offending God, another and worse one will begin in the reign of Pius XI. When you shall see a night illuminated by an unknown light [January 2, 1938], know that this is the great sign that God gives you that He is going to punish the world for its many crimes by means of war, hunger, and persecution of the Church and the Holy Father. (12)

To prevent this, I shall come to ask for the consecration of Russia to my Immaculate Heart and the Communion of Reparation on the five first Saturdays. If my requests are granted, Russia will be converted and there will be peace. if not, she will scatter her errors throughout the world, provoking wars and persecutions of the Church. The good will be martyred, the Holy Father will have much to suffer, and various nations will be destroyed....

But in the end, my Immaculate Heart will triumph, the Holy Father will consecrate Russia to me, Russia will be converted, and a certain period of peace will be granted to the world. (13)

---

NOTES:

12. For background material on Fatima, I am particularly indebted to
Our Lady of Fatima's Peace Plan from Heaven
(Rockford: TAN Books and Publishers, Inc., 1983).
13. Ibid., p.5.

end of excerpt from The Spirituality of Fatima
---
July 4, 2002 message continues
Messenger: We pray with all our hearts
that we in America will
be a light to the world.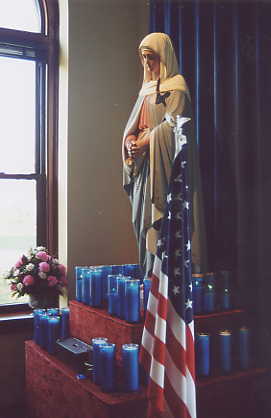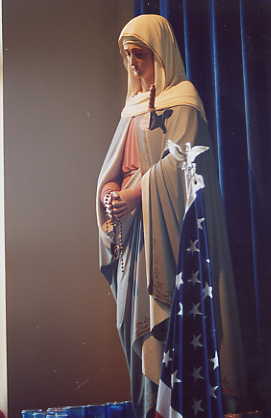 Messenger: Please come to Florida.
Special anniversary.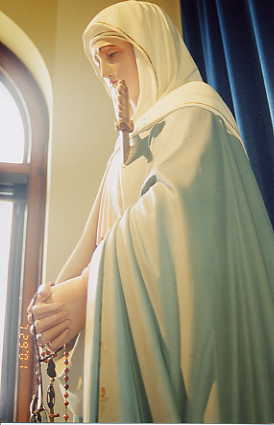 8 Years Ago
Excerpt from the Red Rosary Book
On July 4, 1994 I prayed with the children in front of the Our Lady of Grace statue in the sanctuary. On July 5, I recorded our experiences. The statue of Mary continued to glow and come alive. Jesus and Mary told Fr. Carter to pray with the children and me on July 10.

I would see Mary glow. Several weeks later I realized she was appearing in the statue as "Our Lady of Light." She then began to say she was appearing as "Our Lady of Light." She would show me a parade of faces, her clothes would all turn glistening white, and her attire would change. She would appear as a parade of different ladies. Her veils and head coverings would change. She has appeared as many different Marys. Her emotions have varied, her age has varied and her clothing has varied. She has shown me her life in the rosary. In the rosary, we meditate on the lives of Jesus and Mary, from Their young lives to Their older lives, from Their sorrows to Their joys. She takes on many roles as our mother, her mantle forever covering and protecting us.


July 5, 1994 6:30 p.m.

I was told to go to Our Lady of the Holy Spirit Center to pray the rosary with my children. There were people in the front of the church, so we decided to pray the rosary in the back before the Sorrowful Mother statue. I had the following vision at the end of the rosary.

The statue of the Sorrowful Mother was lit up as if she had fire around her. The light was very bright. Her whole gown was all-white, but the statue's gown is blue and pink. She was all aglow. It looked like the glow that comes off of a fire. Her face kept changing but remained totally sorrowful-the sorrow of an older woman. She was in such pain and sorrow! (It was hard to explain how she looked-extremely pained!) Her face looked as though she was in such pain that she could hardly bear it.

The vision remained like this for about ten minutes, having begun during the last Hail Mary of the Sorrowful Mysteries of the rosary. She was holding something-it was all bright white-the brightest light ever!

end of excerpt from the Red Rosary Book
---
July 4, 2002 message continues
Messenger: Mary appeared to me daily from July 5, 1994—September 5, 1995.
Mary appeared on the 5ths beginning July 5, 1994.
Jesus appeared on the cross at the point of death
after Mary appeared 2½ years on the 5ths.
---
Excerpt from December 1, 1999

Messenger: After she appeared for almost 2½ years on the 5ths, on the 2½ year anniversary Christ appeared at the point of death, His mouth open and moving. His jaw kept moving.

I was horrified as I saw Him. I cried and could hardly stand it.

What was so awful was here was my Jesus at the point of death on the cross. He looked as if He could do nothing because of His condition and His mouth kept going up and down, and no words came out.

At the traditional rosary (I had done them now for 2½ years of 5ths) that evening at 6:30 with all the Shepherds of Christ people there, He said He moved His mouth because no one was listening.

This was December 5, 1996, after all those visits of Mary on the 5ths when very few came and listened.

end of excerpt from December 1, 1999
---
Excerpt from
Rosary on December 5, 1996:

Jesus speaks:

I am alive, I am alive. I am alive. My beloved ones, I show you My face. Do you see the body of a man? Do you see Me alive on the cross? I am speaking to you but the world does not hear. They do not hear the message that I deliver to them. You must pray fervently. You must come to Me that I can be one in you and that I can operate through you as you go into the world this day. I love you. I love you with the most tender love. I am Jesus. I am alive. You are My main soldiers that I will send into the world to lead the strayed ones to My Heart.

The days ahead will be dark days. You must come to My Heart and take shelter in My Heart. It is there that you will be rooted on a firm rock. For My Heart is your home. You will not know the terrors of the night if you stay rooted in My Heart.

Division is blackness in the heart. You must not be divided, divided from anyone. You must remain in union with all men. You must see yourselves as part of the Father's family. Each one of you is so important to the Father's plan.
end of excerpt from rosary of December 5, 1996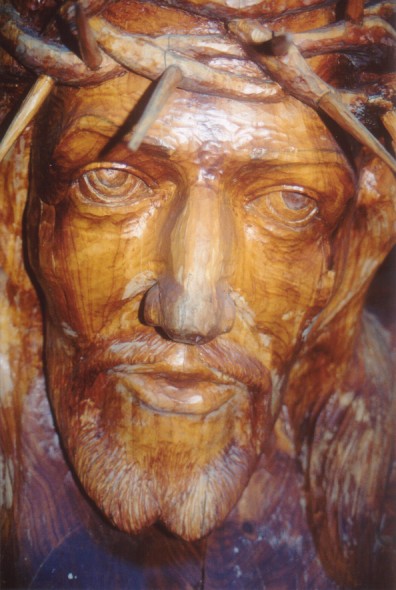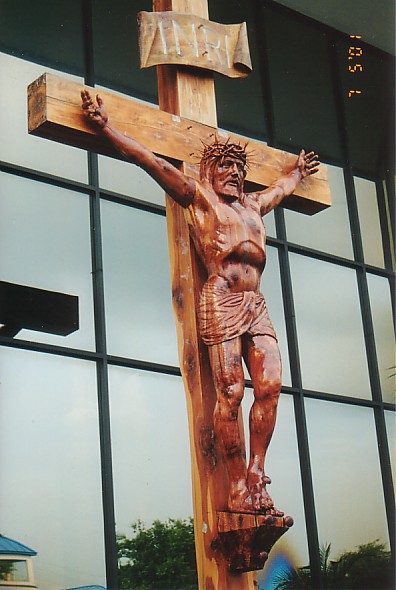 July 4, 2002 message continues
Messenger: Felix finished the cross and displayed it last July 5, 2001—
he took down the scaffolding.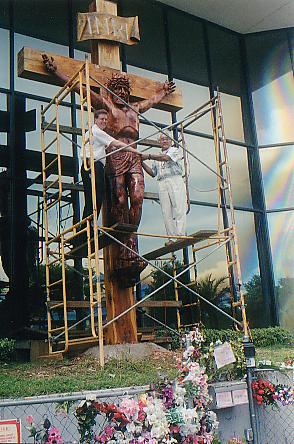 July 5, 2001
July 4, 2002 message continues
Messenger: July 5, 2000 was the first time we were able to photograph
the image in gold during 6:20 prayer service.
| | |
| --- | --- |
| July 5, 2000 | July 5, 2000 |
July 4, 2002 message continues
Messenger: Fr. Carter said his last Mass in the building July 5, 2000.
| | |
| --- | --- |
| He didn't feel good— | |
JULY 5 is a special anniversary, please come 6:20 pm,
if you cannot come hook up. The evening will be
broadcast at Morrow, Ohio and China, Indiana.
You are invited.
---
Mary's Message
from the Rosary of August 27, 1996

Mary speaks:
I stood beneath the cross of my Son, and my Heart was in such pain for I saw Him before my eyes. I saw Him covered with blood. I saw Him die. My Heart, my children, my Heart to watch my Son, but my Heart, my Heart, how I suffered for my little children of the world that give in to this world and give up the love of my Son. O my little children of light, I give you this message. Carry this light into the darkness for your Mother Mary, for I stood beneath the cross and I cried. I cried for the little ones. I cried for the young ones, the ones that do not care and will lose their souls. How do I make you see for you will not listen to me? What can I do? I come. I appear. I beg. I plead. I give you these gifts from my Son, and you reject me. I do not deliver messages very often anymore for I have been ignored. The message is the same. You do not read the messages I have given to you. Please help me. Help the little children. I appear. I appear. I appear, and I am ignored. I stood beneath the cross, and I cried. I cried, and my Heart was in such anguish for my little children, for I am searching for them this day as I searched for the Child Jesus. Please, please help me. I cannot hold back the hand of my Son any longer. I am Mary, your Mother. I ask you to help my children. You are my children of light.
---
---
---
Copyright © 2002 Shepherds of Christ.
Rights for non-commercial reproduction granted:
May be copied in its entirety, but neither re-typed nor edited.
Translations are welcome but they must be reviewed for moral and
theological accuracy by a source approved by Shepherds of Christ Ministries
before any distribution takes place. Please contact us for more information.
All scripture quotes are from the New Jerusalem Bible, July 1990, published by Doubleday.
Revised: July 4, 2002
URL: http://www.sofc.org
Contact Information for Shepherds of Christ
Email: info@SofC.org
---
Shepherds of Christ Ministries
PO Box 193
Morrow, Ohio 45152-0193

Telephone: (toll free) 1-888-211-3041 or (513) 932-4451
FAX: (513) 932-6791