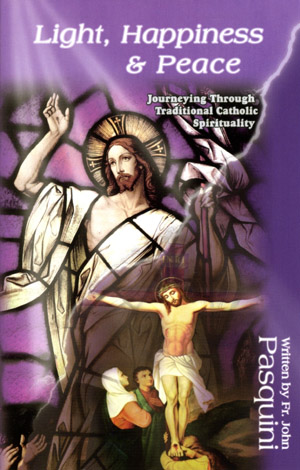 Light, Happiness and Peace
by Fr. John Pasquini

Preface
There are two realities we deal with every day of our lives. On the one hand we desire a life of happiness, peace and contentment, and on the other hand we recognize that life comes with suffering. How do we reconcile these two realities?

As Christians we believe that Christ reconciles these two realities; that in Christ, the Reconciler, we can have a taste of happiness, a taste of peace and contentment, even amidst a life that inevitably and unavoidably comes with suffering, with trials and tribulations.

Holiness is a voyage toward light, happiness and peace. It is a journey toward "wholeness" and toward authentic "humanness."

In a world that thirsts and aches for meaning and purpose, the spiritual life provides the means for attaining this purpose and meaning.
Light, Happiness, and Peace: Journeying Through Traditional Catholic Spirituality
summarizes and explains the best of Catholic prayer and spiritual development. It is a blueprint in which day-to-day Catholics can find fulfillment.
Introduction
How many times have we become delayed in our travels because of a lack of direction? How many times have we pondered that if we only had a map we would find the way safely and more quickly? Whenever embarking on a long and arduous journey, we always need to have a map at hand to guide us through to our destination effectively and securely.

What can be said of our "worldly" travels can be said of our spiritual journey. Getting to the destination is a matter of responding to grace, but this response to grace can be made much more effective and safe if we have a general idea of where we are going. And so just as there is a map for a "worldly" trip, there is also a map for the spiritual journey, a map that has been written through years of experience with grace.

While it is true that there are no two journeys completely alike in the spiritual life, there is a general pattern that can be traced. It is this pattern we will explore in this book.

The first stage of the spiritual life involves the purgative stage, a stage of purification. It is followed by the illuminative stage, a stage of great enlightenment and integration. The third and final stage is the unitive stage. This is the stage of the mystics. It is the stage where one's will and God's will are united to such an extent that one may say, without much reservation, that every action performed is an action of God.

What a gift! What a journey! Let us read about this journey, but more importantly, let us seek to respond to grace and live out this journey, the ultimate journey to light, happiness, and peace.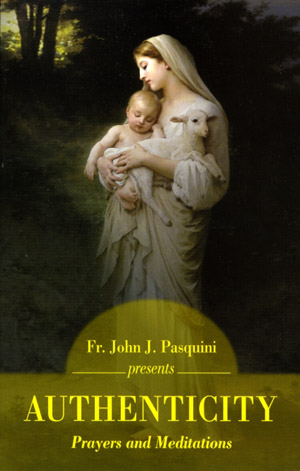 Authenticity
by Fr. John Pasquini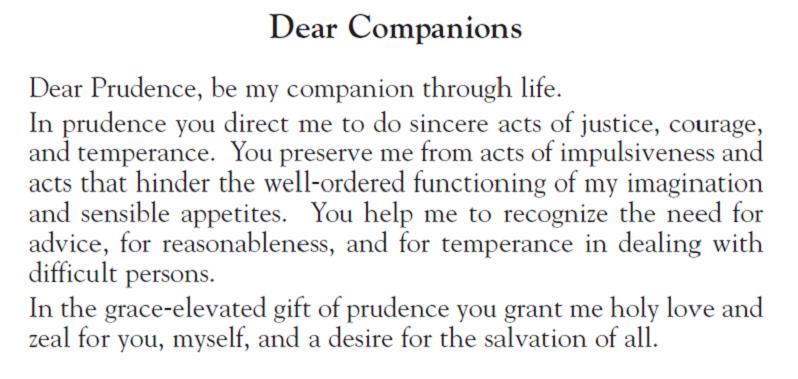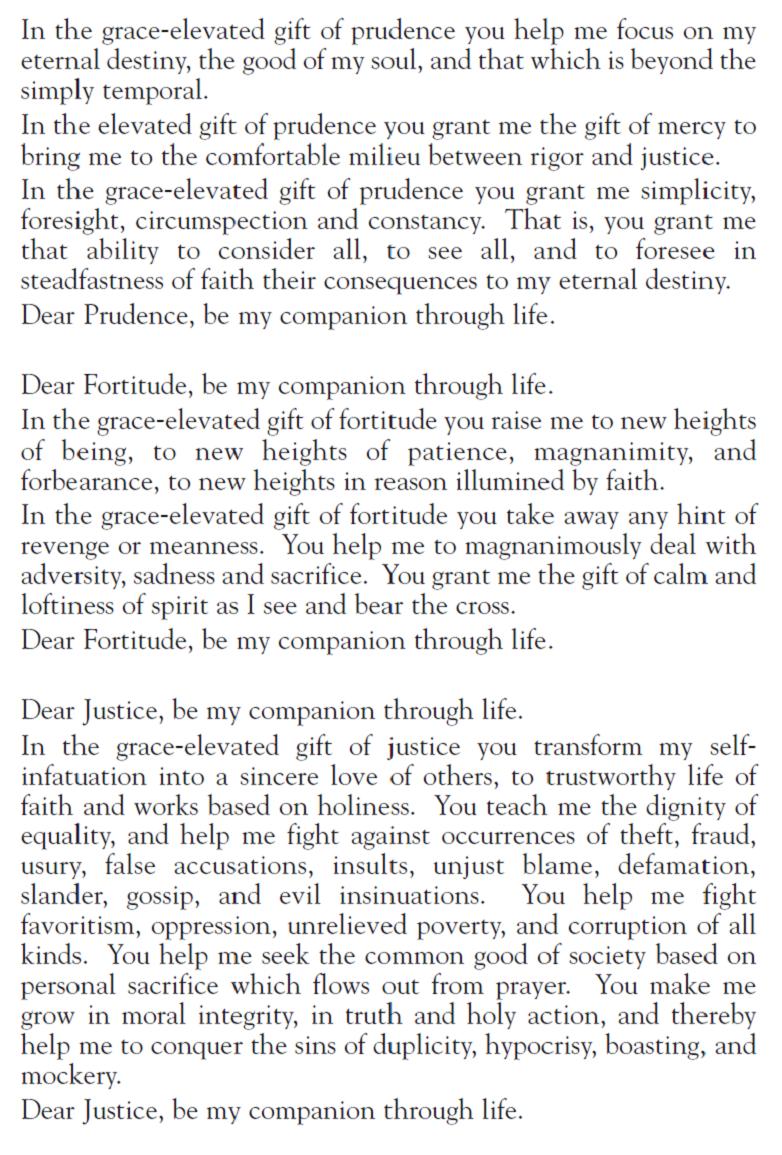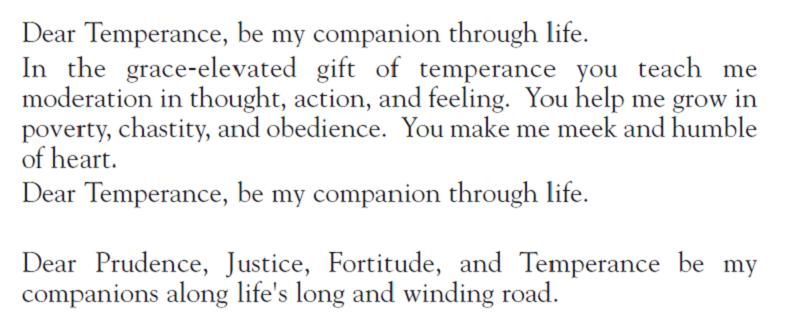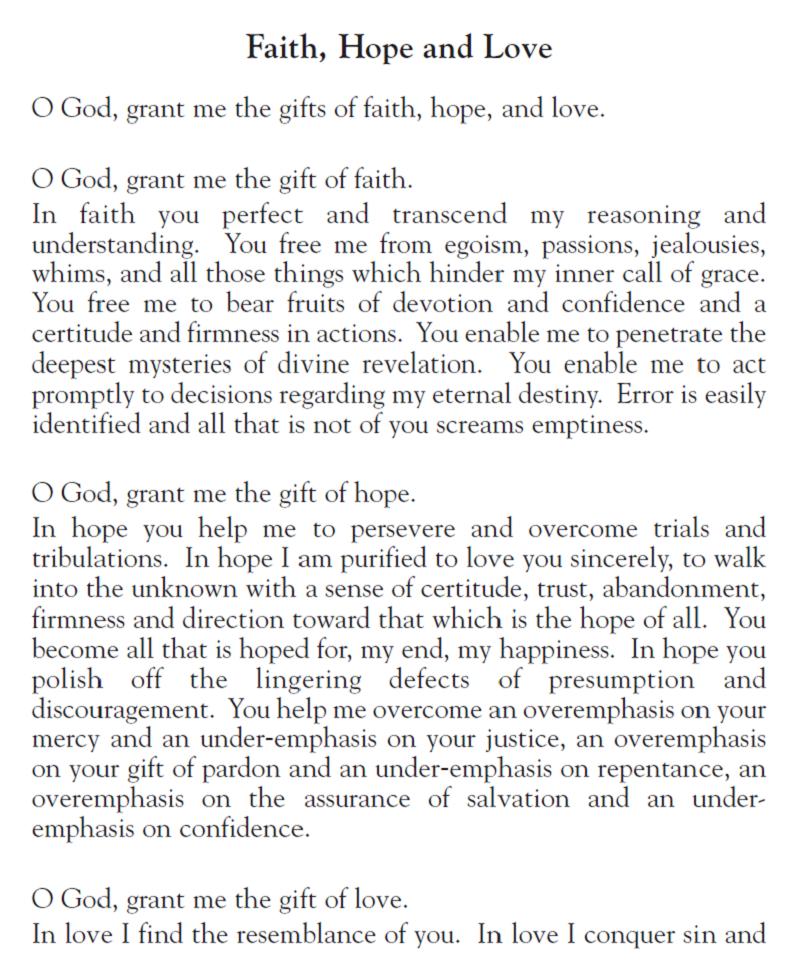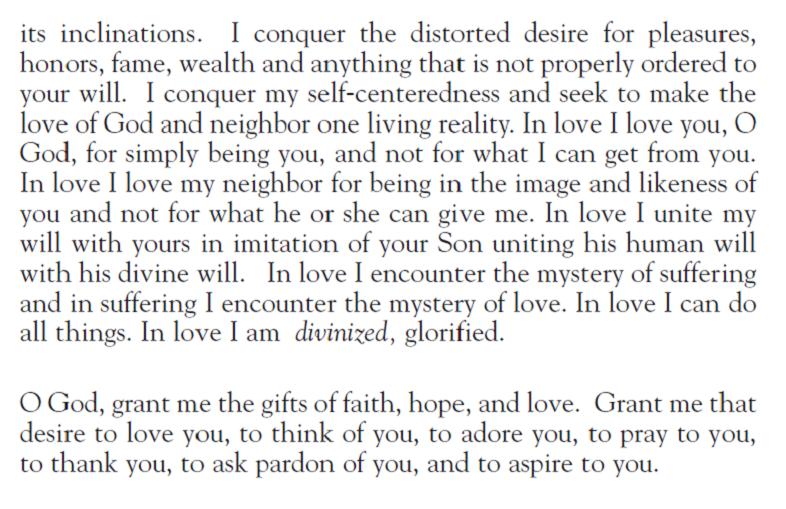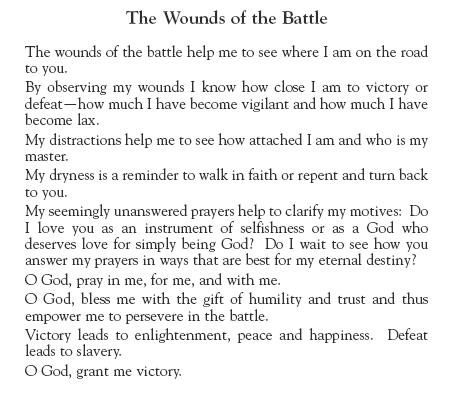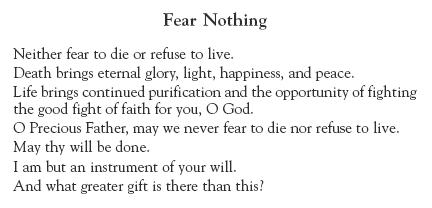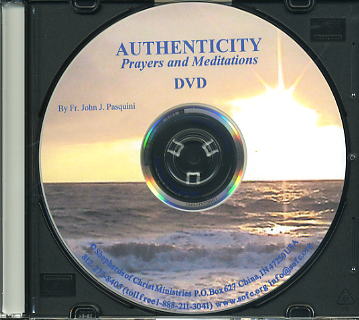 Available $10.00 plus shipping
Authenticity
Prayers and Meditations read by the ocean
Please call 1-888-211-3041
Call Doris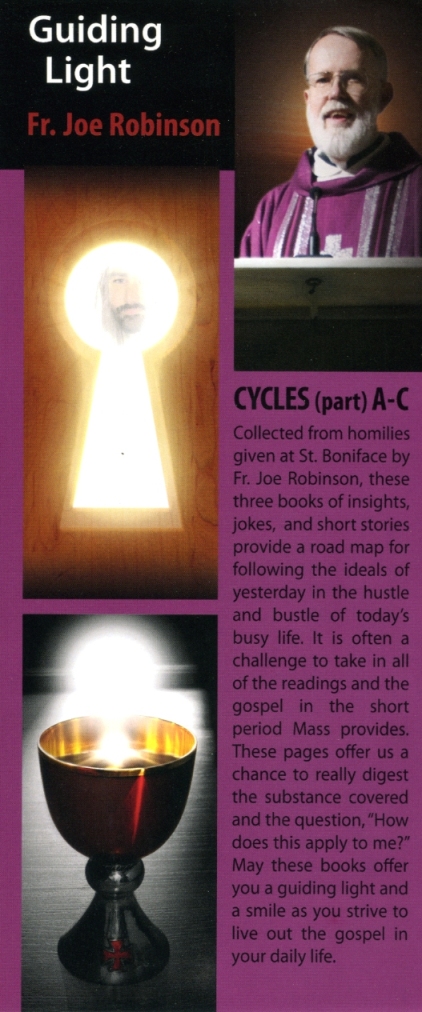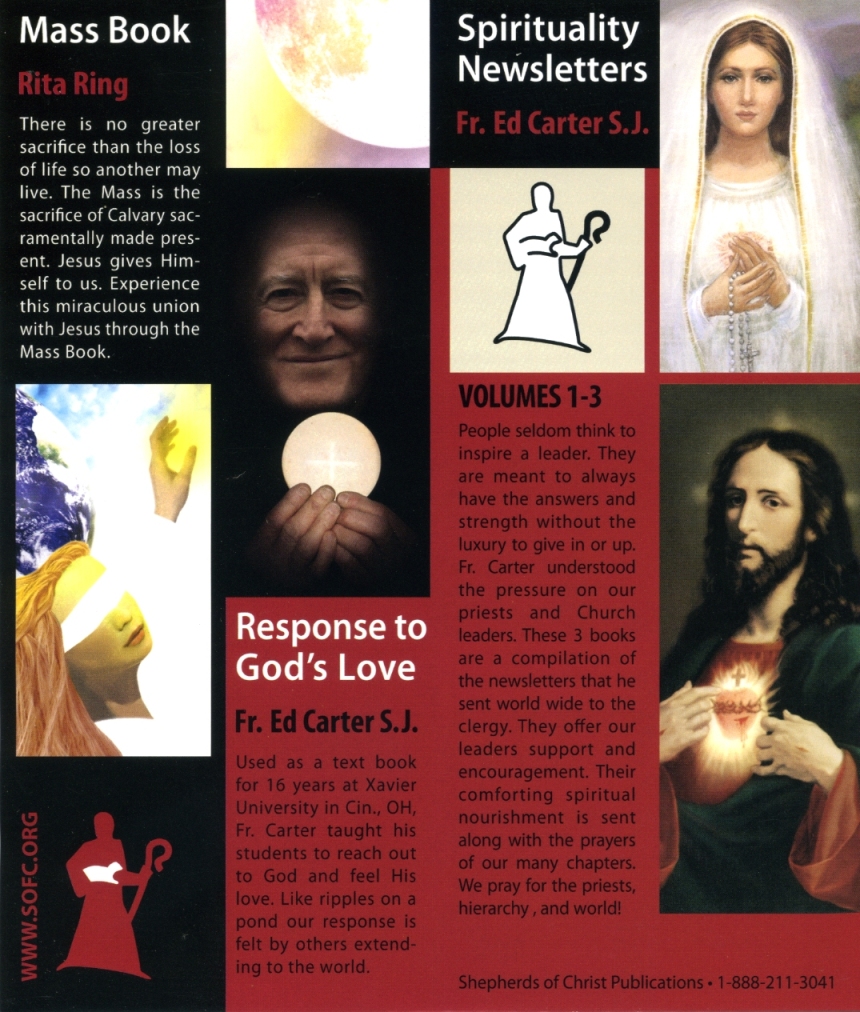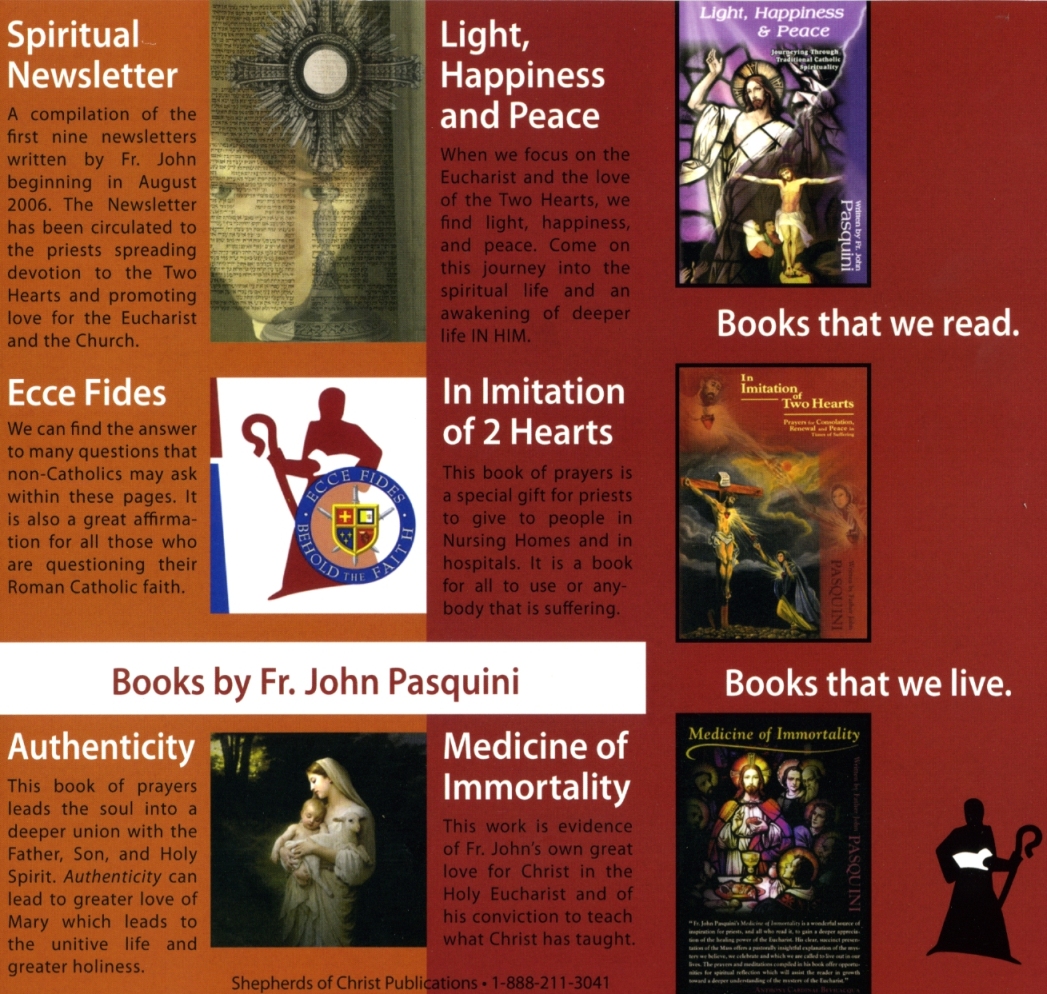 Give a gift that lasts.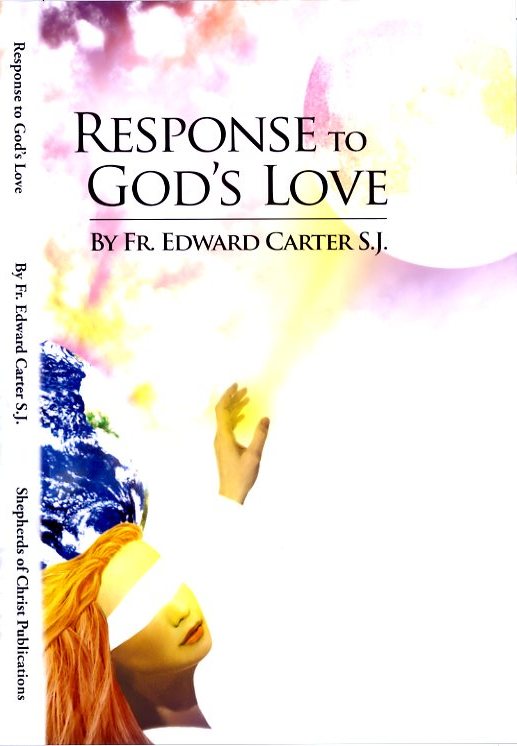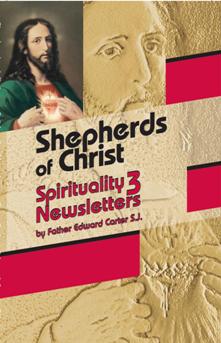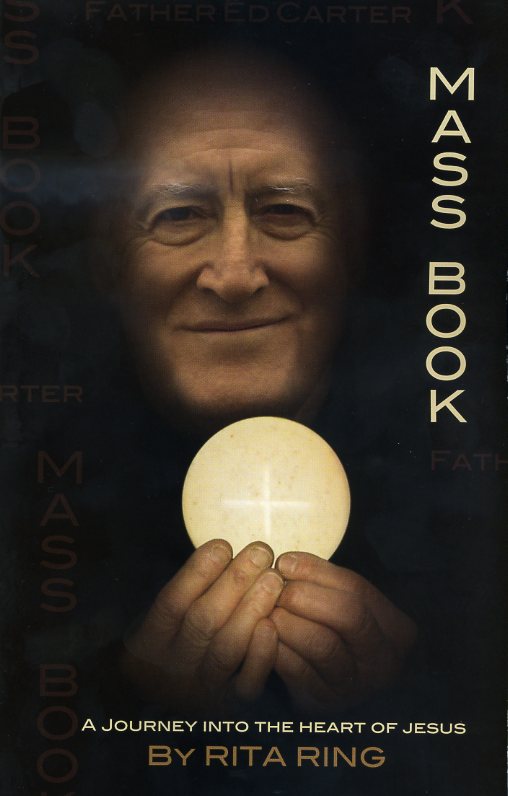 $10.00 each plus shipping
Call 1-888-211-3041
Shepherds of Christ
We can send Fr. Joe's
homily book to a priest for 75¢.
Can you please help us get
these homilies to the priests?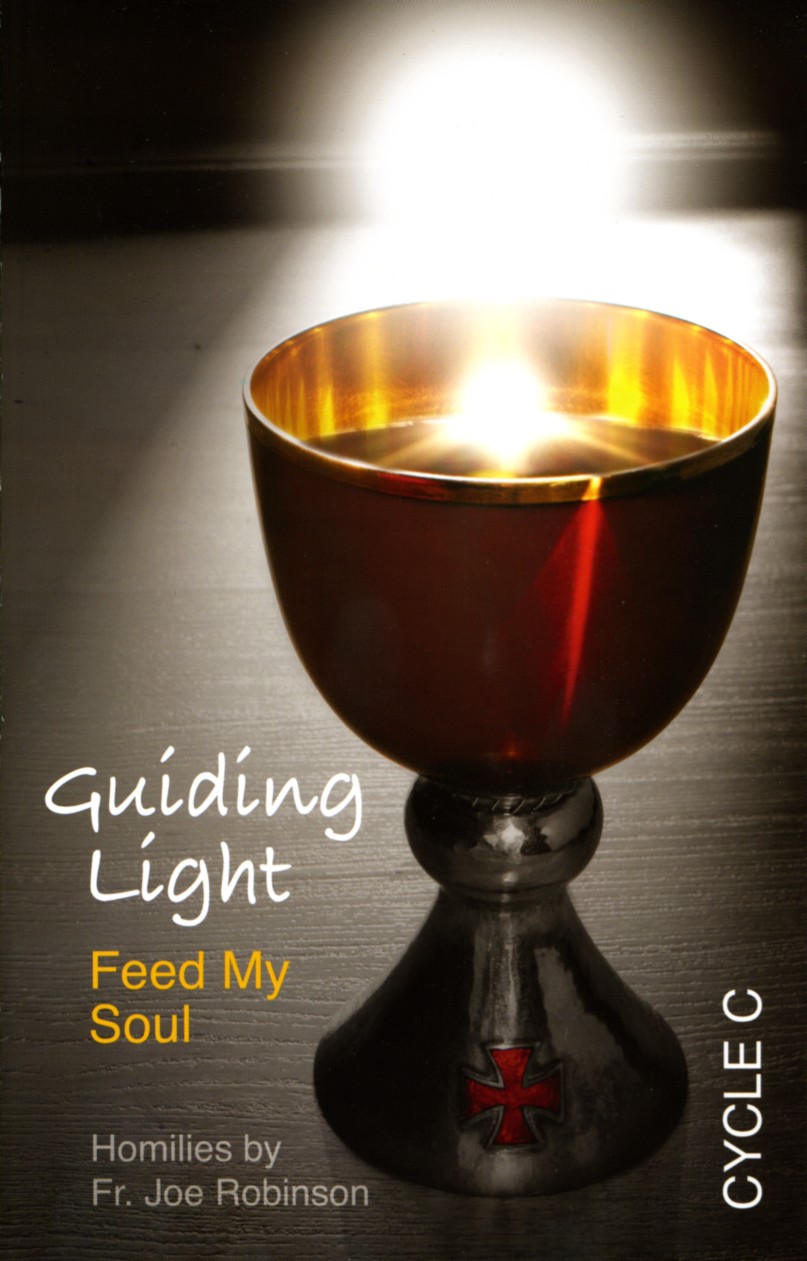 Please help us with your donation.
Call Shepherds of Christ
1-888-211-3041
Prayer Cards available

Holy Spirit Prayer
Act of Consecration to
Immaculate Heart of Mary
Act of Consecration to
Sacred Heart of Jesus
Prayer for Priests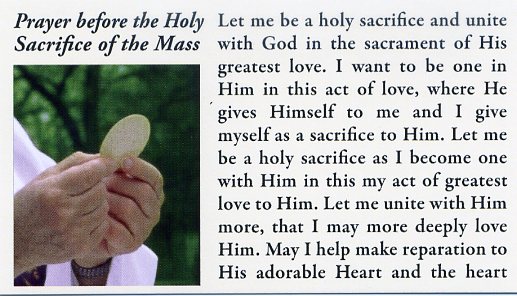 Prayer before the Holy Sacrifice of the Mass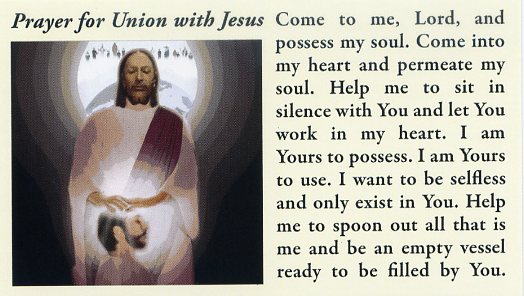 Prayer for Union with Jesus
Available for .25¢ each plus postage
Call Shepherds of Christ
1-888-211-3041
Prayer Card 4" x 6"

.50¢ each plus postage

size 5 1/2" x 8 1/2"
$1.00 plus postage
Statues
| | | |
| --- | --- | --- |
| | | |
| Sacred Heart of Jesus w/glass - 18 | Our Lady-Guadalupe w/glass - 12 | Limpias - 8 |
| | | |
| Immaculate Heart w/glass - 18 | I Heart - Ivory w/glass - 18 | Our Lady of Grace w/glass - 18 |
| | | |
| Our Lady-Mt. Carmel w/glass - 18 | Our Lady of Lourdes w/glass - 18 | Infant of Prague w/glass - 24 |
| | | |
| Sacred Heart of Jesus w/glass - 24 | Sacred Heart -Blessing w/glass - 24 | Sorrowful Mother w/glass - 24 |
| | | |
| I Heart - Ivory w/glass - 24 | I Heart of Mary w/glass - 24 | Our Lady of Lourdes w/glass - 24 |
| | | |
| Our Lady-Guadalupe w/glass - 28 | Our Lady of Grace w/glass - 24 | Our Lady-Mt. Carmel w/glass - 24 |
| | | |
| Fatima w/glass - 11 | Pilgrim Virgin w/glass - 12 | Pilgrim Virgin w/glass - 15 |
| | | |
| Fatima w/glass - 18 | Pilgrim Virgin w/glass - 18 | Pilgrim Virgin w/glass - 27 |
| | | |
| --- | --- | --- |
| St. Padre Pio | St. Joseph | St. Therese |
| | | |
| St. Francis | St. Anthony | St. Claire |
| | | |
| Limpias | St. Jude | Divine Mercy |
| | | |
| Holy Family | Angel | St. Philomena |
| | | |
| Pieta - Marble | Pieta - Color | Holy Family |
| | | |
| St. Anthony - 18 | St. Francis - 18 | St. Joseph - 18 |
| | | |
| St. Therese - 18 | St. Rita - 18 | St. Clare - 12 |
| | | |
| | | |
| | | | |
| --- | --- | --- | --- |
| St. Rita - 12 | St. Padre Pio - 12 | ivine Mercy - 12 | St. Michael - 11 |

Shepherds of Christ Ministries
P. O. Box 627
China, IN 47250

Toll free - 1-888-211-3041
Local - 1-812-273-8405
fax - 1-812-273-3182
web: www.sofc.org
e-mail: info@sofc.org

| | | | |
| --- | --- | --- | --- |
| | Size | Price | Quantity |
| Holy Family | 24" | $180 | |
| Limpias | 24" | $125 | |
| St. Anthony | 24" | $125 | |
| St. Claire | 24" | $125 | |
| St. Francis | 24" | $125 | |
| St. Joseph | 24" | $125 | |
| St. Jude | 24" | $125 | |
| St. Padre Pio | 24" | $125 | |
| St. Therese | 24" | $125 | |
| Divine Mercy | 22" | $125 | |
| Angel | 22" | $100 | |
| St. Philomena | 20" | $100 | |
| St. Philomena | 16" | $65 | |
| St. Joseph | 18" | $65 | |
| St. Francis | 18" | $65 | |
| St. Anthony | 18" | $65 | |
| St. Rita | 18" | $65 | |
| St. Therese | 18" | $65 | |
| Pieta - Color | 15" | $75 | |
| Pieta - Marble | 15" | $75 | |
| Holy Family | 12" | $60 | |
| St. Padre Pio - standing | 12" | $40 | |
| St. Padre Pio - sitting | 8" | $50 | |
| St. Michael | 11" | $40 | |
| St. Rita | 12" | $40 | |
| Divine Mercy | 12" | $40 | |
| St. Claire | 12" | $40 | |
| Limpias | 8" | $25 | |
| Our Lady of Guadalupe w/glass | 28" | $500 | |
| Our Lady of Mt. Carmel w/glass | 24" | $500 | |
| Immaculate Heart of Mary w/glass | 24" | $500 | |
| Immaculate Heart - Ivory w/glass | 24" | $500 | |
| Infant of Prague w/glass | 24" | $500 | |
| Our Lady of Grace w/glass | 24" | $500 | |
| Our Lady of Lourdes w/glass | 24" | $500 | |
| Sacred Heart of Jesus w/glass | 24" | $500 | |
| Sacred Heart -Blessing w/glass | 24" | $500 | |
| Sorrowful Mother w/glass | 24" | $500 | |
| Immaculate Heart of Mary w/glass | 18" | $300 | |
| Immaculate Heart - Ivory w/glass | 18" | $300 | |
| Sacred Heart of Jesus w/glass | 18" | $300 | |
| Our Lady of Lourdes w/glass | 18" | $300 | |
| Our Lady of Grace w/glass | 18" | $300 | |
| Our Lady of Mt. Carmel w/glass | 18" | $300 | |
| Our Lady of Guadalupe w/glass | 12" | $200 | |
| Fatima w/glass | 11" | $150 | |
| Fatima w/glass | 18" | $250 | |
| Pilgrim Virgin w/glass | 12" | $160 | |
| Pilgrim Virgin w/glass | 15" | $200 | |
| Pilgrim Virgin w/glass | 18" | $250 | |
| Pilgrim Virgin w/glass | 27" | $450 | |

Call for Shipping Price (1-888-211-3041)


Name

Sub-Total
Address

IN Tax (7%)
City

Shipping
State Zip

Donation
Telephone

Order Total
Shepherds of Christ
P. O. Box 627
China, IN 47250
1-888-211-3041
Fr. Joe's Homily Books

Guiding Light - Cycle A
The Word Alive in Our Hearts

$10.00




Guiding Light - Cycle B
Focusing on the Word

$10.00


Guiding Light - Cycle C
Feed My Soul

$10.00