Mary has requested that the daily message be given each day to the world. It is read nightly at the prayer service from her Image Building in Clearwater, Florida, U.S.A. This is according to her request. All attempts will be made to publish this daily message to the world at 11 p.m. Eastern time, U.S.A.

---

We acknowledge that the final authority regarding these messages rests with the Holy See of Rome.

---
---
A Prayer for Intimacy with the Lamb, the Bridegroom of the Soul

Oh Lamb of God, Who take away the sins of the world, come and act on my soul most intimately. I surrender myself, as I ask for the grace to let go, to just be as I exist in You and You act most intimately on my soul. You are the Initiator. I am the soul waiting Your favors as You act in me. I love You. I adore You. I worship You. Come and possess my soul with Your Divine Grace, as I experience You most intimately.
---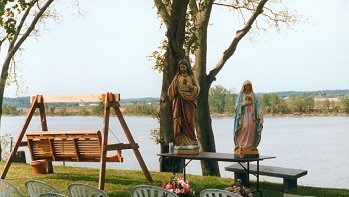 Messenger: This is the site of the rosary at Tom's farm
August 13, 1996, and August 27, 1996.
---
Messenger: I give my heart to Jesus and Mary with you in love.
All of my experiences are recorded in notebooks, rosary meditations and materials spread throughout the Ministry on computers, discs, etc. I do not know how to use a computer.
There are so many things that have happened, but the experiences and dates are engraved in my soul. I write from all I remember of these experiences. On the morning of August 12, 1996, I was told to go to Our Lady of the Holy Spirit Center. There in those early morning hours Mary appeared all night. I remember the darkness of the Sorrowful Mother Chapel, black, and I only saw the light of Mary. She appeared in that same glorious light of hers, light like fluorescent, but not like that at all because it is like nothing I have ever seen. I cried out to her and begged the Father to please help me to do what They had asked me, and all of us, to do. I felt I prayed as never before.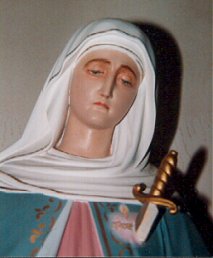 The next morning of the 13th of August Mary appeared again in the same place for several hours in the same exact setting in that white light in the darkened Sorrowful Mother Chapel in the corner. In the late afternoon of the 13th, I would go to the Sorrowful Mother Chapel again.
The Eucharist was exposed and the whole front of the chapel was covered with a celestial aura and she appeared again. This time the light and the aura were a golden light, almost like a gold glistening veil across the whole front of the chapel in front of the exposed Eucharist and before Mary. I did not want to leave there. I drove to the rosary at Tom's farm, the mikes for the rosary were missing. The younger shepherds had to go to the store to get some mikes. John Weickert was there for the first time on the farm. I asked him to say the 7 Sorrows of Mary. What appeared to me to be a mixed-up situation without the mikes and equipment turned out to be a night of great grace. I didn't know all what was happening. Here is an account of what happened to two others there at the rosary. It is accounted because Father Carter asked that it be written down.
---
Vision as seen by Mary Rettig, August 13, 1996
Apostles Manual, pp. 219 - 220
Arlinghaus' Farm, Shepherds of Christ meeting

"On August 13, 1996 during the Shepherds of Christ prayer meeting, I saw the miracle of the sun.

When John started the Seven Sorrows of Mary, the sun appeared to be spinning through the trees. There was a disk in front of the sun. The disk was turning different colors including "Virgin Mary Blue". Different colored lasers also appeared to be coming from the sun.

The sun started growing brighter than normal that I had to close my eyes. When I opened them, the tree below the sun had turned to a brilliant light. The Angel of the Lord was in the tree.

I then noticed a very blue line coming down the middle of the river towards our side of the shore. After the blue line reached the shore, I felt a drop of water on my forehead. I looked up and saw nothing. I proceeded to pray when, I felt another drop of water fall on my forehead. One more time I looked up and saw nothing. When I looked towards the river again there was a brilliant golden light standing on the river. The brilliant golden light, which was the Angel of the Lord, ascended from the river and disappeared over the state of Kentucky.

I then looked straight ahead towards the deck, and when I did, I noticed more brilliant lights in the bushes and trees surrounding the deck and us. *There appeared to be angels encamped all around us.

Next I noticed the bottom branches of the tree directly in front of the deck moving and bending, it is then that I saw the brilliant outlines of Jesus and Mary in the tree. They were standing side by side in the tree during the entire rosary."

*Footnote~ On Monday night I kept waking up from my sleep hearing myself say, "The angel of Yahweh pitches camp round those who fear him; and he keeps them safe."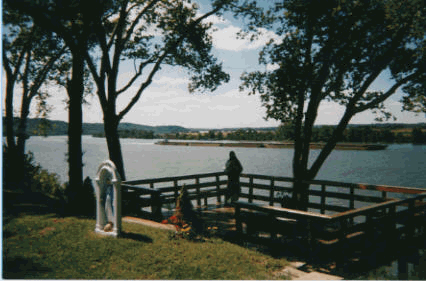 Vision as seen by Ellen Sartori, August 13, 1996
Apostles Manual, pp. 218 - 219
Arlinghaus' Farm, Shepherds of Christ meeting

"I had a profound experience this evening. As soon as the rosary started, I looked up towards the sun and I couldn't turn away. I realized there was a covering over the sun and that I would perhaps witness the miracle of the sun. Instead, after a few rotations, I began to see clear pictures: first, I saw the cross, Mary and Joseph holding our baby Jesus, and then what seemed to be a large Host, the Monstrance, and an angel holding up the Host, but I wasn't sure so I closed my eyes and said to myself, 'Dear Lord, I would love to see an angel as I have never seen one.' And with that within a split second a huge figure appeared, bigger than life, and came crashing to the earth, right before our group and returned. It was St. Michael! I recognized him immediately - his short, curly blond hair, his armor, which was brownish, but the whole figure of Michael was orange. His presence filled the whole area with bright light. It is difficult to describe, but I see St. Michael before me now as he appeared and want to share this with everyone because, surely, he has appeared to assure us of his protection for the Shepherds of Christ."

* Warning: Eye damage can occur from staring at the sun.
---
Messenger: Mary spoke in the rosary. She gave the following message at the beginning of the mystery of the Visitation.
Mary had been rather silent in the rosaries for much of the year since about February, except for a rosary she delivered April 25, 1996, for the youth at a Junior Shepherds of Christ Meeting.
It was a gift when Mary spoke that evening August 13, 1996, (she would deliver Mary's Message of August 27, 1996, two weeks later on Tom's farm.
Mary's Message is the message she wishes circulated with her image in Florida).
The message that follows is the message Mary delivered August 13, 1996 on the farm after some silence in the rosary. Very soon John Weickert became our President.
---
Excerpt from August 13, 1996 - The Visitation

Mary speaks: My dear children, on the 13th of this month I come to you to deliver this message. I have not given to you this message before. I am Mary, your Mother. I ask you to come to my spiritual womb, to take refuge from the terrors of the night. In my womb, I will hold you close to me and protect you from all the terrors in your life. Do not give in to Satan. Satan is a roaring lion, prowling this earth, attempting to catch you in his snare. You must not surrender. You must give your heart to me and to the Heart of my Son. Please, my little children, come to me and I will care for you. I am your Mother. I am caring for you with the greatest motherly love. You do not know how I want to mother you and to love you. You are as little children, afraid and wounded. I will heal your wounds. I will comfort you in your fear. I am the Mother of greatest love and I love you, my little children. I will take you to the Heart of my Son, Jesus. This is a special message that I deliver for you this evening. May you hold this message in your heart, and may you come to my heart at every moment and find refuge from the terrors of the night.

Messenger: The 10th meditation of the mystery, The Finding in the Temple:

10. Jesus speaks: Will you go out to the world and tell them that I am truly present and that I am waiting for them, or will you squander this knowledge and keep it to yourself? You are My apostles that I am sending into the world to spread My love. I ask you to please circulate the second Blue Book and to tell all that I am God and I am waiting for them in church.
(Messenger: At the very end of the rosary Jesus gave the following messages:)
Jesus speaks: How I suffered the hours of agony in the garden for all the hours that I would spend in the tabernacle and would be forgotten and ignored. I am waiting to give you great gifts. If you come to Me, I will outpour My gifts to you. I want you to love Me. I want you to love Me and to tell others how I love them and want to be loved by them. This is My message in the rosary. I love you. I love all souls, and I want to be loved by you and by all souls. I am Jesus. Will you love Me? Will you tell Me all through the day how you love Me? Will you delight My Heart and give Me your love? At every moment I am waiting for you to talk to Me, to be united to Me that I will live in you, love in you, and touch others around you, for as you visit with one another, you are Christ to one another, and I live in your heart, and I live in this world in you. Will you love Me?

Jesus speaks: My dear, sweet, loving child. I am calling you to the Heart of My Mother. It is there that the Holy Spirit will sanctify you, that you will be molded more and more into My image. It is there that you will be protected. Come to the Heart of My Mother, and the Holy Spirit will make you holy. As you dwell in Our Hearts, you will become more holy. You will be loving in this world, for you will be saturated with My life and with My love. You cannot do this on your own. You must realize that you are totally dependent upon Me to love and to be Christ-like. You must pray for the grace, for I will give you this grace if you pray fervently. It is by grace that you will change. The hearts of many will be changed by My grace. The more you try to control and to change others, you will see many times that you fail. You must come to Me and let Me work in you. Pray for the grace. Unite all of your activities to the Holy Sacrifice of the Mass so that you help obtain grace for others. Come and dwell in Our Hearts, for you will be safe from the terrors of the night. You will be filled with My life and with My love, and you will carry the message of this love into the world. You are saturated with grace when you dwell in My Heart. Realize, realize your dependency on Me. Do not think that you can do this alone. You need My grace. In one moment I can give a grace that would change this world. Through your good acts, through your love, moment by moment doing the Father's will with love, grace is released on this earth. Come and be one in Our Hearts and unite to the Holy Sacrifice of the Mass and great grace will be released on this earth, and the fire of My love will spread across this earth and many hearts will fervently love Me and be taken to heaven because of the work that you are doing. Souls are at stake. Every moment is urgent. The work that you do this day will help your brothers to get to heaven. You must not give up or let up or give in to the tauntings of Satan to stop you. I love you. I love you. Come to My Heart, and I will bathe you in this love.
---
Question for married couples and others in intimate relationships:
Q: When I am feeling crabby inside, how does writing to you help me become more loving?
---
---
---
Copyright © 2000Shepherds of Christ.
Rights for non-commercial reproduction granted:
May be copied in its entirety, but neither re-typed nor edited.
Translations are welcome but they must be reviewed for moral and theological accuracy by a source approved by Shepherds of Christ Ministries before any distribution takes place. Please contact us for more information.
All scripture quotes are from the New Jerusalem Bible, July 1990, published by Doubleday.
Revised: August 12, 1999
URL: http://www.SofC.org
Contact Information for Shepherds of Christ
Email: info@SofC.org
---
Shepherds of Christ Ministries
PO Box 193
Morrow, Ohio 45152-0193

Telephone: (toll free) 1-888-211-3041 or (513) 932-4451
FAX: (513) 932-6791