Mary has requested that the daily message be given each day to the world. It is read nightly at the prayer service from her Image Building in Clearwater, Florida, U.S.A. This is according to her request. All attempts will be made to publish this daily message to the world at 11 p.m. Eastern time, U.S.A.

---

We acknowledge that the final authority regarding these messages rests with the Holy See of Rome.

---
August 13, 2002
August 14th Holy Spirit Novena
Scripture selection is Day 7 Period I.
The Novena Rosary Mystery
for August 14th is Joyful.
A Prayer for Intimacy with the Lamb,
the Bridegroom of the Soul

Oh Lamb of God, Who take away the sins of the world, come and act on my soul most intimately. I surrender myself, as I ask for the grace to let go, to just be as I exist in You and You act most intimately on my soul. You are the Initiator. I am the soul waiting Your favors as You act in me. I love You. I adore You. I worship You. Come and possess my soul with Your Divine Grace, as I experience You most intimately.
---
Pray for 4 very urgent intentions.
Pray for 1 personal intention.
Pray for a particular bishop and cardinal.
Pray for the pope.
Pray for all the bishops of the world.
Pray for Sarah.
---

We desperately need fund.
Please help us if you can!

We have very many orders from Bishops for Priestly Newsletters and prayer manuals and we need
funds for the postage.
Shepherds of Christ Ministries
P. O. Box 193
Morrow, Ohio 45152
1-888-211-3041

---

Excerpt from August 13, 2001 message

Jesus speaks: I come and I outpour My grace.
You are filled with light
The shades of darkness seem to fade away
into the sunset
And in the darkest night you experience
the light of day
You know My strength within you
You are filled with faith
You want to be united deeper and deeper to your God
Your heart sings in the tranquility of the moment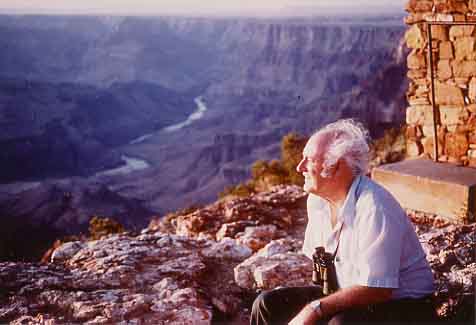 This can not be experienced by the busy one
who will not take any moments to be still.
And in the moment you feel the embrace of the
Divine God surround you.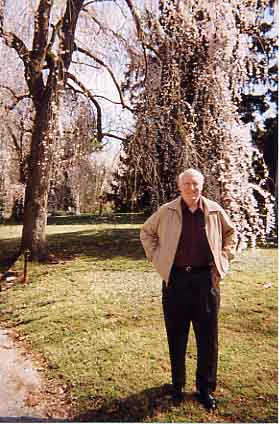 You are like a busy machine many times
And I quiet you in your tracks.
A mishap you say.
You are stopped in your busy schedule
And your plans are haulted.
Stopped right in your busy tracks
And I say to you
Hear the birds around you,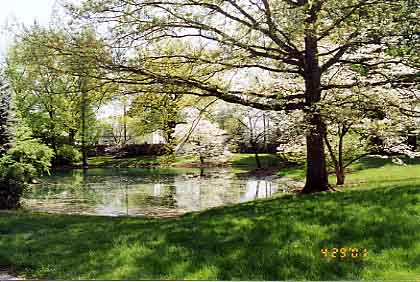 They sing a happy song
A song of freedom for that busy man
Stop and look at the sky above
Smell the fresh air
So many in their busy lives do not even see
Until the wind almost blows them off their feet.
How do I reach you?
The air goes in and out of your body
And you take it for granted
The moments tick away in your life
And yet you live to preserve your life here
And so often forget about the life to come.
Oh foolish ones,
I act in your lives.
I act so you will take notice of the days
Soon to come.
Your lives here on earth will end
And oh you missed the song of the birds
You missed the green trees,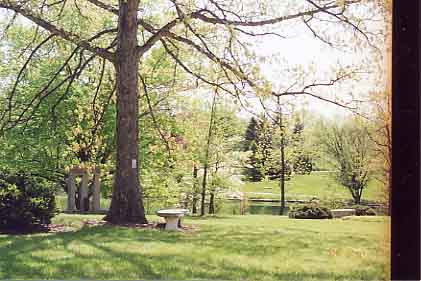 The red trees, the snow covered trees,
The little brook with such bubbling water.
You missed your deep relationship with your
Creator, the one who loves you so,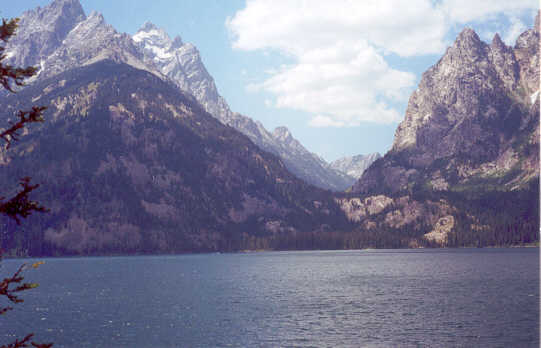 He shed His blood so red on the
Rose and your head was buried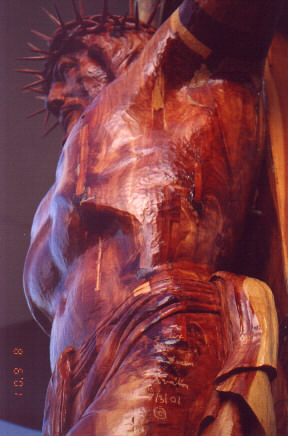 In a sand pile.
You reached for the dung heap pile
When I gave you the crispness of the
Dew so gently placed on grass of
The new sunny day.
You looked into a hollow hole of darkness
And you didn't see My hand gently
Helping you in your life here blow,
You cursed your crosses when
I sent them to you,
You saw gray skies
When I sent you bright blue.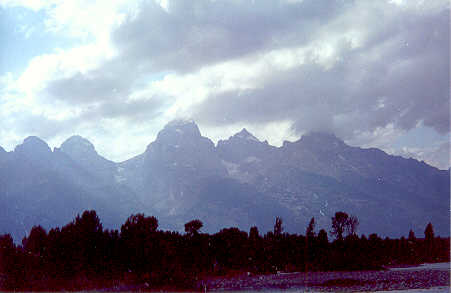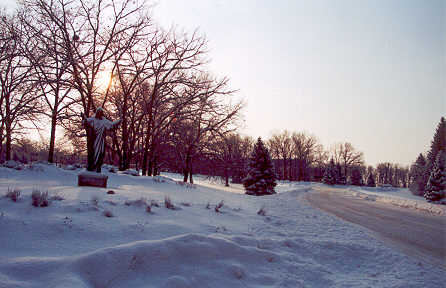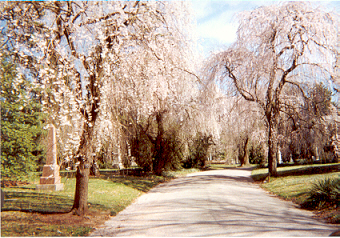 You saw darkness
When in fact the light shown
So vividly around you.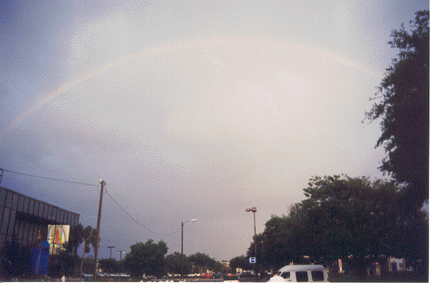 Oh little one,
I write to you this way
That you might remember
My words to you today.
I call you.
I want you to notice.
I want you to see My lady bugs,
I want you to hear My thunder,
I want you to know My might,
I want you to let go,
I want you to surrender,
I want you to be one in Me.
I want you to handle your problems
But I want you to know My might
And My presence always with you.
I want love.
I want union.
I want harmony.
Do you think I send you here to fight?
To act like busy bees that miss the flowers?
Oh My children, My children,
Live to help each other get to heaven
Put down the high shoulders
Get off your high horses
How would the symphony play
With all conductors.
How do they sound
When the flute player plays his own tune?
Or when the violinist is on his own
And plays in his own time.
Embrace the mission I give to you.
See that day of glory.
See in your heart the day
I will be the King and center of My people's hearts.
The days to come when I will Reign in their hearts
And the heart of My Mother will triumph.
Live the liturgical year.
Experience depth in celebrating the Feasts,
The Assumption
The Queenship of Mary
Aug 27 Message of Mary
Mary's Message from the Rosary of August 27, 1996
Mary speaks: I stood beneath the cross of my Son, and my Heart was in such pain for I saw Him before my eyes. I saw Him covered with blood. I saw Him die. My Heart, my children, my Heart to watch my Son, but my Heart, my Heart, how I suffered for my little children of the world that give in to this world and give up the love of my Son. O my little children of light, I give you this message. Carry this light into the darkness for your Mother Mary, for I stood beneath the cross and I cried. I cried for the little ones. I cried for the young ones, the ones that do not care and will lose their souls. How do I make you see for you will not listen to me? What can I do? I come. I appear. I beg. I plead. I give you these gifts from my Son, and you reject me. I do not deliver messages very often anymore for I have been ignored. The message is the same. You do not read the messages I have given to you. Please help me. Help the little children. I appear. I appear. I appear, and I am ignored. I stood beneath the cross, and I cried. I cried, and my Heart was in such anguish for my little children, for I am searching for them this day as I searched for the Child Jesus. Please, please help me. I cannot hold back the hand of my Son any longer. I am Mary, your Mother. I ask you to help my children. You are my children of light.
end of Mary's Message
August 13, 2001 message continues
Jesus speaks: Oh little ones.
I am God and I love you so.
Know My peace.
Know Me.
I want to be the Bridegroom of your soul.
I am the Sacred Heart of Jesus.
My Mother is always with you.
My Mother is your Mother.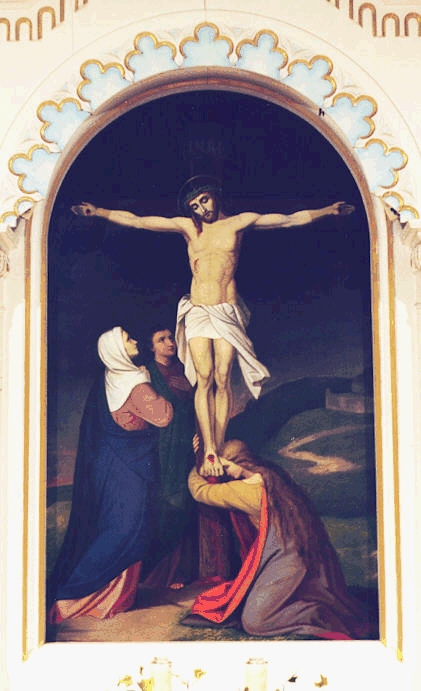 John 19: 25 - 27
Jesus and his mother
Near the cross of Jesus stood his mother and his mother's sister, Mary the wife of Clopas, and Mary of Magdala. Seeing his mother and the disciple whom he loved standing near her, Jesus said to his mother, 'Woman, this is your son.' Then to the disciple he said, 'This is your mother.' And from that hour the disciple took her into his home.
---
August 13, 2001 message continues
Messenger: I want to speak of oneness
I want to speak of being
Mystically Married to God.
Father Carter knew this.
He knew the might of God.
God is the initiator.
We must let go and
Let Him work in our lives.
We are hard,
We don't let go,
We want control.
Many times we won't work with others.
This is God's Movement,
We are all players,
What happens if we are all conductors?
Our mission is defined.
I put aside my math books
and He spoke to me.
He gave me this mission.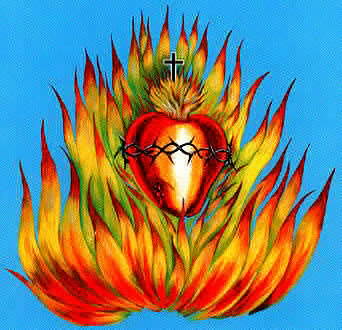 December 17, 1991
December 17, 1991 His Burning Heart
Messenger: I was alone in All Saints Church after Mass and Communion, in front of the tabernacle, when I saw the Sacred Heart. It was red around the outside, then a layer of yellow and then the brightest light in the center. I felt heat and it looked like an open furnace.

I thought about it all day and it instantly gave me peace and warmth in my heart. This is the purpose of these letters--to draw hearts to the ardent on-fire love of Jesus. I received the following message that day:

"Open your heart to the fire of God's love. He is ablaze in your heart. He wants to dwell in you and love you and others through you. Love God, yourself and one another and experience the fire set aglow in your heart and experience the warmth of His love."
end of writing about December 17, 1991

August 13, 2001 message continues

Messenger: Message I received August 16, 1993.

I received that message on a plane

Message given August 16, 1993
Messenger:
Dear Jesus, Please come to me and write to me now, I really need to be alone with You and hear Your words, please talk to me.

Jesus speaks: My dear child, put your fear and anxiety aside. You are coming for My truth. I am the Truth. I live in you and you are watered by My words of truth. Deception is very troublesome to you when you live in My truth. On any scale deception is not at all funny. I know you cannot watch a movie anymore, it is not of God. Do not give in to the ways of this world. Feed yourself with only that which is of Me. Turn your entire life over to Me, trust in My ways and make them your own. Read and reread each letter, go back to your old letters, know them by heart so My words and thinking will become engraved in you. You must speak from My truth. You must be filled with My wisdom. You must not falter or wonder, but be confident in these words I write to you. My work for you is to speak My truths. You must study them and know all I have taught you. Those are your lessons. All that is not of Me will become so foreign, you will want only to choose My way, but you must teach yourself with My letters. I am the WAY, the TRUTH and the LIFE and he who abides in Me will have the light of life. The life I give you is not of this world. It is rooted in My words and My truth. Only I can teach you My truths. This world is so full of error. Unless you keep constant in My teachings by reading My words, you will go astray. My words are the food by which you are nourished and fed. My words are your drink, they are your food, they are your all. You will run and not grow weary, you will fly like an eagle. Joy will abound in your heart and you will know that true joy comes only from Me. All other joy is momentary. My joy is everlasting and full to the brim, You, My child, can have this joy if you stay fixed in My words. Savor them and decipher all their meanings for you, this is your truth, this is your victory over Satan's lies. This is how you will help others to know Me. Your instructions are very clear, My child. STUDY each letter and try to understand all of its contents. They are words meant for you so you can speak these truths to others. It is not by chance you were chosen by Me, My child. You are a teacher, you are convincing in all you believe in. Believe in these letters and memorize My teachings until they flow from you as from your very soul. You must put aside your doubts now. Keep these letters by your side. Your life here will be always put into perspective. You will not get caught up in foolishness, or worry for any reason. I AM HE, I AM here. Your work is clear, study and learn My words so they become engraved in you. Speak of My words to all. I am the Way, the Truth and the Life and you are My messenger. I speak the truth to you that you will speak the truth to all. No time to wait, time is so short. Be busy studying My teachings now. Keep them in your purse, underline and read them again and again. These are not just for you, they are teachings of My love for all My children. Each child needs to be told about My love. Reach as many as possible through your speech. I am by your side, giving you what you need. The crooked ways are made straight, the weary are sent away in rest. Your voice will be My tool to reach many. Make yourself like jello. I will form you into what I want you to be. You must remain formless and be molded by Me. I am this close to you, My child. You will take some knocks, but you will be the key to unlock many doors. Use you I will, let all busy things behind. Focus on Me at every moment. This is My desire for you to speak My truth. I will be with you, little one, do not be afraid. I will tell you the way.

Messenger: Oh my Jesus, how You want me to do this I do not know. Show me how it is to come about or put me somewhere and I will now study Your words for me. For He made me humble and taught me His ways, which are the only ways to go. All other ways are not of any account. His way is the way to victory, the cross that leads us to glory, joy and peace in this life and glory and salvation in the world to come. He bound up my foolish ways and taught me His truths. My tongue was made clean, and my heart was full of His love. He cast away my doubts and fears and filled me with the gifts of the Spirit. His light He shined deep into my soul and He washed me in His Blood and I was made ready to do His work, an honor that I do not deserve, but long to fulfill for Him, my God, my All, my Jesus. Him I love and He has bestowed on me a great dignity. With love and respect He clothed me and made my broken heart and soul whole in Him. I am the fortunate one to know this one, true magnificent God. I bow in awe at all His greatness.

I am in awe at His love for us all. In our lowliness and sin He reached out and clothed us with dignity and showered us with His love and we were like the flowers after the rain, blessed by Him in His greatness. We are His children, Alleluia, Alleluia. Praise the Lord. Amen.

end of August 16, 1993 message

August 13, 2001 message continues

Messenger: He spoke to me.

I had to be quiet and listen.

We went to an ice show,

The skaters were medalists.

Some skated together.

The precision of the skaters together was so precise.

They had to have the same intention.

One did not want to steal the show,

They were one.

They shared the same goal.

If they did not,

They could not have functioned like that.

One twirled the other

Their head was down

Their body straight.

It reminded me of what God was telling us about

working together and being one.

The skaters acted as one.

I thought of what Father Carter said

"Our hearts are merged"

We can't be ready to run

And start a new job.

In our hearts we recognize

God's calling and we work together

To get out the priestly Newsletter

To pray for the priests, the Church and the world.

We recognize our calling.

This is real.

Jesus is God.

He has called you in some way to help with

this mission.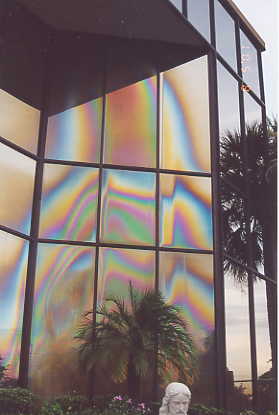 August the 5th prayer meeting - 6:20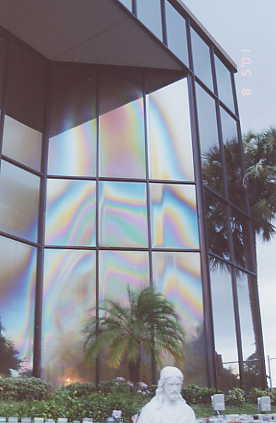 August 5, 2001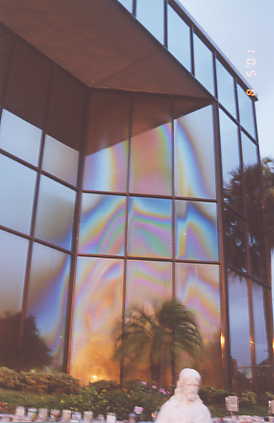 August 5, 2001
August 13, 2001 message continues
Messenger: He calls us to this oneness.
Cling to Me

Excerpt from May 13, 1993

My dear child, if you stay close to Me, then I live in you and you live in Me. I am He Who created you and I love you with such an intensity that you will never know. My words are your truth. You must abide in My heart in all things. There is no room for doubt. My ways are steadfast, direct, and without error.

You must stay rooted in Me to ward off the power of the evil one. His grip is paralyzing and crippling. His power is stronger every day...
end of May 13, 1993 message
August 13, 2001 message continues
Messenger:
Our mission — to help bring about the
Reign of the Sacred Heart of Jesus
and the triumph of Mary's Immaculate
Heart.

The years come and go.

Even the trees we planted, so little once

have grown.

Remember the school years that began.

Remember all the notebooks and pencils we had to buy.

Now the fall school years may be only a memory for some.

The "kids" are grown.

The children now have children of their own.

The leaves have turned red

The fur trees have turned white

And the new leaves have come out

For many seasons.

Many, many years and seasons.

The rides we once enjoyed together

Are held deep in our memories.

The little ones in art lessons

When we worried about paint on

Their uniform seem so very

Long ago.

Now we focus our days on

praying the rosary for them.

I wander who will type this?

I wrote as He directed me.

Listen to the children's voices,

Now some are doctors,

Lawyers, businessmen,

Mothers and fathers and

The screams that sometimes

Made us anxious would be a

Pleasant sound today.

The fingerprints on the walls

Of our small children are but

A happy memory and the

lights in their eyes on Christmas

morning, only a memory.

And how did it all go by so fast?

Little pig tails and pony tails,

Swimming lessons and intertubes.

Little frilly dresses and tiny

ties. All a thing of the past now,

What remains are the grandchildren.

What we see are Mary's children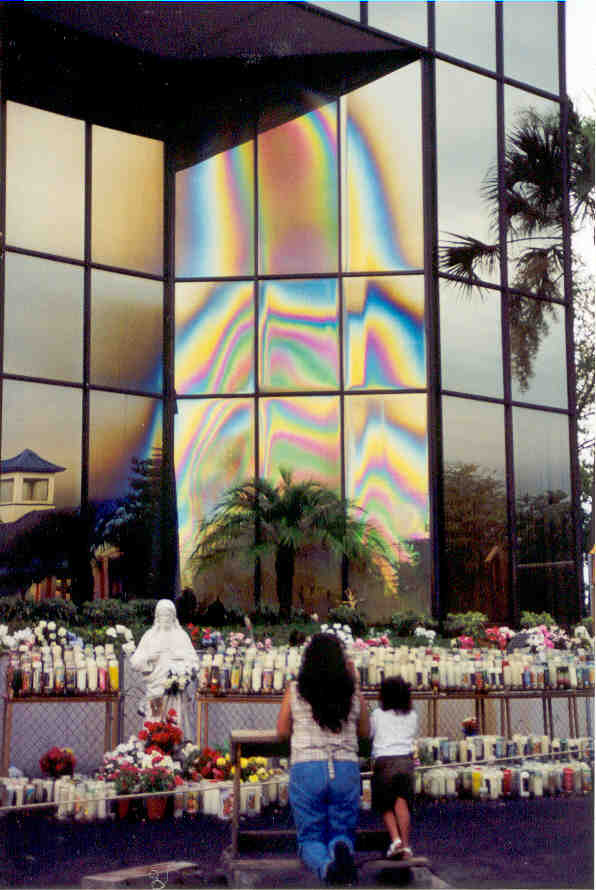 July 5, 2000
And we want a world of peace and love for them.
We must pray the rosary.

The world and other people are not in our control.

In the world of the things we see now on the

head lines, what are we to do?

We are to pray and have faith,

We are to be holy,

We are to recognize our calling

We are to be Shepherds of Christ and

Realize God is trying to reach the world

In a special way, through His movement.

God help us to answer our call

Amen.
---
Deuteronomy 10:12-22

Circumcision of the heart

'And now, Israel, what does Yahweh your God ask of you? Only this: to fear Yahweh your God, to follow all his ways, to love him, to serve Yahweh your God with all your heart and all your soul, to keep the commandments and laws of Yahweh, which I am laying down for you today for your own good.

'Look, to Yahweh your God belong heaven and the heaven of heavens, the earth and everything on it; yet it was on your ancestors, for love of them, that Yahweh set his heart to love them, and he chose their descendants after them, you yourselves, out of all nations, up to the present day. Circumcise your heart then and be obstinate no longer; for Yahweh your God is God of gods and Lord of lords, the great God, triumphant and terrible, free of favouritism, never to be bribed. He it is who sees justice done for the orphan and the widow, who loves the stranger and gives him food and clothing. (Love the stranger then, for you were once strangers in Egypt.) Yahweh your God is the one whom you must fear and serve; to him you must hold firm; in his name take your oaths. Him you must praise, he is your God: for you he has done these great and terrible things which you have seen for yourselves; and, although your ancestors numbered only seventy persons when they went down to Egypt, Yahweh your God has now made you as many as the stars of heaven.'
End of excerpt from August 13, 2001 message

August 23, 1993 - Message from Jesus
On His Passion
Jesus: My dear child,

I was condemned to death, death on a cross. They gave Me a big cross and made Me carry it. They stood around and glared at Me. It weighed on My shoulder and I pulled at it until it finally moved. Every step was almost impossible as I dragged it, weighing so heavily on My shoulders.

My shoulder felt as if the bones inside would crack and the cross would fall through to the ground. I couldn't drag it any more. I tried, I fell. I fell and its weight fell on Me. A guard hit Me with something sharp. It really hurt because he wanted Me to move, and fast! People were watching -- on with the show! How dare I fall in the middle of the show! He hit Me again and the blow really stung Me. I got up because it hurt so badly. I tried to walk on.

My Mother was in the crowd. She looked at Me and her face looked red and hurt. Tears rolled down her cheeks like rain and as her eyes met Mine, I was hurt so by her sorrow! She was always by My side, silent and loving. She was My Mother of love! She is always there next to you when you suffer.

I fell again and he (the guard) really hit Me. It (the cross) was so heavy that he and I together could barely move it. It seemed as I walked, heavier with the sins of the world heaped on it. My hands were bleeding. Blood ran from the wounds of My thorns and My head throbbed, seeming to make the wounds in My head bleed even more. Some of the Blood was dried, some of it running all over My Body. I had so many cuts and bruises -- and people watched and laughed!

I am Jesus, Son of the Living God, and they laughed and mimicked Me! Oh, such hardened hearts! How vile can men's hearts become? The devil's grip is paralyzing and crippling.

The walk was so long up a hill and over rocks -- the cross had to be lifted over the rocks. My Body was bleeding so badly! My Heart was pounding. I knew that the salvation of all men depended on My love. Therefore, I went through such agony.

I thought of My intense love for you -- that many would go to heaven because of My suffering -- and I continued to the top of the hill. At the top they laid Me on the cross and with a big hammer nailed My hands to it. It was the worst (suffering) yet. My hands were nailed with big nails and the big hammer. Then, as if that weren't enough, with a big nail they nailed through both feet.

Then they lifted the cross and banged it into (a hole in) the ground. My shoulders ached from how I hung. My head bobbed and My neck ached and they laughed and said, "Now save Yourself." I hurt so much! I suffered this way for hours -- which seemed like forever -- and they glared at Me and laughed! My Mother watched in such agony.

For love of you, to My death I gave you My Body. My child, I shed My Blood and gave you My life that you might be with Me forever in heaven -- not for a day, a month or a year, but forever with Me in heaven.

I am the true Bread come down from heaven. He who eats My Flesh will have life forever. For the drink I give you is My Blood and food you eat is My Body. Who would lay down his life for a friend? I did, for you. I love you this much, child. Forget about those who reject you. You have My life that I gave you and I give you life eternal.

I am the One true God. I am the Light of life. He who abides in Me will have life eternal, for the drink I give is My Blood and the food I give is My Body. Drink and eat and have everlasting life.

My child, that is all you need to know. Love one another and be good that you may enter into My Kingdom.
End of August 23, 1993 message
This is a great help to aid in healing.
Please pray the healing rosary for a
special intention.
Pray for a young girl that needs
special prayers.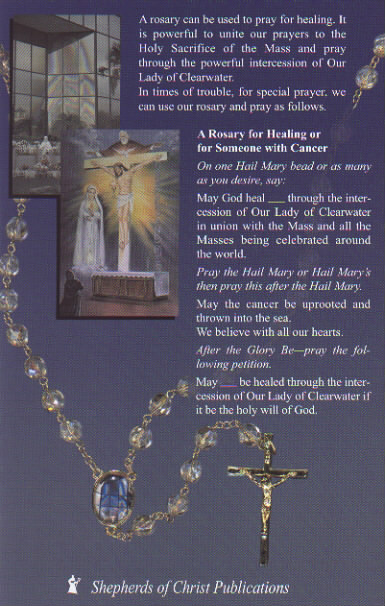 Stations of the Cross
FEBRUARY 22, 1995


1. Jesus Is Condemned to Death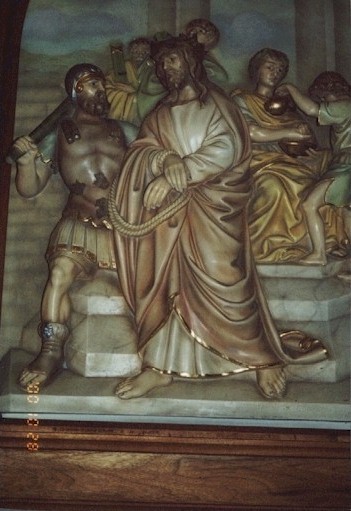 Jesus speaks: My dear child, with angry hearts and hatred on their faces, they poked at Me and condemned Me to death. I stood so silent, My hands tied, in perfect peace, because I knew the Father's love. I knew the Father's Will. You too will stand your trials in perfect peace, the more you realize the immense love the Father, Son and Holy Spirit have for you. Pray to the Spirit to transform you more and more into My image and, through this transformation, you will be led ever closer to the Father. Oh, how I love you!


2. They Give Jesus the Cross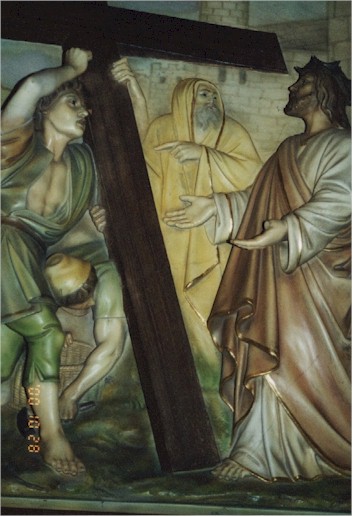 Jesus speaks: They gave Me a heavy cross, laden with the sins of the world. They placed it on My shoulder. It was so heavy I felt as if My shoulder would break. I ask you to carry little crosses, to experience little pains. I could not remove this cross from My shoulder. The weight was unbearable. It is through My suffering and death that you receive new life. It is through your sufferings this day that you will grow in your life with Me. Oh, child, I loved you so much that I took up the cross of salvation. I love you. Please realize that I am talking to you here. To My death I loved you. Oh, how I love you!


3. Jesus Falls the First Time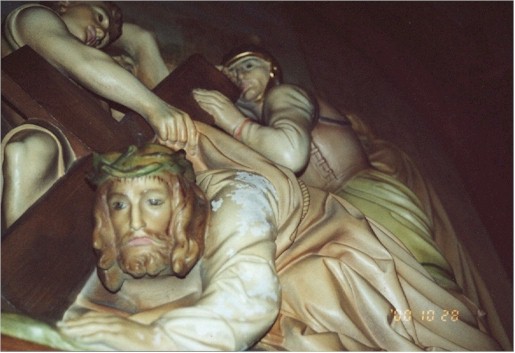 Jesus speaks: The cross was so heavy I could hardly walk. I held on to My cross for greatest love of you and in compliance with the Will of My Father. It became so hard to walk! The cross was so heavy! I fell. I fell and the cross fell on Me. They poked at Me, they struck Me, they demanded I get up. The pain from the instruments they used to poke Me and strike Me was so great! I somehow managed to get up.

When you fall under the weight of your cross, come to My Eucharistic Heart. I am no less present in the tabernacle and in the Eucharist than on the day I carried My cross. I wait with the same love that I had for you when I carried this cross and suffered such agony. Oh, how I love you!


4. Jesus and Mary Meet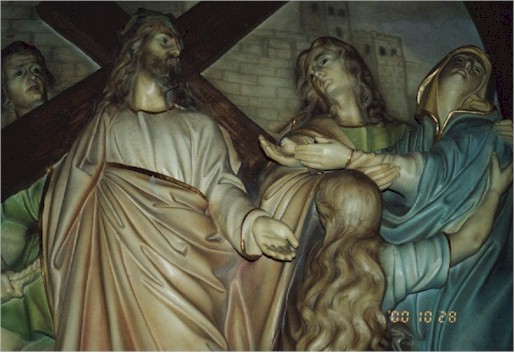 Jesus speaks: I saw the face of My beautiful Mother. She was weak, her face reddened and full of tears. I saw her tender heart, her love, her anguish, her pain. I saw My dear Mother Mary. My Heart was comforted by the sight of her, but torn by her suffering.

Mary speaks: As I looked into the eyes of my beloved Son, I saw His love. His head, bleeding and wounded. His body weak. His clothes covered with blood. I looked into His eyes and I saw His love for you. I call out to you today. I appear today with a face full of anguish and tears. I appear to call you back to the love of my Son. See through my eyes, as I peer into His eyes, the love He has for you this day to give of Himself for you. Oh, He loves you so much, my little children. See through my eyes the love of my Son. Oh, how He loves you!

5. Simon of Cyrene Is Forced to
Help Jesus Carry His Cross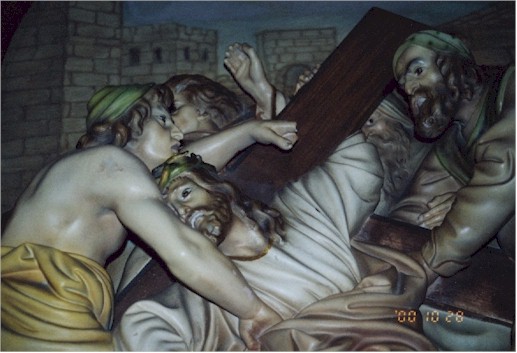 Jesus speaks: The cross was so heavy I could not move. My persecutors became angry and forced a man to help Me. The cross was so heavy the two of us could barely move it. How is your cross today? Does it seem so heavy you cannot go on? I am forever watching you. When you are suffering the greatest, I am very close to you. It is in immense suffering that you realize My great love for you. Pray for grace to do always the Father's Will. Pray for grace to grow in your knowledge and love of Me.


6. Veronica Wipes the Face of Jesus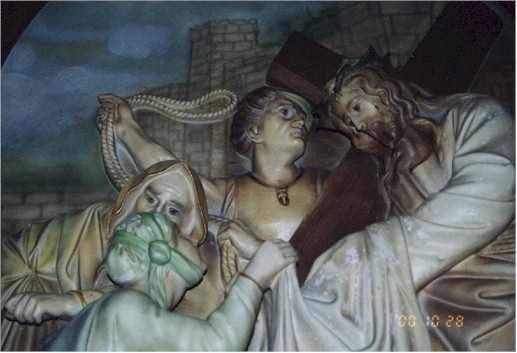 Jesus speaks: My face was covered with blood. From the crowd Veronica came forward with a cloth to wipe My face. On the cloth I gave to you an imprint of My bloodied face. This, My children, remains with you this day as a sign of My immense love for you. But more than any cloth, look beyond the visible consecrated host. I, Jesus Christ, the Son of God, remain with you, Body, Blood, Soul and Divinity, in the Eucharist this day, waiting and longing to be with you. Oh, how I love you!

7. Jesus Falls the Second Time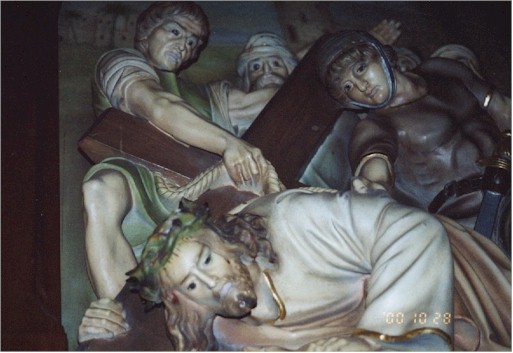 Jesus speaks: Oh, dear ones, the road became harder and harder to walk. The cross was becoming heavier, My body weaker and weaker. My shoulders and arms hurt so much! My head throbbed as I walked. The blood came from My body, from My head to My feet. I was covered with open wounds. I could not go any farther. I stumbled and fell. Again they poked at Me, only harder, and with such hatred they kicked Me. Such vileness in the hearts of men! My greatest agony was not the agonies of My body, but the agonies of My heart for the love I have for all My precious souls. I loved them so dearly. I loved those who persecuted Me. Oh, how I love you!
8. Jesus Meets the Women of Jerusalem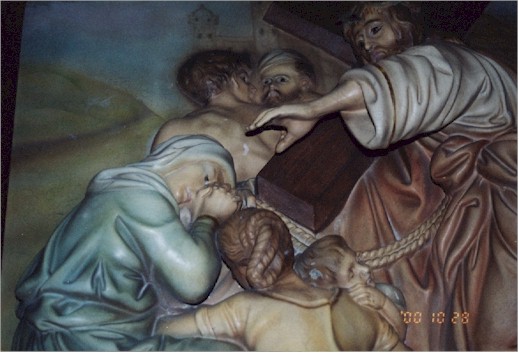 Jesus speaks: The women came to Me with their children, their tender hearts crying and wanting to comfort Me. I saw their love, their care. I saw the coldness of men's hearts for all time, the hatred, the anger, the sins, all the souls that, despite all of My sufferings and death, would be condemned to eternal damnation. I told the women to weep not for Me, but for themselves and their children. My greatest agonies were the agonies of My Most Sacred Heart. Oh, how I love you!
9. Jesus Falls the Third Time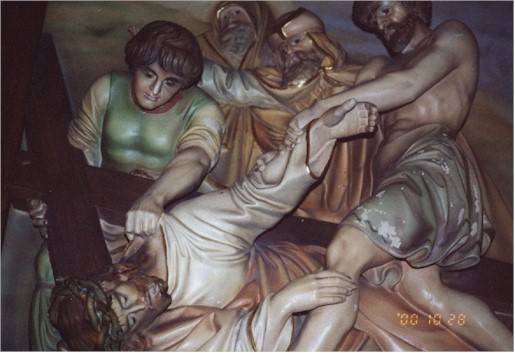 Jesus speaks: I fell hard the third time. I was so weakened I could not go on. My body collapsed under the cross from such exhaustion! My child, My child, My greatest agonies were not the wounds to the body. They were the wounds I experienced to My heart. Do you know a little more now how I love you? It is in meditating on My Passion and death that you will realize My immense love for you. When you fall, when you struggle, I give you the grace to get up. I never give you more than you can handle. Your strength will come from Me. Come to My Eucharistic Heart. I am waiting for you this day. Oh, how I love you!

10. Jesus Is Stripped of His Garments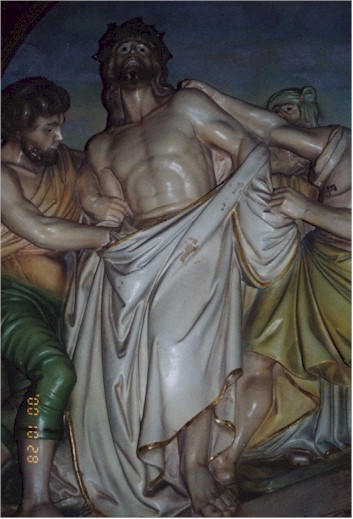 Jesus speaks: They took Me to the hill to crucify Me. They angrily stripped Me of My garments. They took off My clothes to whip Me. They had covered My bloody wounds with a dirty purple robe. Now, total surrender-they took off My clothes. I showed you the way to surrender, always complying with the Will of the Father. It is in living in His Will that you will have peace and joy, and life eternal some day. Oh, how I love you!
11. They Nail Him to the Cross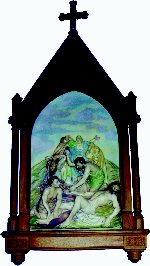 Messenger: See Mary as she holds the little Baby Jesus. See her as she washes His tender hands and feet. See her now as she watches as they pound into those same hands and feet the gigantic nails that fix Jesus to the cross.

Mary speaks: Oh, my dear ones, my heart was torn in my chest as they nailed His hands and feet to the cross. I ask you this day to walk the Passion with me and see through my eyes the love He has for you. He truly was nailed to the cross.

Jesus speaks: They pounded the nails into My first hand, then they stretched My body and nailed My other hand. The blood poured from these wounds that went totally through My hands. My pain was so immense, but then they nailed My feet! You do not know what pain I suffered, My child. My children, My children, for each one of you I suffered this pain. Oh, how I loved you!
12. Jesus Dies on the Cross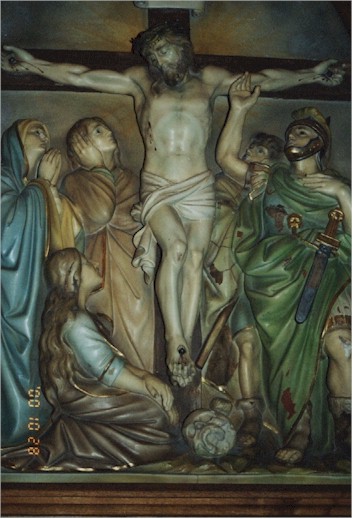 (Silence.)

Messenger: He hung for three agonizing hours on the cross against the darkened sky. His greatest agonies were not the agonies of His body, but those of His Heart for the great love He has for each and every soul.

Jesus speaks: I gave Myself to you, My dear ones. I gave My all. I hung with My arms spread in total surrender. My head was punctured; My hands and feet were nailed to the cross. I gave Myself to you. I give Myself to you this day in the Eucharist. I give Myself to you. I, God, give you Myself! What more do you want?

Song: Oh, burning Heart, oh, Love divine, etc.

Messenger: They pierced His Heart with a lance and what flowed forth was blood and water, the sacramental life of the Church, water for Baptism and blood for the Eucharist. His life, death and resurrection live on in the Church this day.
13. Jesus Is Taken Down from the Cross and
Placed in the Arms of His Mother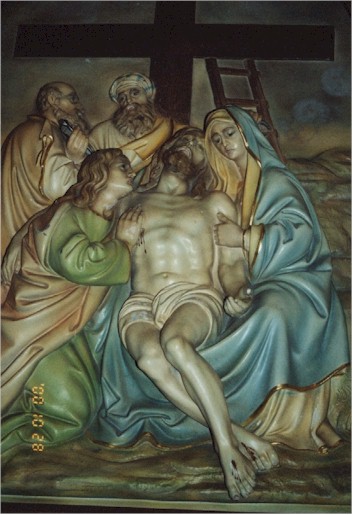 Messenger: His totally lifeless body was placed in the arms of His most loving Mother. As she had held the little baby body in her arms, she now received His bloodied, bruised body in her arms. This is how He obeyed the Father's Will. Jesus gave His life for us. The Father gave His only Son because He loves us so much. Mary, His Mother, our Mother and the Mother of the Church, is forever by His side. See Jesus in the arms of His loving Mother under the cross. This is love.

Mary speaks: I held His lifeless body in my arms. See through my eyes the love He has for you this day. He gives Himself to you today in the Eucharist. He loves you so much!
14. Jesus Is Locked in the Tomb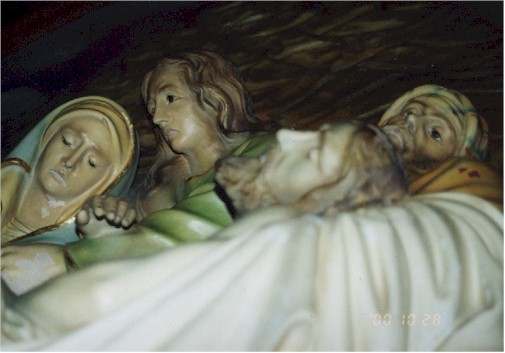 Messenger: His enemies rolled the stone up to the tomb and were pleased to have buried Jesus. Mary, outside the tomb, wept bitterly. The cold reality that He was dead! But death has no power over Jesus for on the third day He rose, triumphant, from the tomb! We are partakers in His divine life. Death has no power over Jesus. He is with us this day. He comes to bring us life to the full. He loves us so much!
---
---
---
Copyright © 2002 Shepherds of Christ.
Rights for non-commercial reproduction granted:
May be copied in its entirety, but neither re-typed nor edited.
Translations are welcome but they must be reviewed for moral and
theological accuracy by a source approved by Shepherds of Christ Ministries
before any distribution takes place. Please contact us for more information.
All scripture quotes are from the New Jerusalem Bible, July 1990, published by Doubleday.
Revised: August 13, 2002
URL: http://www.sofc.org
Contact Information for Shepherds of Christ
Email: info@SofC.org
---
Shepherds of Christ Ministries
PO Box 193
Morrow, Ohio 45152-0193

Telephone: (toll free) 1-888-211-3041 or (513) 932-4451
FAX: (513) 932-6791