Retreat in Florida

August 19th - 22nd

Retreat starts at 1:00pm on the 19th

August 19th is the 90th anniversary

of Mary's apparition at Fatima

after the children were jailed.

August 22nd is the Queenship of Mary.

Rita will be here to sign books.
14 Years Ago Tomorrow
August 16, 1993

Messenger:
Dear Jesus, Please come to me and write to me now, I really need to be alone with You and hear Your words, please talk to me.
Jesus speaks: My dear child, put your fear and anxiety aside. You are coming for My truth. I am the Truth. I live in you and you are watered by My words of truth. Deception is very troublesome to you when you live in My truth. On any scale deception is not at all funny. I know you cannot watch a movie anymore, it is not of God. Do not give in to the ways of this world. Feed yourself with only that which is of Me. Turn your entire life over to Me, trust in My ways and make them your own. Read and reread each letter, go back to your old letters, know them by heart so My words and thinking will become engraved in you. You must speak from My truth. You must be filled with My wisdom. You must not falter or wonder, but be confident in these words I write to you. My work for you is to speak My truths. You must study them and know all I have taught you. Those are your lessons. All that is not of Me will become so foreign, you will want only to choose My way, but you must teach yourself with My letters. I am the WAY, the TRUTH and the LIFE and he who abides in Me will have the light of life. The life I give you is not of this world. It is rooted in My words and My truth. Only I can teach you My truths. This world is so full of error. Unless you keep constant in My teachings by reading My words, you will go astray. My words are the food by which you are nourished and fed. My words are your drink, they are your food, they are your all. You will run and not grow weary, you will fly like an eagle. Joy will abound in your heart and you will know that true joy comes only from Me. All other joy is momentary. My joy is everlasting and full to the brim, You, My child, can have this joy if you stay fixed in My words. Savor them and decipher all their meanings for you, this is your truth, this is your victory over Satan's lies. This is how you will help others to know Me. Your instructions are very clear, My child. STUDY each letter and try to understand all of its contents. They are words meant for you so you can speak these truths to others. It is not by chance you were chosen by Me, My child. You are a teacher, you are convincing in all you believe in. Believe in these letters and memorize My teachings until they flow from you as from your very soul. You must put aside your doubts now. Keep these letters by your side. Your life here will be always put into perspective. You will not get caught up in foolishness, or worry for any reason. I AM HE, I AM here. Your work is clear, study and learn My words so they become engraved in you. Speak of My words to all. I am the Way, the Truth and the Life and you are My messenger. I speak the truth to you that you will speak the truth to all. No time to wait, time is so short. Be busy studying My teachings now. Keep them in your purse, underline and read them again and again. These are not just for you, they are teachings of My love for all My children. Each child needs to be told about My love. Reach as many as possible through your speech. I am by your side, giving you what you need. The crooked ways are made straight, the weary are sent away in rest. Your voice will be My tool to reach many. Make yourself like jello. I will form you into what I want you to be. You must remain formless and be molded by Me. I am this close to you, My child. You will take some knocks, but you will be the key to unlock many doors. Use you I will, let all busy things behind. Focus on Me at every moment. This is My desire for you to speak My truth. I will be with you, little one, do not be afraid. I will tell you the way.
Messenger: Oh my Jesus, how You want me to do this I do not know. Show me how it is to come about or put me somewhere and I will now study Your words for me. For He made me humble and taught me His ways, which are the only ways to go. All other ways are not of any account. His way is the way to victory, the cross that leads us to glory, joy and peace in this life and glory and salvation in the world to come. He bound up my foolish ways and taught me His truths. My tongue was made clean, and my heart was full of His love. He cast away my doubts and fears and filled me with the gifts of the Spirit. His light He shined deep into my soul and He washed me in His Blood and I was made ready to do His work, an honor that I do not deserve, but long to fulfill for Him, my God, my All, my Jesus. Him I love and He has bestowed on me a great dignity. With love and respect He clothed me and made my broken heart and soul whole in Him. I am the fortunate one to know this one, true magnificent God. I bow in awe at all His greatness.
I am in awe at His love for us all. In our lowliness and sin He reached out and clothed us with dignity and showered us with His love and we were like the flowers after the rain, blessed by Him in His greatness. We are His children, Alleluia, Alleluia. Praise the Lord. Amen.
end of August 16, 1993
My mission is to help lead to oneness.

The Catholic Church is One, Holy, Catholic and Apostolic.
John 17: 11-26
I am no longer in the world,
but they are in the world,
and I am coming to you.
Holy Father,
keep those you have given me
true to your name,
so that they may be one like us.
While I was with them,
I kept those you had given me
true to your name.
I have watched over them
and not one is lost
except one who was destined to be lost,
and this was to fulfil the scriptures.
But now I am coming to you
and I say these things in the world
to share my joy with them to the full.
I passed your word on to them,
and the world hated them,
because they belong to the world
no more than I belong to the world.
I am not asking you
to remove them from the world,
but to protect them from the Evil One.
They do not belong to the world
any more than I belong to the world.
Consecrate them in the truth;
your word is truth.
As you sent me into the world,
I have sent them into the world,
and for their sake I consecrate myself
so that they too
may be consecrated in truth.
I pray not only for these
but also for those
who through their teaching
will come to believe in me.
May they all be one,
just as, Father, you are in me
and I am in you,
so that they also may be in us,
so that the world may believe
it was you who sent me.
I have given them the glory
you gave to me,
that they may be one as we are one.
With me in them and you in me,
may they be so perfected in unity
that the world will recognise
that it was you who sent me
and that you have loved them
as you have loved me.

Father,
I want those you have given me
to be with me where I am,
so that they may always see my glory
which you have given me
because you loved me
before the foundation of the world.
Father, Upright One,
the world has not known you,
but I have known you,
and these have known
that you have sent me.
I have made your name known to them
and will continue to make it known,
so that the love with which you loved me
may be in them,
and so that I may be in them.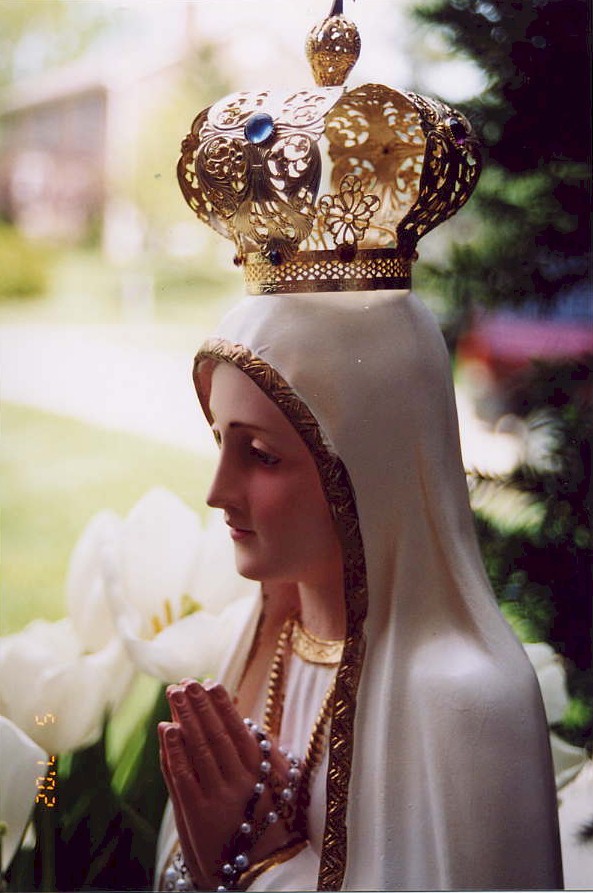 August 9, 2000

Oh, there is not one so fair as thee, my beloved Mother Mary.

Of all the maidens that God could have chosen it was you, oh shining Star of Heaven.

Oh Mary, Mother of us all.

She doth appear as a wonder so fair indeed,

A permanent sign of God's love.
A Woman clothed in gold.
One that glistens with the radiance of a golden tone,

Her beauty dancing in the sunlit hours of every day.

In morning splendor, in dancing light at noon day as the sun glistens on her rainbow glow and at night she has appeared on special dates in golden splendor and light.

Would you quote the Scripture for Mary so fair.

"Now a great sign appeared in heaven: a woman, robed with the sun, standing on the moon, and on her head a crown of twelve stars. She was pregnant, and in labour, crying aloud in the pangs of childbirth." (Revelation 12: 1-2)

Would you see her as she appeared in little villages in the 20th century, tucked in hills and out of the way places.

If you missed these enormous signs from heaven, of one so fair, she appears there clothed in the golden sun of the day, reflecting her radiant beauty painted by the hand of the Father. She is His chosen maiden so fair.

She appears daily, she is there by day and beneath the black shadows of night, she does not slumber, but calls to her children of light to come through her golden doorway and let the light of Christ shine in their souls.

She appears one so fair, by day and sometimes by night clothed in radiance and golden, her garment hemmed with glistening sunlight. She once appeared to a few and her visits fleeting in remotest places, she remains a Woman Clothed with the Sun, the sun dancing on her garments of rainbow color on a busy, busy corner for all to see, in the state of the sun, sunny Florida. She is a Woman painted by the brush of God.

And do you know the wonder of one who calls the children far and wide, to hear the voice of her Son, Jesus, Chief Shepherd of the Flock.

Mary, the heavenly maiden, to call them home to His Heart.

Oh, of one so fair, do we not boast and praise our God and thank Him for such a wonder.

Oh, to Mary, Queen of Heaven and Earth, we cry, help us to do what you asked for at Fatima and help us in our mission of telling the world of your Son's desire to spread His Movement so men will be Shepherds of Christ.