Mary has requested that the daily message be given each day to the world. It is read nightly at the prayer service from her Image Building in Clearwater, Florida, U.S.A. This is according to her request. All attempts will be made to publish this daily message to the world at 11 p.m. Eastern time, U.S.A.

---

We acknowledge that the final authority regarding these messages
rests with the Holy See of Rome.

---
August 16, 2006
August 17th Holy Spirit Novena
Scripture selection is Day 4 Period II.

The Novena Rosary Mysteries
for August 17th are Glorious.
We need to know if you have a
prayer chapter.
Please e-mail this information today.
Your name - complete address -
how many members.
You need only have 2 members.
August 16, 2006
Messenger: The prophets of the past may have seen
visions of another place where he was not.
We are to obey God's laws.
Ezekiel 34: 11-16
"For the Lord Yahweh says this: Look, I myself shall take care of my flock and look after it. As a shepherd looks after his flock when he is with his scattered sheep, so shall I look after my sheep. I shall rescue them from wherever they have been scattered on the day of clouds and darkness. I shall bring them back from the peoples where they are; I shall gather them back from the countries and bring them back to their own land. I shall pasture them on the mountains of Israel, in the ravines and in all the inhabited parts of the country. I shall feed them in good pasturage; the highest mountains of Israel will be their grazing ground. There they will rest in good grazing grounds; they will browse in rich pastures on the mountains of Israel. I myself shall pasture my sheep, I myself shall give them rest–declares the Lord Yahweh. I shall look for the lost one, bring back the stray, bandage the injured and make the sick strong. I shall watch over the fat and healthy. I shall be a true shepherd to them."
August 16, 2006 message continues
Messenger: God is born in a stable amongst the shepherds,
Jesus the chief shepherd of the Flock.
Luke 2: 8-20
In the countryside close by there were shepherds out in the fields keeping guard over their sheep during the watches of the night. An angel of the Lord stood over them and the glory of the Lord shone round them. They were terrified, but the angel said, 'Do not be afraid. Look, I bring you news of great joy, a joy to be shared by the whole people. Today in the town of David a Saviour has been born to you; he is Christ the Lord. And here is a sign for you: you will find a baby wrapped in swaddling clothes and lying in a manger.' And all at once with the angel there was a great throng of the hosts of heaven, praising God with the words:

Glory to God in the highest heaven,
and on earth peace for those he favours.
Now it happened that when the angels had gone from them into heaven, the shepherds said to one another, 'Let us go to Bethlehem and see this event which the Lord has made known to us.' So they hurried away and found Mary and Joseph, and the baby lying in the manger. When they saw the child they repeated what they had been told about him, and everyone who heard it was astonished at what the shepherds said to them. As for Mary, she treasured all these things and pondered them in her heart. And the shepherds went back glorifying and praising God for all they had heard and seen, just as they had been told.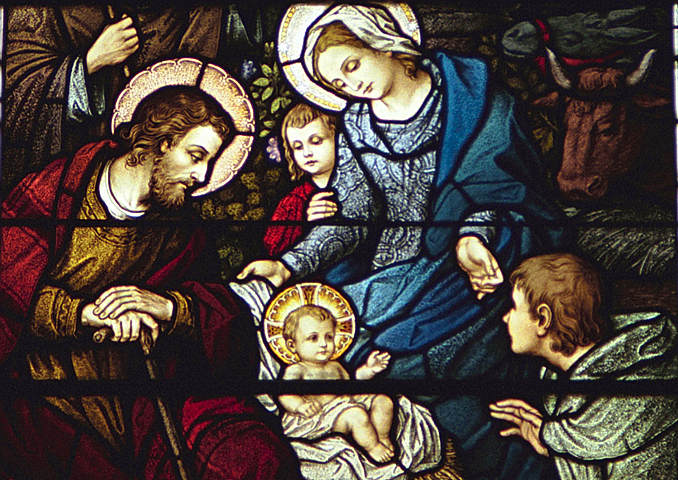 John 10: 11-15
I am the good shepherd:
the good shepherd lays down his life
for his sheep.
The hired man,
since he is not the shepherd
and the sheep do not belong to him,
abandons the sheep
as soon as he sees a wolf coming,
and runs away,
and then the wolf attacks
and scatters the sheep;
he runs away
because he is only a hired man
and has no concern for the sheep.
I am the good shepherd;
I know my own
and my own know me,
just as the Father knows me
and I know the Father;
and I lay down my life for my sheep.
Glorious Mysteries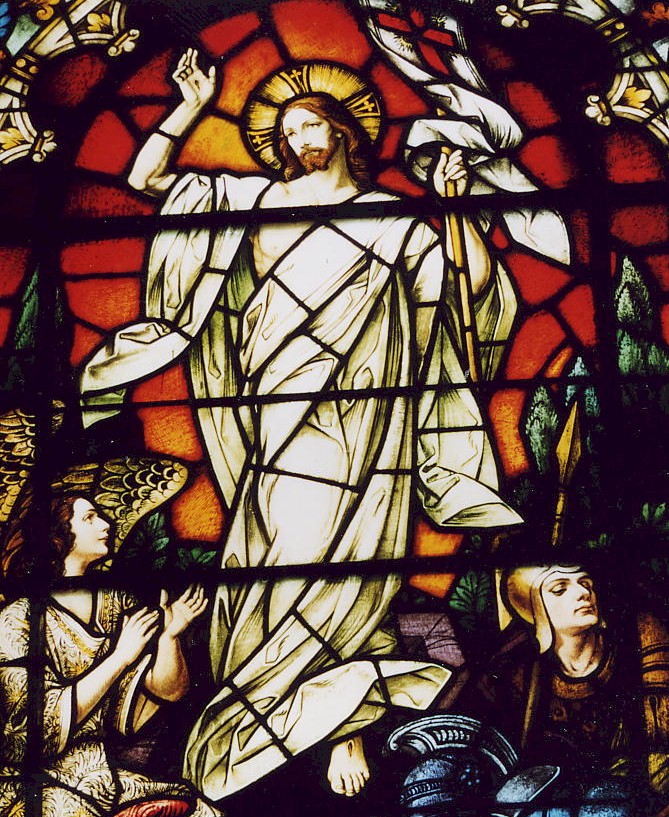 The Resurrection

l. Through baptism - we receive a special sharing in His life.
2. Our knowing and loving capacity is elevated through baptism.

3. Jesus died on the cross, Jesus rose the 3rd day.

4. God feeds us with His Body and Blood.
5. Oh child so beautiful -
Son of Mary
God-made-man
Our Savior
Strengthen us through Your resurrection!
6. Oh Savior thank You for dying and rising.
7. Oh Savior Divine - I love You so much.
8. A Song from Jesus
9. Song: Glory, Glory, Lord - Verses 1 - 2
10. Song: Glory, Glory, Lord - Verses 3 - 4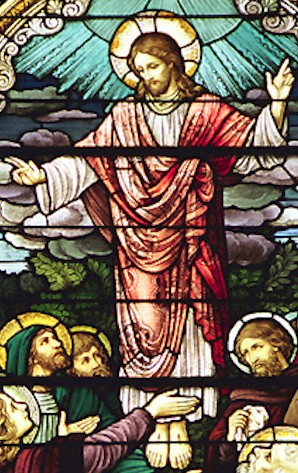 The Ascension

1. Jesus is the vine
We are the branches.
2. Even though the land is barren -
He can turn it to fruitfulness.
3. God waters the earth.
4. Sing Song: Come into the Fields.
5. The apostles were fearful.
6. They were awaiting the coming of the Holy Spirit.
7. When we love Jesus we try to keep
His commandments.
8. Jesus has chosen us.
9. God first loved us.
10. Jesus ascended into heaven.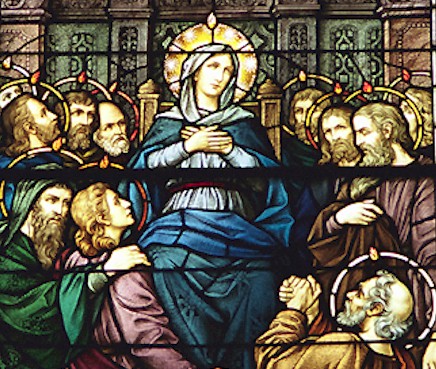 The Descent of the Holy Spirit on the Apostles

1. Acts 2: 1-4

When Pentecost day came round, they had all met together, when suddenly there came from heaven a sound as of a violent wind which filled the entire house in which they were sitting; and there appeared to them tongues as of fire; these separated and came to rest on the head of each of them. They were all filled with the Holy Spirit and began to speak different languages as the Spirit gave them power to express themselves.


2. Sing: Come Holy Ghost
3. Sing: Unless a Grain of Wheat
4. Sing: Come Holy Spirit
5. And they were transformed from fear to fearlessness.
6. Refrain: Glory, Glory, Glory Lord
7. Song: Hosea
8. Sing: See the Eyes that Look at Mary
9. We must be lights to the world
likened to Jesus.
10. Ephesians 5: 14

and anything illuminated is itself a light. That is why it is said:

Wake up, sleeper,
rise from the dead,
and Christ will shine on you.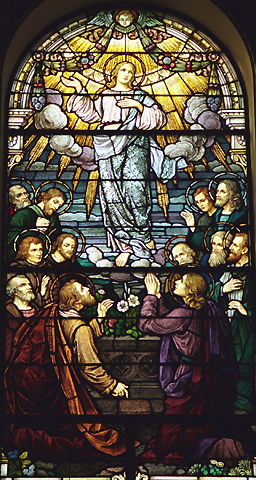 The Assumption of Mary

1. The angel appeared to Mary.
2. Mary conceived Jesus in her womb.
3. Mary took care of Jesus.
4. Mary is the most perfect disciple of Jesus.
5. Mary: "I am the handmaid of the Lord."
6. Say the Memorare
7. Sing: Immaculate Mary
8. Sing: The Rosary Song - Verses 1 - 2
9. Sing: The Rosary Song - Verses 3 - 5
10. Mary was taken into heaven body and soul.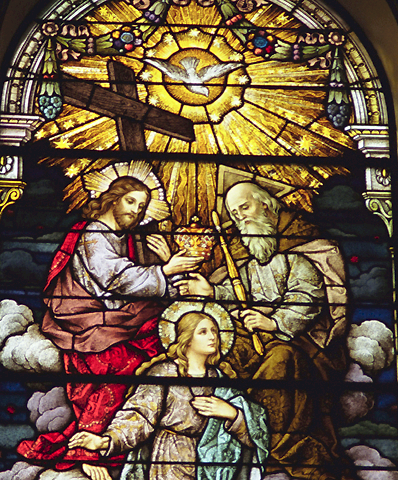 The Queenship of Mary

1. Revelation 12: 1-2

Now a great sign appeared in heaven: a woman, robed with the sun, standing on the moon, and on her head a crown of twelve stars. She was pregnant, and in labour, crying aloud in the pangs of childbirth.


2. Act of consecration to the Sacred Heart of Jesus

"Lord Jesus, Chief Shepherd of the flock, I consecrate myself to Your most Sacred Heart. From Your pierced Heart the Church was born, the Church You have called me, as a member of Shepherds of Christ Associates, to serve in a most special way. You reveal Your Heart as a symbol of Your love in all its aspects, including Your most special love for me, whom You have chosen as Your companion in this most important work. Help me to always love You in return. Help me to give myself entirely to You. Help me always to pour out my life in love of God and neighbor! Heart of Jesus, I place my trust in You!


3. Act of consecration to the Immaculate Heart of Mary

"Dear Blessed Virgin Mary, I consecrate myself to your maternal and Immaculate Heart, this Heart which is symbol of your life of love. You are the Mother of my Savior. You are also my Mother. You love me with a most special love as a member of Shepherds of Christ Associates, a movement created by your Son as a powerful instrument for the renewal of the Church and the world. In a return of love, I give myself entirely to your motherly love and protection. You followed Jesus perfectly. You are His first and perfect disciple. Teach me to imitate you in the putting on of Christ. Be my motherly intercessor so that, through your Immaculate Heart, I may be guided to an ever closer union with the pierced Heart of Jesus, Chief Shepherd of the flock."


4. Holy Spirit Prayer

Come, Holy Spirit, almighty Sanctifier, God of love, who filled the Virgin Mary with grace, who wonderfully changed the hearts of the apostles, who endowed all Your martyrs with miraculous courage, come and sanctify us. Enlighten our minds, strengthen our wills, purify our consciences, rectify our judgment, set our hearts on fire, and preserve us from the misfortunes of resisting Your inspirations. Amen.


5. The Holy Spirit

Jesus: "My beloved friend, tell My people to pray daily to the Holy Spirit. They are to pray for an increase in His gifts. My people must realize that the Holy Spirit comes to transform them. The Spirit desires to transform you more and more according to My image. Those who are docile to His touch become increasingly shaped in My likeness. He performs this marvel within Mary's Immaculate Heart. The more one dwells in My Mother's Heart, the more active are the workings of the Spirit. The Spirit leads Mary to place you within My own Heart. In both Our Hearts, then, your transformation continues. The more you are formed after My own Heart, the more I lead you to the bosom of My Father. Tell My people all this. Tell them to pray daily for a greater appreciation of these wondrous gifts. I am Lord and Master. All who come to My Heart will be on fire to receive the gifts of the Spirit in ever greater measure! I love and bless My people!"

Reflection: The Holy Spirit is given to us to fashion us ever more according to the likeness of Jesus. And the more we are like Jesus, the more Jesus leads us to the Father. Do we, each day, pray to the Holy Spirit to be more open to His transforming influence? Do we strive each day to grow in union with Mary? The greater our union with our Mother, the spouse of the Holy Spirit, the greater is the transforming action of the Holy Spirit within us.

end of excerpt from Tell My People


6. Sing Hail Mary's

7. The Magnificat

And Mary said:

My soul proclaims
the greatness of the Lord
and my spirit rejoices
in God my Saviour;
because he has looked upon
the humiliation of his servant.
Yes, from now onwards
all generations will call me blessed,
for the Almighty
has done great things for me.
Holy is his name,
and his faithful love extends age after age
to those who fear him.
He has used the power of his arm,
he has routed the arrogant of heart.
He has pulled down princes
from their thrones
and raised high the lowly.
He has filled the starving with good things,
sent the rich away empty.
He has come to the help
of Israel his servant,
mindful of his faithful love
—according to the promise
he made to our ancestors—
of his mercy to Abraham
and to his descendants for ever.

Luke 1: 46-55


8. Sing: Hail Holy Queen
9. Say:

Queen of angels,
Queen of patriarchs,
Queen of prophets,
Queen of apostles,
Queen of martyrs,
Queen of confessors,
Queen of virgins,
Queen of all saints,
Queen conceived without original sin,
Queen assumed into heaven,
Queen of the most holy rosary,
Queen of families,
Queen of peace,

10. Sing: Ave Ave Ave Maria
Sing: Ave Maria
Sing: On this day


End of Rosary
Glory be to our beloved God
Glory to the Father
Glory to the Son
Glory to the Holy Spirit
Sing: A Song from Jesus
Sing: Prayer for Union with Jesus (verse one) recite other parts
Say: Prayer for Intimacy of the Lamb

Revelation 4: 1-6
Then, in my vision, I saw a door open in heaven and heard the same voice speaking to me, the voice like a trumpet, saying, 'Come up here: I will show you what is to take place in the future.' With that, I fell into ecstasy and I saw a throne standing in heaven, and the One who was sitting on the throne, and the One sitting there looked like a diamond and a ruby. There was a rainbow encircling the throne, and this looked like an emerald. Round the throne in a circle were twenty-four thrones, and on them twenty-four elders sitting, dressed in white robes with golden crowns on their heads. Flashes of lightning were coming from the throne, and the sound of peals of thunder, and in front of the throne there were seven flaming lamps burning, the seven Spirits of God. In front of the throne was a sea as transparent as crystal. In the middle of the throne and around it were four living creatures all studded with eyes, in front and behind.

Messenger: Some time between Ascension Thursday, May 21, 1998 and Pentecost, May 31, 1998.

I saw a vision of an open door, the light within it resembled the light of the vision of March 26, 1996 that can be found in the Apostles Manual (p. 34-36).

The open door was glistening with this reflective golden color mirror-like light. I cannot describe, as I could not describe concerning the 3 main visions, the first being March 26, 1996.

The closest light I can describe to this is the sun reflecting on the water at Tom's Farm but this too leaves an emptiness to its description.

There was a little white sheep at the bottom of the open, glistening door and the little sheep hobbled over a small threshold and went in.

The door was rounded on the top, no corners, like a semi-circle on the top, and the wall surrounding this door was black. The light I describe was within this door and peered out to me in the vision.

I heard our Lord over and over again cry out during this period, "Come out of your tombs, dead, dead, dead, you are dead."

I heard the words similar to the message of May 21, 1998.

I was walled in on all sides – BARS – a prison of my own making. I turned and there was a wall missing and I gaily walked into the free night and the sun followed me as I walked.

I hear Jesus speak: "I am the gateway that leads to freedom."

I know the sea of glass from the vision of March 26, 1996. I know the open door from the vision.

I know the Power, I know the Intimate Burning Heart of Jesus in the Mass.
end of May 1998
Sing: Holy God
Sing: How Great Thou Art
Sing: Let there be Peace on Earth
May 25, 1995
(Apostles Manual pg. 418 - 421)

I Am Alive!
Messenger: Prayer is a lifting up of our minds and hearts to God. Who am I that I can change any event that is occurring in the lives of another, that I can affect the outcome of any event? I am a child of my Father. My Father is the Almighty God. How I love my dear Father. He is God and He has created me in His own image and likeness. My beloved, dear Father, how I love You that You give me such gifts - that You allow me to share in Your life!

You are the Father of Jesus and You are My Father. Thank You, My Father, for all Your gifts and for Your life. Who am I that I can affect the life of any person?

I am a child of God. I call on my dear Father and He loves me so, He listens to me. I lift my heart to You, my dear beloved Father and You listen to little me and You care for me so much. I call upon God and the Almighty God cares for me with such love that He listens.

Jesus speaks: Such truths have been given to you from My Father because of His great love for you. You are far more precious than the finest pearls, My beloved child. The Father so loved you He gave His Son so that you would have life. He gave His Son as a sacrifice for you. The Father gives to you His life through Jesus, His Son. You partake in His divine life.

I am Jesus, Son of the Living God. My life I give to you, I live in your being, My beloved, I impart to you My divine life.

How many turn their backs on the great gift of this life given from the Father. To know this life and to know all those who have rejected this great gift!

I am the Almighty God, My power is endless. The power and might you felt within yourself is only a small sampling of My immense power.

I am God and I am allowing you to experience what you are experiencing to spread My love to others. Your immense understanding into these mysteries will help you speak and write them for others.

I have chosen you as an instrument to touch many hearts and bring them to My divine love. Great gifts and understandings into these mysteries I am giving to you. You will lead many priests to the love of God.

I am alive. I am God. I long to be loved by man and many have turned their backs on Me and forgotten Me. You must tell them all I am allowing you to experience, these sufferings and understandings into My deep love.

This is the beginning of many days when I will allow you to experience the rejection I felt from those I loved. Your heart is in immense pain for the souls who reject Me despite My love for them.

I beg you to speak and write. Make reparation for souls that have forgotten My love. Spread the love of My Sacred Heart and My Mother's heart, throughout the world.

I love, I love, I love My beloved souls. I beg you to tell them. I beg Fr. Carter to tell every soul on this earth of My love. You will continue to suffer such pain and anguish in your heart. Suffer in silence for souls. I love so deeply and am so gravely offended!

I am Jesus, My dear, little child. I am alive and in this world. I live in the hearts of men, I live in the consecrated Host, I am forgotten and ignored and treated with such dishonor.

Speak for Me, I beg you to spread this love throughout this earth. I am sending you as missionaries into this world.

On this Ascension Thursday, I have given you great sufferings and great joy. I have allowed you to experience the highest ecstasies in My love and plunge you into deep pain in your heart for those who reject Me.

You, I send as missionaries to carry out the work I have begun. Be fearless and pray to the Spirit. This day I am giving you abundant graces to speak, and through this speaking, others are sent into this world as My apostles.

It is through the Shepherds of Christ Movement My love will be spread. Circulate My messages and rosary meditations. The love of the two Hearts will be known throughout this world through these messages and rosary meditations.

You will be fearless, everyone I send to you is a messenger to carry out My love. Circulate these letters with FIRE for I am delivering them to you in FIRE.

I am Jesus Christ, the Living God. I am allowing you to experience My life, alive in you and giving you these emotions to spread My love.

On this Ascension Thursday, I beg you to carry out the message to this world. Live My life in your life, every moment My life living within you.

I am the Way, I am the Truth, I am the Life. I have commissioned you to go out and to carry this message - the message of My immense love for ALL mankind, including My burning love for My priests and religious. Souls will turn their hearts to Me from these letters. This is the mighty medicine to turn a sick, cold world to hearts filled with the love of God.

Prayer, My beloved ones, is the lifting up of your minds and hearts to God. When you intercede to Me through My Mother's heart, I will pour out My greatest mercy.

I will not refuse hearts begging for grace for their loved ones. Pray from your whole being. Let My life live in you.

You can pray and ask God to send help. You do not know the power of a heartfelt prayer. I listen to your prayers. The Father and Holy Spirit are listening to your prayers. The more you unite with God, the greater you intercessory prayer. I am Jesus. I am alive this day. I ask you to spread My messages to the world. I am crying out in your heart on this Ascension Thursday. I ascended into heaven and I have left behind you to carry out what I began. I am with you. I am alive this day. I will unite with you and the earth will know the power of the Almighty God. I am Jesus Christ, Chief Shepherd of the flock. Lead My little ones home - home to the burning embers of My Most Sacred Heart, through My Mother's heart.

Messenger: I cried so hard, I have never been so immersed in heartache. I heard Him shout, "I Am Alive, I Am Alive." I cried so hard, I could hardly write.

I know Him. He is alive in my being. My soul is filled with His love. I live the life of Jesus and Mary in my life. I love His life, her life - their presence forever with me. From this great gift, these rosary meditations, His life has become one with mine. I feel His life in the Mass. I hear Mary under the cross. I hear the cries for the souls going to hell for their willfulness and sins. I hear the laments of Jesus in the tabernacle - how He longs and thirsts for souls and is neglected and ignored. I hear Him tell of the sacrileges committed against the Holy Eucharist.

I heard Him this day. I felt His presence and the presence of the Almighty God as He cries out, "I am alive, I am alive, I am alive."

He is alive. We have the Mass. He gives us Himself in the Eucharist. Mary is appearing, we are given this rosary. We are sent as soldiers by Him in the Shepherds of Christ. We are thirsting for union with Him, sent by Him, apostles to go out to this world and spread His love, one with the Eucharistic Heart of Jesus, one with the Trinity. He will light this earth with hearts on fire for love of Him.

Jesus speaks: I come to you with greatest love, I am your loving Savior, I am your God, I died for you, I come to you this day.

The earth shakes and the Son of Man appears. He lives in the hearts of all. I want hearts on FIRE for love of Me. I want vibrancy and love from My beloved ones. Hold not back My love from this world.

Messenger: I adore you, Oh Lord, I praise you, I worship you, I bless Him with my whole soul. My soul proclaims the greatness of the Lord and holy, holy is His name! Jesus wants souls that are holy, on fire with the love of Jesus. Make novenas to the Holy Spirit to have hearts on FIRE with the love of God. Sound the trumpet, sound the gong - Jesus LIVES - He lives this day! Alleluia.

Sunday is a special day to praise Him, to love Him, to pray to Him - His day to be honored and worshipped in a special way. Pray from a pure and holy heart, a heart that sings for love of the Lord. Pray from your whole being.

end of May 25, 1995 message
January 2, 1997
"In the name of the Father, and of the Son, and of the Holy Spirit, Amen."
"The grace of Our Lord, Jesus Christ, and the love of God and the fellowship of the Holy Spirit be with you all."
God pours out His grace in this Holy Sacrifice of the Mass. It is the greatest gift when God gives Himself to us.
We share with God His life, given to us abundantly in the Mass.
He gives Himself to us and we give ourselves to Him. The great love affair between God and man: His Holy Mass.
The priest is another Christ to us. It is Christ present, through the priest, celebrating the Mass. We must see Christ in the priest, see Him celebrate the Mass, see His beautiful brown hair, His gentle face, see Him, our Savior. This Jesus Christ that came was born an infant and gave Himself to His death on the cross that we would share His life. See Him now in the Mass, giving Himself in the greatest gift of all. He gives us His divine love and His divine life.
Oh, we thank You for Your life. We know Jesus died and rose and gave us a sharing in His holy life. His life is now abundantly poured, as a fountain to us, especially in the Mass.
Then we hear His word. Let the word of God penetrate our being. Let us feel this Living Word of God. As a two-edged sword, it comes forth with such conviction and love and it penetrates the souls of the faithful with such love. It is food indeed, food for our soul.
He is the Good Shepherd. He speaks to us. He gives us all we want. "Yahweh is my shepherd, I lack nothing." (Ps. 23:1)
He gives us green pastures, and His water pours out and refreshes us. He outpours His grace as a fountain to feed us with His life.
He is a just God, good and kind, all loving, for He is Love. We want for nothing for He outpours His love and His life to us in the Mass. We feast on His Body and Blood and are fed with His Word. We become one in Him and He shares Himself with us.
It is through the Mass celebrated by the hands of a holy priest that we will experience the Mass the way Christ intends. These writings are insights which hopefully will help lead you to the spring of life-giving water, the fountain of love and life He outpours in the Mass.
There will be a new earth when men will see with the light of seven suns. They will know God. A people walking in darkness will see a great light. They will no longer be blind, they will be enlightened, they will love God with the greatest love in the Mass. They will feast on His Body and Blood and will be united as one body in His holy Church through His life given to us in the Eucharist.
We will drink copiously from the fountain of grace which He pours out in the Mass. We will be filled with His love, absorbed with the love of the Father, Son, and Holy Spirit and feasting on His divine life.
We see with the vision of God. We partake in such a union with God. We see with the light the Spirit gives to us. The priest celebrates the Mass and we know God with such an intense knowing in this union. We are saturated with His life flowing from the hands of His consecrated priest.
And I look at Him, the priest, and I see Jesus there. I see Him giving Himself to Me. I see the new and Holy City. I see with such clarity the great gift that God gives to us in the Mass!
We learn how to love in the Mass, for we unite to God. He gives us such an intimate sharing in His divine love that we carry His love out to the world. In this union we know His loving to an intense degree and we carry this love out to others. We share in an intense way in His divine act of loving. He, Who is love, gives Himself to us and we are absorbed in His love and we know intensely how God loves. We are filled with love for God and for each other, for, in the oneness He is loving through us. He gives us lights into His loving capacity and we know His loving power in an intensity we did not know before.
We then pray. We offer up our intentions for this Mass. It is now we who intercede to Him to outpour His grace on us and help us with these intentions.
We pray for this reign of peace when the Sacred Heart of Jesus will reign and the Immaculate Heart of Mary will triumph and men will fervently love and adore God with burning love. We pray for all souls and the Church and we beg for His help, His love, His grace.
We offer ourselves as a sacrifice. We offer the bread that will become the bread of life.
The priest mixes the water and the wine and we realize how His Divinity mixes with our humanity.
We offer the wine that will become our spiritual drink-His blood.
I give myself to Him and I beg to be cleansed of my sins with the washing of the hands.
"May the Lord accept the sacrifice at your hands for the praise and glory of His name, for our good and the good of all His Church."
We ask Him to accept the gifts we want to give Him, we give Him thanks, we lift up our hearts in thanks and praise and we sing out:
"Holy, Holy God, of power and might…" we sing Him praise and thank Him-oh, God we love Thee so much."
My heart is so filled with such awe. I cry because I love Him so much.
Every word in the Mass, I love. The priest consecrates the host and changes it into the Body and Blood of Christ.
Oh, it makes me cry for I am so struck with awe at what happens at the Consecration. I unite in the oneness with the priest, with Christ and with all present, with heaven and earth. I am one in that moment, united in the sacrifice of Christ giving Himself to the Father.
This is the moment when I unite in such oneness with Christ in the purity of Mary's heart. I give myself as a sacrifice. I offer myself to the Father.
The Father looks down and He sees us united to His Son's Sacrifice. It is in this oneness that His grace is outpoured on us, that we die to that which is not like Him and that the Holy Spirit works in the heart of Mary and fills us with His life.
I am in ecstasy as I realize more and more the great gift of love that God gives us in His holy Mass. I am taken to such heights, being wrapped in the presence of God. It is rapture, this Holy Sacrifice of the Mass.
It is a great gift, experiencing this intense presence of the Almighty God: Through Him, With Him, and In Him.
We pray to the Father the prayer as Jesus taught us and beg, "thy Kingdom come, thy will be done on earth as it is in heaven."
We pray: "For the Kingdom, the power and the glory are yours, now and forever."
We beg for peace in our hearts. We share this peace with one another. Then we beg of the Lamb of God. I want to get down to the ground and beg for His grace, mercy and forgiveness for our sins.
Please, God, I see us as a sinful people. I want the grace and mercy to flow abundantly.
He raises the Host and says: "This is the Lamb of God Who takes away the sins of the world, happy are those who are called to His supper."
We respond: "Lord, I am not worthy to receive you, but only say the word and I shall be healed."
I receive the Almighty God in Communion. All I want is Him. Oh, God, I want you, I adore you, I worship you, I love you.
Oh, for this moment when God gives Himself to me. Oh, God, words do not express this time-this intense presence of You within my being. Oh, sweet Savior, I love You!
You share Yourself so intimately with me. You imprint on my soul a knowing of Your Divine Being that is so intimate in this Communion when You give Yourself to me.
Oh, let our hearts be open to His grace that we may know this great gift more, that we will partake more fully in this greatest act of love with Divinity.
He shares Himself with us, the Almighty God, in such oneness. This is the greatest way to bind us with each other, to unite with each other in the Mass and Communion.
And so I sing the love of God, the love of His Mass. I beg you to pray for the grace that He can teach you in these writings about His most intimate love affair with man, the gift of Himself-the gift He gives us in the Mass.
The Holy Sacrifice, the sacrifice of Calvary, sacramentally-made-present in the Mass when He gives Himself to us with the greatest love!
And what does He ask in return? He asks that we love one another, that we give Him the glory, the thanksgiving, the adoration that is His due as the Almighty God.
He sends us forth with His blessing to share His most intimate love with all. We go forth as other Christs in the world. For He is alive this day and He lives in us and He gives His love to others through us. We act as channels of His life to one another.
The Mass is the richest source of His life. His life flows through the body, the Church, especially through the Sacraments and the Mass.
Oh Jesus, from the fountain of life that pours forth from Your pierced Heart, give us holy priests whose hearts are consecrated to the Hearts of Jesus and Mary to celebrate the Mass-that there is such oneness between the priest and Christ that His grace will flow copiously.
We thirst for the fountain of life pouring forth from the pierced Heart of Christ. It is His life we seek and find in the Church. It is His love we want and we experience the greatest love affair with God in the Mass.
These books on the Mass are accounts of my intimate love affair with our Almighty God. Many experiences were enlightenments I received in the Mass.
I strongly advise all to pray, to say the Holy Spirit Prayer, the Consecration Prayers, and the Prayer before the Holy Sacrifice of the Mass, before Mass. (These prayers follow this message).
This book is the journey into the red room, the inner chamber of the Sacred Heart of Jesus, through the gateway, the pure and Immaculate Heart of His Mother.
It is in the Mass we give ourselves in such love to our Holy God. He gives Himself to us and we give ourselves to Him.
end of January 2, 1997
Excerpt from August 2, 2006
Messenger: I appreciate your mail —
e-mail telling me how you
work to do these Ministries
Jesus has asked us to do.
Shepherds of Christ
P. O. Box 627
China, IN 47250
Our new mailing address is
in China — where we have
24 hour adoration and our
retreats —
write to me to tell me how
you are being a Shepherd of Christ
Associate, Apostle —
Anyone who has a prayer petition
can e-mail info@sofc.org
and we will put your prayer request
in a basket under the altar in
China, Indiana —
you can see the basket on the
internet —
We pray every half hour
for the intentions in the basket
We will pray for you —
Jesus wants Blue Books 4 and 5

on sale for $5.00 each plus postage

so you can circulate them to other people.

DVDs and Videos are on sale too for $5.00

so you will circulate and show them to others.

Call Glaci for image wallets to circulate.

ORDER YOURS TODAY.

Main Mailing Address for Shepherds of Christ

Shepherds of Christ Ministries
P. O. Box 627
China, IN 47250

1-888-211-3041

We accept credit card.
---
---
---

Copyright © 2006 Shepherds of Christ.
Rights for non-commercial reproduction granted:
May be copied in its entirety, but neither re-typed nor edited.
Translations are welcome but they must be reviewed for moral and
theological accuracy by a source approved by Shepherds of Christ Ministries
before any distribution takes place. Please contact us for more information.