Mary has requested that the daily message be given each day to the world. It is read nightly at the prayer service from her Image Building in Clearwater, Florida, U.S.A. This is according to her request. All attempts will be made to publish this daily message to the world at 11 p.m. Eastern time, U.S.A.

---

We acknowledge that the final authority regarding these messages rests with the Holy See of Rome.

---
---
A Prayer for Intimacy with the Lamb, the Bridegroom of the Soul

Oh Lamb of God, Who take away the sins of the world, come and act on my soul most intimately. I surrender myself, as I ask for the grace to let go, to just be as I exist in You and You act most intimately on my soul. You are the Initiator. I am the soul waiting Your favors as You act in me. I love You. I adore You. I worship You. Come and possess my soul with Your Divine Grace, as I experience You most intimately.
---
Messenger: Include Our Lady of the Holy Spirit Center in 6:20 prayers.
---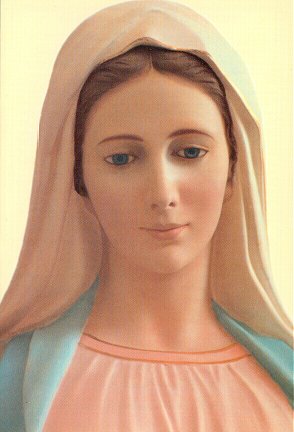 Mary speaks: I have a special gift for you my children!
Messenger: Our President was in Florida on the 4th, 5th, & 6th of July last month. He took these pictures. He is the one who took the picture of Mary on the back of the image book.
This picture is how Mary looked during that visit. Look at the beauty of her colors.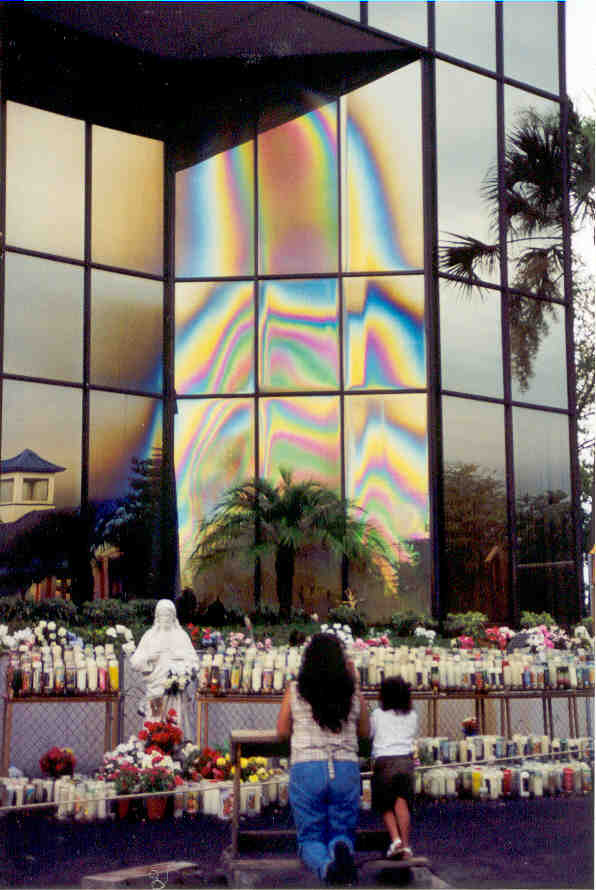 Messenger: Last month on July 5, 2000, I went to Florida. As the evening drew near it seemed the image was already turning gold. This picture was taken earlier, before dark.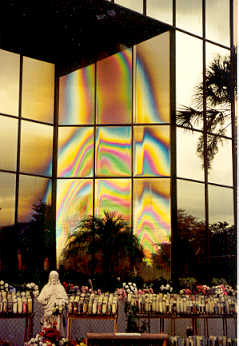 Messenger: Here is a picture of Our Lady of Guadalupe.
Messenger: As we prayed the rosary Mary was visible and turned splendidly gold as she has many months this year; January 5, 2000; April 5, 2000; May 5, 2000; June 5, 2000; July 5, 2000.
The first time she became visible to me at night was on December 17, 1999, on the 3rd anniversary of her appearance.
Then Mary became visible to me and turned gold in January, 2000.
She began to become more splendidly golden on these 5ths: April, May, June, July.
Many there saw her visibly and saw her golden tone.
No one was able to get a picture of this.
On July 5, 2000, our President went there and took the following pictures.
Usually as we sing in the 4th mystery, she becomes very visible and increasingly turns gold as we sing to her.
Here is a picture, one of many, John our President took on July 5, 2000.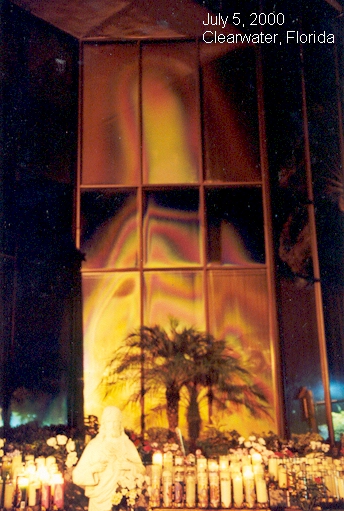 Messenger: A second picture was taken before dark. I had been instructed to put Jesus in the tomb there for the rosary. He is to the left bottom of the picture. We did the Sorrowful Mysteries.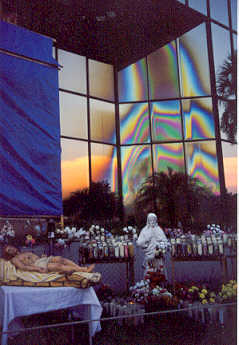 Messenger: Mary gave the following live messages from China, Indiana, July 28, 2000, for the gathering in China on August 5, 2000.
As we sat in this glowing church in China, Indiana, Mary spoke to me.
Here are pictures from the church that night where I received the messages.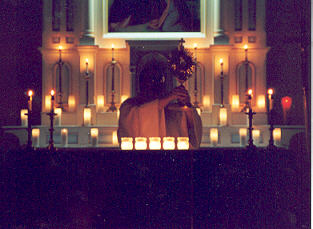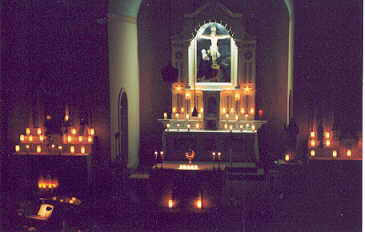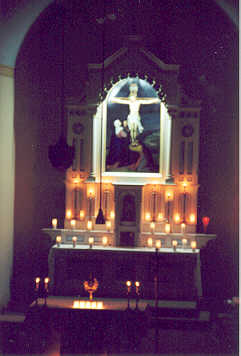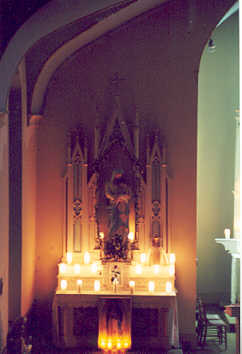 ---
Excerpt from the Glorious Mysteries, July 28, 2000, given in China, Indiana
TO BE GIVEN ACCORDING TO MARY'S INSTRUCTION FOR AUGUST 5, 2000, AT ALL THREE CENTERS.
Mary speaks: Oh my children. And I cry to you this night. For I want the rosary to be in the hands of my children all over the world as I asked at Fatima in 1917. And so many years later I still cry to you, my blinded earth. And I appear on the building and people go by and they do not even see, for they are so busy for their lives. And yet I ask you to meditate on the scene of Oscar and the funeral. For it is a sunny day outside and inside in the funeral parlors of this world and the churches where services are held for the dead. The connection between heaven and earth is so clear that this life here is not forever. And I cry to you my children to help me to do what my Son, Jesus, has asked of you, to help to begin the prayer chapters, to pray for the Church and the world and for your priests. Oh my children, you do not know the gifts that you are given in the Blessed Sacrament and in the priests. You must pray for them. The power, my children is in the Eucharist. It is through the hands of the priests that you receive this great gift from your God and you must pray for them. Will you help me throughout the world by spreading these prayer chapters and uniting your hearts to the Holy Sacrifice of the Mass? And in everything that you do, in your sleeping and your eating, offer up your lives to the Father, making everything you do a prayer. It is so simple my children. And enormous grace will be released to the world. And so We have given to you a small card that you can spread to all the souls of this earth, that says, "Father, we give our lives to You united to the Mass for the sake of souls, for the Church and the world and our priests." So much grace, my children, will be released on the earth when you lay your lives down united to the Mass. My Son gave Himself as a Sacrifice for you, and today enormous grace will be released the more you unite to the Mass in everything that you do. And the elderly are sitting in their chairs and lying in their beds, and they want to know that their lives are important. And you can tell them to offer up whatever it is that they do. It is God's will that there is this slowing down process in the lives of many. And their lives are so important to the souls of this earth. Will you please ask them to offer their lives as a sacrifice united to the Mass? And when they eat, when they endure the suffering, when they walk, oh so slowly and they struggle, all those activities can help the souls of the earth enormously when united to the Mass. Oh my children, my children, I love you so. My adults, you must pray, for you ignore me and you go about your busy days with all your pleasures and your whims. It is all right to enjoy your life, but you ignore your God. And you do not take the time to pray. How can I make you see how serious this is, for you will not listen to me?

Oh, my children, look at my Son, Jesus, as He hangs on the cross. For He is Savior and He loves the children of this world. And I cry for them. I cry for my children and you say, "Oh the woman in the accident and the one-year old baby died. Oh, God, is this just? What a crisis." And I say to you, "What of the little babies that are created by God and given to you and you feed them garbage. You worry so for so many things. And my young ones, the ones in the teenage years that will not even pray or pray the rosary, for they are fed this daily dose of poison from the world. Oh, my adults, pray as my Son, Jesus, has asked you to pray. Are you the shepherds of Christ? Will you help lead them home to His Heart? Oh, my children, you must pray for the shepherds of this world, my precious priest-sons, to whom God has given this great gift, the gift to be a priest. Pray my children as He has instructed. For He has attached great grace to the prayers for the Church and the world and your priests, my beloved priest-sons that I love so.

Oh my children, my children, I held His lifeless Body within my arms. He gave His all for you, and today He gives Himself to you in the Eucharist. And so many do not treasure the gift of God Who gives Himself. And the power is in the Eucharist. The grace will be outpoured on the earth the more that men unite their hearts to the Holy Sacrifice of the Mass. Pray for my precious priest-sons, for they were called and anointed by God and He loves them so. And the devil knows the power in the Eucharist, the power in your Church. What a gift God gives in the Church. My children, the Church is the bride of Christ. I rocked Him as a Baby, I fed Him as a child.....

---
Given Thursday evening, July 27, 2000, after the 6:20 prayers.

Messenger: I was in church praying with others before the exposed Eucharist in a little chapel. We prayed the rosary together aloud. After the rosary a woman spoke and said could we pray for a young mother that had a car accident that morning and her one year old baby was killed. The mother was in critical condition in the hospital.

I wanted to cry and I thought, "Oh, that mother, she might feel like dying knowing her baby died."

Mary spoke to me very clearly and said:

Mary speaks: My dear child, a baby is indeed so dear and so pure and the loss of a baby so sad. If men only knew how I cry as your heavenly Mother for my babies, the ones murdered in the womb by their mothers.

If men only knew why I appeared to you so many times daily, that you would reach the adults with my plea to pray for the children and change their lives, and the last nine months there was my plea to reach the children with my rosary meditations and the consecration.

My dear child, it is a tragedy when a little baby loses its life and you say, oh, why God is it just?

How can you sit as children of God and not hear me as my messengers cry to you.

I appear on the building in Clearwater and their eyes do not even see me.

I cry like you wanted to for the mother of the baby who died.

I cry for the mothers and fathers that raise little babies and feed them to the world so that their souls are left to such evil influences there.

They die, my little babies, a spiritual death.

Every day more and more youth choose the evils of the world and their parents give in to the society. Some parents try so hard to help their children stay pure, and many influences, including some of my schools, lead the children away from God.

Mary speaks: My babies.

I am a mother, I cry for my babies dying a spiritual death for all eternity.

Now you meditate on the happening. A woman dying in the hospital, a mother, a father of a sweet little dear baby.

My children, your babies are sweet and dear and so pure, given from the hand of the Creator and, my children, the death that many are suffering is not the death of their bodies, but the spiritual death of their souls leading, if they do not change, to the eternal fire of hell.

You pray concerning the blindness in the physical eye, and the blindness in your hearts and souls you do not pray for.

My Son gives to you these prayers to which He has attached special grace for the Church and the world and my beloved priest-sons.

I cry today, July 27, 2000, I cry to you to help Me. I appear in Clearwater to teach the world to pray.

Mary speaks: I appear, I appear, I appear and I am ignored.

---

Mary's Message from the Rosary of August 27, 1996

Mary speaks: I stood beneath the cross of my Son, and my Heart was in such pain for I saw Him before my eyes. I saw Him covered with blood. I saw Him die. My Heart, my children, my Heart to watch my Son, but my Heart, my Heart, how I suffered for my little children of the world that give in to this world and give up the love of my Son. O my little children of light, I give you this message. Carry this light into the darkness for your Mother Mary, for I stood beneath the cross and I cried. I cried for the little ones. I cried for the young ones, the ones that do not care and will lose their souls. How do I make you see for you will not listen to me? What can I do? I come. I appear. I beg. I plead. I give you these gifts from my Son, and you reject me. I do not deliver messages very often anymore for I have been ignored. The message is the same. You do not read the messages I have given to you. Please help me. Help the little children. I appear. I appear. I appear, and I am ignored. I stood beneath the cross, and I cried. I cried, and my Heart was in such anguish for my little children, for I am searching for them this day as I searched for the Child Jesus. Please, please help me. I cannot hold back the hand of my Son any longer. I am Mary, your Mother. I ask you to help my children. You are my children of light.

---
---
Messenger: In the rosary the Lord gave that night, July 28, 2000, He referred to the messages of July 23, 2000. What follows is an excerpt from the July 23, 2000, daily message.
---
Messenger: Our Lord wanted me to write about this.

Yesterday was the funeral of our dear Emily's grandfather. The family is very close to each other and close to God. Emily's grandfather loved God and that love goes on in his family. Emily's mom and dad and brother are also members of Shepherds of Christ, as is also Emily's uncle. All are touching the world through their love of Jesus and their prayers. We thank God for Emily's grandfather and the gift God gave to us. Now God has called him home. It was unexpected, for he had a heart attack, we never know when death will knock at the door. He began having chest pains at noon and he died at 3:00 pm.

The funeral Mass was so beautiful and I felt so connected to God. This is what life is all about.

Emily wrote a letter to her grandfather March 14, 2000, included is that letter. This is the only letter she had ever written to him. On the day before he died of a heart attack, she received the only letter he wrote to her.

Here are the letters.

---

Emily's Letter to Her Grandfather

(End of Emily's Letter)

---

Grandfather's Letter to Emily
---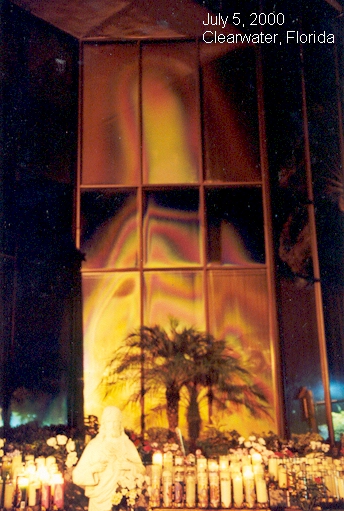 Taken July 5, 2000, during the special prayer service that Mary calls on the 5th of each month.
---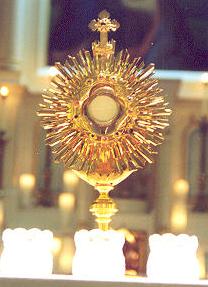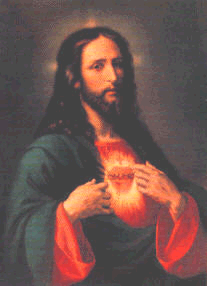 Jesus speaks: Please pray for all Shepherds of Christ intentions.
There is a meeting in China, Indiana, August 12 - August 14, 2000, a mini retreat. A special rosary is given at 12:00 noon China time August 13. A big body of people gather to pray from 12:00 - 5:00 August 13.
---
Jesus speaks: Come to Morrow, China or Florida for August 5.
---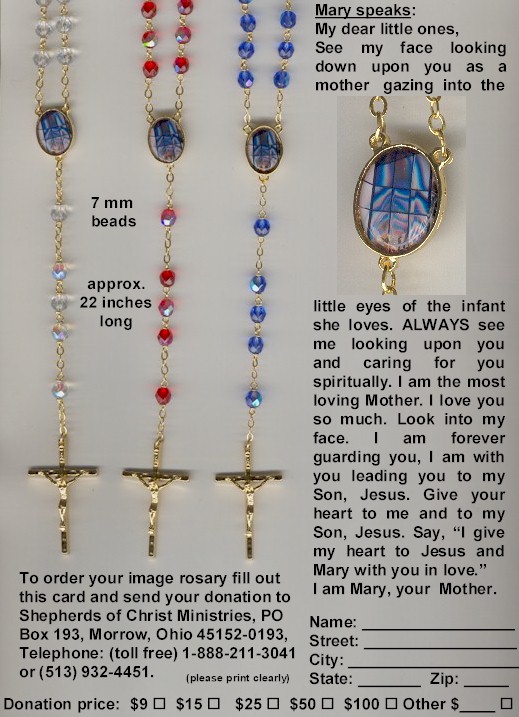 (Please copy and pass out to family and friends.)
---
MY VALENTINE FOR JESUS AND MARY
AND THE WORLD

I _________________ give my heart to
You Jesus and Mary on this day
_________________
I promise to help spread the devotion to
the Hearts of Jesus and Mary.
---
Question for married couples and others in intimate relationships:
Q: How do I feel I can learn more about patience from identifying with Jesus on the cross? How do I feel it will help us to get along more as a couple?
---
---
---
Copyright © 2000 Shepherds of Christ.
Rights for non-commercial reproduction granted:
May be copied in its entirety, but neither re-typed nor edited.
Translations are welcome but they must be reviewed for moral and theological accuracy by a source approved by Shepherds of Christ Ministries before any distribution takes place. Please contact us for more information.
All scripture quotes are from the New Jerusalem Bible, July 1990, published by Doubleday.
Revised: August 2, 2000
URL: http://www.SofC.org
Contact Information for Shepherds of Christ
Email: info@SofC.org
---
Shepherds of Christ Ministries
PO Box 193
Morrow, Ohio 45152-0193

Telephone: (toll free) 1-888-211-3041 or (513) 932-4451
FAX: (513) 932-6791