Mary has requested that the daily message be given each day to the world. It is read nightly at the prayer service from her Image Building in Clearwater, Florida, U.S.A. This is according to her request. All attempts will be made to publish this daily message to the world at 11 p.m. Eastern time, U.S.A.

---

We acknowledge that the final authority regarding these messages rests with the Holy See of Rome.

---
---
A Prayer for Intimacy with the Lamb, the Bridegroom of the Soul

Oh Lamb of God, Who take away the sins of the world, come and act on my soul most intimately. I surrender myself, as I ask for the grace to let go, to just be as I exist in You and You act most intimately on my soul. You are the Initiator. I am the soul waiting Your favors as You act in me. I love You. I adore You. I worship You. Come and possess my soul with Your Divine Grace, as I experience You most intimately.
---
Messenger: Slow deliberateness in obeying His message, sticking to the message He gave me, Mary gave me. It works. The more I obey the message the more it works with ease. There are many suggestions from men, many different ways. There are many ways I can think of to do something. When Jesus gives me a message or Mary gives me a message, I must stick to the directions. This may not be what I wish to do, but I know that this is a message and the more I follow the message the more ease there is with it. Why would He give me a message if I didn't have to follow it? Many times His message is a warning to avert a greater mishap. The warning is something that brings to light an already bad problem that has been covered up. The problem has been lurking beneath the surface like a smoldering fire. It may have been an imperfection within a person, it may be a behavior that is not good. Like a smoldering fire it will burst forth into a big fire in a crack and poof and then they say, "Oh how did it happen so fast?"

Isn't that how it is when one smokes or drinks or takes drugs or practices illicit sex and then one morning the tell-tale clue of the smoldering fire breaks forth ... a diseased liver, diseases, heart trouble... "he was okay", they say, "and then all of a sudden he got sick and now he has a couple of months, the doctor says, to live".

The body is perishable, what we do affects the outcome. Jesus many times gives a loving, tender message to avert further problems. We do not know it all, we are men coming from patterns taught from generations past, with new evil ways of the world creeping in to cloud our vision.

He is the "I Am", unchangeable. When I first received messages in the Blue Book and lived by them, my life immediately changed. Even in suffering I found joy, for I had the truth rooted deeply in my life when I turned to the messages.

A quick decision is not always God's will. Finding a solution, if it is not the right one, can create a lot of havoc. Jesus hung on the cross for three agonizing hours until He died.

Many times it is God's will we withstand much suffering and pain. Change can be very difficult. Many want to believe they are perfect already. They resist even the possibility that they need to change. They think the world needs to change. We need God's help to see we have a problem, and then to change takes a will that loves and serves God.

Do we come in our name or His name?

What we seek is God's will. To His death on the cross, Jesus did the Father's will. A quick solution is not always the answer. Before He hung on the cross for 3 long hours, He carried a heavy cross, patiently, for love of us, He carried it. He did perfectly the Father's will.

What is all this about? It is about surrender. It is about consecration. It is about giving ourselves to Him.

Now I beg you, please do all you can with me to spread the consecration to the ends of the earth. Please realize the more we obey Jesus' and Mary's and the Father's messages, the easier it will be to help to bring about the reign of the Sacred Heart and triumph of Mary's Heart and the great era of peace and oneness. Please help me.

In yesterday's special rosary in China, Indiana, Jesus outpoured His love for us and gave us special graces. He told us of the beautiful place of existing in Him and being one with the Father in the Holy Spirit. This increasingly happens for us on earth the more we give our hearts to the pure Hearts of Jesus and Mary.

I ask you to quote the Mass Book, December 18, 1995.
---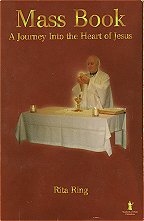 IN THE DEEPEST RECESSES OF HIS HEART
The place Jesus took me was into the deepest recesses of His Heart. I was enveloped in His burning love. It was a red room with heat and an intense glow. I was swept away in this embrace, and I only existed in Him. The power of the Almighty God enveloped me, and I only existed in Him. There was no fear, for I was existent in this Almighty Being. My heart was wrapped in the eternal embrace of this Supreme Being. The security, the power I know was His deep presence in which I existed.

I knew the room was red and warm. I knew His immenseness, but I felt my own completeness in Him. I did not feel little, as a speck, but elevated and empowered for I existed then in Him in a most special way.

I was overtaken by the love of God. The fire of the Holy Spirit filled me. I was absorbed by the love of the Father, and I existed IN Him and in the deepest recesses of the Heart of Jesus. Our heaven on earth is these inner chambers of His magnificent Heart - the Heart of the Almighty God, with all the power, with omnipotence, with the fire of the love of God. He took me to the deepest chamber of this fiery Heart, and in that moment, I touched eternity, for I knew what it was to be enveloped in the deep furnace of His love. I now want to exist in this chamber of His Heart, swept away in His burning love, absorbed in my every cell with His love.

We do not understand the fire of His love. We do not understand what it is to be absorbed by love itself. He took me to the inner, deepest chamber of His Heart, and I felt the heat and knew the presence of love itself, and there was no fear, only a feeling of completeness, omnipotence, all-embracing, penetrating love - a power indescribable in words, a saturation of my being in the presence of God, and I was as I was created to be - living in Him!

This is how I will forever live my life, saturated with His divine life and love deep within this inner chamber of His burning Heart, living in Him as He possesses my being, and I operate with His power in me.

Little creatures though we are, we are His, His power, His life, flowing through us. In Him, we are as the Father intended: one in Him, each one of us, dwelling in this fiery furnace of His love. With our fears quieted and our hearts empowered by His life, we live forever in Him - in the Heart of Jesus.

Let no man separate what God has joined together. I am wed in the deepest love with my beloved Spouse, wed to the Heart of Jesus. As I am, I am one in Him. I live and I breathe in Him. He, Who is love, He Who is our all, He Who is mighty and without limits, He Who is, He Who is God and as I live, He lives in me in this world.

I am wed to Him, and I shall not fear for He is God - one, complete, loving, God. Heart of Jesus, I place my trust in Thee. As I live, I live in Your most adorable Heart, the furnace of God's love!
---
Messenger: In the rosary yesterday He begged us to study the messages so that we would be one voice around the world. In the Shepherds of Christ Movement Jesus has given us these writings as they appear on the Internet. He wants people to hear His voice and follow Him. We are SHEPHERDS - OF CHRIST. We must follow Him and what He says. He does not want personal theories, He wants us all to say the same thing. He begged us to study His messages and live by them so that whether we are in China, Indiana; Clearwater, Florida; California; Ohio, wherever, we will say the same thing.
Jesus speaks: I give you the writings of Father Carter and Rita. I speak for My Movement, the Shepherds of Christ Movement, in these writings. Please study them. Please pray the 6:20 p.m. novena. Your life will change. I am calling My apostles to do this. I am calling associates to please begin prayer chapters all over the world and to spread My priestly newsletter. Please spread My messages.
I love you, Jesus.
---
Question for married couples and others in intimate relationships:
Q: How do I feel when you do not try to understand me and I am really hurting?
---
---
---
Copyright © 1999 Shepherds of Christ.
Rights for non-commercial reproduction granted:
May be copied in its entirety, but neither re-typed nor edited.
Translations are welcome but they must be reviewed for moral and theological accuracy by a source approved by Shepherds of Christ Ministries before any distribution takes place. Please contact us for more information.
All scripture quotes are from the New Jerusalem Bible, July 1990, published by Doubleday.
Revised: August 19, 1999
URL: http://www.SofC.org
Contact Information for Shepherds of Christ
Email: info@SofC.org
---
Shepherds of Christ Ministries
PO Box 193
Morrow, Ohio 45152-0193

Telephone: (toll free) 1-888-211-3041 or (513) 932-4451
FAX: (513) 932-6791