Mary has requested that the daily message be given each day to the world. It is read nightly at the prayer service from her Image Building in Clearwater, Florida, U.S.A. This is according to her request. All attempts will be made to publish this daily message to the world at 11 p.m. Eastern time, U.S.A.

---

We acknowledge that the final authority regarding these messages rests with the Holy See of Rome.

---
---
August 24th Holy Spirit Novena
Scripture selection is Day 3 Period 2.
The Novena Rosary Mystery
for August 24th is Glorious.
---
We're going to have a big
Sidney Rosary on August 28, 2001
It's the 7th year anniversary
o
f when the lst Shepherds of Christ core chapter started!
---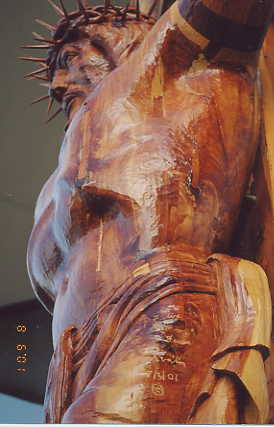 On His Passion - August 23, 1993
Jesus speaks:
My dear child,
I was condemned to death, death on a cross. They gave Me a big cross and made Me carry it. They stood around and glared at Me. It weighed on My shoulder and I pulled at it until it finally moved. Every step was almost impossible as I dragged it, weighing so heavily on My shoulders.
My shoulder felt as if the bones inside would crack and the cross would fall through to the ground. I couldn't drag it any more. I tried, I fell. I fell and its weight fell on Me. A guard hit Me with something sharp. It really hurt because he wanted Me to move, and fast! People were watching—on with the show! How dare I fall in the middle of the show! He hit Me again and the blow really stung Me. I got up because it hurt so badly. I tried to walk on.
My Mother was in the crowd. She looked at Me and her face looked red and hurt. Tears rolled down her cheeks like rain and as her eyes met Mine, I was hurt so by her sorrow! She was always by My side, silent and loving. She was My mother of love! She is always there next to you when you suffer.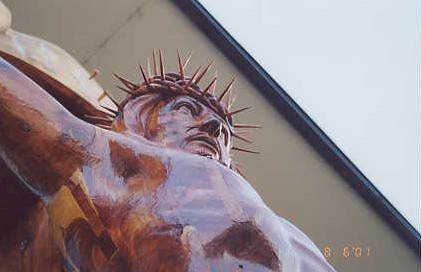 I fell again and he (the guard) really hit Me. It (the cross) was so heavy that he and I together could barely move it. It seemed as I walked, heavier with the sins of the world heaped on it. My hands were bleeding. Blood ran from the wounds of My thorns and My head throbbed, seeming to make the wounds in My head bleed even more. Some of the Blood was dried, some of it running all over My Body. I had so many cuts and bruises—and people watched and laughed!
I am Jesus, Son of the Living God, and they laughed and mimicked Me! Oh, such hardened hearts! How vile can men's heart become? The devil's grip is paralyzing and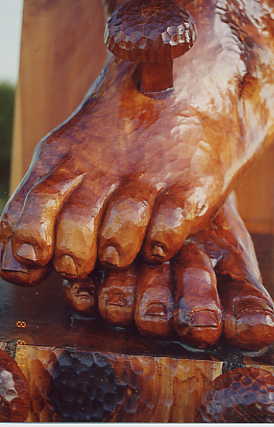 crippling.
The walk was so long up a hill and over rocks—the cross had to be lifted over the rocks. My Body was bleeding so badly! My heart was pounding. I knew that the salvation of all men depended on My love. Therefore, I went through such agony.
I thought of My intense love for you—that many would go to heaven because of My suffering—and I continued to the top of the hill. At the top they laid Me on the cross and with a big hammer nailed My hands to it. It was the worst (suffering) yet. My hands were nailed with big nails and the big hammer. Oh, it was unbelievable! Then, as if that weren't enough, with a big nail they nailed through both feet.
Then they lifted the cross and banged it into (a hole in) the ground. My shoulders ached from how I hung. My head bobbed and My neck ached and they laughed and said, "Now save Yourself." I hurt so much! I suffered this way for hours—which seemed like forever—and they glared at Me and laughed! My Mother watched in such agony.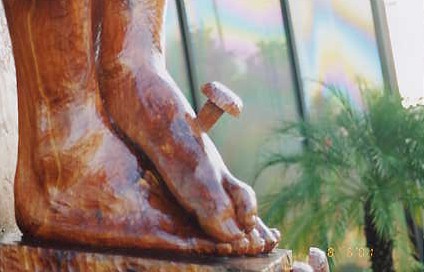 For love of you, to My death I gave you My Body. My child, I shed My Blood and gave you My life that you might be with Me forever in heaven—not for a day, a month or a year, but forever with Me in heaven.
I am the true Bread come down from heaven. He who eats My Flesh will have life forever. For the drink I give you is My Blood and food you eat is My Body. Who would lay down his life for a friend? I did, for you. I love you this much, child. Forget about those who reject you. You have My life that I gave you and I give you life eternal.
I am the One true God. I am the Light of life. He who abides in Me will have life eternal, for the drink I give is My Blood and the food I give is My Body. Drink and eat and have everlasting life.
My child, that is all you need to know. Love one another and be good that you may enter into My kingdom.
end of August 23, 1993 message
---
August 23, 2001 - 8:15 AM
Messenger: We can't judge ourselves by what others say
about us.
Jesus speaks:
I stress the examination of conscience.
I stress to look inside and see how
Christ-like you are.
How do you model the way you act after
the New Adam and the New Eve?
I am loving.
I am kind.
Messenger: When I attend Mass I must not be
concerned with those who surround
me and what they think of me.
My greatest moments of intimacy
with Our Lord at Mass have
come from focusing totally
on Him and the great gift
He gives me.
In a body of people, satan can
distract us at Mass by focusing
on others and what they are thinking
of us.
Great spiritual freedom comes
for me in focusing on Him
my Master, My King and the Bridegroom
of my soul.
---


A Prayer for Intimacy with the Lamb, the Bridegroom of the Soul

Oh Lamb of God, Who take away the sins of the world, come and act on my soul most intimately. I surrender myself, as I ask for the grace to let go, to just be as I exist in You and You act most intimately on my soul. You are the Initiator. I am the soul waiting Your favors as You act in me. I love You. I adore You. I worship You. Come and possess my soul with Your Divine Grace, as I experience You most intimately.


---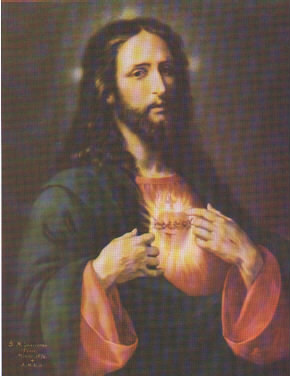 Prayer for Union with Jesus
Come to me, Lord, and possess my soul. Come into my heart and permeate my soul. Help me to sit in silence with You and let You work in my heart.
I am Yours to possess. I am Yours to use. I want to be selfless and only exist in You. Help me to spoon out all that is me and be an empty vessel ready to be filled by You. Help me to die to myself and live only for You. Use me as You will. Let me never draw my attention back to myself. I only want to operate as You do, dwelling within me.
I am Yours, Lord. I want to have my life in You. I want to do the will of the Father. Give me the strength to put aside the world and let You operate my very being. Help me to act as You desire. Strengthen me against the distractions of the devil to take me from Your work.
When I worry, I have taken my focus off of You and placed it on myself. Help me not to give in to the promptings of others to change what in my heart You are making very clear to me. I worship You, I adore You and I love You. Come and dwell in me now.
-God's Blue Book, January 17, 1994
---
August 23, 2001 continues
Messenger: The focus is not the people at Mass and what
they think of me.
My focus is on Him.
I am to be dressed for the wedding
feast. Dressed in a pure white
gown.
How was Mary under the cross?
How do we look on the Holy Sacrifice
of the Mass?
If we truly see Christ on Calvary,
If we see the sacrifice offered to the
Father, what should be our main
focus?
Is it not to be pleading to God united
as a body, pleading for grace
and mercy.
Are not our priests to be so focused on
the great gift the Mass is, in helping
us to bring down great grace
for the priests, the Church and
the world.
Christ is the mediator.
The priest in celebrating the Mass begs
the Father to outpour his grace
and forgive us for our sins.
---
Our Father

Our Father, Who art in heaven, hallowed be Thy name. Thy Kingdom come, Thy will be done on earth as it is in heaven. Give us this day our daily bread and forgive us our trespasses as we forgive those who trespass against us. And lead us not into temptation, but deliver us from evil. Amen.
---
August 23, 2001 continues
Messenger: What is this all about?
Mary appeared over and over again to me.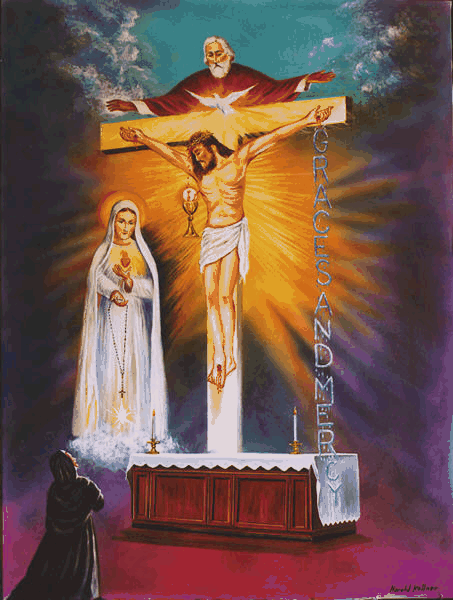 August 23, 2001 continues
Messenger: Souls are going to hell.
She cried out to me to reach them.
I am a messenger, I deliver a
message.
The devil can keep us so focused on so many
things at Mass and we can miss
that deep connection with Him
praying as a body for grace and
mercy.
My consuming desire at Mass is to

be so united to the Holy Sacrifice
so one in Him, pleading and
begging to the Father for grace
for the souls of this earth.
The Mass, the priest is a gift from
God.
The devil tries to get us focused on
ourselves and what people are
thinking.
I read a story of a high school
boy who mowed the lawn,
cleaned the house, cleaned up
after his brothers and sisters.
His dad was away on vacation or business.
When his dad came home, he didn't see
all the good the boy did, he reprimanded
him for some little thing like the
grass being one way or something.
The boy writing the account said, it
was the last time he cried. He went to
his room and cried.
This insensitivity of the dad hurt the
boy deeply.
The boy closed up. He didn't cry after that he was
so hurt.
We are not necessarily responsible for what
others say and think about us.
A lot of people can project their anger
on us. It can be deep anger inside of them.
We can listen to others in case they are
saying things that will help us be more
like Christ wants us to be, because
we can learn from what others say
many times.
But sometimes people think and say things
that are coming from their own anger
and insecurity inside.
Some times people are like that, moms and
dads can be short and insensitive, not
showing love to their children, not
showing acceptance and support.
A person is blind and doesn't
even see things many times.
Many times they say things that are not right about us.
It is coming from inside of them.
God created each soul with such dignity.
God created the person. Even if they do
not act nice, we must always look
beyond their actions and see the
soul created by God, the soul he loves.
We must love them. We do not have to mix with
them if it is not God's will, but in our heart
we are loving them.
Many times people, in their blindness, continue
negative habits that hurt others, only
through prayer, through a lot of grace
and willingness to change may they
be able to change ways that are
negative and hurt others.
We must be careful in listening to what
others say about us. If it is
negative or derogatory
we must do what God
is calling us to do, not put over emphasis
on what others say if it is not true or
interfere with God's plan for us.
We want to do God's will.
Satan doesn't want us to do God's will.
When I began seeing the Blessed Mother and hearing
her plaintiff cry, I learned a hard lesson.
The more I acted as a messenger, the more people
would focus on me.
My insides felt as if swords were piercing me as
I hung over the pew at Holy Cross Immaculata
and cried because I really saw her,
received the rosary meditations in the
Red Rosary book and people would not
listen and do what she said which was
the things she said at Fatima.
I was so often begging God to help me and crying
deeply inside trying to get the rosary
and consecration card to the school
children.
Why wouldn't they look beyond me and see
the message was important?
This was 1995.
The message was real and soon on the same day
the Red Rosary book left the publisher
with the rainbow, December 17, 1996, Mary appeared
on the building in Clearwater, Florida.
| | |
| --- | --- |
| | |
| December 17, 1996 | December 17, 1996 |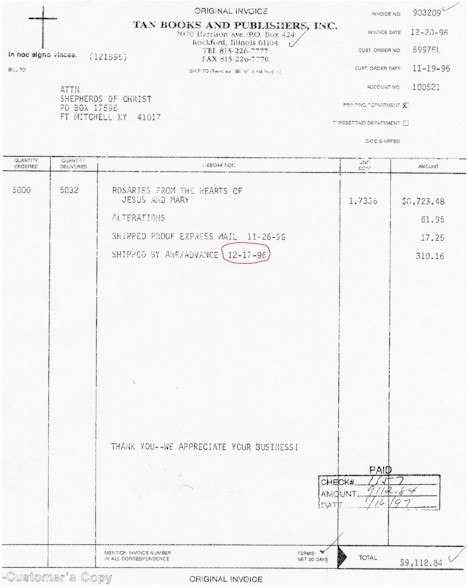 August 23, 2001 continues
Messenger: The focus on me is a real trick satan has
used to block the message.
In the whole history of the world, I know of only
two permanent signs of Mary as
she appears as Our Lady of Guadalupe
and Our Lady of Clearwater.
Long after Mary appears many still do
not open their hearts to see what
message she comes to deliver.
But the message is really a lot of Jesus'
messages also like this message
He gave to Father Carter.
---
~ July 31, 1994 ~
Words of Jesus to Members of Shepherds of Christ Associates:
"My beloved priest-companion, I intend to use the priestly newsletter, Shepherds of Christ, and the movement, Shepherds of Christ Associates, in a powerful way for the renewal of My Church and the world.
"I will use the newsletter and the chapters of Shepherds of Christ Associates as a powerful instrument for spreading devotion to My Heart and My Mother's Heart.
"I am calling many to become members of Shepherds of Christ Associates. To all of them I will give great blessings. I will use them as instruments to help bring about the triumph of the Immaculate Heart and the reign of My Sacred Heart. I will give great graces to the members of Shepherds of Christ Associates. I will call them to be deeply united to My Heart and to Mary's Heart as I lead them ever closer to My Father in the Holy Spirit."

- Message from Jesus to Father Edward J. Carter, S.J., Founder, as given on July 31, 1994,
feast of Saint Ignatius Loyola, Founder of the Society of Jesus (The Jesuits)
end of July 31, 1994 message given to Fr. Carter
---
~ October 13, 1994 ~
The Birth of the Full Ministries
of the Shepherds of Christ
"I wish to share with you part of a message which Jesus gave us on October 13, 1994. The message tells us about the expansion of the Shepherds of Christ movement:

'My beloved priest-companion, today I come to you with another mission. I am asking you to establish Shepherds of Christ Ministries. At My request you have already begun the priestly newsletter, "Shepherds of Christ", and the prayer chapters, Shepherds of Christ Associates...

'I am giving you this message on this day, the 77th Anniversary of the Great Apparition at Fatima, because of the close connection between the Shepherds of Christ movement and the Fatima message. The Fatima message is centered in devotion to My Heart and My Mother's Heart, especially in consecration to Our Hearts. Shepherds of Christ Ministries is also centered in devotion to Our Hearts. I will use Shepherds of Christ Ministries as a great instrument in helping to bring about the triumph of the Immaculate Heart and the reign of My Sacred Heart. When this occurs, My Church and the world will be experiencing the great era of peace promised by My Mother at Fatima.

'Today, then, October 13, 1994, the 77th Anniversary of the Great Apparition at Fatima, marks the birth of Shepherds of Christ Ministries. I pour forth the great love of My Sacred Heart to all. I am Jesus, Chief Shepherd of the flock.'

"Jesus has told us that Shepherds of Christ Ministries includes: the priestly newsletter, Shepherds of Christ, Shepherds of Christ Associates prayer chapters, various publications, including books, whatever else Our Lord directs us to undertake.

"As members of Shepherds of Christ Associates, you are an extremely important part of Shepherds of Christ Ministries. You have given great joy to the Heart of Jesus by responding to His invitation to become members of Shepherds of Christ Associates. As He draws you closer to His Heart and to His Mother's Heart as Associates members, He will fill you with an ever-increasing experience of His love, peace, and joy."
- From In the Hearts of Jesus and Mary, Newsletter of Shepherds of Christ Associates
by Fr. Edward J. Carter S.J., Volume 1, No. 1, 1995. p. 2.
end of October 13, 1994 message
---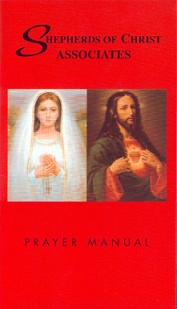 Shepherds of Christ Prayers
as given to Father Carter
August 23, 2001 continues
Messenger: It is a calling.
Because others have not responded I can only
do what I can to get them to hear the message.
Think of all that would have happened if
people would have obeyed the
message in 1995 that Mary gave
or obeyed the message she gave at Fatima.
It takes a lot of grace to change hearts.
That is why it is so important we do
what Jesus told Father Carter and
pray the prayers He has attached
so much grace to,
and pray the morning offering.
We are dealing with God.
If I would have listened to a lot of the people in
1994 - and not the message
so much would not have happened.
God sent Father Carter and he believed, he
helped me, he was present when Mary
appeared every day, daily in the beginning. He said,
Jesus and Mary told him to come.
Here is an important statement.
We cannot change our course of action
when God is telling us to do something
because others say we are crazy.
The devil uses all kinds of tactics to stop us.
When Jesus gave me a light once and I saw so
clearly the real picture, I cried because
I was so afraid and hadn't done more
to spread His message.
When we stand before Him on that last day He
will say
"Where are your children?"
How will we answer to how we spread
His message to everyone?
I am a messenger, If I don't spread the message
I am held accountable for all those
that were not touched because I didn't
do what I was supposed to.
---
Ezekiel 3: 18-21

If I say to someone wicked, "You will die," and you do not warn this person; if you do not speak to warn someone wicked to renounce evil and so save his life, it is the wicked person who will die for the guilt, but I shall hold you responsible for that death. If, however, you do warn someone wicked who then fails to renounce wickedness and evil ways, the wicked person will die for the guilt, but you yourself will have saved your life. When someone upright renounces uprightness to do evil and I set a trap for him, it is he who will die; since you failed to warn him, he will die for his guilt, and the uprightness he practised will no longer be remembered; but I shall hold you responsible for his death. If, however, you warn someone upright not to sin and this person does not sin, such a one will live, thanks to your warning, and you too will have saved your life.'
---
August 23, 2001 continues
Messenger: I want to write of the heights of heaven, but satan
wants us focused on ourselves and all our
problems and getting bogged down so
we never even see into a higher realm
of things.
Many times he tries to tempt people
in their thought. Some people think others
are thinking ill thoughts of them and the
person isn't thinking that at all, they
are loving them.
We have to guard against judging what others
are thinking. How do we really know?
Many children growing up in dysfunctional
homes did not receive the love and acceptance
they needed. They are constantly seeking it in
others.
Many times children in dysfunctional homes had
to scan the situation to see how
mom or dad were acting because
they may have been addicted to alcohol
or something else and acted erratically.
We have to fight against thoughts in which we
think others are judging us or not liking
us, Do we really know what others are
thinking?
When we think someone is thinking negatively
about us, we may be pleasantly
surprised when they tell us how
much they admire us and want to
help us.
Are our thoughts about others all black and white.
Sometimes we like others deeper than at other times.
But in many dysfunctional homes, children
were taught that in a moment they weren't
lovable anymore. The tides can turn quickly
in dysfunctional homes.
When you really love someone, you may not
like something they say or do, but
that isn't the end of the
relationship.
Children in dysfunctional homes, learn
"all or nothing" behavior many
times.
Here is the apostle note I sent to the apostles
today.
"Dear Apostles,
I give my heart to Jesus and Mary with you in
love. All different hearts, all different ways
of looking at things, but we want one thing,
to look at everything the way Jesus wants
us to, look at things from His Heart, love like
His Heart, identify with Him. We need to be
tender and pure in our hearts like Jesus and
Mary, to truly love with all our hearts.
We want to see ourselves as a family filled
with love, this doesn't mean we are free
of problems, it means we love Jesus
so much and we want to love like Him.
This Movement is about love. It is about
renewal. It is about truth.
We want to spread the Blood of Jesus over
all, consecrate their hearts, cast the devil
far away and ask for a special outpouring
of the Holy Spirit. Please pray
for all servants, handmaids, apostles and
everyone that touches the movement.
We are at battle. The only thing that will
help us to win is to be like Jesus wants us
to be. Our arms are our hearts filled with
love. We are soldiers, we are at war, we
fight for His army and the Reign of His
Sacred Heart.
May the love of Jesus fill our hearts with
fire as we march into battle today,
united as an army wherever we are.
IT IS LOVE I SPEAK OF !!!!
Please pray for all our special intensions."
- pray for B & M
- B & R
-Priestly Newsletter Book II
- Fr. Mike
- all priests touching the movement in
any way.
- people with special needs
-All S of C intensions
- Pray for funds
- Cleanup
- our families
- nursing home program
- School Rosary program
I love you,
the messenger

---
---
---
Copyright © 2001 Shepherds of Christ.
Rights for non-commercial reproduction granted:
May be copied in its entirety, but neither re-typed nor edited.
Translations are welcome but they must be reviewed for moral and
theological accuracy by a source approved by Shepherds of Christ Ministries
before any distribution takes place. Please contact us for more information.
All scripture quotes are from the New Jerusalem Bible, July 1990, published by Doubleday.
Revised: August 23, 2001
URL: http://www.SofC.org
Contact Information for Shepherds of Christ
Email: info@SofC.org
---
Shepherds of Christ Ministries
PO Box 193
Morrow, Ohio 45152-0193

Telephone: (toll free) 1-888-211-3041 or (513) 932-4451
FAX: (513) 932-6791