Mary has requested that the daily message be given each day to the world. It is read nightly at the prayer service from her Image Building in Clearwater, Florida, U.S.A. This is according to her request. All attempts will be made to publish this daily message to the world at 11 p.m. Eastern time, U.S.A.

---

We acknowledge that the final authority regarding these messages rests with the Holy See of Rome.

---
---
A Prayer for Intimacy with the Lamb, the Bridegroom of the Soul

Oh Lamb of God, Who take away the sins of the world, come and act on my soul most intimately. I surrender myself, as I ask for the grace to let go, to just be as I exist in You and You act most intimately on my soul. You are the Initiator. I am the soul waiting Your favors as You act in me. I love You. I adore You. I worship You. Come and possess my soul with Your Divine Grace, as I experience You most intimately.
---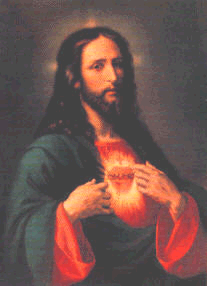 Messenger: The Sacred Heart appeared this morning when I prayed the Promises of the Sacred Heart. I received this writing.
August 24, 1999 at 6:20 a.m. Prayers
Messenger: We move swiftly ahead fighting the battle with the evil one all the way. Our Lord says when fighting a battle in which the devil is blocking His plan we must proceed as holy people, even though we are hurt and wounded, and keep focused on what Jesus and our Lady are telling us.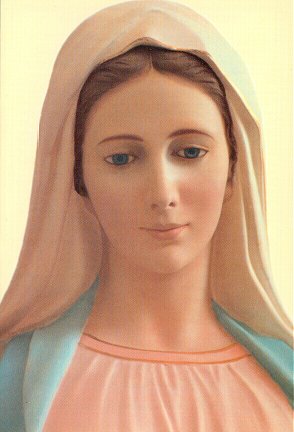 Our Lady wants peace. We want the reign of peace. We pray the Peace Rosary before the Seven Sorrows. This will help bind the hearts and promote peace. The Peace Rosary is the Apostles Creed followed by 7 sets of 3 beads. On each set of 3 beads, say 1 Our Father, 1 Hail Mary and 1 Glory Be...then repeat 7 times, meditating on the Seven Sorrows. From the Rosary Book we include the Seven Sorrows and pictures.
---
The Seven Sorrows of Mary
1. The Prophecy of Simeon

Mary, Joseph and the Child Jesus went to the Temple. Simeon, the prophet, inspired by the Holy Spirit, met them and told Joseph and Mary of the great sufferings of Jesus and Mary. He told Mary that a sword would pierce her heart. From that point on, Mary ever remembered the prophecy of Simeon whenever she beheld her child. When she looked at His little body, even as an infant, she knew He would suffer. Every time she clothed Him and watched Him at play, her heart was torn in her chest as she knew what He would suffer. And a sword, too, shall pierce your heart, O Mary!
---
2. The Flight into Egypt

Joseph was told by the angel to flee. Joseph, Mary, and the Child Jesus had to flee because of what might happen to Jesus. They had to pack for a long stay. The Child Jesus was so small! They left on their journey, hearts full of fear, trying to protect Jesus. They were forced to flee into Egypt.
---
3. The Loss of the Child Jesus in the Temple

Imagine the sufferings in Mary's heart when she realized the Child Jesus was not with them. Think of how it would be to lose your child and not know where he was or if anything happened to him. With sorrow in their hearts, Mary and Joseph returned to Jerusalem to look for the Child Jesus. And a sword, too, shall pierce your heart, O Mary!
---
4. Jesus and Mary Meet on the Way to the Cross

Song: See the eyes that look at Mary
See the eyes of Jesus and Mary as they met on Calvary. Mary's heart knew Jesus' Heart so well! From the first moment of conception and throughout His life, Mary was so connected with Jesus and now she peered into His eyes. The crown of thorns adorned His head! Blood ran down His face! A heavy cross on His back! Wounded, His whole body covered with bleeding wounds! And her whole life flashed before her, the life that she had spent with Jesus. This was the beloved child that she had held in her arms when Simeon told Mary that a sword, too, shall pierce her heart!
---
5. Jesus Dies on the Cross

(Silence.)
Mary stood under Jesus' cross as He was put to death. She held in her heart the prophesy of Simeon. "and a sword will pierce your soul too--so that the secret thoughts of many may be laid bare." (Lk. 2:35) See Mary in the Temple with Simeon and Joseph holding the baby in her arms. Now Jesus is dead on the cross! He gave His flesh, He gave His blood so that we might be with Him forever in heaven. He held nothing back. He gave His all. Jesus is with us this day. He remains with us in the Eucharist, no less present than the day that he hung on the cross. He longs for us to come and be with Him. He is in our brother. How can we not love our brother when Jesus died for our brother? Her heart was pierced with a sword. His Heart was pierced with a lance. What came forth was blood and water, the sacramental life of the Church. He lives with us this day in the Church. He gives to us His Sacraments, the source of His life! He gives to us the Sacrament of Penance whereby any sin that we commit can be taken away through the priest. He wants us to be so close to Him! He gives us everything to be close to Him. But we see with such limited vision only those things that are right before our face, when the true reality is that which we don't see with our eyes, the reality of the invisible divinity of Jesus Christ, the Son of God, in the consecrated Host! This is reality! This is our life! This is our power! This is God! And a sword, too, shall pierce your heart, O Mary!
---
6. Jesus Is Taken Down from the Cross and Laid in Mary's Arms

If we ever doubted for one second that we were loved, we could visualize the picture of Mary as she sat beneath the cross with the lifeless, battered, bruised and bloodied body of her Son in her arms, the same child that she held when Simeon prophesied her suffering. Jesus gave His last breath. He gave the last beat of His Heart. He gave His all! This is the way He complied with the will of the Father. He came to show us the way. He died in perfect peace. To His death He was in peace because He knew the Father's love. The Father loves us so much that He gave His only begotten Son for love of us! The Spirit descended upon the Virgin Mary and the Word was made flesh! The love of the Two Hearts! Such immense love beating for us! In all love there is suffering. Her Heart was pierced with a sword. His Heart was pierced with a lance. And a sword, too, shall pierce your heart, O Mary!
---
7. The Burial of Jesus

The lifeless body of Jesus was locked in the tomb. What cold reality for Mary to realize that His body is now gone! A stone separated her from her Son! He gave His last breath! He gave the last beat of His Heart for love of each one of us! And she comes to us this day with her sweet, beautiful voice and she asks us to go to her Son and love Him! How can we refuse Jesus who spread His arms and gave His life for each and every one of us? How can we not trust Him when He loved us so much that He allowed them to tear His flesh, to crown Him with piercing thorns and, lastly, to hang Him on a cross? He truly gave His life for us! He, truly God, is with us this day, the same as the day He died on the cross, in the tabernacle! And we take it so lightly! Death has no power over Him! Locked in the tomb for three days, He rose triumphant on the third day as He had foretold. He comes to give us life. He gives us the sacrament of Baptism that initiates us into His life, that makes us children of God and heirs of heaven if we remain in the state of grace. He asks two things: love of God and love of one another! He came to show us the way and His way is love. To His death on the cross He loved each one of us! He calls out to each one of us here today to be His soldiers, to march on a world that has forgotten God, that has forgotten what it is like to love! It is a battle to live in this world. But the battle is won with hearts that are filled with His love, empowered by the grace and might that He pours out in the Eucharist. He calls out for us to come to the Eucharist and to the tabernacle and be fed with His very flesh and blood. To feed on Divine Life, the greatest nourishment, the Body and Blood of Jesus Christ, the Son of God! This is the love He gives. This is the love He asks us to share.
---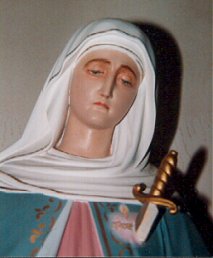 Messenger: The easy thing is to just shout our side, the hard thing is to pray fervently and allow His grace to work. Praying the Infant of Prague Novena hourly for a particularly difficult situation always gives good results.
Prayer and love are the answer for peace.
We cannot accept everything everyone says as truth. We must pray for truth. Sometimes speaking to someone will not help at all. Christ in His Passion spoke few words. If He argued would it have changed the hardened heart? He gave Himself as a sacrifice in love. This is the greatest thing He could do.
---
For Communities, Especially Leaders - 9:00 a.m.
Messenger: The Sacred Heart appeared again at St. Clare's Convent, I was given this writing.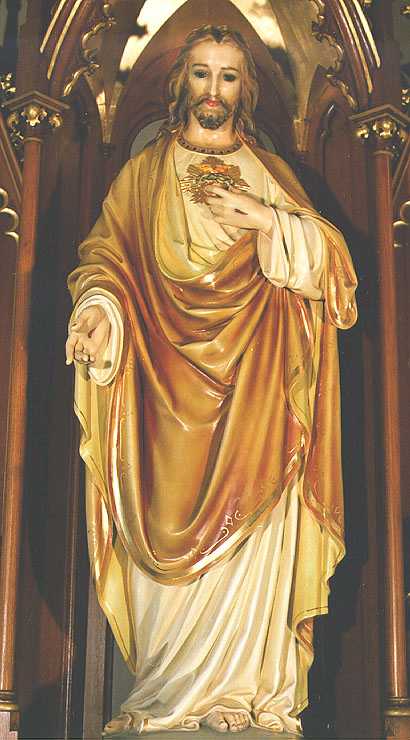 Jesus speaks: There must be peace and oneness.
There is but one truth. Many of My faithful ones are being led astray by false messages.
Time must be spent before the tabernacle and time at Mass and after Communion with Me.
Priests must spend time before the tabernacle and after Communion.
Leaders of communities must grow in holiness.
Only with enormous grace will you be able to merge in oneness. Pray the rosary, consecrate to Our Hearts.
Satan wants you divided. Leaders of communities must do as I have instructed or the evil one will tell them what to do. Studying the word, frequent Mass and Communion, daily for some, daily for leaders of communities, time before the tabernacle, one hour daily for leaders of communities, will help you to know the truth. In that hour I teach you My ways. I implant on your soul the knowledge of God's will for you.
When you pray the Shepherds of Christ Prayers I promise your community will grow in ways of greater holiness.
I encourage all to pray them daily.
My shepherds, My beloved apostles, My leaders, I want to lead them home to My Heart.
Why do you fight Me? This is My Movement to help bring about the reign of the Sacred Heart.
I want My Movement pure and holy. I take you into My Heart. The Holy Spirit works within the Heart of Mary to make you holy.
The devil wants you divided - only in consecration and holiness will you become one. There will be a great era of peace.
Praying the Stations, looking at the cross, looking at the Pieta, will help you to realize how I suffered for love of you.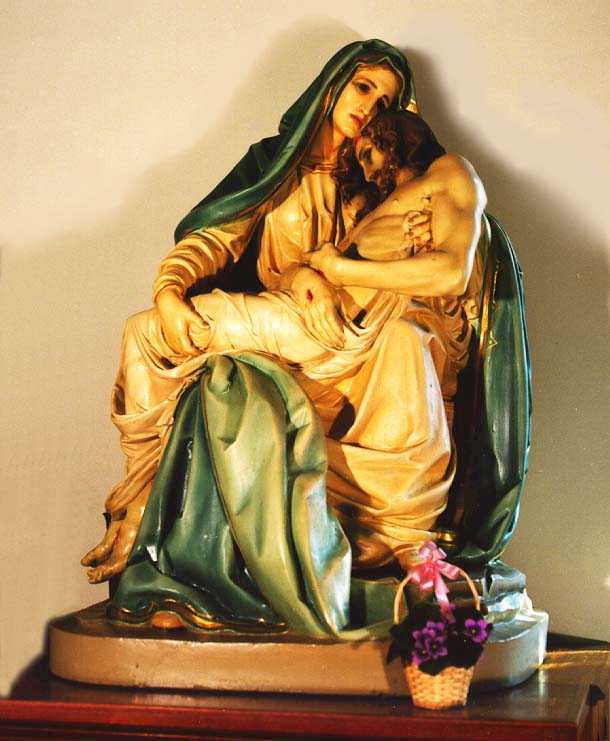 I spoke when I needed to. I was also silent and endured and surrendered.
You must do as God wills. This takes time with your God, praying.
The devil will try to divide the earth.
He wants souls for hell.
He works on religious communities, for they are trying to lead the souls to God.
Holiness, consecration, the Eucharist, this is the answer. Anyone can fight. You must seek God's will only, want to help save souls with your whole being. Pray for the consecration to Our Hearts to spread and help spread it in other ways also besides prayer. Pray the rosary for peace, I refer to the rosary given to you by My Mother, the Joyful, Sorrowful and Glorious Mysteries.
Pray for My Grace!! You must love God with your whole heart, whole soul and your whole being and love your neighbor as yourself. I love you, I am the Sacred Heart of Jesus, the dearest of all hearts.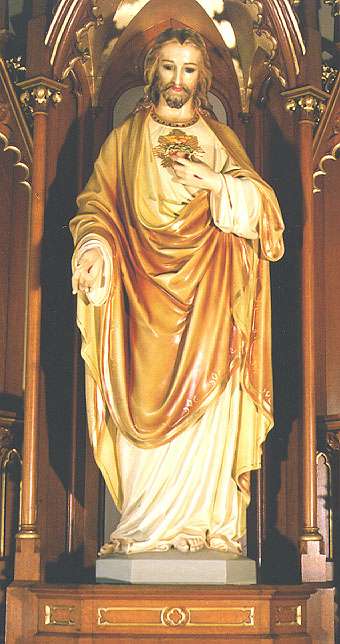 Messenger: The Sacred Heart appeared in the Sacred Heart statue at St. Clare's Convent in the chapel. There was a gold aura in front of the statue and surrounding it. A man appeared in the statue and I thought it was St. Joseph. When I went to Mass at 10:00 there, I found out it was the feast of St. Bartholomew. I don't know if it was St. Joseph or St. Bartholomew.
As the summer comes to an end, it is a time of sadness as so many return to school. We must pray as never before for teachers and students. We want children to know the truth and not be taught falsehoods.
Pray with me to spread the Blood of Jesus on our families, on the Shepherds of Christ Movement, Our Lady of the Holy Spirit Center, the Church and the world.
Pray that all hearts are consecrated to the Hearts of Jesus and Mary.
We want a city of light filled to the brim with the love of the Sacred Heart of Jesus.
I went to Mass and the reading was Revelation 21: 9-14.
---
Revelation 21:9-14
The messianic Jerusalem
One of the seven angels that had the seven bowls full of the seven final plagues came to speak to me and said, 'Come here and I will show you the bride that the Lamb has married.' In the spirit, he carried me to the top of a very high mountain, and showed me Jerusalem, the holy city, coming down out of heaven from God. It had all the glory of God and glittered like some precious jewel of crystal-clear diamond. Its wall was of a great height and had twelve gates; at each of the twelve gates there was an angel, and over the gates were written the names of the twelve tribes of Israel, on the east there were three gates, on the north three gates, on the south three gates, and on the west three gates. The city walls stood on twelve foundation stones, each one of which bore the name of one of the twelve apostles of the Lamb.
---
Luke 17:20-37
The coming of the kingdom of God
Asked by the Pharisees when the kingdom of God was to come, he gave them this answer, 'The coming of the kingdom of God does not admit of observation and there will be no one to say, "Look, it is here! Look, it is there!" For look, the kingdom of God is among you.'
The Day of the Son of man
He said to the disciples, 'A time will come when you will long to see one of the days of the Son of man and will not see it. They will say to you, "Look, it is there!" or, "Look, it is here!" Make no move; do not set off in pursuit; for as the lightning flashing from one part of heaven lights up the other, so will be the Son of man when his Day comes. But first he is destined to suffer grievously and be rejected by this generation.

'As it was in Noah's day, so will it also be in the days of the Son of man. People were eating and drinking, marrying wives and husbands, right up to the day Noah went into the ark, and the Flood came and destroyed them all. It will be the same as it was in Lot's day: people were eating and drinking, buying and selling, planting and building, but the day Lot left Sodom, it rained fire and brimstone from heaven and it destroyed them all. It will be the same when the day comes for the Son of man to be revealed.

'When that Day comes, no one on the housetop, with his possessions in the house, must come down to collect them, nor must anyone in the fields turn back. Remember Lot's wife. Anyone who tries to preserve his life will lose it; and anyone who loses it will keep it safe. I tell you, on that night, when two are in one bed, one will be taken, the other left; when two women are grinding corn together, one will be taken, the other left.' The disciples spoke up and asked, 'Where, Lord?' He said, 'Where the body is, there too will the vultures gather.'
---
Luke 12:49-51
Jesus and his Passion

'I have come to bring fire to the earth, and how I wish it were blazing already! There is a baptism I must still receive, and what constraint I am under until it is completed!
Jesus the cause of dissension
Do you suppose that I am here to bring peace on earth? No, I tell you, but rather division.
---
Messenger: All will be changed. There will be living according to His will. Now many do their own will.
There is one way, one truth and one life. It is life in Him.
Now we are divided: those trying to do God's will, those not doing God's will.
---
August 23, 1993 - Message from Jesus


Jesus Carries His Cross
THE FOURTH SORROWFUL MYSTERY
On His Passion
Jesus speaks: My dear child,
I was condemned to death, death on a cross. They gave Me a big cross and made Me carry it. They stood around and glared at Me. It weighed on My shoulder and I pulled at it until it finally moved. Every step was almost impossible as I dragged it, weighing so heavily on My shoulders.
My shoulder felt as if the bones inside would crack and the cross would fall through to the ground. I couldn't drag it any more. I tried, I fell. I fell and its weight fell on Me. A guard hit Me with something sharp. It really hurt because he wanted Me to move, and fast! People were watching -- on with the show! How dare I fall in the middle of the show! He hit Me again and the blow really stung Me. I got up because it hurt so badly. I tried to walk on.
My Mother was in the crowd. She looked at Me and her face looked red and hurt. Tears rolled down her cheeks like rain and as her eyes met Mine, I was hurt so by her sorrow! She was always by My side, silent and loving. She was My mother of love! She is always there next to you when you suffer.
I fell again and he (the guard) really hit Me. It (the cross) was so heavy that he and I together could barely move it. It seemed as I walked, heavier with the sins of the world heaped on it. My hands were bleeding. Blood ran from the wounds of My thorns and My head throbbed, seeming to make the wounds in My head bleed even more. Some of the Blood was dried, some of it running all over My Body. I had so many cuts and bruises -- and people watched and laughed!
I am Jesus, Son of the Living God, and they laughed and mimicked Me! Oh, such hardened hearts! How vile can men's heart become? The devil's grip is paralyzing and crippling.
The walk was so long up a hill and over rocks -- the cross had to be lifted over the rocks. My Body was bleeding so badly! My heart was pounding. I knew that the salvation of all men depended on My love. Therefore, I went through such agony.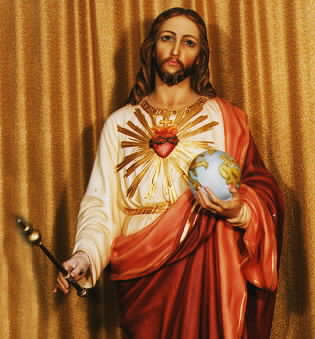 ---
Question for married couples and others in intimate relationships:
Q: How do I feel our writing our daily letters and having daily dialogue about our feelings help us to stay more loving toward one another?
---
---
---
Copyright © 1999 Shepherds of Christ.
Rights for non-commercial reproduction granted:
May be copied in its entirety, but neither re-typed nor edited.
Translations are welcome but they must be reviewed for moral and theological accuracy by a source approved by Shepherds of Christ Ministries before any distribution takes place. Please contact us for more information.
All scripture quotes are from the New Jerusalem Bible, July 1990, published by Doubleday.
Revised: August 24, 1999
URL: http://www.SofC.org
Contact Information for Shepherds of Christ
Email: info@SofC.org
---
Shepherds of Christ Ministries
PO Box 193
Morrow, Ohio 45152-0193

Telephone: (toll free) 1-888-211-3041 or (513) 932-4451
FAX: (513) 932-6791