Mary has requested that the daily message be given each day to the world. It is read nightly at the prayer service from her Image Building in Clearwater, Florida, U.S.A. This is according to her request. All attempts will be made to publish this daily message to the world at 11 p.m. Eastern time, U.S.A.

---

We acknowledge that the final authority regarding these messages
rests with the Holy See of Rome.

---
August 27, 2006
August 28th Holy Spirit Novena
Scripture selection is Day 9 Period I.

The Novena Rosary Mysteries
for August 28th are Luminous.
We need funds for the
foreign mailing of
the Priestly Newsletter.
Please help us.
e-mail Rita info@sofc.org
call Glaci 1-888-211-3041
We need help with the Priestly Newsletter
mailing in China.
If you can help please call
1-888-211-3041.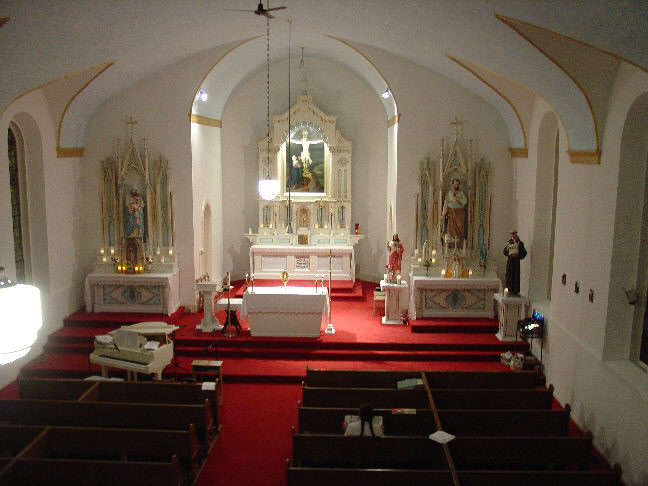 August 27, 2006
Messenger:
My dear friend,

I so deeply want the souls of this earth to be at peace and know Jesus and it is hard enough with our own tainted ways of dealing with each other, but the intensity of what I know from these messages makes it so difficult when you see such a wide vision of the earth, heaven, purgatory, but division hurts me so bad - I want oneness, I want to do God's will and God's will for me is to run this community to help to start an order and uppermost before all things to spread this Newsletter and to begin prayer chapters, praying for the priests, the Church and the world, all over the world - I believe this with every cell in my body.

I see Mary, I saw her all those times and Jesus spoke to me and I believe with the deepest love.
Pray for grace for me to do His will and always to have courage to do it - my fervor does not wince, even when my heart feels it is bleeding with pain - I don't want to ever hurt someone, but to love and doing God's will is doing God's will in sunny or rainy weather - in easy things and in difficult things for it is in this lies my peace, even though one is suffering.

I only want to go to heaven and God has asked me to do difficult things as much as the easy ones - and
with discernment, I act when I know it is God's will.
I deeply know what God's will is before I act-assurance through prayer and depending always on Him.
I am never alone even though I may not feel His closeness - in suffering the white heat of His love is always present as much as in pleasant ecstasies-
And the support I do receive from these people is a deeper commitment to this mission all the time.
They are holy people committed as I am to spreading the Priestly Newsletter.

Obedience is a life long process.
In heaven there is perfect obedience to God's will.
no marriages, spiritual love
no goods (poverty)

My faith is everything. I want deeper insight into the Divine Mysteries. My search is to comprehend more and more the Divine. And yet, in this period of my life, God has called me to do this work of building this community. He wants me to work toward this goal to achieve my salvation, to try to form an order. And send this Priestly Newsletter. The Newsletter to me is paramount, I believe, in helping to bring to completion the mission Mary began at Fatima, and helping the world to be at peace and helping in the renewal of the Church.

From a live talk by Fr. Edward Carter

February 1, 1998

"I'll begin by reminding all of us of the great, great privilege it is to have been called to this Movement. I've said this before, I say it now even with deeper conviction, I really believe that this will go down in history as one of the great Movements in the history of the Church." Fr. Carter February 1, 1998
Messenger:
My heart may bleed to deal with hard things - my spirit soars
I love the sacraments, the Word, I love the Church so deeply
I am so grateful for God's gift
The blindness is a suffering that many people do not know and see-
I feel like one crying out and like a blocked cell phone-nobody hears.

The prayers provide the grace - His Might is everything
dependence on Him - I do love God so very much-
When I get done at the end of my life, I want to go to heaven-dealing with others is difficult and that is His will for me and in this arduous task lies my peace
even in suffering
Peace is not found in isolation, but adherence to God's will for me-it may entail the sufferings of working in love and forgiveness with this body of people-no matter how difficult.

Today I could say I wished Fr. Carter was here, but it would not be truth for I seek God's will in all things and I and John are here and Fr. Carter dead for almost 6 years.

I know heaven is pulling for this Newsletter.

Please pray for me.
Love in Their Hearts, Rita

My dear friend,

I give my heart to Jesus and Mary with you in love.

When I first met Fr. Carter - he told me I was to read the catechism 10 minutes every day.
I did not do as I was told.
I started, but did not do it like he told me-
He worked with me everyday for 6 and 1/2 years - I thought it was too good to be true
then he died and I knew my faith and I knew what I was speaking was right because he was basically listening to what Jesus told me and a little guiding me.
I knew his writings in Response to God's Love and in some of Response in Christ and he had me teach a class one a semester at Xavier on relationships (Response to God's Love Chapter 8) every semester, some on Prayer also.
But he said it and so do I profess at one point I knew deeply the Word of God where before I was almost blocked-
God taught me this way
I would be blocked about understanding something, like grace, the Fatima message and when Jesus wanted it in my writing-
I had clear vision instantly - I just knew with the light of 7 suns.

With God's grace he can give this world vision in the batting of an eye.
He can use these writings we send around the world like this.
I never understood the Two Hearts and Fr. Carter in the beginning when he talked before groups would talk about the Two Hearts and He had that book on the Two Hearts - this was early 1994 - May 94 and I would feel I didn't get it-
Jesus did not want Fatima in those first 3 Blue Books or my knowledge of grace like I know today.
I understood God's life in us in the Blue Books. He was talking about His life in us.

Then I read Fr. Carter's chapter on grace from Response in Christ because I told him in his parlor one day "I don't get this grace stuff"
and I thought he would fall off the chair-this was after I had written Blue Book 1,2,3.

Well he said "Rita His grace is just His life in us" and I thought Jesus let me understand "grace" in terms of life in Him in Blue Book I, II, III instead of Jesus giving me the knowledge I knew later of grace (in an instant).
Then I read Fr. Carter's chapter on grace and I had clear vision instantly - like the light of 7 suns and have known this, this way ever since - like Jesus wrote it on my soul in the batting of an eye-
Where as before I was blocked - God did not want me to know this until this precise moment.

For me it is like a shade going up.
The shade is down and it is dark then
like the old fashion roller shades
it goes up and the light comes pouring in - blinding light of knowing Him.

Awesome, and most pleasurable - my soul thirsts for this gift of His grace of understanding.

Well with the 2 Hearts - I never said a word about it until the summer of 94 - then I didn't understand Fatima until October at a retreat I gave 1995 in Michigan.

I said to Father Carter-
"Father I don't get this 2 Hearts stuff - you get up and I don't get it"
again I thought he would flip out. He didn't know what to say.
I was blocked.
Mary appeared the summer of 1994 - July 5, 1994 and I knew the Two Hearts instantly and wrote it in Blue Book 4 -all about the 2 Hearts as Mary appeared.
Blue Book 5 Mary appeared and sometimes Jesus appeared.
Blue Book 6 Mary and Jesus both appeared almost everyday.

Blue Book 4---- July 1, 1994 to September 30, 1994 Mary appeared daily
Blue Book 5---- October 1, 1994 to December 31, 1994 Mary appeared daily sometimes Jesus
Blue Book 6---- January 1, 1995 to March 31, 1995 - all rosaries as Jesus and Mary appeared daily (3 books) ABC.

Yesterday I put Fr. Carter's Spirituality Handbook on the daily writing and the way the Movement began written by him a short paragraph in the handbook.

Any way I firmly believe as in the 4th Blue Book that to grow more deeply in our relationship with God it is a big thing to get a deep understanding as I did that summer between the gentle tenderness, between God, the Divine God and Mary the sinless human person.

Perfection of relationship of a human person, Mary, with a Divine Person, God.
Dwelling deeply in Their Hearts, the treasures of this relationship are revealed to us in Blue Book IV.

Man modeling His relationship with God after this beautiful - absolutely awesome relationship of Jesus with His Mother Mary.

The Church being Mother is to bring forth children of the light
brought forth from Mary's Heart, her spiritual womb.

Fed on the grace flowing from the Church - nourished by His Body and Blood (the Eucharist, the bread of life).
Little children of God baptized - sharing in His life
Grace flowing from the fountain of life to the children.

So much of the problems in the community centers around food
There is no problem with God feeding us spiritually.

Milk and honey -
He outpours His grace - flowing from the sacraments, the Church.
He gives us His Body and Blood.

Well fed children of Mary - seeing with the light of seven suns - insight into the mysteries.
These writings can help the children hungering for the knowledge that fills their aching souls and satisfies a hungry heart.

The priest is such a gift to us.
We must do the will of God for the sake of souls.

PURE GIFT and we cry like crying hungry babies and feed ourselves with the pleasures of the earth that leave us like a parched desert land.

Grace - Grace GRACE - God's marvelous gift to us a sharing in His life.

Baptism - awesome a sharing in His knowing and loving capacity.

Deeper and deeper - we can never exhaust the depth of understanding that he can take us in knowing Him and insight into His mysteries!!!!!

Thirsting for the truth as only He can reveal to us - the ineffable-

Oh vision of God so overlooked by some and yet God has called us to lift the curtain and pray for His marvelous Might to penetrate the hungry souls.

Revelation freely given. Gift to know the Divine God ever deeper awesome indeed!!
Reach for the heights, for the vision of God can never be exhausted here below, and we fail to really see, if we limit it in our minds by what we think we can comprehend, because we cannot comprehend what we do not comprehend, so it is really foolish to talk of it as if it is a quantity to be measured, when in fact it is a oneness in sharing ever deeper in His life and comprehending the Divine Mysteries which we cannot measure at all with our limited vision.

That is a sentence.
It is expressed in limitless vision-
and yet God in His goodness imparts to us the reality of the ineffable and therefore He says to me
REACH FOR THE HEIGHTS

Like thinking a cloud contains so much water and we can measure what
will flow from the heavens when it rains.
Who can measure the rain or the sunlight and put it in a measuring container.
Not me!!

The reality of God and His Goodness is so awesome, beyond words and I cry to want the world to know the love of the Sacred Heart.

Reach men and listen God speaks in the littlest lady bug of His infinite Might, but we fail to see because we are focused on the sands and dirt of the earth.
It is not that God does not speak, but that our vision is impaired by our negative thinking when we should be as a child at the candy store-
seeing every little delicacy that we might get to taste one.

But the devil tries to keep us focused on ourselves and we give into him to the point we can get gripped so bad we fail to see much at all and God, who gives us His creation, sending a blustering cry to the children of Eve that says

Jesus: Oh you blind ones - take the scales from your eyes and pray to the Holy Spirit to enlighten you with vision-

Go to the Heart of the Mother the Spiritual womb - there the Holy Spirit works in marvelous fashion enlightening the soul and bringing forth children of light from the Lady clothed with the Sun.

Open wide your portals My children and see as never before - give your Hearts to Me and My mother and taste the treasures there in the treasure of My love.
Be brought forth children of light from the spiritual womb - the Immaculate Heart of My Mother.

Little blind ones gapping for insight looking in dark corners for the light-
Feast at the table of the Lord
Eat My Body and drink My Blood being believers once and for all
Faith in the God who loves you.
Amen.

Messenger: This is for you insight beyond the comprehension of our little limited brain - to REACH FOR THE SKIES -
God has visited His people and He remains truly present and in our midst

The Divine Almighty God in His Divinity and humanity-
I shall not fear the dark of night

From Darkness to Light

Light is found in the spiritual womb of the Lady clothed with the Sun - the Holy Spirit works in Marvelous Fashion
lifting the shade and she takes us to the Heart of her
Son.
There He takes us to the bosom of The Father-Mass Book - Life in Him December 17, 1995 December 18, 1995 - one year exactly before Mary appeared in Clearwater on the building December 17, 1996 - The Lady of Light - bringing forth her children of light through consecration to her Heart - and taking them to the fiery Heart of her Son Jesus.

The Lady clothed with the sun.

Amen.
Rita


We must spread the consecration to the priests so they will be children of light nursing at the breasts of their Mother - feeding from the alter in the Church.

Flowing grace, Feasting on the Body and Blood of the Savior, Amen.


My dear friend,

Even though there is a culture of death in the world, we must meditate on the paschal mystery - the mystery of death-resurrection.
Why should we not believe that the Divine, Almighty God who gives us His Word, beginning with the fall of Adam, would not send Mary, Mother of Jesus, to tell us about a great era of peace and love. We must give our Heart to Mary - go to her spiritual womb and to her Son Jesus in His Sacred Heart- being brought forth children of light from the womb (spiritual) of the mother.

Remember the passage Revelation 21 where the bride comes down to meet her husband. The Church in the state of becoming- the people give themselves to the New Adam (to the Sacred Heart) and to the New Eve (Mary's Immaculate Heart) entrusting the Church - the family, the priests to the Sacred Heart - the King of Kings
and to the Queen of Queens - Mary Mother of the Church.

This is the message, a message of hope!! The victory is won!!

No we must not dwell on the death without focusing on the resurrection that is crucial.

Our job becomes fighting for the souls without vision, praying for the grace of the Almighty God to penetrate their hearts and begging for the mercy of God upon the souls on this earth.

A Prayer for Intimacy with the Lamb, the Bridegroom of the Soul

Oh Lamb of God, Who take away the sins of the world, come and act on my soul most intimately. I surrender myself, as I ask for the grace to let go, to just be as I exist in You and You act most intimately on my soul. You are the Initiator. I am the soul waiting Your favors as You act in me. I love You. I adore You. I worship You. Come and possess my soul with Your Divine Grace, as I experience You most intimately.
Messenger:
My dear friend,

I give my heart to Jesus and Mary with you in love.

Our goal with these writings to help lead souls more and more into their hearts - into deeper union with God
Being one in Him - living more deeply in Him
Like St. Paul says "yet it is no longer I, but Christ living in me" Galatians 2:20
Identification with Christ. This is really important for the priest.

So I went to Mass and Jesus said to me as on this paper. INTELLECT PERMEATED WITH LOVE
knowledge and deeper insight into the hidden mysteries about God is not "brainy" facts like book facts, being "smart".

We want to have deeper life in God - like Jesus said "Intellect permeated by love"

Depth - Intellect with a burning heart-

like me being a math teacher-facts are like 2 dimensional, for example, to me

the intellect of the content of the Priestly Newsletter is like depth - life in Him

not rote words and facts more dimensions - like "it has meat on it" - 3 dimensions, verses brainy thoughts, that are like 2 dimensions

(we used to study n-dimensions in math - this intellect about God has infinite dimensions so our discussion should be that, that eludes to depth-life in Him-not flat - has flesh on it)

"Intellect permeated by the love of God"

Wisdom from the Heart of Jesus

Wisdom of the Holy Spirit from
the fiery Heart of God's love.

Intellect permeated by love-
sensitive and likened to Him
tender and insightous (that is seeing with the vision of God- depth)

Insight into the hidden mysteries-
the Wisdom of the Saints

LIFE IN HIM
HE IS ALIVE

Pope John Paul II always wrote this way-
Wisdom of life in Him in Pope John Paul's writings.

Layers into the Heart of Christ
treasured wisdom God
what is mystical-

EYES FOR THE SOUL
deeper spiritual life

Words from the Good Shepherd

You know how great the scripture is-

like a two-edged sword
penetrating heart and soul

That kind of depth-like life in Him

Jesus told me this when I went to Mass -not to use words like facts from the head
but depth -it is intellectual but it is permeated with God's love and a feeling of depth, mystery even in the words they are dimensional which leads
us to greater life in Him.

The activity of learning is in the spiritual eye-
not totally brainy and in the head
intelligence in the head.

not flat brain stuff, facts

The encyclicals are like this packed in depth like the scriptures
documents of the Church

The words of the Mass-burn my soul with joy

Life in Him. Words-beyond brainy, sterile, sounding stuff like chemistry or math or history, facts-or clever thoughts "brainy"

I know what I mean - I listened to one of Fr. Carter's Newsletters on the radio today - it was on suffering 2000 #2 and he was starting to get sick then

His emotion was so beautiful. It was a beautiful Newsletter.

It is as He would speak to take the priests deep into the hidden mysteries and deep into His Heart.

Isn't the dimension of the scriptures such a gift.

I love the Word and I love the Eucharist it is such a gift to be fed by the "bread of life."

God is a good cook!!!! He fills my soul.
I am thirsting for Him and how He feeds me.
He fills me with His grace and I live more deeply in Him.

This is our mission to feed the hungry souls that are stuck on the perishable things of this life giving into their appetites-looking for that which they crave.

Our writings are God's gift to set their hearts a fire with His grace and light to comprehend deeper insight into the hidden mysteries and experience deeper life in Him-like Saint Paul says

I love the Eucharist, the Eucharist does this for me, feeds my hungry soul!!!

The Word makes my heart burn - it is so deep - inexhaustable the depth-the living Word of God-penetrating heart and soul-like the two edged sword-life IN Him.

Rita



From The Spiritual Exercises of St. Ignatius,
by Louis J. Puhl, S.J. p. 12
23. FIRST PRINCIPLE AND FOUNDATION

Man is created to praise, reverence and serve God
our Lord, and by this means to save his soul.

p. 11

21. SPIRITUAL EXERCISES

Which have as their purpose the conquest of self
and the regulation of one's life in such a way that
no decision is made under the influence of any
inordinate attachment
p. 25

46. PRAYER. In the preparatory prayer I will beg God
our Lord for grace that all my intentions, actions,
and operations may be directed purely to the
praise and service of His Divine Majesty.
Come to the 5th in Clearwater!

Come to the 13th in China!

We need to know if you have a

prayer chapter.

Please e-mail this information today.

Your name - complete address -

how many members.

You need only have 2 members.
Excerpt from August 2, 2006
Messenger: I appreciate your mail —
e-mail telling me how you
work to do these Ministries
Jesus has asked us to do.
Shepherds of Christ
P. O. Box 627
China, IN 47250
Our new mailing address is
in China — where we have
24 hour adoration and our
retreats —
write to me to tell me how
you are being a Shepherd of Christ
Associate, Apostle —
Anyone who has a prayer petition
can e-mail info@sofc.org
and we will put your prayer request
in a basket under the altar in
China, Indiana —
you can see the basket on the
internet —
We pray every half hour
for the intentions in the basket
We will pray for you —
Jesus wants Blue Books 4 and 5

on sale for $5.00 each plus postage

so you can circulate them to other people.

DVDs and Videos are on sale too for $5.00

so you will circulate and show them to others.

Call Glaci for image wallets to circulate.

ORDER YOURS TODAY.

Main Mailing Address for Shepherds of Christ

Shepherds of Christ Ministries
P. O. Box 627
China, IN 47250

1-888-211-3041

We accept credit card.
---
Table of Contents
---
---
Copyright © 2006 Shepherds of Christ.
Rights for non-commercial reproduction granted:
May be copied in its entirety, but neither re-typed nor edited.
Translations are welcome but they must be reviewed for moral and
theological accuracy by a source approved by Shepherds of Christ Ministries
before any distribution takes place. Please contact us for more information.