Mary has requested that the daily message be given each day to the world. It is read nightly at the prayer service from her Image Building in Clearwater, Florida, U.S.A. This is according to her request. All attempts will be made to publish this daily message to the world at 11 p.m. Eastern time, U.S.A.

---

We acknowledge that the final authority regarding these messages rests with the Holy See of Rome.

---
August 28, 2002
August 29th Holy Spirit Novena
Scripture selection is Day 4 Period I.
The Novena Rosary Mystery
for August 29th is Joyful.
August 28, 2002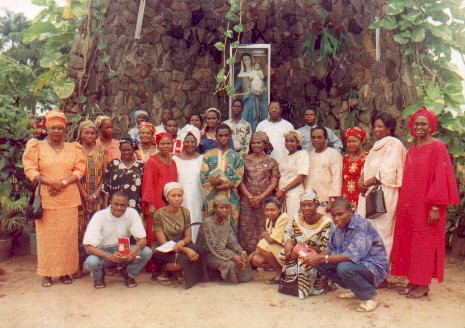 Messenger: Here is a picture from some people in a
Catholic Church in Nigeria. They are
holding their Shepherds of Christ prayer
manuals.
Dear Shepherds of Christ Prayer Chapters,
If you desire the name of your chapter and
your picture to be placed on the Internet
as a group send us your picture holding
your prayer manuals.
Be sure to get each person's written
permission to use their picture on the
Internet site of the Shepherds of Christ.
These pictures will be used at random
at any time as I am directed. Some maybe
used only as a reference for us. We cannot
guarantee that your picture will be on the
Internet but we want them for our records.
Leaders are asked to send permission slips
with the pictures. Please write the names of
the people on the back of the picture.
We show the letter.

We acknowledge that the final authority regarding
these messages rests with the Holy See of Rome.

Letters
17th August , 2002

Dear Brethren in Christ,

It is our pleasure to write you once again in this our letter to tell you and give you the accurate vision of our report to establish shepherd of Christ in the eastern region of Nigerian.

Lots of efforts are being made by the Parishioners of ______ to make sure that this wonderful movement started by our Lord Jesus and Mary herself is progressing in Nigeria.

We have read the blue book and are making the use of Shepherd of Christ Manual that you gave to us to help us in this association stability, and there are many testimony given by members about the work of God in their life and the renewal of the church and our world by God.

Insert inside this letter are the picture of the entire member of Shepherds of Christ in the ________ and member of all other Parishes. Standing at the center is _____ the co-ordinator of the association the man standing by his left side is ______ the President of the association, he is a Journalist. Two women that are siding _____ the Co-ordinator are the Matrons and great evangelizer of the association namely _____ and ______. Tallest man at the back behind the groto statue of Mary is _________. This is just to give you the clear effort we are making to establish this association in the _______. The number of the members is growing everyday, these is the photograph who attended the meeting; our meeting day are Tuesdays and Thursdays every week.

Please we are till requesting your assistance as regards the provision of Shepherd of Christ materials to enable us do this work effectively. The materials entails mostly all the Blue books from Vol. 1 to 4 and Massage from Heaven boo. We do need this book in our meetings, the members are inspired highly by these books.

Again, we want to let the Priest to know about this association and so please, we want you to supply more quantity of Priestly News Letter, Video Cassette and VCD. We also need more Rosery of the Shepherd or any other materials that will enhance the entire members to be strong in the association. The numerical strength of the association is going to hundred. Lots of us need to have Blue book and other items. Even if the book require to be paid for, the members agreed to do so, provided they get these items.

Before I forget I will like you to know our secretary. She is the third (right) scouting in yellow Suit, her name is _____. This girl is a hard working girl in this association.

...

Thanks.

Yours Belove in Christ


---

India

7 August 2002

John Weickert,

I would like to acknowledge the receipt of your letter dated 16 July 2002, and of the books "Shepherds of Christ Spirituality Newsletters Book 2", and the red books enclosed therein.

I appreciate very much your prayers for the shepherds of Christ, daily at 6:20 PM including me as well. August is a special month in my priestly and episcopal life:

10 August 1960: Priestly Ordination

24 August 1993: Episcopal Ordination

You kindly note these dates in your prayer calendar. Some time ago I had requested the Parish Team of Priests and the Religious communities to start at least monthly an hour of adoration, but this has weakened. The Cathedral Parish Communities are re-beginning.

It 6:20 PM I shall join you in prayers for the Shepherds all around the world.

...

United in the Shepherds of Christ Ministries,

+_____________


---


A Letter from the United States

August 22, 2002

Dear Rita:

Thank you for your kind letter, the many prayer cards, photos of Father Carter, the little red prayer manual, and the Shepherds of Christ Priestly Newsletter written by Father Edward J. Carter, S.J. It was kind of you to think of me.

God's blessings to you during these summer months.

Sincerely yours in Christ,

Bishop of _______

---


Mexico, July 14, 2002

Dear John Weickert:

I salute you in the Lord and I wish you health and wellbeing. I received your kind letter of July 16th with the Shepherds of Christ Associates Prayer Manual which I wholeheartedly thank you.

I make votes so that you accomplish the best of successes on behalf of our Lord.

In union of prayers I remain your servant in J.C.

+Bishop of _______

---


To: Rita Ring
Sent: Monday, August 26, 2002 5:04 PM
Subject: thank you

Dear Mrs. Rita Ring

I just received your kind letter with several prayers. Thank you very much. Yes, I'll try to spread the Shepherd of Christ Priestly Newsletter. And I'll ask many people to pray with these intentions. We need to pray more, to trust more, to love more.

Please pray for our Diocese, where many people don't know Our Lord. They need the material food and the spiritual Bread. I am praying for you and your movement every day.

With my benediction +_______


---

To: info@sofc.org
Sent: Monday, August 26, 2002 3:26 AM
Subject: thank you

God's blessings to you.

Thank you so much for providing these Rosary Meditations for small children. We have been using the small handbook "The Scriptural Rosary" and although it is very good, I like yours better. I believe these meditations will be much more interesting to my kids and better teaching tools than the ones we are currently using. I have four children aged 2, 3, 5 and 9. We pray the Rosary every night before bedtime, and we pray throughout the day, so the other prayers will be helpful to me, as well.

I am a convert to the Faith. I was converted upon my first attendance at Mass on Ash Wednesday, 1991, when I realized that Christ was present in the Holy Eucharist. I was reared in a Baptist household, but I was a non-Christian. ...

It is all very exciting for me, and for my children, as well, as I pass it on to them. We are committed to daily Rosary now. My 9 year old son even gets anxious for bedtime now because he so loves praying the Rosary. Hail Mary! I love you, Jesus!

Thank you so much.

With love in Christ,

---

August 28, 2002 message continues
Messenger: Can you pray as an Apostle of the Eucharistic
Heart of Jesus?
Here is a message Jesus gave to Fr. Carter.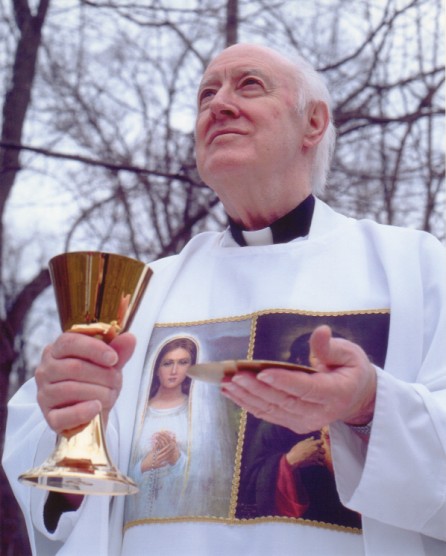 Apostles of the Eucharistic Heart of Jesus


My dear fellow Associate Members,

Jesus is calling special apostles to join a new division of the Shepherds of Christ Movement. Here is a message from Jesus given to Father Carter:

My beloved priest-companion, I am requesting that a new prayer movement be started under the direction of Shepherds of Christ Ministries. I am asking for volunteers who are willing to pray before the Blessed Sacrament for one hour, twice-weekly. Members of the Shepherds of Christ prayer chapters, as well as others, are to be invited to join this movement.

These apostles are to pray for the intentions I am giving you. For part of the hour they are to use the prayers of the Shepherds of Christ Associates Handbook. They may spend the rest of the hour as they so choose.

I will use this new prayer movement within My Shepherds of Christ Ministries in a powerful way to help in the renewal of My Church and the world. I will give great graces to those who join this movement. The name, Apostles of the Eucharistic Heart of Jesus, is to be given to this movement.

I am inviting My beloved Rita Ring to be coordinator for this activity.

I pour out the great love of My Sacred Heart to all. I am Jesus, Chief Shepherd of the flock.

This is indeed a special calling for us to unite in one heart with His Eucharistic Heart and pray for the following intentions:

For the spread of the devotion to the Hearts of Jesus and Mary culminating in the reign of the Sacred Heart and the triumph of the Immaculate Heart.
For the Pope.
For all bishops of the world.
For all priests.
For all sisters and brothers in the religious life.
For all members of the Shepherds of Christ Movement, and for the spread of this movement to the world.
For all members of the Catholic Church.
For all members of the human family.
For all souls in purgatory.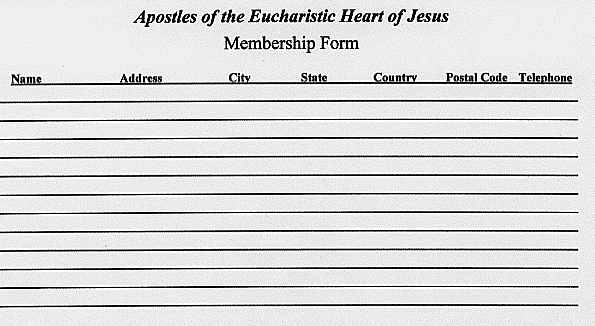 ---
We desperately need
funds for bills for running
of the movement, telephone, water, etc.

Please if you can help us.

Pray for the Cardinals, Bishops and the Pope, pray hourly.

Pray for a personal intention.

Pray for 2 very urgent intentions.

We are praying on the
hour for funds. Please
pray with us.

Credit card donations accepted.

Shepherds of Christ Ministries
P. O. Box 193
Morrow, Ohio 45152
1-888-211-3041
We need funds to send our President to Florida
to set up a permanent camera on Mary's Image.
Please pray for a special intention.
2 urgent intentions; Fred and Mark.
---

Pray for 4 very urgent intentions.
Pray for 2 personal intention.
Pray for a particular bishop and cardinal.
Pray for the pope.
Pray for all the bishops of the world.
Pray for Sarah.
---
---
---
Copyright © 2002 Shepherds of Christ.
Rights for non-commercial reproduction granted:
May be copied in its entirety, but neither re-typed nor edited.
Translations are welcome but they must be reviewed for moral and
theological accuracy by a source approved by Shepherds of Christ Ministries
before any distribution takes place. Please contact us for more information.
All scripture quotes are from the New Jerusalem Bible, July 1990, published by Doubleday.
Revised: August 28, 2002
URL: http://www.sofc.org
Contact Information for Shepherds of Christ
Email: info@SofC.org
---
Shepherds of Christ Ministries
P.O. Box 193
Morrow, Ohio 45152-0193

Telephone: (toll free) 1-888-211-3041 or (513) 932-4451
FAX: (513) 932-6791