Mary has requested that the daily message be given each day to the world. It is read nightly at the prayer service from her Image Building in Clearwater, Florida, U.S.A. This is according to her request. All attempts will be made to publish this daily message to the world at 11 p.m. Eastern time, U.S.A.

---

We acknowledge that the final authority regarding these messages rests with the Holy See of Rome.

---
---
August 31st Holy Spirit Novena
Scripture selection is Day 1 Period 1.
The Novena Rosary Mystery
for August 31st is Joyful.
---
Jesus speaks: I want youth praying

before
the Blessed Sacrament.

It is so powerful.

When they have problems

in their lives,
tell them how much I love them and
that I am truly present in the
Blessed Sacrament,
no less present than the day
I walked the earth.

They want these love relationships
at this young age, they crave love
and I want to give

them My love.

They are wounded, many times
in love relationships.

Tell them to come to Me
before the tabernacle.

I am waiting for them.

I love them so much.

Tell them to just come
and sit and be with Me.

I will heal their wounds.

I will help them.

I want Junior Shepherds of Christ
prayer chapters

started in the schools.

It will help your school.

The prayer sheets can

be given to
students or Prayer Manuals.

---
Jesus speaks: My dear ones
Listen to these words:

---
Die to Self

Excerpt from November 20, 1993 - 4:45a.m.

Jesus speaks: ...Pray, oh My children. Pray for these children in darkness! How do I reach them? Do they need a bump on their head to know that My kingdom waits and it isn't of this world? I bring My curtain down and your life is over. So sad, he who chooses to live only in this world! I have given him so many chances but he continues to sin and delights in harming his brothers. I make ready a place for all My children, so they might come and be saved. I pursue them as a treasure in the field. I open My gates. I give them every opportunity to be saved but some choose to remain indifferent to Me and caught in themselves and their sins. They make themselves their gods and are miserable inside. Only I give them what they crave. To try to fill yourself with this world is not a happy life because the soul thirsts for only that which I can give and the body holds all things of Me at an arm's distance from the soul.

The soul in its pain laments while the devil whispers words of the ego and doing one's own will in their ears. What a sad thing, to be run by Satan and not know it, to live in misery but do exactly as you want. Like blind and dumb sheep, you run into walls and keep running into the same walls. Does this feel good, little tender sheep?

Why do you do it? The things of this world give instant gratification. Then it wears off quickly. A good meal-pleasure while you eat it. Sex-an instant of pleasure-then it is gone. Drink numbs your brain and makes you depressed. Television brainwashes your mind and you go to bed the victim of those on the set who made your moods and fashioned your thoughts. This is happiness? This is emptiness.

I feel so sad for My sick ones. I want their love so much. I want to hold them and tell them all My secrets. I want to bestow on them My gifts-real gifts, not a scarf, not a piece of clothing or a muffin. I want to give them a gift of knowledge. I want them to have love in their hearts. I want to give them peace in their souls. I want to give them a relationship with Me. To know a friend who would die for you-what else could I say? I lament their souls.

Life is so short and eternity never ends. I am a loving God. Your soul craves Me like a magnet, but you fight and turn away. Such emptiness! You will never know! I am the Sacred Heart of Jesus. My heart shines bright for all My children, not a few, but you are blinded by your own wills. You are prompted by Satan to listen to his evil words. You think of your own egos and how you must do exactly as you want.

I call you to life with Me and you say no. I must be the ruler. That is why you do not turn to Me. The more you focus on yourself, the farther you move from Me. The more you focus on Me the more you rid yourself of you and the closer our union. Die to yourself that we might live. In your emptiness, you cried out and I came and your hearts were made full and you knew that you had sought your treasures down empty paths and you knew that I could fill the soul.

Pray hard for all those lost in sin. They need you today. Keep praying and offering sacrifices that they will turn their wills to Me. Only prayer will work. I love each soul and I am working for its conversion. Only prayers will help. What a beautiful reward to think you helped someone to turn his life to Me. This is all that matters. All else is useless.

R. Amen. Alleluia.
end of November 30, 1993 message
---
August 30, 2001 continues

Jesus speaks:

My chosen ones,
I love you so much.
I give you this love at every moment.
I want you to be with Me forever in heaven.

Messenger: I feel that deep love of Our Lady for her children
from all her daily apparitions. So many
things were revealed to me.
My life has to be given trying to deliver
this message she gave me.

The life here after is so real to me
I cry out to listen day and night.

I know so deeply God's love for us.
When we love someone we will go to great
extent to help them.
We cannot even fathom the very deep, deep
love God has for us.
His desire is for us to be with Him in heaven.

As a messenger, I speak "We are offending God."
We cannot continue to disobey the commandments.
We cannot continue to treat His Word the way many do.
We are offending God.
---
Isaiah 1:2-4
Against an ungrateful people
Listen, you heavens; earth, attend, for Yahweh is speaking,
'I have reared children and brought them up,
but they have rebelled against me.
The ox knows its owner and the donkey its master's crib;
Israel does not know, my people do not understand.'
Disaster, sinful nation, people weighed down with guilt,
race of wrong–doers, perverted children!
They have abandoned Yahweh, despised the Holy One of Israel,
they have turned away from him.
---
August 30, 2001 continues

Messenger:

People that get up and speak out telling others to
do things that are sinful must realize
what they are doing. They are teaching
things that can hurt the souls!

We all have a responsibility to help with this of
leading souls to Him.

He went to the cross, as a runner, He ran the
race for those He loved.

When you love someone you will do so much
for them.

This is the love God has for us now and we are
disobeying Him, offending Him,
blaspheming Him.
Love, oh what love He has and gives to us
now.
Do you know the love He has for His precious souls.
---
John 18: 14-19
It was Caiaphas who had counselled the Jews, 'It is better for one man to die for the people.' Simon Peter, with another disciple, followed Jesus. This disciple, who was known to the high priest, went with Jesus into the high priest's palace, but Peter stayed outside the door. So the other disciple, the one known to the high priest, went out, spoke to the door–keeper and brought Peter in. The girl on duty at the door said to Peter, 'Aren't you another of that man's disciples?' He answered, 'I am not.' Now it was cold, and the servants and guards had lit a charcoal fire and were standing there warming themselves; so Peter stood there too, warming himself with the others. The high priest questioned Jesus about his disciples and his teaching.
---
August 30, 2001 continues
Messenger: (of speaking of Mary)
Oh, I do see her, the memory of her face, the brilliant
light of her beauteous body, the rapture of those
moments being taken so deeply into that
place where they revealed so many things
to me and yet I feel I am in a foreign
land because so many ignore the real
truth of how life here is not forever.
And the devil wages a war getting us focused on others,
their faults and what they are doing or the
devil works to block the work we do for Jesus
here.
The funds have really become an issue.
So many just will not help us.
The building alone is so much proof.
I saw her everyday and now everyone sees
her everyday.
They wouldn't believe me when I told them
and tried to get the rosaries and consecration
in the schools as Our Lady wanted.
If you saw her as I did daily, if they
revealed such things to you, perhaps you
would work to do as she says.
But when I cried, no one was listening, Father please
help me and I laid on the floor all night
August 12, 1996 as she appeared, begging
the Father to listen, on August 13, 1996
Mary began to speak clearly.
On August 27, 1996- she delivered this message
---
Mary's Message from the Rosary of August 27, 1996
Mary speaks: I stood beneath the cross of my Son, and my Heart was in such pain for I saw Him before my eyes. I saw Him covered with blood. I saw Him die. My Heart, my children, my Heart to watch my Son, but my Heart, my Heart, how I suffered for my little children of the world that give in to this world and give up the love of my Son. O my little children of light, I give you this message. Carry this light into the darkness for your Mother Mary, for I stood beneath the cross and I cried. I cried for the little ones. I cried for the young ones, the ones that do not care and will lose their souls. How do I make you see for you will not listen to me? What can I do? I come. I appear. I beg. I plead. I give you these gifts from my Son, and you reject me. I do not deliver messages very often anymore for I have been ignored. The message is the same. You do not read the messages I have given to you. Please help me. Help the little children. I appear. I appear. I appear, and I am ignored. I stood beneath the cross, and I cried. I cried, and my Heart was in such anguish for my little children, for I am searching for them this day as I searched for the Child Jesus. Please, please help me. I cannot hold back the hand of my Son any longer. I am Mary, your Mother. I ask you to help my children. You are my children of light.
end of Mary's Message
, August 27, 1996
---
August 30, 2001 continues
Messenger: And as Father Carter said in his talk February 13, 1997
she appeared not as she once appeared.
Now she appears everyday to everyone and
we ignore the apparition.
I can't believe it.
---
John 16: 20-24
'In all truth I tell you, you will be weeping and wailing while the world will rejoice; you will be sorrowful, but your sorrow will turn to joy. A woman in childbirth suffers, because her time has come; but when she has given birth to the child she forgets the suffering in her joy that a human being has been born into the world. So it is with you: you are sad now, but I shall see you again, and your hearts will be full of joy, and that joy no one shall take from you. When that day comes, you will not ask me any questions. In all truth I tell you, anything you ask from the Father he will grant in my name. Until now you have not asked anything in my name. Ask and you will receive, and so your joy will be complete.
---
August 30, 2001 continues
Messenger: Some of the people that help are always saying
what is in it for me?
I am messenger, I deliver a message to you.
God has given us the image to show you
that there is something to this.
Our mission the Priestly Newsletter, Prayer Chapters
and the rosary and all the prayers He
gave to us.
Love, oh God loves us so, so deeply.
He gives us so, so much.
---
1 John 4: 12-16
No one has ever seen God, but as long as we love one another God remains in us and his love comes to its perfection in us. This is the proof that we remain in him and he in us, that he has given us a share in his Spirit. We ourselves have seen and testify that the Father sent his Son as Saviour of the world. Anyone who acknowledges that Jesus is the Son of God, God remains in him and he in God. We have recognised for ourselves, and put our faith in, the love God has for us. God is love, and whoever remains in love remains in God and God in him.
---
August 30, 2001 continues
Messenger: It is just common place to so many Mary
is appearing there.
Oh do you know the deep love of God and
how He wants souls with Him
for all eternity.
Do you see Him in agony in the garden?

Do you see Him sweat His precious Blood
for the souls?
Do you see Him with the crown of thorns
pounded into His Head and Blood
pouring down His face for our
sins, the sins of the flesh.
He was beaten raw, Blood poured forth
from His precious Body.
He gave His all. He gave His Blood.
He has us meditate on this in the rosary
so we can understand more deeply His
love for His precious souls.
He loves us so much.
He shows us His deep love for us in His
life given for our sins.
And after this we keep sinning, more and
more, sins against the flesh,
sins that were sins He suffered for.
He shed His Blood for our sins.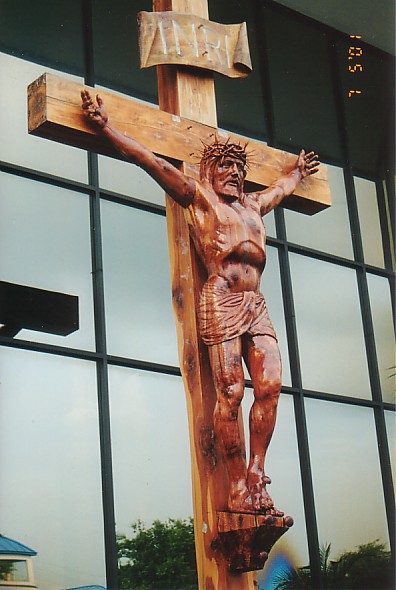 done by Felix Avalos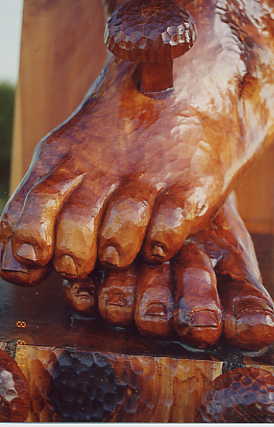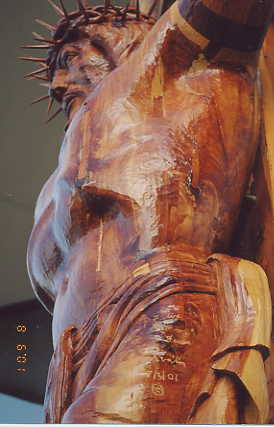 August 30, 2001 continues
Messenger: Talk about abuse.
Today we ignore Him so many times and the
gifts given.
Many times we give up the opportunity to have deep union
with Him and endure the suffering
He sends for many gods of the earth.
My men, it is serious when God appears and
Mary appears and we ignore them.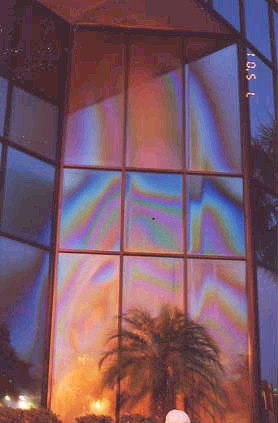 July 5, 2001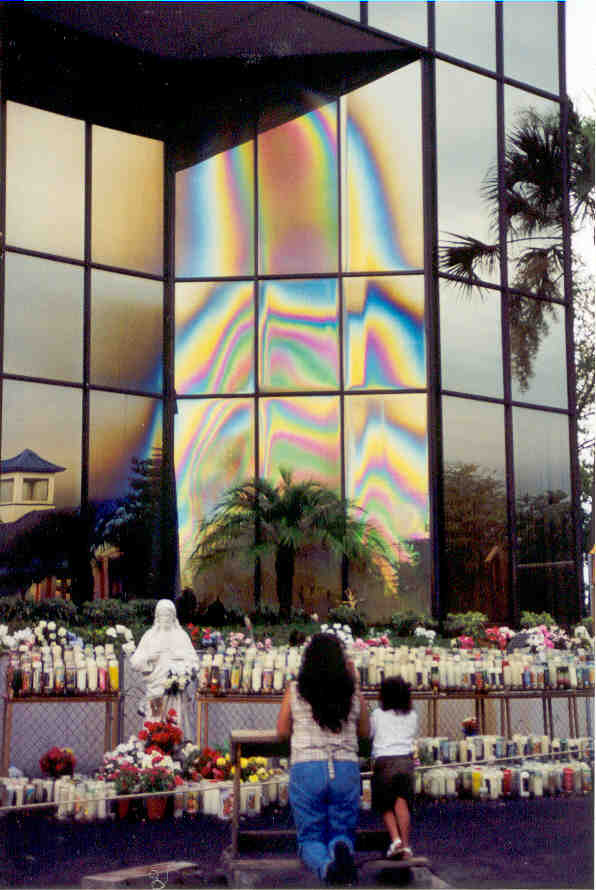 July 5, 2000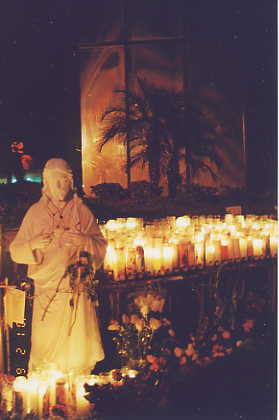 February 5, 2001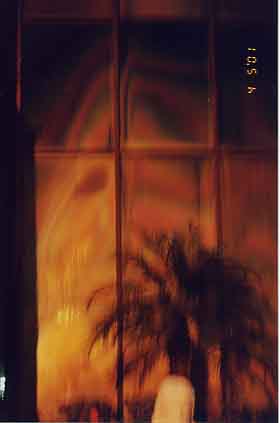 April 5, 2001
August 30, 2001 continues
Jesus speaks:
Oh how I love you, you do not understand
how much you have offended your
God.
I send a messenger for so many are headed
down the road of perdition.
So many souls will be lost.
I love them so deeply.
I love them from the deep love of
My Sacred Heart.
I cry out to you.
I cry out to you to look into My
eyes to see My love for you.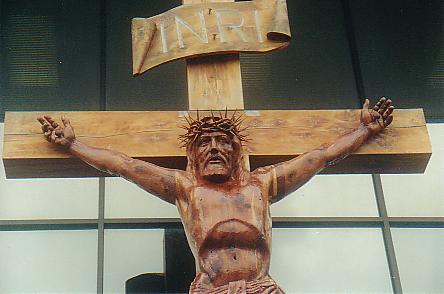 August 30, 2001 continues
Messenger: Our Lord wants the Sorrowful Mother
under the cross.
All this takes money and the money is not there
for the bare essentials.
Our Lord has delivered this message for
a long time.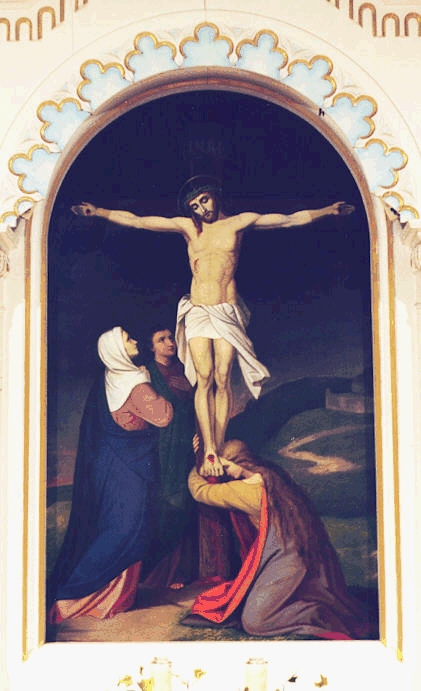 August 30, 2001 continues
Messenger: Jesus wants the statues of Mary, John and
Mary Magdalene in Florida under the cross.

We cannot do what He has told us.
Nothing surprises me anymore.
I write this as He has directed me.
The message is delivered for us to help reach
the souls.
We operate on donations and sell a few
pictures in the store.
We do not own the building, we have
a big loan on it.
We need your prayers.
We must realize what a gift it is that
God has permitted Mary to appear on this
building now for almost five
years.
Polluted waters.
Clearwater.
How are our hearts?
God has chosen us.
Are we grateful for the gift?
Do we take it for granted?
Do you see how many people are just
in a habit of grumbling and looking
for everything that is wrong?
Do you realize that God wants us to look at
ourselves and be honest and strive
for interior purity.
Some people are just not happy most of
the time.
When things are done for them they
grumble.
They wants things perfect on this earth.
They want people perfect.
They focus on everything that is wrong.
We should open our
eyes and see the gifts God has given
to us.
Of this I boast of the Mass. I love to
receive the Holy Eucharist.
Christ showed us we would suffer.
Christ love is shown to us in His
suffering in the bitter passion.
Today it was foggy.
It was really foggy and I couldn't see in
front of me.
It looked really different.
Where I could see the green bushes and the
front of the Church, the Church door,
I just had to keep walking. I knew how
to go. I followed the path I knew even though
I could not see.
Today we may not see where we are going.
Every day we walk into many unknown things.
Our food is right before us, we eat it.
We like to plan our schedules,
but many times, many unknown events
come tumbling into our lives
and it may feel as if we had to hold on
really tight to all our ways of loving
we know Jesus wants us to have.
Sometimes it may take patience and
deep in our heart there is sorrow
and suffering, but He has given us
His Word, the Commandments, His
Church.
If youth are taught that the commandments
do not have to be obeyed by teachers,
if youth are taught the Word is wrong
many times,
if youth do not know that the
Church is God's Church
when they go through their foggy days where
do they turn.
They can put too much emphasis on
some people that may lead them astray,
they look around for the answer.
It is a shame if we send our children to
Catholic schools to be taught the
truth and a woman or a
man who teaches religion or
justice or relationships leave
God out of it or uses their own
lives as the "rule of thumb."
Christ is above us.
The Church is His Church.
The teachers in Catholic schools cannot
use their own lives as the basis for
basing what they teach.
They may use the text and center it
on their own principles.
The top of it all must be Christ.
The Word is paramount of our rules
for measuring things.
The Commandments must be obeyed by
God's people.
I beg you to help us get the rosary and consecration
card in the schools as Mary requested.
When children, adults consecrate their hearts
fervently to the Hearts of Jesus and
Mary they are most likely to live
more attuned to God's will.
Jesus is God. Jesus does God's will.
Mary was conformed to the will of God.
This is made clear in the scriptures.
The children of Adam and Eve are tainted.
The ones dwelling in the Hearts of Jesus
and Mary, the New Adam and the
New Eve will live more according
to the will of God.
If we want peace in the world we must
do what Mary, the Queen of Peace, said
at Fatima.
Say the Our Father with all your heart.
Don't we want the people of the earth
living according to God's will?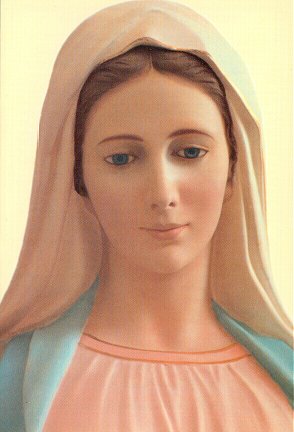 Mary said we should do the following
things at Fatima.
1. consecrate our hearts to the Hearts of
Jesus and Mary.
2. pray the rosary.
3. observe the First Saturday devotion
4. Make reparation to the Hearts of
Jesus and Mary
There is a message I received that says the
Holy Spirit works with Mary when we
pray the rosary to enlighten us.
We can come forth from the Immaculate
Heart of Mary as a child
of light as the Holy
Spirit enlightens us.
---
The Holy Spirit
Jesus: "My beloved friend, tell My people to pray daily to the Holy Spirit. They are to pray for an increase in His gifts. My people must realize that the Holy Spirit comes to transform them. The Spirit desires to transform you more and more according to My image. Those who are docile to His touch become increasingly shaped in My likeness. He performs this marvel within Mary's Immaculate Heart. The more one dwells in My Mother's Heart, the more active are the workings of the Spirit. The Spirit leads Mary to place you within My own Heart. In both Our Hearts, then, your transformation continues. The more you are formed after My own Heart, the more I lead you to the bosom of My Father. Tell My people all this. Tell them to pray daily for a greater appreciation of these wondrous gifts. I am Lord and Master. All who come to My Heart will be on fire to receive the gifts of the Spirit in ever greater measure! I love and bless My people!"
end of excerpt from Tell My People
---
August 30, 2001 continues
Messenger: We don't want to be in the fog.
We want to be children of the light.
We can be blinded all our life and not
see spiritual insights and
God can flood us with grace and in the batting
of an eye we can see more truths
than we ever imagined.
Jesus said when we pray the rosary we can
get special grace to be enlightened
by the Holy Spirit.
Meditating on all 15 mysteries helps us to
live in the truth.
The more we dwell in Their Hearts, the
more we will know God and
have insight into
the Divine Mysteries.
---
Isaiah 9:1-21
9
The people that walked in darkness have seen a great light;
on the inhabitants of a country in shadow dark as death
light has blazed forth.
You have enlarged the nation, you have increased its joy;
they rejoice before you as people rejoice at harvest time,
as they exult when they are dividing the spoils.

For the yoke that weighed on it, the bar across its shoulders,
the rod of its oppressor,
these you have broken as on the day of Midian.

For all the footgear clanking over the ground
and all the clothing rolled in blood,
will be burnt, will be food for the flames.

For a son has been born for us,
a son has been given to us,
and dominion has been laid on his shoulders;
and this is the name he has been given,
'Wonder–Counsellor, Mighty–God,
Eternal–Father, Prince–of–Peace'
to extend his dominion in boundless peace,
over the throne of David and over his kingdom
to make it secure and sustain it
in fair judgement and integrity.

From this time onwards and for ever,
the jealous love of Yahweh Sabaoth will do this.

The ordeals of the Northern Kingdom

The Lord has launched a word at Jacob
and it has fallen on Israel;
and the people will all soon know it,
Ephraim and the inhabitants of Samaria,
who say in the pride of their arrogant hearts,
'The bricks have fallen down but we shall rebuild with dressed stone;
the sycamores have been felled but we shall replace them with cedars.'
But, against them, Yahweh has raised their foe Razon,
he has whipped up their enemies,
Aram to the east, Philistines to the west,
to devour Israel with gaping jaws.
After all this, his anger is not spent.
No, his hand is still raised!

But the people would not come back to him who struck them,
they would not seek out Yahweh Sabaoth;
hence Yahweh has topped and tailed Israel,
cutting off palm and reed in a single day.
(The 'top' is the elder and the man of rank;
the 'tail' is the prophet teaching lies.)
This people's leaders have led them astray,
and those who are led by them are swallowed up.
Hence the Lord will no longer take delight in their young people,
or pity on their orphans and widows,
since all of them are godless and evil,
and everything they say is madness.
After all this, his anger is not spent.
No, his hand is still raised!

Yes, wickedness has been burning like a fire,
devouring bramble and thorn–bush,
setting the forest thickets ablaze—
up they go in billowing smoke!
The country has been set on fire
by the fury of Yahweh Sabaoth,
and the people are like food for the flames.
No one spares a thought for his brother.
They have sliced to the right and are still hungry,
they have eaten to the left and are not satisfied;
each devours the flesh of his own arm.
Manasseh devours Ephraim, Ephraim Manasseh,
together they turn against Judah.
After all this, his anger is not spent.
No, his hand is still raised!
---
August 30, 2001 continues
Jesus speaks:
I want Apostles of My Eucharistic Heart.
Circulate the material that follows.
Messenger: We sent out the following
post card today -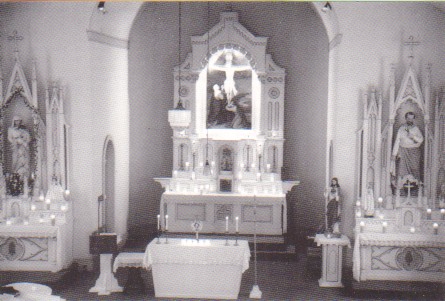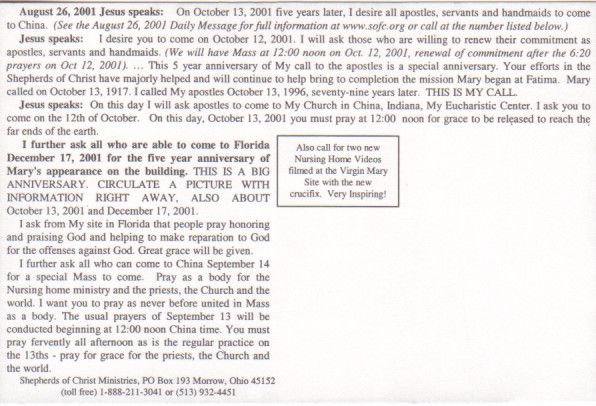 August 30, 2001 continues
Messenger: Please pray for this and
all involved for grace
for every event.

Spread the Blood of Jesus on all involved,
Consecrate their hearts,
Cast the devil far away
and ask for a special outpouring
of the Holy Spirit.
Please continue to pray for this.
Please be an apostle of
the Eucharistic
Heart of Jesus.
You can give what follows
to priests and bishops in the
United States concerning
the Apostles of the
Eucharistic Heart of Jesus.
Do not give them this message-
just this material that follows.
Do not say Jesus told us to do this,
just say.
We have a movement Shepherds of Christ.
We pray for the priests, the Church and
the world before the
Blessed Sacrament.
It is called the Apostles of the
Eucharistic Heart of Jesus
Movement.
We pray for the
Pope-
bishops,
priests,
sisters
brothers
the members of the Catholic Church
the human family
and the souls in purgatory.
Can we leave this information in
Church so others will pray?
Here is the complete packet.
Give them a prayer manual or
the prayer sheet that can be
down loaded.
I REPEAT- GIVE THEM
ONLY THIS MATERIAL-
DO NOT
SPEAK OF THE
PICTURES AND MESSAGES,
JUST TRY TO GET THEM TO
USE THE PRAYERS AND
BE APOSTLES OF THE EUCHARISTIC HEART
AND PUT THESE INSTRUCTIONS HOW TO BE AN
APOSTLE OF THE EUCHARISTIC HEART
IN CHURCHES
WITH THE PRAYER MANUAL OR
PRAYER SHEETS.
---
Apostles of the Eucharistic Heart of Jesus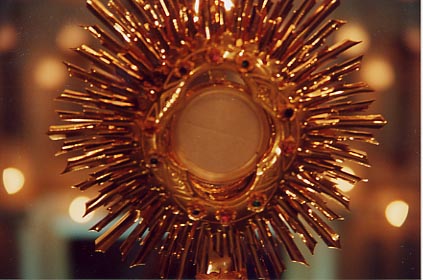 The Apostles of the Eucharistic Heart of Jesus is a prayer movement which is under the direction of Shepherds of Christ Ministries. We are asking for volunteers who are willing to pray before the Blessed Sacrament for one hour, twice-weekly. Members of the Shepherds of Christ prayer chapters, as well as others, are invited to join this movement.
These apostles are to pray for the intentions given below. For part of the hour, you must use the prayers in the Shepherds of Christ Associates Handbook. You may spend the rest of the hour as you so choose.
This prayer movement within the Shepherds of Christ Ministries is a powerful way to help in the renewal of the Church and the world. The name, Apostles of the Eucharistic Heart of Jesus, has been given to this movement.
This is indeed a special calling for you to unite in one heart with His Eucharistic Heart and pray for the following intentions:

For the spread of the devotion to the Hearts of Jesus and Mary culminating in the reign of the Sacred Heart and the triumph of the Immaculate Heart.
For the Pope.
For all bishops of the world.
For all priests.
For all sisters and brothers in the religious life.
For all members of the Shepherds of Christ Movement, and for the spread of this movement to the world.
For all members of the Catholic Church.
For all members of the human family.
For all souls in purgatory.

Jesus wants so much for us to come and be with Him. He is no less present in the tabernacle than the day He walked the earth. He will listen to our heartfelt prayers as Apostles of the Eucharistic Heart of Jesus. His Heart beats in deepest love for us. How He loves His beloved priests and religious. He wants us to come to the Blessed Sacrament and pray to Him for them. Our prayers are especially powerful when we are before the tabernacle.
If you feel Jesus is calling you to be an apostle of His Eucharistic Heart, please complete the membership form. Please circulate this brochure and the sign-up forms. This is a call to priests, sisters, and laity, including children. The Apostles of the Eucharistic Heart of Jesus do not have to be a member of the Shepherds of Christ chapters. There is such power in His Eucharistic Heart. Let us join one another and answer this call today. Adoration should begin as soon as possible.
Apostles of the Eucharistic Heart of Jesus will receive the Shepherds of Christ Newsletter. It is very important to send in the membership form as soon as possible so we can send you the newsletter and any new information about the Apostles of the Eucharistic Heart of Jesus.
As apostles, we will receive abundant graces from God and help bring about the renewal of the Church and the world. May you know the burning love of His Heart.
Shepherds of Christ Ministries,
Apostles of the Eucharistic Heart of Jesus,
P.O. Box 193, Morrow, OH 45152-0193 USA.
Telephone: (toll free in USA) 1-888-211-3041 or
International (513) 932-4451
Fax: (513) 932-6791
www.SofC.org Email: info@SofC.org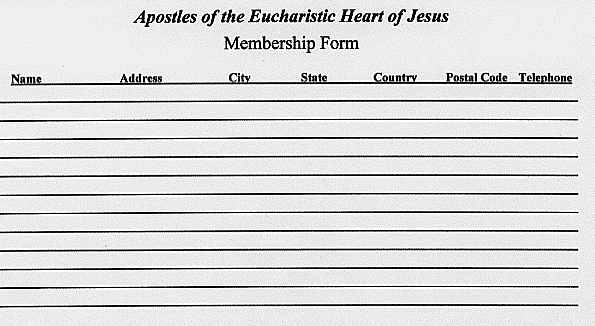 ---
---
---

Copyright © 2001 Shepherds of Christ.
Rights for non-commercial reproduction granted:
May be copied in its entirety, but neither re-typed nor edited.
Translations are welcome but they must be reviewed for moral and
theological accuracy by a source approved by Shepherds of Christ Ministries
before any distribution takes place. Please contact us for more information.
All scripture quotes are from the New Jerusalem Bible, July 1990, published by Doubleday.
Revised: August 30, 2001
URL: http://www.SofC.org
Contact Information for Shepherds of Christ
Email: info@SofC.org
---
Shepherds of Christ Ministries
PO Box 193
Morrow, Ohio 45152-0193

Telephone: (toll free) 1-888-211-3041 or (513) 932-4451
FAX: (513) 932-6791