Mary has requested that the daily message be given each day to the world. It is read nightly at the prayer service from her Image Building in Clearwater, Florida, U.S.A. This is according to her request. All attempts will be made to publish this daily message to the world at 11 p.m. Eastern time, U.S.A.

---

We acknowledge that the final authority regarding these messages rests with the Holy See of Rome.

---
---
A Prayer for Intimacy with the Lamb, the Bridegroom of the Soul

Oh Lamb of God, Who take away the sins of the world, come and act on my soul most intimately. I surrender myself, as I ask for the grace to let go, to just be as I exist in You and You act most intimately on my soul. You are the Initiator. I am the soul waiting Your favors as You act in me. I love You. I adore You. I worship You. Come and possess my soul with Your Divine Grace, as I experience You most intimately.
---
Messenger: Include Our Lady of the Holy Spirit Center in 6:20 prayers.
---
Messenger: I write as I am directed.
"Thy will be done on earth as it is in heaven."
JESUS SPEAKS: PRAY THAT MEN DO THE WILL OF GOD.
PRAY THAT ALL PRAY THE OUR FATHER FROM THEIR HEARTS.
---
Our Father
Our Father, Who art in heaven, hallowed be Thy name. Thy kingdom come, Thy will be done on earth as it is in heaven. Give us this day our daily bread and forgive us our trespasses as we forgive those who trespass against us. And lead us not into temptation but deliver us from evil. Amen.
---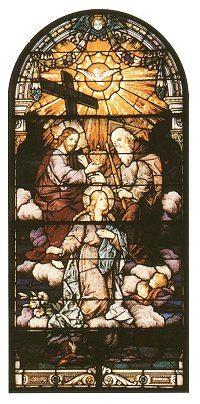 JESUS SPEAKS: YOUR PRAYER MUST BE THAT ALL MEN LIVE ACCORDING TO THE FATHER'S WILL.
| | |
| --- | --- |
| The message of the New Adam. | The message of the New Eve. |
| | |
JESUS SPEAKS: THY WILL BE DONE ON EARTH AS IT IS IN HEAVEN.
Key to peace, harmony, and love IS LIVING ACCORDING TO THE FATHER'S WILL.
PRAY FOR THIS THAT ALL SOULS OBEY THE FATHER AND LIVE IN HIS WILL.
The more you dwell in the Hearts of the New Adam and the New Eve, the more you will live in truth and do God's will.
Mary appeared at Fatima to tell you that you must give your hearts to Our Hearts -
There you will live as one family, obeying the Father's will.
---
Matthew 12: 46-50
The true kinsfolk of Jesus

He was still speaking to the crowds when suddenly his mother and his brothers were standing outside and were anxious to have a word with him. But to the man who told him this Jesus replied, 'Who is my mother? Who are my brothers?' And stretching out his hand towards his disciples he said, 'Here are my mother and my brothers. Anyone who does the will of my Father in heaven is my brother and sister and mother.'
---
Jesus speaks: The last two day's daily messages are very important, August 30, and August 31.
Pray Words of Surrender, Pray for Union with Jesus all through the day.
---
Words of Surrender of a Soul

Words of Consecration to God

Today Lord, (today's date), I give You my entire will-

I give You all my liberties, I want to love and serve You as You desire.

I surrender myself to You.

I ask You to run my life.

I ask You to help me act like You, Jesus, and like Your Mother Mary.

God, this day I consecrate myself to You.

I am (name) , Your beloved child, guide me on my way now as I go about my day (or if in Church) as I leave Your Eucharistic presence.
---
The following Imprimatur applies only to the Prayer for Union with Jesus and not the message above or below.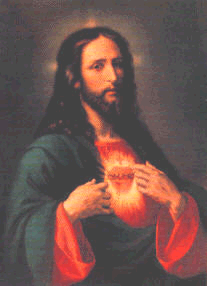 Prayer for Union with Jesus
Come to me, Lord, and possess my soul. Come into my heart and permeate my soul. Help me to sit in silence with You and let You work in my heart.
I am Yours to possess. I am Yours to use. I want to be selfless and only exist in You. Help me to spoon out all that is me and be an empty vessel ready to be filled by You. Help me to die to myself and live only for You. Use me as You will. Let me never draw my attention back to myself. I only want to operate as You do, dwelling within me.
I am Yours, Lord. I want to have my life in You. I want to do the will of the Father. Give me the strength to put aside the world and let You operate my very being. Help me to act as You desire. Strengthen me against the distractions of the devil to take me from Your work.
When I worry, I have taken my focus off of You and placed it on myself. Help me not to give in to the promptings of others to change what in my heart You are making very clear to me. I worship You, I adore You and I love You. Come and dwell in me now.
-God's Blue Book, January 17, 1994
---
Jesus speaks: Consecrate your hearts all day. "I give my heart to Jesus and Mary with you in love."
Messenger: Our priest read the following writing from Saint Claude de la Colombiere at Mass on the First Friday.
I quote it here - This is the writing of St. Claude de la Colombiere, a Jesuit priest and St. Margaret Mary's spiritual director.
---
Excerpt from priestly newsletter, Issue 3, 2000
Here are words from St. Claude La Colombière, one of the great apostles of devotion to the Heart of Christ. Speaking to Jesus, Claude says:

You share my burdens,
You take them upon yourself.
You listen to me fondly when I tell you my troubles.
You never fail to lighten them.
I find You at all times and in all places.
You never leave me.
I will always find You wherever I go.

Old age or misfortune will not cause You to abandon me.
You will never be closer to me than
When all seems to go against me.
No matter how miserable I may be,
You will never cease to be my friend.

You tolerate my faults with admirable patience.
You are always ready to come to me, if I so desire it.

Jesus, may I die praising you!
May I die loving you!
May I die for the love of you.

- St. Claude de la Colombiere, as published by Apostleship of Prayer, Detroit Province of the Society of Jesus.
(End of Excerpt from priestly newsletter, Issue 3, 2000)
---
Messenger: God is so good to us.
---
Psalm 34: 1-11
I will bless Yahweh at all times,
his praise continually on my lips.
I will praise Yahweh from my heart;
let the humble hear and rejoice.

Proclaim with me the greatness of Yahweh,
let us acclaim his name together.
I seek Yahweh and he answers me,
frees me from all my fears.

Fix your gaze on Yahweh and your face will grow bright,
you will never hang your head in shame.
A pauper calls out and Yahweh hears,
saves him from all his troubles.

The angel of Yahweh encamps
around those who fear him, and rescues them.
Taste and see that Yahweh is good.
How blessed are those who take refuge in him.

Fear Yahweh, you his holy ones;
those who fear him lack for nothing.
Young lions may go needy and hungry,
but those who seek Yahweh lack nothing good.

Come, my children, listen to me,
I will teach you the fear of Yahweh.
---
Messenger: The foolish virgins had no oil for their lamps.
---
Excerpt from August 14, 2000 daily message
Mary speaks: I desire the following photo pictures be circulated.

The picture of Mother and child.

The picture July 5, 2000.

Mary speaks: I ask anyone that can to help with this.

The website on a sticker, phone number, Shepherds of Christ Ministries can be placed on the back of the photo.

I wish this message to be made available.
(End of Excerpt from August 14, 2000 daily message)
---
Jesus speaks: PLEASE COME TO FLORIDA SEPTEMBER 5, 2000, FOR A Special Healing Rosary.
---
Messenger: Jesus says pray for this.
---
Messenger: Retreat in China, Indiana, September 12, 13, 14 (special prayers, rosary and messages 12:00 p.m., September 13).
Social Morrow, Ohio, September 17.
Big retreat in China, Indiana, October 12, 13, 14, three Masses will be said.
Special rosary and message, October 13.
---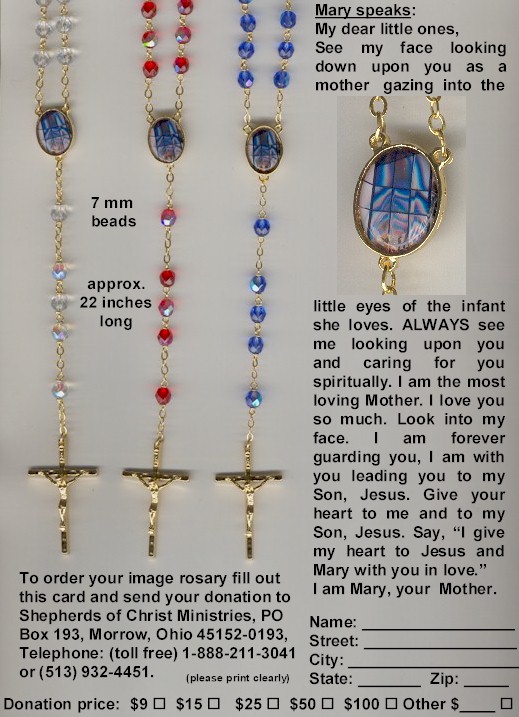 (Please copy and pass out to family and friends.)
---
Mary's Message from the Rosary of August 27, 1996
Mary speaks: I stood beneath the cross of my Son, and my Heart was in such pain for I saw Him before my eyes. I saw Him covered with blood. I saw Him die. My Heart, my children, my Heart to watch my Son, but my Heart, my Heart, how I suffered for my little children of the world that give in to this world and give up the love of my Son. O my little children of light, I give you this message. Carry this light into the darkness for your Mother Mary, for I stood beneath the cross and I cried. I cried for the little ones. I cried for the young ones, the ones that do not care and will lose their souls. How do I make you see for you will not listen to me? What can I do? I come. I appear. I beg. I plead. I give you these gifts from my Son, and you reject me. I do not deliver messages very often anymore for I have been ignored. The message is the same. You do not read the messages I have given to you. Please help me. Help the little children. I appear. I appear. I appear, and I am ignored. I stood beneath the cross, and I cried. I cried, and my Heart was in such anguish for my little children, for I am searching for them this day as I searched for the Child Jesus. Please, please help me. I cannot hold back the hand of my Son any longer. I am Mary, your Mother. I ask you to help my children. You are my children of light.

Song: O Lady of Light, shining so bright, be with us this day, guiding our way, O Lady, O Lady of Light.

Mary speaks: I appear to you as Our Mother of Sorrows.
(End of Mary's Message)
---
MY VALENTINE FOR JESUS AND MARY
AND THE WORLD

I _________________ give my heart to
You Jesus and Mary on this day
_________________
I promise to help spread the devotion to
the Hearts of Jesus and Mary.
---
Question for married couples and others in intimate relationships:
Q: How do I feel I can live more fully in His will at every moment, and how will this help our relationship to be more one and/or our family to be more one, more likened to the relationships between the Persons of the Trinity.
---
---
---
Copyright © 2000 Shepherds of Christ.
Rights for non-commercial reproduction granted:
May be copied in its entirety, but neither re-typed nor edited.
Translations are welcome but they must be reviewed for moral and theological accuracy by a source approved by Shepherds of Christ Ministries before any distribution takes place. Please contact us for more information.
All scripture quotes are from the New Jerusalem Bible, July 1990, published by Doubleday.
Revised: September 1, 2000
URL: http://www.SofC.org
Contact Information for Shepherds of Christ
Email: info@SofC.org
---
Shepherds of Christ Ministries
PO Box 193
Morrow, Ohio 45152-0193

Telephone: (toll free) 1-888-211-3041 or (513) 932-4451
FAX: (513) 932-6791