Give Christmas Presents that count
.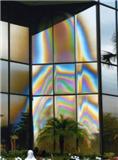 Get a canvas print of Mary's image
with a sliver of glass and
a little bottle of
Jesus and Mary water.
The glass will be fixed behind the
back of the picture.
Cost — $200.00
Call Sheila
1-513-470-3387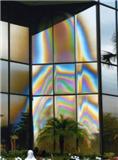 Also available
a cup with a Mary's image on it
Cost — $15
Call Sheila
1-513-470-3387
September 18, 2010

1 Timothy 6: 2c-12
they should serve them all the better, since those who have the benefit of their services are believers and dear to God.

This is what you are to teach and urge. Anyone who teaches anything different and does not keep to the sound teaching which is that of our Lord Jesus Christ, the doctrine which is in accordance with true religion, is proud and has no understanding, but rather a weakness for questioning everything and arguing about words. All that can come of this is jealousy, contention, abuse and evil mistrust; and unending disputes by people who are depraved in mind and deprived of truth, and imagine that religion is a way of making a profit. Religion, of course, does bring large profits, but only to those who are content with what they have. We brought nothing into the world, and we can take nothing out of it; but as long as we have food and clothing, we shall be content with that. People who long to be rich are a prey to trial; they get trapped into all sorts of foolish and harmful ambitions which plunge people into ruin and destruction. 'The love of money is the root of all evils' and there are some who, pursuing it, have wandered away from the faith and so given their souls any number of fatal wounds.

But, as someone dedicated to God, avoid all that. You must aim to be upright and religious, filled with faith and love, perseverance and gentleness.
Timothy is warned about
false teachers who
are prideful,
quarreling
greedy
envious
Timothy is told to be faithful —
to hold onto sound doctrine —
true religion —
A sick man has passion for
controversies —
From this St. Paul says is
envy, slander, evil suspicions —
twisted minds who have lost
truth in their minds —
Psalm 49: 6-7, 8-10, 17-18, 19-20
They trust in their wealth,
and boast of the profusion of their riches.

But no one can ever redeem himself
or pay his own ransom to God,
the price for himself is too high;
it can never be that he will live on for ever
and avoid the sight of the abyss.

For he will see the wise also die
no less than the fool and the brute,
and leave their wealth behind for others.
when he dies he will take nothing with him,
his wealth will not go down with him.
Though he pampered himself while he lived
—and people praise you for looking after yourself—
he will go to join the ranks of his ancestors,
who will never again see the light.

In prosperity people lose their good sense,
they become no better than dumb animals.
God is love
Jesus is the way, the truth and
the life —
Jesus had enemies
People who wanted to have power
over Jesus
and wanted to hurt Jesus
because they were afraid
of losing power —
Jesus said you will be hated
by all for My name sake —
Some of our greatest enemies
can be those in our
own household —
Luke 12: 51-53
'Do you suppose that I am here to bring peace on earth? No, I tell you, but rather division. For from now on, a household of five will be divided: three against two and two against three; father opposed to son, son to father, mother to daughter, daughter to mother, mother-in-law to daughter-in-law, daughter-in-law to mother-in-law.'
Judas was the keeper of the money —
Judas was secretive behind
Christ's back
Judas thought he knew
more than Jesus (pride)
(greed) (seeking dominance
for the sake of dominance)
Judas betrayed Jesus
How can we call ourselves holy —
when we smile to those
outside our family —
and hate those God has called
us to live and work with
---
Peter was corrected but he
was humble of heart —
Peter was the first pope —
chosen by Jesus
Matthew 16: 18-19

So I now say to you: You are Peter and on this rock I will build my community. And the gates of the underworld can never overpower it. I will give you the keys of the kingdom of Heaven: whatever you bind on earth will be bound in heaven; whatever you loose on earth will be loosed in heaven.'
God has a way of getting our
attention —
He wants us in heaven —
Jesus — perfect goodness
Jesus' enemies hated Him
Jesus only did good
Jesus could raise the dead —
Jesus rose from the dead —
Jesus' enemies wanted to
destroy Him —
All knees are to bend at
the name of Jesus —
John the Baptist was beheaded —
They tried to kill Jesus
Jesus was rejected
God is rejected by humanity
The Pharisees wanted to
destroy Jesus because
they were afraid of
His Power —
The Pharisees sought
man-made recognition —
to save face —
to look good to men —
Their god was themselves —
Jesus says — you will be
hated by all for My name
sake —
Jesus shows the Apostles
He would suffer and die —
He would be killed
He would be raised from
the dead
2 Standards
Standard of God and Standard of satan
The Pharisees put themselves
under the wrong standard —
Mark 8: 36
What gain, then, is it for anyone to win the whole world and forfeit his life?
What good does it do to know
anything if we miss
the Plan of God —
If we think we "know it all"
We have to retreat to know
God
How can we know God
if we stay in all
the "muddle" of the
world —
Know God —
To know God — we know
the Trinity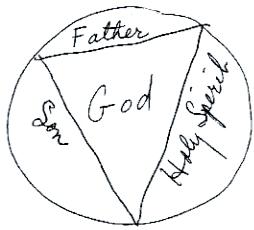 Matthew 28: 19
Go, therefore, make disciples of all nations; baptise them in the name of the Father and of the Son and of the Holy Spirit,
In God there are three Divine
Persons — The Father,
the Son and the Holy Spirit —
God made all things from nothing
---
God created angels and men —
The fallen angels disobeyed God —
God commanded Adam and Eve,
our first parents, not to
eat of the fruit of a certain
tree —
If they obeyed Adam and Eve and their
descendants could stay
in Paradise —
But they disobeyed —
Genesis 3: 19

By the sweat of your face
will you earn your food,
until you return to the ground,
as you were taken from it.
For dust you are
and to dust you shall return.'
We come into life without these
gifts Adam and Eve had —
So we have to die
So we have to suffer
So we have to work
and we have a strong inclination
to sin
We, human creatures, have original sin —
except Mary
Sin is an act against
the Law of God —
A retreat is a journey toward God.
We ask God to tell us about
Himself
We listen —
We are open
Jesus told us to "watch and pray"
The law of God is to be in
our hearts —
OUR HEARTS
The law
TO LOVE God
TO LOVE our neighbor as ourselves
Song: Deep Within
From the Priestly Newsletter Book III - 2000 - Issue 3 p. 44
The Father's Will for Us - Our Source of Peace
Pope John Paul II instructs us: "The Church, as a reconciled and reconciling community, cannot forget that at the source of her gift and mission of reconciliation is the initiative, full of compassionate love and mercy, of that God who is love (see 1 John 4:8) and who out of love created human beings (see Wisdom 11:23-26; Genesis 1:27: Psalms 8:4-8)…He created them so that they might live in friendship with Him and in communion with one another.

"God is faithful to His eternal plan even when man, under the impulse of the evil one (see Wisdom 2:24) and carried away by his own pride, abuses the freedom given to him in order to love and generously seek what is good, and (instead) refuses to obey his Lord and Father. God is faithful even when man, instead of responding with love to God's love, opposes Him and treats Him like a rival, deluding himself and relying on his own power, with the resulting break of relationship with the One who created him. In spite of this transgression on man's part, God remains faithful in love.

"It is certainly true that the story of the Garden of Eden makes us think about the tragic consequences of rejecting the Father, which becomes evident in man's inner disorder and in the breakdown of harmony between man and woman, brother and brother (see Genesis 3:12 ff; 4:1-16). Also significant is the Gospel parable of the two brothers (the parable of the 'prodigal son'; see Luke 15:11-32) who, in different ways, distance themselves from their father and cause a rift between them. Refusal of God's fatherly love and of His loving gifts is always at the root of humanity's divisions.

"But we know that God…like the father in the parable (of the prodigal son), does not close His heart to any of His children. He waits for them, looks for them, goes to meet them at the place where the refusal of communion imprisons them in isolation and division. He calls them to gather about His table in the joy of the feast of forgiveness and reconciliation.

"This initiative on God's part is made concrete and manifest in the redemptive act of Christ, which radiates through the world by means of the ministry of the Church." 13
___________
13. Pope John Paul II, as in Celebrate 2000!, Servant Publications, pp. 140-141.
The devil comes and we can
habitually train ourselves
to do what God doesn't
want us to do —
Death makes its entrance into
human history —
Man sees with distorted vision —
Man sees God with distorted vision —
Man sees others with distorted vision —
Man sees man with distorted vision —
We must seek to see through the eyes
of God —
What does God want us to do?
We don't give into sinful habits!
We are to pray for grace to be more
and more in the image of Jesus —
Those addicted can use the Pamphlet
put out by AA, Alanon
A Merry-Go-Round Called Denial —
Say the Act of Contrition
Tell God you are sorry for your sins —
don't be angry
don't lie
don't be jealous
don't disobey
ASK Yourself
"What does God want?"
Give it to Him Pope John Paul II says —
God created me to love —
to give love
to promote His Kingdom —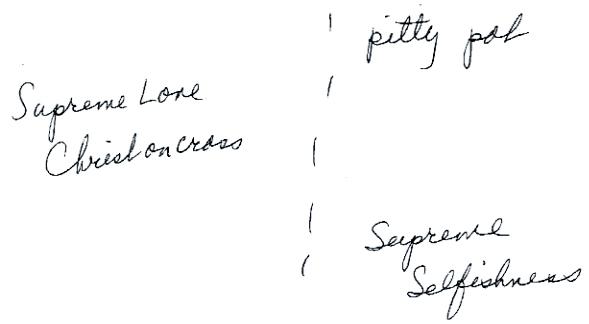 Mark 8: 36
What gain, then, is it for anyone to win the whole world and forfeit his life?
Make a retreat!!
Go away from the world —
How else can you get closer to God?
We are to grow in our ability to love
To be more likened to God —
To freely love God —
Being obedient to God's commands
TO LOVE
The fallen angels
said "I will not serve"
Standard of satan —
Being obedient to God helps
us to unite to Jesus —
For all eternity in heaven
perfect obedience —
Sin brought death to man —
Man is in this world —
the world is sinful —
We are to learn to not be WILLFUL
But — TO OBEY
DISOBEDIENCE to God brings misery

.
on this earth
.
in the next world —
God wants us to have
His love in heaven
Forever
Our whole lives are to be
lived

.
Serving God
.
Having the Vision of God
.
Building God's Kingdom
To have FAITH, HOPE
and LOVE —
Are you hungry in your
stomach —
What about
spiritual hunger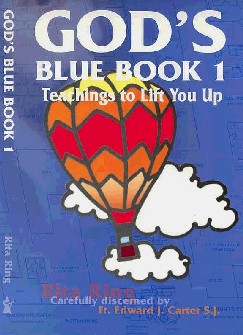 To The Reader

Jesus wants to share His love with you. He comes in these letters to tell you how you can be in intimate union with Him.

All of us possess everything we need to have an intimate union with Him. He has written to me since October of 1991. For at least a year I sat in front of the tabernacle and begged him to talk to me. I wanted words. I prayed to the Holy Spirit and begged and begged Him to baptize me. After a long and seemingly endless search, trying to hear God, He told me to "feed the hungry." For six weeks this was all I heard. I thought maybe I wasn't feeding my children well or eating well enough myself. What a long wait for three words! At long last one day, as I was writing to Jesus, I received a letter back. He told me, "I am Jesus, Son of the Living God." I did not want to write this but it kept coming-and so many other messages. I knew nothing of anyone getting messages. I wrote them, reluctantly, and hid my notebooks. The letters kept coming-a lot in the night-and I would be awakened by long letters which I felt compelled to get up and write down. I read these letters privately and my life began to change. I felt a new life within me.

He taught me of His fervent love and how truly present He was. He taught me how precious I was to Him. Over and over again He would call me His precious child and tell me how He loved me, how He clothed me with dignity and honor. He told me over and over how He was right by my side always. He is teaching me to give up all fear and to trust in Him. He is teaching me to let go of myself and let Him run my life. I am trying every day to do His will.

He is also telling you in your heart all you need to know. He has all the answers for you there in your heart. You must be silent and go to Him so you can hear His words for you.

Sit in front of the tabernacle and be with Him. Sit and be open and just be with Him. Read these letters there. These are Jesus' love letters to you. Sit in front of the tabernacle and let Him talk to you. Sit silent awhile. Read these letters part of the time. Open any page and He will talk to you. Do not read this like a book, cover to cover. Just open to a page and read that page. That is the way He speaks to you.

end of excerpt
We cannot even fathom God's love
for us —
God gave us in Shepherds of Christ His
Personal love letters —
to know this
overwhelming love He
has for us
| | | | | | |
| --- | --- | --- | --- | --- | --- |
| Blue Book I | Blue Book II | Blue Book III | Blue Book IV | Blue Book V | Blue Book VI |
The devil is hate —
He wants you to hate God
He wants you to hate others
He wants you to hate yourself
Hate makes you miserable
Hate brings pain in this world
and the next —
Don't you feel the pain of hate
in this world —
It's worse in the next —
Jesus is the Savior
Song: A Song from Jesus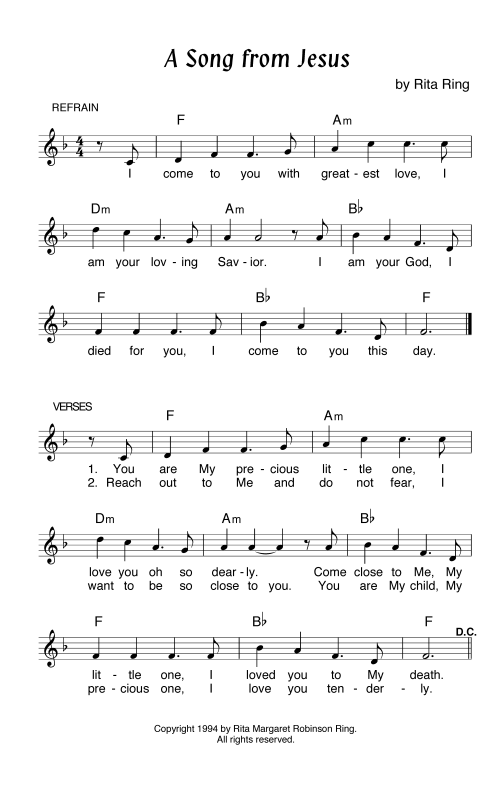 Pray for grace to imitate
Jesus who came to this
earth and died for us —
Jesus is gentle and kind of
Heart —
Jesus was a man on earth —
Who do we worship
"Satan as our ruler"
HATE

Satan wants slaves
to sin —

He rules on his throne —

"God as our ruler"
LOVE

Christ wants
us to promote
His Kingdom —



"Be wise as serpents and gentle
as doves"
Those following God must —
'Discern the Spirits' —
Excerpts of The Spiritual Exercises of St. Ignatius, by Louis J. Puhl, S.J. pp. 141-150

313. RULES FOR DISCERNMENT OF SPIRITS
I

Rules for understanding to some extent the different movements produced in the soul and for recognizing those that are good to admit them, and those that are bad, to reject them. These rules are more suited to the first week


314. I. In the case of those who go from one mortal sin to another, the enemy is ordinarily accustomed to propose apparent pleasures. He fills their imagination with sensual delights and gratifications, the more readily to keep them in their vices and increase the number of their sins.

With such persons the good spirit uses a method which is the reverse of the above. Making use of the light of reason, he will rouse the sting of conscience and fill them with remorse.

315. 2. In the case of those who go on earnestly striving to cleanse their souls from sin and who seek to rise in the service of God our Lord to greater perfection, the method pursued is the opposite of that mentioned in the first rule.

Then it is characteristic of the evil spirit to harass with anxiety, to afflict with sadness, to raise obstacles backed by fallacious reasonings that disturb the soul. Thus he seeks to prevent the soul from advancing.

It is characteristic of the good spirit, however, to give courage and strength, consolations, tears, inspirations, and peace. This He does by making all easy, by removing all obstacles so that the soul goes forward in doing good.

316. 3. SPIRITUAL CONSOLATION. I call it consolation when an interior movement is aroused in the soul, by which it is inflamed with love of its Creator and Lord, and as a consequence, can love no creature on the face of the earth for its own sake, but only in the Creator of them all. It is likewise consolation when one sheds tears that move to the love of God, whether it be because of sorrow for sins, or because of the sufferings of Christ our Lord, or for any other reason that is immediately directed to the praise and service of God. Finally, I call consolation every increase of faith, hope, and love, and all interior joy that invites and attracts to what is heavenly and to the salvation of one's soul by filling it with peace and quiet in its Creator and Lord.

317. 4. SPIRITUAL DESOLATION. I call desolation what is entirely the opposite of what is described in the third rule, as darkness of soul, turmoil of spirit, inclination to what is low and earthly, restlessness rising from many disturbances and temptations which lead to want of faith, want of hope, want of love. The soul is wholly slothful, tepid, sad, and separated, as it were, from its Creator and Lord. For just as consolation is the opposite of desolation, so the thoughts that spring from consolation are the opposite of those that spring from desolation.

318. 5. In time of desolation we should never make any change, but remain firm and constant in the resolution and decision which guided us the day before the desolation, or in the decision to which we adhered in the preceding consolation. For just as in consolation the good spirit guides and counsels us, so in desolation the evil spirit guides and counsels. Following his counsels we can never find the way to a right decision.

319. 6. Though in desolation we must never change our former resolutions, it will be very advantageous to intensify our activity against the desolation. We can insist more upon prayer, upon meditation, and on much examination of ourselves. We can make an effort in a suitable way to do some penance.

320. 7. When one is in desolation, he should be mindful that God has left him to his natural powers to resist the different agitations and temptations of the enemy in order to try him. He can resist with the help of God, which always remains, though he may not clearly perceive it. For though God has taken from him the abundance of fervor and overflowing love and the intensity of His favors, nevertheless, he has sufficient grace for eternal salvation.

321. 8. When one is in desolation, he should strive to persevere in patience. This reacts against the vexations that have overtaken him. Let him consider, too, that consolation will soon return, and in the meantime, he must diligently use the means against desolation which have been given in the sixth rule.

322. 9. The principal reasons why we suffer from desolation are three:

The first is because we have been tepid and slothful or negligent in our exercises of piety, and so through our own fault spiritual consolation has been taken away from us.

The second reason is because God wishes to try us, to see how much we are worth, and how much we will advance in His service and praise when left without the generous reward of consolations and signal favors.

The third reason is because God wishes to give us a true knowledge and understanding of ourselves, so that we may have an intimate perception of the fact that it is not within our power to acquire and attain great devotion, intense love, tears, or any other spiritual consolation; but that all this is the gift and grace of God our Lord. God does not wish us to build on the property of another, to rise up in spirit in a certain pride and vainglory and attribute to ourselves the devotion and other effects of spiritual consolation.

323. 10. When one enjoys consolation, let him consider how he will conduct himself during the time of ensuing desolation, and store up a supply of strength as defense against that day.

324. 11. He who enjoys consolation should take care to humble himself and lower himself as much as possible. Let him recall how little he is able to do in time of desolation, when he is left without such grace or consolation.

On the other hand, one who suffers desolation should remember that by making use of the sufficient grace offered him, he can do much to withstand all his enemies. Let him find his strength in his Creator and Lord.

325. 12. The enemy conducts himself as a woman. He is a weakling before a show of strength, and a tyrant if he has his will. It is characteristic of a woman in a quarrel with a man to lose courage and take to flight if the man shows that he is determined and fearless. However, if the man loses courage and begins to flee, the anger, vindictiveness, and rage of the woman surge up and know no bounds. In the same way, the enemy becomes weak, loses courage, and turns to flight with his seductions as soon as one leading a spiritual life faces his temptations boldly, and does exactly the opposite of what he suggests. However, if one begins to be afraid and to lose courage in temptations, no wild animal on earth can be more fierce than the enemy of our human nature. He will carry out his perverse intentions with consummate malice.

326. 13. Our enemy may also be compared in his manner of acting to a false lover. He seeks to remain hidden and does not want to be discovered. If such a lover speaks with evil intention to the daughter of a good father, or to the wife of a good husband, and seeks to seduce them, he wants his words and solicitations kept secret. He is greatly displeased if his evil suggestions and depraved intentions are revealed by the daughter to her father, or by the wife to her husband. Then he readily sees he will not succeed in what he has begun. In the same way, when the enemy of our human nature tempts a just soul with his wiles and seductions, he earnestly desires that they be received secretly and kept secret. But if one manifests them to a confessor, or to some other spiritual person who understands his deceits and malicious designs, the evil one is very much vexed. For he knows that he cannot succeed in his evil undertaking, once his evident deceits have been revealed.

327. 14. The conduct of our enemy may also be compared to the tactics of a leader intent upon seizing and plundering a position he desires. A commander and leader of an army will encamp, explore the fortifications and defenses of the stronghold, and attack at the weakest point. In the same way, the enemy of our human nature investigates from every side all our virtues, theological, cardinal, and moral. Where he finds the defenses of eternal salvation weakest and most deficient, there he attacks and tries to take us by storm.

328. RULES FOR DISCERNMENT OF SPIRITS
II

Further rules for understanding the different movements produced in the soul. They serve for a more accurate discernment of spirits and are more suitable for the second week


329. I. It is characteristic of God and His Angels, when they act upon the soul, to give true happiness and spiritual joy, and to banish all the sadness and disturbances which are caused by the enemy.
It is characteristic of the evil one to fight against such happiness and consolation by proposing fallacious reasonings, subtilties, and continual deceptions.

330. 2. God alone can give consolation to the soul without any previous cause. It belongs solely to the Creator to come into a soul, to leave it, to act upon it, to draw it wholly to the love of His Divine Majesty. I said without previous cause, that is, without any preceding perception or knowledge of any subject by which a soul might be led to such a consolation through its own acts of intellect and will.

331. 3. If a cause precedes, both the good angel and the evil spirit can give consolation to a soul, but for a quite different purpose. The good angel consoles for the progress of the soul, that it may advance and rise to what is more perfect. The evil spirit consoles for purposes that are the contrary, and that afterwards he might draw the soul to his own perverse intentions and wickedness.

332. 4. It is a mark of the evil spirit to assume the appearance of an angel of light. He begins by suggesting thoughts that are suited to a devout soul, and ends by suggesting his own. For example, he will suggest holy and pious thoughts that are wholly in conformity with the sanctity of the soul. Afterwards, he will endeavor little by little to end by drawing the soul into his hidden snares and evil designs.

333. 5. We must carefully observe the whole course of our thoughts. If the beginning and middle and end of the course of thoughts are wholly good and directed to what is entirely right, it is a sign that they are from the good angel. But the course of thoughts suggested to us may terminate in something evil, or distracting, or less good than the soul had formerly proposed to do. Again, it may end in what weakens the soul, or disquiets it; or by destroying the peace, tranquility, and quiet which it had before, it may cause disturbance to the soul. These things are a clear sign that the thoughts are proceeding from the evil spirit, the enemy of our progress and eternal salvation.

334. 6. When the enemy of our human nature has been detected and recognized by the trail of evil marking his course and by the wicked end to which he leads us, it will be profitable for one who has been tempted to review immediately the whole course of the temptation. Let him consider the series of good thoughts, how they arose, how the evil one gradually attempted to make him step down from the state of spiritual delight and joy in which he was, till finally he drew him to his wicked designs. The purpose of this review is that once such an experience has been understood and carefully observed, we may guard ourselves for the future against the customary deceits of the enemy.

335. 7. In souls that are progressing to greater perfection, the action of the good angel is delicate, gentle, delightful. It may be compared to a drop of water penetrating a sponge.
The action of the evil spirit upon such souls is violent, noisy, and disturbing. It may be compared to a drop of water falling upon a stone.
In souls that are going from bad to worse, the action of the spirits mentioned above is just the reverse. The reason for this is to be sought in the opposition or similarity of these souls to the different kinds of spirits. When the disposition is contrary to that of the spirits, they enter with noise and commotion that are easily perceived. When the disposition is similar to that of the spirits, they enter silently, as one coming into his own house when the doors are open.

336. 8. When consolation is without previous cause, as was said, there can be no deception in it, since it can proceed from God our Lord only. But a spiritual person who has received such a consolation must consider it very attentively, and must cautiously distinguish the actual time of the consolation from the period which follows it. At such a time the soul is still fervent and favored with the grace and aftereffects of the consolation which has passed. In this second period the soul frequently forms various resolutions and plans which are not granted directly by God our Lord. They may come from our own reasoning on the relations of our concepts and on the consequences of our judgments, or they may come from the good or evil spirit. Hence, they must be carefully examined before they are given full approval and put into execution.

end of excerpts
Don't act in desolation
Be humble —
Hope in God —
Make no changes —
Cooperate with God
The evil one tries to destroy
God's work
Jesus' miracles
(1) Calmed the storm
(2) Cast out demons
(3) Walked on water
(4) Fed the crowd
(5) The transfiguration
From The Spiritual Exercises of St. Ignatius,
by Louis J. Puhl, S.J. p. 12
23. FIRST PRINCIPLE AND FOUNDATION
Man is created to praise, reverence and serve God
our Lord, and by this means to save his soul.
Jesus heals soul and body
Jesus feeds soul and body
Song: God's Love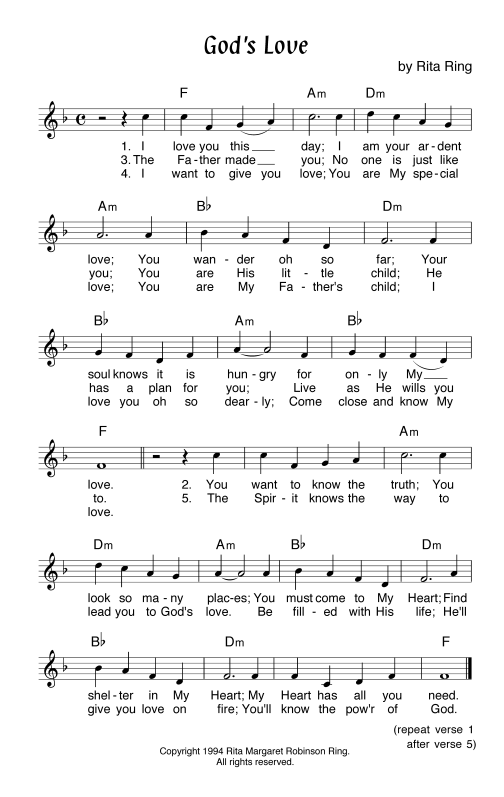 Matthew 26: 30-46
After the psalms had been sung they left for the Mount of Olives. Then Jesus said to them, 'You will all fall away from me tonight, for the scripture says: I shall strike the shepherd and the sheep of the flock will be scattered, but after my resurrection I shall go ahead of you to Galilee.' At this, Peter said to him, 'Even if all fall away from you, I will never fall away.' Jesus answered him, 'In truth I tell you, this very night, before the cock crows, you will have disowned me three times.' Peter said to him, 'Even if I have to die with you, I will never disown you.' And all the disciples said the same.

Then Jesus came with them to a plot of land called Gethsemane; and he said to his disciples, 'Stay here while I go over there to pray.' He took Peter and the two sons of Zebedee with him. And he began to feel sadness and anguish.

Then he said to them, 'My soul is sorrowful to the point of death. Wait here and stay awake with me.' And going on a little further he fell on his face and prayed. 'My Father,' he said, 'if it is possible, let this cup pass me by. Nevertheless, let it be as you, not I, would have it.' He came back to the disciples and found them sleeping, and he said to Peter, 'So you had not the strength to stay awake with me for one hour? Stay awake, and pray not to be put to the test. The spirit is willing enough, but human nature is weak.' Again, a second time, he went away and prayed: 'My Father,' he said, 'if this cup cannot pass by, but I must drink it, your will be done!' And he came back again and found them sleeping, their eyes were so heavy. Leaving them there, he went away again and prayed for the third time, repeating the same words. Then he came back to the disciples and said to them, 'You can sleep on now and have your rest. Look, the hour has come when the Son of man is to be betrayed into the hands of sinners. Get up! Let us go! Look, my betrayer is not far away.'
Jesus did the will of
His Father
Doing God's will means
we will
die and rise
Sing: Glory, Glory, Glory Lord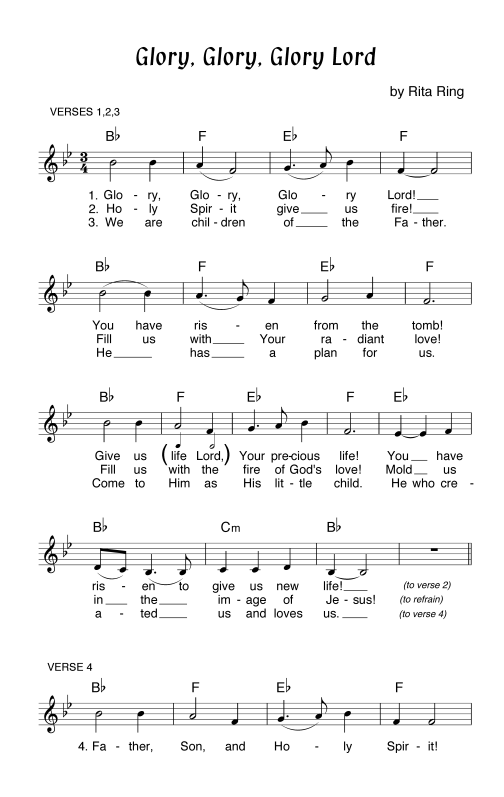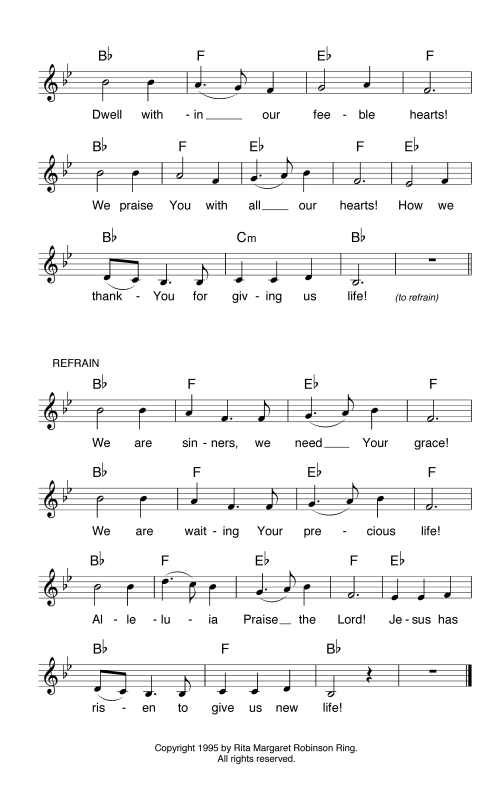 We are to compare our
imperfect selves to Christ
and how perfect He is
so we can grow —
1 Corinthians 15: 35-37, 42-49
Someone may ask: How are dead people raised, and what sort of body do they have when they come? How foolish! What you sow must die before it is given new life; and what you sow is not the body that is to be, but only a bare grain, of wheat I dare say, or some other kind;

It is the same too with the resurrection of the dead: what is sown is perishable, but what is raised is imperishable; what is sown is contemptible but what is raised is glorious; what is sown is weak, but what is raised is powerful; what is sown is a natural body, and what is raised is a spiritual body.

If there is a natural body, there is a spiritual body too. So the first man, Adam, as scripture says, became a living soul; and the last Adam has become a life–giving spirit. But first came the natural body, not the spiritual one; that came only afterwards. The first man, being made of earth, is earthly by nature; the second man is from heaven. The earthly man is the pattern for earthly people, the heavenly man for heavenly ones. And as we have borne the likeness of the earthly man, so we shall bear the likeness of the heavenly one.
Psalm 56: 10-14

In God whose word I praise,
in Yahweh whose word I praise,
in God I put my trust and have no fear;
what can mortal man do to me?

I am bound by the vows I have made, God,
I will pay you the debt of thanks,
for you have saved my life from death
to walk in the presence of God,
in the light of the living.
Luke 8: 4-15
With a large crowd gathering and people from every town finding their way to him, he told this parable:

'A sower went out to sow his seed. Now as he sowed, some fell on the edge of the path and was trampled on; and the birds of the air ate it up. Some seed fell on rock, and when it came up it withered away, having no moisture. Some seed fell in the middle of thorns and the thorns grew with it and choked it. And some seed fell into good soil and grew and produced its crop a hundredfold.' Saying this he cried, 'Anyone who has ears for listening should listen!'

His disciples asked him what this parable might mean, and he said, 'To you is granted to understand the secrets of the kingdom of God; for the rest it remains in parables, so that

they may look but not perceive,
listen but not understand.

'This, then, is what the parable means: the seed is the word of God. Those on the edge of the path are people who have heard it, and then the devil comes and carries away the word from their hearts in case they should believe and be saved. Those on the rock are people who, when they first hear it, welcome the word with joy. But these have no root; they believe for a while, and in time of trial they give up. As for the part that fell into thorns, this is people who have heard, but as they go on their way they are choked by the worries and riches and pleasures of life and never produce any crops. As for the part in the rich soil, this is people with a noble and generous heart who have heard the word and take it to themselves and yield a harvest through their perseverance.
We study Jesus Christ to
be more in His image —
16 Years Ago
July 31, 1994
Words of Jesus to Members of
Shepherds of Christ Associates:

"My beloved priest-companion, I intend to use the priestly newsletter, Shepherds of Christ, and the movement, Shepherds of Christ Associates, in a powerful way for the renewal of My Church and the world.

"I will use the newsletter and the chapters of Shepherds of Christ Associates as a powerful instrument for spreading devotion to My Heart and My Mother's Heart.

"I am calling many to become members of Shepherds of Christ Associates. To all of them I will give great blessings. I will use them as instruments to help bring about the triumph of the Immaculate Heart and the reign of My Sacred Heart. I will give great graces to the members of Shepherds of Christ Associates. I will call them to be deeply united to My Heart and to Mary's Heart as I lead them ever closer to My Father in the Holy Spirit."

- Message from Jesus to Father Edward J. Carter, S.J., Founder, as given on July 31, 1994,
feast of Saint Ignatius Loyola, Founder of the Society of Jesus (The Jesuits)
Jesus performed Miracles —
the first at Cana
Jesus taught them in
parables
Jesus healed them —
Jesus will heal our hearts
if we want to be
healed and ask Him
Jesus raised Lazarus from
the dead
Jesus gave us the Eucharist
Jesus sweat Blood in the garden
Jesus was made to carry the cross
Jesus tells us to take up our cross
Jesus died for us —
Jesus was laid in Mary's arms
Jesus rose from the dead
John 20: 30-31
There were many other signs that Jesus worked in the sight of the disciples, but they are not recorded in this book. These are recorded so that you may believe that Jesus is the Christ, the Son of God, and that believing this you may have life through his name.
Act of Contrition
Oh God
We are sorry for our sins
Please accept our earnest
desire to make amends —
We recognize our sins —
We want to change our lives —
Help us to reform our lives —
We want to go to heaven —
Oh heavenly Father we
pray this prayer united
to Jesus in the Mass, in
the Holy Spirit through the
intercession of Mary —
with all the angels and saints
and the souls in purgatory
Oh Father give us Your mercy —
Help us to grow in the
image of Jesus —
Help us to be a witness in
our vocation
Help us to be a witness to
Your love
Dear God we thank You,
praise You and worship You —
thanks for Your blessings
and Your grace and mercy and
for forgiving our sins —
Life is very short —
One soon learns when your
friends die,
when you see babies die,
that life is promised to
no man.
John 11: 35-36
Sirach 28: 1-7
Whoever exacts vengeance will experience the vengeance of the Lord, who keeps strict account of sin. Pardon your neighbour any wrongs done to you, and when you pray, your sins will be forgiven. If anyone nurses anger against another, can one then demand compassion from the Lord? Showing no pity for someone like oneself, can one then plead for one's own sins? Mere creature of flesh, yet cherishing resentment!-who will forgive one for sinning? Remember the last things, and stop hating, corruption and death, and be faithful to the commandments. Remember the commandments, and do not bear your fellow ill-will, remember the covenant of the Most High, and ignore the offence.
Matthew 17: 5
He was still speaking when suddenly a bright cloud covered them with shadow, and suddenly from the cloud there came a voice which said, 'This is my Son, the Beloved; he enjoys my favour. Listen to him.'
Psalm 97: 1-2, 5-6, 9
Yahweh is king! Let earth rejoice,
the many isles be glad!
Cloud, black cloud enfolds him,
saving justice and judgement the foundations of his throne.

The mountains melt like wax,
before the Lord of all the earth.
The heavens proclaim his saving justice,
all nations see his glory.

For you are Yahweh,
Most High over all the earth,
far transcending all gods.
1 John 3: 2

My dear friends,
we are already God's children,
but what we shall be in the future
has not yet been revealed.
We are well aware that when he appears
we shall be like him,
because we shall see him as he really is.
Matthew 3: 10
Even now the axe is being laid to the root of the trees, so that any tree failing to produce good fruit will be cut down and thrown on the fire.
Sing: Here I Am Lord
Jiffy Sheet: 108 day Novena beginning September 7, 2010 to December 23, 2010

You will need: 1. This sheet
2. Holy Spirit Novena Book
3. Shepherds of Christ Prayer Manual

I. Begin at 6:20 p.m. by singing, "Come Holy Ghost" (verse 1).

Say, "I want to make a Spiritual Communion."

"I give my heart to Jesus and Mary with you in love." (This will unite us in the Hearts of Jesus and Mary.)

Cast out Satan: "We cast Satan into the fires of hell, far from us, our families, our Movement, Our Lady of the Holy Spirit Center, the Church and the world in the name of the Father, and of the Son, and of the Holy Spirit."

Holy Spirit Novena and Rosary Novena Chart

| | | | | | | | | | |
| --- | --- | --- | --- | --- | --- | --- | --- | --- | --- |
| Day: | 1 | 2 | 3 | 4 | 5 | 6 | 7 | 8 | 9 |
| Period I | Sept 7 - J | 8 - L | 9 - S | 10 - G | 11 - J | 12 - L | 13 - S | 14 - G | 15 - J |
| II | 16 - L | 17 - S | 18 - G | 19 - J | 20 - L | 21 - S | 22 - G | 23 - J | 24 - L |
| Period I | 25 - S | 26 - G | 27 - J | 28 - L | 29 - S | 30 - G | Oct 1 - J | 2 - L | 3 - S |
| II | 4 - G | 5 - J | 6 - L | 7 - S | 8 - G | 9 - J | 10 - L | 11 - S | 12 - G |
| Period I | 13 - J | 14 - L | 15 - S | 16 - G | 17 - J | 18 - L | 19 - S | 20 - G | 21 - J |
| II | 22 - L | 23 - S | 24 - G | 25 - J | 26 - L | 27 - S | 28 - G | 29 - J | 30 - L |
| Period I | 31 - S | Nov 1 - G | 2 - J | 3 - L | 4 - S | 5 - G | 6 - J | 7 - L | 8 - S |
| II | 9 - G | 10 - J | 11 - L | 12 - S | 13 - G | 14 - J | 15 - L | 16 - S | 17 - G |
| Period I | 18 - J | 19 - L | 20 - S | 21 - G | 22 - J | 23 - L | 24 - S | 25 - G | 26 - J |
| II | 27 - L | 28 - S | 29 - G | 30 - J | Dec 1 - L | 2 - S | 3 - G | 4 - J | 5 - L |
| Period I | 6 - S | 7 - G | 8 - J | 9 - L | 10 - S | 11 - G | 12 - J | 13 - L | 14 - S |
| II | 15 - G | 16 - J | 17 - L | 18 - S | 19 - G | 20 - J | 21 - L | 22 - S | 23 - G |

Pray the Holy Spirit Novena using the Holy Spirit Novena Booklet.

After the novena, read the appropriate meditation. For example: period 1, day 1; period 1, day 2; etc. This will continue until further indicated.

After the meditation say: "We consecrate the Movement, Our Lady of the Holy Spirit Center, the Church and the world to the Sacred Heart of Jesus and to the Immaculate Heart of Mary."

Ask that the Blood of Jesus be spread on the Movement, Our Lady of the Holy Spirit Center, the Church and the world.

Begin the 6:30 p.m. prayer service as usual.

II. Begin the 6:30 prayer service

Begin praying: Dear Father in the name of Your Son Jesus, in the Holy Spirit, through the powerful intercession of the Virgin Mary, with all the angels and the saints and the souls in purgatory, we join in one mind and one heart and ask the Holy Spirit to come to all the world in a special way, especially to our priests. We pray all prayers for the priests and the renewal of the Church and the world and for the Shepherds of Christ intentions. By the precious Body and Blood of Jesus we cast out Satan far from this place, our families, the Shepherds of Christ Movement, Our Lady of the Holy Spirit Center, the Church and the world. We ask the Blood of Jesus be spread on us, the Shepherds of Christ Movement, Our Lady of the Holy Spirit Center, the Church and the world. We beg for grace and mercy for the world and wish to make reparation to the Hearts of Jesus and Mary. We give our hearts to Jesus and Mary with all gathered here in love. We wish to be forgiven for offending one another. We love You God, help us.

Sing A Song from Jesus. Refrain: "I come to you with greatest love, I am your loving Savior. I am your God, I died for you, I come to you this day."

Then begin the prayers of the Good Shepherd (Shepherds of Christ Prayer Manual).

Sing The Rosary song Refrain: "Oh the rosary, the rosary is the love of Their two Hearts, Oh the rosary, the rosary is the love of Their two Hearts."
1) Ave Maria, Ave Maria.
2) Jesus we love You, Mary we love you.
3) This is her peace plan, Children must pray it.
4) We turn to Mary, She is the Queen of Peace.
5) Oh Sacred Heart Divine, Oh Heart of Mary pure, Ave Maria, We love to pray it!

Begin the rosary. Please use the Rosary Books and the Rosary Aves. The important thing is to pray the prayers and the rosary at 6:30 p.m., if possible. (Rosary mysteries need to be according to the Rosary Novena.)

Read the Ten Commandments.

1. I, the Lord, am your God. You shall not have other gods besides me.
2. You shall not take the name of the Lord, your God, in vain.
3. Remember to keep holy the Sabbath day.
4. Honor your father and your mother.
5. You shall not kill.
6. You shall not commit adultery.
7. You shall not steal.
8. You shall not bear false witness against your neighbor.
9. You shall not covet your neighbor's wife.
10. You shall not covet anything that belongs to your neighbor.


Pray A Prayer of Thanksgiving then read the Daily Message for the day.

Give Christmas Presents that count
.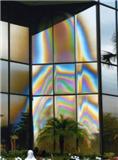 Get a canvas print of Mary's image
with a sliver of glass and
a little bottle of
Jesus and Mary water.
The glass will be fixed behind the
back of the picture.
Cost — $200.00
Call Sheila
1-513-470-3387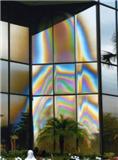 Also available
a cup with a Mary's image on it
Cost — $15
1-888-211-3041
Call Doris
or Call Kathleen
1-727-412-0906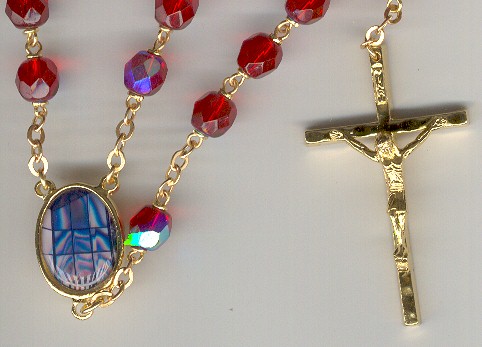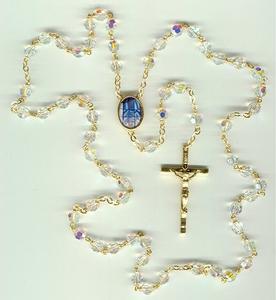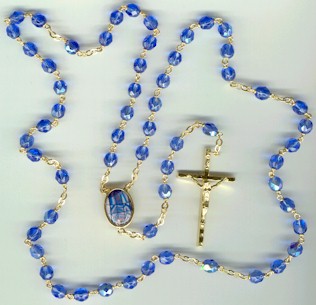 Rosaries with Mary's Image Available
Aurora Borealis Beads
6mm - $30.00
8mm - $40.00
all items plus shipping

Fatima w/glass - 11"
$150.00


Sacred Heart of Jesus
w/glass - 18" - $300.00


St. Joseph - 18"
$65.00


St. Rita - 12"
$40.00
Different statues and sizes available
1-888-211-3041
Call Doris
or Call Kathleen
1-727-412-0906


Authenticity


Prayers and Meditations

$10.00


Medicine of Immortality


Prayers and Meditations - on
the mystery of the Eucharist

$10.00
other books by Fr. Pasquini available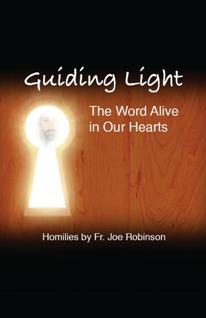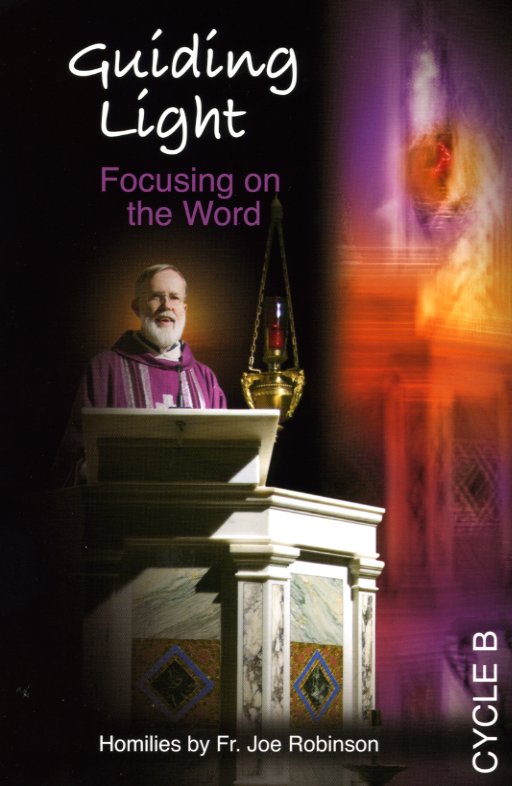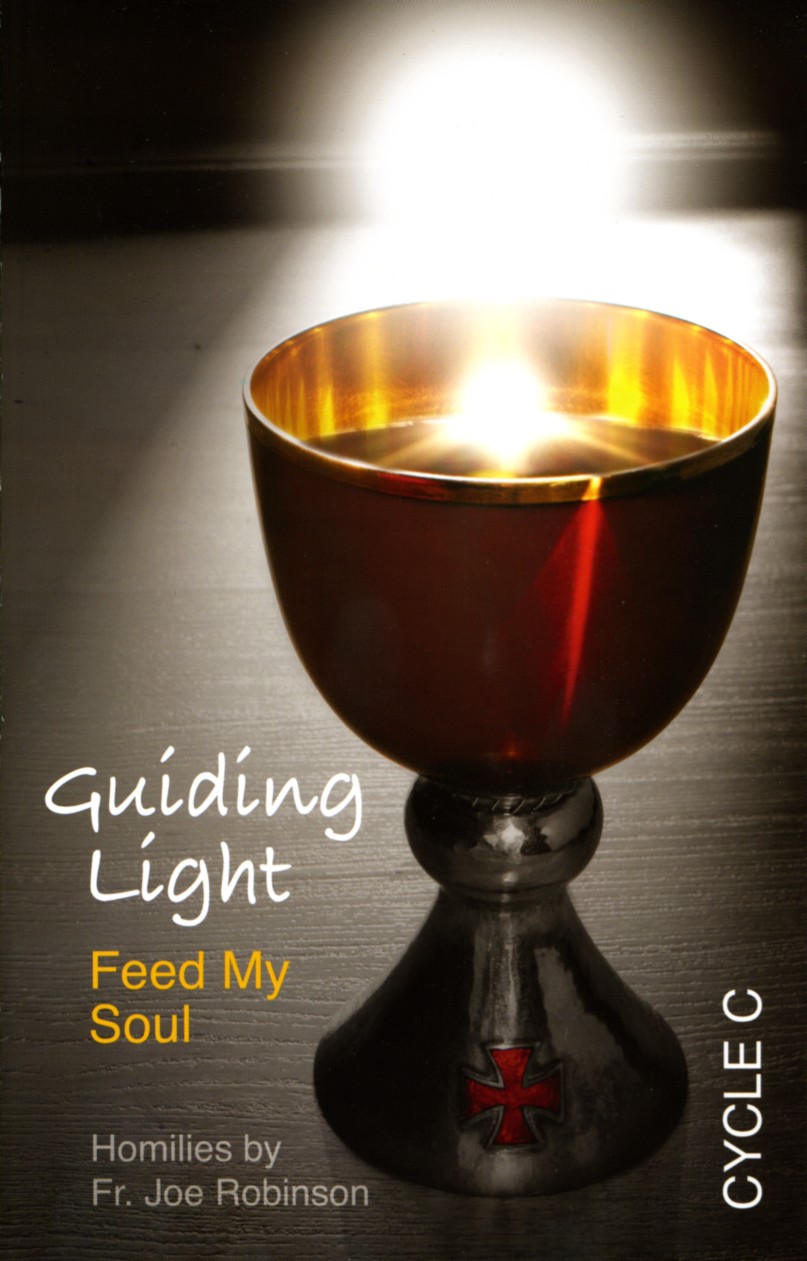 Cycle A Book available soon!

other books available by Fr. Carter

$10.00 each plus shipping

Call 1-888-211-3041

other books available by Rita Ring


Blue Book I
$10.00

Blue Book II
$10.00

Blue Book III
$10.00

Blue Book IV
$5.00

Blue Book V
$5.00

Blue Book VI
$10.00

plus shipping




Immaculate Heart and Sacred Heart Pictures Available
with & without frames - different sizes available

1-888-211-3041
Call Doris

or Call Kathleen
1-727-412-0906

We can send Fr. Joe's

homily book to a priest for 75¢.

Can you please help us get

these homilies to the priests?


Please help us with your donation.

Call Shepherds of Christ

1-888-211-3041

Prayer Cards available

Holy Spirit Prayer
Act of Consecration to
Immaculate Heart of Mary
Act of Consecration to
Sacred Heart of Jesus
Prayer for Priests

Prayer before the Holy Sacrifice of the Mass

Prayer for Union with Jesus

Available for .25¢ each plus postage

Call Shepherds of Christ

1-888-211-3041

Prayer Card 4" x 6"

.50¢ each plus postage

size 5 1/2" x 8 1/2"
$1.00 plus postage

Statues

| | | |
| --- | --- | --- |
| | | |
| Sacred Heart of Jesus w/glass - 18 | Our Lady-Guadalupe w/glass - 12 | Limpias - 8 |
| | | |
| Immaculate Heart w/glass - 18 | I Heart - Ivory w/glass - 18 | Our Lady of Grace w/glass - 18 |
| | | |
| Our Lady-Mt. Carmel w/glass - 18 | Our Lady of Lourdes w/glass - 18 | Infant of Prague w/glass - 24 |
| | | |
| Sacred Heart of Jesus w/glass - 24 | Sacred Heart -Blessing w/glass - 24 | Sorrowful Mother w/glass - 24 |
| | | |
| I Heart - Ivory w/glass - 24 | I Heart of Mary w/glass - 24 | Our Lady of Lourdes w/glass - 24 |
| | | |
| Our Lady-Guadalupe w/glass - 28 | Our Lady of Grace w/glass - 24 | Our Lady-Mt. Carmel w/glass - 24 |
| | | |
| Fatima w/glass - 11 | Pilgrim Virgin w/glass - 12 | Pilgrim Virgin w/glass - 15 |
| | | |
| Fatima w/glass - 18 | Pilgrim Virgin w/glass - 18 | Pilgrim Virgin w/glass - 27 |

| | | |
| --- | --- | --- |
| St. Padre Pio | St. Joseph | St. Therese |
| | | |
| St. Francis | St. Anthony | St. Claire |
| | | |
| Limpias | St. Jude | Divine Mercy |
| | | |
| Holy Family | Angel | St. Philomena |
| | | |
| Pieta - Marble | Pieta - Color | Holy Family |
| | | |
| St. Anthony - 18 | St. Francis - 18 | St. Joseph - 18 |
| | | |
| St. Therese - 18 | St. Rita - 18 | St. Clare - 12 |
| | | |
| | | |

| | | | |
| --- | --- | --- | --- |
| St. Rita - 12 | St. Padre Pio - 12 | Divine Mercy - 12 | St. Michael - 11 |


Shepherds of Christ Ministries
P. O. Box 627
China, IN 47250

Toll free - 1-888-211-3041
Local - 1-812-273-8405
fax - 1-812-273-3182
web: www.sofc.org
e-mail: info@sofc.org


| | | | |
| --- | --- | --- | --- |
| | Size | Price | Quantity |
| Holy Family | 24" | $180 | |
| Limpias | 24" | $125 | |
| St. Anthony | 24" | $125 | |
| St. Claire | 24" | $125 | |
| St. Francis | 24" | $125 | |
| St. Joseph | 24" | $125 | |
| St. Jude | 24" | $125 | |
| St. Padre Pio | 24" | $125 | |
| St. Therese | 24" | $125 | |
| Divine Mercy | 22" | $125 | |
| Angel | 22" | $100 | |
| St. Philomena | 20" | $100 | |
| St. Philomena | 16" | $65 | |
| St. Joseph | 18" | $65 | |
| St. Francis | 18" | $65 | |
| St. Anthony | 18" | $65 | |
| St. Rita | 18" | $65 | |
| St. Therese | 18" | $65 | |
| Pieta - Color | 15" | $75 | |
| Pieta - Marble | 15" | $75 | |
| Holy Family | 12" | $60 | |
| St. Padre Pio - standing | 12" | $40 | |
| St. Padre Pio - sitting | 8" | $50 | |
| St. Michael | 11" | $40 | |
| St. Rita | 12" | $40 | |
| Divine Mercy | 12" | $40 | |
| St. Claire | 12" | $40 | |
| Limpias | 8" | $25 | |
| Our Lady of Guadalupe w/glass | 28" | $500 | |
| Our Lady of Mt. Carmel w/glass | 24" | $500 | |
| Immaculate Heart of Mary w/glass | 24" | $500 | |
| Immaculate Heart - Ivory w/glass | 24" | $500 | |
| Infant of Prague w/glass | 24" | $500 | |
| Our Lady of Grace w/glass | 24" | $500 | |
| Our Lady of Lourdes w/glass | 24" | $500 | |
| Sacred Heart of Jesus w/glass | 24" | $500 | |
| Sacred Heart -Blessing w/glass | 24" | $500 | |
| Sorrowful Mother w/glass | 24" | $500 | |
| Immaculate Heart of Mary w/glass | 18" | $300 | |
| Immaculate Heart - Ivory w/glass | 18" | $300 | |
| Sacred Heart of Jesus w/glass | 18" | $300 | |
| Our Lady of Lourdes w/glass | 18" | $300 | |
| Our Lady of Grace w/glass | 18" | $300 | |
| Our Lady of Mt. Carmel w/glass | 18" | $300 | |
| Our Lady of Guadalupe w/glass | 12" | $200 | |
| Fatima w/glass | 11" | $150 | |
| Fatima w/glass | 18" | $250 | |
| Pilgrim Virgin w/glass | 12" | $160 | |
| Pilgrim Virgin w/glass | 15" | $200 | |
| Pilgrim Virgin w/glass | 18" | $250 | |
| Pilgrim Virgin w/glass | 27" | $450 | |


Call for Shipping Price (1-888-211-3041)


Name

Sub-Total
Address

IN Tax (7%)
City

Shipping
State Zip

Donation
Telephone

Order Total

Shepherds of Christ
P. O. Box 627
China, IN 47250

1-888-211-3041

Fr. Joe's Homily Books

Guiding Light - Cycle A
The Word Alive in Our Hearts

$10.00




Guiding Light - Cycle B
Focusing on the Word

$10.00


Guiding Light - Cycle C
Feed My Soul

$10.00
Fr. Carter's Books
Priestly Newsletter Book I

12 Newsletters
July 1994 - June 1996

$12.00


Priestly Newsletter Book 2

17 Newsletters
1996 - 1999

$12.00


Priestly Newsletter Book 3

4 Newsletters & Prayers
2000

$12.00




Response to God's Love



$10.00



Messages given
by Jesus and Mary 1994

Tell My People


$10.00



The Pain and the Joy

$10.00

Synopsis of the Spiritual Life

Spirituality Handbook
$3.00


Priestly Newsletter on CD
2000 - Issue 1

$10.00


Priestly Newsletter on CD
2000 - Issue 2

$10.00
Fr. Pasquini's Books
Authenticity



Prayers and Meditations

$10.00

In Imitation of Two Hearts

For those suffering or
in Nursing Homes

$10.00

Light, Happiness and Peace

Journeying through traditional
Catholic Spirituality

$10.00

Medicine of Immortality

Prayers and Meditations - will assist the reader in growth toward a deeper understanding of the mystery of the Eucharist

$10.00


Ecce Fides - Pillar of Truth





Ideal for RCIA, Adult & Youth Bible Study, Homeschooling, Catholic
Identity Studies

$10.00

Shepherds of Christ Newsletters
9 Newsletters
2006 - 2008



$36.00
DVDs and CDs by Fr. Pasquini




Authenticity DVD
Prayers on the Ocean

$10.00


Nursing Home Mass DVD

$10.00

Consolation DVD

$10.00

Medicine of Immortality
Read by Rita Ring

2 CDs - $17.00

In Imitation of Two Hearts DVD

$10.00




Consolation CD
by Fr. John

$8.00





Nursing Home Mass CD

$8.00


Holy Spirit Novena DVD

$10.00

Divine Mercy Chaplet DVD

$10.00