Mary has requested that the daily message be given each day to the world. It is read nightly at the prayer service from her Image Building in Clearwater, Florida, U.S.A. This is according to her request. All attempts will be made to publish this daily message to the world at 11 p.m. Eastern time, U.S.A.

---

We acknowledge that the final authority regarding these messages
rests with the Holy See of Rome.

---
September 22, 2006
September 23rd Holy Spirit Novena
Scripture selection is Day 5 Period II.

The Novena Rosary Mysteries
for September 23rd are Glorious.
We need your prayers.
Please pray with us.
Please help us with your donation.
We want to send the next Priestly Newsletter
by the middle of October.
We really need your help.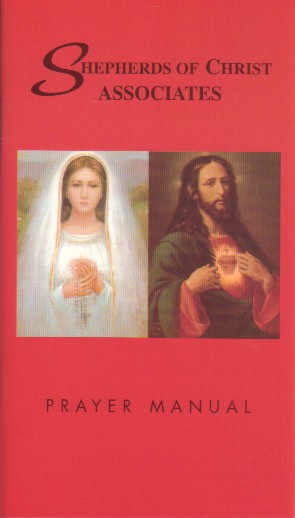 Pray your prayers in the Prayer Manual.
September 22, 2006
Healing for the Human Race

DIVINE GOD

DIVINE Person
(2 natures)

JESUS

HIGHEST HUMAN

PERSON
(Sinless)

MARY
2 Hearts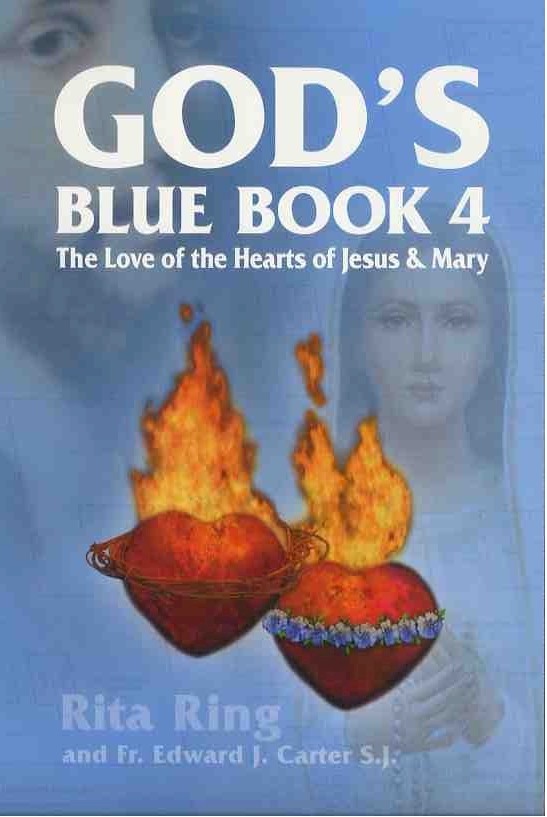 Summer, 1994
Messenger: Men need to recognize Mary's role in the
spiritual life —
Mary is spiritual mother

Summer 1994 1st NEWSLETTER
July 31, 1994
Words of Jesus to Members of
Shepherds of Christ Associates:

"My beloved priest-companion, I intend to use the priestly newsletter, Shepherds of Christ, and the movement, Shepherds of Christ Associates, in a powerful way for the renewal of My Church and the world.

"I will use the newsletter and the chapters of Shepherds of Christ Associates as a powerful instrument for spreading devotion to My Heart and My Mother's Heart.

"I am calling many to become members of Shepherds of Christ Associates. To all of them I will give great blessings. I will use them as instruments to help bring about the triumph of the Immaculate Heart and the reign of My Sacred Heart. I will give great graces to the members of Shepherds of Christ Associates. I will call them to be deeply united to My Heart and to Mary's Heart as I lead them ever closer to My Father in the Holy Spirit."

- Message from Jesus to Father Edward J. Carter, S.J., Founder, as given on July 31, 1994,
feast of Saint Ignatius Loyola, Founder of the Society of Jesus (The Jesuits)
Deeper into My Heart and My Mother's Heart
Messenger: Must recognize Mary's Immaculate Heart —

Bernadette "I am the Immaculate Conception"
Fatima she talked of Immaculate Heart
So what does this mean?
12 years ago
We see the all perfect God —
He wished to communicate Himself to us
He wants us to obey —
We were created in His image and likeness —
Mary is sinless
Mary is our model
Mary appeared — the sign of the Rainbow
Genesis 9: 8-17
God spoke as follows to Noah and his sons, 'I am now establishing my covenant with you and with your descendants to come, and with every living creature that was with you: birds, cattle and every wild animal with you; everything that came out of the ark, every living thing on earth. And I shall maintain my covenant with you: that never again shall all living things be destroyed by the waters of a flood, nor shall there ever again be a flood to devastate the earth.'

'And this', God said, 'is the sign of the covenant which I now make between myself and you and every living creature with you for all ages to come: I now set my bow in the clouds and it will be the sign of the covenant between me and the earth. When I gather the clouds over the earth and the bow appears in the clouds, I shall recall the covenant between myself and you and every living creature, in a word all living things, and never again will the waters become a flood to destroy all living things. When the bow is in the clouds I shall see it and call to mind the eternal covenant between God and every living creature on earth, that is, all living things.'

'That', God told Noah, 'is the sign of the covenant I have established between myself and all living things on earth.'
Messenger: ONENESS OF TWO HEARTS
"I give my heart to Jesus and Mary with you in love."
Shepherds of Christ Mission
to carry on mission Mary began at Fatima
From the Litany of the Blessed Mother
Very important to the Father

1) recognize Mary as
Holy
Holy Mother of God,
Holy Virgin

Mother of Christ,
Mother of the Church,
Mother of divine grace,
Mother most pure,
Mother most chaste,
Mother inviolate,
Mother undefiled,
Mother most amiable,
Mother most admirable,
Mother of good counsel,
Mother of our Creator,
Mother of our Savior,

Virgin most prudent,
Virgin most venerable,
Virgin most renowned,
Virgin most powerful,
Virgin most merciful,
Virgin most faithful,
So honoring the Litany
Sing to Mary — God the Father likes this
Ultimate mystery —
God communicates to us through Jesus.
Excerpt from Response to God's Love,
by Father Edward Carter, S.J.

1

The Mystery of Christ and Christian Existence

...In reference to Christianity, God himself is the ultimate mystery. Radically, God is completely other and transcendent, hidden from man in his inner life, unless he chooses to reveal himself. Let us briefly look at this inner life of God.

The Father, in a perfect act of self-expression, in a perfect act of knowing, generates his son. The Son, the Word, is, then, the immanent expression of God's fullness, the reflection of the Father. Likewise, from all eternity, the Father and the Son bring forth the Holy Spirit in a perfect act of loving.

At the destined moment in human history, God's self-expression, the Word, immersed himself into man's world. God's inner self-expression now had also become God's outer self-expression. Consequently, the mystery of God becomes the mystery of Christ. In Christ, God tells us about himself, about his inner life, about his plan of creation and redemption. He tells us how Father, Son, and Holy Spirit desire to dwell within us in the most intimate fashion, how they wish to share with us their own life through grace. All this he has accomplished and does accomplish through Christ. St. Paul tells us: "I became a minister of this Church through the commission God gave me to preach among you his word in its fullness, that mystery hidden from ages and generations past but now revealed to his holy ones. God has willed to make known to them the glory beyond price which this mystery brings to the Gentiles—the mystery of Christ in you, your hope of glory. This is the Christ we proclaim while we admonish all men and teach them in the full measure of wisdom, hoping to make every man complete in Christ" (Col 1:25-28).
Man has sinned
Christ is the Savior
Mission of Shepherds of Christ
God is all perfect, pure
Perfection - Persons of the Trinity
We are sinful
God sends a Redeemer --
Jesus the Son of God
We must understand the relationship between
Jesus and His Mother more deeply —
to grasp the gift we are given here
Man is so sinful
But God loves man so much He
picks Mary - a human person -
the highest human person -
to be the Mother of Jesus -
our spiritual mother
---
God keeps looking to the poor banished children
of Eve —
Mary says "Be good" you children
We keep sinning
God comes — Son of Mary
Healing - the poor banished children of Eve
To not recognize Mary can be prideful —
God gives the human race dignity —
He gives us a sinless human person
He is born of her —
We are wounded by original sin —
We should thank God for this gift —
Mary comes to Bernadette
Immaculate Conception
Mary comes to Fatima
"Immaculate Heart"
Mary comes to Clearwater —
a rainbow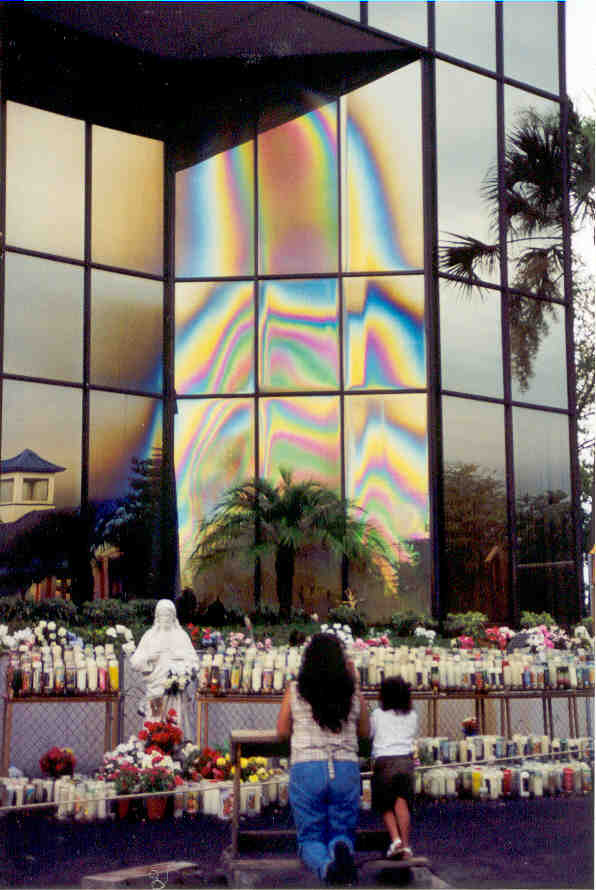 July 5, 2000
Mary says:
Mary's Message


from the Rosary of August 27, 1996

Mary speaks: I stood beneath the cross of my Son, and my Heart was in such pain for I saw Him before my eyes. I saw Him covered with blood. I saw Him die. My Heart, my children, my Heart to watch my Son, but my Heart, my Heart, how I suffered for my little children of the world that give in to this world and give up the love of my Son. O my little children of light, I give you this message. Carry this light into the darkness for your Mother Mary, for I stood beneath the cross and I cried. I cried for the little ones. I cried for the young ones, the ones that do not care and will lose their souls. How do I make you see for you will not listen to me? What can I do? I come. I appear. I beg. I plead. I give you these gifts from my Son, and you reject me. I do not deliver messages very often anymore for I have been ignored. The message is the same. You do not read the messages I have given to you. Please help me. Help the little children. I appear. I appear. I appear, and I am ignored. I stood beneath the cross, and I cried. I cried, and my Heart was in such anguish for my little children, for I am searching for them this day as I searched for the Child Jesus. Please, please help me. I cannot hold back the hand of my Son any longer. I am Mary, your Mother. I ask you to help my children. You are my children of light.

end of Mary's Message, August 27, 1996
Messenger: If we were docile we would listen to
Mary's message and say to God
Dear God
"Thanks for uniting with us the
sinful human race —
Oh God thanks for giving Mary,
our spiritual mother, to me,
Oh God, Mary is a gift to us.
We are wounded —
Mary is sinless
Mary is our spiritual mother —
Mary is Mother of the Church
Jesus comes in the body of Mary
Jesus is the Savior of the World
Lady of China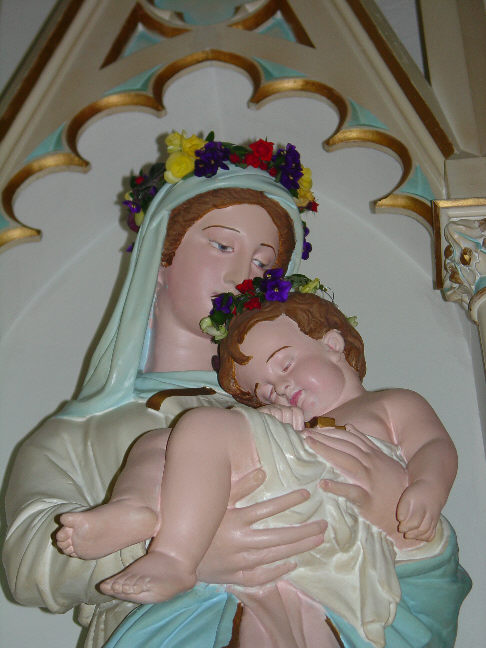 Mural over altar in China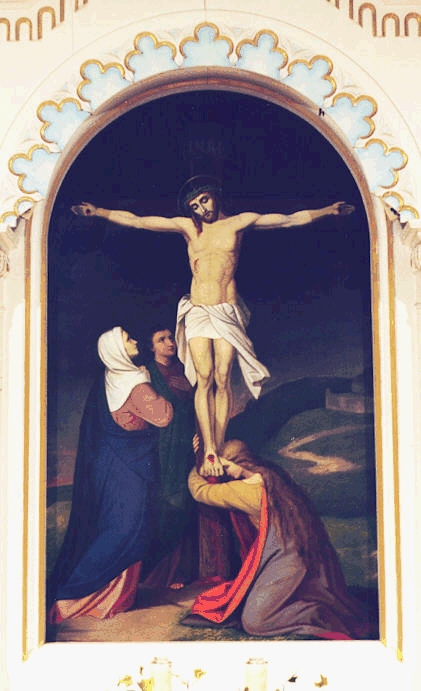 Sacred Heart in China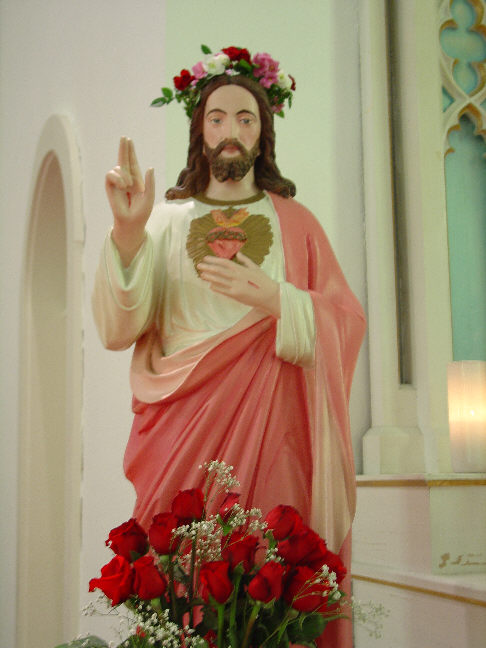 Messenger: We have an important responsibility
through the Newsletter to tell
about this important, pure
relationship between the Divine
God, Jesus, and the highest human person, Mary.
Genesis 7: 11-24
In the six hundredth year of Noah's life, in the second month, and on the seventeenth day of the month, that very day all the springs of the great deep burst through, and the sluices of heaven opened. And heavy rain fell on earth for forty days and forty nights.

That very day Noah and his sons Shem, Ham and Japheth boarded the ark, with Noah's wife and the three wives of his sons, and with them every species of wild animal, every species of cattle, every species of creeping things that creep along the ground, every species of bird, everything that flies, everything with wings. One pair of all that was alive and had the breath of life boarded the ark with Noah, and those that went aboard were a male and female of all that was alive, as God had commanded him.

Then Yahweh shut him in.

The flood lasted forty days on earth. The waters swelled, lifting the ark until it floated off the ground. The waters rose, swelling higher above the ground, and the ark drifted away over the waters. The waters rose higher and higher above the ground until all the highest mountains under the whole of heaven were submerged. The waters reached their peak fifteen cubits above the submerged mountains. And all living things that stirred on earth perished; birds, cattle, wild animals, all the creatures swarming over the earth, and all human beings. Everything with the least breath of life in its nostrils, everything on dry land, died. Every living thing on the face of the earth was wiped out, people, animals, creeping things and birds; they were wiped off the earth and only Noah was left, and those with him in the ark. The waters maintained their level on earth for a hundred and fifty days.



A Prayer before the Holy Sacrifice of the Mass

Let me be a holy sacrifice and unite with God in the sacrament of His greatest love.

I want to be one in Him in this act of love, where He gives Himself to me and I give myself as a sacrifice to Him. Let me be a holy sacrifice as I become one with Him in this my act of greatest love to Him.

Let me unite with Him more, that I may more deeply love Him. May I help make reparation to His adorable Heart and the heart of His Mother, Mary. With greatest love, I offer myself to You and pray that You will accept my sacrifice of greatest love. I give myself to You and unite in Your gift of Yourself to me. Come and possess my soul.

Cleanse me, strengthen me, heal me. Dear Holy Spirit act in the heart of Mary to make me more and more like Jesus.

Father, I offer this my sacrifice, myself united to Jesus in the Holy Spirit to You. Help me to love God more deeply in this act of my greatest love.

Give me the grace to grow in my knowledge, love and service of You and for this to be my greatest participation in the Mass. Give me the greatest graces to love You so deeply in this Mass, You who are so worthy of my love.

-God's Blue Book, December 27, 1995

Prayer for Union with Jesus

Come to me, Lord, and possess my soul. Come into my heart and permeate my soul. Help me to sit in silence with You and let You work in my heart.

I am Yours to possess. I am Yours to use. I want to be selfless and only exist in You. Help me to spoon out all that is me and be an empty vessel ready to be filled by You. Help me to die to myself and live only for You. Use me as You will. Let me never draw my attention back to myself. I only want to operate as You do, dwelling within me.

I am Yours, Lord. I want to have my life in You. I want to do the will of the Father. Give me the strength to put aside the world and let You operate my very being. Help me to act as You desire. Strengthen me against the distractions of the devil to take me from Your work.

When I worry, I have taken my focus off of You and placed it on myself. Help me not to give in to the promptings of others to change what in my heart You are making very clear to me. I worship You, I adore You and I love You. Come and dwell in me now.

-God's Blue Book, January 17, 1994
A Prayer for Intimacy with the Lamb, the Bridegroom of the Soul

Oh Lamb of God, Who take away the sins of the world, come and act on my soul most intimately. I surrender myself, as I ask for the grace to let go, to just be as I exist in You and You act most intimately on my soul. You are the Initiator. I am the soul waiting Your favors as You act in me. I love You. I adore You. I worship You. Come and possess my soul with Your Divine Grace, as I experience You most intimately.
Our Lady of Fatima stands beneath the cross in Lucia's vision, over the altar of sacrifice, beneath the hand of God. You are to lead the world home into the Heart of Jesus through the Immaculate Heart of the Woman.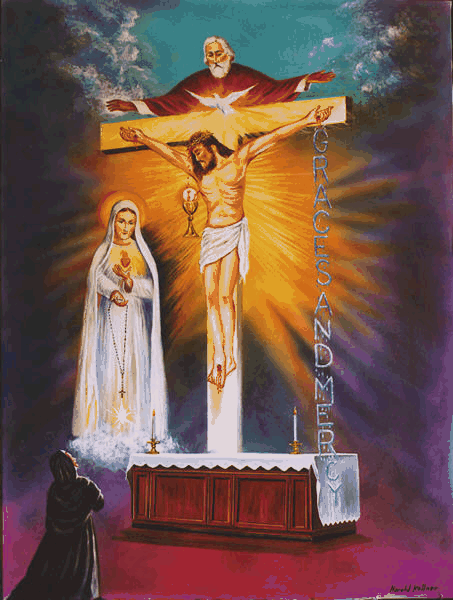 Messenger: From the Litany to the Blessed Mother
"Ark of the Covenant"
Mary said to Bernadette "I am the Immaculate Conception"
Excerpt from The Spirituality of Fatima
...Tell everybody that God gives graces through the Immaculate Heart of Mary. Tell them to ask grace from her, and that the Heart of Jesus wishes to be venerated together with the Immaculate Heart of Mary. Ask them to plead for peace from the Immaculate Heart of Mary, for the Lord has confided the peace of the world to her. (19)

July 13, 1917

But in the end, my Immaculate Heart will triumph, the Holy Father will consecrate Russia to me, Russia will be converted, and a certain period of peace will be granted to the world. (13)

13 & 19. Our Lady of Fatima's Peace Plan from Heaven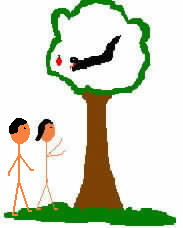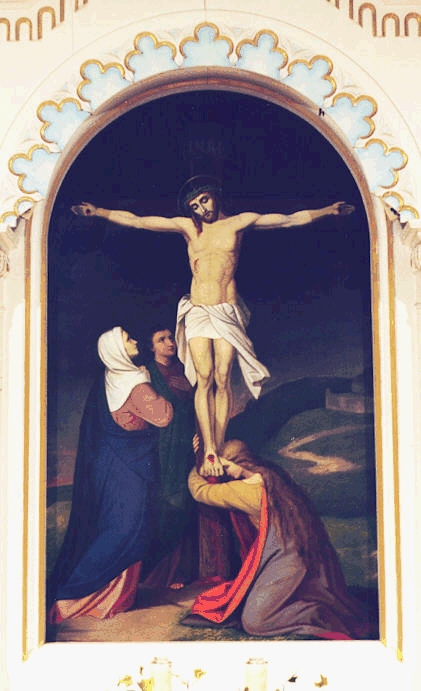 1 Corinthians 15: 20-28
In fact, however, Christ has been raised from the dead, as the first-fruits of all who have fallen asleep. As it was by one man that death came, so through one man has come the resurrection of the dead. Just as all die in Adam, so in Christ all will be brought to life; but all of them in their proper order: Christ the first-fruits, and next, at his coming, those who belong to him. After that will come the end, when he will hand over the kingdom to God the Father, having abolished every principality, every ruling force and power. For he is to be king until he has made his enemies his footstool, and the last of the enemies to be done away with is death, for he has put all things under his feet. But when it is said everything is subjected, this obviously cannot include the One who subjected everything to him. When everything has been subjected to him, then the Son himself will be subjected to the One who has subjected everything to him, so that God may be all in all.


John 19: 25 - 27

Near the cross of Jesus stood his mother and his mother's sister, Mary the wife of Clopas, and Mary of Magdala. Seeing his mother and the disciple whom he loved standing near her, Jesus said to his mother, 'Woman, this is your son.' Then to the disciple he said, 'This is your mother.' And from that hour the disciple took her into his home.
Messenger: God is all loving —


God forgives

Mary Magdalene who sinned is beneath
the cross

From the pierced side of Christ the
Church was born —

The Heart of Christ came from Mary's
body
---
Eve came from the side of Adam
The New Eve bears the Son of God
The Church is born from His pierced Heart
formed in Mary's womb.
The Church is the Bride of Christ —
The Church is bringing forth children
for God's Kingdom.
Excerpt from Response in Christ

e) Relationship with Members of the Church

There is but one true Church of Christ. Yet this one Church has three different states of existence. There is the pilgrim Church, the Church of this world, composed of members who have received the grace of Christ and strive for its development. They have not yet obtained the goal of their efforts, as have the members of the heavenly Church, who enjoy God in eternal happiness. The Church suffering is an intermediate state of existence necessary for those who had not achieved the required purification as members of the pilgrim Church. Although there are these three phases of the Church's existence, there is a profound union existing between all the members. All these members possess the same basic life of grace in Christ, and this common life establishes the most intimate bonds of love. In our preceding chapter, we discussed the pilgrim Church. Let us now consider the Church suffering and the heavenly Church.

The members of the Church suffering are those who have departed from this life in an incomplete state of Christian development. Their development is incomplete in the sense that grace has not fully taken possession of them, and, as a result, they are yet closed in upon themselves to a greater or lesser degree. They as yet cannot open themselves out in complete love to the Triune God in the beatific vision. They must undergo a further purification, a purification which could have been achieved upon earth with merit. Now the purification must be achieved with no merit attached. The pain of this purification is mixed with the certain expectation of achieving the vision of God. We can hasten the advent of this vision for this people by the offering of prayers and other good works. Scripture itself refers to our action on behalf of those in purgatory in Chapter 12 of the Second Book of Maccabees beginning with verse 38.

The members of the heavenly Church are those in whom the life of grace has taken full possession and has reached its completion in the life of glory. Faith now is unnecessary, as the light of glory gives the human intellect a new strength and capacity for seeing God face-to-face. While the Christian was a wayfarer, he received the imprint of the indwelling Trinity as he shared in God's own life. Now in heaven that grace-life and possession of God reaches its completion—the absolute completion is not achieved, however, until the resurrection of the body. The divine persons give Themselves to the beatified in a profound union far surpassing that of the indwelling of the Trinity experienced here below.

This life of heaven is still the Christ-life, for just as we possess a share in Trinitarian life here below as mediated by Christ, and exercise this grace-life as structured by Him, so also in heaven is the mediation of Christ present. In the words of Rahner, "One always sees the Father through Jesus. Just as immediately as this, for the directness of the vision of God is not a denial of the mediatorship of Christ as man."14 And not only does the humanity of Christ unite the blessed to God, but also, in some way, to the whole of creation. This is merely a completion of what is begun here below, namely, the union with Christ in His humanity establishing the Christian in a special relationship with God, with other men, and with the whole of creation. We have a glimpse, therefore, of the fullness of life which members of the heavenly Church possess.

The heavenly Church, as St. Thomas says, is the true Church.15 The Church of this earth and the Church of purgatory are, each in its own way, reaching out in loving hope for the heavenly Jerusalem. Vatican II puts it very simply: "The Church, to which we are called in Christ Jesus, and in which we acquire sanctity through the grace of God, will attain her full perfection only in the glory of heaven."16

The members of the heavenly Church can help us in living our life of grace until we too share its fullness with them. Their power of intercession on our behalf is but another ramification of the communal aspect of Christianity. We are meant to help others grow in Christ. We, in turn, are intended by God to receive aid from others—yes, from members of the heavenly Church, as well as from those with whom we dwell here below.

Not only can we be aided by the saints' intercession, but the example of the canonized saints can also be of great value to us. They have concretely proved that full holiness is possible. Such an inspiration is of real worth when we are tempted to think that Christian sanctity in its higher degrees is impossible of attainment. Moreover, the canonized saints, in their diversity, teach us that there are many authentic versions of Christian holiness. They can be innovators in showing us that there are numerous possibilities in assimilating the mystery of Christ, although the basic assimilation remains the same for all Christians of all times. In the opinion of Rahner this is one of the chief roles the canonized saints exert in the life of the Church.17

---

NOTES:

16. Second Vatican Council, Constitution on the Church, No. 48.
17. Cf. Karl Rahner, Op. cit., pp. 100-101.
Sorrowful Mysteries - a few thoughts to think about
Agony in the Garden
New Adam is in the garden
New Adam does the will of God
An angel — a good angel appears to comfort
Jesus
Peter slept in the garden
Peter denied Jesus
The Son of God was led away
Adam and Eve made themselves gods
Jesus is mocked as King —
He suffered persecution as King —
crown of thorns —
where as Adam and Eve were
filled with pride
Adam and Eve were naked
Christ was crucified with hardly no clothes
He suffered for the sin of Adam and Eve
He suffered for our sins
His clothes were taken off —
stripped of His garments —
Adam and Eve had clothes put on because
of their sin
They mocked Jesus and said
"Hail, King of the Jews"
they spit on Him
they spit on God —
Adam and Eve thought they would be equal
to God
Matthew 27: 40
'So you would destroy the Temple and in three days rebuild it! Then save yourself if you are God's son and come down from the cross!'
They hung the new Adam on a tree —
The New Eve stands below
Mary Magdalene is forgiven
God forgives
Jesus hung on the tree —
Adam ate the fruit of the tree
They put Jesus' in, John says —
a new tomb in a garden —
They put Jesus in the belly of the
earth — in a garden
Jesus rose from the belly of the
earth - from the tomb
Even though Peter denied Him
He made him head
of the Church.
John 21: 15-19

When they had eaten, Jesus said to Simon Peter, 'Simon son of John, do you love me more than these others do?' He answered, 'Yes, Lord, you know I love you.' Jesus said to him, 'Feed my lambs.' A second time he said to him, 'Simon son of John, do you love me?' He replied, 'Yes, Lord, you know I love you.' Jesus said to him, 'Look after my sheep.' Then he said to him a third time, 'Simon son of John, do you love me?' Peter was hurt that he asked him a third time, 'Do you love me?' and said, 'Lord, you know everything; you know I love you.' Jesus said to him, 'Feed my sheep.
We need to know if you have a

prayer chapter.

Please e-mail this information today.

Your name - complete address -

how many members.

You need only have 2 members.
Excerpt from August 2, 2006
Messenger: I appreciate your mail —
e-mail telling me how you
work to do these Ministries
Jesus has asked us to do.
Shepherds of Christ
P. O. Box 627
China, IN 47250
Our new mailing address is
in China — where we have
24 hour adoration and our
retreats —
write to me to tell me how
you are being a Shepherd of Christ
Associate, Apostle —
Anyone who has a prayer petition
can e-mail info@sofc.org
and we will put your prayer request
in a basket under the altar in
China, Indiana —
you can see the basket on the
internet —
We pray every half hour
for the intentions in the basket
We will pray for you —
Main Mailing Address for Shepherds of Christ

Shepherds of Christ Ministries
P. O. Box 627
China, IN 47250

1-888-211-3041

We accept credit card.
---
---
---
Copyright © 2006 Shepherds of Christ.
Rights for non-commercial reproduction granted:
May be copied in its entirety, but neither re-typed nor edited.
Translations are welcome but they must be reviewed for moral and
theological accuracy by a source approved by Shepherds of Christ Ministries
before any distribution takes place. Please contact us for more information.