Mary has requested that the daily message be given each day to the world. It is read nightly at the prayer service from her Image Building in Clearwater, Florida, U.S.A. This is according to her request. All attempts will be made to publish this daily message to the world at 11 p.m. Eastern time, U.S.A.

---

We acknowledge that the final authority regarding these messages rests with the Holy See of Rome.

---
---
September 5th Holy Spirit Novena
Scripture selection is Day 6 Period 1.
The Novena Rosary Mystery
for September 5th is Glorious.
---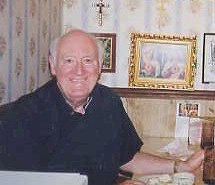 Father Carter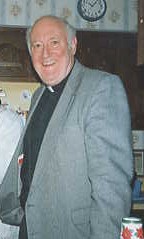 Father Carter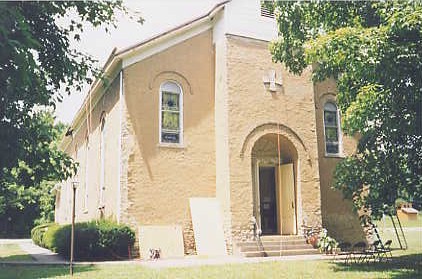 China, Indiana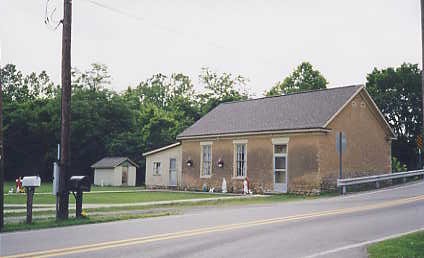 China, Indiana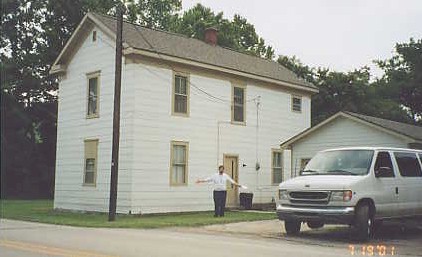 China, Indiana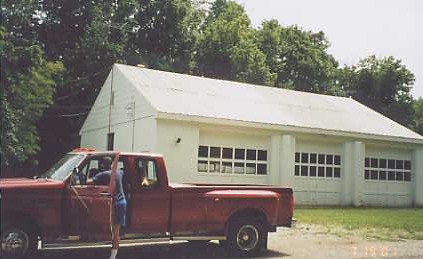 China, Indiana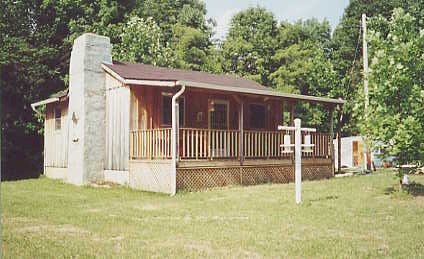 Another house in the China area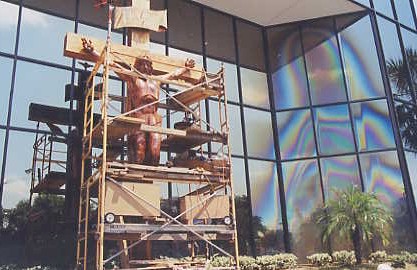 Image site in Florida

Image site in Florida
---
September 4, 2001

Messenger:

We still owe for the printing of
the last Newsletter.

We owe $48,000.

We must pay the payment for the
Virgin Mary building $9,935.80.

We are desperate for funds.

Please help us.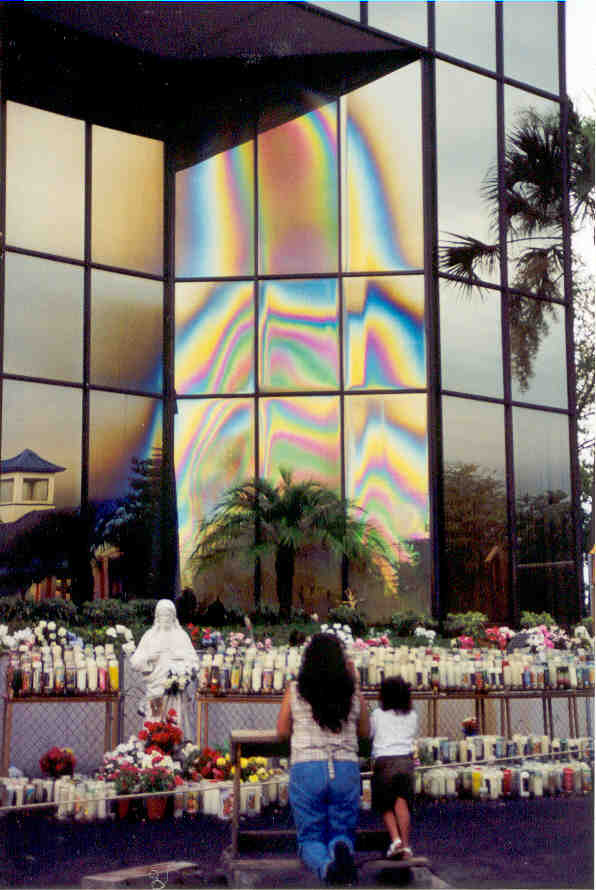 July 5, 2000
September 4, 2001 message continues
Messenger: Tomorrow is the 5th.
Please come to Florida.
The Rosary is broadcasted live in
China at 5:20 and Morrow at 6:20.
Also at the sub-centers -
in Iowa - 5:20
Sidney, Ohio - 6:20
Toledo, Ohio - 6:20
Call Morrow for details -
1-888-211-3041
or 1-513-932-4451
We could make some money selling the
image pictures, but we don't
have money to initially buy them
and the few we have we have to
charge a large price.
Mary wants them circulated around
the world.
If we had funds or a digital
machine we could get others to
help us distribute them, if
they could buy them at
a cheap price.
Mary and Jesus have given these pictures
because they want them circulated.
All would work toward more income
if we could do what They tell us.
Image rosaries are being held waiting for us.
We could sell them cheaper and people
could be helpers giving them
for presents, (especially for Christmas
or birthdays) but again, we do
not have the initial money to even
buy them.
We don't have money to do what Jesus
and Mary are asking us to do.
If B&M goes out of business, we
will lose the company that
prints all our cards.
If we bought B&M then we could
print small amounts of things.
We haven't had song books with
Jesus' songs for a long time.
We have none at the Virgin Mary site.
We need lots of cards.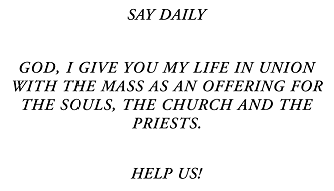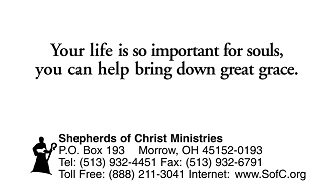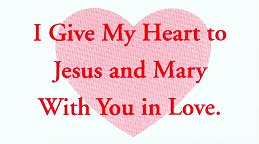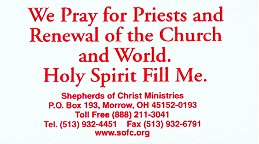 September 4, 2001 message continues
Messenger: We need to get to the Nursing homes.
The Nursing homes videos can help
a lot of souls and people offering
up their days from listening to the
video can help to bring down great
grace for the world.
The nursing home video is on the Internet.
---
Instructions to download Nursing Home Videos:

We have a video which can be played using the RealPlayer 8 Basic program. This program can be downloaded free of charge from the www.real.com website. Look for the section where free downloads are available and select the RealPlayer 8 Basic program.

You do not need to stay at the computer while the RealPlayer 8 Basic program or our movie is downloading. The movie takes about 25 MB of disk space. Once you have the movie saved on your hard drive, you can play it over and over with no wait to interested friends or family members.

Please contact us to obtain a copy of this video. We operate on donations.




click here to download "RealPlayer 8 Basic" for free
you need this to play the movie
please download this before the movie

It works best if you right mouse button click on the movie and use the
"Save Target As..." selection to save the movie to your hard drive.
Then open the movie in the RealPlayer 8. If you have a fast Internet connection,
you can left click on the movie and watch it right away. If it keeps stopping,
then you would be best to save it to your hard drive for uninterrupted viewing.

Nursing Home video #2 coming soon!!
---
September 4, 2001 message continues
Messenger: I cried for beads for the school rosary
program and our rosary makers.
Someone gave us 65,000 home made
rosaries for the schools.
Thank You Jesus.
Now we need postage to send it out.
Can you give a little support monthly,
Fr. Carter said the associates
would help finance the Priestly
Newsletter.
If each associate could give $5 or $10
four times a year that would help
and if we could get more associates
we should ask them to help with
the funding for the Priestly Newsletter.
This never was observed much, but it
is set up in Father Carter's original
plan for the movement.
Here is what Father Carter wrote in
the Handbook concerning this.
(Written by Father Carter in the summer of 1994
The Newsletter, then, was only 4 pages
Very soon it became 8 and now as we
include excerpts from his books,
it has become 20.
He, himself, put out the 20 page
newsletter issue 3, 2000.

The Newsletter was first sent
to 45,000 priests in the United States.
For years it has gone to 90 foreign countries
and 70,000 priests and translated and
circulated in Spanish.

Father Carter said, "We are doing something
wrong if we can't get out the Newsletter
as Our Lord wishes. It is our top priority."
He said we are never to charge for the Newsletter.
It is funded totally through the donations.

His plan was the associates would majorly
support the Newsletter.
Members pray for the financial success for
the Newsletter themselves.)
---
Excerpt from the Handbook
In addition to the purpose of the chapters as put forth above, the members of each chapter are encouraged to help raise money to defray some of the newsletter publication costs and some of the financial needs of the Shepherds of Christ Associates movement. One way for chapters to financially aid the newsletter is to pledge to pay for a certain number of newsletters each year. The cost per newsletter per year for each priest is slightly more than $1.00. Our Lord has asked that the newsletter be sent to the priests free of charge, although donations may be requested in the newsletter itself.

end of excerpt from the Handbook
---
September 4, 2001 message continues
Messenger: We are able to take credit card donations
from outside the United States.
Please see the end of the message.
Someone is really helping us with the
meager money we need for the servants
handmaids to live and eat.
Servants and handmaids truly live a life
of service and poverty. They are not
required to give up their own
individual money.
Many have pensions or social security,
they help each other to eat and
live.
Emily and Jane came to Cincinnati to help me
sort through the pictures and messages.
When they returned they didn't
have money for gas.
We exist on day to day money and it is
really tough sending the Newsletter
to 75,000 priests.
We really need help to do this.
Please help us or ask someone
if you think they can help us.
Here is a picture of Mary.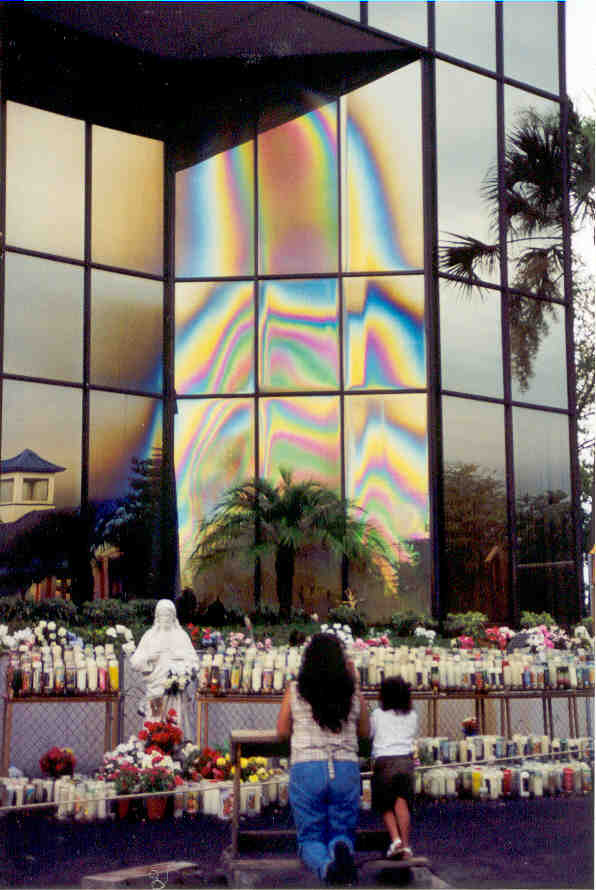 July 5, 2000
September 4, 2001 message continues
Messenger: She wants to reach her children.
Please pray for funds for us.
Please pray.
We really desperately need help.
This is a gift God has given to men.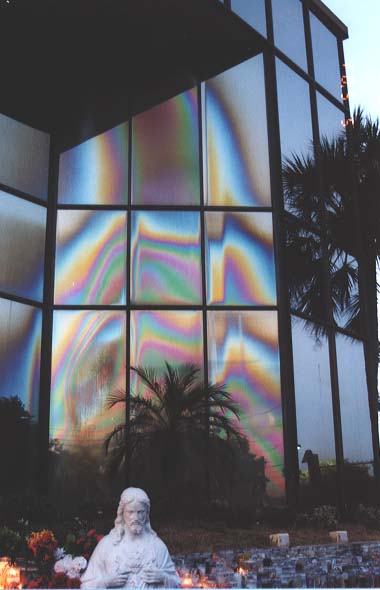 May 5, 2001
September 4, 2001 message continues
Messenger: We need to circulate the pictures
and help people become aware
of Mary on the building.
I love you and thank you for all
your prayers and your support
for the Shepherds of Christ
Movement.
Fr. Carter—Please help us.
Please help us.
Pray for 2 urgent intentions.
Most of our bills in the
Movement people
pay for themselves because
of lack of funds.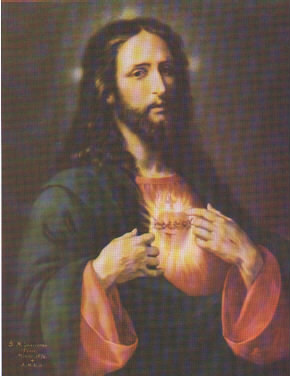 September 4, 2001 message continues

Jesus speaks:

I love you so much,

I appear to help lead the souls to
My Heart.

They must respond.

My Mother appears to tell her
children how much she loves
them.

February 5, 2001
Mary speaks: My children, I appear to you.
Your Father has permitted me to appear.
So many are headed for perdition,
Oh my children, we truly speak to
you here.
You must pray.
Your world is going so far from
the truth.
Oh my children, I love them so
and I cry for them.
You must turn your hearts to Our
Two Hearts.
Pray through the intercession of
Our Lady of Clearwater and
Father Carter.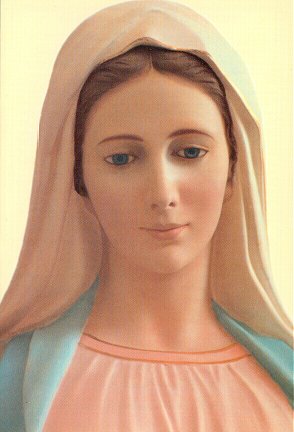 September 4, 2001 message continues
Mary speaks: Great grace will be released
when you pray through
my powerful intercession.
I am the Lady of Light.
I am your Mother.
I am Our Lady of Clearwater.
I beg you to listen to me.
My Son Jesus has given you His
Movement at the end of the
second millennium.
You ignored me and my Son when
we spoke to you at Our Lady of
the Holy Spirit Center.
My children, my Son's Priestly Newsletter
will help renew the Church
and the world.
My children you must pray
for peace.
I give you my rosary.
My Son Jesus gives you the
Shepherds of Christ Prayers.
My children please help me.
My children, I love you so.
I am Mary your Mother.
I am Our Lady of Fatima in
the Americas.
I appear as Our Lady of Clearwater.
Oh the waters will run, and
some crops will burn and
what do We do to get you to
take notice.
What can I do to reach my children,
so caught up in the worldly ways.
I appear and you do not take notice.
My Son appears and you do not
recognize this as a gift.
---
click here to make a credit card donation
from outside the United States
---
---
---

Copyright © 2001 Shepherds of Christ.
Rights for non-commercial reproduction granted:
May be copied in its entirety, but neither re-typed nor edited.
Translations are welcome but they must be reviewed for moral and
theological accuracy by a source approved by Shepherds of Christ Ministries
before any distribution takes place. Please contact us for more information.
All scripture quotes are from the New Jerusalem Bible, July 1990, published by Doubleday.
Revised: September 4, 2001
URL: http://www.SofC.org
Contact Information for Shepherds of Christ
Email: info@SofC.org
---
Shepherds of Christ Ministries
PO Box 193
Morrow, Ohio 45152-0193

Telephone: (toll free) 1-888-211-3041 or (513) 932-4451
FAX: (513) 932-6791