October 5, 1994
God the Father Loves Me

Messenger:

Father, I adore You. I lay my life before You, how I love You. I have been realizing the Father's love so much this morning and the Gospel reading was on the "Our Father".

Prayer:
Father, you created me with such tender uniqueness and love. You have a plan for my life. Father, I give myself entirely to You. I give You my life.
The concept of the Father and His tremendous love makes me feel so warm inside. He is a loving Father that created us and gave His only Son for us. He loves us so much. To realize His love and Jesus' love and the Holy Spirit's love makes my heart feel so very full and warm inside.
All the love I have yearned for seems to fill me when I realize how He is forever guarding and watching and loving and caring for me. He is my loving Father. No person on this earth can give me this paternal love as He, God, gives to me!
It is in surrendering my whole self in the Mass that I am free. I offer myself to the Father with Jesus. What a sacrifice! What freedom and love for me!
The freedom comes in living only for the love of my precious God. I act for love of my beloved Jesus. If satan tries to taunt me, I focus on why I live, I live to love Jesus, and show His love in me.
I fall so short, but I constantly keep trying to focus on the oneness of the one Triune God. God is in me. God dwelling in me gives me my peace.
Jesus stood His passion and death. He knew the Father's love. Jesus died in perfect peace! No one can ever take away my union with God. That is what gives me peace and joy - realizing the love God has for me and I have for God! Love is the answer. Love is the answer to peace and joy. Love centered in God: Father, Son and Holy Spirit — Words are too weak to explain it. We are so blessed to have the love of God: Father, Son and Holy Spirit!
A child needs love. The Father loves us so much. As the little child that sits on their Father's lap, I know the Father pours out His love to me. So many of us did not get the love we needed from our earthly fathers even though they meant to love us. The Father loves us so perfectly, our heavenly Father. He created us. God loved us so much to give us life. He made us and He loves us. He loves us with the dearest love. He loves all He creates. We are His beloved children. Go to the Father. He loves us so much.
The Our Father
Our Father, Who art in heaven, hallowed be Thy name. Thy Kingdom come, Thy will be done on earth as it is in heaven. Give us this day our daily bread and forgive us our trespasses as we forgive those who trespass against us. And lead us not into temptation, but deliver us from evil. Amen.
I give myself totally over to the Father as a little child does to their father, always sure of His great love for me. Total surrender in the Mass. Jesus gave Himself as a sacrifice. I give the Father my life. I am the child, He is my loving Father. I entrust my life to my "Dad".

My beloved Father, I see Him as my Father as a little child might sit on their father's lap and put their head on the father's chest. The Father is not harsh. He is loving and approving. He loves me. He made me. He gives me His love. He accepts the love I give to Him. There is no wall, there is union. I am His beloved child. He loves me, He made me...such bonding with my beloved Father!

Jesus:

You are, Rita, the child of My Father. He loves you as the most loving Father. He is God. You cannot even fathom the love He pours out to you! He wants you to be all He created you to be. He gave you so many gifts and talents to do His work. He wants you to use these talents and do His work, His plan, He makes clear to you in your heart. As a child that follows their parent's commands, you are not happy when you do not follow His will. He loves you so much. He wills what is best for you.

And you, My little one, will be with Him some day in such union in heaven. Today you must pray to grow in His love. It is the key to your peace and joy. It is in realizing His plan and His love that you will have this great peace inside, He dwells within your heart. Turn to Him always, your beloved Father - He loves you so much!

Messenger:

To think of the love of the Holy Spirit, I want to cry. It fills me so much. I am engulfed in such fullness. To ponder the love of the Holy Spirit makes me feel so full in my love for God the love I have for the Father and the Son and the Holy Spirit. I feel overwhelmed to the point of tears. I feel His life burning inside of me as if I could burst. I am filled with such love I cannot express it, I am filled ——

Think of Mary when she cried out the Magnificat and when the Apostles were filled with the Holy Spirit on the first Pentecost!

The presence of God: Father, Son and Holy Spirit within me make me want to shout for joy. This is the Good News: Jesus has died, He has risen. God lives: Father, Son and Holy Spirit, in our hearts, with such love this very day! This is what it is all about. This is what we live for. This is what we die for. This is the one, Triune God within us. What shouts of exultation for Their presence within. God is with us - we know God in one another and in His creation.

Jesus:

You will know peace, love and joy as you grow in your knowledge and love of the one, Triune God. Such fullness, through Mary!

Messenger:

I feel as if I am flying high with Their immense love within me. To know God is to love God. He is love. The Holy Spirit sets me on fire, our Blessed Lady takes me to her Son. Impart to me, Oh Spirit, Your love and the Fire of this love, active and alive within my very soul! I know God within me, I know God's burning love within my very soul.

Alleluia, Alleluia!

October 6, 1994

A Song from Jesus

Jesus:

I came as a little child. I was born that you would have life. I came as a little child. I lived. I loved. I preached. I showed you the way. My Mother cared for Me and all My needs. St. Joseph raised Me as a father who cared for his child.

Messenger:

I came. I find joy and peace in love. I must love all my brothers. Who am I that God loves me? The more I focus on His love, the greater my peace. I must feel His presence within me at all times. I must let Him operate me when I am with others.

Messenger:

A Song from Jesus was given October 7, 1994.

On October 7, 1994, Jesus told me to write a song to be sung after Communion for a Mass at Our Lady of the Holy Spirit Center on October 8, 1994. I told Him I couldn't write music. He said, "You will not do it, I will." My daughter and I sat at the piano bench and in five minutes Jesus gave me the words and music to

A Song from Jesus. This is His love song to you.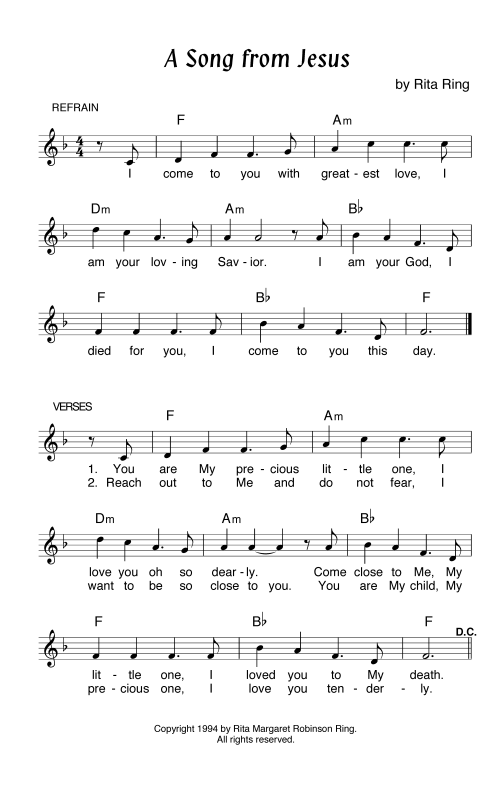 October 8, 1994

You Should Do All Things with Love

Messenger:

This message was given the day after I received A Song from Jesus.

Jesus:

Whatever you do, you should do with much love. I come, little one and I teach you such lessons. Some lessons you do not see. I teach you again and again, with much grace. You begin to see My work I have for you to do. Pray for the grace to know and love Me more. It is in your union with Me you will find such peace. As your love grows for God and Mary, your love grows for others. You cannot love Me and hate your brother. I call you to new life. I call you to oneness with Me.

I am Jesus, the Son of God. Surrender your whole being, offer yourself as a sacrifice, whole and complete, to the Father at every Mass. Offer Him all you are, your love and good works. Offer yourself wholly and completely with My Body and Blood - this is the most pleasing sacrifice to the Father.

Every day offer yourself to the Father in the Holy Sacrifice of the Mass being offered around the world for all your intentions. Say the Morning Offering with your children. Pray and offer your day so you will know and love God more.

Do not let satan talk in your head. Always love your brothers. See the God Who created them when you talk to them. See the love the Father has for them. See My love to die for them. See the Spirit Who wants to be alive in them. Do not give in to satan.

I am in charge. I support you. I love you. I watch out for you. I am the Almighty God. You do nothing on your own. Your brother depends on Me. Realize your frailties. Praise your Father in heaven lavishly. Praise God. We want to be praised by you!

I am your beloved Jesus and I love you so much.

October 9, 1994

Be Christ to Each Other

Jesus:

My little one, be of a clean heart. Be with Me. You must take time to be with Me. My love is surrounding you. You do not fear. I am Jesus. I am your Savior. You live to love God and do the will of the Father.

I am forever with you. All you do must be acts of love. Put on Me. In all your actions, put on Me. Love, love, love. Interior peace comes from God dwelling within you.

Put on Christ. Be Christ to one another. Be as I would be to your brothers. You are My blessed one. Do not fear. Just put on Christ. Be so connected to the God Who lives within. Total peace. Total love. Total presence. We are at the helm.

As you operate with others, be Christ to each other. Love one another. Your heart must be forever connected to Me. Feel My presence within your heart. I dwell within you now. Easy does it. I am dwelling within you. You are living to love God, to serve God in this world, to be Christ to others as We dwell in you.

Each person you encounter is very dear to Me and I love them so. Love them. See My beautiful creation in them. See Me loving them so much. See beyond the negative acts. This person is My beautiful creation.

I am the God of Jacob, of Joseph, of all your ancestors. I talk to you here. Do not worry. Do not fret. Put satan behind you and let My love come forth to this world.

Calm, peace, joy, love always. If you always love, you have peace and joy. I am Jesus, come to Me, My sweet ones. I live in you, live in My love. Alleluia, Alleluia.

October 11, 1994

Take Shelter from the Rain in My Heart

(

Messenger: I saw a vision in my heart of a little wet child standing by a tree in the storm in a dark night. Just a little light, enough to see the child.)

Jesus:

You are this little child. You are in the storm. The wind and the rain are beating down on you. You are cold. You are wet, as wet as you can be. You stand by a tree and the wind beats against you and the rain pounds harder.

My child, My child, there is such shelter in My most Sacred Heart. Come into My Heart, child. You will be protected from the wind that blows so hard on you. You will be out of the rain. It may pound down all around you, but your refuge is found in My Heart. My Heart is a burning furnace of love. See yourself, little child, stand by the tree and whimper and you want to go it alone? Let My Mother lead you by the hand. You, little child, come with Mary, your Mother. Let her take you to the shelter of My Heart.

John 14:6
I am the Way; I am Truth and Life....
There is not life without Me. My life I give to you that you will have life and have it abundantly. Today I give you My very own Heart on fire for love of you. Come to Me through Mary's pure and tender Heart. We will shelter you in the darkest storm.

Messenger:

When I am filled up with Your love, Lord, I do not whimper as a little child. I am filled with love and peace and joy. Take me, Mary, to the Heart of your very dear Son and place me there forever in a little pocket surrounded by His ardent love. I want to be lost deeply in the recesses of this Heart. How deep do you place me in His Heart? I want to be surrounded by the immense love of Father, Son and Holy Spirit and know, Mary, you are so closely united in this Heart!

This is the comfort in the dark, windy, wet night. This is my refuge. This is my life. This is the closest I can come to heaven on earth - to be united in such love with the Trinity and Mary!

Help me to let go of it all and come as a little child, running from the rain to the warmest shelter. A roaring fire, warmth, dry clothes and light - the light radiated by the Heart of Jesus. In the darkness I find my light in You. Alleluia. Praise God, Father, Son and Holy Spirit. Love to my beloved Mother. This is bliss.