Mary has requested that the daily message be given each day to the world. It is read nightly at the prayer service from her Image Building in Clearwater, Florida, U.S.A. This is according to her request. All attempts will be made to publish this daily message to the world at 11 p.m. Eastern time, U.S.A.

---

We acknowledge that the final authority regarding these messages rests with the Holy See of Rome.

---
---
A Prayer for Intimacy with the Lamb, the Bridegroom of the Soul

Oh Lamb of God, Who take away the sins of the world, come and act on my soul most intimately. I surrender myself, as I ask for the grace to let go, to just be as I exist in You and You act most intimately on my soul. You are the Initiator. I am the soul waiting Your favors as You act in me. I love You. I adore You. I worship You. Come and possess my soul with Your Divine Grace, as I experience You most intimately.
---
Jesus speaks: Present for Mary: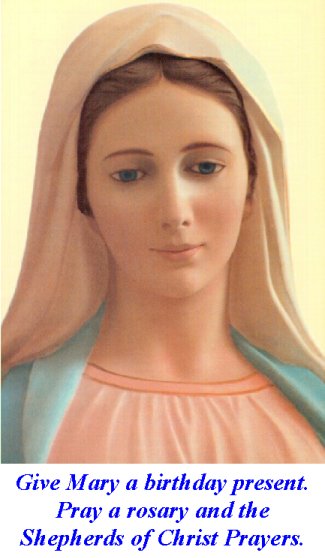 Jesus speaks: My dear chosen ones, you see on such a small scale. When God gives graces as were granted at Medjugorje, the Lady of the Holy Spirit Center and Falmouth, Kentucky, and now Clearwater, Florida, so many souls should have responded. You do not know the vision of the Almighty God to reach the far ends of the earth from these apparition sites. I am leading men to My Sacred Heart into the great Reign of My Heart where there will be one flock and one Shepherd. I am the I Am. I see for all time. I see the 2000 years since My birth and how man has responded. I am TORN the way I am treated in the Eucharist, but this has improved with your prayers. I am begging you to not be divided, I am displeased because the world is so slow to spread the materials I have given in My Movement, Shepherds of Christ. I want prayer chapters begun. Mary called, she appeared to lead men into this great era of peace and holiness.

It depends on men saying, "yes". Mary called at Fatima to Falmouth, Kentucky, and beyond. A century of graces granted and look how your world is today.

I promise that the more you pray My prayers (

Shepherds of Christ Prayer Manual), the deeper will be your life in Me as you dwell in My Heart and My Mother's Heart.

Consecration! Consecration! Living your life of consecration is a key to holiness.

It is indeed a great gift that God granted allowing Mary to appear and be on the building in Florida. Men have not responded to her call as My Father has wished. The more you pray the prayers I give you for your priests, the Church and the world, the more your world will change. I am giving tremendous graces through My Movement to lead to the Reign of My Sacred Heart.

All must be one. I do not wish to chastise the earth. How do I get your attention? When I send graces, you do not respond as you should. What is left? I love you, I want the world to live in holiness and love. You are My shepherds to help lead the strayed ones home.

I love you, Jesus
---
August 28, 1994

Jesus speaks:
Keep your hearts pure, My little ones. Never, never do I go from you. I want to constantly live and dwell inside you! You should do as you think the Father wills. Doubt, confusion is from Satan. You should strive always to serve the Father and then your hearts are at peace. I call you to love. Love, My children. Satan is the great deceiver. My ways are peace and joy.

I am the Good Shepherd. I know Mine and they follow Me. I truly love you so very much, My little children.
---
August 25, 1994

You are My Father's Finest Treasure

Jesus speaks: Oh child, how uniquely I love you. You are far more precious than the finest pearls. You were divinely created by My Father. You are the product of His great love. You are the chosen child of the Father. The Spirit breathed into you His life and love and you were given the fire of God's love. Do not let anything in this world snuff out the love of God that burns within your soul. Keep your heart ever pure and open to the Spirit of God that dwells within your very heart.

You are the creation of My Father. You are so precious to Me, child. You, I so love that I would give My life for you this very day. Oh beloved of My Father, come to Me and I will give you rest. You will be filled with the peace and love of God.

You are far more precious than the finest treasure. You are the unique creation of the Father. See your specialness to Me, oh beloved one. You are so special to God!

Alleluia! And He breathed on their soul and the Spirit of God filled their hearts and the burning love of the Father, Son and Holy Spirit dwelt within their hearts and they were present as His love shining in the darkness and they were called to be His light shining in a dark world.

Alleluia! Praise the Lord.
---
August 25, 1994 - 2nd message

Jesus speaks: I am Jesus, Son of the living God. I am so present to you, My beloved children of My Father. You were created with such love, the love that is being poured out to you this very day from the hands of My Father. Strive to do His will. His plan is your way to everlasting happiness. You are so abundantly showered with love by the Father, through Me, in union with the Holy Spirit and by your loving Mother. Focus on this love. It is in the interior realization of the love We constantly give you that you will find peace and joy.

Oh beloved of My Father, you are given such honor by God. You are His very own creation, uniquely designed by His own hands and He gave His only Son so you could have life. His Son, He gives to you. I, Jesus, give Myself to you in the Eucharist. I am your beloved God, come to you with such love. Oh I love you so, My dear ones. I am Jesus, Son of God. I come to you. I knew that you would love Me some day.

Messenger: Jesus no more lives in the womb of His Mother. He is our Savior. He has been born to save us from our sins.

Jesus speaks: I am the Way, the Truth, the Life, and was born to My beloved Mother into this world. I came to save you from your sins and give you new life.

What this single event, the Incarnation, did to change the lives of so many! And the Word was made flesh and dwelt among you! You child, this very day, are sharing the benefits from this Incarnation.

Your life in Me is renewed in My Church. You share in My Life in Baptism.

I am the Almighty God. You are My beloved, chosen children. I come to give you new life that you may have it to the fullest.

Messenger: Oh glorious day for this world, the day Jesus, the Son of God, was born to this earth!

Jesus speaks: I am the Almighty God. You are not worthy to behold Me, yet in such love for you I was born and died for you. I remain in the Eucharist awaiting your love today. Do you come little ones? What treasure do you possess that compares to Jesus Christ, coming to you with such love in the Eucharist?

I am the Bread of Life. He who comes to Me will have everlasting life!
---
August 22, 1994

Messenger: What did You do, Lord, while they whipped You? What did You do when You knew the next horrifying blow would come?

Jesus speaks: I thought of My love for you. I suffered such anguish, but to know one day you would sit and be with Me in this Church, I loved you so much, I thought of you. With each blow, child, I knew how you would eagerly want to be with Me because you love Me so. I knew you would wait so anxiously to be united with Me in the Eucharist. When I received the blows I thought of you and your love. I knew constantly the love of the Father. I knew this love as I was scourged. This love that exists between the Father and Myself gave Me the strength to withstand the torture. His grace and love is being outpoured to you at every moment. Be forever attentive to such love, constantly within you. The more focused you are on Our Presence, the more you will be one in God!

Mary speaks: The young life of Jesus grew in my womb. I felt Him as He grew and knew He was God. I felt Him inside of me. I felt Him move in my body. I knew His Life as it grew within me. I loved Him so before His birth from His presence within me. He, child, is alive in your heart. He is present in His Divinity. You are His temple. He loves you so much He chose to live in you. Do you carry this life with such awareness? His presence is forever in your heart. Who are you that the Son of God enters your heart after Communion, that He Who is no less present than the day I carried Him in my womb, enters you in the Holy Eucharist and dwells within your body?

Do you realize what honor is bestowed on you to receive the Son of God inside of you? He is alive. He dwells within you constantly in His Divinity. He is within your heart when you are in the state of grace. Child, He is no less present to you after Communion than when He was inside of me. He comes to you in His Divinity and Humanity, under the appearance of bread and wine.

Oh divine creation of the Father, open your eyes and look at the honor bestowed on you this very day. Today He comes to you with such love in the Eucharist. Shout it from the rooftop, "Jesus is Lord, and He has died and He has risen!" He is alive this day, and he comes to you and dwells in your hearts in the Eucharist in His Body, Blood, Soul and Divinity.
---
Question for married couples and others in intimate relationships:
Q: How do I feel I can give myself more completely to the loving tender care of my heavenly Mother? How do I feel such surrender to her loving care will help us as a couple love one another more?
---
---
---
Copyright © 1999 Shepherds of Christ.
Rights for non-commercial reproduction granted:
May be copied in its entirety, but neither re-typed nor edited.
Translations are welcome but they must be reviewed for moral and theological accuracy by a source approved by Shepherds of Christ Ministries before any distribution takes place. Please contact us for more information.
All scripture quotes are from the New Jerusalem Bible, July 1990, published by Doubleday.
Revised: September 8, 1999
URL: http://www.SofC.org
Contact Information for Shepherds of Christ
Email: info@SofC.org
---
Shepherds of Christ Ministries
PO Box 193
Morrow, Ohio 45152-0193

Telephone: (toll free) 1-888-211-3041 or (513) 932-4451
FAX: (513) 932-6791