Consecration
Lord Jesus, I consecrate my life to Your most Sacred Heart. I believe You died for my redemption. I throw myself at Your feet, imploring Your Divine Mercy and Compassion. Through Your grace may I seek Your will in all things, in all aspects of my life. Most Sacred Heart of Jesus, I trust in You!
Dear Blessed Virgin Mary, you are the mother of my Savior. Accept me as your child as well. I consecrate myself to your Immaculate Heart. Teach me your humility and love for all mankind. Help me to always seek the peace promised us by your Son. Be my intercessor, that through your Immaculate Heart, I may be guided ever closer to the Sacred Heart of Jesus.
Jacinta, Fancisco & Lucia in 1917.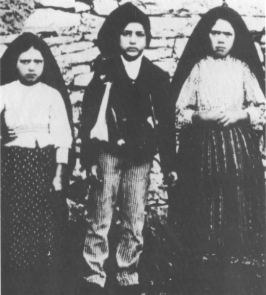 Jacinta is carried after the miracle of the sun.
Crowds made it impossible for her to leave.

Photostatic copy of a page from Ilustracao Portugueza, October 29, 1917, showing the crowd looking at the dance of the sun on October 13, 1917.
The Pilgrim Virgin statue of Our Lady of Fatima.

Hundreds of thousands were in Fatima for the 75th anniversary of the miracle of the sun.
The Basilica at Fatima today.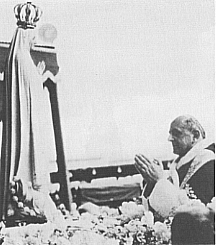 Pope Paul VI came to Fatima "as a pilgrim to pray for peace."

Sister Lucia 50 years after the apparitions.


May 13, 1982. At the end of the Mass, the Pope consecrated the world and
Russia to the Immaculate Heart of Mary. ( Photo courtesey of Blue Army).


Vicka, Jakov, Ivanka, Maria and Ivan during an apparition.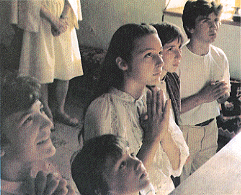 The Church of St. James, Medjugorje, in 1993.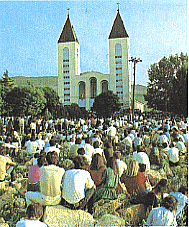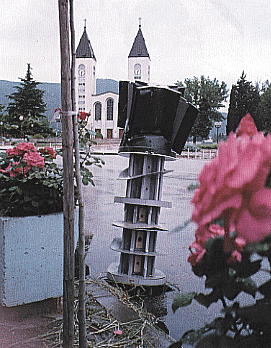 During the war, Serbian aircraft initially attempted to bomb Medjugorje. The bomb did not explode, and was "planted" in a water drain outside of the St. James Church. At one point, it was adorned with a Geranium.


The visionaries, Vicka (left, center) and Ivan (right) continually meet with pilgrims at Medjugorje.
The huge, concrete cross atop Mt. Krizevac, at Medjugorge.

Mass at St james is often con-celebrated by dozens of priests.
Painting of Lucia's apparition of June, 1929.
The Queen of Peace pilgramage to Russia in October, 1992, brought Our Lady back to the people of the former Soviet Union.
---
Copyright © 1997 Shepherds of Christ.
Rights for non-commercial reproduction granted:
May be copied in its entirety, but neither re-typed nor edited.
Revised: May 31, 1997
URL: http://www.Shepherds-of-Christ.org
Contact Information for Shepherds of Christ
Email: info@Shepherds-of-Christ.org
---