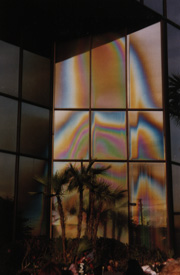 Virgin Mary Tells Cincinnati Visionary Why Her Image Appears on FL Office Building

Message Just One of Hundreds Received By Woman Associated With 'Shepherds of Christ Ministries, 'an International Spirituality Movement

CINCINNATI, OHIO -- A Greater Cincinnati visionary is receiving ongoing messages from the Virgin Mary explaining why her miraculous image is visible on the outside of a Clearwater, Florida, office building previously occupied by a bank.
Close to 1 million people have been drawn to the busy intersection of U.S. 19 and Drew Street since December 17, 1996. That's when a woman exiting the two-story building noticed the clearly defined image of Mary made of lustrous rainbow swirls covering nine black-glass panels. TV crews were called, and since then the faithful and curious have come from all over the country to see the sight. Stories about the phenomenon have been reported by TV and print media from Florida and national news organizations.
A Clearwater police officer privately maintained that "it definitely looks like the Virgin Mary." A Florida newspaper reporter described it as an "outline" of "a hooded robe over the shape of a head with shoulders and praying hands." Coincidentally, 100 glass experts (scientists and industry representatives) met at a convention held in mid-January near the bank, and many of them took a professional look at the image. A common hypothesis voiced was that it was caused by a chemical reaction between the glass, water deposits and weathering. "We can try to explain it," said Carlo Pantano, a professor of materials science and engineering at Penn State University quoted by The Miami Herald. "But not who controlled it or why it happened here at this time."
Pantano should talk to visionary Rita Ring. On December 19, 1996, she received a Christmas message from the Virgin Mary for members of the Shepherds of Christ Ministries, an international spirituality movement headquartered in Cincinnati, Ohio.
At the beginning of this message Mary referred to the Florida image when she said:
"....I appear to you, my children, on a [former] bank in Florida. You have made money your god! Do you know how cold are your hearts? You turn away from my Son, Jesus, for your money. Your money is your god.... "
In a related message received by Ms. Ring on January 23, the Virgin Mary said:
"I appear on the building to draw men to the messages given in God's Blue Book, Rosaries From the Hearts of Jesus and Mary, and Tell My People. These books are the messages we give from our hearts to draw men to our hearts. They are the messages my Son gives to bring about the reign of His Most Sacred Heart.
"I ask you to circulate Mary's Message [an audiotape] in Florida and the rosaries [special Marian meditations/messages] of December 13, 1996, and January 13, 1997. These messages were given to reveal insights into His Most Intimate Love. My appearance in Florida and the Shepherds of Christ Movement must be connected. Please work with great fervor to spread my messages and the message of my Son from this location. Do not be afraid. You will make great advances in helping with the completion of the Fatima Message there.
"I am Mary your Mother. Please obey me and help me spread these materials there. I love you, my little children."
Mary's Message is an audiotape which the Blessed Mother and Jesus asked to be made on December 12, 1996--the Feast of Our Lady of Guadalupe. On the tape is a live recording of the visionary receiving the message from Mary which is supposed to be associated with her miraculous image on the Clearwater, Florida, building. (Shepherds of Christ Ministries provides this audiotape--and other related tapes--at no cost. Please see contact information provided below.)
An active member of Shepherds of Christ Ministries, visionary Rita Ring is married and the mother of four children. She has received almost daily messages from Mary and Jesus since 1991. Most of the messages she is given--such as the one about the Florida image--are meant to be disseminated to everyone in the world.
The organization is a multi-faceted, international movement, made up of a number of ministries all dedicated to "bringing the Catholic Church's faithful to deeper love and respect for the Hearts of Jesus and Mary." Open to priests, religious and the laity, the ministry currently has over 150 prayer "chapters" in its worldwide network devoted especially to the spiritual welfare of priests. Its activities include the publishing of spiritually informative books, newsletters and audio/video cassettes; the promotion of rosary recitation in schools and Eucharistic adoration commitments; and the establishment of adult and youth prayer groups. (Some of the materials are available in foreign-language versions.)
For more information about the audiotaped message associated with the Florida image of Mary, the books referred to by Mary on January 23, visionary Rita Ring, contact Shepherds of Christ Ministries:
Phone: (toll free) 1-888-211-3041 (or fax at 513-932-6791)
Mailing address: Shepherds of Christ Ministries, PO Box 193, Morrow, Ohio 45152-0193
E-mail: info@SofC.org
Web page address: http://www.SofC.org
We recognize and accept that the final authority regarding these messages rests with
the Holy See of Rome, to whose judgment we willingly submit.