China Retreat
January 10th - 14th
January 13th begins at 12 noon
No Mass on January 13th
January 14th - Mass at 11am
followed by prayer service
Please tune in!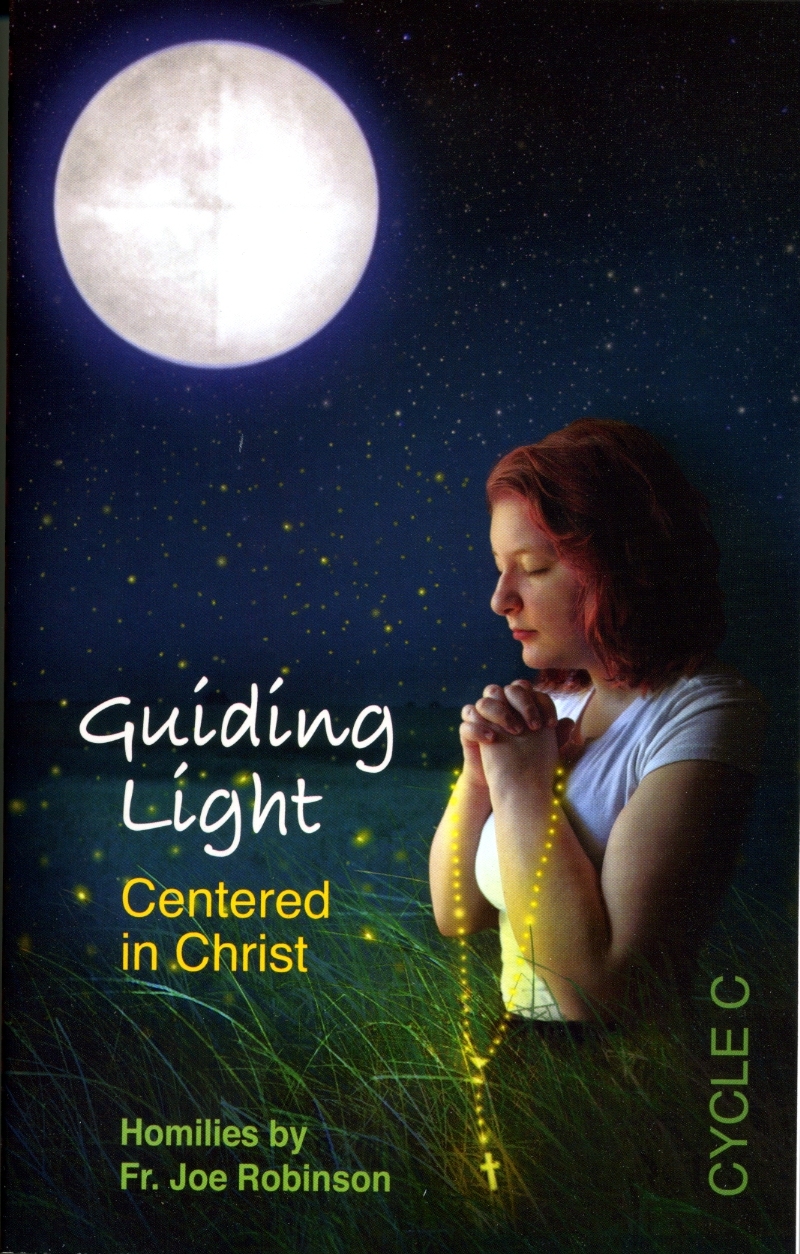 New Cycle C Homily Book Available
$15.00 plus postage
Call Rosie 1-888-211-3041
Help us get Fr. Joe's book to the priests.
We need postage money.
January 12, 2013
Baptism of the Lord
Isaiah 42: 1-4, 6-7
First song of the servant

Here is my servant whom I uphold,
my chosen one
in whom my soul delights.
I have sent my spirit upon him,
he will bring fair judgement to the nations.
He does not cry out or raise his voice,
his voice is not heard in the street;
he does not break the crushed reed
or snuff the faltering wick.
Faithfully he presents fair judgement;
he will not grow faint,
he will not be crushed
until he has established
fair judgement on earth,
and the coasts and islands
are waiting for his instruction.

I, Yahweh, have called you
in saving justice,
I have grasped you by the hand
and shaped you;
I have made you a covenant of the people
and light to the nations,
to open the eyes of the blind,
to free captives from prison,
and those who live in darkness
from the dungeon.
Psalm 29: 1-4, 9-10
Give Yahweh his due, sons of God,
give Yahweh his due of glory and strength,
give Yahweh the glory due to his name,
adore Yahweh in the splendour of holiness.

Yahweh's voice over the waters, the God of glory thunders;
Yahweh over countless waters,
Yahweh's voice in power, Yahweh's voice in splendour;

Yahweh's voice convulses terebinths,
strips forests bare.

In his palace all cry, 'Glory!'
Yahweh was enthroned for the flood,
Yahweh is enthroned as king for ever.
Acts 10: 34-38
Then Peter addressed them, 'I now really understand', he said, 'that God has no favourites, but that anybody of any nationality who fears him and does what is right is acceptable to him.

'God sent his word to the people of Israel, and it was to them that the good news of peace was brought by Jesus Christ—he is the Lord of all. You know what happened all over Judaea, how Jesus of Nazareth began in Galilee, after John had been preaching baptism. God had anointed him with the Holy Spirit and with power, and because God was with him, Jesus went about doing good and curing all who had fallen into the power of the devil.
Luke 3: 15-16, 21-22
A feeling of expectancy had grown among the people, who were beginning to wonder whether John might be the Christ, so John declared before them all, 'I baptise you with water, but someone is coming, who is more powerful than me, and I am not fit to undo the strap of his sandals; he will baptise you with the Holy Spirit and fire.
Now it happened that when all the people had been baptised and while Jesus after his own baptism was at prayer, heaven opened and the Holy Spirit descended on him in a physical form, like a dove. And a voice came from heaven, 'You are my Son; today have I fathered you.'
Baptism of the Lord
January 10, 2010
INTRODUCTION
– (Isaiah 42:1-4, 6-7; Acts 10:34-38; Luke 3:15-16, 21-22) Many kings, prophets, and holy people served God in Old Testament times, and must have pleased God by their holy lives; however, in four places in the book of the prophet Isaiah, God speaks of someone with whom he is especially pleased. This servant is not identified by name and, because the passages are poetic in form, they are usually referred to as the servant songs. They were written about 500 years before Christ. Perhaps the passages refer to someone who was alive at the time of the prophet, but what is amazing is how perfectly they describe Jesus – even 500 years before he was born.

HOMILY

– I'm sure everyone has their Christmas decorations down by now – except the Church. The Church continues to celebrate the feast of Christmas and Epiphany until the feast of the Baptism of our Lord, which is today. The word Epiphany means to reveal or to show something. God began to reveal his Son to the world with the coming of the magi, but for those who came to Mass during this past week, each day's gospel tried to show the uniqueness of Jesus. Today with the baptism of Jesus, God reveals that Jesus is filled with the Spirit and is God's beloved Son with whom God is greatly pleased.

The image that most caught my attention in reading today's gospel is when St. Luke tells us "heaven was opened." This has great symbolic meaning. St. Mark uses a stronger term in his account of the baptism of Jesus when he says, "the heavens tore apart." The Greek word Mark used is (schidzo), a word that means "to divide by use of force, split, tear off or tear apart. This word is part of our English words: schism, schismatic, schizoid and schizophrenia.

This is why this image struck me. When we think of God, we think of him being up there and we're down here and there is always a cloud that seems to hide him from us. The clouds symbolically formed a barrier between God and us. And in many ways that's true. God is so far beyond our ability to know or understand. When the Second person of the Blessed Trinity took on our human flesh in the incarnation, the heavens were torn open. Earth was united with heaven, the barrier between God and ourselves no longer existed. When the Son of God took on our human nature, he became like us in every way except sin (as St. Paul tells us). He came to bridge the distance between God and us, and to make it possible for us to know him in a close and intimate way. We still have a long way to go in our relationship with God, but the way has been opened up for us to keep growing closer and closer. That way is Jesus.

Let me talk about how our own baptism fits into this picture. Human life begins approximately nine months prior to the birth of a child, from the moment a human egg is fertilized. Not knowing exactly when this event might occur, for millennia we have celebrated the beginning of a child's life on its day of birth. A child prior to birth is just as human as a child who has just been born, but many people refuse to accept this. Nonetheless, when human life begins, that life is the highest form of life on this planet, endowed with unalienable rights among which are life, liberty and the pursuit of happiness.

When a person is baptized, something really marvelous happens. The baptized person is lifted up to a higher level of life. He or she remains human but is made more than human. God reaches out and makes this human person his own child. We use the term "reborn." That word is literally true. God could say over the person newly baptized, "you are my beloved child. On you my favor rests." St. John says it clearly in his epistle, "See what love the Father has given us, that we should be called children of God; and that is what we are." (1 Jn 3,1) At baptism the heavens are torn open, heaven is joined to earth and the barrier between God and the one who was baptized in essence no longer exists. I say "in essence" because "in everyday experience" there is still quite a distance between God and us. The word "reborn" can help explain that reality. When a child is born, there is a lot of work ahead for the child and its parents before a person attains full maturity as a human being. Also, when we're reborn into God's life, there is a lot of work ahead for the person who has been reborn and its parents before that person attains full maturity in Christ. Birth and baptism are both indeed miracles, but both are just a beginning.

Probably most of us seldom think of baptism and what a wonderful gift of life God gave us in baptism except on a feast like we are celebrating today or at an occasional baptism of a relative. But there are things to remind us of the sacrament, such as blessing ourselves with holy water when we enter church or the baptistery and Paschal Candle here in the sanctuary. Often we do not think of this but what we do every time we come to Mass is to renew the grace of baptism, to accept again the privilege of sharing God's life, to have that life be nourished and strengthened by God's word and by receiving Jesus' body and blood in Communion. At Mass we renew our desire to live faithfully as God's son or daughter.

The Second Person of the Blessed Trinity, the Son of God, was God from all eternity and when the Son of God took on human flesh in Jesus, he was God's Son from the moment of his conception. So Jesus' baptism did not make him any more God's Son or any more filled with the Holy Spirit than he already was. When Jesus was baptized, the Father and the Spirit demonstrated what had always been. But when we are baptized we are significantly changed, we are made infinitely more than what we were. May God help us live up to our high calling. Amen.



Please pray for Gene, Dan, Beth, Doris,
Amanda, Betty, Adeline, Jimmy, Andrew,
Monsignor and all the people.
For a limited time only

24" Pilgrim Virgin Fatima Statue without crown
w/glass from image face

Extended Sale -

$175 plus shipping

while supplies last

Get a canvas print of Mary's image with
a sliver of glass and a little bottle of
Jesus and Mary water.

The glass will be fixed behind the
back of the picture.

Cost — $200.00

Call Rosie

1-888-211-3041
Books written by the cofounder of Shepherds of Christ Ministries
Mass Book
A Journey Into the Heart of Jesus - Author: Rita Ring. Discerned by: Fr. Edward J. Carter S.J. Imprimatur
$ 12.00 plus postage

Mass Book, by Rita Ring: Many of the entries in the Priestly Newsletter Volume II from a spiritual journal came from this book. These entries
are to help people to be more deeply united to God in the Mass. This book is available in English and Spanish with the Church's Imprimatur.
$12
Rosary Meditations for Parents and Children, by Rita Ring, Short Meditations for both parents and children to be used when praying the
rosary. These meditations will help all to know the lives of Jesus and Mary alive in their Hearts. Available in both English and Spanish with
the Church's Imprimatur. $10
God's Blue Book I
Teachings to Lift You Up. Author: Rita Ring. Discerned by: Fr. Edward J. Carter S.J.
$ 10.00 plus postage

God's Blue Book I by Rita Ring. Open Anywhere — This book will change your life. These are beautiful love letters to us from Jesus. A million books have been printed and circulated. Jesus loves us so much — He wants a personal relationship with us — He wants us to go to the Eucharist and be with Him before the tabernacle. $10
God's Blue Book II
The Fire of His Love. Author: Rita Ring. Discerned by Fr. Edward J. Carter S. J.
$ 10.00 plus postage

God's Blue Book II by Rita Ring. Letters from Jesus about His on fire love — Jesus wants this great intimacy with us — On fire love — Personal love letters from Jesus about the love of His Heart — A book on surrender Fr. Carter said! $10
God's Blue Book III
Love God, Love One Another. Author: Rita Ring. Discerned by Fr. Edward J. Carter S.J.
$ 10.00 plus postage

God's Blue Book III by Rita Ring. Fr. Carter's favorite book — It is about loving and forgiving each other — Being pure in heart — A book for unity in family, community, in life!! $10
God's Blue Book 4
The Love of the Hearts of Jesus and Mary Author: Rita Ring
$ 5.00 plus postage

God's Blue Book IV by Rita Ring. This book is about the love Jesus has for Mary and Mary has for Jesus and Jesus and Mary have for us — It is truly the Love of the Two Hearts. Mary appeared every day at the Holy Spirit Center — Fr. Carter was there. Mary's first apparition July 5, 1994. $5
God's Blue Book 5
So Deep Is the Love of His Heart. Author: Rita Ring.
$ 5.00 plus postage

God's Blue Book V by Rita Ring. Jesus wants to be the bridegroom of our soul — He is our beloved — Jesus tells us about pure love — how we are to be pure of heart and love God and love others. It is a must, to hear about love from Jesus — Jesus is love — $5
God's Blue Book 6A by Rita Ring. Rosaries from Their Hearts during apparitions. Jesus and Mary appeared every day and I received rosaries from Them and They were transcribed from a tape. Also messages of love from Jesus on days of January, 1995 — About Baptism — writings from Fr. Carter and the Scriptures. $10
God's Blue Book 6B by Rita Ring. Jesus and Mary appeared every day in February, 1995 — So beautiful — transcribed from a tape — the Stations, 7 Sorrows, prayers in the Prayer Manual, the Holy Spirit Novena Book and the Song Book. Pure love — loving and forgiving — a book about Jesus' love, baptism, grace and Fr. Carter's Newsletter. $10

Rosaries from the Hearts of Jesus and Mary Book 1. Mary appeared in Clearwater December 17, 1996 in rainbow color and these rosaries left the printer the same day from Apparitions of Jesus and Mary — transcribed from a tape. $10
Blue Rosary Book
Rosaries From the Hearts of Jesus and Mary - Volume II
$ 12.00 plus postage

Rosaries from the Hearts of Jesus and Mary Book 2. This is a book of so many rosaries - transcribed from a tape. So many beautiful rosaries. pages $12
Short Rosary Meditations for the Elderly, Ill and Homebound. This book is so important with pictures they can open it and lay it on their laps and pray the rosary. $10
Messages From Jesus
Given by Jesus to His Messenger Author: Rita Ring. Discerned by: Fr. Edward J. Carter S.J.
This book is 8 1/2" by 11" and you can open it up and sit it on your lap.

$ 10.00 plus postage

Messages for the Elderly, Ill and Homebound. This is a big book of loving messages for nursing home people and homebound from Jesus and Mary — Their lives are so important — united to the Mass offering up their suffering, their lives for the souls of this earth. $10
Daily Messages from Heaven. First book of Daily Messages. $10
Color the Lives of Jesus and Mary. Volumes 1 through 7. Coloring books and meditations for grade school children and others on the mysteries of the rosary - really good. $5 each.
Coloring the Lives of Jesus and Mary Books 6 and 7
Mysteries of Light
$ 5.00 each plus postage

Color the Lives of Jesus and Mary. Volumes 6 through 7. Coloring books and meditations for grade school children and others on the mysteries of the rosary - really good. $5 each.

God's Blue Book I on CD, Disk #1
God's Blue Book I, Disk #1 Read by author: Rita Ring. Discerned by: Fr. Edward J. Carter S.J.
$ 10.00 plus postage