Mary has requested that the daily message be given each day to the world. It is read nightly at the prayer service from her Image Building in Clearwater, Florida, U.S.A. This is according to her request. All attempts will be made to publish this daily message to the world at 11 p.m. Eastern time, U.S.A.

---

We acknowledge that the final authority regarding these messages rests with the Holy See of Rome.

---
---

A Prayer for Intimacy with the Lamb, the Bridegroom of the Soul

Oh Lamb of God, Who take away the sins of the world, come and act on my soul most intimately. I surrender myself, as I ask for the grace to let go, to just be as I exist in You and You act most intimately on my soul. You are the Initiator. I am the soul waiting Your favors as You act in me. I love You. I adore You. I worship You. Come and possess my soul with Your Divine Grace, as I experience You most intimately.
---
Messenger: Include Our Lady of the Holy Spirit Center in 6:20 prayers.
---
Messenger: Please pray for 5 urgent intentions!
---
Messenger: WE URGENTLY NEED FUNDS TO PUT OUT THE NEXT NEWSLETTER, PRAY FOR THIS AND FOR THE NEWSLETTER AND ALL INVOLVED.
---
Messenger: Our Lord has asked us to pray for a special priest and three other special priests and His designated priests.
Please pray for the priestly newsletter and for the intentions on the prayer list at the end of the message.
---
Messenger: We see many times as through tainted glasses.
Often we do not even realize we do not see so clearly.
In this message I received January 20, and January 21, 1996, I received deep insight into oneness.
I knew suffering for lack of oneness with each other and with God at the Mass.
At a 4:00 p.m. Mass on Saturday, January 20, 1996, I was given a light and a vision of the depth of oneness God wants for His people at Mass. I cried so hard. They looked so stiff-necked in the pews.
The depth of unity God wants for the members of the body of Christ we do not comprehend.
He can envelope us with His grace and give us such a light we can see so clearly a little glimpse of the depth of God's love. We can experience in a small way what God means when He says "the fire of God's love."
We can be so blind we do not even know the great gifts God is giving to us in the Eucharist.
We may not even realize how important Baptism is and what a gift it is.
I received these messages January 20 and 21, 1996. I suffered so. I went to Our Lady of the Holy Spirit Center on a Sunday early on January 21, 1996 called by Our Lord and He gave me a vision and let me experience suffering for the lack of oneness in the world.
The light I was given concerning oneness is a part of the knowledge He has given to me to realize the importance of this mission to help lead men into oneness.
I was changed those two days from the knowledge given to me.
My heart suffers so for lack of oneness amongst men Ė amongst people in the churches, people in the world.
I remember these dates always for He opened up to me the light of knowing oneness. Giving me insight into how He wants it.
I cried and my heart was in such anguish I cannot describe it for the lack of oneness between people in the Church and the world.
I write from my heart, as a mystic, as one that has been given deep insights into the Divine Mysteries. It seems impossible to even try to describe what I know and yet my precious Jesus has asked me this January 20, 2001, 5 years later, to describe this here. Pray for grace to comprehend more what I try to describe.
I saw the priest and the people at Mass that January 20, 1996, and I knew the connection with the Father, Son and Holy Spirit and all the angels and saints. I knew more from the light given the depths of oneness He desires, and I could hardly stand the anguishing pain of the reality of what He wanted and how it could be and the blindness of us as we participate as "stiff-necks" many times in the Mass.
I cried so hard and my insides hurt like swords beyond belief knowing the reality of oneness and how He desires men to be united and participate in the Mass.
On the following morning January 21, 1996, Sunday, I cried from the depth of anguish within my heart as if I was in the most desolate garden. A garden we have here and yet it seems to be so many times treated like a parched desert.
Oh the fountain of His life that flows through His magnificent Church. The priest is the key, the instrument He uses to administer the Sacraments. The priests are His chosen, the anointed ones He calls and He loves them so much and He wants them to love Him as the most faithful spouse married to God.
Oh if the glasses clouded with such a haze were removed and we would see as I saw those two days.
Oh the love He desires of these chosen men and He cries for us to reach them.
I beg of you to help me reach them as He implored of me those two days, January 20 and 21, 1996.
I suffered so bad every year after that January 20 and 21. I would cry to Father Carter how I anguished for the lack of oneness in the world.
It was anguishing pain to know the depth of His love and oneness and to suffer so for lack of it.
And what is hell, but lack of oneness?
What is hell, but isolation.
What is hell? It is hell!
We were created to be one.
Here is an excerpt from the prayer of Jesus before He was led off to His bitter Passion. (Read all of John 17)
I quote here a portion Ė John 17: 20-26.
---
John 17: 20-26

I pray not only for these
but also for those
who through their teaching
will come to believe in me.
May they all be one,
just as, Father, you are in me
and I am in you,
so that they also may be in us,
so that the world may believe
it was you who sent me.
I have given them the glory
you gave to me,
that they may be one as we are one.
With me in them and you in me,
may they be so perfected in unity
that the world will recognise
that it was you who sent me
and that you have loved them
as you have loved me.

Father,
I want those you have given me
to be with me where I am,
so that they may always see my glory
which you have given me
because you loved me
before the foundation of the world.
Father, Upright One,
the world has not known you,
but I have known you,
and these have known
that you have sent me.
I have made your name known to them
and will continue to make it known,
so that the love with which you loved me
may be in them,
and so that I may be in them.

---
Messenger: Go to the Heart of Jesus and ask for grace to experience some of the emotion He felt as he spoke this prayer before He was led off to His bitter Passion. Go to the depth of His Heart and ask to understand more fully the Passion of the divine Savior. Ask for the grace for men to understand oneness and love and the wonders of the Mass.
The Mass unites us. The Mass is a gift given. From the Church flows the graces our hungry souls crave. The priest is the key to help us to receive graces flowing to us through the Church in the Mass and through the Sacraments.
Oh my beloved priests, I love you so much. My God has imprinted on my soul knowledge of the depth of His love for you.
The anguish I suffered every January 20 and 21 is so great and I cried every year so hard on these dates for the lack of oneness in the world. The very mention of these days makes my heart feel as if it is pierced with a sword because of the anguishing pain. I would cry to Father Carter and he knew the dates so well.
Now I cry to you and I present the messages I received from Jesus on those two days.
Please read them from the depth of your soul and hear Jesus cry out to you.
Please help me with the priestly newsletter and getting the prayer manual praying for the priests, the Church and the world in the hands of the priests. We are printing 100,000 prayer manuals to go with this mailing to priests and sisters all over the world.
We need tapes to circulate too. We make the newsletter available on tape. A priest will help me read this newsletter on tape for the priests requesting it.
Father Carter himself will be on the tape delivering the prayers Jesus gave him and the scripture John 10:11-15 from the newsletter.
I include the scripture here, the way Father Carter opened every newsletter.
---
John 10: 11-15
I am the good shepherd:
the good shepherd lays down his life
for his sheep.
The hired man,
since he is not the shepherd
and the sheep do not belong to him,
abandons the sheep
as soon as he sees a wolf coming,
and runs away,
and then the wolf attacks
and scatters the sheep;
he runs away
because he is only a hired man
and has no concern for the sheep.
I am the good shepherd;
I know my own
and my own know me,
just as the Father knows me
and I know the Father;
and I lay down my life for my sheep.
---
Messenger: Father Carter read the newsletter on tapes for the priests.
Please pray for the newsletter and the funds and all involved. Please help us if you can to finance this. Father Carter worked those last sick days on this newsletter. He wanted it out in January. In the newsletter we tell the priests about Father Carter's death. We write about the Morning Offering. We present the prayers and the section on Grace written by Father Carter in Response in Christ. Father Carter wished we do this. Jesus told us to continue the writings of Father Carter in the newsletter. Father Carter told us how to do this.
Please help us. This newsletter will be available on tape. We will put the prayers in the prayer manual recited by Father Carter on the tape. Another very holy priest will read Father Carter's writing on Grace.
Please help us do what Jesus has asked us to do to reach the 70,000 priests in more than 90 countries and a new listing of so many sisters and what Father Carter asked us to do.
Please pray for this and all involved.
Here are the messages Jesus gave to His beloved priests and to me on January 20, 1996, and January 21, 1996.
Five years later, I ask you to help me.
Jesus told me to put this on the Internet today.
He speaks to you.
As we deliver His message to the priests in the newsletter and give them His prayers, we are answering Jesus' call to us.
I love you, I am a messenger of God.
---
January 20, 1996 - After Communion
Jesus speaks: My beloved priests:

I love you with the deepest love. Many of you are going through motions. Your hearts are cold and you have turned yourselves to the things of this world.

I came to you with a kind and loving heart and I am rejected by My beloved chosen ones.

I call you to love, to a deep love affair with Me. How My Heart bleeds for the indifference and coldness of many of My priests.

I call you to love Ė to giving of yourselves, to consecration to My Heart and the heart of My Mother.

I suffered so through My Passion, but My greatest agony was from the coldness and lack of love I received from My beloved priests.

I beg you, My child, to speak to My priests, to speak to all who will listen about My burning love. I give to you great graces that you may deliver the messages of Our love for this world.

I will shelter you in My Heart and lead you on your way to speak to the religious about the Mass.

I call you to speak and to sing My songs of love.

How I love you. I have chosen you. I am asking for your selflessness to respond to My request. Speak Ė I speak in you. Love, Jesus
(End of January 20, 1996, Message)
---
January 21, 1996 - 6:00 a.m.
Jesus speaks: How My Heart ached for the rejection of those I loved so dearly, some of My beloved priests and religious. I am espoused to them in a special way, and I am treated with such disrespect and irreverence by many of them. They wear the titles, "Father" and "Sister" and do not even come to Me.

It is being loved by an unfaithful spouse. They are busy for their own self-gratification and have forgotten the great title I have bestowed on them.

They do not see how favored they are by Me, the Almighty God. They seek their love from all other sources.

| | | |
| --- | --- | --- |
| | | How it offends My aching Heart! The thorns that surround My Heart pierced deeply because of the indifference of some of My beloved priests and sisters. |

It is through their love I give such love to My flock and the devil has led them astray. My flock is withering and dying in their hearts for many of My chief shepherds have gone astray.

I beg, beg, beg you to speak to the priests and religious, to spread My Second Blue Book to all priests. Do not worry about the funds. My flock is dying from within. Their hearts have shriveled within their chest. They go through motions.

Do the priests stand before the people and preach the love of God from their hearts or from their mouths?

The love given to Me from My religious is so shallow. I am rejected entirely by many, yet they continue to administer the Sacraments and carry their titles. They do not realize the great honor that is given to them!

You suffer the pains in My Heart for My beloved religious. The rejection, the busyness, the lack of love Ė how this offends My tender Heart.

The religious are My chosen ones. I picked them and gave them My tenderest love. Some have hearts that have turned to ice.

The priest is the key to spreading the messages of My burning love in the Church. Many speak without emotion for in their hearts they are dead. They do not fill their own hearts with the love of God. They try to fill their hearts with the world and speak about the love of God.

I lament the lack of love from My chosen priests. The families come, the hungry souls come to be fed and many priests do not feed their hunger.

I love, I love so deeply My beloved religious. I cry out to spread these messages of My burning love.

They are going through motions. My beloved flock comes to My altar with cold hearts. Many priests are cold in their hearts. The world is cold in their heart. The families that go to church are not being fed with messages of My burning love.

Mass after Mass, after Mass is said lacking emotion. Where are the hearts that empty themselves? Please circulate the messages about the Mass. When will the time be right?

I am the Way, the Truth, and the Life. Unless the messages of My burning love are transmitted in the Church the bloodshed will continue. Your Church bears the marks of sin and suffering. My love, burning and on fire is the mighty medicine for the sick world and the Church. I beg you to circulate these messages on the Mass and the rosary. I am Jesus. My souls are hungry and begging to be fed.

Pray for the priests as never before. Satan has waged a war against the priesthood. Priests and religious need to have a devotion to My Sacred Heart and My Mother's Immaculate Heart. Until hearts are consecrated to Our Hearts there will not be peace in the world. Consecrate your homes and your hearts to the Sacred Heart of Jesus and the Immaculate Heart of Mary.

I love with the deepest burning love. I want hearts that love Me with a deep, burning love. Come to Me and I will teach you about love. Go to the world and you will be taught the things of the world. The hearts of many of the members of My Church have turned cold. Give them the messages of My burning love! Little children need to know how I love them! What good is it for a man to run down a road that leads nowhere?

I am the Way. I am the only way. Life is not life if it is not rooted in Me.
(End of January 21, 1996, Message)
---
Isaiah 62: 1-5

The splendour of Jerusalem

About Zion I will not be silent,
about Jerusalem I shall not rest
until saving justice dawns for her
like a bright light
and her salvation like a blazing torch.
The nations will then see
your saving justice,
and all kings your glory,
and you will be called a new name
which Yahweh's mouth will reveal.
You will be a crown of splendour
in Yahweh's hand,
a princely diadem in the hand of your God.
No more will you be known as 'Forsaken'
or your country be known as 'Desolation';
instead, you will be called
'My Delight is in her'
and your country 'The Wedded';
for Yahweh will take delight in you
and your country will have its wedding.
Like a young man marrying a virgin,
your rebuilder will wed you,
and as the bridegroom rejoices in his bride,
so will your God rejoice in you.
---
---
Messenger: LIVE ROSARIES Please call the Morrow Center at 1-888-211-3041 for more information. Prayers begin at 6:20 p.m. unless otherwise indicated.
Tuesday, January 23, 2001 - Sidney, Ohio.
Tuesday, January 30, 2001 - Iowa City, Iowa. Prayers begin at 5:20 p.m. Central standard time.
Monday, February 5, 2001 - Clearwater, Florida.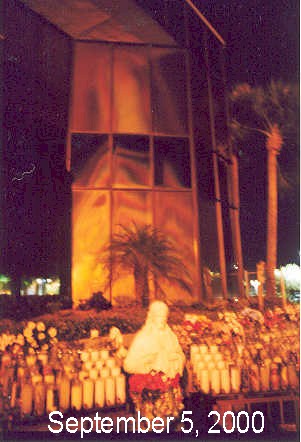 ---
Excerpt from January 10, 2001, Daily Message
Messenger: My dear apostles and donors,

I give my heart to Jesus and Mary with you in love. Father Carter has majorly affected all of our lives. The mission given to him (Father Carter) by Jesus is major to help bring about the renewal of the Church and the world.

Father Carter told me to put out the newsletter in January 2001. The 33 newsletters are not the complete picture of his writings. He has written seventeen books. His writings give deep insight into the divine mysteries.

His writings centered in consecration are a big part of God the Fatherís plan to help bring about the Reign of Jesus' Sacred Heart and the mission Mary began at Fatima to help bring peace to the world.

The prayer chapters Father Carter began were to pray for the priests, the Church and the world.

It is absolutely essential we continue the newsletter with Father Carterís writings; this was his desire.

It is absolutely necessary we tell the 70,000 priests about his death.

Funds are needed to pay off the last newsletters and pay for this one.

Father Carter gave his life for this mission, his last newsletter was to ask for funds to help support it. And I quote from Father Carter's last newsletter.

---

Letter written by Father Edward J. Carter S.J. for Shepherds of Christ priestly newsletter, Issue 4, 2000

CAN YOU HELP US?

As you know, we distribute the Newsletter free of charge. We have been publishing the Newsletter for six years. Although the fine print on the last page of each Newsletter says that donations are always welcome, we have, to this date, only made one major appeal for donations.

Now we come to you again and ask for your financial assistance. It is considerably expensive to print the Newsletter and to mail it here in the U.S.A. and to other countries around the world. With our English and Spanish editions, we send the Newsletter to readers in about 90 countries. We soon hope to add a French edition.

With the help of Godís grace, the Newsletter seems to be accomplishing much good. The numerous letters we receive from around the world regarding the Newsletterís helpfulness are one indication of this.

If you share with us our belief that the Newsletter is a very worthwhile ministry, we urgently ask you to seriously consider sending us a donation. We are always struggling to obtain the funds to continue publication of the Newsletter.

If you are financially able, we would be extremely grateful to receive your donation -- whether it is small, large, or medium-sized! We thank all of you who have previously sent donations.

Some of you may know of possible benefactors who would be interested in helping a worthy cause. And we firmly believe that a ministry which offers an aid for spiritual growth to priests especially, but to others also, is a most worthy endeavor.

For your convenience, we have enclosed a self-addressed donation envelope.

Very importantly, we also ask for your prayers that we may obtain the funds necessary to continue publication of the Newsletter and that the Newsletter will be spiritually beneficial to its readers. We hope to continue to publish it four to six times a year. The number of issues will depend upon various factors. Thank you very much for your attention to our urgent plea.

(End of Letter written by Father Edward J. Carter S.J.)

---

Messenger: In this new newsletter we will begin with the Morning Offering telling about Father Carterís death and then the prayers that Jesus gave to us to spread prayer chapters. The newsletter includes a most powerful extensive writing of Father Carterís on Grace.

This newsletter can help change the face of the earth as people pray the Morning Offering and the prayers Jesus gave to Father Carter for the priests, the Church and the world, great grace can be released on the earth. Only Godís grace will help change the hearts.

Reaching the priests with this information is crucial in getting the prayer manual in the hands of the priests.

Father Laurentin recently did an article on Clearwater, Florida, which included the information about the Morning Offering and several messages I received from Mary. It was written in French. Also it included pictures of the site in Florida. He sent his regrets to me about Father Carterís death.

We need help to do as Father Carter wished. He asked that this newsletter be put out in January.

He spent his very sick days after chemo helping to prepare this for this publication.

His birthday is January 15.

Father Carter was very upset because we struggled so much for funds to do the 20 page newsletter.

We still owe on the last newsletter. Father Carter wrote the article about money and told us to include a donation envelope.

God the Father was angry when we did not receive help for the 20 page newsletter.

Can you please help us?

The day after that, I received the letter from Father Laurentin and the magazine with the Clearwater, Florida, pictures and article. Father Laurentin wrote a letter of sympathy regarding Father Carterís death.

Please help us.

Jesus gave me a strong message today to get the newsletter out immediately.

Please help us for all Father Carter did to help change your life.

I love you,

The Messenger

Here is a letter Father Carter received about the newsletter.

---

Excerpt from priestly newsletter, Shepherds of Christ, Issue 4, 2000

Dear Father Carter,

For years I have received Shepherds of Christ Newsletter; I do not know who put me on your mailing list, but Iím grateful to you both. Since I first began to receive the newsletter I have been assigned as the Director of Formation Advising for the Pontifical North American College in Rome.

I would like to know if it would be possible to make a bulk order so that our seminarians could benefit from the newsletter as well. I will make sure they are distributed to our seminarians. At present we have about 200 seminarians and student priests on our campus, all eager for good spiritual reading!

Please let me know if we can make an arrangement for the delivery of the newsletter here at the college.

Please keep our faculty and seminarians in your prayers.

Sincerely yours in Christ,

Rev. J. Mark Williams
Director of Formation Advising
Pontifical North American College
00120 Vatican City State

(End of excerpt from priestly newsletter, Shepherds of Christ, Issue 4, 2000)

---
(End of excerpt from January 10, 2001, Daily Message)
---
Mary's Message from the Rosary of August 27, 1996
Mary speaks: I stood beneath the cross of my Son, and my Heart was in such pain for I saw Him before my eyes. I saw Him covered with blood. I saw Him die. My Heart, my children, my Heart to watch my Son, but my Heart, my Heart, how I suffered for my little children of the world that give in to this world and give up the love of my Son. O my little children of light, I give you this message. Carry this light into the darkness for your Mother Mary, for I stood beneath the cross and I cried. I cried for the little ones. I cried for the young ones, the ones that do not care and will lose their souls. How do I make you see for you will not listen to me? What can I do? I come. I appear. I beg. I plead. I give you these gifts from my Son, and you reject me. I do not deliver messages very often anymore for I have been ignored. The message is the same. You do not read the messages I have given to you. Please help me. Help the little children. I appear. I appear. I appear, and I am ignored. I stood beneath the cross, and I cried. I cried, and my Heart was in such anguish for my little children, for I am searching for them this day as I searched for the Child Jesus. Please, please help me. I cannot hold back the hand of my Son any longer. I am Mary, your Mother. I ask you to help my children. You are my children of light.

Song: O Lady of Light, shining so bright, be with us this day, guiding our way, O Lady, O Lady of Light.

Mary speaks: I appear to you as Our Mother of Sorrows.
(End of Mary's Message)
---
A rosary can be used to pray for healing. It is powerful to unite our prayers to the Holy Sacrifice of the Mass and pray through the powerful intercession of Our Lady of Clearwater.
In times of trouble, for special prayer, we can use our rosary and pray as follows.
A Rosary for Healing or for Someone with Cancer.
On one Hail Mary bead or as many as you desire, say:

May God heal through the intercession of Our Lady of Clearwater in union with the Mass and all the Masses being celebrated around the world.

Pray the Hail Mary or Hail Mary's then pray this after the Hail Mary.

May the cancer be uprooted and thrown into the sea.

We believe with all our hearts.

After the Glory Be ó pray the following petition.

May be healed through the intercession of Our Lady of Clearwater if it be the holy will of God.
| | | |
| --- | --- | --- |
| | Note: You can look at Mary on the image rosary while you pray this rosary. | |
Note: The above section can be printed out from a PDF file, and you can pray the rosary looking at the pictures.
---
December 17, 2000, Mary speaks:

Help me to circulate my red and blue
Rosary Books and the
prayers my Son gives to you.

This is a gift we give you.
All the revelations are gifts given to you.
My Son is the Light of the World.
He is Jesus born in a stable.
Will you help me?
He is the Light of the World. Help me, help me
reach my children of the world.
To order your Rosary Book fill out this form and send your donation to Shepherds of Christ Ministries, PO Box 193, Morrow, Ohio 45152-0193, Telephone: (toll free) 1-888-211-3041 or (513) 932-4451.

Name: _________________ Street: _____________________________

City: _________________ State: _________________ Zip: ________

Donation price: $7

A $15 A $25 A $50 A $100 A Other $_____ A
---
Messenger: Mary wants the Red Rosary Book printed. It will cost $12,000 - $14,000 to get them reprinted. We are out of Red Rosary books. Mary has asked us to always circulate them. They go with the apparition in Florida.

Messenger: The new Blue Rosary Book Volume II of Rosaries from the Hearts of Jesus and Mary has been printed. It cost $21,000. Please pray with us for funds.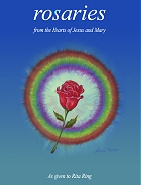 ---
Messenger: CAN YOU HELP US BY GIVING US ROSARIES FOR THE SCHOOLS REQUESTING THEM?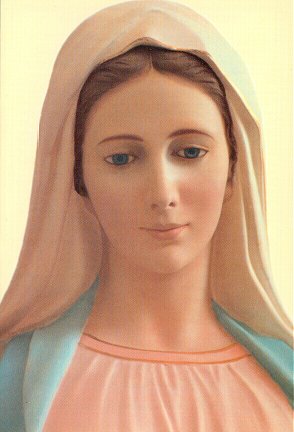 Mary speaks: PLEASE MAKE WALTER'S ROSARIES. THE SCHOOLS WANT ROSARIES AND THERE ARE NOT ANY ROSARIES LEFT.
---
Messenger: Pray for Perry, Ron, Fernando, Hank, Ed.
---
Prayer List for apostles for interior use in the Movement. Pray hourly.
Spread the Blood of Jesus on everyone, consecrate their hearts, cast the devil out, pray for coming of the Holy Spirit in a special way for all people involved on this list.
Pray for the priestly newsletter, for funds for it and for all involved.
Pray for the taping of the priestly newsletter.
Pray for Father Carter and the Jesuits, the people at Colombiere.
Please pray for one new very important intention.
Pray for all involved in buying the building.
Pray for 2 special priests.
Pray for designated priests, Fr. Mike, Fr. Joe, Fr. Lou B., Fr. Smith, Fr. Ken, all priests involved in the Imprimaturs translations including all bishops. Pray for Bishop Ed, Fr. Don, Father at Tuesday Masses, Fr. Tom, Fr. Bill, all priests involved with Walter, Fr. Hagee and special priests, priests who help us in China, and priests who help us in Florida.
Pray for Father's sister Merle, for all of us servants, handmaids, apostles and vocations to all 7 categories.
Pray for prayer book.
Pray for all book covers, pray for Cathy.
Pray for all translations and all involved.
Pray for the elected officials.
Pray for an audience with the Pope.
Pray for all Jesuits involved, all those over us. Pray for the 4 urgent intentions.
Pray for the rights to the books.
Pray for the process of getting Father's books on the Internet.
Pray for money to reprint the books.
Pray for the Imprimatur on the Priestly Newsletter Book II.
Pray we can send it to all bishops and Jesuits.
Pray for Perry and family and discernment.
Pray for all sub-centers and all out-of-state rosaries.
Pray for the sisters' mailing, nursing home mailing, bus mailing.
Pray for Rosary Factory.
Pray for Genevieve's daughter and Sheila's mom and the repose of the soul of Jerry's dad, Bernice's daughter.
Pray for Paul and Joan discernment.
Pray for B & M and Tina and Terry, all printing jobs, companies involved.
Pray for 5th, the 13th, the 17th.
Pray for the Internet team and the daily messages.
Pray for building up of Morrow, Ohio, Dale, Indiana, other sub-centers.
Pray for the Holy Spirit Center and all involved.
Pray for all our families, children in school, college mailing.
Pray for lots of rosary makers and rosaries for the schools.
Pray for funds and grace.
Pray for Paul C., Margaret Mary, Steve and Sheila, Monica, Angie, Marian, Cathy, Joe, Nick, Mary, Emily, Joe, Doris, Glaci, Dunkers, Joan R., Morgan, Mark, Walter, Janice, Mike A., Margaret, Ron, Harold, Scott, and Nathan.
Pray for Fred doing the paper and all involved in priestly "start-up".
Please pray for all Shepherds of Christ children.
Pray for Victor's son, Michael. (Victor and Frances)
Pray for Delores and organization of writings and other material.
Pray for Diane A.'s dad.
Last revised January 19, 2001
---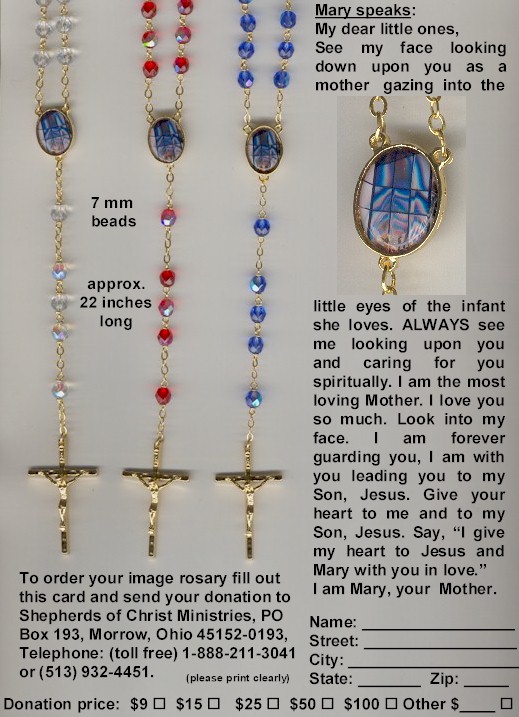 (Please copy and pass out to family and friends.)
---
MY VALENTINE FOR JESUS AND MARY
AND THE WORLD

I _________________ give my heart to
You Jesus and Mary on this day
_________________
I promise to help spread the devotion to
the Hearts of Jesus and Mary.
---
Question for married couples and others in intimate relationships:

Q: When I feel tired and hungry, how can I continue to be loving to you?
---
---
---
Copyright © 2000 Shepherds of Christ.
Rights for non-commercial reproduction granted:
May be copied in its entirety, but neither re-typed nor edited.
Translations are welcome but they must be reviewed for moral and theological accuracy by a source approved by Shepherds of Christ Ministries before any distribution takes place. Please contact us for more information.
All scripture quotes are from the New Jerusalem Bible, July 1990, published by Doubleday.
Revised: January 20, 2001
URL: http://www.SofC.org
Contact Information for Shepherds of Christ
Email: info@SofC.org
---
Shepherds of Christ Ministries
PO Box 193
Morrow, Ohio 45152-0193

Telephone: (toll free) 1-888-211-3041 or (513) 932-4451
FAX: (513) 932-6791