ROSARIES
from the Hearts of Jesus and Mary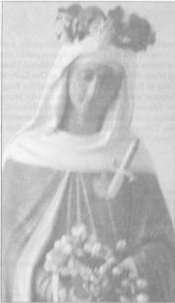 as given to
Rita Ring

Shepherds of Christ Publications
Morrow, OH
---
In conformity with the decrees of Pope Urban VIII, the Publisher recognizes and accepts that the final authority regarding all messages rests with the Holy See of Rome, to whose judgment we willingly submit.
-The Publisher


This book is published by Shepherds of Christ Publications, a subsidiary of Shepherds of Christ Ministries, a tax exempt religious public charitable association organized to foster devotion to the Two Hearts, the Sacred Heart of Jesus and the Immaculate Heart of Mary. Messages were given at Our Lady of the Holy Spirit Center, Norwood, Ohio to Rita Ring, Marty Coby and the Ring children, Cathy and Joseph Ring. Messages were transcribed from tape by Marty Coby. Spiritual consultant was Father Edward J. Carter, S.J., spiritual advisor of Shepherds of Christ Ministries. Design: Larry Memering. Front cover artwork is by Harold Kellner, Sidney, Ohio. Title page photo is of Sorrowful Mother Statue, Our Lady of the Holy Spirit Center, Norwood, Ohio.

For additional copies, write to:
Shepherds of Christ Publications
P.O. Box 193
Morrow, OH 45152-0193

Biblical quotations have been taken from The New Jerusalem Bible, Doubleday, New York, N.Y., 1990.

Copyright © 1996 Shepherds of Christ Publications

ISBN: 1-887572-01-5

All rights reserved. No part of this book may be reproduced or transmitted in any form without the written permission of the publisher. For information contact Shepherds of Christ Publications.

First Printing: December, 1996
---
DEDICATION

To the Hearts of Jesus and Mary
and to Father Edward Carter, S.J.


---
IN APPRECIATION

I want to thank Jesus and Mary for these rosaries from Their Hearts for this world.


Special thanks to:

St. Michael for helping us to publish this book.
Fr. Edward Carter S.J. for attending the rosaries, putting in many hours of service, discerning these rosaries, and for his endless support and spiritual direction.
Fr. Smith and for all the blessings we received from Our Lady of the Holy Spirit Center.
Marty Coby for being my rosary partner and for her dedication to this rosary book.
Harold Kellner for his artwork and videotaping. I thank Harold and his wife for their support.
I want to thank Cathy and Joe Ring for attending all the rosaries daily during the fourteen months and Cathy for all her help with the publication of the rosaries.
Joe Lee for all his work in formating this music for publication. Mary has asked Joe to do this. It is a great contribution to this book.
Carol Kissinger, Ellen Sartori and Emily Lehrter for their secretarial assistance.
Chris Finkbone, Mike and Brian Arlinghaus for their help.
Tom Arlinghaus for his great friendship and support.
John Weickert, president, who has supported me and helped me to circulate the rosary aves to the schools.
Mary Rettig as school rosary coordinator.
And lastly, I'd like to thank my dear uncle Andrew Weber.
---
---

Copyright © 1996 Shepherds of Christ.
Rights for non-commercial reproduction granted:
May be copied in its entirety, but neither re-typed nor edited.
Revised: August, 1997
URL: http://www.Shepherds-of-Christ.org