January
20, 2013
January 21st Holy Spirit Novena
Scripture selection is Day 13 Period II.

The Novena Rosary Mysteries
for January 21st are Joyful.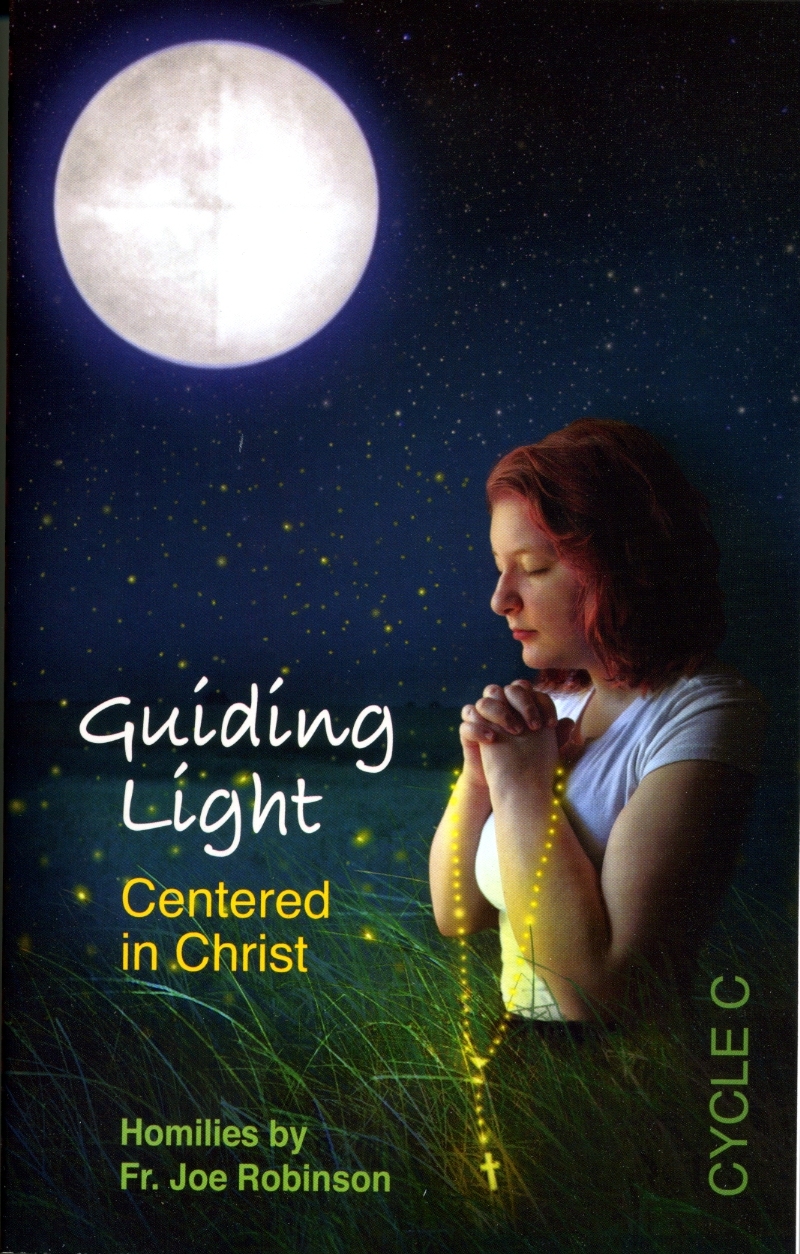 New Cycle C Homily Book Available
$15.00 plus postage
Call Rosie 1-888-211-3041
Help us get Fr. Joe's book to the priests.
We need postage money.
January 20, 2013

Isaiah 62: 1-5

The splendour of Jerusalem

About Zion I will not be silent,
about Jerusalem I shall not rest
until saving justice dawns for her
like a bright light
and her salvation like a blazing torch.
The nations will then see
your saving justice,
and all kings your glory,
and you will be called a new name
which Yahweh's mouth will reveal.
You will be a crown of splendour
in Yahweh's hand,
a princely diadem in the hand of your God.
No more will you be known as 'Forsaken'
or your country be known as 'Desolation';
instead, you will be called
'My Delight is in her'
and your country 'The Wedded';
for Yahweh will take delight in you
and your country will have its wedding.
Like a young man marrying a virgin,
your rebuilder will wed you,
and as the bridegroom rejoices in his bride,
so will your God rejoice in you.
1 Corinthians 12: 4-11

There are many different gifts, but it is always the same Spirit; there are many different ways of serving, but it is always the same Lord. There are many different forms of activity, but in everybody it is the same God who is at work in them all. The particular manifestation of the Spirit granted to each one is to be used for the general good. To one is given from the Spirit the gift of utterance expressing wisdom; to another the gift of utterance expressing knowledge, in accordance with the same Spirit; to another, faith, from the same Spirit; and to another, the gifts of healing, through this one Spirit; to another, the working of miracles; to another, prophecy; to another, the power of distinguishing spirits; to one, the gift of different tongues and to another, the interpretation of tongues. But at work in all these is one and the same Spirit, distributing them at will to each individual.

John 2: 1-11

On the third day there was a wedding at Cana in Galilee. The mother of Jesus was there, and Jesus and his disciples had also been invited. And they ran out of wine, since the wine provided for the feast had all been used, and the mother of Jesus said to him, 'They have no wine.' Jesus said, 'Woman, what do you want from me? My hour has not come yet.' His mother said to the servants, 'Do whatever he tells you.' There were six stone water jars standing there, meant for the ablutions that are customary among the Jews: each could hold twenty or thirty gallons. Jesus said to the servants, 'Fill the jars with water,' and they filled them to the brim. Then he said to them, 'Draw some out now and take it to the president of the feast.' They did this; the president tasted the water, and it had turned into wine. Having no idea where it came from—though the servants who had drawn the water knew—the president of the feast called the bridegroom and said, 'Everyone serves good wine first and the worse wine when the guests are well wined; but you have kept the best wine till now.'

This was the first of Jesus' signs: it was at Cana in Galilee. He revealed his glory, and his disciples believed in him.?
2nd Sunday in Ordinary Time
January 17, 2010

INTRODUCTION

– (Isaiah 62:1-5; 1 Corinthians 12:4-11; John 2:1-11) For almost fifty years the Jews were captives and exiles in Babylon (modern day Iraq). But then the Persians (modern day Iran) conquered the Babylonians, and they allowed God's people to return home. The Persians were even willing to give them financial aid to rebuild their Temple, their homes, their cities and their farms. The prophet in today's first reading announces this wonderful event that God would bring his people back home. During their exile God had not forgotten his people and would take his people back to himself as his bride. The image of God marrying his people is an important biblical image, found in several of the prophets, and is the best symbol from our human experience that can be used to describe the affection God has for us. This wedding image prepares the way for the gospel account of Jesus' first miracle at the wedding feast of Cana.

HOMILY

– Since our gospel is about a wedding, I want to start with a few quotes that offer some wit and wisdom about marriage. James Thurber said: "the most dangerous food is wedding cake." Ruth Graham said: "A happy marriage is the union of two forgivers." Lyndon Johnson: "Only two things are necessary to keep one's wife happy. One is to let her think she is having her own way; the other, to let her have it." Mignon McLaughlin: "A successful marriage requires falling in love many times, always with the same person." Joseph Barth: "Marriage is our last, best chance to grow up." Bill Cosby: "For two people in a marriage to live together day after day is unquestionably the one miracle the Vatican has overlooked." (quotes taken from Readers' Digest, 5/09, pg 184)

Since our gospel is about wine, I have a quote from Benjamin Franklin: "We hear of the conversion of water into wine as a miracle. But this conversion is, through the goodness of God, made every day before our eyes. Behold the rain which descends from heaven upon our vineyards; there it enters the roots of the vines, to be changed into wine – a constant proof that God loves us, and loves to see us happy." (from

Readers' Digest, 6/09, pg 159)

Making wine is a lengthy process; the miracle, of course, is that Jesus made the wine instantaneously, made it of such excellent quality and in such great abundance (120 to 150 gallons). What is the point of his doing that and what is the point of this story for us? John tells us it was a sign. So it's meant to tell us something. Let us explore what the sign tells us. It was not a sign that Jesus was opening up a new wine shop in the neighborhood. His mission would not be limited to time or place. As we sang in the psalm refrain, his mission was to all nations. God's people were always praying for and looking for the day when God would come to save his people. That day was often expressed in wedding imagery (as we heard in today's first reading) and an abundance of wine would mark the arrival of that day. I would like to quote from several places in the Old Testament where an abundance of wine would be a sign of God's coming as our savior. We read in Isaiah: "On this mountain the Lord of hosts will provide for all peoples a feast of rich food and choice wines, juicy, rich food and pure, choice wines; he will destroy death forever. The Lord God will wipe away the tears from all faces. On that day it will be said: 'behold our God, to whom we looked to save us!'" (Is 25:6, 9) Or again from Isaiah: "you who have no money, come, receive grain and eat; come without paying and without cost, drink wine and milk!" (Is. 55:1) Amos tells us: "The days are coming says the Lord, when the juice of grapes shall drip down the mountains and all the hills shall run with it." (Amos 9:13) In Proverbs we read about wisdom, personified as a woman who has built her house, dressed her meat, mixed her wine and has spread her table. She sends out her maidens and calls out to the city to all who would be wise and understanding: "come, eat my food, and drink of the wine I have mixed!" (Prov. 9:1-5) Overindulgence in alcohol is foolishness and destructive, but the Jewish people have always had one of the lowest percentages of alcoholism of all nationalities. They respect its power and thus it is for them a symbol of joy and celebration and, according to their Scriptures, it is a sign of the abundance of joy with which God would bless his people on the day of salvation.

But that's not all that the miracle tells us, for, as a sign it tells us a lot of other things, such as, it was a sign of who Jesus is. It was a sign of his unique person – as John's gospel tells us: "he revealed his glory and his disciples began to believe in him." It was a sign that he was the messiah who would bring God's blessing of salvation to all God's people. Since he would be a light to all nations, as is often spoken of him, it is not just the Jewish people who would share in God's blessings. He would be a blessing for all people who would follow him. Another meaning to this sign is that this would be the beginning of Jesus' saving work, a term described as his "hour." His work would lead to his execution and his resurrection as he well knew. Perhaps knowing what was ahead for him, Jesus wasn't in a hurry to begin his work. So when his mother, Mary, described the difficult problem of not having enough wine, his response was, "my hour has not yet come." Notice she didn't push him into anything, but she probably knew he would want to help this young couple who would have been dreadfully embarrassed if their celebration came to a rapid end. Mary just said to the servants, "Do whatever he tells you." (Good advice for any and all of us.) Another sign here for me is his interest in every detail of our own lives. Did he not tell us in another place: "Are not two sparrows sold for a small coin? Yet not one of them falls to the ground without your Father's knowledge. Even all the hairs of your head are counted. (Mt. 10:29) It was a sign he came to change things: he changed sick people into people who were well, he changed sinners into saints, he changed death into a pathway into everlasting life, he changed bread and wine into his body and blood. Finally, the miracle at Cana was a sign of the Eucharist, in which he would give his blood for us, his blood, which represents his life and his blessings that are offered to those who come to be nourished by him. Amen.

God's
Blue Book 9

The Mass and the Hearts of
Jesus and Mary

by Rita Ring


It is being printed soon.
Can any please help us?
1-888-211-3041

Blue Book 8 will be going
soon to the printers.

Please pray for Gene, Dan, Beth, Doris,
Amanda, Betty, Adeline, Jimmy, Andrew,
Monsignor and all the people.
For a limited time only

24" Pilgrim Virgin Fatima Statue without crown
w/glass from image face

Extended Sale -

$175 plus shipping

while supplies last

Get a canvas print of Mary's image with
a sliver of glass and a little bottle of
Jesus and Mary water.

The glass will be fixed behind the
back of the picture.

Cost — $200.00

Call Rosie

1-888-211-3041
Books written by the cofounder of Shepherds of Christ Ministries
Mass Book
A Journey Into the Heart of Jesus - Author: Rita Ring. Discerned by: Fr. Edward J. Carter S.J. Imprimatur
$ 12.00 plus postage

Mass Book, by Rita Ring: Many of the entries in the Priestly Newsletter Volume II from a spiritual journal came from this book. These entries
are to help people to be more deeply united to God in the Mass. This book is available in English and Spanish with the Church's Imprimatur.
$12
Rosary Meditations for Parents and Children, by Rita Ring, Short Meditations for both parents and children to be used when praying the
rosary. These meditations will help all to know the lives of Jesus and Mary alive in their Hearts. Available in both English and Spanish with
the Church's Imprimatur. $10
God's Blue Book I
Teachings to Lift You Up. Author: Rita Ring. Discerned by: Fr. Edward J. Carter S.J.
$ 10.00 plus postage

God's Blue Book I by Rita Ring. Open Anywhere — This book will change your life. These are beautiful love letters to us from Jesus. A million books have been printed and circulated. Jesus loves us so much — He wants a personal relationship with us — He wants us to go to the Eucharist and be with Him before the tabernacle. $10
God's Blue Book II
The Fire of His Love. Author: Rita Ring. Discerned by Fr. Edward J. Carter S. J.
$ 10.00 plus postage

God's Blue Book II by Rita Ring. Letters from Jesus about His on fire love — Jesus wants this great intimacy with us — On fire love — Personal love letters from Jesus about the love of His Heart — A book on surrender Fr. Carter said! $10
God's Blue Book III
Love God, Love One Another. Author: Rita Ring. Discerned by Fr. Edward J. Carter S.J.
$ 10.00 plus postage

God's Blue Book III by Rita Ring. Fr. Carter's favorite book — It is about loving and forgiving each other — Being pure in heart — A book for unity in family, community, in life!! $10
God's Blue Book 4
The Love of the Hearts of Jesus and Mary Author: Rita Ring
$ 5.00 plus postage

God's Blue Book IV by Rita Ring. This book is about the love Jesus has for Mary and Mary has for Jesus and Jesus and Mary have for us — It is truly the Love of the Two Hearts. Mary appeared every day at the Holy Spirit Center — Fr. Carter was there. Mary's first apparition July 5, 1994. $5
God's Blue Book 5
So Deep Is the Love of His Heart. Author: Rita Ring.
$ 5.00 plus postage

God's Blue Book V by Rita Ring. Jesus wants to be the bridegroom of our soul — He is our beloved — Jesus tells us about pure love — how we are to be pure of heart and love God and love others. It is a must, to hear about love from Jesus — Jesus is love — $5
God's Blue Book 6A by Rita Ring. Rosaries from Their Hearts during apparitions. Jesus and Mary appeared every day and I received rosaries from Them and They were transcribed from a tape. Also messages of love from Jesus on days of January, 1995 — About Baptism — writings from Fr. Carter and the Scriptures. $10
God's Blue Book 6B by Rita Ring. Jesus and Mary appeared every day in February, 1995 — So beautiful — transcribed from a tape — the Stations, 7 Sorrows, prayers in the Prayer Manual, the Holy Spirit Novena Book and the Song Book. Pure love — loving and forgiving — a book about Jesus' love, baptism, grace and Fr. Carter's Newsletter. $10

Rosaries from the Hearts of Jesus and Mary Book 1. Mary appeared in Clearwater December 17, 1996 in rainbow color and these rosaries left the printer the same day from Apparitions of Jesus and Mary — transcribed from a tape. $10
Blue Rosary Book
Rosaries From the Hearts of Jesus and Mary - Volume II
$ 12.00 plus postage

Rosaries from the Hearts of Jesus and Mary Book 2. This is a book of so many rosaries - transcribed from a tape. So many beautiful rosaries. pages $12
Short Rosary Meditations for the Elderly, Ill and Homebound. This book is so important with pictures they can open it and lay it on their laps and pray the rosary. $10
Messages From Jesus
Given by Jesus to His Messenger Author: Rita Ring. Discerned by: Fr. Edward J. Carter S.J.
This book is 8 1/2" by 11" and you can open it up and sit it on your lap.

$ 10.00 plus postage

Messages for the Elderly, Ill and Homebound. This is a big book of loving messages for nursing home people and homebound from Jesus and Mary — Their lives are so important — united to the Mass offering up their suffering, their lives for the souls of this earth. $10
Daily Messages from Heaven. First book of Daily Messages. $10
Color the Lives of Jesus and Mary. Volumes 1 through 7. Coloring books and meditations for grade school children and others on the mysteries of the rosary - really good. $5 each.
| | | |
| --- | --- | --- |
| | | Guiding Light homily series - Reflect on the Word - Cycle B — The Word leaves an impression on our souls. In my thoughts and reflections are born a more tangible understanding of these eternal concepts presented in the Gospels and the readings. Anyone can read a sentence, but not anyone can absorb it's true meaning. Truth, in this day and age, is almost a matter of opinion or individual entitlement. We believe that Christ's truth is our Roman Catholic Church. We, as priests, champion it's teachings; we are ambassadors for the Pope and Christ to those faces looking at us. We are the light by which our congregation reads to reflect upon real truth and we do it hand in hand. $15 |
Guiding Light homily series - Steadfast to the Son - Cycle A — The sunflower is a great example of how we should be steadfastly guided by light. What a powerful thought that this exceptional plant is not stuck in one pose day in and day out, yet adaptable and magnetized to the sun. We feel the same about our Son. Our heads turns to face Christ as each day presents its challenges to find light. We join together like plants in a field and soak up the Son through the pulpit. We are a warm circle of strength using the wind of our breath to carry our priests' words, Christ's words, to new rich soil. $15

Guiding Light - Feed My Soul - Cycle C — In a world rapidly advancing and encouraging personal gain, we are faced with modern problems. There is a challenge to find time in our busy schedules for Sunday Mass or a family meal. We are able to research, shop, bank and even work without hearing one human voice. It is no wonder that we may often feel disconnected and famished at our week's end. In Fr. Joe's third book of homilies from Cycle C, we are reminded of the charity that Christ intended us to show each other. We have a calling to turn the other cheek and be the Good Samaritan to others. We are rewarded with the Father's kingdom and love when we are not worthy. We are not left alone or hungry. $15
| | |
| --- | --- |
| | Guiding Light - Focusing on the Word - Cycle B — At times we may feel that our path to Christ is a bit "out of focus". Like the disciples in the Book of Mark, this ordinary life clouds our vision of Christ's Divinity. We may doubt the practicality or possibility of applying His teachings and example to our modern life. Cycle B's homilies are a "guiding light" to help us realize Jesus' Messianic greatness and His promise of better things to come. $15 |
| | | |
| --- | --- | --- |
| | | Guiding Light - The Word Alive in Our Hearts. - Cycle A (partial) — Homilies by the Reverend Joe Robinson given at St. Boniface Church in Cincinnati, Ohio. It is a tremendous honor Fr. Joe has allowed us to share these great gifts with you – for greater holiness and knowing more and more about God. $10 |
Books written by the founder of Shepherds of Christ Ministries
Response to God's Love by Fr. Edward J. Carter, S.J. In this book Fr. Carter speaks of God as the ultimate mystery. We can meditate on the interior life of the Trinity. Fr. Carter tells us about our uniqueness in the Father's Plan for us, how the individual Christian, the Church and the world are in the state of becoming. Imprimatur. $10

Shepherds of Christ - Selected Writings on Spirituality for all People as Published in Shepherds of Christ Newsletter for Priests. Contains 12 issues of the newsletter from July/August 1994 to May/June 1996. $15

Shepherds of Christ - Volume 2: by Fr. Edward J. Carter, S.J. Contains issues 13-29 of the newsletter (September/October 1996 - Issue 5, 1999) $15

Shepherds of Christ - Volume 3 by Fr. Edward J. Carter, S.J. Contains Newsletter Issues 1 through 4 of 2000 including Fr. Carter's tremendous Overview of the Spiritual Life $10

Tell My People
Messages from Jesus and Mary Author: Fr. Edward J. Carter S.J. Imprimi Potest
$ 10.00 plus postage

Tell My People. Messages from Jesus and Mary (As given to Fr. Edward Carter, S.J.) — One of Fr. Edward Carter, S.J.'s Synopsis of the Spiritual Life — From Jesus to Fr. Carter "On Holy Saturday, 1994, Jesus told me that on the following day, Easter, I would also begin to receive messages for others. Our Lord also told me that some of these were eventually to be published in a book—and here is that book." $10

Spirituality Handbook
Shepherds of Christ Associates Spirituality Handbook - A Way of Spiritual Life
Author: Fr. Edward J. Carter S.J. Imprimi Potest
$ 3.00 plus postage

Spirituality Handbook. Fr. Edward Carter, S.J. did 3 synopsis of the spiritual life. The Spirituality Handbook, the Priestly Newsletter 20he Tell My People book. The way of spiritual life proposed to the members of Shepherds of Christ Associates is centered in consecration to the Hearts of Jesus and Mary. All aspects of the spiritual life discussed below should be viewed as means to help members develop their lives in consecration to Christ, the Sacred Heart, and to Mary, the Immaculate Heart. $3

The Spirituality of Fatima by Fr. Edward J. Carter, S.J. The Fatima apparitions and messages received official Church approval in 1930. In giving her official approval to the Fatima event, the Church tells us that what took place at Fatima involving the three young visionaries is worthy of our belief. $5

Shepherds of Christ Prayer Manual
Shepherds of Christ Associates Prayers
Author: Fr. Edward J. Carter S.J.
$ .50 plus postage

Shepherds of Christ Prayer Manual. The Shepherds of Christ has prayer chapters all over the world praying for the priests, the Church and the world. These prayers that Father Carter compiled in the summer of 1994 began this worldwide network of prayer. Currently the prayers are in eight languages with the Church's Imprimatur. We have prayed daily for the priests, the Church, and the world since 1994. Associates are called to join prayer Chapters and help us circulate the newsletter centered on spreading devotion to the Sacred Heart and Immaculate Heart and helping to renew the Church through greater holiness. Please form a Prayer Chapter & order a Prayer Manual.

Priestly Newsletter - 2000 #1 - CD. - Christ is Our Strength - Fr. Edward Carter, S.J. read it the year he died. It is so beautiful. "This brief passage contains one of the greatest lessons of the spiritual life. As we progress along our spiritual journey, we become increasingly aware of how weak we are in our-selves, but how strong we are in Christ. To experience our weakness involves suffering. The degree and kind of suffering can vary. The suffering can include the experience of the classical dark night of the spirit as described by St. John of the Cross. One of the main purposes of the dark night is to make a person keenly aware of his or her helplessness without God." quote by Fr. Carter from the newsletter $10

Priestly Newsletter 2000 Issue 2
Audio CD - Read by Father Edward J. Carter
$ 10.00 plus postage

Priestly Newsletter - 2000 #2 - CD. - Suffering: A Source of Life - Fr. Edward Carter, S.J. read it the year he died. Fr. Carter knew suffering that year. His voice is so powerful as he read each Newsletter from his heart and soul. "Every man has his own share in the redemption. Each one is also called to share in that suffering through which the redemption was accomplished. He is called to share in that suffering through which all human suffering has also been redeemed. In bringing about the redemption through suffering, Christ has also raised human suffering to the level of the redemption. Thus each man in his suffering can also become a sharer in the redemptive suffering of Christ..." quote by Fr. Carter from the newsletter $10
Lucia's Vision
Giclee Art Print on Canvas by Harold Kellner
$ 150.00 plus shipping
Call Rosie
1-888-211-3041
or
1-727-725-9312

Statues

OL-Guadalupe
w/glass - 28


OL-Grace
w/glass - 24


OL-Mt. Carmel
w/glass - 24


OL-Lourdes
w/glass - 24


IH-Mary
w/glass - 24


IH-Ivory
w/glass - 24


SH-Jesus
w/glass - 24


SH-Blessing
w/glass - 24


Sorrow M
w/glass - 24


Inf.-Prague
w/glass - 24


OL-Lourdes
w/glass - 18

OL-Mt. Carmel
w/glass - 18


I Heart
w/glass - 18

I Heart - Ivory
w/glass - 18

OL-Grace
w/glass - 18

SH-Jesus
w/glass - 18


OL-Guadalupe
w/glass - 12


PV-Fatima
w/glass - 27


PV-Fatima
w/glass - 18


PV-Fatima
w/glass - 15


OL-Fatima
w/glass - 18


PV-Fatima
w/glass - 12


OL-Fatima
w/glass - 11


St. Padre Pio


St. Joseph


St. Therese


St. Francis


St. Anthony


St. Claire


Limpias


St. Jude


Divine Mercy


Holy Family


Angel


St. Philomena


Pieta - Marble


Pieta - Color


Holy Family 12


St. Anthony - 18


St. Francis - 18


St. Joseph - 18


St. Therese - 18


St. Rita - 18


St. Clare - 12


St. Rita - 12


St. Padre Pio - 12


Divine Mercy - 12


St. Michael - 11


Limpias - 8



Shepherds of Christ Ministries
P. O. Box 627
China, IN 47250

Toll free - 1-888-211-3041
Local - 1-812-273-8405
fax - 1-812-273-3182
web: www.sofc.org
e-mail: info@sofc.org


| | | | |
| --- | --- | --- | --- |
| | Size | Price | Quantity |
| Holy Family | 24" | $180 | |
| Limpias | 24" | $125 | |
| St. Anthony | 24" | $125 | |
| St. Claire | 24" | $125 | |
| St. Francis | 24" | $125 | |
| St. Joseph | 24" | $125 | |
| St. Jude | 24" | $125 | |
| St. Padre Pio | 24" | $125 | |
| St. Therese | 24" | $125 | |
| Divine Mercy | 22" | $125 | |
| Angel | 22" | $100 | |
| St. Philomena | 20" | $100 | |
| St. Philomena | 16" | $65 | |
| St. Joseph | 18" | $65 | |
| St. Francis | 18" | $65 | |
| St. Anthony | 18" | $65 | |
| St. Rita | 18" | $65 | |
| St. Therese | 18" | $65 | |
| Pieta - Color | 15" | $125 | |
| Pieta - Marble | 15" | $125 | |
| Holy Family | 12" | $75 | |
| St. Padre Pio - standing | 12" | $100 | |
| St. Padre Pio - sitting | 9" | $100 | |
| St. Michael | 11" | $40 | |
| St. Rita | 12" | $40 | |
| Divine Mercy | 12" | $50 | |
| St. Claire | 12" | $40 | |
| Pieta - Color | 8" | $75 | |
| Pieta - Marble | 8" | $75 | |
| Limpias | 8" | $25 | |
| Our Lady of Guadalupe w/glass | 28" | $500 | |
| Our Lady of Mt. Carmel w/glass | 24" | $500 | |
| Immaculate Heart of Mary w/glass | 24" | $500 | |
| Immaculate Heart - Ivory w/glass | 24" | $500 | |
| Infant of Prague w/glass | 24" | $500 | |
| Our Lady of Grace w/glass | 24" | $500 | |
| Our Lady of Lourdes w/glass | 24" | $500 | |
| Sacred Heart of Jesus w/glass | 24" | $500 | |
| Sacred Heart -Blessing w/glass | 24" | $500 | |
| Sorrowful Mother w/glass | 24" | $500 | |
| Immaculate Heart of Mary w/glass | 18" | $300 | |
| Immaculate Heart - Ivory w/glass | 18" | $300 | |
| Sacred Heart of Jesus w/glass | 18" | $300 | |
| Our Lady of Lourdes w/glass | 18" | $300 | |
| Our Lady of Grace w/glass | 18" | $300 | |
| Our Lady of Mt. Carmel w/glass | 18" | $300 | |
| Our Lady of Guadalupe w/glass | 12" | $200 | |
| Fatima w/glass | 11" | $150 | |
| Fatima w/glass | 18" | $250 | |
| Pilgrim Virgin w/glass | 12" | $160 | |
| Pilgrim Virgin w/glass | 15" | $200 | |
| Pilgrim Virgin w/glass | 18" | $250 | |
| Pilgrim Virgin w/glass | 27" | $450 | |


Call for Shipping Price (1-888-211-3041)


Name


Sub-Total

Address


IN Tax (7%)

City


Shipping

State Zip


Donation

Telephone


Order Total
Call Rosie
1-888-211-3041
or
1-727-725-9312
---
---
---

Copyright © 2012 Shepherds of Christ.
Rights for non-commercial reproduction granted:
May be copied in its entirety, but neither re-typed nor edited.
Translations are welcome but they must be reviewed for moral and
theological accuracy by a source approved by Shepherds of Christ Ministries
before any distribution takes place. Please contact us for more information.
All scripture quotes are from the New Jerusalem Bible, July 1990, published by Doubleday.
Revised: January 1, 2012
URL: http://www.sofc.org
Contact Information for Shepherds of Christ
Email: info@SofC.org
---
Shepherds of Christ Ministries
P.O. Box 627
China, Indiana 47250

Telephone: (toll free) 1-888-211-3041 or (812) 273-8405
FAX: (812) 273-3182