You are to work on problems in love.
You are to be caring for each other,
compassionate and work
in care and love —
How is your personal barometer?
How do you really think about
yourself —
Are you telling yourself
unloving things nobody
thinks and
then you're mad when
somebody doesn't smile
at you —
to fix all you said to yourself
about yourself.
Are you making healthy decisions about
what you think others are
thinking about you?
If a ball player is good — he sees
himself as good and winning —
A person seeing himself making
a gutter ball when bowling
will surely meet his expectations.
My Blue Books are winners to
feed the hungry souls —
Why don't you use one!!
Think with an open mind —
not one closed down in a tomb
with darkness and cold.
Are you locked into approval —
Do you see everything as two-sided —
Can't you just do what God
wants of you —
Do you have to see if you can put
it in your 'jealous machine' —
'getting-over-others-machine' —
your "controlling-machine" for your
vain glory?
Just do God's will !
Just do God's will in love!!
When you 'fear' you can close
DOWN — DOWN — DOWN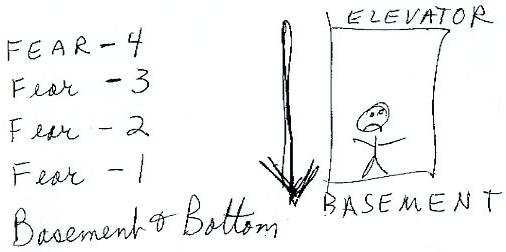 Jesus: Many were trained not to make decisions
to get their father's approval —
With fear they can close
Down
Down
Down
Hold out
Go to basement ↔ Bottom
When God wants you to act and you
don't act you are rebelling against God's will —
Some Punish others who get in their
way of addictions —
so they can keep going down —
The other can become an enabler —
Enabling them to go down —
Gives them power —
Move anybody trying to stop it
out of the way, they think.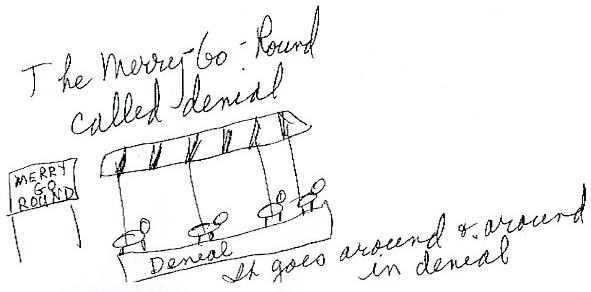 Jesus: The elephant in the living room
nobody talks about —
It's against the rules to talk
about the dysfunction in the house.
Dysfunctional, Destructive Rules
they function by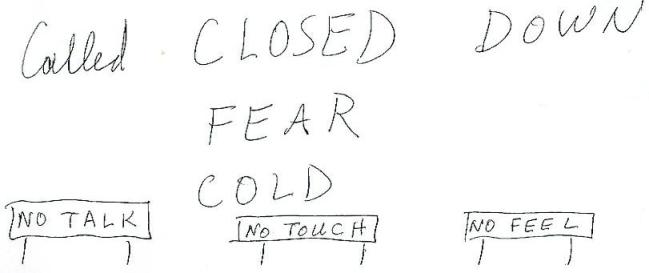 Jesus: Low Self-esteem —
Some can spend a life-time punishing
others for their low self-esteem —
Delay —
Delay —
Delay —
Don't make decisions that
God wants — this is slothful —
this is rebelling against
God's will!!
Being alive
Living in the now
feeling what is going on — NOW —
Living
Some can zone out —
when a child they were forced
with pain — so they learned
to zone out — used imagination
where they didn't feel —
Stiff —
How has my living in the past hurt —
surviving, made me cold hearted —
living not in reality —
not being able to be sensitive to
people's needs around me —
not interacting — because all
I see is from 'myself' —
How does your heart really feel?
Are you loving to others? — others, God
called you to work with —
Do you treat them like you own them?
Do you want perfection because
of how you think from childhood —
Do you see yourself perfect — yourself up —
others down — not having needs?
Is it all about you?
R. Our lives belong to God!!
Do you stop and just think about Him?
Are you loving Him —
really wanting to give Him love or
is He to put up with all you want?
Jesus: Is God a Person
you give to —
Give praise to?
Love Him?
Trees just grow.
Birds just fly.
Do you see how they just do it, in
God's Plan?
Do you let go to God — once you have
done your part — can you
let go to God?
Can you force a tree to grow?
Do you celebrate life?
Are you spontaneous or do you never
let go — schedule —
control etc.?
Are you numb, frozen, rigid?
Or do you bend like the trees
that grow and bend in God's wind?
Did you grow up in a house with
unloving, hollering and you were
little and afraid and now you are
big — you are an ADULT - CHILD —
caught in your survival skills of
fear, tension, perfection,
not loving yourself for the
child God created and
doing His work and
going out — loving others —
Rather than being rigid from
the hollering, unloving,
unappreciated ways
you grew up as a small
child!
TRAUMA
Was their a death of an important
person —
Did you deal with it?
Was mom and dad not available and
unloving because of work,
their past, alcohol, immaturity?
Do you feel your little childhood
was a war zone and you had
to survive it?
Did you feel somebody you really loved
abandoned you emotionally when
you needed them as a little child does?
Were you afraid from the hollering
as a little child mom or dad
would leave —
so you punish people who are
in your life today — to control
them, hold back what they
need so you will not be
abandoned as you felt in childhood —
Sick abandonment needs —
Was there abuse, emotional, physical,
not proper boundaries?
Could you trust mom and dad or others
as a child or was there
unpredictable behavior —
UPS ———> DOWNS
Roller coasters — not like normal ones —
Was there anger and you never learned
that people are to work in love and
solve conflicts in love so
relationships deepen and families
grow
Was there
repair of your hurts in childhood
or were they never validated —
so you stuffed hurt feelings and
now you act them out on
innocent others — with this
unfinished business —
like jumping beans — begging for resolution —
So you don't remember, but
you are angry — real angry
for all those old hurts and
blow anything out of proportion
like a major offense against
you!!
Some can't show anger so they
cry — that is really their
anger that can be coming out!!
Knees shake and
Anger rises —
They cry if anybody in authority
corrects them —
The little child can rage
and say —
the little child inside — I can't
take one more thing —
From the Inner Child of the Past it
says —
That little child of the past
is still in there —
Some little girls, little boys could
not cry or show feelings —
NO FEEL of dysfunctional homes —
So all those stuffed feelings are like a
stuffed rubber band can —
If you take the lid off they will all
come out all over —
So the person with stuffed feelings
holds the lid on all those
stuffed feelings for fear
they will lose control —
Those feelings need to be felt —
cry them out and let go —
look at past and work into loving
relationships now —
Like an onion —
They keep coming up and you deal with
them —
Not stuff them and become a mummy
locked in a cave like
Lazarus —
R. Jesus heals —
But with any wound — we have
to admit we have a sore knee to heal it —
Moving from Hurting to Healing —
Moving from Victim to Victory
We can be a grateful survivor —
We can be a Wounded - Healer — helping
others heal —
We get lessons from pain —
We gain from pain in the
spiritual life — Jesus: Death/Resurrection
God is love
Learn to laugh
We have the ability to grow
We can begin a new —
Our mission: the renewal of the
Church and the world —
The Blue Books are truth —
The Blue Books are love —
We can have good health and
Recovery,
Peace
Freedom
We forgive
We love others
We love God's creation
We have friends —
We recognize our character defects —
4th step —
We make a fearless inventory
of our wrongs
THE TWELVE STEPS OF AA
Here are the steps we took, which are suggested as a program of recovery:

1. We admitted we were powerless over alcohol,
that our lives had become unmanageable.

2. Came to believe that a Power greater than
ourselves could restore us to sanity.

3. Made a decision to turn our will and our lives
over to the care of God as we understood Him.

4. Made a searching and fearless moral inventory of ourselves.

5. Admitted to God, to ourselves, and to another human
being the exact nature of our wrongs.

6. Were entirely ready to have God remove all
these defects of character.

7. Humbly asked Him to remove our shortcomings.

8. Made a list of all persons we had harmed,
and became willing to make amends to them all.

9. Made direct amends to such people wherever possible,
except when to do so would injure them or others.

10. Continued to take personal inventory and when we
were wrong promptly admitted it.

11. Sought through prayer and meditation to improve our
conscious contact with God as we understood Him,
praying only for knowledge of His will for us and
the power to carry that out.

12. Having had a spiritual awakening as the result of these steps,
we tried to carry this message to alcoholics,
and to practice these principles in all our affairs.

R. We have the ability to change
We have the ability to change millions of lives.
Don't do things to get stuff back
for ourselves!!
Give out-of-love!!
Smile
Be filled with Gratitude
Celebrate your past and
grow from it —
Celebrate the person the
Father created —
There is an inner child in
us —
We must be in touch
with the child —
Parent ourselves — our
inner child —
Children of alcoholics and dysfunctional
homes —
learn
Don't Trust, Don't Talk, Don't Feel
There can be past Trauma
Stress Disorders form
childhood and disasters
1) Isolation, Estrangement —
2) Feeling different from others —
Combat
Disasters
Plane Crashes
Memory loss
Physical abuse
Emotional abuse in childhood
Seeing parents abused physically
or emotionally —
These people can try to force
co-dependency on others
Fear of being abandoned
Don't really trust anyone —
need to control —
don't let anyone close
Hurt others if they get too close
Recovery means we filter out
the survival tactics of the past to
live a healthy loving existence —
Some people over generalize when
they need to look at things
Some people expect others to run
after them and make them
feel better when they never
do any recovery and are
locked in a sterile place
inside, like a baby runs to
mama — Adult - Child
Some block out, all problem solving
and communication — no skills
to work on problems — life is
full of problems, we need to work out —
So they can't work out anything
because of lack of communication
Bishop Sheen says
"Communication is love"
They expect "mind reading"
Some have to be right at all costs —
even when they are wrong —
being right for them is everything to life —
Nothing else, people, goals matter —
only being right!!
TIME DISTORTION
Some people lie about time —
They can hold out for months and
shun problems, making it impossible for others
to function many times, with these unresolved
issues, or they can act without direction and
counsel, secretly, hurting things even worse to
rebel.
They are shunning their responsibility and the
people they are to work with,
shunning is a discipline to force
one's behavior on others for control,
These people then that shun, justify why
the wrong they have done is right
They can then ignore all the problems they
caused, all the things they didn't do,
that they should have done for
months, while they punished others
to control them.
Some are addicted to excitement —
they cannot stand harmony
and peace —
they create trauma, tension,
disharmony to feel
comfortable
Childhood is majorly important
to life — the first 6 years
especially —
Parents can make childhood a
'playground' or a 'prison' —
There must be repairing for damaged
childhood — you can't just
ignore it, when children were
suffering from dysfunction —
Trauma, abuse, doesn't just
go away —
You need to retrain your thinking —
fill the hole and darkness with
truth and love, get rid of
dysfunctional behavior —
that doesn't work and hurts others
and blocks healthy love relationships
Not wear a mask and hide it —
Not try to make others co-dependent
so you can force your
dysfunctional ways as a rule
they must follow —
Rules are to be in truth and love —
If a child was abused it wasn't
their fault!! They were a victim.
Nothing will change in them until
they admit it — They don't have
to blame, but the truth needs to
be validated in them to heal.
An alcoholic must admit it is real
to quit —
A dysfunctional person — if
co-dependent must admit it
if an abuser uses an abuse cycle
they must admit it if they want to stop it
if they are an angry person
they have to deal with their anger
We must admit the truth to heal —
One can think they can lie and
then they keep trying to fix
the unfinished business
'acting-it-out' on others —
God can heal us —
Love is the answer —
Forgiveness without blaming —
Victims can be deluded
in denial —
Secrets
NO TALK
Someone physically abused was taught
the secret of never telling
anyone — it was the rule
of the house —
THE NO TALK RULE
Jesus gives us these Blue Books to heal.
He is God —
God the Father is the Perfect Father —
God is real —
There is the NO TRUST rule in the
dysfunctional house —
Unpredictable Behavior
Not accountability for actions —
In healthy homes children learn
rules — behavior is predictable
IN DYSFUNCTIONAL Homes
behavior is Unpredictable
Rules are dysfunctional rules —
A parent is very controlling usually
forcing the dysfunction —
The other parent is an enabler and
The Merry-Go-Round called
denial goes round and round —
in denial —
We can't heal from wounds
we don't know we have.
Many cannot remember —
Stuffed feelings —
Parents may not want to validate
the trauma the child
suffered —
they can be in denial
themselves
Dysfunction is generational —
Victims have shame —
Parenting oneself —
Trusting oneself —
Seeing oneself as the Creation of the Father —
Seeing oneself belonging to God —
Blue Books
| | | | | | | |
| --- | --- | --- | --- | --- | --- | --- |
| Blue Book I | Blue Book II | Blue Book III | Blue Book 4 | Blue Book 5 | Blue Book 6A | Blue Book 6B |
R. We need our violations — VALIDATED
We need to feel
LIVE IN THE NOW
From a Lenten Homily, March 24, 2000
Live in the Moment
Today's Gospel in its story certainly points ahead to Jesus in His Passion and death. And as we read passages such as this during the Lenten season, we are reminded once again that the Church in her Liturgy of the Word gives us an opportunity to undergo a purification, an ever deepening cleansing of ourselves so that we may be a more fit instrument for receiving the great graces which are to be given to us at the time of the Resurrection memorial on Easter. And so all in all, Lent is a time of purification to prepare us for ever-greater gifts of the Lord. It's a time of self-discipline, a time to renew our efforts to be self-disciplined in the service of the Lord. Self-discipline is an aspect of purification. And I suggest that one of the most difficult acts of self-discipline in the spiritual journey is to concentrate on the present moment. We have a very strong tendency to disregard the importance of the present moment by focusing in a wrong way on the past or in a wrong way on the future. There are proper occasions for thinking of the past and the future. For example, we have to learn from the past and we have to prepare for the future, but our great emphasis has to be upon the present. There is a Latin axiom which says, age quod agis, age quod agis, which means: do what you are doing, concentrate on the present. And of course we are familiar with that term in the history of spirituality: the sacrament of the present moment. And so the discipline of Lent certainly encourages us to include in a deeper self-discipline a greater determination to get as much as we can out of the present moment. People with a terminal illness have an opportunity as they prepare for death for increased prayer, contrition, love of God. However, some are taken very, very quickly. But for those who have the opportunity of knowing with some certainty the time of their death, I'm sure as they look back on their lives, they are saddened by the many times they did not use time and opportunities for the service of the Lord properly, and are overjoyed at those times in which they did use the present opportunity properly. A great means we have of living in the present properly is a greater focus upon our Lord. For if I have that awareness of the fact I am united with Jesus here and now, why should I be concerned so much about the future or the past? Yes, a great help in living in the present and deriving all the good we can from it for ourselves and others is an ever greater focus upon Jesus, because the more I focus upon Jesus and the more I live with Him in the present moment, the more I am satisfied with the present moment. And so let us in our Lenten activity resolve to grow in that self-discipline - which is very difficult at times - to really live in the presence with the fullness of our being as much as is possible, with the help of God's grace. Now is the day of salvation. Now is the day of salvation.

end of Father Carter's homily
R. Many children didn't feel safe —
Children should feel safe —
If they didn't feel safe in childhood,
They may not feel safe now.
Those in denial —
pretend it didn't happen —
Make light of it
We need a Safe Place
Nothing will change until it becomes
real — Validated
Seek the truth — Feel — love and forgive
It's okay not to be as your family was —
generational healing —
Persons on a pity pot at 50 —
holding out
angry
they have stuffed feelings from
little children —
They act out, back at home with
mommy and daddy —
They want to feel —
They think at 50
Somebody should understand their
2 year old anger —
People getting married may start
acting out with spouse —
So many divorces —
A man can act like a 2 year old —
Or a woman punishing her husband
for nothing and expecting him
to kiss her and make it
all better —
The thing is — it doesn't make it better —
they have to see what is inside
making themselves act-out
provoking people —
pity-pot —
wanting people running back to them
when they abuse and control
them —
If our emotions are more than is necessary
for a given situation we have been
triggered —
A person can be passive-aggressive — so
angry they keep provoking
another with the abuse cycle —
Stabbing a guy in the back —
A person raging and abuses others actively
stabs in the front —
Some people feel crazy all their life —
provoke others when they are frozen
just so they can watch another so they can
feel — they are stiff and frigid —
projecting
We are to BE CONSISTENT and STRUCTURED
ABUSERS were probably abused as children
Dysfunction is generational
They think abuse is normal


An old Seminary —
Say your prayers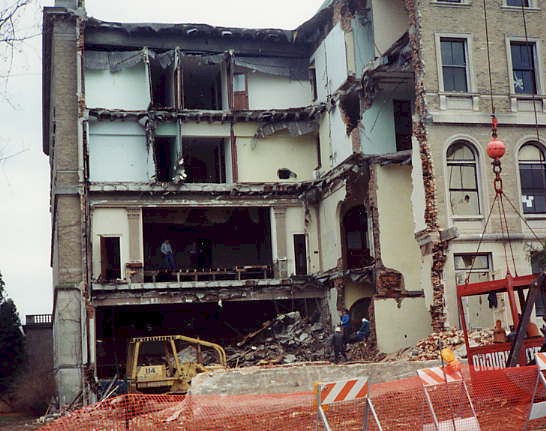 March 22, 1994
Lucia's Birthday — Main Fatima Visionary
A Stone the Builders
Rejected has become the cornerstone