From Blue Book 7
June 16, 1995
R. At the beginning of Mass I see a white
figure stand by the alter at most
Masses, it then disappears as Fr. Carter
says the Mass.
I realized at consecration the wretchedness
of man and God's immense mercy and love.
How Jesus forgives the ugliest sins of
men and paid for these sins with
His precious blood.
I see so clearly the wound I saw before
Mass at 7:00 as if it is permanently
imprinted in me, gapping open,
a big gigantic wound.
Someone shared deep, deep sins with me
last night and I have been saddened
in my soul, so sad to know the
sufferings of Jesus for the love of
His precious souls.
I have a keen realization of His immense
mercy and love, His forgiveness for the
most wretched sins and reflection on
God's mercy. I see the beauty in each
soul despite their sins, the beauty of
God's creation, each individual. They
can repent and be forgiven for
their sin by God. We have Confession -
we have the Mass.
I see deeply His immense love and forgiveness,
His mercy, I see how He suffered so for each
soul that we could be forgiven and filled
with His life, after serious sin.
I love each soul, to know Him is to see
Him in the soul and to love them, to love them
deeply because I see Him in them when
they are holy. In a soul in serious sin, they
are so precious to Jesus that He suffered for them.
I see His love and goodness and mercy and
I love Him more and more.
I am so attached to things, it is so hard
to give up my butter on my rolls and ice
cream, I want so much. I keep seeing
this gapping wound - so big right
before my eyes.
I realize His immense mercy and love
flowing from His Heart. We are cleaned by
His blood, shed for us, those He loves
so dearly.
I am in awe of His love for us His lowly
creature.
The more I love others the more I love
His precious souls. Being in relationships rooted
in His deep love helps me, to love all others that
way, despite who they are to know God, to know
you, my friend, is to love you more because
of my love for God.
My love for Him is so very deep.
I love my friends and I love Jesus so much.
In this love I have for Jesus and
others I want to give love —
I want to go to heaven, I want
His precious souls to go to heaven,
I love His precious souls —
He loves them, He died for them —
I love Jesus so much —
As I give to others, I give to Jesus,
As we do the Father's will
in love we are blessed by
God — God is blessing us
for putting out these messages of love.
Our families are blessed by
the loving work we do for God.
June 15, 1995
R. The sufferings I am experiencing to my head
over on the right side is like a pin
prick compared to His sufferings.
He did not see Himself too mighty to be born
among the lambs
He was born among lambs in Bethlehem.
He was the innocent lamb led to the
slaughter.
He loves all His lowly creatures —
He doesn't come for the high and
mighty —
Jesus comes for sinners —
Jesus loves the sinners so much
He died for us.
Jesus wants us to love Him —
Jesus remains with us this day and
gives us Himself in the
Eucharist - truly present in
His Divinity and humanity.
Jesus longs for us to come to Him in communion.
June 17, 1995
R. The interior life is a tomb of life or death,
the more we are saturated with His life
the easier it is to go inside and find
refuge.
I want my heart filled with the Holy Spirit in me,
His Spirit within. I want to be saturated with His life.
I want to be one in Him.
What is in a man is on his face.
Life is seen in a person's actions —
We don't want to wear a mask —
We don't want to be two-faced.
Satan drags us down, Jesus allows us to
suffer for different reasons, it is in
this suffering He lifts us up and
gives us greater life in Him.
How sweet Mary is to all who seek her aid
She grew in holiness while on the earth
She went to Holy Communion
Instructing the apostles
Mary wants us to go to Jesus in the Eucharist
to nourish and be fed by Jesus.
Heavenly food - Jesus Himself.
Pure heart - Pure intention is
secured by the Holy Eucharist.
Imitate Mary in her love for Jesus
Mary wishes her children to sanctify themselves
by prayer before Jesus in the Blessed
Sacrament.
Our Lady of the Blessed Sacrament help us to
be holy.
Life ↔
Eucharist - Life
His Plan
Life is Life in Him
Not doing His will blocks us
Light — darkness
Love
Peace
Shepherd concept
Shepherd
Chief Shepherd of the Flock
surrounded by His flock
Come to the lowly - to save all —
surrounded by sheep — He is a little
innocent lamb led to the slaughter
June 17, 1995
Jesus: Amen, Amen I say unto you, let go to Me
for this is My work, this is My plan and
I will conduct this meeting. All I have
called here for a special mission, to
spread the love of Jesus Christ to
the world, through the Immaculate
Heart of Mary.
Amen, Amen I say to you harken to the
sound of My voice, make ready a way
for the Lord, for He comes to you this
day. Open your heart and be attentive
to the message, the message of My love.
June 19, 1995
R. It is in the deepest sufferings that I
see the great love that Jesus had
for me.
It is in the deepest sufferings, the
crowning with thorns, He suffered
deep persecution, He
knows His Father's love.
Those moments of deepest sufferings in
my life have now turned to my
moments most deeply treasured,
for it was there I knew His
presence.
I look at these moments with great
joy.
The rejection of the heart was far more
then the physical wounds for Jesus.
Jesus so pure and tender in His love — rejection
To give and give and give and be rejected
and wounded.
Spit on, kicked
Down on the ground — beating a person
with words — so vile — control —
fighting to prove what is wrong is right
when they are sinning
Such strength that through the Almighty God,
we rise victorious in His life
In the depth of despair I cried out and
He released me from my wounds and
gave to me a bed of roses and deep
deep love.
Jesus: Should a mother forsake her child —
I will never abandon you.
My precious child,
I am your God, I will be there for you —
Come to Me all who are weary and
find rest for your soul.
Soul of Christ Prayer

Soul of Christ, sanctify me
Body of Christ, save me
Blood of Christ, inebriate me
Water from the side of Christ wash me
Passion of Christ, strengthen me
O good Jesus, hear me
Within Thy wounds hide me
Permit me not to be separated from Thee
From the wicked foe defend me
at the hour of my death call me
and bid me come to Thee
That with Thy saints I may praise Thee
For ever and ever. Amen.

Prayer of St. Ignatius

Lord, teach me to be generous.
Teach me to serve you as you deserve;
To give and not to count the cost;
To fight and not to heed the wounds;
To toil and not to seek for rest;
To labor and not to ask for any reward,
Save that of knowing
that I am doing your will.
June 21, 1995 - 5:45 or 6:00a.m.
R. Love is love, I love you no matter what you do or
say, I will love you because God made
you and Jesus died for you.
I will not be divided. I go to Him, He fills
me with all my needs, I love you
regardless of how you are.
I love as He has loved me. He loves me
unconditionally. He loves me when I am
not nice and when I am nice, when I am
sad, when I am joyful.
I must learn to love this way, but loving is
following God's love and being obedient.
I do not put up walls. I have the strength
given from above. I love the person, I
hate the sin.
I am saturated in His life I dwell forever
in the Heart of my beautiful Mother and
she places me deeply in His Heart.
I am filled, I am secure, I am laid waste
in His love.
My rock, my fortress, my strength, though
the earth be shaken, I am steadfast
in the Lord.
I live in Him.
Galatians 2: 19-20
...I have been crucified with Christ and yet I am alive; yet it is no longer I, but Christ living in me.
R. Through Him and with Him and in Him, minute
by minute, I am given all I need, I am
the infant of the Father.
June 21, 1995 - Wednesday 6:35a.m.
While praying the rosary in Holy Spirit Chapel before the Tabernacle
Jesus: My dear Harold and Diane,
I thank you for your great generosity
in helping with the work spreading My
love letters and rosary meditations. I
thank you for your generosity at the Farm,
I thank you for using your talents, Harold,
to promote the love of My Heart and
My Mother's heart.
I am Jesus, your softness in your
hearts is drawing you both in greater
union with Our Hearts.
The Sacred Heart of Jesus will reign and
the Immaculate Heart of Mary triumph.
I am instructing Rita to give you rosaries
and messages with the approval of
Fr. Carter. Please do not circulate any
of these until they are approved.
I am Jesus, your beloved Savior.
I ask you to come to Me and I will join
ever closer to your hearts. I love you both
with the deepest love.
You are given special talents for this
work at hand. You are the special
chosen children of My Father, it is
through your generosity and love
many will come back to Our Hearts of
love.
I am Jesus, I love you all in the Shepherds
of Christ with an undying
love. I am Jesus your Savior, Chief Shepherd of the
Flock, you are My shepherds in this world, My specially
chosen apostles. I ask you to continue your
support by praying daily for the spread of these
messages and rosary meditations. You play
a big part in this plan. Please continue to
pray for the priests and pray for their openness
to the Newsletters and love letters. I am
Jesus, I love My specially anointed
priests. Please pray they lead hearts back
to My burning love.
I love you with the deepest love, I am
your ardent lover, I am Jesus,
Chief Shepherd of the Flock, you I
send to carry out My work with your love
and generosity. Thank you for answering
this call.
I love you, I love you, I love you
I am alive and I live in your hearts.
I fill you with My abundant grace.
Love, Jesus
June 21, 1995 - After Communion
R. I am filled knowing You my beloved have
filled me. You have given to me Your
life.
Though the earth be shaken, I will live
in Your love.
Jesus: You are part of My plan to heal this
world. You will operate with the
love of the Savior deep within
your soul. I am Jesus I strengthen
you and give you My peace.
Harken to Me and let go totally into My
arms. Be submissive and not
willful. As babies at the breast,
I beckon you to come and receive
My beautiful graces.
You will be purified and laid waste in
My love.
Come to Me and be lost in the presence
of the Almighty God.
The Spirit sanctifies you, I protect you
and keep you from all harm.
I am Jesus, I am healing all there
this day of many of their ills.
Come unto Me and you will know rest,
You will be washed in My Blood and
comforted deep in your soul.
I am Jesus, I am the Son of God, I
am attentive to all your needs and
I hear the voice of your supplication.
I am God, I am all powerful, I am
Mighty, I wash you and fill you
with My life.
R. Alleluia and He gave them new life, they
were swept away in His love and
bathed in the Blood of the Lamb,
Jesus, the Son of God, lives in
the hearts of men.
Alleluia, Alleluia, praise the Lord
Alleluia
June 23, 1995 - Feast of the Sacred Heart
Jesus: My dear ones wherever a picture of My
Heart is exposed and honored I will
pour out My abundance graces.
I communicate to you in your heart My
beloved one, as you become one in Me,
I become one in you. I live and dwell
within you. I give to you these emotions
you share My immense love and heart
ache for those who have forgotten. A
blind world goes by and you touch Me,
you know God most intimately. I have
lifted the veil and poured upon you My
richest blessings - giving you insight
into the hidden mysteries.
R. I feel as if I have been touched so deeply
in His adorable loving Heart, I know He
lives in me. I don't feel like moving
because I am so intimately united to Him.
God is to be adored and honored.
I know what He is saying, realized so
much in Mass how every word He writes
is His. How blessed we are. Oh Sacred
Heart of Jesus I place my trust in You.
June 23, 1995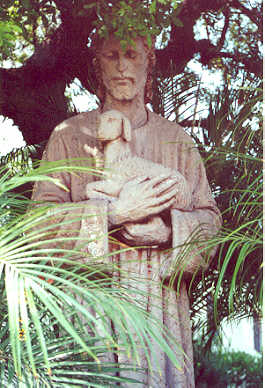 The Good Shepherd
R. I could see Jesus say the Mass as,
Fr. Carter said the Mass all through
the Mass. I know Jesus' presence standing
by the lake when I read the Psalm of
the Good Shepherd.
I am filled with such joy to know Jesus
I love Him so much.
Cried all through Mass (inside). Jesus
told me to tell Fr. Carter my experiences.
Jesus told Fr. Carter He is Chief Shepherd of the
Flock —
Jesus wants His sheep united —
Not scattered —
The devil scatters the flock —
The devil comes to tear apart and divide.

John 10: 11-15
I am the good shepherd:
the good shepherd lays down his life
for his sheep.
The hired man,
since he is not the shepherd
and the sheep do not belong to him,
abandons the sheep
as soon as he sees a wolf coming,
and runs away,
and then the wolf attacks
and scatters the sheep;
he runs away
because he is only a hired man
and has no concern for the sheep.
I am the good shepherd;
I know my own
and my own know me,
just as the Father knows me
and I know the Father;
and I lay down my life for my sheep.
R. The hired man sees the wolf coming and abandons
the sheep because he is a hired man.
Jesus is the Good Shepherd — Jesus says
"I know Mine and Mine know Me and
they follow Me."
June 24, 1995
R. Last night was the Feast of the Sacred Heart. I
was so close to the Child Jesus, I love Jesus
so much. I cried so hard because I love
Him so much. Cried in my bedroom.
Prayed a rosary at St. Ignatius, I felt so weak
afterward.
June 24, 1995 - Feast of the Immaculate Heart of Mary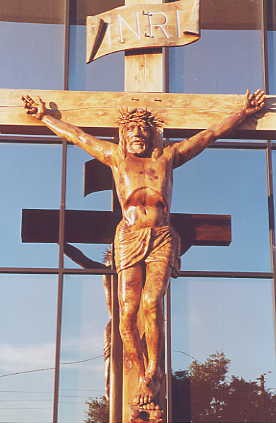 R. Came to the center and they have the life size
crucifix on the altar, I cried so hard, I
love Jesus so much, I cannot even express
my feelings inside myself. Such deep, deep,
deep love for Him, love for His beaten
body, last night prayed the rosary at 6:30 at
the Center, I was so one with Jesus in the
scourging at the pillar, could see them hit Him
and felt it so strong, I was so connected to Him,
as if I was there while they crowned Him with
thorns, I could hardly take it.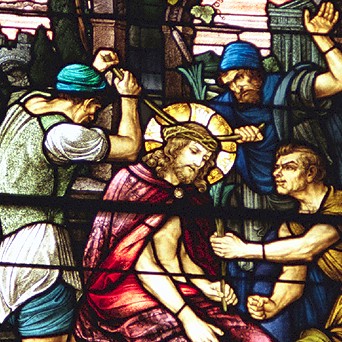 R. I love this chapel, I know the plan of the
Father is unfolding, each window a gift from
Him, each window is so touching to me, as if I
can be with Jesus in that mystery. From
the rosary, my whole being is so
connected to Him. This is such a special place,
we are so gifted to be here and be part of this plan.
I love Jesus so much, my insides hurt to express it
more. I just want to stay here and never leave.
They ought to put the sorrowful Mother under
this cross.
That is where it is at. I am so connected to heaven
and the mysteries in the rosary of the lives of Jesus
and Mary.
R. Power — emotion, tears
at my heart

Agony in Garden — He should be
alone to denote His loneliness

Scourging — I want to be there with
Him, Mary with Him,
She could hardly stand it.
Suffering is doubled when Mary enters the picture.
I see Mary alive, Jesus dead!
What of the heart of Mary to stand by and watch
her beloved Son. There is a whole new
dimension to the depth of the mystery
when I see Them both in the picture.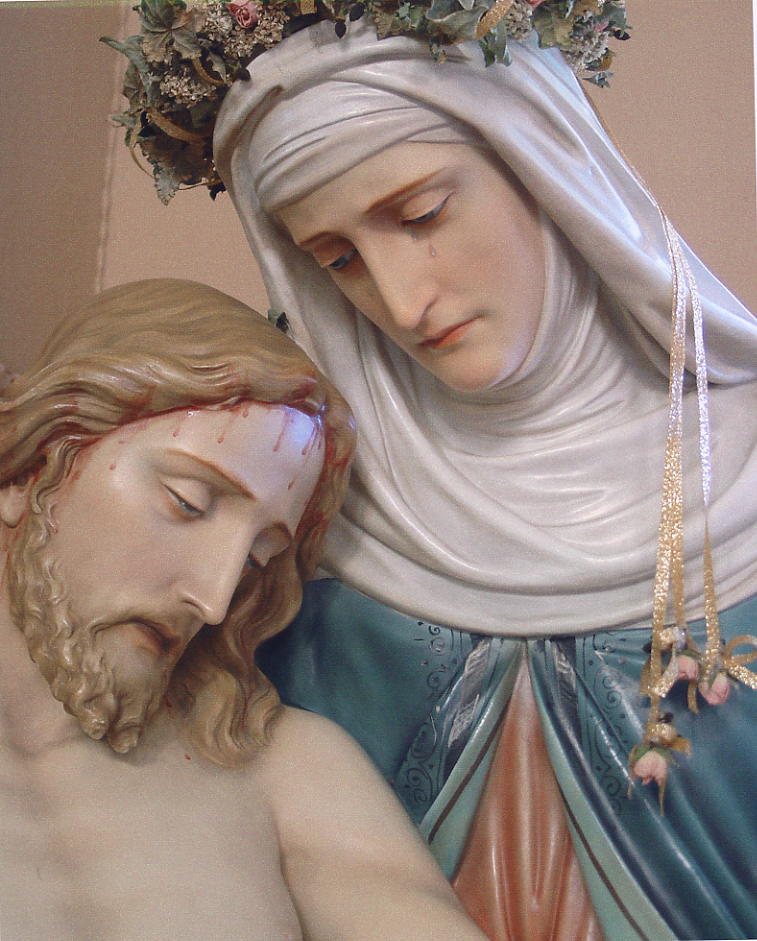 R. They are together in all the mysteries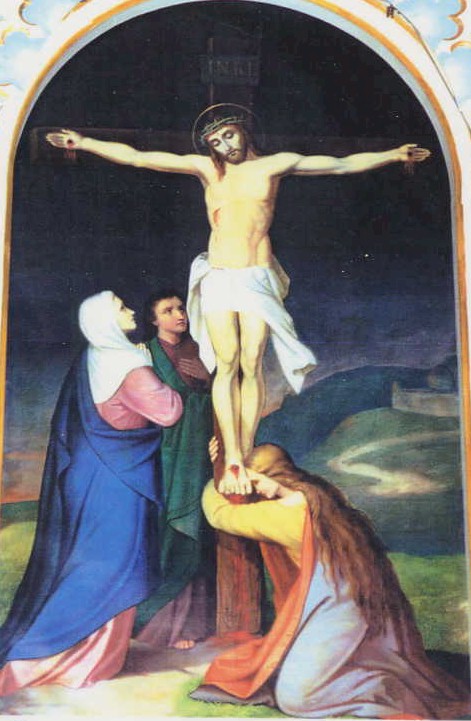 R. expect agony, maybe scourging,
she I do not see in the crowning
with thorns, she may be there.
He is not there in
the Descent of the Holy Spirit
Assumption
I think she is not there in agony and
crowning with thorns.
The inner play always between these
two Hearts of love.
To see myself dwelling in her heart and taken to
His Heart adds this whole dimension of this
oneness between Them.
For two mysteries — He and she are in the same
body. Annunciation and Visitation.
Connection between the two Hearts. Heart felt,
my heart bleeds with Their Hearts, my
heart is pierced with Their Hearts. My
heart loves with Their Hearts. I cannot
stand to see a soul in pain, I want to
help them.
I see before me the Divine Plan, the Plan
of Salvation History, centered around
the two Hearts.
I see the Living Word of God, His word
lives in my every cell, deep and penetrating.
I see the Mass and every word in the Mass,
every word in scripture, every word, I
experience in such depth, to dig into
my soul, to try to express any of what
I know in words. I cannot express here
with pen and paper.
In this infinitude of God, in my understanding
of Him, in this depth of love I feel
for Jesus and Mary, the child, the man,
the glorified Christ,
No words can dig in me and produce,
what is there. The mystery is beyond words.
That is why it is not expressed in books, it
is beyond the books and the paper and the ink, to
be so immersed in these mysteries is indeed a deep
sense of pain today. For I feel in each mystery and
this feeling far surpasses my human faculties.
the depth I feel is deep, deep in my soul,
a knowing of so many things. For days before the
Feast of the Sacred Heart I was dry and I knew
that He was allowing me to be this way. My whole
insides are so connected to Him since last night,
centered deeply around her and Him and Their lives.
It is depth, so deep, but so real, more real
then anything here. I know Him, I know and love Him
from the deepest recesses of my soul. This is the
gift to be wrapped in this moment, as long as
He allows it to last. To see more as He lifts the
veil. The rosary is this deep, deep link to connection
with Them.