January 23, 2013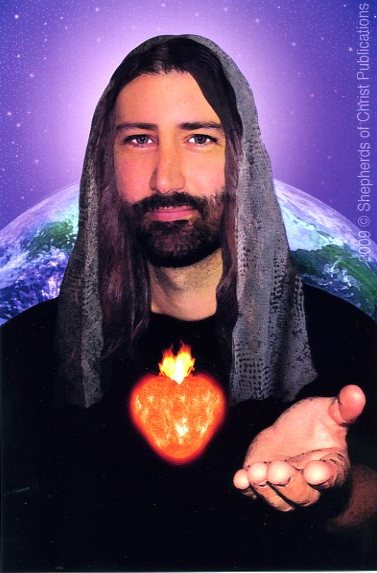 A message for the Earth from Jesus
January 22, 1998
I am the Good Shepherd, these are My prayers, the prayers I give to help renew the Church and the world, all prayer chapters are asked to include these prayers (found in the Shepherds of Christ Prayer Manual). As My Apostles and Shepherds I ask you to encourage all existing Chapters to try to encourage all existing prayer groups to pray the Shepherds of Christ prayers. Encourage all Churches to pray these prayers. It is most urgent that the people of this earth concur with the Father's wishes to begin Prayer Chapters. This is an urgent request from the Good Shepherd. The flock will become one when they have given their hearts to Jesus and Mary. Encourage all priests to pray the Shepherds of Christ prayers. Your world will be lighted with great light as the people of this earth pray these prayers.

My promise is this to you My beloved earth: When you give your heart to Me and spread the devotion to My Sacred Heart, I will write your name In My Heart. I promise to give the greatest graces when you pray these prayers for renewal of the Church and the world and take all who pray them deeply into My Heart. The prayers I give will bring about the reign of My Sacred Heart and the triumph of Mary's Immaculate Heart. I am Jesus Christ, this is My message of January 22, 1998, Please circulate this message to your world. I am the Good Shepherd, I know Mine and Mine know Me and they follow Me. Grace My Shepherds, I will give you the greatest graces for spreading these words to this earth and to your Church. I love you, I am Jesus Christ, the Son of Man, it is the Plan of the Father that Prayer Chapters are begun immediately and the Priestly Newsletter is given to all priests. The Voice of the Good Shepherd speaks through it.

end of January 22, 1998
R. Love is from God –
Jealousy and envy tears things up.
God wants love – real caring
in our hearts for
the beautiful person God
created and
The Father, Son and Holy Spirit
dwell in our graced baptized
soul in a special way.
Even though we do not see
does not mean it does
not exist.
God wants us to be obedient.
We are to seek His will and
to follow it.
To see through the eyes of
Mary.
Mary was pure –
Mary wasn't jealousy or
envious.
Envy and jealousy is ugly.
Love builds the Kingdom
of God –
Jesus: I want you to have joy in
your hearts – I call you
to be harmonious with
the others I have called you
to work with you to build
My Kingdom.
You are to be obedient and do
God's will – not decide
to do what you want and
oppose God's will –
Meditate on the power of God –
It is a power you cannot
even envision.
I have given to you great
insights into My Heart
on fire with love for
men in these writings –
You have not treasured these
great gifts I have
given –
A pure face.
A pure heart
Like Mary –
Sin divides you from Me
and makes you miserable,
when you do not repent
and tell the truth about
your sins –
One who lies about their
sin begins lying to
themselves and keeping
secrets of the truth –
More and more distorted vision
leads to greater and greater
darkness –
I have called you to unity
and love, to hard work
and focusing on Me
and God's will for you.
There can be such jealousy
that one fails to
live to serve God
in their heart –
They serve satan in jealousy, anger,
pride, envy, greed.
Jealousy against your brothers,
envy and anger leads
to tearing oneself apart –
You become your own
worst enemy – You are
enslaved to satan when you
lie about it to yourself.
The devil wants you to stay
in sin, to not repent
to lie to yourself
about your sin –
To stay enslaved by the
devil –
He works through those
willing to disobey,
be jealous, envious,
angry, sneaky and
lying –
In heaven all is beautiful
and loving –
In hell there is darkness –
hatred, no love, isolation,
disharmony –
Love in purity - is
giving for the good of the
other to lead them
in the ways of God's
will –
R. God wants us to live
our vocation –
to be humble, to
be in unity
Jesus: For it is that you
are trying to run Me
and not the other way
around where I am the
one who is to be obeyed
and leading you –
The vision has been vanquished
like a snuffed out
candle by those seeking
power for their vain
glory and trying to control
giving their power to satan –
I have come in these writings
to teach you about My Heart –
My love and
I have been ignored while
you try to force more and more
the ways of Adam and Eve on
men –
I am the New Adam, Mary the
New Eve – you will
never know Me unless
you surrender and realize
I am in charge –
I will not lick your shoes –
Your ways are pompous (many
men) and topsy-turvey –
I am love – As I write
in My letters of love in
the Blue Books –
To miss the gift I
reveal here is to stand
in for your own limited
mind about love and harmony
and truth and joy –
I call you to love and be
obedient to God – I command
you to love God first in
your lives and love your
neighbor as yourselves –
You have 70 or so years to
learn how to love – how
have you really learned to
love and prepared yourself
for heaven, obeying God.
Heaven is a reward
promised to those who love
and serve the Lord –
Those opposing Me have
shoveled a hole in the mud
of their own making. (vision
man with shovel and mud hole)
The way to follow is
My way –
Not you following satan
and forcing his darkness on
others –
How dark is dark –
Darkness is misery –
Do you feel good in
sin?
A man goes to school to
learn – He can be an apprentice
learning a trade –
Your hearts were made for
love – Your life is to be lived
to learn to love –
There are as many hearts
as faces in the world –
Look at men's hearts – Closed
hearts are miserable men –
tainted hearts are miserable men
How does your heart look
in there?
Did you put God before your
angry heart –
Did you forgive –
Did you do your vocation
because you were
answering God's call –
Were you harmonious or
obstinate, argumentative
for power and control, lying
to keep people fighting
you –
My dear sweet ones, I
am kind and gentle
in heart –
MEEK in HEART
Mary said
"Do whatever He tells
you what to do - do it first!!
Every time you disobey God's will
you hurt yourself first and suffer
the consequences in the end!!
John 3: 16
For this is how God loved the world:
he gave his only Son,
so that everyone who believes in him
may not perish
but may have eternal life.
Jesus: How does the road you have walked stretch
along the path of loving God first and
loving others as yourself –
How is your heart so far – if you had
70 years total to learn to love?
How have you focused on yourself?
Always seeing yourself - not being
other focused.
You come to Me only on a road not
made up by the world – a
road man never could build –
You need God's grace –
You are to live on this earth – if you are
angry and full of pain and anger – you
carry a ball and chain –
You see with coke bottom glasses –
The man following Me sees with
clear vision –
You are to see with vision - to know
the reality of the seen and unseen –
Not to be blind and try to force others
to follow your narrow, dysfunctional
path because you don't want to change,
walking in darkness, the same road
of disaster day after day –
You are to be on fire in love with God –
seek to know and love Him more and
more – everything rooted in Me –
Full of joy because you are one
in Me –
How is the pride in your mind? Do you
live to prove you are great before
anyone even speaks because
you don't see the preciousness
of your life to God!
Life is worth living
You have a free will to follow Me
or follow satan –
Not doing God's will and knowing it
is a choice –
How are your over-all goals –
that control your every
moment –
do you give into satan –
or do you do everything for
the honor and glory of God,
first!!
Is your mind seeking truth?
Is your mind a mind of light?
Are you enslaved by satan who
has turned your heart to
follow him and you give in –
me, me, me you say –
mine, mine, mine
Are you grateful to Me for
My gifts to you?
Give yourself in love, why do
you try to manipulate
others and hold back love
to save yourself –
Who you saving yourself
for?
Without My truth - you are weak
pray for Wisdom and Joy.

Please pray for Gene, Dan, Beth, Doris,
Amanda, Betty, Adeline, Jimmy, Andrew,
Monsignor and all the people.
For a limited time only

24" Pilgrim Virgin Fatima Statue without crown
w/glass from image face

Extended Sale -

$175 plus shipping

while supplies last

Get a canvas print of Mary's image with
a sliver of glass and a little bottle of
Jesus and Mary water.

The glass will be fixed behind the
back of the picture.

Cost — $200.00

Call Rosie

1-888-211-3041
Books written by the cofounder of Shepherds of Christ Ministries
Mass Book
A Journey Into the Heart of Jesus - Author: Rita Ring. Discerned by: Fr. Edward J. Carter S.J. Imprimatur
$ 12.00 plus postage

Mass Book, by Rita Ring: Many of the entries in the Priestly Newsletter Volume II from a spiritual journal came from this book. These entries
are to help people to be more deeply united to God in the Mass. This book is available in English and Spanish with the Church's Imprimatur.
$12
Rosary Meditations for Parents and Children, by Rita Ring, Short Meditations for both parents and children to be used when praying the
rosary. These meditations will help all to know the lives of Jesus and Mary alive in their Hearts. Available in both English and Spanish with
the Church's Imprimatur. $10
God's Blue Book I
Teachings to Lift You Up. Author: Rita Ring. Discerned by: Fr. Edward J. Carter S.J.
$ 10.00 plus postage

God's Blue Book I by Rita Ring. Open Anywhere — This book will change your life. These are beautiful love letters to us from Jesus. A million books have been printed and circulated. Jesus loves us so much — He wants a personal relationship with us — He wants us to go to the Eucharist and be with Him before the tabernacle. $10
God's Blue Book II
The Fire of His Love. Author: Rita Ring. Discerned by Fr. Edward J. Carter S. J.
$ 10.00 plus postage

God's Blue Book II by Rita Ring. Letters from Jesus about His on fire love — Jesus wants this great intimacy with us — On fire love — Personal love letters from Jesus about the love of His Heart — A book on surrender Fr. Carter said! $10
God's Blue Book III
Love God, Love One Another. Author: Rita Ring. Discerned by Fr. Edward J. Carter S.J.
$ 10.00 plus postage

God's Blue Book III by Rita Ring. Fr. Carter's favorite book — It is about loving and forgiving each other — Being pure in heart — A book for unity in family, community, in life!! $10
God's Blue Book 4
The Love of the Hearts of Jesus and Mary Author: Rita Ring
$ 5.00 plus postage

God's Blue Book IV by Rita Ring. This book is about the love Jesus has for Mary and Mary has for Jesus and Jesus and Mary have for us — It is truly the Love of the Two Hearts. Mary appeared every day at the Holy Spirit Center — Fr. Carter was there. Mary's first apparition July 5, 1994. $5
God's Blue Book 5
So Deep Is the Love of His Heart. Author: Rita Ring.
$ 5.00 plus postage

God's Blue Book V by Rita Ring. Jesus wants to be the bridegroom of our soul — He is our beloved — Jesus tells us about pure love — how we are to be pure of heart and love God and love others. It is a must, to hear about love from Jesus — Jesus is love — $5
God's Blue Book 6A by Rita Ring. Rosaries from Their Hearts during apparitions. Jesus and Mary appeared every day and I received rosaries from Them and They were transcribed from a tape. Also messages of love from Jesus on days of January, 1995 — About Baptism — writings from Fr. Carter and the Scriptures. $10
God's Blue Book 6B by Rita Ring. Jesus and Mary appeared every day in February, 1995 — So beautiful — transcribed from a tape — the Stations, 7 Sorrows, prayers in the Prayer Manual, the Holy Spirit Novena Book and the Song Book. Pure love — loving and forgiving — a book about Jesus' love, baptism, grace and Fr. Carter's Newsletter. $10

Rosaries from the Hearts of Jesus and Mary Book 1. Mary appeared in Clearwater December 17, 1996 in rainbow color and these rosaries left the printer the same day from Apparitions of Jesus and Mary — transcribed from a tape. $10
Blue Rosary Book
Rosaries From the Hearts of Jesus and Mary - Volume II
$ 12.00 plus postage

Rosaries from the Hearts of Jesus and Mary Book 2. This is a book of so many rosaries - transcribed from a tape. So many beautiful rosaries. pages $12
Short Rosary Meditations for the Elderly, Ill and Homebound. This book is so important with pictures they can open it and lay it on their laps and pray the rosary. $10
Messages From Jesus
Given by Jesus to His Messenger Author: Rita Ring. Discerned by: Fr. Edward J. Carter S.J.
This book is 8 1/2" by 11" and you can open it up and sit it on your lap.

$ 10.00 plus postage

Messages for the Elderly, Ill and Homebound. This is a big book of loving messages for nursing home people and homebound from Jesus and Mary — Their lives are so important — united to the Mass offering up their suffering, their lives for the souls of this earth. $10
Daily Messages from Heaven. First book of Daily Messages. $10
Color the Lives of Jesus and Mary. Volumes 1 through 7. Coloring books and meditations for grade school children and others on the mysteries of the rosary - really good. $5 each.