Given January 23, 2013
R. The goal of Mankind is God.
Man was made in the image and
likeness of God.
God is truth.
Jesus: Any form of lying and deception
to implement control
and weaken a man doing
good is evil –
Man has a free will and he
is to master himself
through discipline to
seek conversion that he
grow more and more in the
image of God.
I am the way, the truth and the life –

God said, 'Let us make man in our own image, in the likeness of ourselves, and let them be masters of the fish of the sea, the birds of heaven, the cattle, all the wild animals and all the creatures that creep along the ground.'

God created man in the image of himself,
in the image of God he created him,
male and female he created them.
Jesus: There has been the fall and rise of
many kingdoms of this world.
A person basing their lives on
unloving ways, deception,
disharmony, provoking others,
seeking power and control for their
own vain glory is a man
hating himself first.
You were created to love, to learn
to love, to be truthful so
the truth is in you – a man is to
live to be master over himself –
to do the will of God in love –
A man's motives is to be pure - done
for the honor and glory of God –
Deception before others where one
pretends to do good with a
malicious heart causes hardness
of a man's heart and with you the
more he lies to himself about
deceptive schemes, the more distorted
is his vision.
R. We see Joseph worked hard to make
grain for the time of wanting and
famine –
Jesus: You are to live your lives storing
up treasures for your heavenly
reward.
A priest went to a prison and had
a special rosary from Ireland –
on the way out a prisoner begged
him for a rosary –
All he had was his special rosary
and he didn't want to give it
away, but he did anyway.
When he got home another
person gave him a rosary just
like what he had.
R. God will not be out done in
generosity – He gives to us when
we give to others in love –
A man wants what he wants for
one reason, he thinks it will satisfy
him – they believe their accomplishments
will make them happy –
It is a sad thing when a man
gets pleasure from lying and pulling
pranks on those he was called
to love and serve by God.
Happiness is the goal –
Everyone seeks some form of satisfaction
by their actions –
We can look beyond our actions
and see what will happen
if we act.
If provoking or attacking
passively is to make another
lose control or punish
others, it is demonic and
evil when God calls us to
love and do good – to be more
and more in His image and
likeness –
We are to be a light –
A reflection of God who dwells in
us.
I am a temple of the Holy Spirit –
God dwells in me –
God lives in me –
I operate for God –
Satan tempts people to act for him –
vagueness, when a person is
called to represent information
by their calling and withholds
it vindictively to be in
power and control is wrong.
We live to serve God in the present
moment. A person vindictively
holding back to watch another
suffer after a time is worse
than one who just reacts and
does an ill deed.
Premeditation is seen in Judas and
what he did to Christ –
the lies of Joseph's brothers
to Joseph –
We are to be a lamp, walking more
and more in the image of God
bearing witness by our
love to God who created us
in the image and likeness of God.
We can be on a merry-go-round
called denial and satan
the operator – luring us
into greater and greater darkness
and sin.
We can listen to the greatest
commandment –

Matthew 22: 36-40

'Master, which is the greatest commandment of the Law?' Jesus said to him, 'You must love the Lord your God with all your heart, with all your soul, and with all your mind. This is the greatest and the first commandment. The second resembles it: You must love your neighbour as yourself. On these two commandments hang the whole Law, and the Prophets too.'
R. God commands us to love –
being unloving, hurting others
on purpose, not being
accountable for our sins and
responsible for how we witness
and effect others is wrong.
The bad thing is that man can be
lured by power, filled with
anger and bitterness, be
envious, jealous, miserable
and take no responsibility
for his unloving and sinful ways
of acting and treating others
against the law of love –
Think of these examples of hatred
Like Cain and Abel
Like Joseph and his brothers
Like Judas and Jesus
We cannot see the plan of God from
our limited vision – We pray for an
increase of faith to see with the
vision of the Father.
The vision is through God's eyes –
Satan wants an individual to
seek what satan wants – he doesn't
want the person to ever tell the truth
about his sins and repent – so he
can keep working in that enslavement
he wants of them. To get them attached
inordinately to power, control, pride,
being angry. Satan is darkness,
misery, hurt, ugliness. He wants
people to not love their brothers as
God commands us to do in the greatest
commandment, but to be in competition,
be envious, raise ourselves up,
put others down, seek power - over
them, act passively - aggressively,
be secretly plotting against our neighbor –
Satan is a devil!! Satan is working
today so strongly against relationship.
We see the power in the elements,
earthquakes, hurricanes, storms,
we see.
God does not want men to inflict
evil on his brothers. God gave us
the COMMANDMENTS –
We can ignore God, we may think
if we can get away with it.
First it is abortion – then killing
a baby in the womb in the 3rd
trimester?
A baby is created by God –
how do we have the right to
think we can take the life of a
fetus?
God sees the evil men do that
hurt other innocent men. God is
just – we will be judged, we are
accountable and responsible for
our actions. We are to control ourselves.
We have a free will. Being unloving
is against the greatest commandment.
When one has a responsibility to report
information as their duty and job
it is wrong to continue to punish,
manipulate and control to stop what
is just be made known to those above
them.
Children do not understand about
things – toddlers - running in the street,
washing hands –
As one matures these reasons for
safety and cleanliness are more clear.
A child under the 4th commandment
is to obey their parents as they learn
what they are to do.
Because of our fallen human nature
we have tendencies toward evil –
these are to be controlled so we do not
give into them and sin against God
and others.
Learning to love, to give, to obey,
to have right reason is important.
Someone must teach little ones
about things that are right. If
a child is disobedient and jealous and
mad, they need to learn the right
way.
We are children under God. The
Handmaids of the Good Shepherd
are to follow the purity of Mary –
who lived to love and please God and others –
God calls us to charity among our brothers.
We are to have joy and be ever grateful
for the gifts God gives us.
Give thanks our whole lives –
Give thanks with all our hearts to God –
Thank God through Mary's pure Heart –
How can I repay the Lord for the
good He has given me. Psalm 116: 12
Jesus: Unity is vital
I have given you the Shepherds of Christ Movement
to help unite the Church and the
world as men give their hearts
to My Heart and Mary's Heart –
I give you Myself in the Eucharist –
Give thanks for the priest, for the
Church
I have gifted you –
Your gratitude can be like a cold,
wet, dead fish –
Selfish, like the devil wants.
Sad, when you are so blessed.
There is a major spiritual battle.
Being holy means you choose to
be holy with your free
will, you choose to love,
LOVE is a choice –
Choosing to be unloving is a choice,
how you treat your neighbor.
I give you the Eucharist to put
on Christ. You eat My Body,
You drink My Blood –
You are transformed –
Mary is My Mother –
You gaze on Mary as your model –
You see through Mary's eyes –
You love with Mary's heart –
Mary crushed the head of satan –
Mary assists in the struggle of
good over evil –
The devil wants darkness, sadness,
anger, competition, wickedness.
You are responsible for your actions,
when you sin –
The devil set himself against God –
That's what the man opposing
just laws does – sets
himself against God –
The devil told Eve –
"she would become as God"
Genesis 3:5
Friendship with God involves
commitment –
MARY is Model
Perfect disciple of Jesus!!

Ephesians 5: 32
This mystery has great significance, but I am applying it to Christ and the Church.
R. God and man are not enemies –
God created us and gave us our life –
dignity
Freedom is found in obedience
to God –
Slavery in serving satan,
opposed to God's will –
His law of love –
God is all just
God is merciful –
God has all the Power
The devil wants us to see ourselves
above God –
Men are given chances time and
time again to choose what
is right –
God gives us a sharing in
His life –
God knows us perfectly –
God created us –
God gives us a free will to
choose good or evil –
We are baptized and receive a sharing
in His Divine life –
Our knowing and loving capacity is elevated –
God reveals to us more and more
the hidden mysteries –
We seek to know God –
We seek to know the mystery of the
Trinity –
God's fathomless love for us –
Excerpt from Response to God's Love by Fr. Edward Carter, S.J.
... In reference to Christianity, God himself is the ultimate mystery. Radically, God is completely other and transcendent, hidden from man in his inner life, unless he chooses to reveal himself. Let us briefly look at this inner life of God.

The Father, in a perfect act of self-expression, in a perfect act of knowing, generates his son. The Son, the Word, is, then, the immanent expression of God's fullness, the reflection of the Father. Likewise, from all eternity, the Father and the Son bring forth the Holy Spirit in a perfect act of loving.

At the destined moment in human history, God's self-expression, the Word, immersed himself into man's world. God's inner self-expression now had also become God's outer self-expression. Consequently, the mystery of God becomes the mystery of Christ. In Christ, God tells us about himself, about his inner life, about his plan of creation and redemption. He tells us how Father, Son, and Holy Spirit desire to dwell within us in the most intimate fashion, how they wish to share with us their own life through grace. All this he has accomplished and does accomplish through Christ.
R. God wants us to know the gentle
kindness of His love for us,
a confidence in Him –
Jesus shows us His Magnificent
Heart on fire for love
of men –
God is all good –
Sins against faith –
are sins of despair,
presumption, obstinacy,
resisting a known truth –
envy against someone's spiritual good.
In the sin of impenitence a
man refuses to turn away from
sin to God –
A person that is obstinate has
a hard will.
A man who resists the truth
does so - so he can continue
his sinning –
A man jealous of another's
spiritual good and trying to block
them is blocking the gifts God
wants in this world through
that person for their malicious,
envious heart.
We can choose blindness and
dullness of heart to keep
on sinning and giving into
satan.
A man who is happy has
wisdom and a good will.
A man of wisdom has his
focus on God's will –
His love of all God creates and
joy and thankfulness
inside –
seeking to love God with
their whole heart, their whole
soul and their whole being –
Seeking to be possessed by God –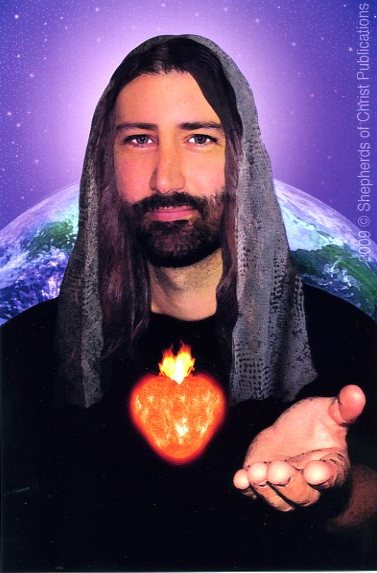 Prayer for Union with Jesus

Come to me, Lord, and possess my soul. Come into my heart and permeate my soul. Help me to sit in silence with You and let You work in my heart.

I am Yours to possess. I am Yours to use. I want to be selfless and only exist in You. Help me to spoon out all that is me and be an empty vessel ready to be filled by You. Help me to die to myself and live only for You. Use me as You will. Let me never draw my attention back to myself. I only want to operate as You do, dwelling within me.

I am Yours, Lord. I want to have my life in You. I want to do the will of the Father. Give me the strength to put aside the world and let You operate my very being. Help me to act as You desire. Strengthen me against the distractions of the devil to take me from Your work.

When I worry, I have taken my focus off of You and placed it on myself. Help me not to give in to the promptings of others to change what in my heart You are making very clear to me. I worship You, I adore You and I love You. Come and dwell in me now.

-God's Blue Book, January 17, 1994
R. Faith helps us to be happy
in our minds!
Faith seeks the vision of God!
This gives happiness in our
heart –
The object of a man's love
is God - so he is
a happy man –
Mary gave this message July 13, 1917 at
Fatima –

Excerpt from The Spirituality of Fatima - by Fr. Edward Carter, S.J.
July 13, 1917

"During this same July apparition, Mary showed the three children a vision of Hell. She told them:

"You have seen Hell, where the souls of poor sinners go. To save them, God wishes to establish, in the world, devotion to my Immaculate Heart. If people do what I tell you, many souls will be saved and there will be peace.

"The war (World War I, then raging) is going to end. But if people do not stop offending God, another and worse one will begin in the reign of Pius XI. When you shall see a night illuminated by an unknown light [January 2, 1938], know that this is the great sign that God gives you that He is going to punish the world for its many crimes by means of war, hunger, and persecution of the Church and the Holy Father. (12)

"To prevent this, I shall come to ask for the consecration of Russia to my Immaculate Heart and the Communion of Reparation on the five first Saturdays. If my requests are granted, Russia will be converted and there will be peace. If not, she will scatter her errors throughout the world, provoking wars and persecutions of the Church. The good will be martyred, the Holy Father will have much to suffer, and various nations will be destroyed....

"But in the end, my Immaculate Heart will triumph, the Holy Father will consecrate Russia to me, Russia will be converted, and a certain period of peace will be granted to the world." (13)

12. For background material on Fatima, I am particularly indebted to Our Lady of Fatima's Peace Plan from Heaven (Rockford: TAN Books and Publishers, Inc., 1983). pp.4-5.
13. Ibid., p.5.


R. And the devastation – there was a
war, a holocaust –
women and children, men who were
Jewish –
massacred, gassed –
Mary warned of this war –
Who would listen to her
Do you see the ultimate in killing,
mistreatment into how they
were treated
Mary warned –
Mary has appeared at Clearwater –
She warns about the spiritual war
of the devil on our soul –
The devil doesn't stop, he is
ruthless looking for a soul
to devour and they give in
because of pride, envy,
anger –
Mary says, I cry blood for My children
going to hell –
All 5ths - Our Lady of Clearwater Florida


July 5, 2000


September 5, 2000


October 5, 2000


November 5, 2000


December 5, 2000
| | | | | |
| --- | --- | --- | --- | --- |
| January 5, 2001 | February 5, 2001 | March 5, 2001 | April 5, 2001 | May 5, 2001 |
| | | | | |
| --- | --- | --- | --- | --- |
| June 5, 2001 | July 5, 2001 | August 5, 2001 | September 5, 2001 | October 5, 2001 |
| | | | | |
| --- | --- | --- | --- | --- |
| November 5, 2001 | December 5, 2001 | January 5, 2002 | February 5, 2002 | March 5, 2002 |
| | | | | |
| --- | --- | --- | --- | --- |
| April 5, 2002 | May 5, 2002 | June 5, 2002 | July 5, 2002 | September 5, 2002 |
| | | | | |
| --- | --- | --- | --- | --- |
| October 5, 2002 | November 5, 2002 | January 5, 2003 | February 5, 2003 | March 5, 2003 |
| | | | | |
| --- | --- | --- | --- | --- |
| April 5, 2003 | May 5, 2003 | July 5, 2003 | August 5, 2003 | September 5, 2003 |
| | | | |
| --- | --- | --- | --- |
| October 5, 2003 | November 5, 2003 | December 5, 2003 | January 5, 2004 |
| | |
| --- | --- |
| February 5, 2004 | March 5, 2004 |
R. Mary is warning us to listen –
She warned at Fatima and they did
not listen –
God is love –
Our souls were made for love –
To love our brothers –
To love God first –
To be accountable for our sins –
The devil never wants a soul to
repent. The devil wants a person
to keep on sinning –
"Behold your Mother"
"Behold her message"
Mary's Message


from the Rosary of August 27, 1996

Mary: I stood beneath the cross of my Son, and my Heart was in such pain for I saw Him before my eyes. I saw Him covered with blood. I saw Him die. My Heart, my children, my Heart to watch my Son, but my Heart, my Heart, how I suffered for my little children of the world that give in to this world and give up the love of my Son. O my little children of light, I give you this message. Carry this light into the darkness for your Mother Mary, for I stood beneath the cross and I cried. I cried for the little ones. I cried for the young ones, the ones that do not care and will lose their souls. How do I make you see for you will not listen to me? What can I do? I come. I appear. I beg. I plead. I give you these gifts from my Son, and you reject me. I do not deliver messages very often anymore for I have been ignored. The message is the same. You do not read the messages I have given to you. Please help me. Help the little children. I appear. I appear. I appear, and I am ignored. I stood beneath the cross, and I cried. I cried, and my Heart was in such anguish for my little children, for I am searching for them this day as I searched for the Child Jesus. Please, please help me. I cannot hold back the hand of my Son any longer. I am Mary, your Mother. I ask you to help my children. You are my children of light.

end of Mary's Message
R. Life must be lived –
We are to live according to God's wishes –
The goal for which we were created
is to be with God for eternity –
to have eternal happiness –
to have the vision of God –
Anything in mind and heart that leads
man away from God leads him
in the wrong direction and to
misery.
Man can turn from God seeking power-
over others as their number one
care - and control - being
on top, pride, etc. –
Every activity in a man's life
is worthwhile only as it
helps him achieve the goal
God wants – to lead men
closer to God –
Being imprudent leads to unhappiness –
Goals opposed to God's goal
for a man leads him to unhappiness,
misery and he can become a prisoner
of his own angry and lying heart –
serving satan –
making rules that are opposed to God's will.
The imprudent man has not mastered
himself – he is a slave to
his inordinate attachments
which ever grow – lead him
further and further from God and
this makes him ANGRY
The prudent man, performs
actions that bring him
peace, love and joy in his
life and others –
What satisfies us deeply is doing
God's will and this leads to
eternal happiness.
Men are meant to be social –
living together - working together –
Men are to walk hand-in-hand.
Men are to work together to promote
God's Kingdom.
Please pray for Gene, Dan, Beth, Doris,
Amanda, Betty, Adeline, Jimmy, Andrew,
Monsignor and all the people.
For a limited time only

24" Pilgrim Virgin Fatima Statue without crown
w/glass from image face

Extended Sale -

$175 plus shipping

while supplies last

Get a canvas print of Mary's image with
a sliver of glass and a little bottle of
Jesus and Mary water.

The glass will be fixed behind the
back of the picture.

Cost — $200.00

Call Rosie

1-888-211-3041
Books written by the cofounder of Shepherds of Christ Ministries
Mass Book
A Journey Into the Heart of Jesus - Author: Rita Ring. Discerned by: Fr. Edward J. Carter S.J. Imprimatur
$ 12.00 plus postage

Mass Book, by Rita Ring: Many of the entries in the Priestly Newsletter Volume II from a spiritual journal came from this book. These entries
are to help people to be more deeply united to God in the Mass. This book is available in English and Spanish with the Church's Imprimatur.
$12
Rosary Meditations for Parents and Children, by Rita Ring, Short Meditations for both parents and children to be used when praying the
rosary. These meditations will help all to know the lives of Jesus and Mary alive in their Hearts. Available in both English and Spanish with
the Church's Imprimatur. $10
God's Blue Book I
Teachings to Lift You Up. Author: Rita Ring. Discerned by: Fr. Edward J. Carter S.J.
$ 10.00 plus postage

God's Blue Book I by Rita Ring. Open Anywhere — This book will change your life. These are beautiful love letters to us from Jesus. A million books have been printed and circulated. Jesus loves us so much — He wants a personal relationship with us — He wants us to go to the Eucharist and be with Him before the tabernacle. $10
God's Blue Book II
The Fire of His Love. Author: Rita Ring. Discerned by Fr. Edward J. Carter S. J.
$ 10.00 plus postage

God's Blue Book II by Rita Ring. Letters from Jesus about His on fire love — Jesus wants this great intimacy with us — On fire love — Personal love letters from Jesus about the love of His Heart — A book on surrender Fr. Carter said! $10
God's Blue Book III
Love God, Love One Another. Author: Rita Ring. Discerned by Fr. Edward J. Carter S.J.
$ 10.00 plus postage

God's Blue Book III by Rita Ring. Fr. Carter's favorite book — It is about loving and forgiving each other — Being pure in heart — A book for unity in family, community, in life!! $10
God's Blue Book 4
The Love of the Hearts of Jesus and Mary Author: Rita Ring
$ 5.00 plus postage

God's Blue Book IV by Rita Ring. This book is about the love Jesus has for Mary and Mary has for Jesus and Jesus and Mary have for us — It is truly the Love of the Two Hearts. Mary appeared every day at the Holy Spirit Center — Fr. Carter was there. Mary's first apparition July 5, 1994. $5
God's Blue Book 5
So Deep Is the Love of His Heart. Author: Rita Ring.
$ 5.00 plus postage

God's Blue Book V by Rita Ring. Jesus wants to be the bridegroom of our soul — He is our beloved — Jesus tells us about pure love — how we are to be pure of heart and love God and love others. It is a must, to hear about love from Jesus — Jesus is love — $5
God's Blue Book 6A by Rita Ring. Rosaries from Their Hearts during apparitions. Jesus and Mary appeared every day and I received rosaries from Them and They were transcribed from a tape. Also messages of love from Jesus on days of January, 1995 — About Baptism — writings from Fr. Carter and the Scriptures. $10
God's Blue Book 6B by Rita Ring. Jesus and Mary appeared every day in February, 1995 — So beautiful — transcribed from a tape — the Stations, 7 Sorrows, prayers in the Prayer Manual, the Holy Spirit Novena Book and the Song Book. Pure love — loving and forgiving — a book about Jesus' love, baptism, grace and Fr. Carter's Newsletter. $10

Rosaries from the Hearts of Jesus and Mary Book 1. Mary appeared in Clearwater December 17, 1996 in rainbow color and these rosaries left the printer the same day from Apparitions of Jesus and Mary — transcribed from a tape. $10
Blue Rosary Book
Rosaries From the Hearts of Jesus and Mary - Volume II
$ 12.00 plus postage

Rosaries from the Hearts of Jesus and Mary Book 2. This is a book of so many rosaries - transcribed from a tape. So many beautiful rosaries. pages $12
Short Rosary Meditations for the Elderly, Ill and Homebound. This book is so important with pictures they can open it and lay it on their laps and pray the rosary. $10
Messages From Jesus
Given by Jesus to His Messenger Author: Rita Ring. Discerned by: Fr. Edward J. Carter S.J.
This book is 8 1/2" by 11" and you can open it up and sit it on your lap.

$ 10.00 plus postage

Messages for the Elderly, Ill and Homebound. This is a big book of loving messages for nursing home people and homebound from Jesus and Mary — Their lives are so important — united to the Mass offering up their suffering, their lives for the souls of this earth. $10
Daily Messages from Heaven. First book of Daily Messages. $10
Color the Lives of Jesus and Mary. Volumes 1 through 7. Coloring books and meditations for grade school children and others on the mysteries of the rosary - really good. $5 each.