China Retreat
January 10th - begins 11:00am
Please tune in!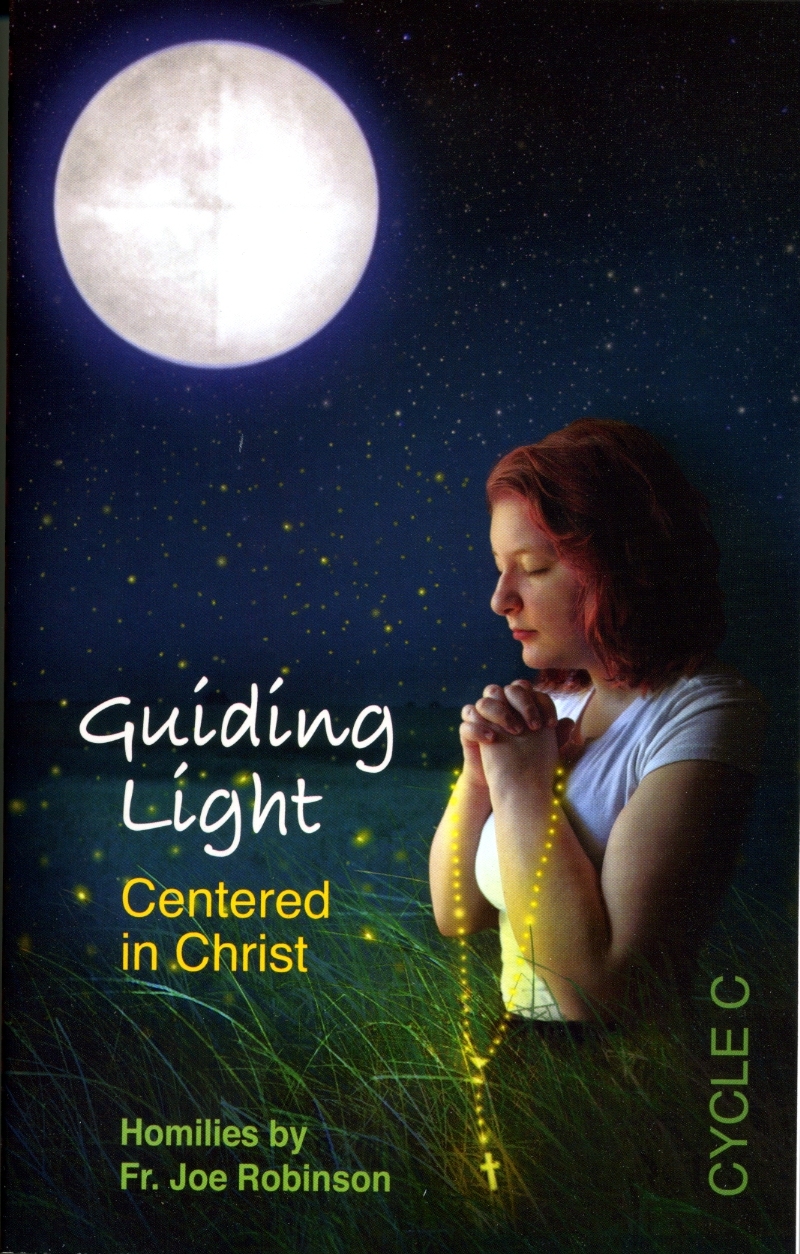 New Cycle C Homily Book Available
$15.00 plus postage
Call Rosie 1-888-211-3041
Help us get Fr. Joe's book to the priests.
We need postage money.
January 9, 2013
1 John 4: 11-18
My dear friends,
if God loved us so much,
we too should love one another.
No one has ever seen God,
but as long as we love one another
God remains in us
and his love comes to its perfection in us.
This is the proof that we remain in him
and he in us,
that he has given us a share in his Spirit.
We ourselves have seen and testify
that the Father sent his Son
as Saviour of the world.
Anyone who acknowledges
that Jesus is the Son of God,
God remains in him and he in God.
We have recognised for ourselves,
and put our faith in,
the love God has for us.
God is love,
and whoever remains in love
remains in God
and God in him.
Love comes to its perfection in us
when we can face
the Day of Judgement fearlessly,
because even in this world
we have become as he is.
In love there is no room for fear,
but perfect love drives out fear,
because fear implies punishment
and no one who is afraid
has come to perfection in love.
Psalm 72: 1-2, 10, 12-13
God, endow the king with your own fair judgement,
the son of the king with your own saving justice,
that he may rule your people with justice,
and your poor with fair judgement.

the kings of Tarshish and the islands
will pay him tribute.

The kings of Sheba and Saba
will offer gifts;

For he rescues the needy who calls to him,
and the poor who has no one to help.
He has pity on the weak and the needy,
and saves the needy from death.
Mark 6: 45-52
And at once he made his disciples get into the boat and go on ahead to the other side near Bethsaida, while he himself sent the crowd away.
After saying goodbye to them he went off into the hills to pray. When evening came, the boat was far out on the sea, and he was alone on the land. He could see that they were hard pressed in their rowing, for the wind was against them; and about the fourth watch of the night he came towards them, walking on the sea. He was going to pass them by, but when they saw him walking on the sea they thought it was a ghost and cried out; for they had all seen him and were terrified. But at once he spoke to them and said, 'Courage! It's me! Don't be afraid.' Then he got into the boat with them and the wind dropped. They were utterly and completely dumbfounded, because they had not seen what the miracle of the loaves meant; their minds were closed.

R. Our Lord can let us suffer –

Look at the Apostles in the boat –

They had to suffer and be patient
and then He calmed the sea

We give Him ourselves –

Love is the total gift of self

That is what consecration to the
Sacred Heart and Immaculate Heart is –

We give ourselves in love –

God deserves our love –

He is all worthy of our love –

Jesus is truly present in the Blessed Sacrament
no less present than when He walked
the earth –

Jesus is longing and thirsting for our
love. Jesus wants our burning
love.

Think of Jesus – see Him hanging on the
cross, see His agony for love of us –
Jesus loves us so much.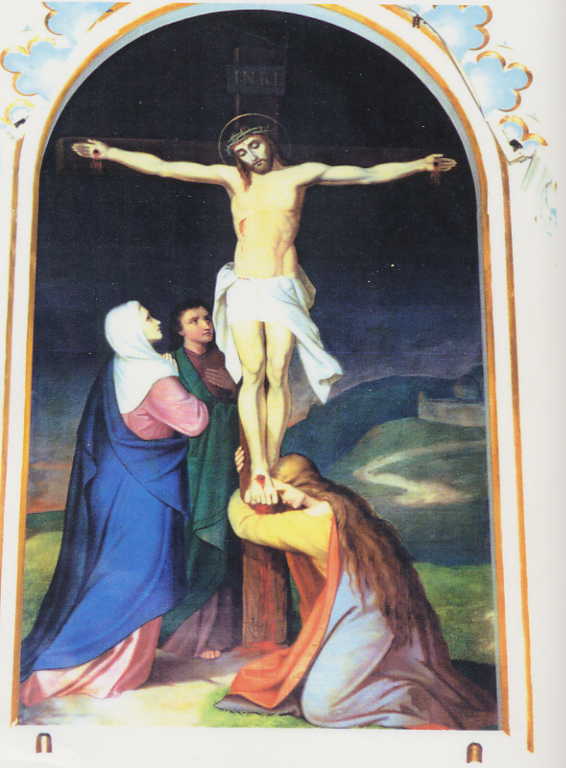 R. Jesus gave Himself on the cross and He gives
us Himself today in the Eucharist –
Love Him, long to receive Him.
Think of the gift of baptism.
That the Father, Son and Holy Spirit remain in
our graced baptized soul in a
special presence.
Thank God for the gift of the
Eucharist and baptism.
Open your hearts –
Adore God with such love before
the Blessed Sacrament.
Tell Jesus –
"Oh, I love You Jesus, I love You
so much, thank You for giving
me Yourself, these great gifts"
Say "yes" to God as Mary did because
she loved God and wanted to please Him
Luke 1: 35
The angel answered, 'The Holy Spirit will come upon you, and the power of the Most High will cover you with its shadow. And so the child will be holy and will be called Son of God.
R. Mary is our spiritual Mother – Mary loves
us so much –
She mothers us like she mothered
Jesus if we let her –
Let us give our hearts to Jesus and Mary –
surrender to Them –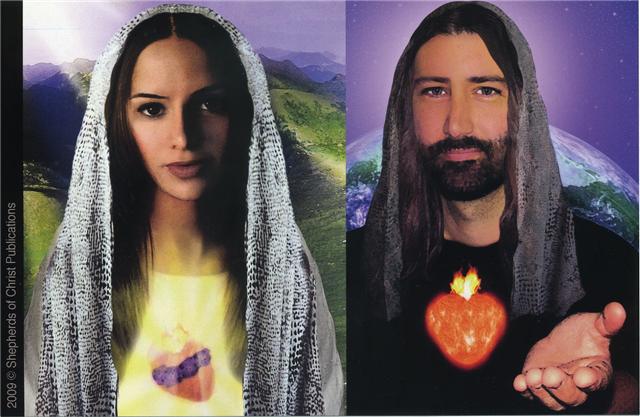 Act of consecration to the Sacred Heart of Jesus


and the Immaculate Heart of Mary.

"Lord Jesus, Chief Shepherd of the flock, I consecrate myself to Your most Sacred Heart. From Your pierced Heart the Church was born, the Church You have called me, as a member of Shepherds of Christ Associates, to serve in a most special way. You reveal Your Heart as a symbol of Your love in all its aspects, including Your most special love for me, whom You have chosen as Your companion in this most important work. Help me to always love You in return. Help me to give myself entirely to You. Help me always to pour out my life in love of God and neighbor! Heart of Jesus, I place my trust in You!

"Dear Blessed Virgin Mary, I consecrate myself to your maternal and Immaculate Heart, this Heart which is symbol of your life of love. You are the Mother of my Savior. You are also my Mother. You love me with a most special love as a member of Shepherds of Christ Associates, a movement created by your Son as a powerful instrument for the renewal of the Church and the world. In a return of love, I give myself entirely to your motherly love and protection. You followed Jesus perfectly. You are His first and perfect disciple. Teach me to imitate you in the putting on of Christ. Be my motherly intercessor so that, through your Immaculate Heart, I may be guided to an ever closer union with the pierced Heart of Jesus, Chief Shepherd of the flock."
R. In many pictures of the Sacred Heart,
Jesus points to His Heart –
It is not a lip service love, its
a perfect love we do not
even understand – a love from
His burning Divine Heart –
Jesus wants the statues and images of the
Sacred Heart and Immaculate Heart in our homes –
Jesus wants us to venerate His Heart
next to Mary's heart –
God is love –
God created us in His image and likeness
to love –
God commands us to love –
God loves us tenderly –
We can only be satisfied by God –
We can stalk a barren desert – only God can
fill us –
Nothing can fill the craving in us, but God.
Song: God's Love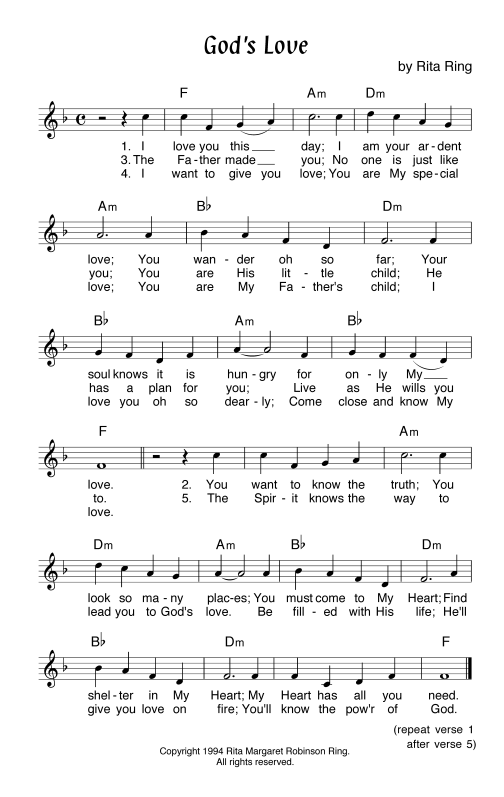 From Blue Book 9 - October 13, 1995 Rosary (excerpt)
The Annunciation
7. Jesus: My dear ones, how tenderly I love you. I am present with you at this moment. I want to tell you of My tender love. Listen to this message. Open your heart. Let go of all the walls that keep you from deeper union with Me. Let go at this moment and let Me touch your heart and your soul. Let Me touch you interiorly that you will unite deeper and deeper in love with Me. I come into this world a little baby in the womb of My Mother. I came to you that I may give you a sharing in My life and I give you life My love.
John 3: 16
For this is how God loved the world:
he gave his only Son,
so that everyone who believes in him
may not perish
but may have eternal life.
R. Jesus tells me to tell you this –
Jesus: "Tell them how much I love them"
"Tell them how much I love them"
"Tell them, now – circulate My letters of love
in the Blue Books – they are hungry –
Tell them"
R. Let's listen –
Circulate the Blue Books –
Read the Blue Books –
Prayer for Union with Jesus

Come to me, Lord, and possess my soul. Come into my heart and permeate my soul. Help me to sit in silence with You and let You work in my heart.

I am Yours to possess. I am Yours to use. I want to be selfless and only exist in You. Help me to spoon out all that is me and be an empty vessel ready to be filled by You. Help me to die to myself and live only for You. Use me as You will. Let me never draw my attention back to myself. I only want to operate as You do, dwelling within me.

I am Yours, Lord. I want to have my life in You. I want to do the will of the Father. Give me the strength to put aside the world and let You operate my very being. Help me to act as You desire. Strengthen me against the distractions of the devil to take me from Your work.

When I worry, I have taken my focus off of You and placed it on myself. Help me not to give in to the promptings of others to change what in my heart You are making very clear to me. I worship You, I adore You and I love You. Come and dwell in me now.

-God's Blue Book, January 17, 1994
R. Dear God help our hearts to be open – outpour Your
grace to me
Should we not jump for joy when we go to communion –
to know the gift of baptism –
to pray the rosary –
This is real – God loves us so much!
Jesus is the Light of the World –
God is the source of all life –
Jesus wants us to know He is with us –
He loves us so much!!
He has all the power!!
Jesus loves us so much He comes to us truly
present in the Eucharist –
We put on Christ –
Jesus: Circulate My Blue Books –
People are hungry –
To The Reader

Jesus wants to share His love with you. He comes in these letters to tell you how you can be in intimate union with Him.

All of us possess everything we need to have an intimate union with Him. He has written to me since October of 1991. For at least a year I sat in front of the tabernacle and begged him to talk to me. I wanted words. I prayed to the Holy Spirit and begged and begged Him to baptize me. After a long and seemingly endless search, trying to hear God, He told me to "feed the hungry." For six weeks this was all I heard. I thought maybe I wasn't feeding my children well or eating well enough myself. What a long wait for three words! At long last one day, as I was writing to Jesus, I received a letter back. He told me, "I am Jesus, Son of the Living God." I did not want to write this but it kept coming-and so many other messages. I knew nothing of anyone getting messages. I wrote them, reluctantly, and hid my notebooks. The letters kept coming-a lot in the night-and I would be awakened by long letters which I felt compelled to get up and write down. I read these letters privately and my life began to change. I felt a new life within me.

He taught me of His fervent love and how truly present He was. He taught me how precious I was to Him. Over and over again He would call me His precious child and tell me how He loved me, how He clothed me with dignity and honor. He told me over and over how He was right by my side always. He is teaching me to give up all fear and to trust in Him. He is teaching me to let go of myself and let Him run my life. I am trying every day to do His will.

He is also telling you in your heart all you need to know. He has all the answers for you there in your heart. You must be silent and go to Him so you can hear His words for you.

Sit in front of the tabernacle and be with Him. Sit and be open and just be with Him. Read these letters there. These are Jesus' love letters to you. Sit in front of the tabernacle and let Him talk to you. Sit silent awhile. Read these letters part of the time. Open any page and He will talk to you. Do not read this like a book, cover to cover. Just open to a page and read that page. That is the way He speaks to you.

end of excerpt
R. Jesus is the King of Kings –
Jesus came a little baby, not adorned
in gold or silver –
The Kings came and paid homage to Him –
We are to honor Jesus as the King of Kings –
He came from the House of David –
Jesus was born in Bethlehem –
House of Bread –
He feeds us with Himself –
He feeds the hungry –
Jesus: Souls are hungry –
Give them My Blue Books –
They were created for Me –
I love them so much –
I came in a manger –
I feed you with Myself –
You are looking in the wrong
places to be filled –
R. We are to love God with our whole hearts,
our whole souls, our whole being.
Love is the total gift of self –
Giving ourselves, our lives to God –
This is where our happiness lies –
in loving relationships all for the
honor and glory of God.
Jesus says:
"I am alive, I am alive, I am
alive"
R. Jesus outpours His grace at Mass –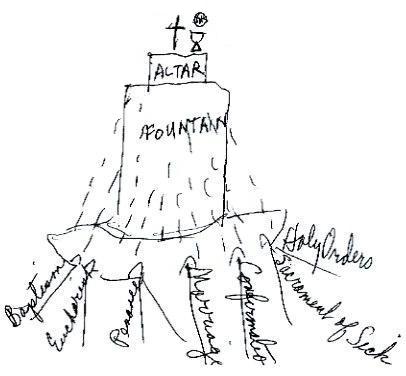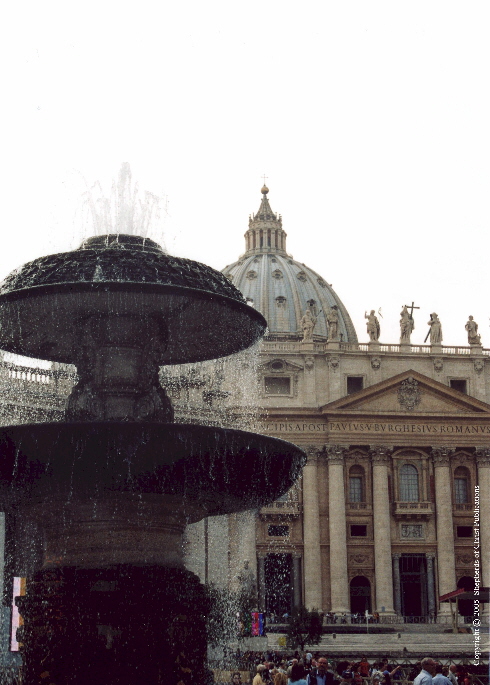 R. Thank God for these gifts given –
Jesus came into the world a little baby –
Jesus wants our love –
Jesus wants to live in us –
We put on Christ –
We are His arms and His legs and His feet –
Let us meditate on this mystery –
Let us live more deeply as members of the
mystical body of Christ –
How do we love Him?
We are to see Him in our brother.
Love our brothers –
Love ourselves!
Ardently love God –
Say "yes" to God!!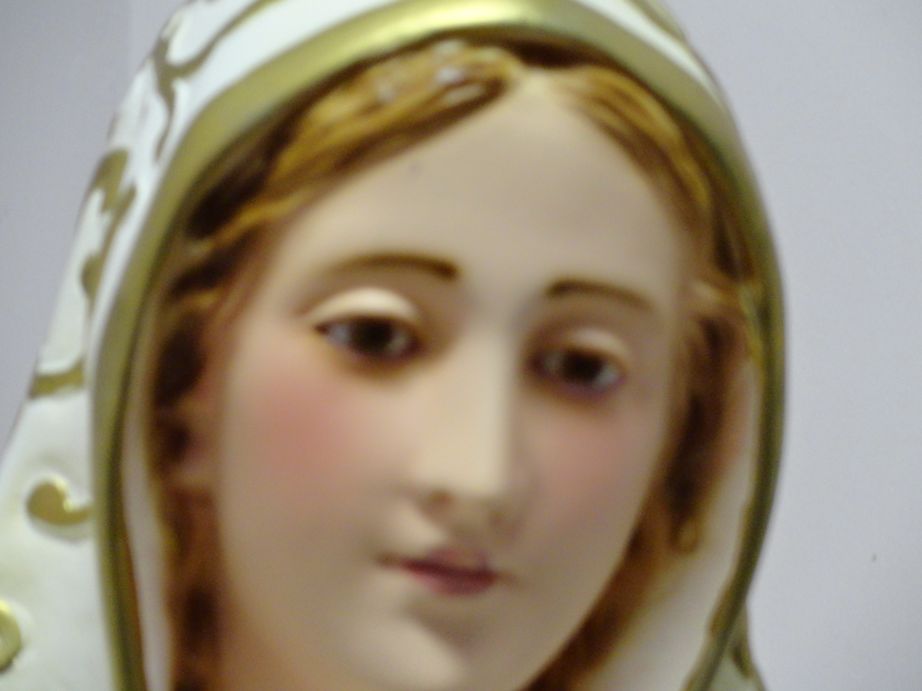 Luke 1: 46-55
And Mary said:

My soul proclaims
the greatness of the Lord
and my spirit rejoices
in God my Saviour;
because he has looked upon
the humiliation of his servant.
Yes, from now onwards
all generations will call me blessed,
for the Almighty
has done great things for me.
Holy is his name,
and his faithful love extends age after age
to those who fear him.
He has used the power of his arm,
he has routed the arrogant of heart.
He has pulled down princes
from their thrones
and raised high the lowly.
He has filled the starving with good things,
sent the rich away empty.
He has come to the help
of Israel his servant,
mindful of his faithful love
—according to the promise
he made to our ancestors—
of his mercy to Abraham
and to his descendants for ever.
R. We receive sufferings and God uses them
to draw us closer to Him –
Simeon told Mary of the sufferings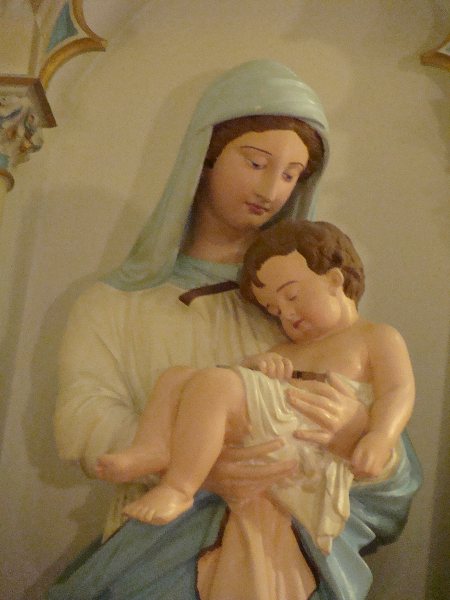 R. Mary pondered these things in her
heart –
Mary is Our Lady of the Eucharist –
The rosary is the meditations of
the lives of Jesus and Mary –
These are rosaries and messages
from the Hearts of Jesus and Mary –
Song: The Song from Jesus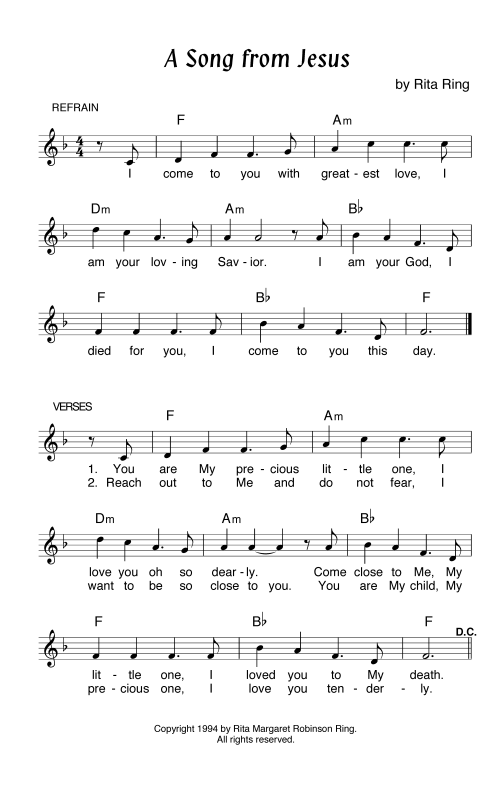 R. Meditate on the Mystery of God's
love –
Jesus received milk from Mary –
Go to Mary's Heart –
Mary's Message


from the Rosary of August 27, 1996

Mary: I stood beneath the cross of my Son, and my Heart was in such pain for I saw Him before my eyes. I saw Him covered with blood. I saw Him die. My Heart, my children, my Heart to watch my Son, but my Heart, my Heart, how I suffered for my little children of the world that give in to this world and give up the love of my Son. O my little children of light, I give you this message. Carry this light into the darkness for your Mother Mary, for I stood beneath the cross and I cried. I cried for the little ones. I cried for the young ones, the ones that do not care and will lose their souls. How do I make you see for you will not listen to me? What can I do? I come. I appear. I beg. I plead. I give you these gifts from my Son, and you reject me. I do not deliver messages very often anymore for I have been ignored. The message is the same. You do not read the messages I have given to you. Please help me. Help the little children. I appear. I appear. I appear, and I am ignored. I stood beneath the cross, and I cried. I cried, and my Heart was in such anguish for my little children, for I am searching for them this day as I searched for the Child Jesus. Please, please help me. I cannot hold back the hand of my Son any longer. I am Mary, your Mother. I ask you to help my children. You are my children of light.

end of Mary's Message

God's
Blue Book 9
The Mass and the Hearts of
Jesus and Mary

by Rita Ring
Blue Book 9 is ready to print.
From Blue Book 9 - October 13, 1995 Rosary
The Finding in the Temple

5. ... Mary: I call out to you my children, this day, to come to the Heart of my Son, Jesus, to unite in deepest union with Him. It is in your union that your prayers will become more and more powerful. We are with you in a special way. You do not know the great gifts that you are being given. Open your hearts and you will be touched deeply with the grace of God. My little children, this day, are suffering and in pain and they do not know my Son Jesus. It is through you that they will know His love. It is through your prayers. Let Jesus live in your hearts. As you are one in your hearts so shall you be in this world. Unite even closer to my Son. Jesus wants to operate in this world through you. The Kingdom of God is at hand. (She is just so beautiful - sing Our Lady of Fatima for peace and unity.)

10. Jesus: Let your hearts be soft and supple. The graces I am pouring into your hearts fill you deeply. My little ones unite more and more to the Almighty God.
R. Wisdom – pray for wisdom not
to have our heads in the sand
Where there is peace and order
man can be happy –
Satan wants disharmony,
division, power, disorder
and for all this the consequences
are suffering, darkness,
confusion, pain, dysfunction –
God is light
See the star over Jesus' bed.
When there is justice and order
there is peace –
the rest is folly!!
Men must obey the 10 Commandments
if he is just –
giving others their due –
loving our brothers –
Justice gives a man security –
Order is how God operates –
Perfect order –
Obedience to God
Obedience to authority –
Gratitude and truthfulness
Freedom is found in doing
God's will –
We have the gift of the Holy Spirit
that helps us to be just
and be wise –
The Holy Spirit moves man to worship
and love God as Our
Heavenly Father –
Man recognizes he is under
his Father and wants to
obey the Father's will over
his own will.
Piety gives order –
Eve disobeyed God –
In piety we give perfect
submission to God –
We want the common good –
we are not selfish –
Jesus speaks:
Pray the Prayer for Union with Jesus.
Justice is the virtue of equity.
I tell you not to argue – the
man wanting power over others
quarrels in little matters as well
as great – to get a dialogue
going to be superior to those
just doing God's will –
Satan can press on a man to see through
the eyes of darkness –
this brings dark, unloving, hard hearts
I want union and love among brothers –
connection in hearts –
friendliness – seeing through
eyes of opening to their brothers –
Friendliness must be sincere,
not for an ulterior motive –
not stiff –
There is a sin of flattery – to flatter
another for your own desire
to raise yourself above –
Genuine love sees and speaks
the truth from the heart –
Lies and anger in one's heart is
not genuine if flattery is
engaged in while harboring
a hateful heart.
Flattery can be a sin – depending on the
motive of the person flattering –
A person may flatter only to gain an
advantage for himself –
Real friendliness is from an honest
loving heart –
Manipulation for self interests
repels My gentle loving Heart.
There needs to be good will among men –
Lying is sinful –
Lies add to making one distrust
another –
They tear apart that which could
have brought unity and
cooperation that men need to
work together in effectiveness
and harmony and trust.
You never want to be a hypocrite for
I see your heart. A hypocrite
pretends to be what he is not.
He acts good and harbors
resentment and anger inside
his heart.
He needs to forgive and be as he
should be loving and
true to his heart.
Be careful if you boast, do not boost
yourself above others
for vain glory –
Your hungry soul is filled
by Me – I am the source
of life and I love you –
Don't act adversely
because of your own
self-hatred –
A blindness of raising yourself up or
seeking power above is the
reason a man overlooks the
love and virtues of others, the
likeness of that individual
to Me. (being self-focused
rather than other-focused)
A belittling man is not right
either who does not admit
his ability and works.
Liars are those not telling the
truth –
Humility is truth –
You are to work together, in
community – loving and building
the Kingdom of God.
ORDER!!
Be delightful and loving –
pleasurable – loving
Be of good will among men –
Life is worth living –
it is the will of the Father –
Be gentle and joy filled in
heart –
truthful and giving love,
being harmonious –
To be ungrateful is sinful.
To receive so many gifts and
to come with an angry
unforgiving heart –
offends Me –
I have given favor after favor –
I have given you the talents you have –
they are to be used for the building
of the Kingdom –
Others give and give and some work
against that love because
they are instruments satan
uses to hate – They can be
addicted to misery –
This will not change, if
they do not –
Be a person of gratitude –
these gifts given to you should
be recognized –
/ Not acting selfish, like you deserve it.
Do your duty to serve God in love –
Be truthful –
Pray for absolute truthfulness –
Men cannot live and work together
if one chooses to not
communicate with the other.
Satan wants lack of communication.
It realms from being unable
to love. Giving what is needed
because it is God's will –
Not using information, goods
to control and for power –
How do you want God to give to you –
Do unto others as you would have
them do unto you –
Men must be able to trust each
other in work and relationships –
lying, hiding information,
acting in secret to authority
is wrong and tears trust in
that relationship apart.
Do you remember the story
of the boy who called
"Wolf"
How do you know if he is
lying –
When he needs to be listened
to, who will listen to a liar.
Who would believe you –
Liars make their own problems and
problems disorder for everybody –
Man must be able to believe each
other – Telling the truth is
necessary to work and live together –
to trust another –
to communicate truthfully with
another –
to say you are sorry when you
sinned against another –
to make a firm purpose
of amendment to expect
any forgiveness –
Please pray for Gene, Dan, Beth, Doris,
Amanda, Betty, Adeline, Jimmy, Andrew,
Monsignor and all the people.
For a limited time only

24" Pilgrim Virgin Fatima Statue without crown
w/glass from image face

Extended Sale -

$175 plus shipping

while supplies last

Get a canvas print of Mary's image with
a sliver of glass and a little bottle of
Jesus and Mary water.

The glass will be fixed behind the
back of the picture.

Cost — $200.00

Call Rosie

1-888-211-3041
Books written by the cofounder of Shepherds of Christ Ministries
Mass Book
A Journey Into the Heart of Jesus - Author: Rita Ring. Discerned by: Fr. Edward J. Carter S.J. Imprimatur
$ 12.00 plus postage

Mass Book, by Rita Ring: Many of the entries in the Priestly Newsletter Volume II from a spiritual journal came from this book. These entries
are to help people to be more deeply united to God in the Mass. This book is available in English and Spanish with the Church's Imprimatur.
$12
Rosary Meditations for Parents and Children, by Rita Ring, Short Meditations for both parents and children to be used when praying the
rosary. These meditations will help all to know the lives of Jesus and Mary alive in their Hearts. Available in both English and Spanish with
the Church's Imprimatur. $10
God's Blue Book I
Teachings to Lift You Up. Author: Rita Ring. Discerned by: Fr. Edward J. Carter S.J.
$ 10.00 plus postage

God's Blue Book I by Rita Ring. Open Anywhere — This book will change your life. These are beautiful love letters to us from Jesus. A million books have been printed and circulated. Jesus loves us so much — He wants a personal relationship with us — He wants us to go to the Eucharist and be with Him before the tabernacle. $10
God's Blue Book II
The Fire of His Love. Author: Rita Ring. Discerned by Fr. Edward J. Carter S. J.
$ 10.00 plus postage

God's Blue Book II by Rita Ring. Letters from Jesus about His on fire love — Jesus wants this great intimacy with us — On fire love — Personal love letters from Jesus about the love of His Heart — A book on surrender Fr. Carter said! $10
God's Blue Book III
Love God, Love One Another. Author: Rita Ring. Discerned by Fr. Edward J. Carter S.J.
$ 10.00 plus postage

God's Blue Book III by Rita Ring. Fr. Carter's favorite book — It is about loving and forgiving each other — Being pure in heart — A book for unity in family, community, in life!! $10
God's Blue Book 4
The Love of the Hearts of Jesus and Mary Author: Rita Ring
$ 5.00 plus postage

God's Blue Book IV by Rita Ring. This book is about the love Jesus has for Mary and Mary has for Jesus and Jesus and Mary have for us — It is truly the Love of the Two Hearts. Mary appeared every day at the Holy Spirit Center — Fr. Carter was there. Mary's first apparition July 5, 1994. $5
God's Blue Book 5
So Deep Is the Love of His Heart. Author: Rita Ring.
$ 5.00 plus postage

God's Blue Book V by Rita Ring. Jesus wants to be the bridegroom of our soul — He is our beloved — Jesus tells us about pure love — how we are to be pure of heart and love God and love others. It is a must, to hear about love from Jesus — Jesus is love — $5
God's Blue Book 6A by Rita Ring. Rosaries from Their Hearts during apparitions. Jesus and Mary appeared every day and I received rosaries from Them and They were transcribed from a tape. Also messages of love from Jesus on days of January, 1995 — About Baptism — writings from Fr. Carter and the Scriptures. $10
God's Blue Book 6B by Rita Ring. Jesus and Mary appeared every day in February, 1995 — So beautiful — transcribed from a tape — the Stations, 7 Sorrows, prayers in the Prayer Manual, the Holy Spirit Novena Book and the Song Book. Pure love — loving and forgiving — a book about Jesus' love, baptism, grace and Fr. Carter's Newsletter. $10

Rosaries from the Hearts of Jesus and Mary Book 1. Mary appeared in Clearwater December 17, 1996 in rainbow color and these rosaries left the printer the same day from Apparitions of Jesus and Mary — transcribed from a tape. $10
Blue Rosary Book
Rosaries From the Hearts of Jesus and Mary - Volume II
$ 12.00 plus postage

Rosaries from the Hearts of Jesus and Mary Book 2. This is a book of so many rosaries - transcribed from a tape. So many beautiful rosaries. pages $12
Short Rosary Meditations for the Elderly, Ill and Homebound. This book is so important with pictures they can open it and lay it on their laps and pray the rosary. $10
Messages From Jesus
Given by Jesus to His Messenger Author: Rita Ring. Discerned by: Fr. Edward J. Carter S.J.
This book is 8 1/2" by 11" and you can open it up and sit it on your lap.

$ 10.00 plus postage

Messages for the Elderly, Ill and Homebound. This is a big book of loving messages for nursing home people and homebound from Jesus and Mary — Their lives are so important — united to the Mass offering up their suffering, their lives for the souls of this earth. $10
Daily Messages from Heaven. First book of Daily Messages. $10
Color the Lives of Jesus and Mary. Volumes 1 through 7. Coloring books and meditations for grade school children and others on the mysteries of the rosary - really good. $5 each.