October 10, 2011
October 11th Holy Spirit Novena
Scripture selection is Day 4 Period I.

The Novena Rosary Mysteries
for October 11th are Glorious.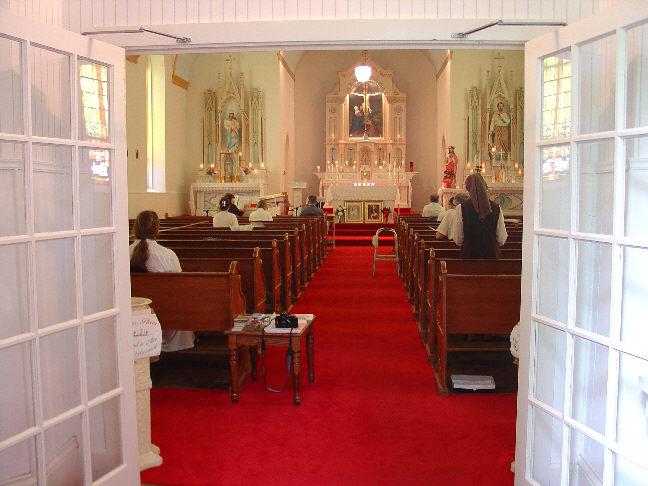 China Church


On October 13, 2011

It will be the 15th anniversary of
the 13ths —

It is the 95th anniversary from
Fatima

Come to China, Indiana,
Our prayer center —
With the Eucharist exposed —
pray for these hours —

Mass at 11:00
The Florida Book Store




Sidney Rosary Oct 11,
Tuesday night,
Please join us at 6:20

Please pray for a
special intention.

Through the intercession
of Fr. Carter and
Our Lady of Clearwater
please pray for Dan for healing.

Please pray for Adeline.

Please pray for Jimmy.

Pray for everything to do with
Fr. Joe's Cycle B Book.
October 10, 2011

Romans 1: 1-7
From Paul, a servant of Christ Jesus, called to be an apostle, set apart for the service of the gospel that God promised long ago through his prophets in the holy scriptures.

This is the gospel concerning his Son who, in terms of human nature was born a descendant of David and who, in terms of the Spirit and of holiness, was designated Son of God in power by resurrection from the dead: Jesus Christ, our Lord, through whom we have received grace and our apostolic mission of winning the obedience of faith among all the nations for the honour of his name. You are among these, and by his call you belong to Jesus Christ. To you all, God's beloved in Rome, called to be his holy people. Grace and peace from God our Father and the Lord Jesus Christ.

Sing a new song to Yahweh,
for he has performed wonders,
his saving power is in his right hand
and his holy arm.

Yahweh has made known his saving power,
revealed his saving justice for the nations to see,
mindful of his faithful love and his constancy
to the House of Israel.

The whole wide world has seen
the saving power of our God.
Acclaim Yahweh, all the earth,
burst into shouts of joy!
Luke 11: 29-32

The crowds got even bigger and he addressed them, 'This is an evil generation; it is asking for a sign. The only sign it will be given is the sign of Jonah. For just as Jonah became a sign to the people of Nineveh, so will the Son of man be a sign to this generation. On Judgement Day the Queen of the South will stand up against the people of this generation and be their condemnation, because she came from the ends of the earth to hear the wisdom of Solomon; and, look, there is something greater than Solomon here. On Judgement Day the men of Nineveh will appear against this generation and be its condemnation, because when Jonah preached they repented; and, look, there is something greater than Jonah here.
R. Jesus is Lord
Jesus has the words of eternal life —
This is what Jesus said —
What Jesus said is true in the
20th Century —
His Words are eternal —
Give us wisdom to listen to Jesus —
Just as much as the people
of Nineveh listened to Jonah —
We beseech You God to hear us —
God's words are eternal!!
Oh God give us the Bread of Life!
Oh God feed us —
I thirst after You my God —
I long for You —
I want to receive You, God —
I long for You, Oh Lord —
I want to eat Your Body —
I want to drink Your Blood —
I long for Your grace —
Oh God help us, please —
Oh God I long for You —
Oh God I pray for special intentions
Oh God please help me —
Say Our Father
The Our Father
Our Father, Who art in heaven, hallowed be Thy name. Thy Kingdom come, Thy will be done on earth as it is in heaven. Give us this day our daily bread and forgive us our trespasses as we forgive those who trespass against us. And lead us not into temptation, but deliver us from evil. Amen.
R. I love to eat Your body
I love to drink Your Blood
I want Your presence in me —
Oh God help me to be holy —
Oh God help me in my problems in
wanting to love You and others
as You desire —
Oh God help us to be one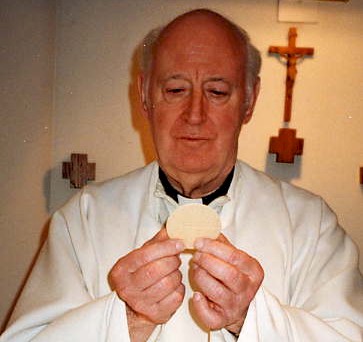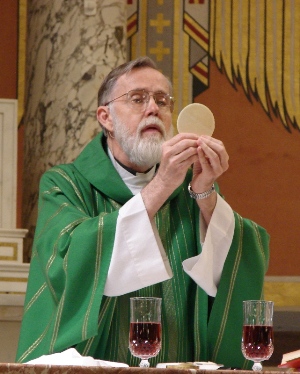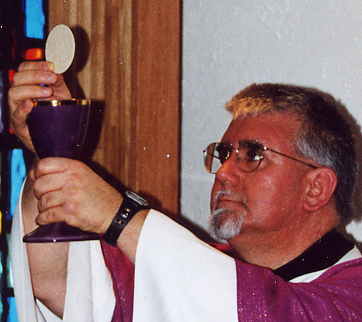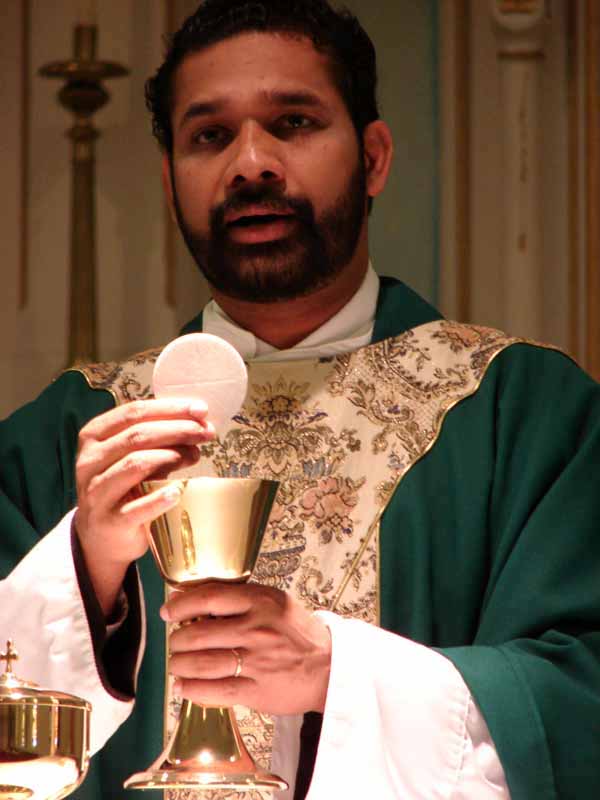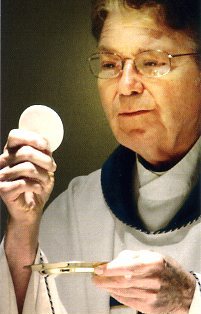 R. Let us be one —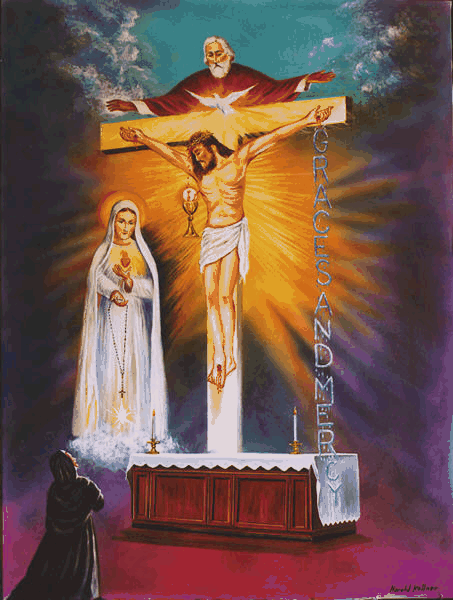 United to the Mass
Going on around the World —
The Mass, the Sacrifice of
Calvary —
Sacramentally made present.
In one mind and one heart —
With all the priests in the
world —
We are one in Him, in the pure and
holy Hearts of Jesus and Mary.
Let us feast at His Banquet —
Never be distracted in Mass,
or before the Eucharist.
The Master is truly present —
Don't give into satan to
try to make us sad —
Don't worry —
Let go to Him —
Control our minds —
This is our love affair with
God —
From the Mass Book
December 27, 1995

L

ET US LOVE THE TWO HEARTS OF JESUS AND MARY
IN THE RECEPTION OF THE HOLY EUCHARIST.

HE GAVE HIMSELF TO US ON THE CROSS. HE GIVES HIMSELF TO US IN THE EUCHARIST.
How great was the act of love, God gave to this world, when He gave Himself and died on the cross. He gives Himself to us this day in the Holy Eucharist.

The greatest commandment is that we must love God with our whole heart, our whole soul, and our whole being. This is a commandment. If we are to enter heaven, we must follow the commandments. They are commands given by God for us to follow.

The greatest act we can do on this earth is an act of loving God. The reason for our existence is to love God. In the sacrament of His greatest love, He gives Himself to us. This is an act of love on His part. We are called to respond by giving ourselves in love to Him.

This is the purpose of the Holy Eucharist: to unite in such oneness with our Holy, Loving God. Our all consuming passion should be that of loving God. How many go to the Eucharist with the sole purpose of giving great love to God? He wants us to love Him. He wants souls to tell Him how much they truly love Him. This is the most intimate act of love when Jesus gives Himself-Body, Blood, Soul, and Divinity to man. If it is such an act of love, how are we receiving Him in Communion? We should beg God, in this most intimate union with Him, to help us to love Him with greatest love.

Jesus is a Person. He wants our love. The Holy Spirit wants such intimacy with us. Our Father wants us to love Him. In the Eucharist, we unite with God. In this intimate act of uniting with our beloved God, with Divinity, we must pour out our love to God. We must pour out our heart to the most adorable Heart of Jesus. Jesus is so unjustly treated by many of His beloved souls He loves so much. Let us help make reparation to the Almighty God by loving God with our whole heart, our whole soul, and our whole being in the sacrament of His greatest love. This is the Gift of Himself.

Think of how it is to love someone and give your all for that person, to pour out your heart to him or her and then be treated with coldness and neglect. It hurts our heart so much more when we deeply love someone to be rejected by that person. Jesus loves us with the deepest love. We cannot fully comprehend this love. Let us love Him with the deepest love. Let us love Mary and her Immaculate Heart. Let us love her as the Mother of God. Let us love her as the virgin who bore the Son of God. May we, in the reception of the Eucharist pour out our love to Him, to this adorable Heart. May we pour out our love to His Holy Mother.

Mary said at Fatima that Jesus wants His Heart venerated next to the heart of His Mother. Let us love these two Hearts as we receive the Sacrament of the Eucharist. Then we are so deeply united with God. We see Their two Hearts surrounded with thorns for the injustices against Their Hearts. Let us help make reparation daily as we receive Him in the Eucharist. This is a special time to help make reparation to Their wounded Hearts.

Let us remember how He poured His love out to us on the cross and how He pours out His love to us now when He gives us Himself in the Eucharist, the Eucharist which contains His Heart of burning love. His Heart was pierced with a lance. Her heart was invisibly pierced with a sword. As the wounds in Their Hearts are deep, so too is Their love so deep.

He does not want "surface love". He wants hearts filled with deep burning love.

end of excerpt
R. Mary is the perfect handmaid
of the Lord.
Mary is our spiritual Mother.
Mary the most perfect disciple.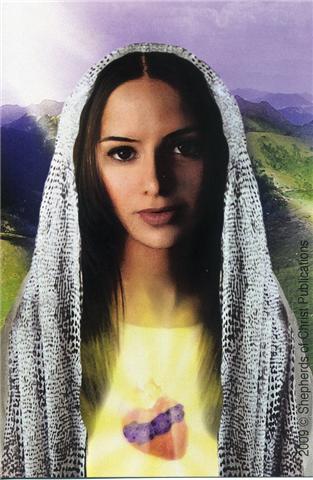 R. We intercede through Mary
and all the angels and saints.
We thank God, we petition God
for our needs, we tell God we
are sorry for our sins,
We love God so deeply — we
make reparation.
God gives us rules to keep
our lives straight
There can be tools to work —
tools that beat Jesus
To use things appropriately
to produce good for
the Kingdom —
God gives us His Word —
Men have raised themselves
over others — persecuting
others —
God has written His
law on our hearts —
Open your hearts —
Do not shut the door
in His face —
Jesus drove out demons —
Today many when they
sin don't call it sin —
Satan wants us to
argue evil is good —
and good is evil —
We are to live by the law —
Pray for the healing of
men's hearts —
We are to be fishermen —
trying to reach the
souls with the Good News —
The Word gives us Hope —
We want the Word alive
in our hearts —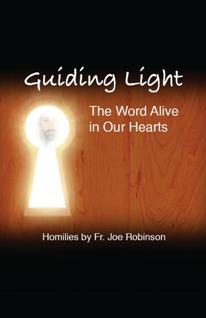 John 1: 1-14
In the beginning was the Word:
the Word was with God
and the Word was God.
He was with God in the beginning.
Through him all things came into being,
not one thing came into being
except through him.
What has come into being in him was life,
life that was the light of men;
and light shines in darkness,
and darkness could not overpower it.

A man came, sent by God.
His name was John.
He came as a witness,
to bear witness to the light,
so that everyone might believe
through him.
He was not the light,
he was to bear witness to the light.

The Word was the real light
that gives light to everyone;
he was coming into the world.
He was in the world
that had come into being through him,
and the world did not recognise him.
He came to his own
and his own people did not accept him.

But to those who did accept him
he gave power to become children of God,
to those who believed in his name
who were born not from human stock
or human desire
or human will
but from God himself.
The Word became flesh,
he lived among us,
and we saw his glory,
the glory that he has from the Father
as only Son of the Father,
full of grace and truth.
Revelation 3: 20
Look, I am standing at the door, knocking. If one of you hears me calling and opens the door, I will come in to share a meal at that person's side.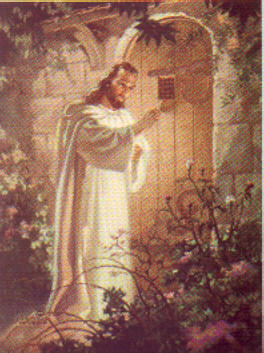 R. Kings who wanted to be
over even God —
We can raise ourselves
up —
We are to obey God's rules —
Some Kings would punish men
for not bowing to them —
Satan wants men to be under
him —
Satan even tried to tempt
Jesus
Matthew 4: 1-11
Testing in the desert
Then Jesus was led by the Spirit out into the desert to be put to the test by the devil. He fasted for forty days and forty nights, after which he was hungry, and the tester came and said to him, 'If you are Son of God, tell these stones to turn into loaves.' But he replied, 'Scripture says:
Human beings live not on bread alone
but on every word
that comes from the mouth of God.'
The devil then took him to the holy city and set him on the parapet of the Temple. 'If you are Son of God,' he said, 'throw yourself down; for scripture says:
He has given his angels orders about you,
and they will carry you in their arms
in case you trip over a stone.'
Jesus said to him, 'Scripture also says:
Do not put the Lord your God to the test.'
Next, taking him to a very high mountain, the devil showed him all the kingdoms of the world and their splendour. And he said to him, 'I will give you all these, if you fall at my feet and do me homage.' Then Jesus replied, 'Away with you, Satan! For scripture says:
The Lord your God is the one
to whom you must do homage,
him alone you must serve.'
Then the devil left him, and suddenly angels appeared and looked after him.
R. Christians were persecuted
for Christ —
Martyrs put to death for
Christ —
Christians sought out —
John was imprisoned —
Paul was imprisoned —
John had to hide —
The enemies of Jesus put
Him to death —
Jesus had enemies —
The Apostles carried
on the work of Christ
The Bishops are the
descendants of the
Apostles —
Jesus' teachings have been
past on to us —
2 Peter 1: 16-19
When we told you about the power and the coming of our Lord Jesus Christ, we were not slavishly repeating cleverly invented myths; no, we had seen his majesty with our own eyes. He was honoured and glorified by God the Father, when a voice came to him from the transcendent Glory, This is my Son, the Beloved; he enjoys my favour. We ourselves heard this voice from heaven, when we were with him on the holy mountain.

So we have confirmation of the words of the prophets; and you will be right to pay attention to it as to a lamp for lighting a way through the dark, until the dawn comes and the morning star rises in your minds.
R. People speaking for God
have suffered, been
persecuted.
St. Peter crucified upside
down
St. Paul put to death —
St. Thomas More beheaded
St. John Baptist beheaded
We, too, are soldiers for Christ —
Our weapons our hearts
filled with love —
The scrolls God gave us in
God's Blue Book —

Revelation 10: 8-10

Then I heard the voice I had heard from heaven speaking to me again. 'Go', it said, 'and take that open scroll from the hand of the angel standing on sea and land.' I went to the angel and asked him to give me the small scroll, and he said, 'Take it and eat it; it will turn your stomach sour, but it will taste as sweet as honey.' So I took it out of the angel's hand, and I ate it and it tasted sweet as honey, but when I had eaten it my stomach turned sour.
R. The Apostles suffered —
God was with them —
From the beginning
men have wanted to
lord it over other men
because of pride,
anger, hatred —
God created us out of love —
out of His generous love —
We receive our strength
from the Lord —
Many men sacrificed
and didn't let fear
stop them from doing
God's will —
God wants zeal —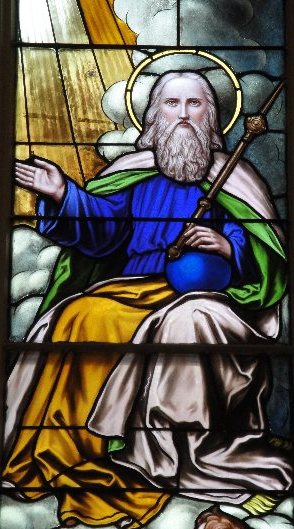 R. Say Our Father
The Our Father
Our Father, Who art in heaven, hallowed be Thy name. Thy Kingdom come, Thy will be done on earth as it is in heaven. Give us this day our daily bread and forgive us our trespasses as we forgive those who trespass against us. And lead us not into temptation, but deliver us from evil. Amen.
Apostles Creed
I believe in God, the Father Almighty, Creator of heaven and earth; and in Jesus Christ, His only Son, our Lord; who was conceived by the Holy Spirit, born of the Virgin Mary, suffered under Pontius Pilate, was crucified, died and was buried. He descended into hell; the third day he arose again from the dead; he ascended into heaven; sits at the right hand of God the Father Almighty; from thence he shall come to judge the living and the dead. I believe in the Holy Spirit, the Holy Catholic Church, the communion of Saints, the forgiveness of sins, the resurrection of the body, and life everlasting. Amen.
R. Jesus died — Jesus was
covered with blood —
Blood running from
Jesus' hands and feet and
Mary stood beneath
the cross
Mary's Message


from the Rosary of August 27, 1996

Mary: I stood beneath the cross of my Son, and my Heart was in such pain for I saw Him before my eyes. I saw Him covered with blood. I saw Him die. My Heart, my children, my Heart to watch my Son, but my Heart, my Heart, how I suffered for my little children of the world that give in to this world and give up the love of my Son. O my little children of light, I give you this message. Carry this light into the darkness for your Mother Mary, for I stood beneath the cross and I cried. I cried for the little ones. I cried for the young ones, the ones that do not care and will lose their souls. How do I make you see for you will not listen to me? What can I do? I come. I appear. I beg. I plead. I give you these gifts from my Son, and you reject me. I do not deliver messages very often anymore for I have been ignored. The message is the same. You do not read the messages I have given to you. Please help me. Help the little children. I appear. I appear. I appear, and I am ignored. I stood beneath the cross, and I cried. I cried, and my Heart was in such anguish for my little children, for I am searching for them this day as I searched for the Child Jesus. Please, please help me. I cannot hold back the hand of my Son any longer. I am Mary, your Mother. I ask you to help my children. You are my children of light.

end of Mary's Message
"Behold your Mother"
R. Heaven is real —
Jesus really died
Jesus really rose from the dead —
Jesus took flesh in the
womb of Mary, really —
Let us meditate on these
Mysteries of the Rosary —
Let us see the life of
Jesus in our hearts —
know Him more ardently —
know His truths!!
know His truths about
the Church!!
Know His truths in
the Eucharist —
Oh God, we thank You —
Oh God, we love You —
Oh God this is reality —
Oh God Your gifts to us —
Heaven is real —
Heaven is a reward
promised to those who
love and serve the Lord —
Jesus: Spread the Good News
ye men!!
Don't be afraid —
Let all the earth sing God's
praises —
Fill the heavens with
Your praise —
God is worthy for He
created all things —
Know that God is
sitting on His throne —
R. Oh God help us to be holy —
Oh God, My God —
we beseech You —
help us — We hope in You
We believe in You —
Everything that is good
is given as a gift —
God is all good —
Jesus: Men fool themselves thinking
they are powerful —
God is all powerful —
Men can lord it over
others and persecute
them —
they do it to Me —
I give you the sea and the
sky and your lives —
all you need —
You will never know how
bad hell is —
You cannot imagine the
glory of heaven —
I have given you
the Bread of Life —
The Eucharist and
My Word —

R. 28th Sunday
This is Paul's Epistle of joy
Paul in prison gives thanks
and farewell.
Philippians 4: 12-14, 19-20
I know how to live modestly, and I know how to live luxuriously too: in every way now I have mastered the secret of all conditions: full stomach and empty stomach, plenty and poverty. There is nothing I cannot do in the One who strengthens me. All the same, it was good of you to share with me in my hardships.

And my God will fulfill all your needs out of the riches of his glory in Christ Jesus. And so glory be to God our Father, for ever and ever. Amen.
---
R. Monday 28th Week
October 12, 2009
Homily by Fr. Barth
Two things from the Gospel today. The first is a matter of a generation that is evil, and Jesus is very clear why the generation is evil — because they seek a sign. In other words, they want God to reveal God's self as they want God to reveal God's self. They want God to, if you will, bend God's will to their will. They want God to be the God like they want God to be, instead of God being God. And the generation, which is called evil, to be indeed subservant to God's will.

And I think we can recognize that in our own era. And not just beyond these walls, because even for ourselves who are gathered here, we must recognize that we also at times, are unfaithful, that we want God to give us a sign, that we want God to be the kind of God that we want God to be, and sometimes we don't submit ourselves to God's own will. Isn't that true? And so we gather here to seek God's mercy and God's forgiveness, and to be more in sync with God's will, so that we might be what we are called to be as Christians in the world — salts, lights and leaven. But Jesus responds to — the evil age wanting to see a sign, wanting to see God's action as they want it, with a response.

The response is just as Jonah was a sign to the Ninevites, so will the Son of Man be a sign to this age. Jonah spent 3 days in the belly of the whale, the Son of Man spent 3 days in the belly of the earth and then rose. And this sign, the sign of the Son of Man rising from the dead, having given His life for sinners, is present to us at this Mass - this one. The sign is Jesus Himself. And He's most especially present in the Eucharist, that we will be celebrating. And in the Eucharist what is presented to us, again, in an unbloody way, is that very sacrifice of Christ and His triumph over sin and death. His crucifixion and His resurrection happen at this very altar at the hands of a priest, so that it might become part of our own lived reality — the sign of Jonah given to us.

This is the other thing then that will answer the evil age, is a matter of those, like the Ninevites, hearing the Word of God. Jonah went to Nineveh to preach the Word of God that he had received — but what we have here, as Jesus says, is greater. It's not just the Word of God that has been received, that is then preached, but is the Word of God Himself present among us here and now. We believe that at the Mass, Jesus Himself, who is the Word of God, is present to us, in one another, for He promised where two or more are gathered in His Name, He is in their midst. Are we believing? And if we do, then we know that He is here present among us, for we have gathered in the Name of the Father, and of the Son and of the Holy Spirit.

He works through the hands and actions of the minister. He is present among us in the sacred minister. I act in Persona Christi for the salvation of the world, not because of who I am, but by the grace of God. He is present in the Word that is proclaimed because He is the Word. You can't separate them. And He is preeminently present in the sacrament that we are about to celebrate and share. Yes, we say His Body and His Blood, but what does that mean ultimately? It means His very presence is given to us as real food and drink — His vivifying life given to us a real food and real drink.

There is indeed something greater than Jonah here. It is the Lord Himself, but that takes place because there is a priest who is present. Once again, this is not about me trying to say, "Look how special I am." It's not about me. It's about the love of God acting through those who have been called by Him, and by ordination have been graced and transformed so that they can act in the person of Christ. And this is only possible because priests, yes are called, but also are supported through prayer and dedication, their own, and also the people of God, and you all, as the Shepherds of Christ.

It is your ministry, the core of what you do, to pray for priests, that they might be faithful, and that they might be the instruments of God, that God wants them to be. And through that action, a priest, salvation is given because Christ Himself is given, most especially in the sacraments, and preeminently in the sacrament of the Eucharist. Your ministry is important and pivotal for the Church, for the salvation of the world. You're participating in the salvific act of Christ. And you also then pray for vocations, that others will yield themselves to the call of Christ, and then come to celebrate the sacraments, come to act in the person of Christ, for us and for our salvation.

The importance of this work can not be over estimated. It is beyond our imaginings because in it the action of Christ continues, by God's grace. And so in these retreat days, consider anew the core of your ministry, praying for priests and praying for vocations, praying that the salvation of the world might be procured through the action of Christ, which is continued through the hands, of those who act in the person of Christ, the sacerdotes, the priests and bishops throughout the world.

And pray that the world will be open to hear that message, that they will come to know the wonder of salvation, that God has in story for us, not just a return to the proverbial garden of Eden, where human beings walked and talked to Christ, that they were friends. But something greater that was wrought by Christ, a restoration - yes; but also a sanctification that leads to a deification, because in the redemption what happens for God's faithful people, is that we get to participate in God's own life, not just walking aside and conversing as friends, but being taken up in God's own life — participating in God's own life — so that we might have everlasting life. And this is given to us most especially through the sacraments of the Church, and preeminently in the Eucharist. Let us pray indeed that God will continue to allow the sign of Jonah to radiate out into the world, by giving us and sustaining for us, good and holy priests.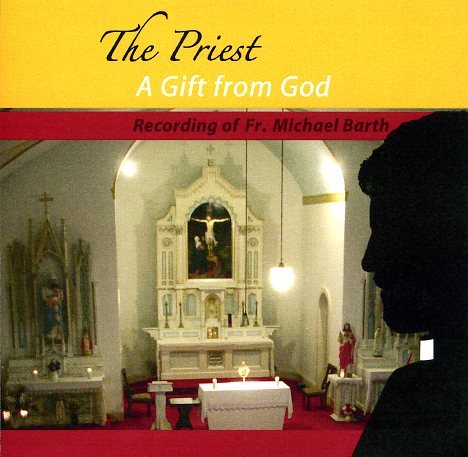 Available on disc $10
Joyful Mysteries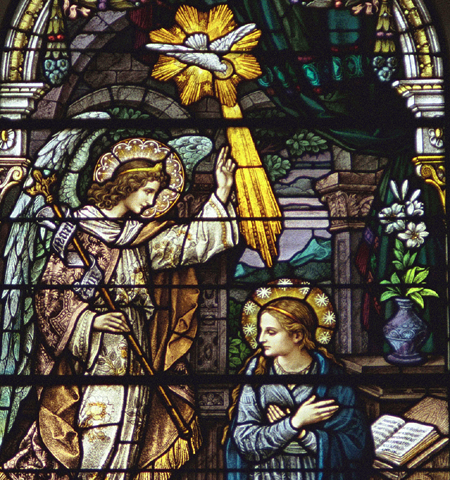 The Annunciation
1. Luke 1: 34 Mary said to the angel, 'But how can this come about, since I have no knowledge of man?'
2. R. Mary lived a normal life, like us,
she slept, she woke and did
chores —
3. R. Mary lived with her parents,
then her father died.
4. R. Ann her mother was close to
Mary.
5. R. Mary was to marry Joseph —
6. R. The Angel Gabriel appeared
to Mary and she conceived
the child Jesus through
the power of the Holy Spirit.
7. R. Think of how God sent His
messenger to Mary —
8. R. Mary was conceived without
sin.
9. R. Mary, full of grace.
10. R. Mary was chosen by God to
carry Jesus, the Son of
God, to be espoused to
the Holy Spirit.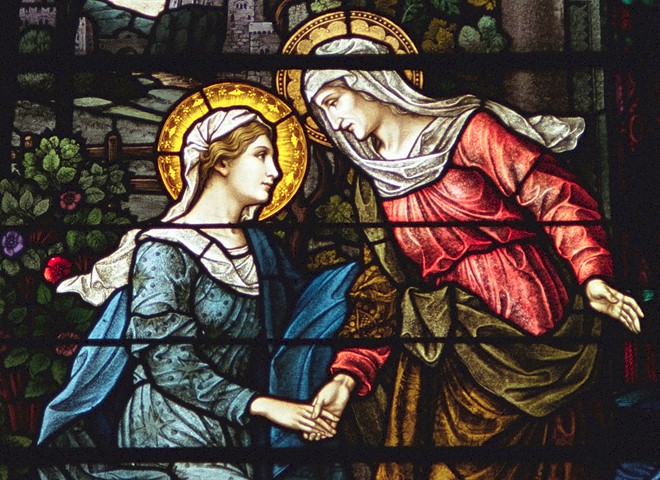 The Visitation
1. R. The angel told Mary that Elizabeth
too had conceived a child
and she was in her 6th month.
2. R. Mary made haste (with zeal)
went to visit her cousin
Elizabeth.
3. R. Mary stayed with Elizabeth
for 3 months.
4. R. Elizabeth told them the baby's
name would be John.
5. R. John leapt in the womb of
Elizabeth when Mary came.
6. R. The Holy Spirit filled Elizabeth
and Mary, and Mary
proclaimed the Magnificat.
7. R. My soul doth magnify the Lord
and my spirit rejoices
in God my Savior.
8. R. Mary carried the Savior of the
human race in her womb.
9. R. Mary, the Mother of God.
Mary, the New Eve.
10. R. Elizabeth carried John, the
prophet to prepare the
way for Jesus.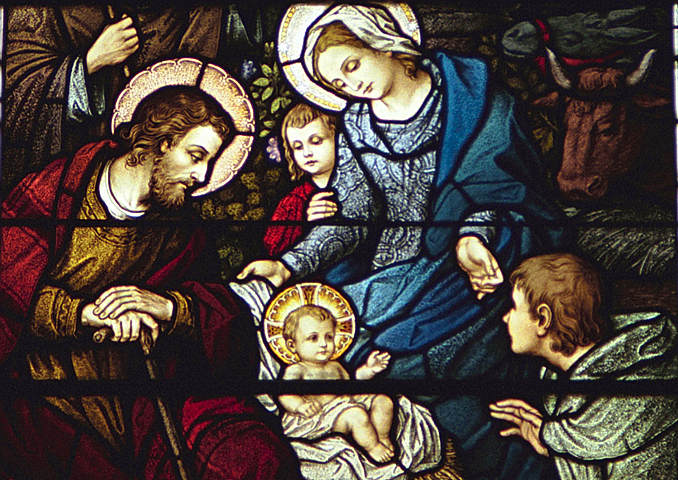 The Birth of Jesus
1. R. Mary and Joseph had to go to
Bethlehem because of the
census.
2. R. Mary was far along and about
to give birth.
3. R. It was a hard journey for
them in her condition.
4. R. When Mary and Joseph got there,
there was not room for
them.
5. R. Finally they were given a stable
for Mary to give birth —
6. R. A star shown over Jesus' crib.
7. R. Jesus was born amongst
the animals of the
earth.
8. R. Jesus, the Son of God, was born in
a stable because there was no
room in the Inn.
9. R. The star shown bright —
This, a gift and sign from
the heavenly Father.
10. R. Shepherds came and gave
homage to the Son of God —
Little Jesus —
Chief Shepherd of the Flock.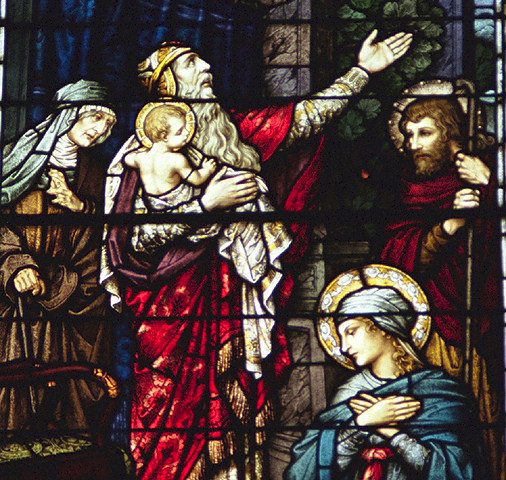 The Presentation in the Temple
1. R. Jesus was taken to the Temple.
2. R. Jesus was a little baby.
3. R. Simeon was there and He
told Mary that a sword
would pierce her heart.
4. R. Anna the prophetess was there
too — she prayed in the
Temple day and night.
5. R. This reminds us of our
baptism —
6. R. What a gift that God gives
us a sharing in His
life in baptism.
7. R. Jesus, the Son of God, took
flesh in the womb of
Mary.
8. R. Jesus, a Divine Person, with
two natures: a human
nature, a Divine nature.
9. R. Jesus, the Son of God, was
a little baby in the arms
of Joseph and Mary.
10. R. Jesus learned to walk and
talk and Mary and
Joseph cared for Him
like other parents did.
He was a child.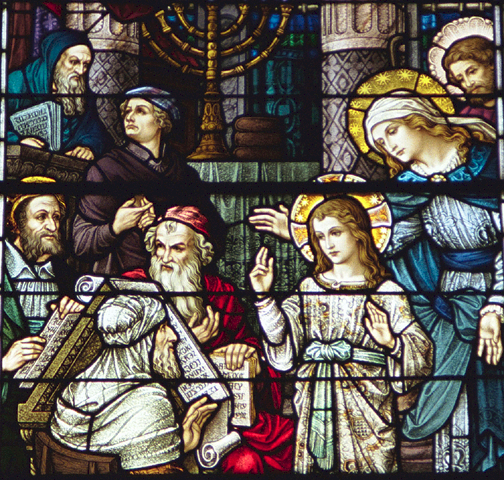 The Finding in the Temple
1. R. When Jesus was 12 they took him
to the Temple.
2. R. Jesus somehow got lost and
Mary and Joseph were in
such anguish looking
for Him.
3. R. Think of the big journey and
all the people and they
could not find Jesus.
4. R. They searched and at last
found Jesus talking to
the doctors in the Temple.
5. R. The doctors were astounded
at His wisdom and knowledge.
6. R. God gives us a sharing in
His life in baptism and
our knowing and loving
capacity is elevated.
7. R. God gave us Mary as our
Mother.
8. "Behold your Mother"
9. R. God loves us so much —
10. R. Mary is our Spiritual Mother.
God the Father is our heavenly
Father.
Excerpt from Mother at Our Side, by Fr. Edward Carter, S.J., pp. 12-14
four
God's Will—Our Guiding Principle
When his parents saw him, they were astonished, and his mother said to him, "Son, why have you done this to us? Your father and I have been looking for you with great anxiety." And he said to them, "Why were you looking for me? Did you not know that I must be in my Father's house?" But they did not understand what he said to them. (Lk. 2:48-50).

The above scene describes how Mary and Joseph found Jesus in the temple after having been separated from Him. As they were returning home after the Passover celebration, they realized Jesus was not with them, and returned to Jerusalem to search for Him. The scene has various lessons for us concerning God's will.

With the Holy Family traveling in two separate groups (Mary with one, Joseph with the other, and Jesus with either from time to time), we understand how Mary and Joseph could have received conflicting stories regarding their Son's whereabouts. The Father's will may have been made known to Jesus in such a way that the timing of His response precluded alerting His parents to the change in His plan. Whatever the details were, we can be assured that there was no error made on the parts of Jesus, Mary, or Joseph. We can base our trust in this on what we know through faith—that Jesus would never have been disobedient or thoughtless toward His parents, and that Mary and Joseph could not possibly have been inept parents.

Even so, as people who expect certain behaviors of children and parents, we can be unsettled by some unanswered questions presented. Yet, since this event is included in Sacred Scripture, we know it has tremendous value for us as the Word of God. We also know that obedience to God's will always works in the best interests of everyone concerned, even when it is not obvious, even for quite some time.

The scene reminds us of the guiding principle of Jesus' life—loving conformity to His Father's will. Although Mary and Joseph were returning home, in some way Jesus knew He was supposed to remain in the temple at this particular time. His course of action was no different in this instance than it had been in the past and would be in the future. His Father's will was made manifest, and He obeyed; His Father showed the way, and He followed. The Father's will was always Jesus' way, every day, in all matters. As followers of Jesus, His guiding principle must also be ours.
This event in Christ's life also demonstrates that conformity to God's will sometimes brings hurt or sorrow to loved ones. Jesus knew that His remaining behind would cause suffering for Mary and Joseph—we can well imagine their anxiety. Jesus was sorry this had to be. He certainly was not insensitive to His parent's feelings, yet He had to do what He did. There can be similar situations in our own lives. Precisely because we are striving to seek out and do God's will, we may be causing hurt to loved ones. We know, however, there is no other course of action if we are to be open to God's designs for us.

The finding of the child Jesus in the temple illustrates still a further point regarding conformity to God's will. Mary and Joseph knew that somehow it was God's will that Jesus remain in Jerusalem as they themselves headed back to Nazareth. Yet they did not comprehend why all this happened. They recognized God's will, but they did not understand it. They accepted this will, however, along with the pain it produced in their lives.

The application of this lesson to our own Christian lives is vividly manifest. At times there occurs an incident we do not understand. We realize that somehow this is God's will, at least His permissive will, yet we do not understand why, and our unknowing is part of our pain.

Mary always perfectly conformed herself in love to God's will. It was her joy to so act. Sometimes the doing of God's will caused her considerable suffering, as we see from the above Gospel scene. Later on, the sword of suffering would pierce her even more deeply.

In summary, we can say that Mary always reached out and embraced God's will with the deepest love, whether this was easy or very difficult. Mary has left us these famous words: Behold, I am the handmaid of the Lord. May it be done to me according to your word. (Lk. 1:38). Let us ask our mother to obtain for us the grace to grow in our own conformity to the will of God.
end of excerpt


Books written by the cofounder of Shepherds of Christ Ministries
Mass Book
A Journey Into the Heart of Jesus - Author: Rita Ring. Discerned by: Fr. Edward J. Carter S.J. Imprimatur
$ 12.00 plus postage

Mass Book, by Rita Ring: Many of the entries in the Priestly Newsletter Volume II from a spiritual journal came from this book. These entries
are to help people to be more deeply united to God in the Mass. This book is available in English and Spanish with the Church's Imprimatur.
$12
Rosary Meditations for Parents and Children, by Rita Ring, Short Meditations for both parents and children to be used when praying the
rosary. These meditations will help all to know the lives of Jesus and Mary alive in their Hearts. Available in both English and Spanish with
the Church's Imprimatur. $10
God's Blue Book I
Teachings to Lift You Up. Author: Rita Ring. Discerned by: Fr. Edward J. Carter S.J.
$ 10.00 plus postage

God's Blue Book I by Rita Ring. Open Anywhere — This book will change your life. These are beautiful love letters to us from Jesus. A million books have been printed and circulated. Jesus loves us so much — He wants a personal relationship with us — He wants us to go to the Eucharist and be with Him before the tabernacle. $10
God's Blue Book II
The Fire of His Love. Author: Rita Ring. Discerned by Fr. Edward J. Carter S. J.
$ 10.00 plus postage

God's Blue Book II by Rita Ring. Letters from Jesus about His on fire love — Jesus wants this great intimacy with us — On fire love — Personal love letters from Jesus about the love of His Heart — A book on surrender Fr. Carter said! $10
God's Blue Book III
Love God, Love One Another. Author: Rita Ring. Discerned by Fr. Edward J. Carter S.J.
$ 10.00 plus postage

God's Blue Book III by Rita Ring. Fr. Carter's favorite book — It is about loving and forgiving each other — Being pure in heart — A book for unity in family, community, in life!! $10
God's Blue Book 4
The Love of the Hearts of Jesus and Mary Author: Rita Ring
$ 5.00 plus postage

God's Blue Book IV by Rita Ring. This book is about the love Jesus has for Mary and Mary has for Jesus and Jesus and Mary have for us — It is truly the Love of the Two Hearts. Mary appeared every day at the Holy Spirit Center — Fr. Carter was there. Mary's first apparition July 5, 1994. $5
God's Blue Book 5
So Deep Is the Love of His Heart. Author: Rita Ring.
$ 5.00 plus postage

God's Blue Book V by Rita Ring. Jesus wants to be the bridegroom of our soul — He is our beloved — Jesus tells us about pure love — how we are to be pure of heart and love God and love others. It is a must, to hear about love from Jesus — Jesus is love — $5
God's Blue Book 6A by Rita Ring. Rosaries from Their Hearts during apparitions. Jesus and Mary appeared every day and I received rosaries from Them and They were transcribed from a tape. Also messages of love from Jesus on days of January, 1995 — About Baptism — writings from Fr. Carter and the Scriptures. $10
God's Blue Book 6B by Rita Ring. Jesus and Mary appeared every day in February, 1995 — So beautiful — transcribed from a tape — the Stations, 7 Sorrows, prayers in the Prayer Manual, the Holy Spirit Novena Book and the Song Book. Pure love — loving and forgiving — a book about Jesus' love, baptism, grace and Fr. Carter's Newsletter. $10

Rosaries from the Hearts of Jesus and Mary Book 1. Mary appeared in Clearwater December 17, 1996 in rainbow color and these rosaries left the printer the same day from Apparitions of Jesus and Mary — transcribed from a tape. $10
Blue Rosary Book
Rosaries From the Hearts of Jesus and Mary - Volume II
$ 12.00 plus postage

Rosaries from the Hearts of Jesus and Mary Book 2. This is a book of so many rosaries - transcribed from a tape. So many beautiful rosaries. pages $12
Short Rosary Meditations for the Elderly, Ill and Homebound. This book is so important with pictures they can open it and lay it on their laps and pray the rosary. $10
Messages From Jesus
Given by Jesus to His Messenger Author: Rita Ring. Discerned by: Fr. Edward J. Carter S.J.
This book is 8 1/2" by 11" and you can open it up and sit it on your lap.

$ 10.00 plus postage

Messages for the Elderly, Ill and Homebound. This is a big book of loving messages for nursing home people and homebound from Jesus and Mary — Their lives are so important — united to the Mass offering up their suffering, their lives for the souls of this earth. $10
Daily Messages from Heaven. First book of Daily Messages. $10
Color the Lives of Jesus and Mary. Volumes 1 through 7. Coloring books and meditations for grade school children and others on the mysteries of the rosary - really good. $5 each.
Guiding Light homily series - Steadfast to the Son - Cycle A — The sunflower is a great example of how we should be steadfastly guided by light. What a powerful thought that this exceptional plant is not stuck in one pose day in and day out, yet adaptable and magnetized to the sun. We feel the same about our Son. Our heads turns to face Christ as each day presents its challenges to find light. We join together like plants in a field and soak up the Son through the pulpit. We are a warm circle of strength using the wind of our breath to carry our priests' words, Christ's words, to new rich soil. $15

Guiding Light - Feed My Soul - Cycle C — In a world rapidly advancing and encouraging personal gain, we are faced with modern problems. There is a challenge to find time in our busy schedules for Sunday Mass or a family meal. We are able to research, shop, bank and even work without hearing one human voice. It is no wonder that we may often feel disconnected and famished at our week's end. In Fr. Joe's third book of homilies from Cycle C, we are reminded of the charity that Christ intended us to show each other. We have a calling to turn the other cheek and be the Good Samaritan to others. We are rewarded with the Father's kingdom and love when we are not worthy. We are not left alone or hungry. $15

| | | |
| --- | --- | --- |
| | Guiding Light - Focusing on the Word - Cycle B — At times we may feel that our path to Christ is a bit "out of focus". Like the disciples in the Book of Mark, this ordinary life clouds our vision of Christ's Divinity. We may doubt the practicality or possibility of applying His teachings and example to our modern life. Cycle B's homilies are a "guiding light" to help us realize Jesus' Messianic greatness and His promise of better things to come. $15 | |

| | | | |
| --- | --- | --- | --- |
| | | Guiding Light - The Word Alive in Our Hearts. - Cycle A (partial) — Homilies by the Reverend Joe Robinson given at St. Boniface Church in Cincinnati, Ohio. It is a tremendous honor Fr. Joe has allowed us to share these great gifts with you – for greater holiness and knowing more and more about God. $10 | |
Books written by the founder of Shepherds of Christ Ministries
Response to God's Love by Fr. Edward J. Carter, S.J. In this book Fr. Carter speaks of God as the ultimate mystery. We can meditate on the interior life of the Trinity. Fr. Carter tells us about our uniqueness in the Father's Plan for us, how the individual Christian, the Church and the world are in the state of becoming. Imprimatur. $10

Shepherds of Christ - Selected Writings on Spirituality for all People as Published in Shepherds of Christ Newsletter for Priests. Contains 12 issues of the newsletter from July/August 1994 to May/June 1996. $15

Shepherds of Christ - Volume 2: by Fr. Edward J. Carter, S.J. Contains issues 13-29 of the newsletter (September/October 1996 - Issue 5, 1999) $15

Shepherds of Christ - Volume 3 by Fr. Edward J. Carter, S.J. Contains Newsletter Issues 1 through 4 of 2000 including Fr. Carter's tremendous Overview of the Spiritual Life $10

Tell My People
Messages from Jesus and Mary Author: Fr. Edward J. Carter S.J. Imprimi Potest
$ 10.00 plus postage

Tell My People. Messages from Jesus and Mary (As given to Fr. Edward Carter, S.J.) — One of Fr. Edward Carter, S.J.'s Synopsis of the Spiritual Life — From Jesus to Fr. Carter "On Holy Saturday, 1994, Jesus told me that on the following day, Easter, I would also begin to receive messages for others. Our Lord also told me that some of these were eventually to be published in a book—and here is that book." $10

Spirituality Handbook
Shepherds of Christ Associates Spirituality Handbook - A Way of Spiritual Life
Author: Fr. Edward J. Carter S.J. Imprimi Potest
$ 3.00 plus postage

Spirituality Handbook. Fr. Edward Carter, S.J. did 3 synopsis of the spiritual life. The Spirituality Handbook, the Priestly Newsletter 20he Tell My People book. The way of spiritual life proposed to the members of Shepherds of Christ Associates is centered in consecration to the Hearts of Jesus and Mary. All aspects of the spiritual life discussed below should be viewed as means to help members develop their lives in consecration to Christ, the Sacred Heart, and to Mary, the Immaculate Heart. $3

The Spirituality of Fatima by Fr. Edward J. Carter, S.J. The Fatima apparitions and messages received official Church approval in 1930. In giving her official approval to the Fatima event, the Church tells us that what took place at Fatima involving the three young visionaries is worthy of our belief. $5

Shepherds of Christ Prayer Manual
Shepherds of Christ Associates Prayers
Author: Fr. Edward J. Carter S.J.
$ .50 plus postage

Shepherds of Christ Prayer Manual. The Shepherds of Christ has prayer chapters all over the world praying for the priests, the Church and the world. These prayers that Father Carter compiled in the summer of 1994 began this worldwide network of prayer. Currently the prayers are in eight languages with the Church's Imprimatur. We have prayed daily for the priests, the Church, and the world since 1994. Associates are called to join prayer Chapters and help us circulate the newsletter centered on spreading devotion to the Sacred Heart and Immaculate Heart and helping to renew the Church through greater holiness. Please form a Prayer Chapter & order a Prayer Manual.

Priestly Newsletter - 2000 #1 - CD. - Christ is Our Strength - Fr. Edward Carter, S.J. read it the year he died. It is so beautiful. "This brief passage contains one of the greatest lessons of the spiritual life. As we progress along our spiritual journey, we become increasingly aware of how weak we are in our-selves, but how strong we are in Christ. To experience our weakness involves suffering. The degree and kind of suffering can vary. The suffering can include the experience of the classical dark night of the spirit as described by St. John of the Cross. One of the main purposes of the dark night is to make a person keenly aware of his or her helplessness without God." quote by Fr. Carter from the newsletter $10

Priestly Newsletter 2000 Issue 2
Audio CD - Read by Father Edward J. Carter
$ 10.00 plus postage

Priestly Newsletter - 2000 #2 - CD. - Suffering: A Source of Life - Fr. Edward Carter, S.J. read it the year he died. Fr. Carter knew suffering that year. His voice is so powerful as he read each Newsletter from his heart and soul. "Every man has his own share in the redemption. Each one is also called to share in that suffering through which the redemption was accomplished. He is called to share in that suffering through which all human suffering has also been redeemed. In bringing about the redemption through suffering, Christ has also raised human suffering to the level of the redemption. Thus each man in his suffering can also become a sharer in the redemptive suffering of Christ..." quote by Fr. Carter from the newsletter $10
Light, Happiness, & Peace
Journeying Through Traditional Catholic Spirituality Author: Fr. John J. Pasquini
$ 10.00 plus postage

This book Light, Happiness and Peace is a journey into the spiritual life — an awakening of deeper life IN HIM. Here are some of the comments we received from bishops and cardinals about the book. Cardinal – Pontifical Council for Culture – Vatican City "I am sure that this book, Light, Happiness and Peace through a discussion on traditional Catholic Spirituality will contribute in bringing back prayer into the mainstream of life." $10

In Imitation of Two Hearts
Prayers for Consolation, Renewal and Peace in Times of Suffering Author: Fr. John J. Pasquini
$ 10.00 plus postage

In Imitation of Two Hearts - Prayers for Consolation, Renewal and Peace in Times of Suffering Fr. John J. Pasquini leads a suffering soul to the gentle Hearts of Jesus and Mary. In these most loving Hearts - the prayers by Fr. John Pasquini - help the person suffering to know more deeply the pascal mystery of death/resurrection. President of the Pontifical Council for Health $10

Authenticity
Authenticity - Prayers and Meditations Author: Fr. John J. Pasquini
$ 10.00 plus postage

Authenticity, the Yellow Book of prayers by Fr. John Pasquini, can lead the soul into deeper intimacy with the Father, Son, and Holy Spirit, can lead to greater love of Mary which leads to the unitive life and greater holiness. The book of prayers Authenticity by Fr. John J. Pasquini is to help one grow ever deeper in the Unitive life. Apostolic Nuncio – Archbishop – Philippines "With Authenticity, much is gained in prayer, and much is accomplished through prayer. More especially if prayer is directed in behalf of the Church." $10

Medicine of Immortality
Prayers and Meditations for Mass and Eucharistic Adoration Author: Fr. John J. Pasquini
$ 10.00 plus postage

"In Medicine of Immortality, Father John Pasquini offers his readers the richness of Catholic devotional prayer, the wisdom of the Fathers and, most of all, the fruits of his own prayer and meditation before the Blessed Sacrament. I recommend this book to all who wish to grow in their love for the Lord, who sustains the life of His Church through the precious gift of His Body and Blood." Francis Cardinal George, O.M.I., Archbishop of Chicago $10

Ecce Fides
Pillar of Truth - Dedicated to defending Catholic beliefs through reason, Scripture, and the life of the Holy Spirit Author: Fr. John J. Pasquini
$ 10.00 plus postage

Ecce Fides is a work dedicated to defending Catholic beliefs through reason, Scripture, and the life of the Holy Spirit. "It is important that we (as people of God) return to the source of life, our faith, which is usefully exposed in this volume, and take it out to our contemporaries, evangelizing them and their cultures and inculturating the Gospel." Cardinal – Pontifical Council for Culture – Vatican City $10

| | | | |
| --- | --- | --- | --- |
| | | Shepherds of Christ, a book of Spirituality Newsletters, is a compilation of the first nine newsletters from Fr. John J. Pasquini begining in August 2006. The Newsletter has been circulated to the priests and hierarchy spreading devotion to the Sacred Heart and the Immaculate Heart, promoting love for the Eucharist, greater love for the Church, the Priesthood, Mary and the Holy Spirit, the Mass, Prayer, and greater intimate relationship with God. $35 | |

Authenticity Ocean DVD
The Authenticity Prayer Book is read with the Ocean as a backdrop.
$ 10.00 plus postage

DVD - Prayers from the Authenticity Book read by Rita Ring on the ocean — it is beautiful. 410

Nursing Home Mass DVD
A special mass by Fr. John J. Pasquini for those in nursing homes or homebound.
$ 10.00 plus postage

DVD - A beautiful Mass was done by Fr. John J. Pasquini for Nursing homes and assisted living. It was done at St. Joseph's magnificent chapel — St. Joseph's assisted living in Jupiter, Florida. It last about 33 minutes. We call it the golden Nursing Home Mass from St. Joseph's. $10

Consolation by Fr. John J. Pasquini — upon the passing of a loved one. Fr. Pasquini has done a beautiful gift of his most wonderful homily given when someone dear has died. It can be given as a tremendous gift. $10

| | | | |
| --- | --- | --- | --- |
| | | Divine Mercy Chaplet CD. Prayed by Fr. John J. Pasquini $10 | |
Lucia's Vision
Giclee Art Print on Canvas by Harold Kellner
$ 150.00 plus shipping
Call Rosie
1-888-211-3041
or
1-727-725-9312

Statues

OL-Guadalupe
w/glass - 28


OL-Grace
w/glass - 24


OL-Mt. Carmel
w/glass - 24


OL-Lourdes
w/glass - 24


IH-Mary
w/glass - 24


IH-Ivory
w/glass - 24


SH-Jesus
w/glass - 24


SH-Blessing
w/glass - 24


Sorrow M
w/glass - 24


Inf.-Prague
w/glass - 24


OL-Lourdes
w/glass - 18

OL-Mt. Carmel
w/glass - 18


I Heart
w/glass - 18

I Heart - Ivory
w/glass - 18

OL-Grace
w/glass - 18

SH-Jesus
w/glass - 18


OL-Guadalupe
w/glass - 12


PV-Fatima
w/glass - 27


PV-Fatima
w/glass - 18


PV-Fatima
w/glass - 15


OL-Fatima
w/glass - 18


PV-Fatima
w/glass - 12


OL-Fatima
w/glass - 11


St. Padre Pio


St. Joseph


St. Therese


St. Francis


St. Anthony


St. Claire


Limpias


St. Jude


Divine Mercy


Holy Family


Angel


St. Philomena


Pieta - Marble


Pieta - Color


Holy Family 12


St. Anthony - 18


St. Francis - 18


St. Joseph - 18


St. Therese - 18


St. Rita - 18


St. Clare - 12


St. Rita - 12


St. Padre Pio - 12


Divine Mercy - 12


St. Michael - 11


Limpias - 8



Shepherds of Christ Ministries
P. O. Box 627
China, IN 47250

Toll free - 1-888-211-3041
Local - 1-812-273-8405
fax - 1-812-273-3182
web: www.sofc.org
e-mail: info@sofc.org


| | | | |
| --- | --- | --- | --- |
| | Size | Price | Quantity |
| Holy Family | 24" | $180 | |
| Limpias | 24" | $125 | |
| St. Anthony | 24" | $125 | |
| St. Claire | 24" | $125 | |
| St. Francis | 24" | $125 | |
| St. Joseph | 24" | $125 | |
| St. Jude | 24" | $125 | |
| St. Padre Pio | 24" | $125 | |
| St. Therese | 24" | $125 | |
| Divine Mercy | 22" | $125 | |
| Angel | 22" | $100 | |
| St. Philomena | 20" | $100 | |
| St. Philomena | 16" | $65 | |
| St. Joseph | 18" | $65 | |
| St. Francis | 18" | $65 | |
| St. Anthony | 18" | $65 | |
| St. Rita | 18" | $65 | |
| St. Therese | 18" | $65 | |
| Pieta - Color | 15" | $125 | |
| Pieta - Marble | 15" | $125 | |
| Holy Family | 12" | $75 | |
| St. Padre Pio - standing | 12" | $100 | |
| St. Padre Pio - sitting | 9" | $100 | |
| St. Michael | 11" | $40 | |
| St. Rita | 12" | $40 | |
| Divine Mercy | 12" | $50 | |
| St. Claire | 12" | $40 | |
| Pieta - Color | 8" | $75 | |
| Pieta - Marble | 8" | $75 | |
| Limpias | 8" | $25 | |
| Our Lady of Guadalupe w/glass | 28" | $500 | |
| Our Lady of Mt. Carmel w/glass | 24" | $500 | |
| Immaculate Heart of Mary w/glass | 24" | $500 | |
| Immaculate Heart - Ivory w/glass | 24" | $500 | |
| Infant of Prague w/glass | 24" | $500 | |
| Our Lady of Grace w/glass | 24" | $500 | |
| Our Lady of Lourdes w/glass | 24" | $500 | |
| Sacred Heart of Jesus w/glass | 24" | $500 | |
| Sacred Heart -Blessing w/glass | 24" | $500 | |
| Sorrowful Mother w/glass | 24" | $500 | |
| Immaculate Heart of Mary w/glass | 18" | $300 | |
| Immaculate Heart - Ivory w/glass | 18" | $300 | |
| Sacred Heart of Jesus w/glass | 18" | $300 | |
| Our Lady of Lourdes w/glass | 18" | $300 | |
| Our Lady of Grace w/glass | 18" | $300 | |
| Our Lady of Mt. Carmel w/glass | 18" | $300 | |
| Our Lady of Guadalupe w/glass | 12" | $200 | |
| Fatima w/glass | 11" | $150 | |
| Fatima w/glass | 18" | $250 | |
| Pilgrim Virgin w/glass | 12" | $160 | |
| Pilgrim Virgin w/glass | 15" | $200 | |
| Pilgrim Virgin w/glass | 18" | $250 | |
| Pilgrim Virgin w/glass | 27" | $450 | |


Call for Shipping Price (1-888-211-3041)


Name


Sub-Total

Address


IN Tax (7%)

City


Shipping

State Zip


Donation

Telephone


Order Total
Call Rosie
1-888-211-3041
or
1-727-725-9312



Immaculate Heart and Sacred Heart Pictures Available
with & without frames - different sizes available
---
---
---

Copyright © 2011 Shepherds of Christ.
Rights for non-commercial reproduction granted:
May be copied in its entirety, but neither re-typed nor edited.
Translations are welcome but they must be reviewed for moral and
theological accuracy by a source approved by Shepherds of Christ Ministries
before any distribution takes place. Please contact us for more information.
All scripture quotes are from the New Jerusalem Bible, July 1990, published by Doubleday.
Revised: January 1, 2011
URL: http://www.sofc.org
Contact Information for Shepherds of Christ
Email: info@SofC.org
---
Shepherds of Christ Ministries
P.O. Box 627
China, Indiana 47250

Telephone: (toll free) 1-888-211-3041 or (812) 273-8405
FAX: (812) 273-3182